What's the Best Midsize SUV for 2016?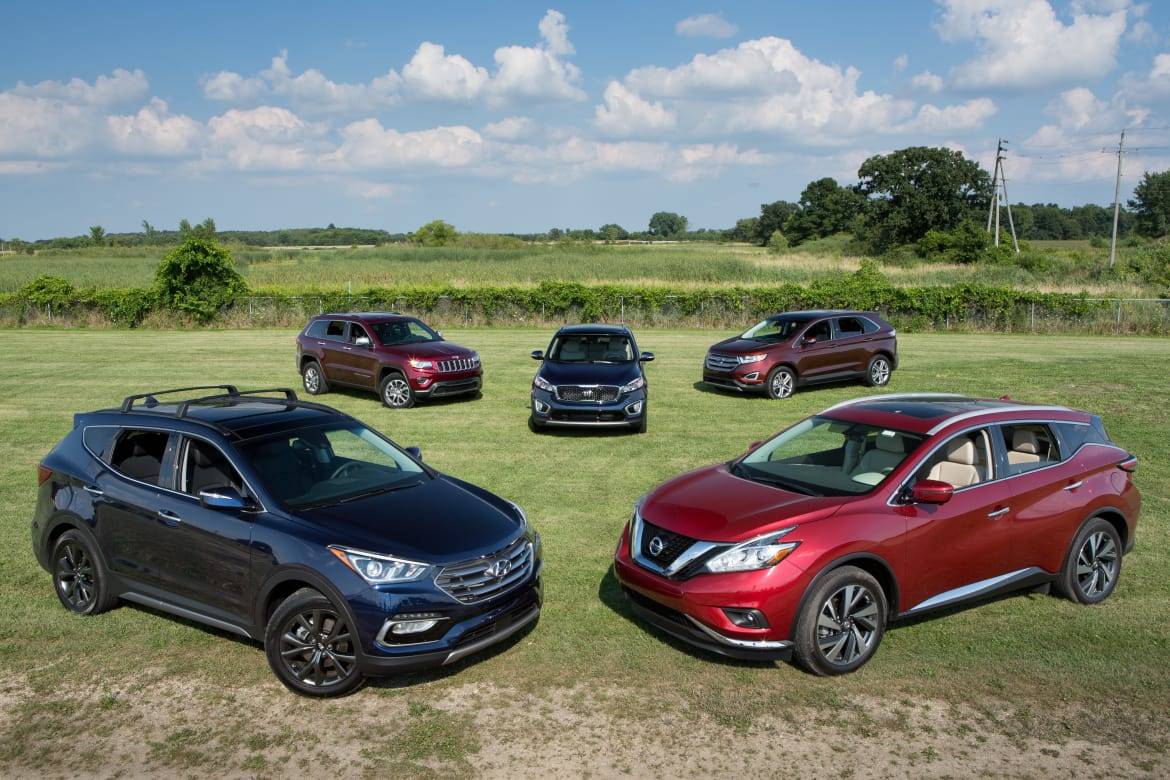 CARS.COM — SUVs are the vehicle of choice in 2016 and the midsize category is one of the most popular with shoppers. They're large enough to carry five adults comfortably, with plenty of cargo space but not the fuel penalty that full-size SUVs impose.
The 2016 Midsize SUV Challenge
Our criteria for this year's test were simple: Each SUV model had to come in for less than $45,000, including its destination fee. Contenders included the 2016 Ford Edge, 2017 Hyundai Santa Fe Sport, 2016 Jeep Grand Cherokee, 2017 Kia Sorento and 2016 Nissan Murano. We know that shoppers in this category like to get a lot of bells and whistles with their SUV, and these came nicely equipped.
Our judges for this Challenge were:
Kelsey Mays, a Cars.com senior editor
Jennifer Newman, Cars.com managing editor
Mark Williams, a Cars.com assistant managing editor
Brian Robinson, a producer from the PBS show "MotorWeek"
Johnny and Marianne Walker, parents of two boys and in the market for a two-row midsize SUV
You can see how we conducted testing below the results. Here's how they finished:
52016 Jeep Grand Cherokee, 694 points
The Verdict: "As you might expect, the Jeep is the only one here that still feels like a truck-style SUV, which is great if that's what you're looking for," Robinson said. "But if a modern carlike ride quality is what you're after, you'd be better off with one of the crossovers here."

What They Liked
Power aplenty: "When passing on a two-lane highway, the Grand Cherokee's V-6 engine didn't hesitate when I stomped on the accelerator. That quick response inspires a lot of confidence," Newman said, "and it's a lot of fun, too." "The engine and transmission is probably the best pairing of the group," Williams said. "The eight-speed transmission is as ready to squeeze out mpg with its auto stop-start and its Eco mode on air conditioning as it is to rock and roll with fast-shifting Sport mode engaged."
Brute force: "So for the same or similar price to the other players here, I can get a four-position multiterrain system, an extra low-range gear, carry heavier people and cargo than any of the others, tow a bigger boat and get the best driver-information screen, too? Done deal," Williams said. "The Grand Cherokee comes with legit off-road potential and 6,200 pounds of towing capacity," Robinson noted. "Nothing else here even comes close to that."
Tech friendly: "If you've got older kids, the backseat is loaded with amenities, such as two USB ports, heated rear seats, seatback pockets and hooks for smaller bags — all of which will help keep whining to a minimum," Newman said. "Maybe." For Mays, "the multimedia system might be a few features short of the pack, but its huge screen and big, dummy-proof knobs win for outright simplicity."
Riding in style: "If sheer ride comfort is your thing, the Grand Cherokee is king. The suspension banishes potholes to a galaxy far, far away," Mays said. "The interior is a good mix of comfort and luxury without being over the top or pretentious," Robinson said. Newman noted it has the parental holy grail: "For families with younger kids in car seats, the Grand Cherokee easily handles three car seats across the backseat." "I like the higher feel I have when driving," Marianne said. "It feels more like an SUV, but the side mirrors seem so small."
And…: "Visibility is terrific," Mays said. "The Grand Cherokee boasts a high driving position and the second-row head restraints flip out of the way for an unobstructed view out back."
What They Didn't
Rough ride: "If you're looking for a smooth ride, this is not the SUV for you," Newman said, in a comment that was echoed by Robinson. "Every road imperfection is transmitted into the cabin. For some, this is a plus — and a reason to buy a Jeep — but others will find it tiresome." "On curvy roads, this is the truck of the group," Mays said, "with soupy steering, spongy brakes and plenty of body roll."
Hard to load: "The Grand Cherokee's cargo floor is a few inches higher than the others. Load up often at Costco or Home Depot and your back will prefer something else," Mays said. Robinson agreed.
Tight inside: "I definitely felt the most claustrophobic inside, with the cockpit surrounding you like an overstuffed couch," Williams said. "It does not have the open-space feel of the other midlevel players."
And…: "There's a pretty dramatic difference between how nice the front seats are and how much less money looks like was spent on the backseats," Johnny said. "The Grand Cherokee's interior looks like an afterthought, with a poor imitation of metallic trim and not much else to set it apart," Newman said. "Every window behind the driver and passenger is fairly compact, limiting more visibility than I'd like," Williams said. "The rearview mirror has a small rear window to see through, as well." "It's one of only two V-6 engines here, but it doesn't feel as powerful as the Murano," Robinson said.
Research the 2016 Jeep Grand Cherokee | Search Inventory | Car Seat Check
42017 Hyundai Santa Fe Sport, 706 points
The Verdict: "What happened to the Santa Fe Sport?" Newman asked. "The darling of the midsize SUV class has slipped with its cheap-looking and feeling interior, noisy ride and lackluster engine."

What They Liked
Driving with confidence: "The steering feel was a big standout," Williams said. "It had a real precision and quickness to it that was nice when pushing through corners. It feels like the nimblest of our competitors, very likely because it's the lightest package." "The Santa Fe Sport is well-planted on the road," Newman said, "especially through twists and turns."
Cargo friendly: "There's no shortage of enclosed storage cubbies in this group, but for sheer convenience, nothing beats the big, open tray ahead of the Santa Fe Sport's gearshift," Mays said. "It's roomier inside than it appears outside," Robinson added.
Value proposition: "As is traditional with Hyundai, you get plenty of features for the money," Robinson said. "Stout safety ratings and an excellent warranty make a logical case for the Santa Fe Sport," Mays said.
And…: "From the reclining and sliding rear seats to the pull-up window shades, the Santa Fe Sport had the backseat to beat," Mays said. "The Santa Fe Sport has a multiview camera that allows the driver to see where the car is in relation to other cars when pulling into a parking spot, or to the street curb when parallel parking," Newman said.
What They Didn't
Interior motives: "The interior needs some work," Mays said. "Hyundai's grainy dashboard plastics, dull silver trim and wafer-thin seats need to go." "The interior materials don't appear as nice as most in this group," Robinson added. "I'm not a fan of the control busyness," Williams said. "The chrome buttons on a shiny black surface in a giant V-shape doesn't look well-designed or executed." "The center console has a strange look to it," Marianne said. "All the controls seem easy to read and push up high, but it gets busy and strange looking down below."
Poor performer: "The turbocharged engine, which is the same engine found in the Sorento, didn't seem powerful enough for highway driving," Newman said. "The turbo four-cylinder is peakier than most," Mays said. "You have to keep the revs high for much power and the engine makes a coarse din to get there."
Design fails: "The overall look seems like it should cost less than the others. I'm not sure I could justify spending the same amount of money for this as with the Nissan, Jeep or Subaru," Marianne said.  "I can't get over how much like a jelly bean the Santa Fe looks from across a parking lot," Williams said. "This is almost the exact shape the whole segment is trying not to be."
Hard to see out: "The Santa Fe Sport's visibility is one of the worst here," Robinson said. "The Santa Fe Sport's swoopy styling sacrifices visibility," Mays added. "The rising beltline shrinks the second-row windows and the rear-quarter windows are useless."
Not sitting well: "The Santa Fe Sport has a sliding rear bench, which I'm normally a fan of, but when the bench is moved forward, there's a sizable gap between it and the cargo floor," Newman said. "In some cars, there's a flap that bridges that gap, but the Santa Fe Sport doesn't have it, which seems like an oversight."
Research the 2017 Hyundai Santa Fe Sport | Search Inventory | Car Seat Check
32017 Kia Sorento, 740 points
The Verdict: "The Sorento is the one best suited to be the middle-of-the-road family vehicle, easily useful for all members of the family to drive comfortably: grandma, newly licensed driver and spouse," Williams said. "As long as your needs are well-defined and you don't expect to need much more, this is a solid, affordable choice."

What They Liked
Top-notch backseat: "There's lots of rear-seat room and cargo space," Robinson said, and Williams agreed: "The extra wheelbase and larger interior volume really opens up the rear legroom." It's not just about the room, though. "Backseat passengers will enjoy the built-in sunshades, rear vents and rear reading lights, which sit near the doors and ensure the driver won't be bothered by them at night," Newman said. "There are plenty of ways to charge devices back there, too."
Driving fun: "I like having the different mode settings. I'd probably want to keep it in Sport mode all the time," Johnny said. "I really like the small performance touches Kia has included, such as the three separate modes for the transmission [Sport, Eco and Normal]," Williams said, "as well as the Auto Hold aspect that allows you to paddle-shift to hold the gear you want."
Tech heaven: "Our test car lacked navigation, but its connectivity was otherwise an embarrassment of riches: Android Auto, Apple CarPlay, three USB ports and a 110-volt household outlet," Mays pointed out.
Value, value, value: "The Sorento looks like a much pricier SUV thanks to its stunning grille and eye-catching alloy wheels," Newman said. "It's fairly luxurious for a midlevel trim," Robinson said. Mays noted that, "with the lowest as-tested price and one of the best warranties in the group, the Sorento has undeniable value."
And…: "The control layout looks clean and everything is simple to operate," Robinson said. "It has the longest skyroof, so it really makes the inside of the vehicle feel open and airy," Williams said. "The Sorento's deep cargo area is the best-suited for large loads," Mays added, "with a backseat pass-through that's missing in the Ford, Jeep and Nissan."
What They Didn't
Noisy: "Driving the Sorento down most roads yields a symphony of sounds," Newman said. "Only perfectly paved streets, which are few and far between, keep things quiet." Robinson noted the "noisy rear suspension over harsh bumps," and Williams "found quite a bit of 'booming' in the cabin when going over rougher roads and expansion joints."
Slow and thirsty: "The Sorento's turbo four-cylinder doesn't feel as powerful as its numbers indicate," Robinson said, "and its fuel economy is not that much better than a V-6." "The accelerator lag seems consistently bad. Prod the gas and sometimes nothing happens until the transmission downshifts — and that can take a while, too," Mays said. Newman agreed.
Design faux pas: "The designers seemed to just give up on the exterior styling," Williams said. "This one is the minivan of our group." And it didn't end there for him. "I'm both a fan and detractor of the Kia grille," he said. "I like the look of the floating pods that remind me of a 'Star Trek' episode, but it makes the transmission and air-conditioning coolers very visible when looking at the vehicle head-on." For Newman, "while the Sorento gets the wood trim right, it has a rubbery-looking dash that looks like it belongs in a much lower priced SUV."
Rough ride: Robinson bemoaned the "rougher ride than I remember," and Mays added that "none of these SUVs rides poorly, but the Sorento probably comes closest to it. Potholes and tar patches elicit a noticeable degree of shimmy."
And…: "The leather seats feel more like vinyl and they're also a bit stiff," Mays said.
Research the 2016 Kia Sorento | Search Inventory | Car Seat Check
22016 Ford Edge, 779 points
The Verdict: "Ford just edges out its Challenge competitors by doing most things — comfort, technology and family-friendliness — a little better than the rest," Newman said, "but it could use some improvement with its turbo four-cylinder."

What They Liked

Rockin' ride: "The ride quality is terrific. The suspension blends control, comfort and quietness as well as some luxury SUVs," Mays said, and Robinson agreed: "The Edge's ride quality is easily one of the best here."
Interior quality: "I'm impressed with the overall interior quality," Williams said. "All gaps are pretty tight, all touch points on armrests and the console are soft for elbows and hands, and the design is simple." Mays offered his own, backhanded praise: "Aside from its dullsville center controls, the Edge has top-notch cabin materials and uber-comfy seats," he said. Newman chimed in on the seats, "The Edge's seats get the Goldilocks award for comfort: They're not too firm or too soft."
Multimedia nirvana: If you're a longtime reader of Cars.com, you know that we have not liked Ford's MyFord Touch (for many good reasons). But now, with the introduction of the revamped Sync 3 system, the tide has turned. "Ford is emerging from a bad era of multimedia systems, but Sync 3 was worth the wait. It's fast, simple and high-resolution," Mays said. "Sync 3 is the best multimedia system in the Challenge," Newman said. "It's straightforward to use with no learning curve for first-time users." Ford "has finally gotten it right," Robinson said.
Fanny friendly: "The Edge has the most rear hip room of the Challenge contenders and it made easy work of fitting three car seats across its roomy backseat," Newman said.
And…: "There were several little things that I liked," Williams said. "Steering feel is impressively different when moving slow in parking lots than when compared to highway speeds; the tow hitch is nicely integrated into the rear bumper; and all the engine maintenance details (dipstick, filter, oil filler, battery, etc.) are easily accessible."
Power push: "The engine is surprisingly powerful and snappy," Williams said. "It ramps up quickly and can throw you into the back of the seats."
What They Didn't
Power failure: While Williams (and our family testers) liked the Edge's acceleration, the other judges weren't impressed. "You shouldn't have to drive in Sport mode all the time to mitigate the Edge's prodigious accelerator and transmission lag, but you end up having to," Mays said. "The transmission seems to be on its own timetable and not in any particular hurry," Robinson said. "Though I noticed it most when doing the usual multiple three-point turns when shooting driving shots, it takes forever to switch between Drive and Reverse." "When you step on the accelerator, it takes a beat or two for the engine to engage, which is disconcerting when trying to jump into fast-moving traffic," Newman added.
Funky steering: "Sports-car steering meets SUV handling," Mays said. "Our test car's fancy — and excellent — variable-ratio steering will have you tossing the Edge into corners only to discover lots of body roll and tentative grip."
Hard to get into: "The Edge felt most like a bathtub when entering the vehicle. I had to lift my legs pretty high up and over the door sill," Williams said.
Seat failures: "The Edge is the only SUV in our Challenge to have power-folding rear seats, but manually folding the heavy seatbacks into the upright position requires serious muscle," Newman said. "The rear seats don't fold flat; hauling larger items in the cargo area could be a little precarious."
And…: "Visibility is not great, even out the front, with very thick A-pillars," Robinson said. "Our Edge had the second-highest as-tested price, yet it was the only SUV in our group without all-wheel drive," Mays said.
Research the 2016 Ford Edge | Search Inventory | Car Seat Check
12016 Nissan Murano, 811 points
The Verdict: "The Murano is the closest thing to a luxury SUV in this group, with a level of cabin materials and styling flair that's largely missing among the others," Mays said. "But, perhaps because of that, it's also the least practical."

What They Liked
It's quick!: "Hit the gas and the Murano moves quickly," Newman said. "Highway on-ramps and high-speed passing are a breeze thanks to its 3.5-liter V-6." "You can have your peaky turbo fours," Mays said. "Like our Grand Cherokee tester, the Murano had a big-boy V-6 — without the Jeep's big-boy curb weight. It's clearly the quickest one here." "Despite being hampered with a continuously variable automatic transmission," Robinson added, "it's probably the best overall powertrain here."
Heavenly seats: Much like Ford has had issues with its multimedia systems, Nissan seats have long drawn ire from Cars.com reviewers. Not here. "I'm definitely impressed with the larger, plusher seating feel — for both front and back seats," Williams said. "The seats are incredibly comfortable," Robinson added. "I like the luxury feel and looks of the front seats," Johnny said. "I like the material and how they wrap around me, and I'm a pretty big guy."
Quality, smart interior: "The interior is more of an upscale cocktail lounge than a typical automotive interior," Robinson said, and Mays agreed. "Premium cabin materials abound, with convincing double-stitched dash panels and attractive piano-black trim," he said. "This SUV model is a pack rat's dream, with tons of cubbies in the cabin for storing all sorts and sizes of items," Newman said. "I like the thoughtful detail in the rear area where the manual release drops the second-row seats and a push button allows you to raise them," Williams said.
And…: "The Murano's around-view camera system makes quick work of parallel parking, and it's easy to access the multicamera view with the push of a button on the multimedia system," Newman said. "It has a low load floor with seats that both fold down and power back up from the cargo area," Mays added.
What They Didn't
Hard to see: "The Murano's C-pillars should be called C-, D- and E-pillars as they're that wide," Newman said. "This creates a giant blind spot that no amount of shifting in the driver's seat can overcome." "The small rear window, bulky backseat head restraints and ceiling-mounted center seat belt conspire to obstruct your rear view," Mays added.
Driving concerns: "The steering requires a lot of effort at low speeds but doesn't reward you at higher speeds," Mays said. "On curvy roads, the crossover's feedback is still numb." "I understand the theory behind the CVT and the fuel economy advantages," Williams said, "but the continual 1,500- to 2,000-rpm drone gets on my nerves."
Poor design choices: "The exterior design tries too hard to be different," Robinson said.  "I'm not a fan of the white-beige-cream-vanilla color and weird white-wood trim panels," Williams said. "I get that it's supposed to make the interior look bigger, but it seems more like a failed Ikea trim package experiment." "From the side, the Murano's profile doesn't seem to flow together cohesively," Newman said. "It has a huge, almost bulbous front end that's married to a squat-looking cabin." And finally, Robinson added, "I'm not sure what they call striated, shiny plastic trim, but I'm not a fan."
Cargo mistakes: "The Murano doesn't have any under-floor storage in the cargo area — not even a token sliver," Newman said. "The center console and glove box are both quite big, but the Murano lacks much storage around the gearshift, an important convenience for its sheer accessibility," Mays said.
And…: "It might be a small, weird thing [Editor's note: And it is!], but the hood doesn't lift very high, forcing a person to dip their head underneath to check the oil and air filters," Williams said.
Research the 2016 Nissan Murano | Search Inventory | Car Seat Check
How the Competitors Fared in Each Category
How We Tested
We took these five midsize SUVs to the wilds of Wisconsin to put them through a week's worth of testing. We had an expert round robin, where our judges took all five vehicles over the same roads to assess ride, handling, braking, noise and more. We drove a 145-mile real-world mileage route in and around Milwaukee to judge real-world fuel economy. We also brought an in-market couple to help us evaluate this year's SUVs.
From all of the points we awarded in those tests, we found our winner. The scoring broke down this way:
64 percent from the judges' scoring
16 percent from our shoppers
10 percent from the crash-test score
10 percent from the mileage drive