What's the Best Small-Engine Muscle Car?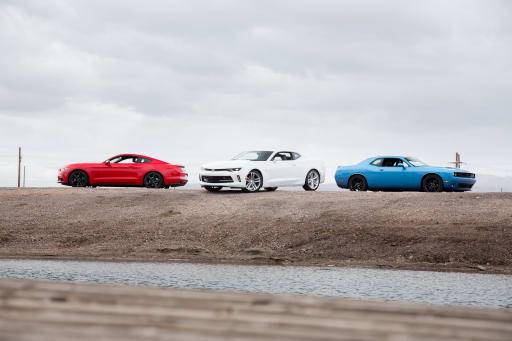 From classic Chevy muscle to newer sports cars designed to rival their predecessors, Americans always have loved muscle cars, and with gas below $2 a gallon in many parts of the country, there might not be a better time to be a fan. We tested muscle cars with small engines, and we tested them with V-8 monsters. This test concerns the smaller-engine versions of such vehicles, which still provide plenty of thrills, but are a little easier to live with, both in fuel costs and as daily drivers.
The Small-Engine Muscle Car Challenge 
Results | Performance | Mileage Test
The contenders:
2016 Chevrolet Camaro 1LT V-6
2016 Dodge Challenger SXT Plus V-6
2016 Ford Mustang EcoBoost Premium Fastback
We flexed these muscle cars in a week's worth of testing:
We put them on a racetrack outside of Phoenix to see how well they performed in zero-to-60-mph tests, quarter-mile times and speeds, and 60-mph-to-zero braking distance tests.
We drove them on a 130-mile real-world mileage course in and around Phoenix.
We had our judges drive them back-to-back-to-back on the same pavement to evaluate ride, handling, comfort, acceleration and more.
From all of the points we awarded in those tests, we found our winner. Our judges were:
Aaron Bragman, Cars.com Detroit bureau chief
Joe Bruzek, Cars.com senior road test editor
Joe Wiesenfelder, Cars.com executive editor
Brian Robinson, PBS "MotorWeek" producer
The scoring broke down this way:
60 percent from the judges' scoring
30 percent from the track tests
10 percent from the mileage drive
Here's how they finished:
What the Judges Said
32016 Dodge Challenger SXT, 780 points
The Verdict: "With the looks of a nostalgic muscle car and the drivability of a large sedan, the Challenger SXT is more 'show' than 'go,' " Bruzek said.
What They Liked
Interior quality: "It's top-notch, with excellent plastic, metal and leather," Bragman said. "The interior is a clear winner," Wiesenfelder said. "Roomy, comfortable and with the best interior design and quality of the group."
Comfort: "It may look like a muscle car, but it is big-sedan comfortable," Robinson said. "Quietest interior of the bunch, even on the worst possible pavement," Bragman said. "It's positively serene at highway speeds." "The Challenger is the only vehicle in the comparison with enough interior room to fit four adults comfortably," Bruzek added.
Brakes: "You wouldn't expect powerful braking at this size without optional performance brakes," Bruzek said, "but the Challenger V-6 slows like a smaller car with a confident pedal providing plenty of stopping power." "It's got impressive braking, especially considering the car's weight, with better pedal feel than the Camaro," Wiesenfelder said.
And…: "It's surprisingly agile for a giant car," Wiesenfelder said. "Even in V-6 trim, it looks bad to the bone," Robinson said. "And Uconnect is the best infotainment system as far as I'm concerned." "The high seating position combines with an upright cabin to provide outstanding visibility," Bragman said.
What They Didn't
The driver's position: "A massive steering wheel, in diameter and girth, coupled with a seat mounted high off the ground mimics the driving position of a school bus," Bruzek said.
Size matters: "It's so darn big," Robinson said. "The mass that makes the street experience so comfortable works against the Challenger on the track, where it feels slow and ponderous," Bragman said.
Transmission: "The automatic didn't work well on the track," Robinson said. "The engine is so quiet that you have to watch the tachometer to know when to shift, and if you don't trigger it just right, it gives you a 'shift unavailable at this time' message and lets you abuse the rev limiter." "The eight-speed that does a fine job in normal use doesn't respond quickly enough for performance driving in Sport mode, or when shifting manually," Wiesenfelder said.
Acceleration: "It doesn't feel as quick as its competitors," Wiesenfelder said. "While decently quick, I wouldn't call the Challenger SXT 'fun to drive' by any stretch of the imagination," Bruzek said. "This is not a happy track car, with slow steering, a high center of gravity and lazy transmission keeping it from being competitive," Bragman said. The motor cranks out plenty of horsepower, but the vehicle just doesn't have enough get up and go.
Handling: "There's way too much roll in the corners for me to really enjoy," Robinson said. "The handling doesn't keep up with the other two," Wiesenfelder said.
Research the 2016 Dodge Challenger SXT Plus | Search Inventory
22016 Chevrolet Camaro 1LT, 783 points
The Verdict: "Its light weight and other performance improvements make the 2016 Camaro a far better car from the start than the previous generation, but Chevrolet's refusal to improve interior space and all-around visibility keep it from winning this contest," Wiesenfelder said.
What They Liked
Its drivetrain: It's "nicely executed," Wiesenfelder said, "with excellent off-the-line power and a well-behaved automatic transmission." "The eight-speed transmission is the best automatic here," Robinson said.
Acceleration: "The car is light and it feels that way, both on the street and on the track," Wiesenfelder said. "Its acceleration blows the other small-engine muscle cars out of the water," Bruzek said, "and it does so with the wail of a high-revving sports car through the optional dual-mode exhaust." The engine cranks out lots of horsepower and makes the vehicle fun to drive.
Speaking of that exhaust note: The six cylinder Chevy Camaro doesn't fall flat when it comes to exhaust sound. "You know it's a V-6, but it sure sounds like a V-8 when you get on the gas," Robinson said. It's one of those V6 cars that really sounds like a more powerful V-8.
Handling: "It's astounding how precise and well-balanced the Camaro drives in its base trim, sans any optional suspension package such as the Mustang and Challenger have," Bruzek said. "There isn't even an optional suspension on the Camaro LT." "The excellent handling rises above the level of the muscle car," Wiesenfelder said, "and into the realm of sports cars."
And…: "It has a comfortable seating position," Bragman said, "with plenty of width and legroom up front." "I think they've got the look just right," Robinson added. "The availability of Apple CarPlay makes the low-rent multimedia system (barely) acceptable," Bragman said.
What They Didn't
Visibility: Chevrolet missed the mark when it comes to visibility, and every judge found it lacking. "The extreme styling hurts utility and comfort, not to mention performance, because it's hard to see past the obstructive windshield pillars," Wiesenfelder said. "The super-high belt line combines with the low roof to make visibility the worst of all the cars here," Bragman said.
Low-quality interior: "The LT1 interior with cloth seats looks like a rental-car special," Bragman said. "Everything nice about the SS has been removed, from soft-touch door panels to attractive gauges." "While the interior style is interesting and fun," Bruzek said, "the materials lack the quality and soft-touch niceness of the Mustang and Challenger."
Tight quarters: "The driver's area is incredibly cramped," Robinson said. "The head restraint juts forward too far and isn't adjustable, which I found uncomfortable on the street, and even worse when trying to get situated under the low roof with a helmet on," Wiesenfelder said. "Losing headroom with the sunroof forces taller people into a lower seating position that makes the already poor visibility even more difficult to cope with," Bragman said. There is definitely no chance of mistaking the interior of this vehicle for a comfy sedan.
And…: "The numbers may look good, but the brake pedal is mushy and seriously nonlinear," Wiesenfelder said. "I understand it's a sports car," Bragman said, "but is there no way to make a decently sized trunk opening? For a car this size, it's almost comically small."
Research the 2016 Chevrolet Camaro RS | Search Inventory
12016 Ford Mustang EcoBoost Premium Fastback, 821 points
The Verdict: "The EcoBoost from Ford really does have more of a European-style coupe feel to it than outright muscle car, and that's just fine," Robinson said, "as it really has expanded the appeal of the Mustang to a whole new audience." What They Liked
The EcoBoost engine performance: "To the driver, nothing about the EcoBoost engine says turbocharged or four-cylinder," Wiesenfelder said. "Though it might not benefit efficiency, I still prefer a six-speed to an eight-speed automatic." "The turbocharged 2.3-liter puts out more than enough horsepower and packs a good wallop when passing at highway speeds, with a faint turbocharger whistle letting you know there's something unique under the hood," Bruzek said. "I find the EcoBoost motor to be plenty entertaining to drive," Bragman said. "The car feels lighter than the scales would suggest."
Visibility: In a clear shot at the Camaro, Wiesenfelder said: "You can see out of it. In all directions."
Infotainment: "Ford's Sync 3 is a huge improvement over the Mustang's previous multimedia system that makes using a phone for audio entertainment an enjoyable experience," Bruzek said. "The new Sync 3 works great," Bragman said, "with speed that is noticeable versus the competitors' systems."
And…: "Best compromise of daily driver demeanor with performance attitude," Robinson said. "This new Ford is a beautiful car with sexy styling that pays homage to its heritage while still looking modern," Bragman said. "The Mustang's relaxed seating position and excellent ride quality, even with the optional EcoBoost Performance Package, are keys to the Mustang being a great daily driver," Bruzek said. "It has the most linear braking," Wiesenfelder added.
What They Didn't
Poor build quality: "It's apparent from nose to tail, with excessive inconsistencies between hood, trunk and body panel fitment," Bruzek said. "Some body parts are noticeably misaligned," Robinson added. All of this "makes a terrible impression on anyone who bothers to notice," Wiesenfelder said.
Sad exhaust note: "Unless you're inside, where the drivetrain sound is electronically augmented, it sounds like a Focus," Wiesenfelder said, "if that." To Bruzek, the engine packs a punch but "it's weak from a start and gets wheezy when revved to the redline." No one will ever hear this Ford and think you're driving a V-8.
Poor interior touches: "It just feels cheap to me," Bragman said, "with this fake machine-turned plastic dash looking more like snake scales than actual metal." "The low-quality leather upholstery had me yearning for some nice cloth," Wiesenfelder said.
And…: "The backseat doesn't have a huge advantage over the Chevy Camaro," Bruzek said. "There's a lot of road noise transmitted into the cabin through the big wheels and tires," Bragman noticed, "even on smooth surfaces." "The ride quality was a little rougher than I expected," Robinson said.
Research the 2016 Ford Mustang EcoBoost | Search Inventory
How the Competitors Fared in Each Category
Cars.com's Editorial department is your source for automotive news and reviews. In line with Cars.com's long-standing ethics policy, editors and reviewers don't accept gifts or free trips from automakers. The Editorial department is independent of Cars.com's advertising, sales and sponsored content departments.