What's the Most Affordable Midsize Sedan?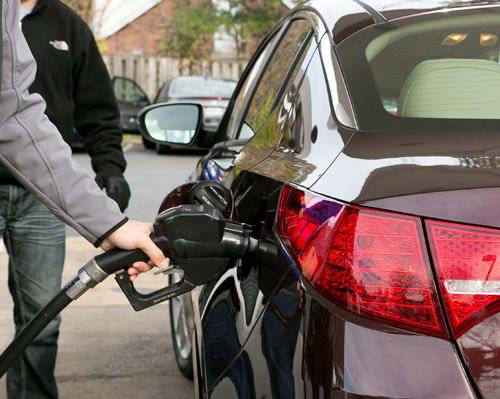 The midsize sedan is one of the most popular segments in the U.S. It serves as a family car, commuter, road tripper and more.
Because of this popularity, automakers offer a dizzying amount of styles and options for their midsizers. This differing content makes it hard for car shoppers to compare apples to apples from one automaker to the next.
We analyzed the segment for the features most drivers would want in a car of this class and uncovered some surprising results.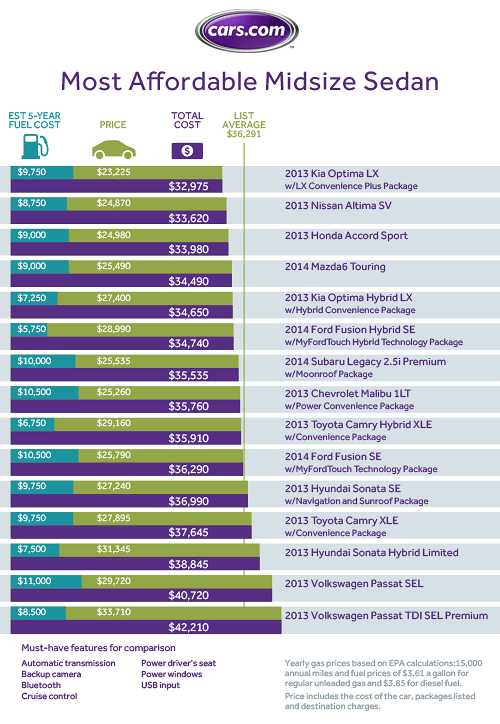 To arrive at the specific trim levels for our analysis we wanted models with a certain level of content that most car shoppers desire.
Required were:
Automatic transmission
Cruise control
USB
Bluetooth
Power windows
Power driver's seat
Backup camera
Most midsize-car shoppers are choosing cars with at least this much equipment. Out of more than 30,000 new Honda Accords in Cars.com's inventory, 67% were the midlevel Sport trim … or higher. For the Nissan Altima, that number was 65%.
We also included five years of gas costs at the current price and driving ratio provided by the EPA. Many midsize sedans are boasting impressive fuel-economy numbers these days, which is helping keep shoppers out of the crossover or SUV camp.
Here are more findings from our analysis:
The Kia Optima was $645 less expensive than the next most affordable sedan. 
The Kia Optima Hybrid and Ford Fusion Hybrid were more affordable after five years than seven other non-hybrids on our list.
The Ford Fusion Hybrid was $1,550 more affordable than the non-hybrid Fusion because it's better equipped at the trim level that fit our criteria and gets significantly better gas mileage.
The Fusion Hybrid's purchase price is $3,200 more than the standard Fusion.
Chrysler's 200 and Dodge's Avenger don't offer a backup camera — not even as an option.
The all-wheel-drive Subaru Legacy will cost less at the pump than front-wheel-drive Chevy Malibu, Fusion or Volkswagen Passat.
The 2014 Passat will go on sale in August; VW promises better fuel efficiency as well as trim levels with more content at lower prices. However, these details weren't available before we published.
Related
What's the Most Affordable Compact Sedan?
Is the 2013 Toyota RAV4 the Most Affordable Compact Crossover?
Research More Sedans