Would You Rather, Ford Edition: F-150 Raptor or Ranger Raptor?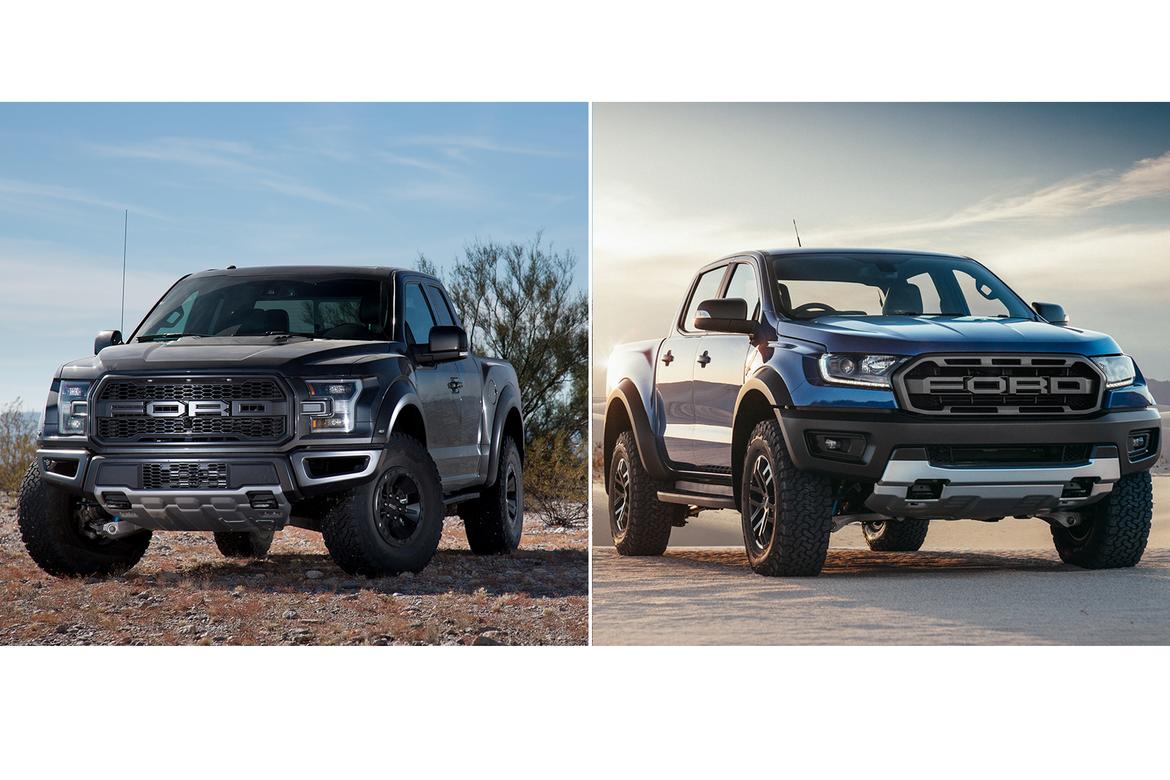 Let's get some things out of the way: Ford hasn't confirmed that the Ranger Raptor is even coming to the U.S., and we haven't had any experience behind the wheel of any version of the "new" Ranger yet. But that won't stop us from speculating that Ford will bring a new Raptor challenger to the Chevrolet Colorado ZR2 and Toyota Tacoma pickups to our shores soon after the regular ones arrive.
Related: What We Want in the Ford Ranger Raptor (If We Ever Get One)
Spying one of these pickups on Michigan roads won't quell the rumors, either. And with our wealth of experience behind the wheel of the full-size F-150 Raptor, it's worth delving into which of the off-road Ford's is a better option for shoppers: the full-size Raptor Ford F-150 or the new Ford Ranger Raptor. And the answer is ... it depends. (Of course it does.)
The F-150 is a gas-guzzling off-roader most at home bombing through the desert at speed, powered by a twin-turbo 3.5-liter V-6 pumping out 450 horsepower and 510 pounds-feet of torque. This version of the F-150 more than capable in rock-crawling situations but is hampered somewhat by its width - both off-road and on the streets.
The Ranger Raptor is shorter and narrower, which will hopefully translate to a bit more agility and city-friendliness (at least on par with the Colorado ZR2). The Ford Ranger Raptor might even have more rock-crawling ability with slightly better approach, departure and ramp breakover angles than the F-150 Raptor. The one current powerplant in this Ford Ranger is a turbo-diesel 2.0-liter good for around 210 hp and 369 pounds-feet of torque, and is also much more suited to the slow stuff. Hopefully some other engine options will be available in the U.S. that might give it a little more power if the Raptor version of the Ford Ranger does make it here. A small and aggressive Ecoboost pickup maybe?
All that off-road gear on the F-150 Raptor makes it tough to use for much else, with significantly lower towing and payload capacities than a vanilla Ford F-150: 6,000 pounds (supercab) or 8,000 pounds (crew cab) of towing capacity and 1,000 pounds (supercab) or 1,200 pounds (crew cab) of payload. Ford hasn't published payload capacities for the Ranger Raptor but says its towing capacity is 2,500 kilograms, or roughly 5,500 pounds. That puts it fairly close to the smaller, extended-cab F-150 Raptor and makes its payload capacity all the more crucial.
If payload is comparable, it might come down to price. The Australian press is reporting a starting price of 74,990 Australian dollars, which is more than $58,000 American. That ... wouldn't be the new Raptor's price here. An F-150 Raptor starts at around $50,000, and the Ranger Raptor's competition here are all in the high-$30,000 to mid-$40,000 range. Expect competitive pricing on the American version.
Which would I buy? City-unfriendly or not, my money's on the F-150 Raptor, and that's only partly because I can go buy one right now- Unlike the 10-speed Ranger Raptor. There's just something about the truck that brings out my inner Ricky Bobby, and I don't expect the Ranger Raptor to step on its big brother's toes in that arena. I'm certainly open to changing my mind if I ever get to drive one. (Just, you know, FYI, Ford.)
Cars.com's Editorial department is your source for automotive news and reviews. In line with Cars.com's long-standing ethics policy, editors and reviewers don't accept gifts or free trips from automakers. The Editorial department is independent of Cars.com's advertising, sales and sponsored content departments.