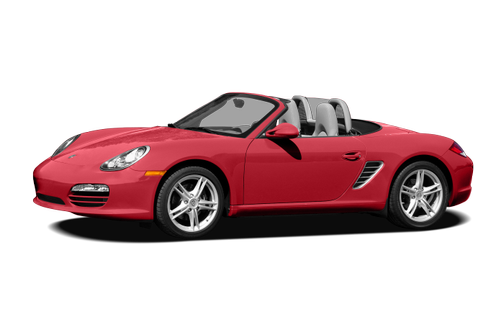 Key specs
Base trim shown
Overview
The good:
New headlights
Better distinguished from Cayman
Mileage improved
Dual-clutch automated-manual transmission
2 trims
Starting msrp listed lowest to highest price
Notable features
Slight exterior restyling
Larger base engine
S-level engine more powerful
New seven-speed transmission
Suspension refinements
LED taillights standard
2009 Porsche Boxster review: Our expert's take
The verdict:
Versus the competiton:
The Boxster is Porsche's most affordable model, and possibly its most fun. Unlike most convertibles, the two-seat Boxster came out years before its coupe sister model, the Cayman, and it's priced lower. What the two share is a class-exclusive mid-engine design that puts the six-cylinder, horizontally opposed engine behind the seats — and puts excellent dynamics in the hands of the driver. "Boxster" is a contraction of "boxer," another name for a horizontally opposed engine, and "roadster," which means two-seat convertible. "Cayman" is an archipelago in the Caribbean; I have no clue why they chose that.
The Boxster was upgraded for 2009 (compare it with the 2008 version here) with more power, better mileage and revised suspensions, but it thankfully hasn't lost its soul in everyday driving — as have some cars designed for the high speeds of Germany's autobahn that we Americans seldom see. Though loads of options bloated its out-the-door price, my test Boxster S, the more powerful trim level, exhibited the same performance you'd get with standard features for $56,700.
Exterior & Styling
The Porsche Boxster remains a soft-top convertible rather than a retractable hardtop, and for good reason. For one thing, soft-tops weigh less, and that's important in a small sport roadster like the Boxster. The only comparable model that offers a choice of convertible tops is the Mazda MX-5 Miata, and it weighs 82 pounds — or 3.3 percent — more as a retractable hardtop than it does as a soft-top.
The Boxster notably weighs a mere 11 pounds more than the Cayman coupe (that's less than four-tenths of a percent). That's a testament to the car's inherent rigidity; convertible versions of coupes usually require added structural reinforcement to keep them sturdy, which adds weight.
When folded, soft-tops take up less room than retractable hardtops, which usually store their roof panels in the trunk. As a mid-engine car, the Porsche Boxster isn't long on space behind the seats anyway, so I doubt the model will ever follow the hard-top trend. Truth be told, the raised roof gives the Boxster a pretty nice line, and some retractable hardtops are just plain weird-looking when all "couped-up."
One thing I like about the Boxster's standard powered top is its willingness to open or close when the car is in motion. Nowadays, most powered tops — and especially retractable hardtops — refuse to move unless you're stopped or, at best, moving less than a few mph. In the Boxster, you can start the top in motion when you pull into a parking lot, and by the time you're parked and turn the engine off, the roof is up. Of course, whether the car allows it or not, it's never wise to do this when moving at higher speeds, or the wind will remove your top — permanently.
A minor restyling for 2010 has added a small center vent low on the front bumper, flanked by more shapely intakes that incorporate LED daytime running lights. In the regular Boxster, the vents' cross-bars are body-colored, and they're black on the S trim level. The Boxster's headlight clusters extend farther up the fenders.
Ride & Handling
The Porsche Boxster and its Cayman counterpart deliver handling like no other cars — not necessarily superior in terms of roadholding, but with loads of imminently controllable fun. At a maximum curb weight of 3,042 pounds (in the S trim with an automatic transmission), the Boxster is reasonably light for a rigid German car — and it feels that way. The Boxster's roughly 45/55 (front/rear) weight distribution calls into question the conventional notion that a 50/50 split is perfect. The car's rear end is happy to come around under heavy throttle, and it's just as willing to pop back in line. There's something about having the engine's mass fully between the front and rear axles that defies the presumed imbalance and connects the driver to the car's dynamic center. You sit in the seat of power — directly in front of the car's pulsating, six-chambered heart.
Overall, the Porsche Boxster S is best appreciated in high-speed driving, especially on a track, because the steering is firm at lower speeds, and the hard brake pedal offers more fine control when it's shaving off mph by 20s and 30s rather than 5s and 10s. Thankfully, its high-speed capabilities don't make it as prim in normal driving as the Porsche 911. The Boxster still hasn't fallen prey to the vast conspiracy to make sports cars more capable at the expense of fun. So it has been since the car made its 1997 debut.
The Boxster comes with an electronic stability system that Porsche calls PSM, Porsche Stability Management. Complicating matters, the adaptive suspension option is called PASM — Porsche Active Suspension Management, which my car had. Even with PASM set for its comfort mode, the Boxster S' ride quality is firmer than you'll find in, say, the BMW Z4.
The firmer suspension mode wasn't particularly comfortable on city streets, but it seems to make a real difference in performance driving; it doesn't exist solely to impress you by becoming outrageously firm. Regardless of which mode you choose, the real advantage is in PASM's computerized ability to read wheel and body motions and pattern the shock absorber firmness appropriately.
The Seat of Power
The Boxster's horizontally opposed, flat-six cylinder engines became more powerful for 2009. The regular Boxster's 2.7-liter grew to 2.9 liters, and its 245 horsepower bumped up to 255. The 3.4-liter in my Porsche Boxster S test car generates 310 hp, up from 295 hp in the 2008. As the table shows, despite the higher output, combined mileage while running on required premium gas has improved by 1 to 3 mpg, depending on the transmission.
Porsche Boxster Engines
 
2008 Boxster base
2009 Boxster base
2008 Boxster S
2009 Boxster S
Engine
2.7-liter H-6
2.9-liter H-6
3.4-liter H-6
3.4-liter H-6
Horsepower (@ rpm)
245 @ 6,500 rpm
255 @ 6,400 rpm
295 @ 6,250 rpm
310 @ 6,400 rpm
Torque (lbs.-ft. @ rpm)
201 @ 4,600 rpm
214 @ 4,400 rpm
251 @ 4,400 rpm
266 @ 4,400 rpm
City/highway – combined mpg
(manual; automatic)
19/28 – 22*; 19/26 – 21
19/27 – 22; 20/29 – 24
18/26 – 21; 18/25 – 21
19/26 – 22; 20/29 – 23
*Six-speed manual; standard five-speed (discontinued for 2009) is 20/29 – 23 mpg.
Source: Manufacturer, EPA
When a car's power and efficiency both increase, it usually means one thing: direct injection, and that's the technology that's been added to the engines. They're aided by the new seven-speed, dual-clutch automated manual called PDK — for Porsche Doppelkupplungsgetriebe. (I'm going to stick with "PDK.") Similar to transmissions from the likes of BMW, Mitsubishi, Volkswagen/Audi and others, PDK connects to the engine's crankshaft by means of two different clutches — one for odd gears and one for even gears, resulting in practically instantaneous handoffs from one gear to the next. Sorry, stick shift fans, but the PDK shifts a tenth of a second faster than you can, resulting in zero-to-60 sprints of 5.5 seconds in the regular Boxster and 4.9 seconds in the S, according to Porsche.
The engines remain normally aspirated, so they don't see the torque boost we've come to expect from turbocharged direct-injection engines, but having seven forward speeds made my Boxster S' relatively lean low-rev torque a non-issue. The tach needle scales quickly to redline.
As far as shift speed goes, PDK has it down: While most transmissions of this type upshift faster than a congressman changes positions, they don't all downshift very quickly. PDK does, as is best illustrated when shifting manually using the steering-wheel buttons — which I hesitate to call paddles, because they're really not. They're oddly shaped push-pull buttons that protrude upward from the spokes just inboard of the wheel. We can argue whether the shifter buttons should be push/pull for upshift/downshift or the Formula One style, which is left-side downshift and right-side upshift. We can also debate if they should be on the wheel itself or on the steering column. But you can't argue that these buttons are ergonomic; pushing them sideways with your thumb just ain't right. I preferred to use the shifter lever itself, which you pop to the left into a separate up/down shift gate.
Fully automatic modes include Drive and Sport, the latter of which is summoned using a Sport button in front of the gear selector. Both programs feel pretty natural, but they exhibit a slight lurch from a standing start — common with this kind of transmission — and you feel the successive downshifts even in the regular Drive mode as you coast to a stop. Sport makes the electronic throttle more sensitive, keeps the transmission in lower gears for a given speed, and makes the transmission more likely to kick down when you tap the accelerator.
My problem with PDK is that the regular and Sport modes are too far apart. I often thought Drive wasn't quite responsive enough, but when you hit the Sport button, you get the herky-jerky combination of lower gears and a more sensitive throttle. I need a middle ground.
There's a lot to be said for dual-clutch automated manuals, especially because they're more efficient, but once the hype dies down driving enthusiasts will recognize that they're just as soulless as the automatics they replace. The emotional connection of operating a clutch pedal and stick will always be there — and in the Boxster it saves you the PDK's whopping $3,420 price tag.
The Power Seat
You sit pretty low in the Boxster, and the wind wraps around you quite well. My car had the optional polycarbonate "windstop" deflector between the head restraints, which minimized wind buffeting from behind. One annoyance that hasn't changed for 2009 is the sound of the cooling fan on the right flank when driving with the top down. Because the engine is behind the seats, the radiator is, too, so an electric fan blows its cooling air through the vent just behind the door on the right side, roughly in line with occupants' heads. You might not notice it, though, unless you pass other cars, barriers or other objects that can reflect sound. On the upside, it didn't turn on as much during our cool summer days as the previous generation's did last time I tested it.
Otherwise, the car is reasonably quiet — not as quiet as a retractable hardtop, but better than the days of the single-layer ragtop. The Boxster does, however, have the telltale over-the-shoulder noise that always seems to seep in along the rear pillars and window in ragtops.
Visibility isn't bad, partly because the car rides low and virtually everything else on the road is taller. On the downside, soft-tops usually have wider rear roof pillars (or cloth pillar equivalents) than retractable hardtops, and that's the case here.
The glove compartment is decent in size, but there's little else to speak of. The center armrest raises to reveal a tray deep enough for coins and some iPods, though my ancient Mini wouldn't fit with the belt clip attached. The Boxster makes up for it with its two trunks. The one in back seems a tad small, but still reasonable for this class, though the front one is remarkably deep: I had a standard carry-on, rolling suitcase standing upright, but it was just tall enough that I was concerned I'd bend the hood if I closed it. The bag fit easily widthwise, though, and it looked like another would have fit on top of it. Golf clubs need not apply unless the passenger seat is empty.
What You're Paying For
When you buy a Porsche, your money is going to two main things: performance specs and the cachet of the brand name — the latter of which having a value only you can quantify. This becomes pretty clear when you look at the interior quality — and/or the options list. The Porsche Boxster S' cabin quality is by no means bad overall, but there are some aspects you don't want to see in a car priced at $56,700. My main problem is the silvery plastic. That's a common gripe of mine, but it's especially egregious here because it appears extensively on so-called touch points — meaning things you touch, like the inside door handles and the steering wheel's PDK shift buttons, which come complete with rough seam edges from the plastic molds. Serious bush-league stuff.
Another example is the plastic trim piece you push to get at the outrageously flimsy cupholders, both of which emerge from the dashboard in front of the passenger.
The Boxster did receive some interior upgrades for 2009, including an updated Porsche Communication Management option that controls the audio, communication and navigation systems — a badly needed upgrade that brings a 6.5-inch touch-screen interface. A USB jack for controlling iPods and playing music from flash drives is also available. Here's the problem: The 2009 improvements come largely in the form of options. In fact, most of the Boxster's features come in the form of options, including simple stuff like heated seats, automatic climate control and the USB jack.
Our Porsche Boxster S was crammed with options — including some as exotic as heated, eight-way adjustable power seats ($2,050); bi-xenon headlights ($1,560); and a premium stereo ($990) — plus such chart-toppers as Natural Leather Cocoa leather interior ($2,815), PCM with navigation/communication ($3,110) and PASM ($1,990). In the end, the price was $78,795 with the destination charge. Yowsa.
Safety
As a relatively low-volume convertible, the Boxster hasn't been crash-tested by the Insurance Institute for Highway Safety. In addition to frontal airbags, the Boxster has side-impact torso airbags in the seat backrests, and it's one of the first and only convertibles with head-protection airbags that deploy upward from the doors. Antilock brakes and the electronic stability system are standard. You can see the full list of safety features here.
Boxster in the Market
Some base-model cars are price leaders, but they're so stripped-down you wouldn't want them. Fortunately, most of what makes a Boxster what it is — an incomparable, fun roadster bearing the respected Porsche badge — can be had for the base model's entry price. With the exception of a few low-quality materials inside, most of what you might want is available if you're willing to pay extra. Porsche wisely makes almost all its options available a la carte rather than packaging them, so you can pick and choose, paying only for what you want, like alloy wheels or trim finishes. Porsche isn't alone in its modest standard-features list — especially among German brands — and it has something others don't: a mid-engine design and the performance that comes with it. In the automotive market, exclusivity is always a good thing … well, almost always.
Warranty
New car and Certified Pre-Owned programs by
Porsche
Certified Pre-Owned program benefits
Maximum age/mileage

13 Years/124,000 miles

Basic warranty terms

2 years/unlimited miles after new-car limited warranty expires or from the date of sale if the new vehicle limited warranty has expired

Powertrain

2 years/unlimited miles after new-car limited warranty expires or from the date of sale if the new vehicle limited warranty has expired

Dealer certification required

Roadside assistance

Yes
View all cpo program details

Have questions about warranties or CPO programs?

All model years for the Porsche Boxster

Show more years

Show fewer years