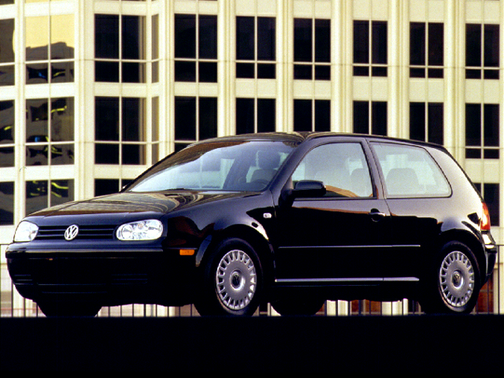 No 1999 Volkswagen Golf inventory available
Get notified when this car becomes available. Sign Up.
Sign up to get notified
We understand it can be frustrating when the car you are interested in isn't available. Sign up to get notified when this car becomes available.
Already have a profile? Sign in.
Key specs
Base trim shown
6 trims
Starting msrp listed lowest to highest price
1999 Volkswagen Golf review: Our expert's take
The verdict:
Versus the competiton:
In all the excitement over the New Beetle, it's easy to overlook German automaker Volkswagen AG's other new offering, the redesigned 1999 Golf. Built in Mexico, the Golf is the latest incarnation of the company's long-lived, front-wheel-drive hatchback, which debuted in the mid-1970s.
We drove a Golf GLS TDI, which is shorthand for saying it's an upscale version with a turbocharged diesel engine and a $20,650 price tag.
Last year, we gave the New Beetle a big Valentine. This year, the Golf — well, a sympathy card might be in order.
She: You sure were acting like The Fonz when I was driving the Golf and you were a passenger in the front seat. Remember how he used to hit the pop machine on Happy Days to get it to work? You gave that instrument panel a couple of good whacks. I'm just glad you don't grease back your hair.
He: I did have my black leather jacket on. But I was trying to get rid of that annoying rattle that's been coming from that side of the instrument panel. Never could pinpoint it – or stop it. That noise can really get on your nerves after a while. Not to mention the control knob for the side-view mirrors that broke off in my hand. I had to adjust the mirrors by hand, which was really inconvenient. Don't get me wrong. The Golf is a decent entry for a car with an under-20 base price. But it's not worth more than two stars in my book.
She: I'm only giving it one. When we've had domestic cars with disintegrating parts we weren't too forgiving. Not only that, I found the optional turbodiesel – you can also get the Golf with a 2.0-liter gasoline engine – a disappointment. Maybe I need instant gratification. But I was anxious for those engine glow-plugs to warm up and that dash warning light to go out – even if it only took a couple of seconds. The diesel doesn't smell bad, but it's noisy, only makes 90 horsepower and it's sluggish when you first start it up and take off. The one good thing is that it seems to go forever on a tank of fuel.
He: One of the main points we need to make is that the Golf is a far cry from the old Rabbit, which is what Volkswagen of America used to call its version of the original German-built Golf. Yes, it retains some of the boxy silhouette, but it's bigger inside and out and more rigid. VW has taken care to lavish the GLS version with standard items such as a folding front-center armrest, one-touch up-and-down power windows and cruise control. The standard car comes with a five-speed manual transmission, but we had the optional four-speed automatic which cost an extra $875.
She: Even though I think the Golf is a pretty ugly car, it is very functional. You can't see inside the hatchback area because it's got a built-in cover, which is nice. It's very easy to load groceries. The back seat folds flat and is roomy – bigger than you'd expect. The instrument panel has that striking blue back-lighting, just like the New Beetle. But sorry, no bud vase in this Volkswagen.
He: The other strange thing about the Golf is its warranties. All over the map. You have a two-year, bumper-to-bumper warranty that's among the worst in the industry. Yet you get pretty impressive coverage on the powertrain and a 12-year anti-corrosion warranty.
She: I thought the instrument-mounted cup holders were pretty flimsy. Doesn't it strike you that the Golf is a little inconsistent? Yes, you can doll one up like our test model, which had leather accessories and heated seats for an extra $850, but on the other hand, it isn't easy to tote around your water bottle.
He: Volkswagen says the Golf has been Europe's most popular compact car for more than two decades. I can't believe in this global economy there's that much difference in taste between Americans and Europeans. But in the United States, the Golf is going up against some pretty stiff competition, notably the Toyota Corolla and the Honda Civic. When you cast it in those terms, the Gol, wit its shortcomings and idiosyncrasies, seems no better than average.
Warranty
New car and Certified Pre-Owned programs by
Volkswagen
Certified Pre-Owned program benefits
Maximum age/mileage

MY 2015-MY 2017 vehicles/75,000 miles; MY 2018- MY 2019 vehicles/72,000 miles; MY 2020 and newer vehicles/75,000 miles

Basic warranty terms

Vehicles purchased on or after 1/5/21: MY 2017 & older, 2 yrs/24,000 miles (whichever is 1st) limited warranty; MY 2018-19, 1 yr/12,000 miles (whichever is 1st) limited warranty; MY 2020 & newer, 2 years/24,000 miles (whichever is 1st) limited warranty

Dealer certification required

100-plus point inspection

Roadside assistance

Yes
View all cpo program details

Have questions about warranties or CPO programs?
All model years for the Volkswagen Golf
Show more years Show fewer years