State Farm Testing an OnStar Competitor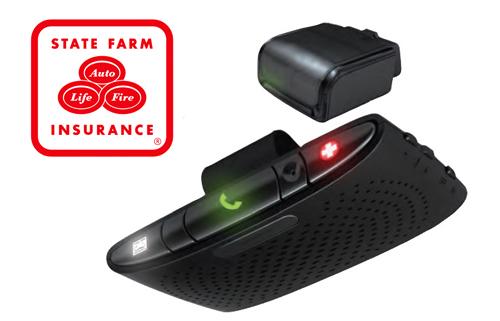 State Farm has announced a telematics system that will assist drivers in an emergency, and it's tied to a program that could help save money on car insurance.
In-Drive is a one-touch emergency response, diagnostic and location-based service tool. The system uses a small device that plugs into your car's onboard diagnostic port to collect data on miles driven, turns, acceleration, braking, speed and time of day.
Another small device, clipped to the car's visor, lets drivers make phone calls via Bluetooth and allows phone calls for emergency and roadside assistance. The optional In-Drive visor clip offers comparable services to GM's OnStar FMV product, though the clip has to be charged because it lacks a power source. That's somewhat inconvenient, but it's a similar setup to aftermarket Bluetooth speakers. Most vehicles built after 1995 should accommodate both In-Drive systems, though some vehicles are excluded.
Depending on what services you want, the In-Drive system will cost anywhere from $6.99 a month — for services such as stolen-vehicle help and maintenance reminders — to $11.99 for automatic emergency response assistance, roadside assistance and enhanced diagnostics. Buying the services in six-month chunks produces additional savings. If you want speed, location and vehicle tracking capabilities, that will cost an extra $9.99 a month. When you add up the packages, pricing is comparable to
OnStar
.
Like the OnStar system — which State Farm also provides discounts to policy holders for — the In-Drive system should reduce premiums. Liability, medical payments, collision and comprehensive coverage premiums will go down about 10% automatically when you sign up for In-Drive, State Farm says.
However, In-Drive also tracks driving habits. If your driving habits fall in line with what the insurance company deems as safe, premiums could go down by as much as 50%, depending on how frequently you drive, the time of day and your driving style. That figure doesn't account for extra discounts you might already get with State Farm.
On average, State Farm says the average policy holder will save an extra 20% off their premiums for folks driving 12,000 miles on average annually.
Of course, it's always possible that if you drive recklessly, there could be no savings from In-Drive. Or worse, your premiums could go up. Even if that were the case, the system would still provide the added benefit of automatic incident alerts and helping to track down your car if it's stolen, depending on the plan you have. We'd like to point out, though, that if the thief is clever enough to yank out the device in your diagnostic port, State Farm won't be able to track down your car.
In-Drive will be available to Illinois State Farm policy holders in September. More states will be added next year.