Mobile Devices Replace Games, Sing-Alongs for Traveling Families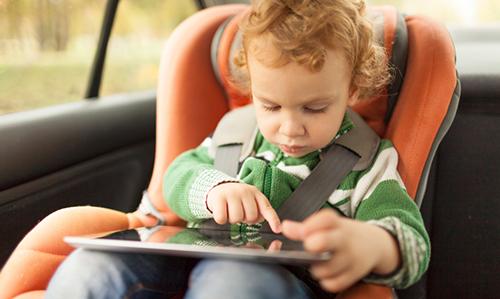 So, those nostalgic memories of playing I Spy and singing "The Wheels on the Bus" as your family road-tripped across states to your aunt's house for the holidays? Relics of a bygone era, like the VCR, Pet Rocks and Crystal Pepsi. Holiday-road-trip distractions have been upgraded, and both parents and children alike are keeping themselves entertained with the varied technologies of today's gadget-happy culture.
A new online survey by research firm Harris Interactive on behalf the manufacturers of the Scout GPS personal navigator polled 2,044 adults last month and found that personal electronics now overwhelmingly dominate in passing the doldrums of family holiday car travel. Only 27 percent of parents said old-school-style games and sing-alongs helped fill the hours on their trips. The most popular distraction for kids is video games, with 54 percent of parents saying so — including 36 percent of parents with kids age 2 or younger, and 62 percent with kids ages 3 to 5. Meanwhile, 46 percent say their youngsters watch movies, and 30 percent say they text or access the internet on mobile devices.
But the kids aren't the only ones with their noses in their smartphones and tablets. Researchers report that 62 percent of adults who own mobile devices check email during holiday road trips (13 percent say they check "constantly," defined as every 10 minutes). Moreover, 72 percent of respondents say they're using their mobile devices to take road-trip photos or videos — one-third, constantly — while 41 percent report posting or uploading photos to social-media sites like Facebook, Instagram and Twitter while in the car. Nearly a quarter post three to 10 photos on the road, while 3 percent admit to "oversharing."
When listening to music on the move, 27 percent said they favored songs downloaded onto a mobile device, 18 percent preferred streaming music services such as Pandora and Spotify via mobile device, and 18 percent opt for satellite radio. Still, more traditional choices remain highly popular, including AM/FM radio (69 percent) and CDs (39 percent).
In addition to the way we keep ourselves entertained, GPS navigation also has revolutionized how holiday road-trippers find their way. How much have things changed? Remember stopping at the gas station to ask for directions? In 2013, 10 percent of people say they've never in their life stopped for directions — and that percentage doubles for 18- to 34-year-olds.
Related
Move Over Laptops; Touchpads Are on the Rise in Cars
Connected Cars Take Another Step With New Concept
More Car Gadgets News on Cars.com