2017 Volkswagen Golf Alltrack Vs. 2017 Subaru Outback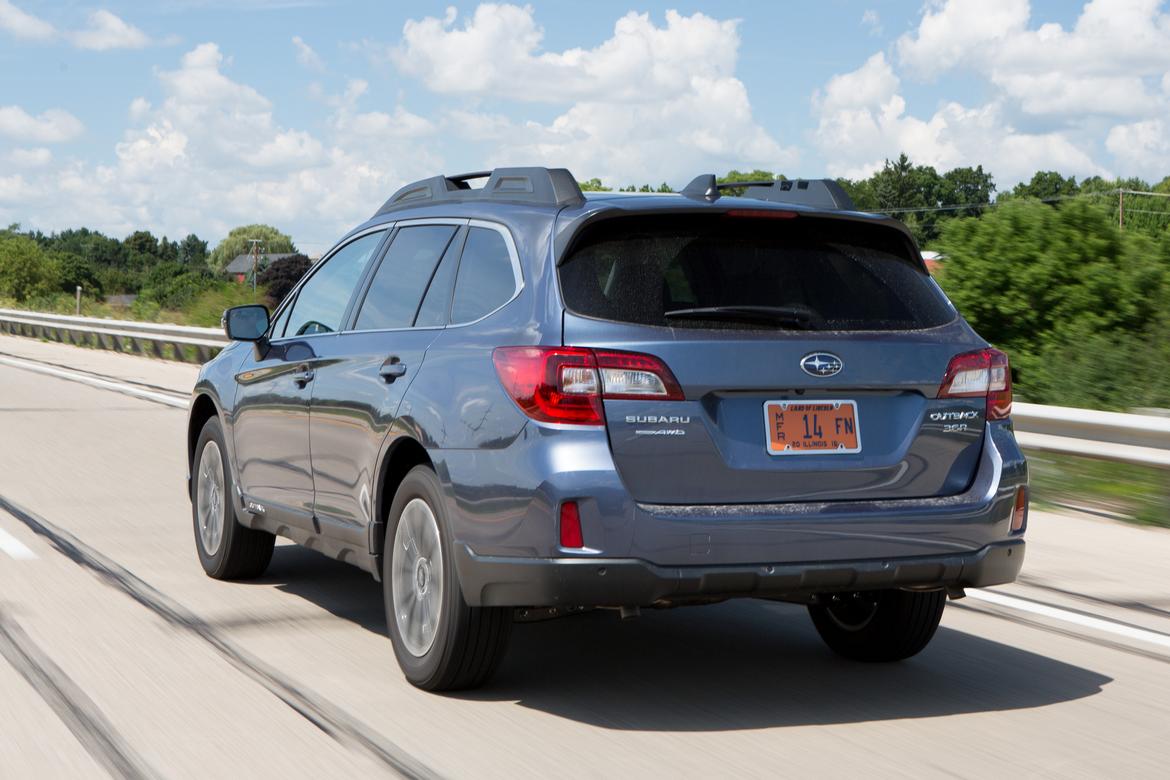 CARS.COM — If you have children, it's possible you have a few of those "Who Would Win?" books around your house. This is a series of brief but enthralling books that pit one fierce creature against another. "Killer Whale Vs. Great White Shark," "Polar Bear Vs. Grizzly Bear" and "Tarantula Vs. Scorpion" are a few of the titles on my children's bookshelves. Add Volkswagen Golf Alltrack versus Subaru Outback to the list.
Related: How Capable Is the Volkswagen Golf AllTrack Off-Road?
When Volkswagen presented the 2017 Golf Alltrack as a direct competitor to the Subaru Outback, I couldn't help but imagine a "Who Would Win?" scenario between them. Even VW thinks this is a good matchup, saying, "When it comes to all-wheel-drive wagons, the choice has been largely limited to the Subaru Outback. Until now. The Golf Alltrack arrives turbocharged, well-equipped and ready to challenge the Subaru Outback head-to-head."
Gauntlet thrown. So, who would win? With similar starting prices, standard all-wheel drive and seating for five, it's a tight race.
I took both the new Volkswagen Golf Alltrack and the Subaru Outback for a test drive; let's take a look at some of each car's basics (all prices include destination):
2017 Volkswagen Golf Alltrack
2017 Volkswagen Golf AllTrack; Cars.com photos by Brian Wong
Base price: $26,670
Trim level, price as tested: SE, $32,195
Powertrain: 170-horsepower, turbocharged 1.8-liter four-cylinder with six-speed automatic transmission
Fuel economy: 22/30/25 mpg city/highway/combined
Ground clearance: 6.65 inches
Cargo room behind the rear seats: 30.4 cubic feet
Passenger volume: 94.3 cubic feet
Multimedia system: 5.5-inch touchscreen, App-Connect smartphone connectivity
Safety Rating: Insurance Institute for Highway Safety Top Safety Pick
2017 Subaru Subaru Outback
2017 Subaru Outback; Cars.com photos by Evan Sears
Trim level, price as tested: Touring, $36,870
Powertrain: 175-hp, 2.5-liter four-cylinder with continuously variable automatic
Fuel economy: 25/32/28 mpg
Ground clearance: 8.7 inches
Cargo room behind the rear seat: 35.5 cubic feet
Passenger volume: 104.5 cubic feet
Multimedia system: 7-inch touchscreen screen, Subaru Starlink smartphone connectivity
Safety rating: IIHS Top Safety Pick Plus
Driving the Golf Alltrack is a blast. It's low to the ground, handles like a sporty sedan and the turbocharged engine provides plenty of verve. It's also a bit more stylish, with standard features like heated front seats and a trunk pass-through that give it an extra edge. The available moonroof on the Alltrack is also panoramic, as opposed to the Outback's normal available moonroof. It has got a lot going for it.
However, with superior ground clearance, significantly more passenger and cargo volume, the available automatic liftgate with height memory, and better fuel economy, the Outback is the victor in my "Who Would Win?" scenario. The Subaru is simply roomier, and that makes a big difference.
I'm on the taller side for a female, but at 5-feet 8-inches, I'm fairly average within the larger scheme of things and felt pretty cramped in the Golf Alltrack. A friend of mine who's 6-foot 2-inches had to literally fold himself into the passenger seat, moving it as far back as it would go and leaving nary an inch for rear passengers. The Outback also has a slight edge in safety ratings, earning a Plus to its Top Safety Pick title; both models aced their crash tests, but the Outback's headlights were rated as more effective, earning it the Top Safety Pick Plus designation.
It's worth noting that in "Who Would Win? Killer Whale Vs. Great White Shark," the book concludes that the whale would win, but I would proffer that nature has this battle as pretty even over time. Both are fierce, magnificent creatures whose very presence on our planet makes things more interesting. Despite my above comparison landing on the Outback as probable winner, the Golf Alltrack offers a lot, and the winner of this battle truly depends on your needs and preferences. Both wagons have a lot to offer, and the all-wheel-drive wagon market is better for it.