2018 Buick Regal TourX: Does the Wagon Improve on the Regal's Laggin'?
A few months ago, I had the opportunity to drive the 2018 Buick Regal Sportback, the mid-size replacement for the Buick Regal that GM is pitching against competitors like the Audi A5 Sportback. Despite having the goods to go up against an imported German luxury brand on paper, the Regal fell short in person, suffering from a lazy transmission and cheap interior that made comparisons with a luxury brand like Audi, or even Acura, spurious at best. The Regal looks dynamite from the outside, all swoopy and low, but is let down by some interior cost-cutting that you won't find on an Audi or Acura.
Related: 2018 Buick Regal Sportback First Drive: Aiming for the Bleachers, Hitting the Infield
But there's a second model in the Regal lineup, the TourX wagon, and it makes a different case for itself. You could talk about matching it up against an Audi A4 Allroad, but in price, size and content, it matches up a bit better with the Subaru Outback. I drove a new TourX for a week and took it on an intercity jaunt from Ann Arbor, Mich., to the Cars.com home office in Chicago to get more familiar with this surprising entry from Buick, and to answer the question: Is the Regal TourX better than the Regal Sportback?
It Looks Better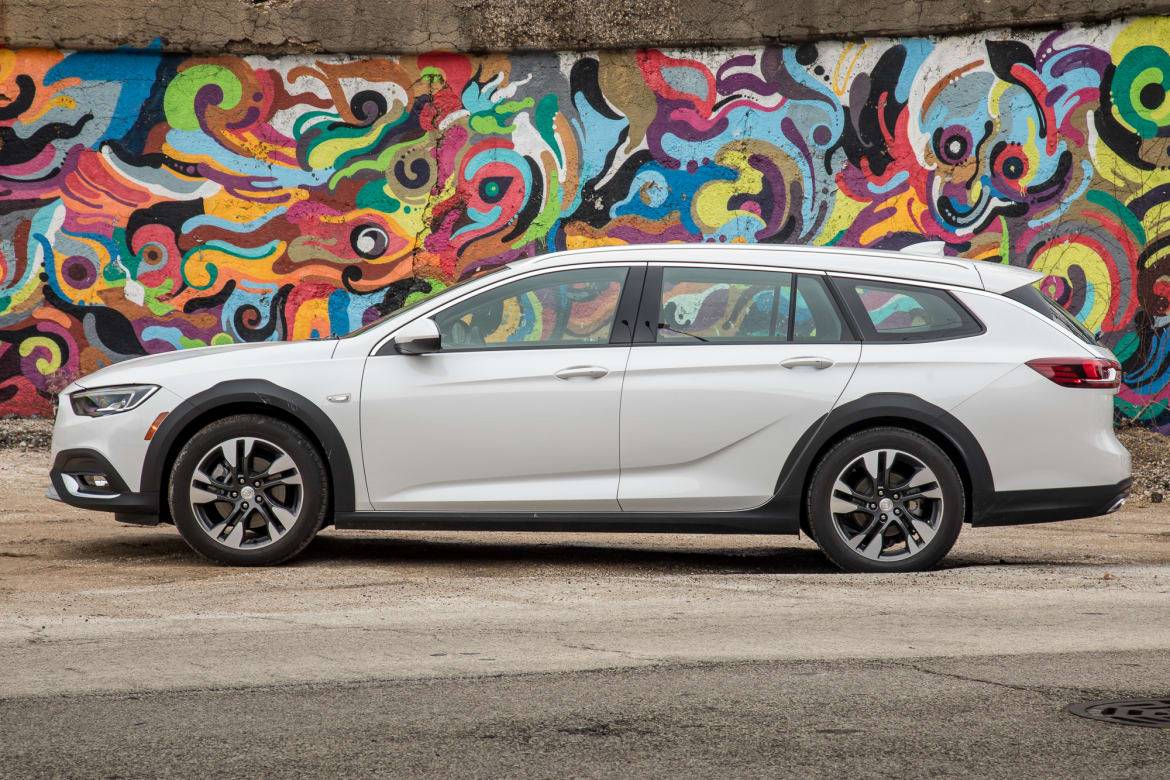 Don't think of this as a wagon. These days, whenever the word "wagon" is affixed to an automotive product, American buyers freak out and shun it en masse. No, think of this instead as a "low SUV," something that has all the space and utility of a true SUV but with the better handling dynamics of a lower passenger car. The TourX does sit a little higher, and it does feature questionable plastic cladding that detracts from its looks, but the overall shape is even more attractive than the appealing Regal Sportback.
Extending the roof to a long cargo area draws the eye onward from the already-shapely front end, and it gives the added benefit of better headroom and cargo space over the Sportback model (not that the Sportback suffered from a lack of either of those things). So on the outside, I think we can definitely give the nod to the TourX — it's the better-looking of the already-good-looking pair.
It Drives Differently
The TourX is only available with the turbocharged 2.0-liter engine and eight-speed transmission, as it comes with all-wheel drive standard. A front-wheel-drive version of the Sportback is available with a nine-speed automatic — and that is the better powertrain combo — but the TourX's mission as more of a family hauler and soft-roader means that all-wheel drive and the eight-speed is what you get. The engine is adequate to haul the big wagon around, with sufficient power for easy acceleration. The eight-speed works as well as it does in the Sportback, but here's the difference: You're not pitching this against sports sedans like Buick is trying to do with the Sportback.
Put the TourX up against other large, high-riding wagons (or low SUVs, let's call them) and the Buick stacks up just fine in terms of performance. The steering is fairly numb on center and isn't set up for spirited driving, but that's actually on-mission for a mid-sized family hauler. I'd stack this up against an Outback without hesitation in terms of driving dynamics: The brakes are better, the sound insulation is superior and the ride quality is about even (the TourX does have some unusual ride characteristics that I chalk up to the tires). The Buick's all-wheel-drive system is excellent, enabling the TourX to claw its way out of deep, semi-plowed Chicago city streets with aplomb.
Interior Is Less of a Letdown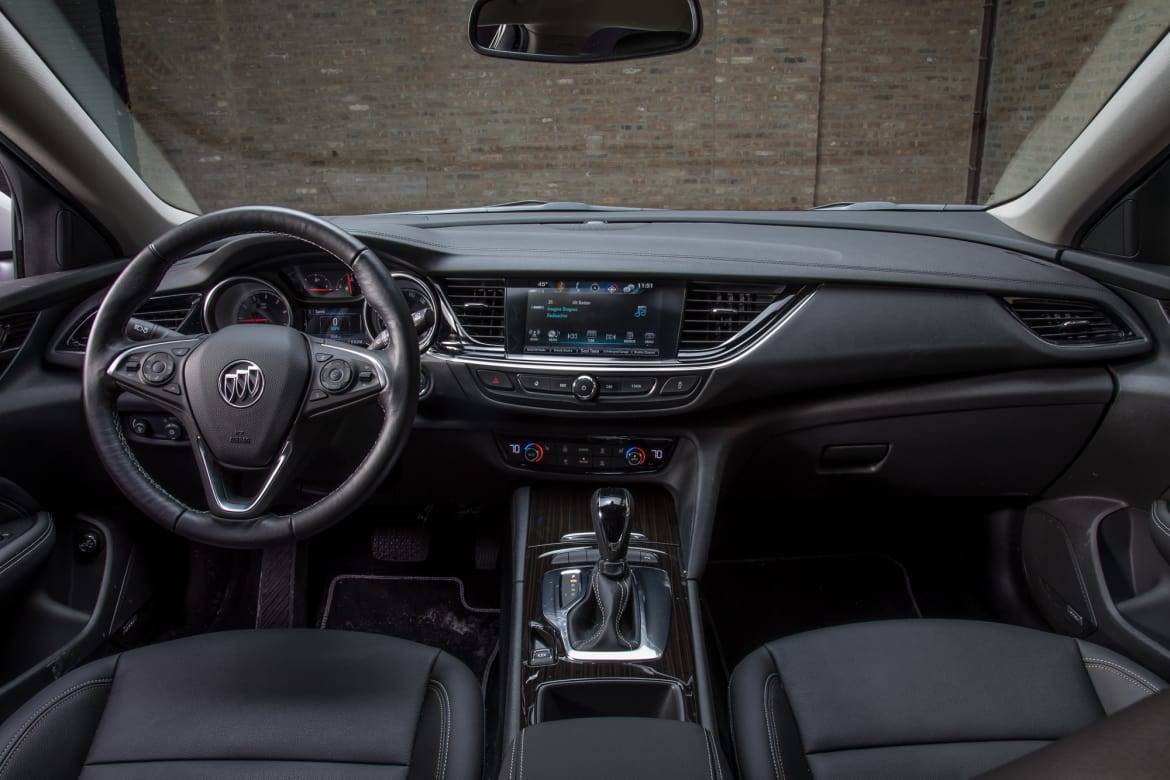 Inside, the TourX suffers from the same shortcomings as the Sportback — designs that look appealing and inviting let down by materials and assembly quality that belie a renewed interest in cost-cutting at GM. The multimedia system is still mid-pack in terms of ease of use and functionality; there are no height-adjustable seat belts; and some plastics look and feel cheap, like those used for the turn-signal and wiper stalks.
But here's the thing: When you compare this interior to that of an Audi, as Buick is trying to do with the Sportback, there is no comparison. But when you put it up against mass-market brands like Subaru, there's much less of a quality gap. The Outback interior is nice but not amazing, and the same can be said of the Regal TourX's digs. It's very comfortable, it's spacious, it's quiet and it features plenty of amenities (if you've ticked the options boxes to pay for them). The Sportback felt like a more premium Chevrolet Malibu inside; so does the TourX. And given the TourX's goals, it's more acceptable for this car than it is for the Sportback.
Safety Equipment, However …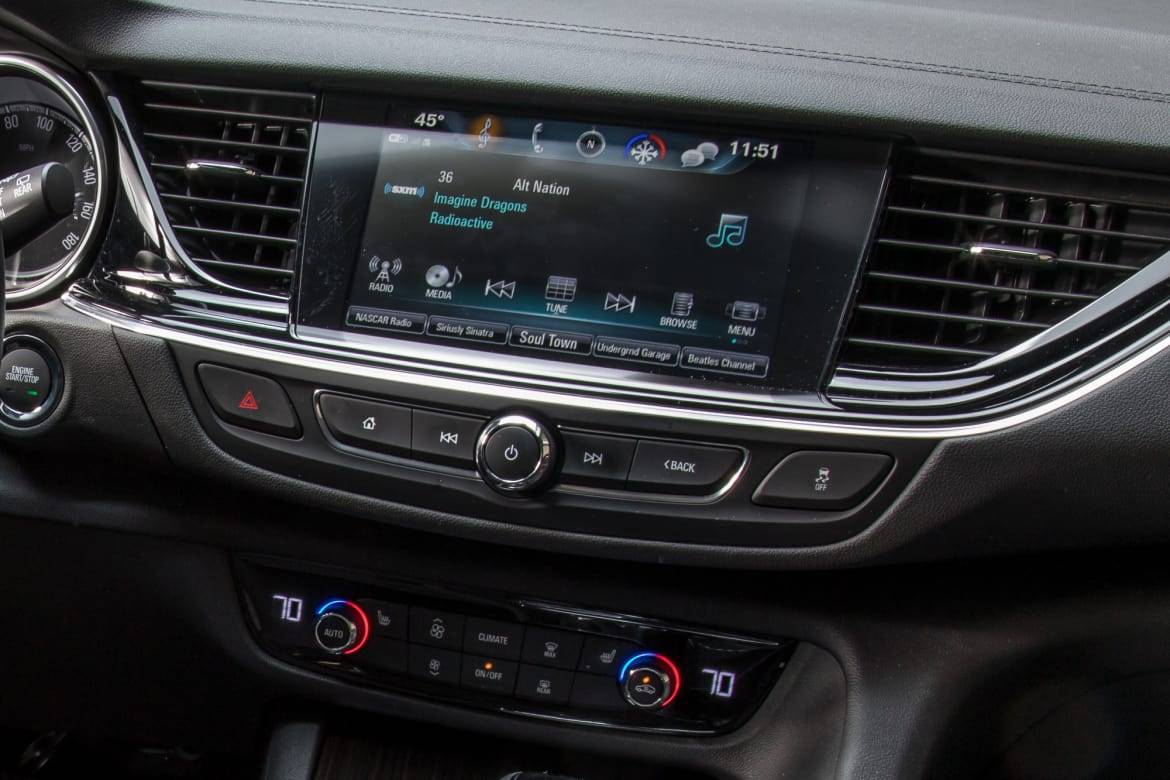 Where the Subaru wins is in a comparison of standard safety equipment. In order to get things like forward collision warning and autonomous braking on the TourX, you'll be spending around $39,000 at minimum for a high trim level. On the Outback, the EyeSight sensing suite of technologies can be had on a mid-level model for just less than $31,000. Buick may want to reconsider its technology bundling for safety systems if it wants to up its competitiveness.
In the end, the change from Sportback to TourX does change my opinion on the Regal somewhat. It's no sports sedan, or even really a sports wagon, but then it doesn't feel like it's trying to be. For buyers who enjoy their Outback wagons but want something more stylish without giving up all-weather practicality, the Regal TourX is an interesting option. I wouldn't put it up against an Audi A4 Allroad or a Volvo V60 or V90 – and pricing would suggest that Buick doesn't intend for these models to compete, either. But for a premium low-SUV experience without having to go to a true SUV, the Regal TourX should be on your shopping list.
Cars.com's Editorial department is your source for automotive news and reviews. In line with Cars.com's long-standing ethics policy, editors and reviewers don't accept gifts or free trips from automakers. The Editorial department is independent of Cars.com's advertising, sales and sponsored content departments.