2018 Volvo XC60 Review: First Drive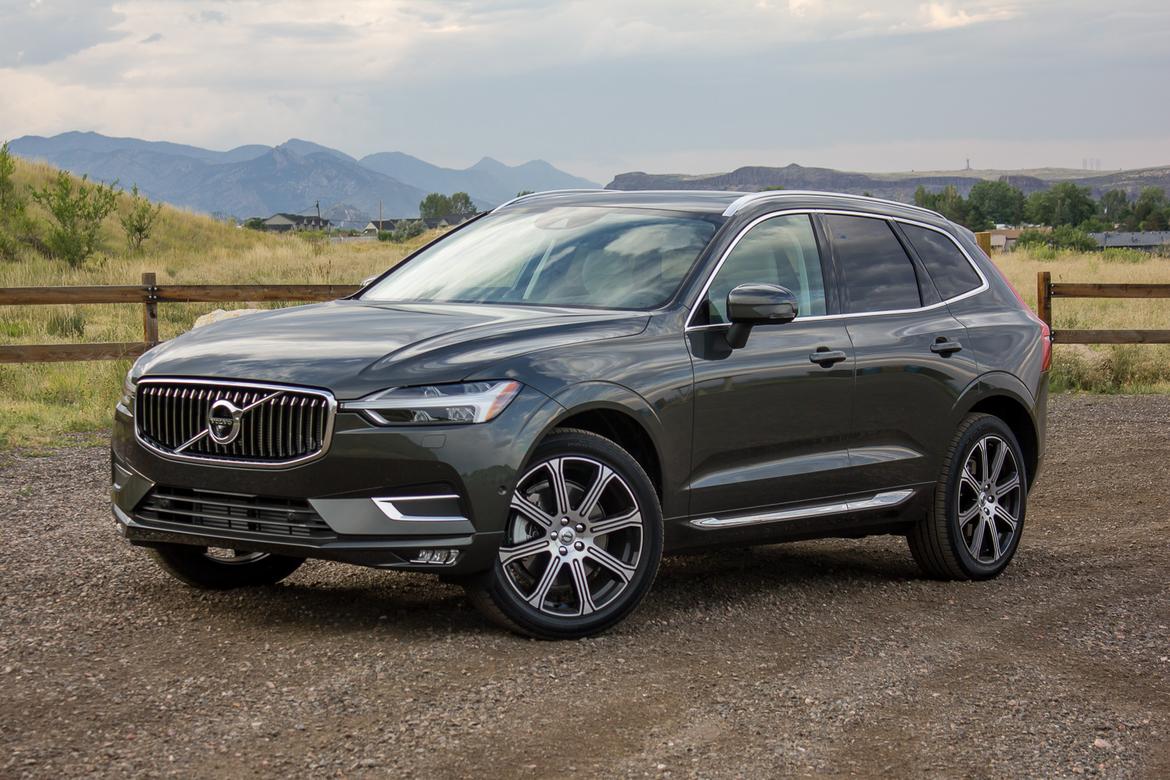 CARS.COM — The 2018 Volvo XC60 is a new benchmark for small luxury SUVs. A full redesign transformed the formerly semi-nice SUV into a full-blown luxury SUV able to go head to head with the Mercedes-Benz GLC-Class, Audi Q5 and Lexus NX. I drove multiple versions of the new XC60 at a preview event in Denver (per our ethics policy, Cars.com pays for its airfare and lodging).
Related: Volvo Confirms All-New XC40 Small SUV
Like its bigger brother — the seven-seat Volvo XC90 that we named our Best of 2016 — the five-seat XC60 is a whole new SUV compared with its predecessor. It's amazing how much is shared between the XC60 and XC90: engines, a lot of the chassis, much of the interior and most features. The XC60 feels like a mini-XC90, and that's a good thing considering how gushy we get when we talk about the Best of 2016 winner we owned for a year. The kicker is that I think the XC60 is the better buy if you don't need the third-row seat.
2018 Volvo XC60; Cars.com photos by Joe Bruzek
How It Drives
The XC60 comes in three flavors: the T5 (250-horsepower, turbocharged 2.0-liter four-cylinder), the T6 with 316 hp from a supercharged and turbocharged 2.0-liter four-cylinder, and the T8 plug-in hybrid with a 313-hp supercharged and turbocharged 2.0-liter four-cylinder paired with an electric motor and battery pack to boost total output to 400 hp. These are the same engines as in the XC90, but the XC60 is around 300 pounds lighter, so it was more responsive and punchier in the T6 and T8 versions I drove. The XC60 accelerates quicker to 60 mph than the XC90 in every version, and not by a small measure: Volvo says the XC60 T5, T6 and T8 hit 60 mph in 6.4, 5.6 and 4.9 seconds, respectively, while the XC90's T5, T6 and T8 do it in 7.5, 6.1 and 5.3 seconds, respectively.

I didn't observe a huge difference in passing power between the XC60's 316-hp T6 and 400-hp T8, though from a stop and at lower speeds, the T8 provides instant acceleration and greater punch. Even though the T8 has a combined 84 more horsepower than the T6, its hybrid innards add more than 500 pounds for a 4,599-pound curb weight versus the T6's 4,045 pounds. And as of publication, there are no fuel-economy or electric range figures available for the T8, though the T6 is rated at 21/27/23 mpg city/highway/combined; that's like other four-cylinders in the class but with a little more punch from the meatier 2.0-liter.

The XC60's ride quality recalls the XC90, firm but not uncomfortable with the optional air suspension and adjustable firmness; Volvo didn't provide any standard-suspension SUVs. The XC60 is a touch sportier than the XC90, with firmer steering and tighter handling that makes it capable of managing mountain roads without being out of place, but it doesn't attack corners like a BMW X4 M40i or Audi SQ5. Drivability isn't the XC60's greatest strength, though it's perfectly respectable.
Top-Notch Interior
The XC60's greatest strength is the warm, stylish interior with enough high-quality materials to give the best interiors in this class a run for their money, including the Audi Q5 and pricier Porsche Macan. The optional soft Nappa leather seats, genuine wood trim and all the sunlight that comes from the standard panoramic moonroof create an airy, pleasant space in which to drive. The interior mostly looks like the XC90 but with a new accent panel that runs across the dashboard from door to door and can be appointed with real wood. The wood, with grain you can feel, is accented by a matte aluminum-esque border; both add a new dimension to an otherwise familiar interior.

The backseat is more comfortable than the outgoing XC60's, with increased legroom and a supportive seating position. Under the outboard cushions is a little cavelike storage space for phones, tablets or other pocket items. It's unique to the XC60, though I'm not convinced of its usefulness. Is it where your devices are supposed to go when the battery dies? Because as with the XC90, there are no USB ports in the backseat for device charging, only a single 12-volt cigarette-lighter-style outlet. To be fair, it's not a widely available feature in the class, but rear USB ports aren't uncommon in non-luxury compact SUVs like a Mazda CX-5 (and if you like luxury cars, the CX-5 is worth a look).
Technology
Like the XC90, the XC60's technology game is strong with the optional semi-autonomous Pilot Assist II that's a must-have feature for commuting in stop-and-go traffic. The system keeps the XC60 centered in the lane more firmly than the original Pilot Assist in our XC90, and there's greater resistance in the steering wheel that gives it more of an autonomous feeling. Pilot Assist II still requires hands on the wheel, but like before, the car brakes, accelerates and provides steering assistance on gently curving roads to relieve the tensions of heavy commuting.

Volvo's huge, vertically oriented touchscreen is also a carryover from the XC90 and works similarly, which means it requires a thorough dive into the owner's manual to learn its capabilities and a lot of time fumbling around looking for icons to get familiar with switching between audio sources or activating or adjusting the car's many tech features — it's not something you instantly understand and use. Still, the screen has a big cool factor and the resolution is top-notch; once you're familiarized, it's an impressive and responsive system.
Safety
The XC60's starting price of $42,495 for a T5 is a bargain. It comes with that sweet interior, all-wheel drive, panoramic moonroof and a host of standard safety features, including forward collision warning with automatic emergency braking that recognizes cyclists, pedestrians and large animals. There's also a lane departure prevention system and backup camera. Optional equipment includes blind spot warning, rear collision warning, cross-traffic alert and 360-degree cameras. Top-down 360-degree cameras aren't uncommon, but the XC60's is one of the best with its high resolution and large screen.
Worth the Money?
I mostly drove the high-end Inscription trim level on the T6 that starts at $49,695 and adds navigation, a digital-display instrument panel, four-zone climate control and more. The ones I tested with Pilot Assist, Nappa leather, the rocking Bowers & Wilkins stereo, head-up display, blind spot monitoring and much more tallied up to around $60,000. The XC60 can command $60,000 and still feel reasonable considering the styling, quality and technology inside. It isn't any less luxurious than the XC90, just smaller and less expensive. If you don't need a third row, the XC60 is the way to go.