2019 Audi Q8 Review: A Big SUV With a Big Catch
The verdict: This big five-seat SUV is comfortable and tech-savvy, but powertrain problems threaten to derail the experience.
Versus the competition: The Q8's competitors can't match its interior volume, but a driving experience could cause shoppers to look elsewhere.
Brand-new for 2019, the Audi Q8 tops the German luxury automaker's SUV lineup as its most expensive and luxurious entrant — but not its biggest; that distinction still goes to the Q7, which is 3 inches longer and has another row of seats. Using all of the Q8's space for only two rows of seats does give it a leg up in the spaciousness category, plus a few other interior advantages.
The Q8 competes with other oddly shaped luxury SUVs, such as the BMW X6, Mercedes-Benz GLE Coupe and Porsche Cayenne Coupe.
Big Insides
I drove a Q8 Prestige, which is the highest trim level, slotting above the Premium and Premium Plus. Its interior was impeccable, adorned in Valcona leather, and though I can't keep track of all the different kinds of leather automakers offer these days, this stuff is excellent. The front seats also offer copious amounts of headroom and legroom, as you'd expect from a large SUV, but where the Q8 really takes advantage of its ample dimensions is in its expansive backseat — almost like a high-riding version of the A8 sedan.
While you don't get executive-style seating packages in the Q8, there is very generous backseat legroom and headroom. This came as a bit of a surprise given the rake of the roof, but even that doesn't get in the way. It's hard to tell from the photos, but those rear doors are massive, and the long windows on either side help the cabin feel even more open. Each side of the 60/40-split, folding backseat can slide forward about 5 inches (via manual adjustment) to open up extra cargo room.
Mixed Media
The Q8's control scheme will either appeal to you or be a large sticking point — and both opinions are valid. Even among our staff, there's a bit of a divide; I count myself among the system's defenders, though it does have issues. Similar to the redesigned A6 and A7, which added the same control scheme for 2019, almost all of the Q8's controls have been moved onto one of two touchscreens: a 10.1-inch screen up top that houses navigation, overall car settings and multimedia functions, and an 8.6-inch screen below that's dedicated mostly to climate controls.
I enjoy the small click and tactile feedback Audi has added to the system, lowering some of the false positives we associate with other touchscreen systems. But a simple set of buttons and knobs, like those seen on the Q3, would suffice for the climate controls and probably be easier to use. Even so, the Q8's system does look cool and futuristic — and I guess that still kind of does it for me. It also matches the rest of the interior aesthetic, which has a wide bit of glossy plastic splayed across the dash. Watch out for that at certain times of day, though; if it catches the sun, it can get in your eyes.
Wireless Apple CarPlay and wired Android Auto are both standard, as is a third 12.3-inch screen in the gauge cluster. I recommend trying out the Q8's controls during your test drive; really give them 15-20 minutes to see how they'd be to live with.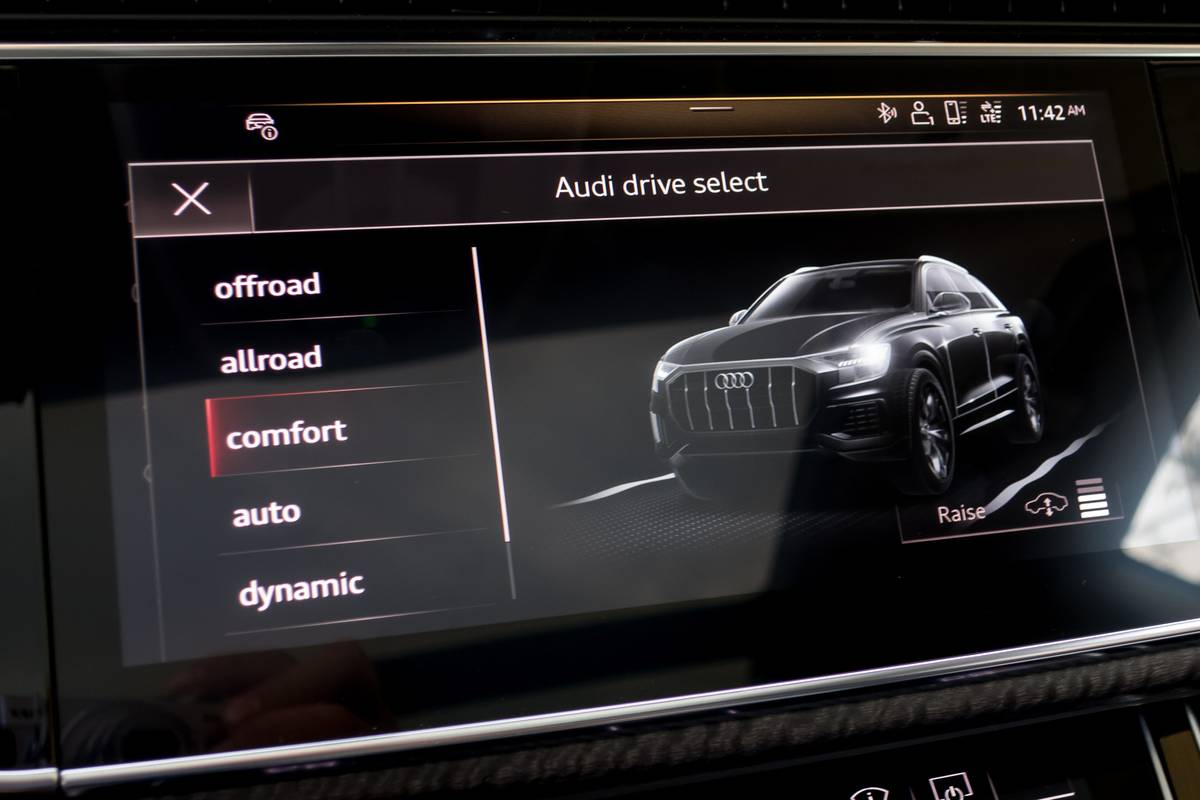 Powertrain Problems
There's only one powertrain configuration available for the Q8, featuring a 335-horsepower, turbocharged 3.0-liter V-6 that makes 369 pounds-feet of torque. The engine is mated to a standard eight-speed automatic transmission and all-wheel drive. The all-wheel-drive system defaults to a slight rear-drive bias (40/60 split front/rear), but the Q8 doesn't feel especially sporty. This is in part due to the steering, which has a numbness that's endemic to many Audi models these days (especially its SUVs), plus the fact that it's a rather large vehicle.
Ride quality is surprisingly good for a vehicle with lower-profile all-season tires. It was a touch loud over rough roads, but not enough to be off-putting. The Q8 presents itself well as an ultra-comfortable, plush cruiser — not unlike a large sedan, just with a higher seating position, which many drivers like.
Still, this is the same powertrain you'll find in the A7, and I found it to have a similar set of problems … but worse. It makes sense: The Q8 is 672 pounds heavier, so it puts more stress on the engine. There's a big amount of accelerator lag even with the SUV cranked up to its more dynamic driving modes and engine settings. It's hard to decide if this was due more to the transmission or the engine itself; perhaps it's a bit of both. The delay would happen during acceleration on highways, but it was most pronounced when accelerating quickly from a standstill. I had a close call on an unprotected left turn because the Q8 just didn't go quickly enough when I hit the gas.
Exacerbating this is a problem I encountered with the Q8's automatic engine stop-start system, which is much better at stopping than starting. There's a good amount of variance among these systems, and the best ones are unnoticeable. They shut down and start up smoothly, turning back on by the time your foot moves from the brake to the accelerator. The Q8 doesn't do this; starting up is neither smooth nor well timed. There's a noticeable hesitation and the engine isn't ready to go when your foot is on the gas pedal; it turns on as you press the pedal and the Q8 lurches forward. The Q8 does include a 48-volt mild-hybrid system that's intended to assist with this system, but it needs better calibration.
These issues were what stuck out to me the most during my week with the Q8. It's a shame, because the rest of the SUV's attributes were quite pleasant. The Q8's EPA-estimated fuel economy ratings of 17/22/19 mpg city/highway/combined put it right in the middle of its competitors.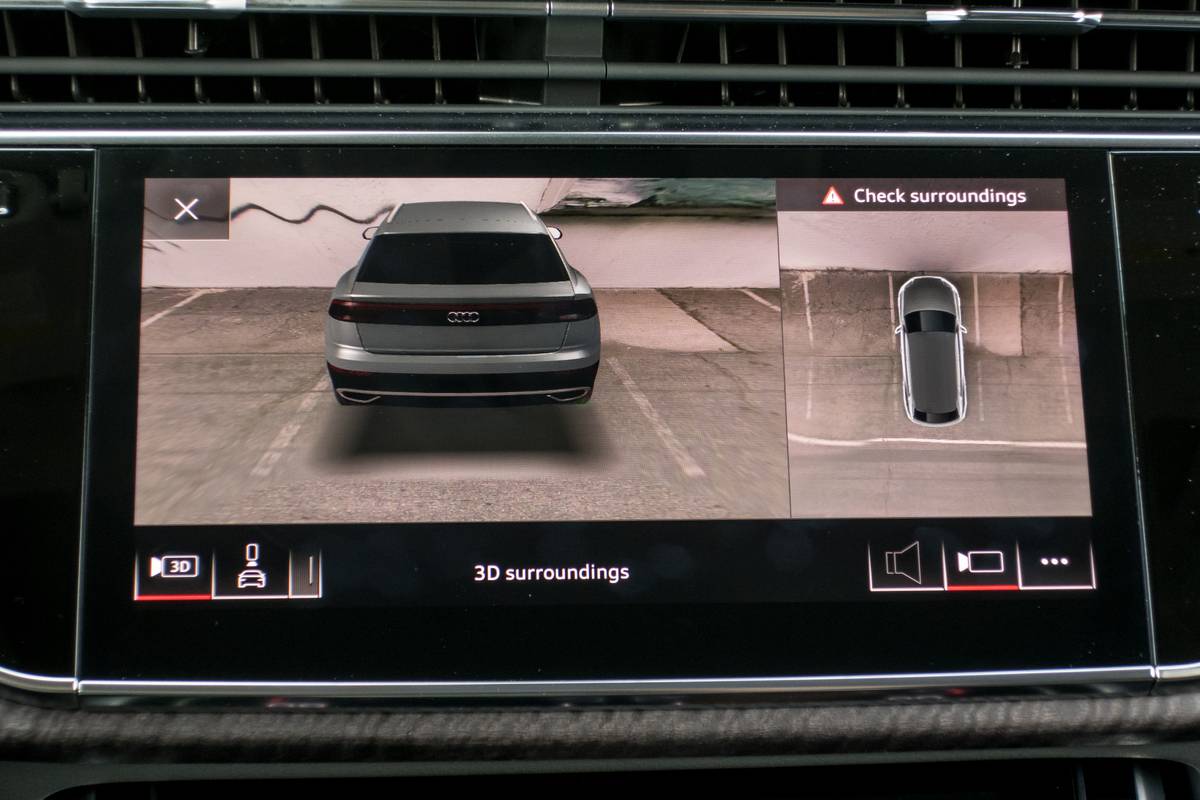 Safety Features
The Q8 is outfitted with a modest amount of standard safety equipment for its price. Forward automatic emergency braking, and front and rear parking sensors are the highlights; all other advanced driving aids and safety features are optional (though lane departure warning is standard on the 2020 model). That includes adaptive cruise control, blind spot warning, vehicle exit assist and lane keep assist, among others.
Also worthy of attention is the available 360-degree camera system. The Q8 has good visibility when you're on the road thanks to those very large windows, but since you're seated pretty high, it can be hard to see lower objects that are closer to the vehicle — especially when parking. Thankfully, the camera system is up to the task. Not only do you get a top-down view, but you also get front views, side views, even a strange detached view as if (if you can imagine) a camera were about 15 feet away from the Q8 and filming it in real time.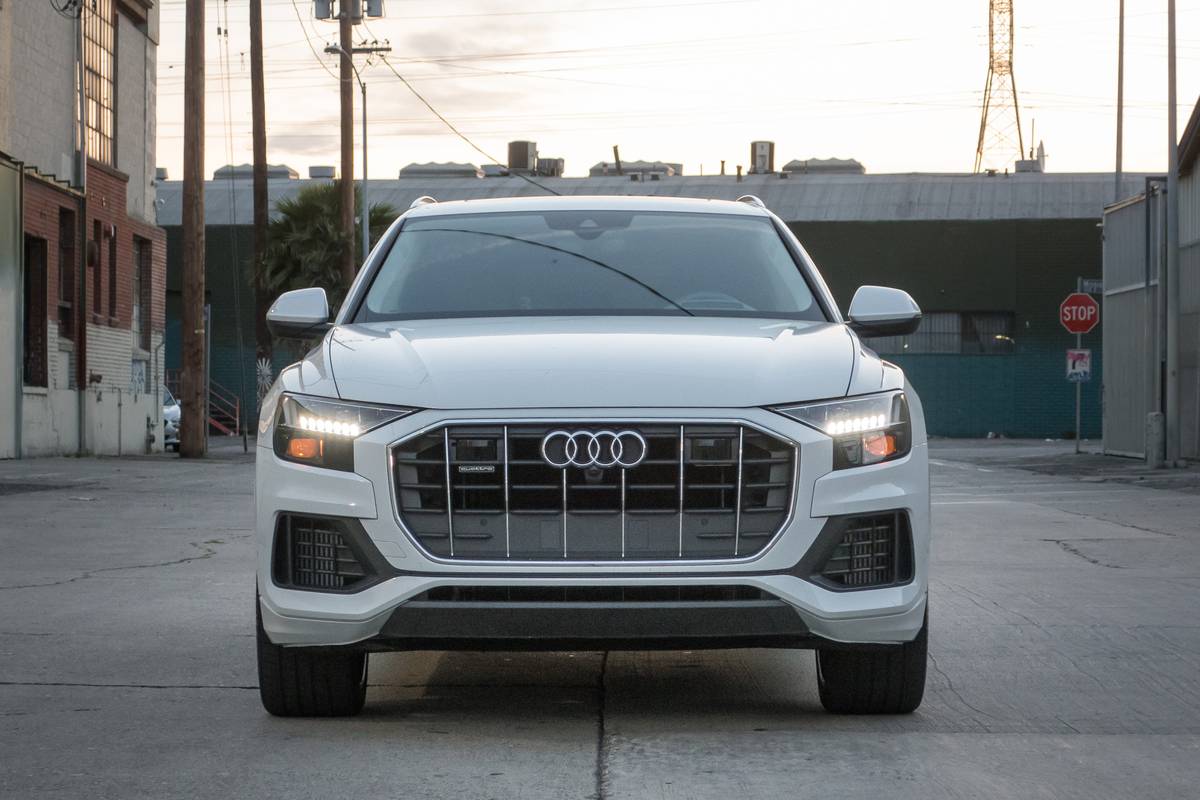 Conclusion
The Q8 starts at $68,395 (including destination charges) but climbs quickly as you add packages. My test vehicle was a line-topping Prestige that added more than $20,000 to put its final price at $88,690. That's a hefty chunk of change, and there are aspects of the Q8 that live up to that price tag, including its interior materials, technology, ride quality and spaciousness.
But I keep going back to the ineffectiveness of the powertrain, which was a consistent wet blanket on my experience. From the laggy acceleration to the foibles of the stop-start system, just when I'd begin to enjoy the Q8, I'd come to a stoplight or try to pass another car and it would just fall over itself. The Q8 is a gentle reminder that no matter the trappings, vehicles still have to be driven. A deficit in that area can sour the rest of the dish — no matter how sweet it is.
Cars.com's Editorial department is your source for automotive news and reviews. In line with Cars.com's long-standing ethics policy, editors and reviewers don't accept gifts or free trips from automakers. The Editorial department is independent of Cars.com's advertising, sales and sponsored content departments.