EXPERT REVIEW
2019 Audi A7 Review: Tech Updates Keep Old Favorite Fresh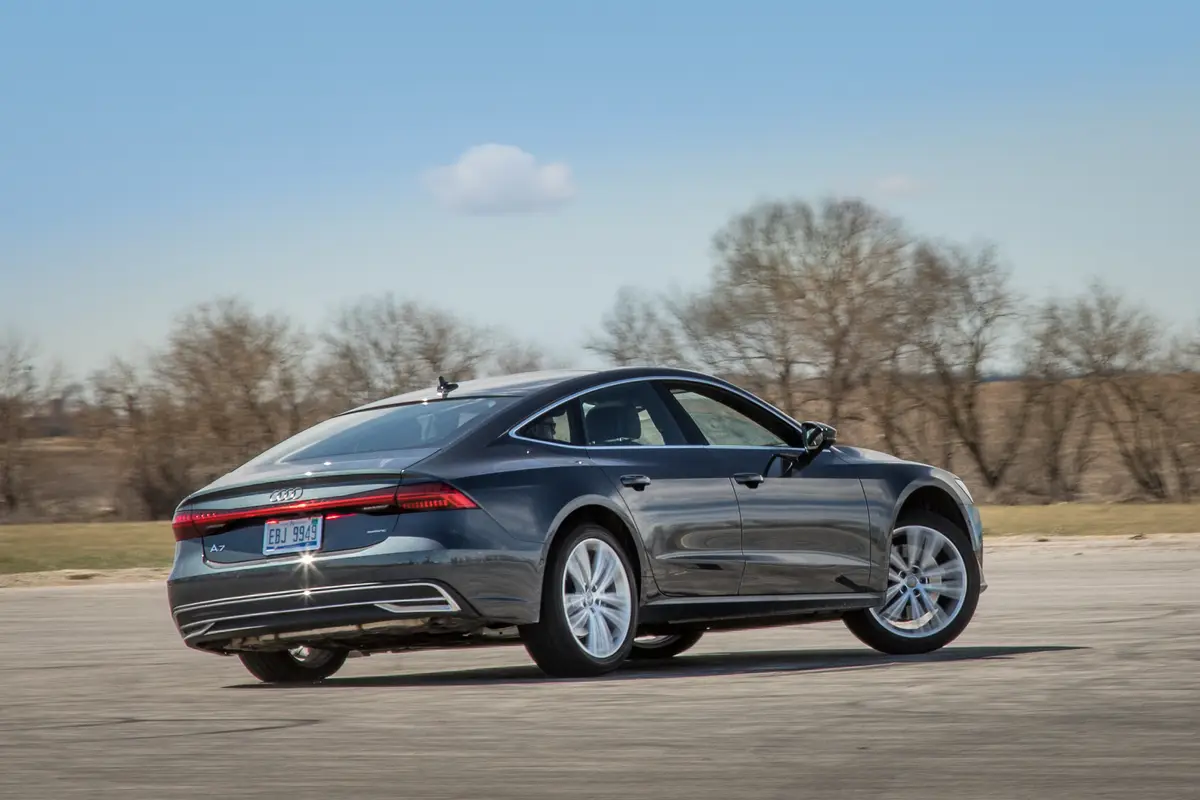 The verdict: Audi's sleek, striking A7 has long held prime real estate in my dream garage, and the redesigned 2019 model solidifies that spot: Its just-right blend of elegance and excitement has been enhanced by the user-friendly multimedia system it so sorely lacked.
Versus the competition: The A7 matches its rivals in terms of power and luxury, and new tech and safety features for 2019 keep it competitive.
For 2019, the A7 got some subtle styling tweaks that freshen its look but don't diminish its hallmark sleek and sloping silhouette. The big news is inside and under the hood: a clean-sheet multimedia system redesign and a new powertrain. Compare it with the 2018 model.
The A7 competes against other luxury sedans with coupelike profiles, such as the BMW 6 Series and Mercedes-Benz CLS; see them compared.
From Super to Turbo
Behind the wheel, the A7 masterfully blends elements of sport and comfort, making it stand out in the class. Power comes on strong without being obnoxious, and its ride is gentler than the previous generation's.
Some editors thought this model's focus on comfort cost it its handling edge, but to me the A7 has only been made more accessible. Yes, there's a bit more body lean in corners in the 2019, but it remains admirably crisp and composed. It also has a slightly smaller turning radius, so it's more maneuverable than its length suggests.
The A7's new comfort-bias tuning also benefits its ride: Air springs are optional, but my test car rode on the standard coil springs and optional 20-inch wheels, and it serenely navigated Chicago's pothole season with little fuss.
The sole powertrain this year is a 335-horsepower, turbocharged 3.0-liter V-6 paired with a seven-speed automatic transmission. (More powerful S7 and RS 7 versions were last sold as 2018 models.) It replaces a supercharged V-6 and eight-speed automatic. Horsepower is nearly unchanged, but torque increases from 325 to 369 pounds-feet. Again, all-wheel drive is standard.
After just a hint of turbo lag, power delivery is prompt and smooth, meshing with subtle, well-timed shifts. There are four driver-selectable drive modes: Auto, Comfort, Dynamic and a configurable Individual mode. I found Dynamic most engaging, as it makes the engine even more responsive.
The engine gets a modest boost — both in pep and fuel economy — from a new 48-volt mild-hybrid system. A 16-hp motor-generator captures energy under deceleration and stores it in a battery under the trunk floor, as well as enabling an unobtrusive stop-start system. Fuel economy improved just a bit, with the EPA rating the 2019 A7 22/29/25 mpg city/highway/combined. That's up from the 2018's 20/29/23 mpg.
More Screen Time
As with the previous generation, the A7's cabin raises the bar: It's refined, lovely and what you'd expect from a luxury sedan. The design is clean and classy, and everything looks and feels appropriately upscale — especially the matte wood trim, which is plentiful.
What's new — and will likely take some getting used to — is Audi's switch to an almost completely screen-based control setup (the lone holdout is a volume knob). In place of the old wheel and trackpad are a pair of touchscreens, which are standard across the lineup. The two high-resolution displays and a single row of touch-sensitive buttons now control everything from multimedia to climate settings. It's a welcome change from the previous system's fussy, confounding setup.
Overall, I found the system much easier to figure out and use than the old version. Like mealtimes with my twin 4-year-olds, the old knob-based twist-and-click system was a patience-tester I never did get comfortable controlling. With the new version, functions take fewer actions to complete, so things are quicker and less distracting to do while driving.
The upper screen is a 10.1-inch display that's angled toward the driver and displays most functions, including audio and navigation. An 8.6-inch lower display houses climate and comfort settings. One icon on the lower screen enables a particularly helpful feature. It's not super-clear what it is, given the icon is three empty boxes, but becomes clear once you press it: It allows you to add shortcuts to the lower screen — things like radio stations, phone contacts and navigation destinations.
My time with the system was not without some hiccups. First, though it looks like a touchscreen, it feels more like a touch-sensitive panel, which requires more of a push. I often had to touch it more than once, which got annoying, though you can turn on a haptic response feature that will give a little pushback and sound a click when your touch registers correctly. Also, the division of functions between the screens is a bit odd. For example, some things — like spoiler height and head-up-display options — are selected using the bottom screen but controlled via the upper screen.
Lastly, new this year is wireless Apple CarPlay connectivity — no more USB connection — and editors who've tried it have liked it. But what about us Android Auto users? Whomp whomp. We're stuck with the USB cord.
A Mixed Bag of Space
There are standard seats for five this year; the A7 previously had four, and in my mind it still does. The middle seat in the back shouldn't qualify: It's narrow and uncomfortably hard, and a large floor hump eats up legroom. The good news for those in the comfy seats is that they should fit better than ever in the new model. At 5-foot-6, I've always fit fine in the A7, but its sloping rear roofline has cramped taller editors' style. This year, there's a bit more headroom back there.
Should you want to tempt fate and cart around children in this lovely vehicle, first, opt for the dark interior and second, breathe easy — car seat installation was a breeze. Two car seats have ample space in the backseat, and exposed Latch anchors make installation easier. Check out the full Car Seat Check.
Cargo space, however, is a mixed bag. In front, small-items storage is sad. The lower screen takes up a lot of space on the console, leaving no room for a storage bin — not even a tiny one for a phone or glasses. The center console box is also small; ours had an optional wireless charging pad, which takes up most of the room so not much else fits.
The hatchback-style cargo area, though shallow, is long and holds a lot; there's a bit more room than there was previously. After grocery shopping for my family of five, there was room for all of my bags with space left over. I especially appreciated the small cargo net for cradling breakables.
Big Luxury for Medium Money
Due to a trim level shakeup and the return of the base-level Premium trim, the 2019 A7 costs less than the outgoing one: $68,995 (all prices include destination charges). That's $1,680 below the current least-expensive 2018 model, a Premium Plus. That's also less than base all-wheel-drive versions of the BMW 640 Gran Coupe ($85,495) and Mercedes-Benz CLS450 ($72,695).
Also for 2019, Audi added more standard safety equipment, including forward collision warning with automatic emergency braking, as well as expanded standard camera views. A 360-degree surround-view camera takes up the right-hand portion of the screen, while the other side offers seven camera views displaying a variety of angles and positions. Uplevel Premium Plus models add rear collision prevention, blind spot monitoring, rear cross-traffic alert and a system that can detect potential accidents when opening a door and try to prevent them. Also available is an adaptive cruise assist feature that helps keep you in your lane as well as brings the car to a complete stop when the car ahead of you stops — then moves it again when the lead car moves.
Audi cautions this isn't designed to be a hands-free system, but more autonomous driver-assistance features are on the horizon. Audi says the 2019 A7 has self-driving capabilities, but they're currently only on European cars. For example, Audi's AI Remote Parking Pilot and Remote Garage Pilot systems allow drivers to maneuver into or out of parking spaces using Audi's smartphone app. The systems have not yet cleared U.S. regulation hurdles.
Like many consumers nervous about ceding control to self-driving features, however, I'm happy to be the one to park the 2019 A7 in my dream garage.
Cars.com's Editorial department is your source for automotive news and reviews. In line with Cars.com's long-standing ethics policy, editors and reviewers don't accept gifts or free trips from automakers. The Editorial department is independent of Cars.com's advertising, sales and sponsored content departments.