2019 Chevrolet Blazer: Reignited and It Feels So Good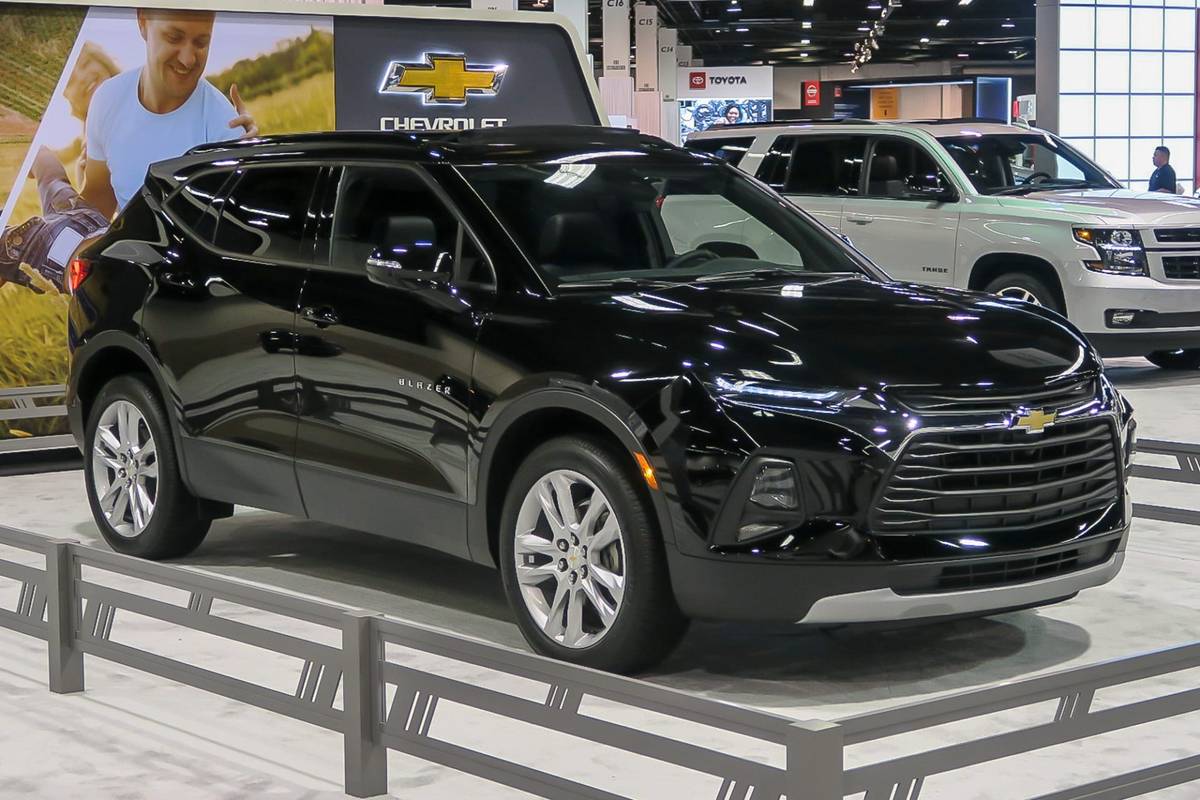 If you're a fan of class-splitting crossovers, you could not be living in more interesting times. Sitting smack in the middle of this huge automotive trend is the all-new 2019 Chevrolet Blazer, riding both the retro and crossover waves. It made its debut at the 2018 Orange County Auto Show in Anaheim, Calif.
Related: 2018 Orange County Auto Show: Chevy Blazer Tops 5 Things You Can't Miss
As we've noted in our earlier preview, the new Chevy Blazer is not a traditional off-roader, but more likely to be a direct competitor to the Nissan Murano and Ford Edge. In fact, it will add to Chevy's lineup of SUVs, slotting between the compact Equinox and three-row Traverse. With that in mind, the overall design appears to be pretty solid, although the black-on-black Premier model pictured here could be our least favorite color (of course, the red model from the earlier reveal is our favorite).
Menacing Mug, Mild Manners
Make no mistake: This is a country-club cruiser and paved-road explorer with its smallish tires and low front-and-rear bumper look, even though Chevy makes an interesting signal here with a more aggressive, wide-mouth front grille and the split headlight designs. The high- and low-beam projector lights are located quite low (almost looking like foglamps), with the more "squinty" LED strip accent occupying traditional headlight real estate. The LEDs are clearly meant to give the Chevrolet Blazer a piercing, menacing look under the rounded dome hood.
As to body design, if you like the garden-variety crossover look, there's nothing in the new Blazer exterior to turn you off. The smooth door sides melt into the rear beltline, which is quite high and gently slopes with an upturned swoosh into the rear roof — similar to most every other vehicle in the class.
We do like the large rear taillights that can be easily seen from both the side and rear of the vehicle. We also like the dual tailpipes. The rear opening deserves a quick shoutout, given the fact that designers cut the bottom opening well into the rear bumper and D-pillar sides to give the hatch as much height and width as possible. We are little more nonplussed by the faux roof-rack rails that hide a panoramic moonroof and lead straight to the rear tailfins — both presumably for aerodynamic improvements at speed.
Cabin Has Comfort, Class
On the inside, Chevy has really upped its game, going both simple and clean — not something it's been able to do in the past. All the surfaces at your elbows and fingertips are soft-touch, with knobs and switches easily seen and simple to control. The 8-inch, tablet-style center information screen is large and sits in the middle of a swooping and integrated design that flows across the whole cabin. The transmission shifter falls easy to hand, and all-wheel-drive-equipped models will have a round control dial sitting just behind the shifter.
Backseat legroom is impressive for a 6-footer, with both sides of the 60/40-split seats sitting on sliding tracks (seatbacks recline, as well). Even with the panoramic moonroof on this display model, the Blazer offered us plenty of headroom. In the cargo area, the rear hard floor lifts to reveal a hidden spare tire, jack and a few cubbies, and there are two mechanical latches in the sidewalls, easily reachable from outside, to drop each side of the backseat, which folds perfectly flat with the rear deck.
Keeping in mind this new platform will be used for a yet-to-be-named Cadillac vehicle, overall it looks like GM has decided to start with much better quality and material choices in the Chevy Blazer. That could bode well for what Cadillac does with its new crossover.
Powertrain
The 2019 Chevrolet Blazer offers two engine choices. Standard is a 2.5-liter four-cylinder; we saw a Blazer powered by the optional transverse-mounted 3.6-liter V-6 (the same one used in the mid-size Chevrolet Colorado pickup truck, just turned sideways). Both are mated to an all-new nine-speed automatic transmission, which offers a power takeoff gear to turn the rear driveshaft, giving it all-wheel-drive capabilities. The new all-wheel drive system will offer four different drive modes — Sport, All-Weather, Touring and Normal — that will likely run as front-wheel drive anytime traction conditions are good.
Good Outlook
Many crossover manufacturers are simply looking to be considered in a growing class, especially when fuel prices are climbing and more people are looking to downsize. With that said, the 2019 Chevrolet Blazer looks like a sign that GM can make changes and include features people want for a reasonable price. Keeping the Blazer simple and functional with many convenience and luxury features could be the strategy Chevy needs for all its vehicles.
Cars.com's Editorial department is your source for automotive news and reviews. In line with Cars.com's long-standing ethics policy, editors and reviewers don't accept gifts or free trips from automakers. The Editorial department is independent of Cars.com's advertising, sales and sponsored content departments.