2019 Family Car of the Year
What's eligible: Any 2019 model vehicle regardless of when it was introduced or last updated.
Criteria: Along with crash tests, safety features and accommodation of family members and their gear, we consider family-friendly features and overall excellence.
2019 Chrysler Pacifica
You're catching on if this year's family car winner didn't surprise you. It's obvious — Cars.com's editors love the Chrysler Pacifica minivan more than a mom loves an hour of alone time. The minivan beat out all comers — family and otherwise — to land Cars.com's highest honor, the Best of 2017 award. Last year, it earned our Family Car of the Year Award, and nothing better has dethroned it for 2019.
All minivans are tailored for families, but the 2019 Chrysler Pacifica takes that concept further than any other, proving to be the most comfortable, entertaining and versatile of the class. For hauling furniture, Chrysler's Stow 'n Go fold-flat seats are matchless. The optional built-in entertainment system, Uconnect Theater, features apps and games to keep boredom and arrival-time requests at bay. It'll even help with clean up; when snack time gets out of control, put the optional Stow 'n Vac vacuum to work.
The Pacifica is the first minivan to offer a hybrid version of any kind; the Pacifica plug-in hybrid delivers an EPA-estimated electric range of up to 32 miles before reverting to an impressive estimated 30 mpg combined.
Other features that may seem small have a big impact: Chrysler improved on a minivan staple, power-sliding doors, with multiple means of opening them. Along with the traditional buttons in the first row and on the van's B-pillar, there's a new button on the outside handle of each door and an optional foot-swipe-activated system that opens the sliding doors and the liftgate. With a bag in one arm and a child in another, this feature comes in handy for parents (who have good balance).
But it doesn't wow only in terms of features. It out-drives other minivans too, trading much of the class' awkward, unwieldy moves for adept handling and a composed ride. Its proficient V-6 engine pairs with a responsive nine-speed automatic transmission and has ample power around town and on the highway — even when loaded with gear. As for the other two nominees, both are tops of their types, but the Pacifica blows them away with family-friendly features and has the advantage of being the most sensible choice. The Atlas may appeal to the image-conscious but can't match a minivan's utility. The Expedition is a dream for families who tow or need a combination of seats and cargo space at once without sacrificing the other (the Expedition Max, particularly), but this truck's added capabilities come at a price both upfront (roughly double the Pacifica's starting MSRP) and in fuel costs.
When the Pacifica took over from the Town & Country in 2017, we called it a family-car game-changer. For 2019, it still holds the title.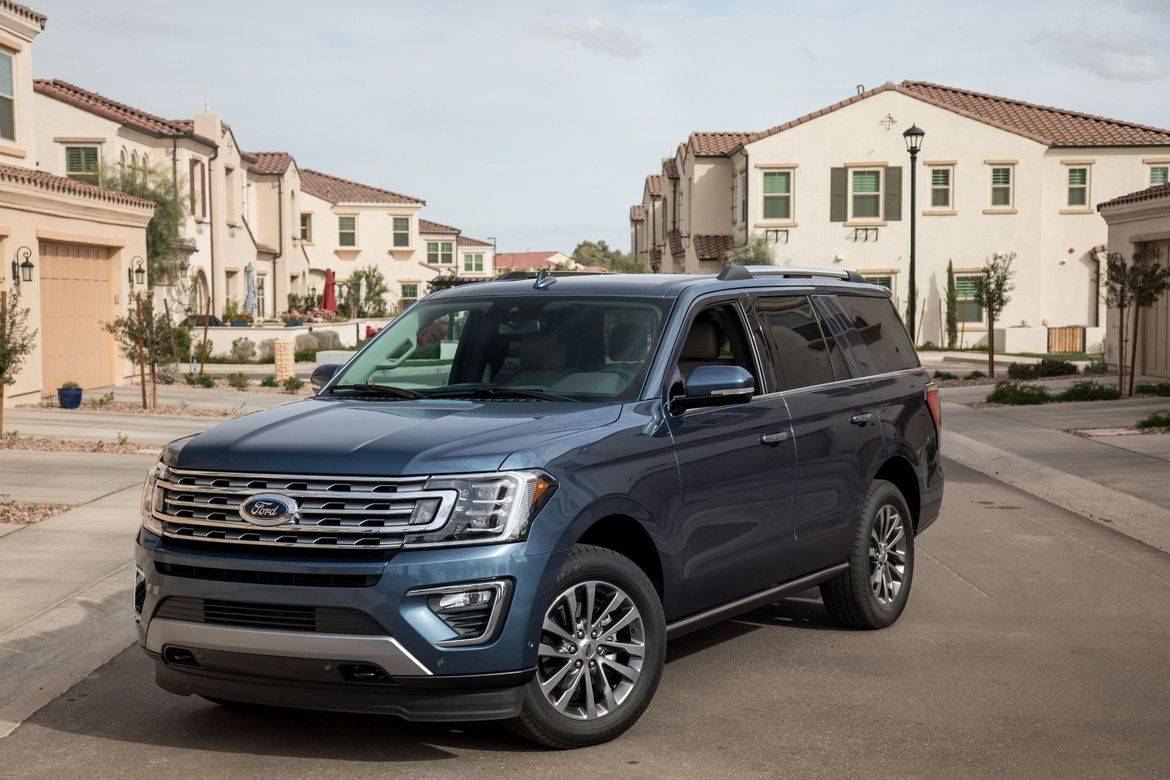 2019 Ford Expedition
Some people are allergic to minivans, which is a problem if you need to haul around a big family — and all their stuff. While regular three-row SUVs can't quite match a minivan's impressive accommodation of people and cargo, a full-size SUV can, and the 2019 Ford Expedition is our pick. Large outside and in, the Expedition is one of the few full-size SUVs that provides the spacious interior suggested by its exterior bulk, with the hands-down roomiest third row even if you don't opt for the extended Expedition Max. With a maximum seating capacity of eight, it easily accommodates your kids, their friends and the dog while towing the camper … which happens to include the kitchen sink.
Power comes from Ford's twin-turbocharged 3.5-liter EcoBoost V-6, which makes 375 horsepower in most trim levels and 400 hp in the top Platinum. It's paired with a standard 10-speed automatic transmission and available with either rear- or four-wheel drive. Not only is power ample, it's also smooth and delivery is linear for a refined driving experience.
This may be a truck-based SUV, but its interior is anything but crude: There are power ports in every row, the Sync 3 multimedia system with an 8-inch touchscreen and Apple CarPlay and Android Auto integration, a family entertainment system, and in-vehicle Wi-Fi that can handle up to 10 connections and operate within 50 feet from the truck.
Redesigned for 2018 with more interior space as well as additional comfort and convenience features, the Expedition grabbed the crown in our 2018 Full-Size SUV Challenge. For 2019, it returns with few significant changes but remains competitive and continues to claim its top spot, making it a strong contender for Family Car of the Year.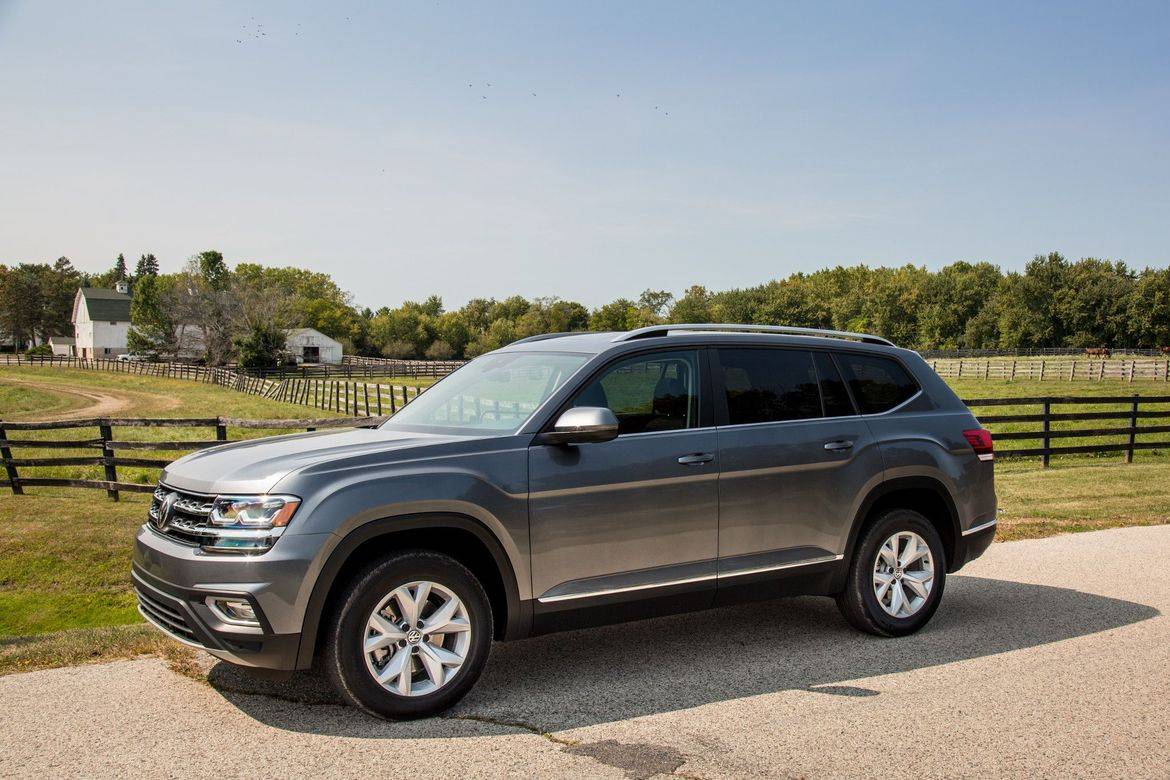 2019 Volkswagen Atlas
SUVs sales are soaring, and Volkswagen timed its entry into the three-row segment well with its Atlas, the automaker's largest SUV. This big family hauler debuted for 2018 and quickly won us over with its cavernous interior, family-friendly features and comfortable road manners.
Inside, there's ample room for seven occupants in three rows of seats, and there isn't a bad one in the house. Even the third row is roomy enough for adults, and what's more, getting back there is easier than in most SUVs thanks to a tilt-and-slide second row in either bench or captain's chair versions that allows you to keep a child-safety seat installed while moving those second-row seats. The second row also has ample room to fit three car seats across the bench, something some competitors can't do.
Although it's big, the 2019 Volkswagen Atlas doesn't drive like it. Power comes from either a standard turbocharged 2.0-liter four-cylinder or an optional 3.6-liter V-6. Even loaded with a full roster of people and stuff, the torquey little four-cylinder holds its own in traffic. It may not be the most athletic-handling SUV out there, but that's not its mission — it's a comfortable, quiet and capable people hauler. And to top it all off, the Atlas offers one of the most impressive standard warranties in the industry: bumper-to-bumper for six years or 72,000 miles.
The Atlas took top honors in the 2017 Three-Row SUV Challenge and later won Cars.com's Best of 2018 award. It's back for 2019 as a Family Car of the Year award nominee.