What's the Best Full-Size SUV for 2018?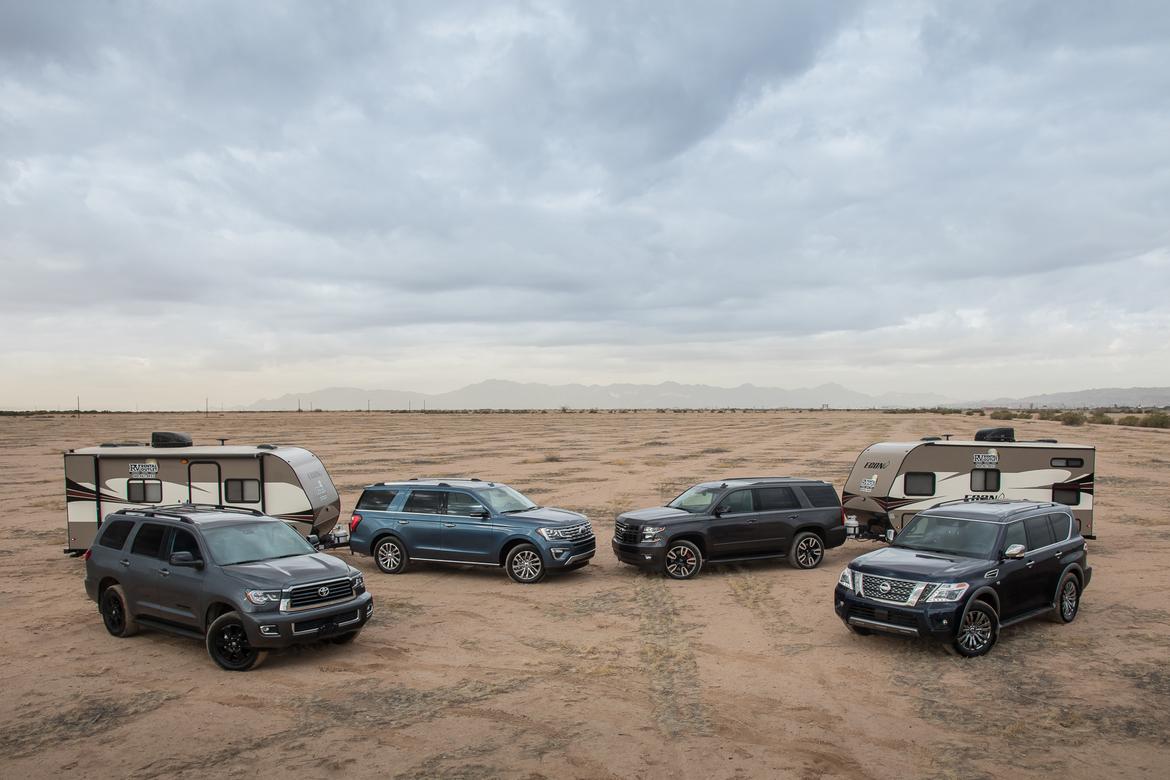 Cars.com has long pitted three-row SUVs against each other, as recently as last year with the Three-Row SUV Challenge. But we've always concentrated on light-duty people haulers — "crossovers," if you must. So how about SUVs that can tow and haul much heavier loads and tackle off-road terrain while seating up to nine? For the first time, we're finding out how the full-size Chevrolet Tahoe, Ford Expedition, Nissan Armada and Toyota Sequoia fare against each other in this 2018 Full-Size SUV Challenge.
We requested four non-luxury, full-size SUVs equipped with tow packages (when optional) and no price cap or driveline requirement. We stipulated standard-length models where there's a choice (Chevrolet and Ford) and received all 2018 models with four-wheel drive. We towed, tested gas mileage and put hundreds of miles on these to find out which large SUV is the best.
The 2018 Full-Size SUV Challenge
Results | Towing | Video
Three judges individually awarded points in 13 categories: interior quality, front-seat comfort, second-row comfort, third-row comfort, visibility, noise, cargo storage, powertrain, braking, ride quality, towing, worth the money and multimedia.
Because towing is the best reason, if not the only one, to choose one of these heavy models over those in our earlier Challenge, we tested their gas mileage both with and without a 3,500-pound trailer attached, and assigned points based on the observed mpg.
Each model was also awarded points for the advanced active safety features with which the test vehicle was equipped, as well as for its grades in our Cars.com Car Seat Check, which gauges the accommodation of various child-safety seats. All categories combined for a possible maximum score of 1,000 points.
Judges for the Challenge were three Cars.com editors:
Aaron Bragman, Detroit bureau chief
Brian Normile, production editor
Mark Williams, Pickuptrucks.com editor
Read on to see how the vehicles ranked.
4 Toyota Sequoia TRD Sport, 604 out of 1,000 points
The verdict: The Toyota Sequoia is a tired package in desperate need of an update, but if you need a seven- or eight-seat full-size SUV that can tow and haul, its value is hard to beat.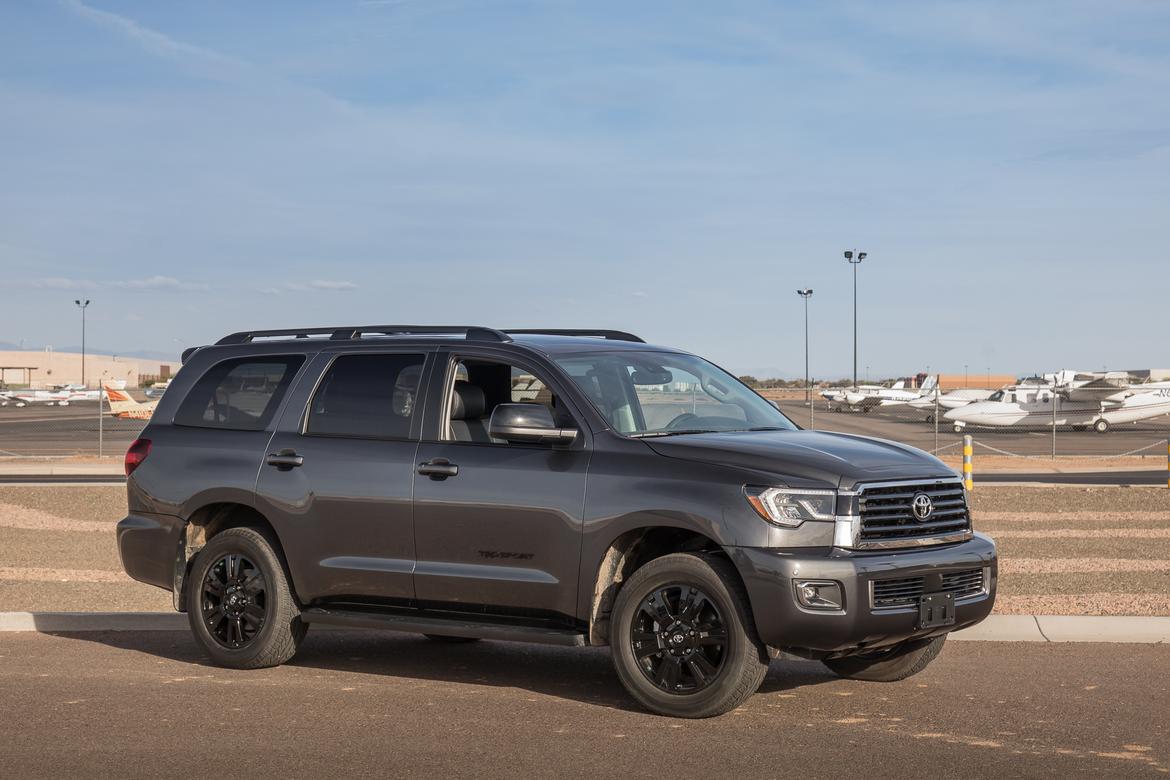 Our Test Vehicle
As-tested price: $59,873
Engine; drive type: 381-horsepower, 5.7-liter V-8; four-wheel drive
Estimated city/highway/combined mpg: 13/17/14
We won't sugarcoat it: This Toyota tallied the fewest points in 13 of the 17 judging categories and led in none of them. In addition to the aspects detailed below, it scored last in towing and both first- and second-row comfort. Still, it had its strengths, including a strong showing in the crucial third row.
The Good
Third-row comfort: The Sequoia's third-row seat rated second for comfort behind the Ford Expedition, but it scored far higher than the other two contestants. "It's spacious enough for actual adults to sit comfortably, even those on the taller side," said Normile. Bragman deemed the seat "just as spacious and comfortable as the Ford's, if not quite as wide."
Cargo area: A close second-place ranking in this category was due to the Sequoia's expansive cargo area, with "the lowest measured load-in height of the group, and an underfloor storage area that provides increased utility," said Normile. Williams noted the rear seats "fold pretty flat and provide for a huge, flat load floor for big boxes and cargo."
Value: Though it wasn't the most fully featured contestant, the Sequoia delivered the basics, and its price reflected it. "Advanced safety features are standard on all trim levels of the Sequoia, unlike its competitors," Normile pointed out, but because the vehicles are scored as equipped, the Sequoia saw no advantage in points for safety features.
Visibility: "I liked the visibility in the Sequoia best — bigger windows and smaller B- and C-pillars," Williams said. Normile added, "The standard side mirrors are large enough to be useful when towing."
The Bad
Interior quality: "The hard plastic throughout the cockpit felt more appropriate for a work truck than a $60,000 SUV," said Normile. Williams said, "The information displayed between speedometer and tachometer is limited and odd," especially compared with the Expedition's elaborate display.
Multimedia: The Sequoia took its worst beating in this category. "The multimedia system is a joke — tiny screen, old graphics, limited functionality and miniscule controls," Bragman said. Normile asked, "Where are Apple CarPlay and Android Auto?" and noted that there was just one USB port for the whole SUV.
Ride and handling: "The Toyota's ride quality suffered on rough pavement, and every corner induced pronounced body roll," said Normile of one of the model's last-place finishes. Bragman deemed the steering "overboosted, providing no feel or feedback."
Powertrain and gas mileage: The Sequoia ranked in last place for powertrain and mileage partly because "the engine hasn't aged well and having a six-speed [transmission] nowadays seems like a trip back in time," said Williams, who also called out the notchy shift lever. The Sequoia's observed mileage of 18.8 mpg on our mostly highway drive route was the lowest when unladen, but on the upside, it dropped less than the others when towing a 3,500-pound camper, to 10.7 mpg, making it the second-most efficient.
No lane departure prevention: Though the model itself includes more standard advanced safety features than do base competitors, our Sequoia fell behind the others as equipped because it lacked lane departure prevention and because its backup camera had static guide lines. It did, however, include forward collision warning with automatic emergency braking, lane departure warning, blind spot warning and rear cross-traffic alert.
Child-safety seat accommodation: The Sequoia fared poorly in the Cars.com Car Seat Check due to a cramped second row, Latch issues and floppy seat belt buckles.
Research the 2018 Toyota Sequoia | Search Inventory | Car Seat Check | Photo Gallery
3 Chevrolet Tahoe Premier RST, 691 points
The verdict: The Tahoe is an aging beast that's ready for its expected update but still features enough comfort, capability and style to make it a decent choice if third-row accommodations aren't high on your list.
Our Test Vehicle
As-tested price: $78,155
Engine; drive type: 420-hp, 6.2-liter V-8; four-wheel drive
Estimated city/highway/combined mpg: 14/22/17
With its highly rated front seats and poorly rated third row, the Tahoe might be a decent choice for individuals or small families, but the inclusion of Chevrolet's new RST edition features muddied the waters somewhat, proving responsible for the Tahoe's best and worst attributes.
The Good
Front seats: "Comfortable front seats make the Tahoe well-suited to longer drives," Normile said of the top-rated first row.
Powertrain: "The big engine makes big power," said Bragman of the 6.2-liter engine that comes with the RST 6.2L Performance Edition option ($2,820) with which our Tahoe was equipped, replacing a standard 355-hp, 5.3-liter V-8. All of the judges liked the sound from the Borla exhaust system, and "the engine's low-end torque advantage makes the Tahoe feel stronger when empty and loaded," Williams said. Normile echoed, "It makes a trailer feel like it's not even there." The 10-speed transmission and old-school column shifter got high marks, especially for towing, though one judge thought the Ford's 10-speed operated more flawlessly, and the Expedition powertrain edged out the Tahoe's scores overall.
Gas mileage: Despite its big optional V-8 and high powertrain score, the Tahoe also had the best observed gas mileage of 22.5 mpg without a trailer. It was also the highest when towing, achieving 12.1 mpg, a decrease of 46.2 percent (the Ford and Nissan saw bigger drops).
Multimedia: "The Chevy MyLink system is a decent multimedia unit, with easy-to-use buttons, quick readability and excellent response," said Bragman. It tied for first rank with the Expedition system.
Cabin storage: "I like all the small hidden storage areas accessible from the front seat: dual glove boxes, an overhead eyeglass pop-out case and a hidden cubby behind the navigation screen," Williams said. Normile noted that "the column shifter opens up storage space in the center console."
The Bad
Third row: The Tahoe's biggest shortcoming, and the lowest-rated among the competitors, is a third row Bragman called "the worst of the bunch, with no legroom at all and a seating position that practically has my knees on my chin." Williams also noted a lack of storage and device-charging provisions.
Value: The Tahoe RST scored a few points below its three tightly grouped competitors in the worth the money category. Bragman said, "$78,000 is an insane amount of money for this truck." Where the Sequoia offered little but was appropriately priced, the Tahoe's RST treatment added many features but then charged too much for them.
Visibility: "Outward visibility, especially to the rear with the third-row seats up, is quite limited," Williams noted. The side mirrors also took some heat: "Whatever aerodynamic gains there are with the Tahoe's small mirrors aren't worth the reduced visibility," Normile said.
Ride quality: "The RST package's 22-inch wheels make driving over rough pavement feel like the Tahoe might shake apart at any moment," Bragman said. The Tahoe's ride-quality scores put it in third place.
Driving modes: "While the V-8 makes lots of torque and a great noise, it doesn't feel that quick, especially compared with the Ford's instant responses — particularly when the Ford is in Sport mode," Bragman said. The other judges also called out a lack of modes overall (apart from Tow/Haul), with a Sport mode conspicuously absent amid the sport-oriented RST upgrades.
Interior quality: "Interior quality is mediocre," said Bragman, and by the dictionary definition, the judges' scores agreed, pegging the Tahoe as average. "I can see the outline of the passenger airbag on the top pad of the dashboard, something one hasn't seen in modern cars in nearly 15 years," he continued. "The panel gap for the center console doors is atrocious, and the buttons and controls are ridiculously small given the available real estate."
Research the 2018 Chevrolet Tahoe | Search Inventory | Car Seat Check | Photo Gallery
2 Nissan Armada Platinum Reserve, 700 points
The verdict: The 2018 Nissan Armada punches above its weight with a quiet and confident driving experience and a price that's thousands cheaper than the Chevrolet and Ford entries, but that might not be enough to overcome its undersized third row.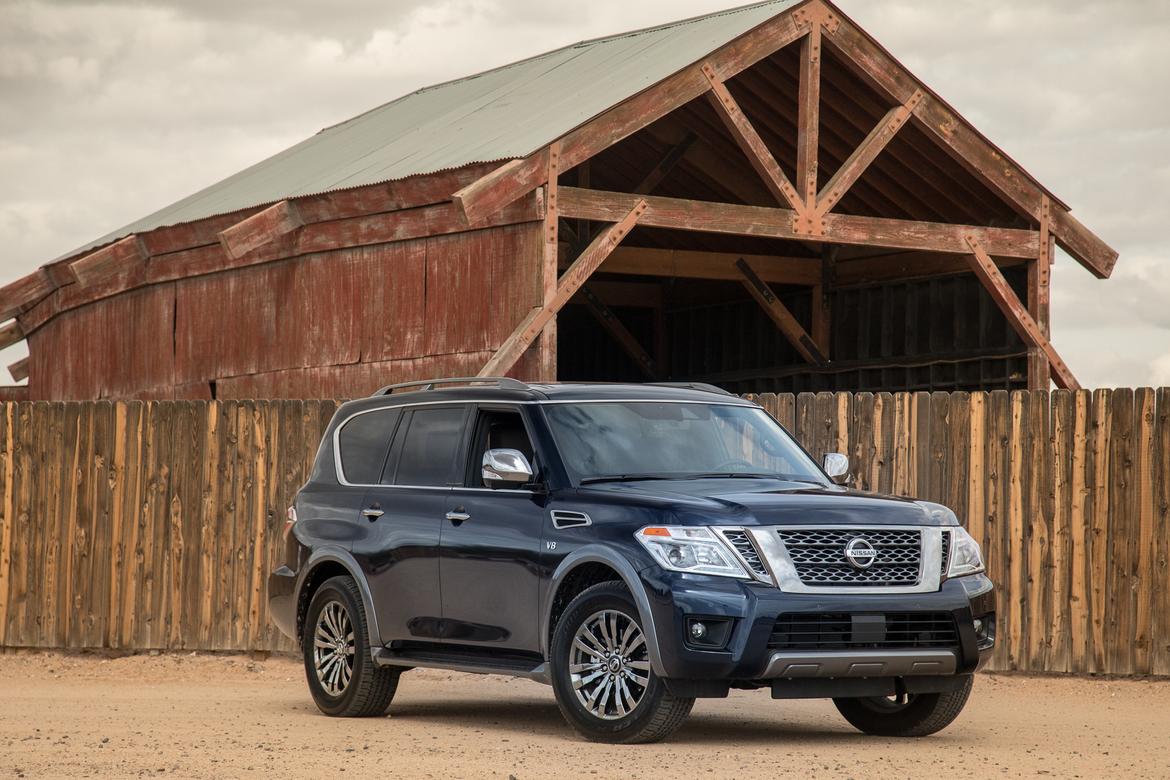 Our Test Vehicle
As-tested price: $67,145
Engine; drive type: 390-hp, 5.6-liter V-8; four-wheel drive
Estimated city/highway/combined mpg: 13/18/15
The Armada takes a familiar route to its place near the top of Cars.com Challenge rankings by performing reasonably well in most categories while truly excelling or falling flat only in a couple. A redesign in 2017 makes this Armada a very different vehicle from the one historically based on the Titan pickup truck, so don't be surprised if you see some new strengths — and new weaknesses.
The Good
Advanced safety features: The Armada edged out the Tahoe and Expedition for the most points by including a 360-degree camera system where the others had only backup cameras, as equipped. "Navigating tight spaces with a large SUV can be a challenge, but the Armada's Around View Camera makes it significantly easier," Normile said. The Armada also included forward collision warning with automatic emergency braking, lane departure warning and prevention, blind spot warning and rear cross-traffic alert.
Value: "The fully loaded Armada Platinum Reserve is still thousands of dollars less than a mid-level trim of the Expedition and more than $10,000 less than the loaded Tahoe RST we tested," said Normile. Bragman also lauded "tons of content and luxurious surroundings for considerably less money." The Nissan and Ford tied for first in the worth the money category.
Interior: Williams considered the Armada's "quality of materials and overall plushness head and shoulders above the rest." While Normile called its interior "the most visually interesting of the group, with a mix of colors and unique stitching that show more effort than its competitors," he broke with Williams regarding the materials themselves, which "look and feel cheap, particularly the open-pore wood-tone trim," he said. Bragman took exception to "an ancient-looking, tiny black-and-white LCD display" among the gauges.
Quiet: "The Armada's cabin does a great job of keeping out unwanted wind and road noise," Normile said, and Bragman agreed. The Nissan tied for first with the Ford in this category.
The Bad
Third row: Rating only a few tenths above the lowest-ranked Tahoe, "the Armada's third row is only slightly more usable for adults than the Chevy's, notching up from 'barely usable' to 'marginally usable,' " said Bragman. Normile pointed out that the console between our Armada's second-row captain's chairs may be a plus for their occupants, but it makes the middle third-row seat as adult-unfriendly as the outboard ones by blocking what would have been an open space.
Multimedia system: The Armada's system offered more functionality than did the maligned Sequoia's, but "there's no excuse for something this old in a modern vehicle," Bragman said. It similarly lacks Apple CarPlay and Android Auto.
Gas mileage: Bragman described the Armada's fuel efficiency as "big-truck poor." With 19.8 mpg on our test route unladen, its efficiency marked third place; when towing, it dropped by half to 9.95 mpg — last place.
Powertrain: Though competent, the powertrain ranked third because, the judges said, the Armada felt heavy and sluggish off the line, and it stumbled while towing. "The transmission is too eager to stay in a higher gear rather than shift down to provide passing power," said Normile. Williams said, "Tow/Haul mode doesn't seem to influence much beyond making the engine rev more and cut out the top 7th gear even when gliding on a level highway." The Nissan ranked third for towing, as well.
Research the 2018 Nissan Armada | Search Inventory | Car Seat Check | Photo Gallery
1 Ford Expedition Limited, 820 points
The verdict: Redesigned for 2018, the Expedition combines a surprisingly accommodating third row with overall comfort, capability, technology and space in a stylish (if expensive) package. The main downside is frequent stops at the gas station when towing.
Our Test Vehicle
As-tested price: $72,655
Engine; drive type: 375-hp, turbocharged 3.5-liter V-6; four-wheel drive
Estimated city/highway/combined mpg: 17/22/19
The 2018 Ford Expedition is our runaway Challenge winner, having bested the second-ranked Armada by 120 points. Of the 17 judging categories, the Expedition ranked first in nine and tied for first in four, averaging no lower than 7.3 out of 10 points for any category; in no category did it rank third or last. Perhaps the Expedition's greatest triumph is a roomy third row that doesn't rob space from the other rows. In addition to the aspects detailed below, the Expedition was top-rated for visibility, ride quality and cargo storage.
The Good
Interior comfort: The Ford rated a few tenths of a point behind the top-ranked Chevy for front-seat comfort, partly because two judges found the bottom cushions "short and unsupportive," said Bragman — but the Expedition rated highest for the second and third rows. "Every row has plenty of room, and the third row is the biggest of the bunch," said Bragman. Normile added, "Third-row passengers can be actual adult-sized humans, and the tilt-and-slide second row makes third-row access a breeze."
Child-safety seat accommodation: The roomy Ford crushed the competitors in the Cars.com Car Seat Check, with straight A's except for the challenging third row, where an intrusive head restraint complicated convertible and booster-seat fitment.
Powertrain: "The turbo V-6 is fantastic, with instant response and plenty of torque," said Bragman. Normile added, "It handles the addition of a trailer with aplomb. While the 10-speed automatic transmission was a joint venture between GM and Ford, Ford's execution is the smarter of the two, shifting quickly and intelligently."
Drive modes: Williams "fell in love with the seven different drive modes, including an Eco mode," he said. "It changes throttle sensitivity, steering assist, transmission shift patterns and more." The jury concurred.
Multimedia provisions: "Ford's Sync 3 system was my favorite of the four," said Williams. Bragman described it as "clear and easy to use, and it connects to smartphones with speed." Normile cited "USB ports in each row to keep passengers' devices charged."
Towing performance: "The Ford tows like a champ, with surprising grunt from the V-6 and a lack of hunting from the 10-speed," Bragman said. Normile lauded "trailering-focused features like Ford's Pro Trailer Backup Assist, onscreen trailer hookup checklist and trailer light diagnostic system."
Gas mileage (unladen): With observed mileage of 21.6 mpg on our drive loop, the Expedition was less than 1 mpg shy of the leading Tahoe — when not towing ...
The Bad
Gas mileage (towing): ... But saddled with a trailer weighing just over one-third of the Expedition's rated 9,200-pound capacity (as equipped), the turbocharged V-6 became mighty thirsty, losing more efficiency than competitors — 53 percent — and dropping from a close second-place ranking with 21.6 mpg unladen to just 10.2 mpg while towing. Even with these results, it remained more efficient than the Nissan, but its 23.3-gallon fuel tank is a few gallons smaller than the others, adding to the pain.
Rotary gear selector knob: "It doesn't save any room and is frustrating to operate," said Bragman. Normile agreed: "It has the same footprint as a traditional lever selector without the intuitive operation."
Tow/Haul mode activation: "There's no dedicated button," Bragman said. "It's buried as one of the drive modes, engaged by a rotary selector."
Research the 2018 Ford Expedition | Search Inventory | Car Seat Check | Photo Gallery
How the Competitors Fared in Each Category
Cars.com graphics by Paul Dolan
How Each SUV Scored
Cars.com graphics by Paul Dolan
Cars.com's Editorial department is your source for automotive news and reviews. In line with Cars.com's long-standing ethics policy, editors and reviewers don't accept gifts or free trips from automakers. The Editorial department is independent of Cars.com's advertising, sales and sponsored content departments.