2020 Ford F-150: 10 Things We Like (and 4 Not So Much)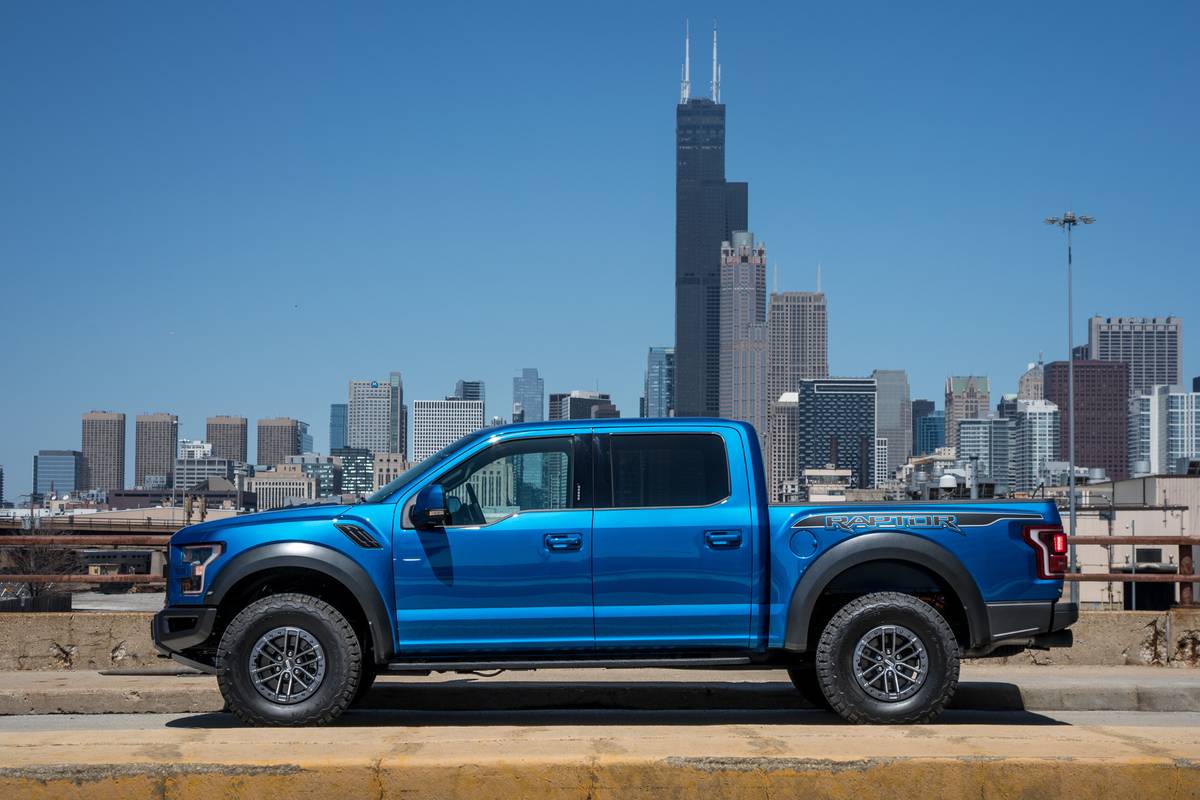 Being popular doesn't mean something is better, but don't tell that to the nearly 900,000 truck shoppers who chose the Ford F-Series in 2019. As the best-selling pickup truck in the U.S., the F-150 is known for dependability and versatility. The options list for this light-duty Ford truck could double as an encyclopedia (kids, that's like Wikipedia, but written on paper and with better fact checking).
Related: 2020 Ford F-150 Review: Still Good, Even After Competitors Are Redesigned
The F-150's key rivals include the Chevrolet Silverado 1500, GMC Sierra 1500, Nissan Titan, Ram 1500 and Toyota Tundra. Among these competitors, all except the over-the-hill Tundra have been significantly updated since the current F-150 arrived for the 2015 model year. Ford has a habit of updating and tweaking the F-150, however, since it doesn't want its profit-churning pickup falling behind the pack.
Do the latest improvements keep the F-150 ahead of the competition in more than pure sales numbers? Follow the related link above for our complete review by Cars.com's Joe Bruzek of three distinct F-150 trims levels, including the mighty Raptor — or keep reading here for a quick rundown of this popular Ford pickup's best qualities, as well as some reasons it loses popularity points.
Here are 10 likes, and four limitations, for the 2020 Ford F-150:
Things We Like
1. Countless Configurations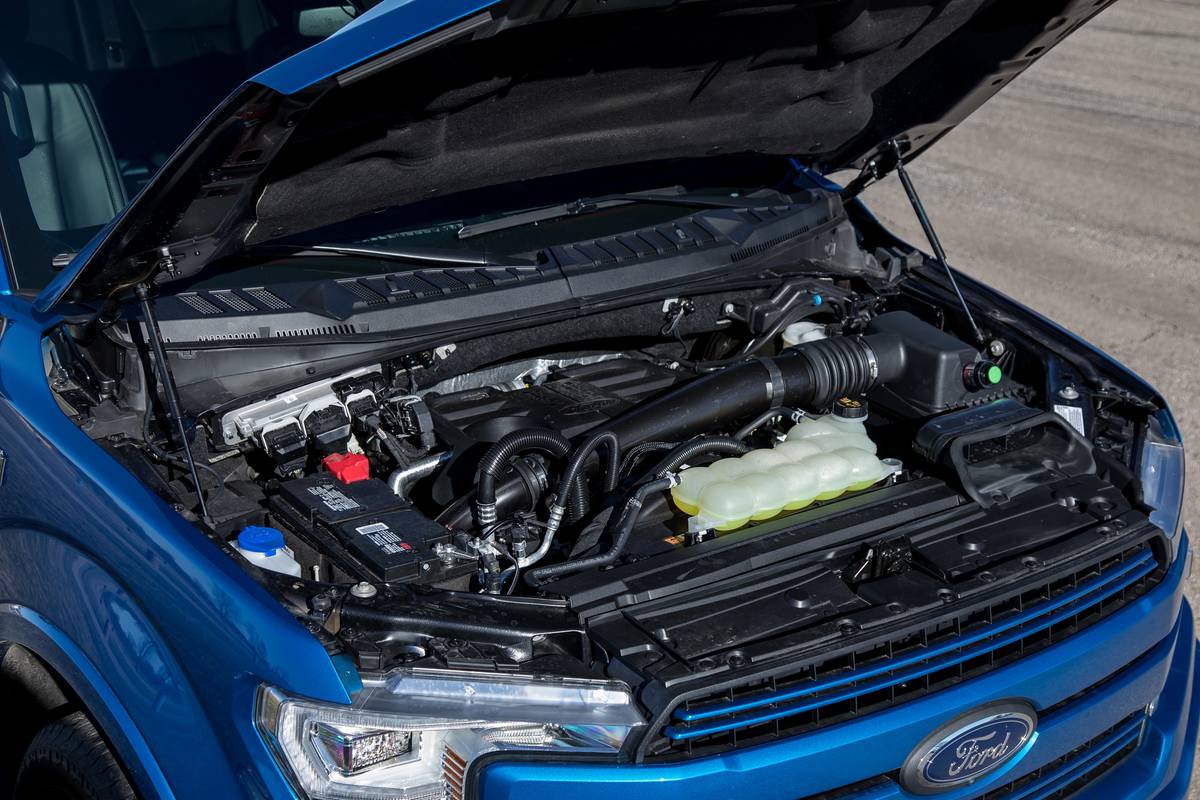 Six choices of engine. Three bed lengths. Three sizes of cabin. Seven main trim levels. If you can't find a Ford F-150 to suit your truck needs, then you don't need a full-size truck. From a basic no-frills utility pickup starting around $30,000 (with destination fee) to the luxurious Limited trim that starts at more than $69,000, the F-150 can be almost anything you want it to be.
2. High-Output V-6 Engine
The high output 3.5-liter EcoBoost V-6 we tested in the F-150 Limited offers 450 horsepower and 510 pounds-feet of torque. If that sounds familiar, it's because the same engine is used in the Raptor. During his drive, Bruzek applied the gas pedal "more like a sports car" than he would in a truck. Power and torque are there whenever you need it — and so is turbo whistle that makes the F-150 Limited sound "like a big rig." 
3. Raptor Remains a Riot
The over-the-top Raptor remains one of the wildest, most off-road-capable and purely entertaining trucks out there. For 2019, suspension modifications made the Raptor a tamer beast in terms of how it rides and handles both on and off paved surfaces. Gone is the wallowing and diving that had us compare the previous Raptor's ride to what you'd find "in your grandparents' Mercury Grand Marquis."
4. 10-Speed Automatic Has Quick Reflexes
The F-150 comes with either a six-speed automatic or 10-speed automatic transmission. We tested the 10-speed and found it provides crisp and efficient shifts. (That's not to say it's always perfect; we noted a reluctance to downshift when paired with the turbo-diesel 3.0-liter.)
5. Towing Titan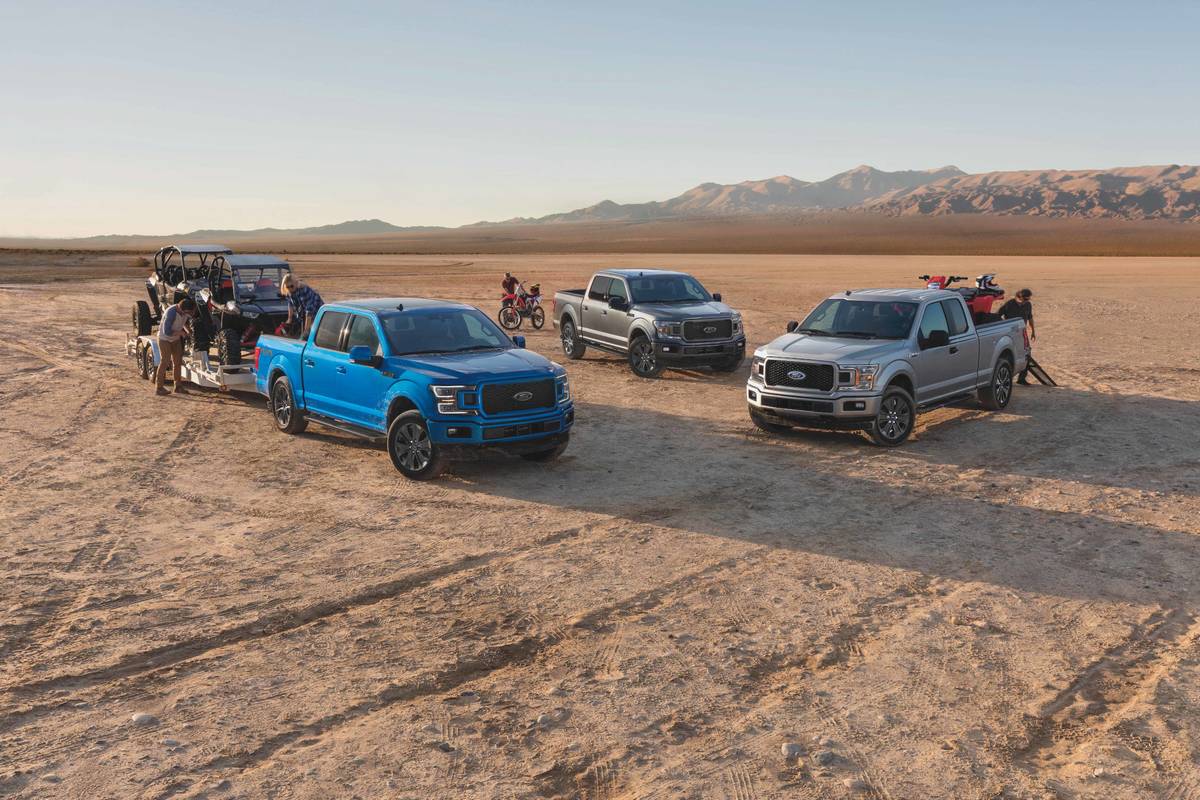 Ford and Chevy have been in a seesaw battle over ultimate towing capacity in both light- and heavy-duty truck models. Let's just say the F-150's maximum towing capacity of 13,200 pounds is more than up to the challenge offered by any rivals.
6. Diesel's Fuel Efficiency (With a Couple of Caveats)
No big surprise, the 3.0-liter Power Stroke diesel we drove gets better fuel economy than the 375-hp version of the 3.5-liter gas-fed EcoBoost V-6. With a combined 24-mpg rating in a mix of city and highway driving, the Power Stroke bests the 19-mpg rating provided by the EcoBoost (keep in mind that diesel is usually pricier than regular gasoline). The Ford turbo-diesel also trails light-duty diesel engines found in the Ram 1500 (26 mpg combined) and Chevrolet Silverado (27 mpg combined).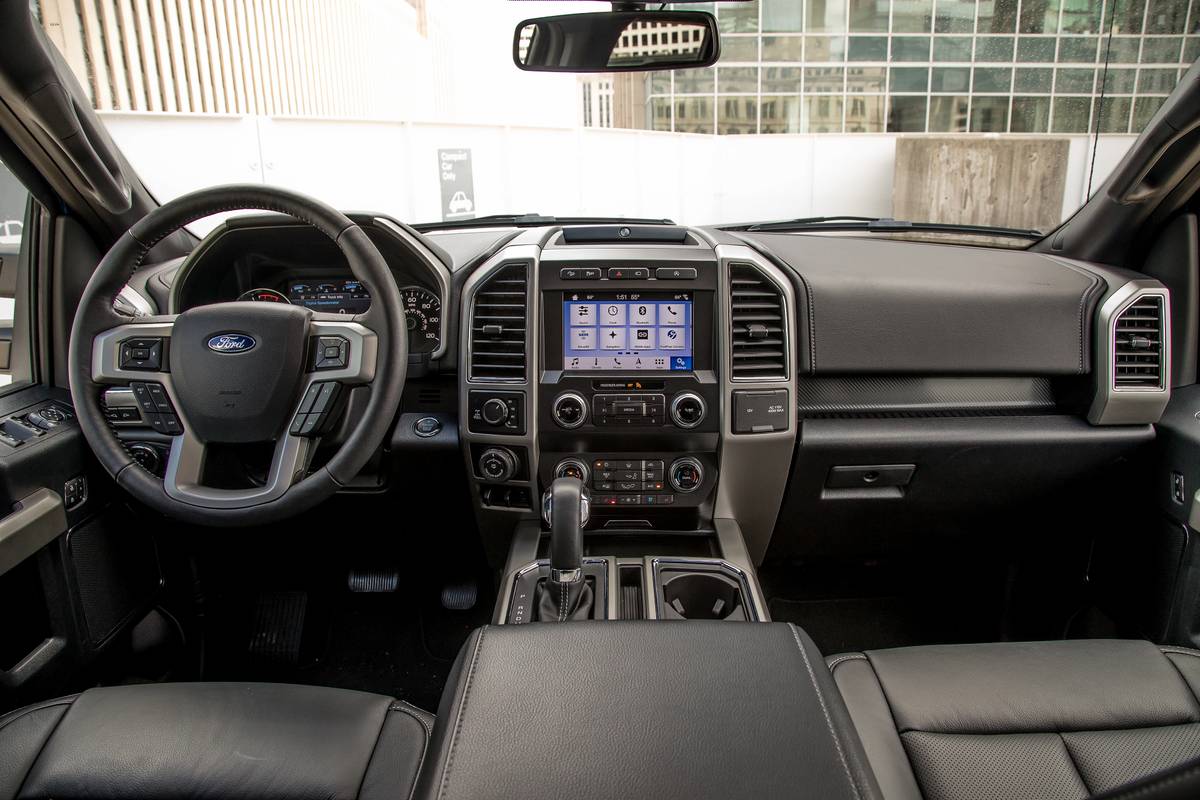 7. Feels Smaller Than It Is From Behind the Wheel
You might not expect nimble handling in a full-size truck, but the F-150 is easy to drive in all environments. Combined with a well-controlled ride, this Ford truck doesn't wear you out after long stints behind the wheel.
8. Cavernous Cabin
Choose the SuperCrew cabin style and be prepared for acres of space for front and rear occupants. The roomy cabin is ideal for anyone who routinely travels with more than one passenger aboard.
9. Plenty of Interior Storage
You'll also get a ridiculous amount of storage space when you go for the full-bore SuperCrew cabin, too. There are power outlets everywhere, cubbies for all the detritus of modern life and center console storage that can swallow a laptop.
10 Resale and Reliability
There's no denying the F-150's strong reputation for reliability and resale value. When so many people want a brand-new F-150, you can bet an equally large client base will be looking for used models, too.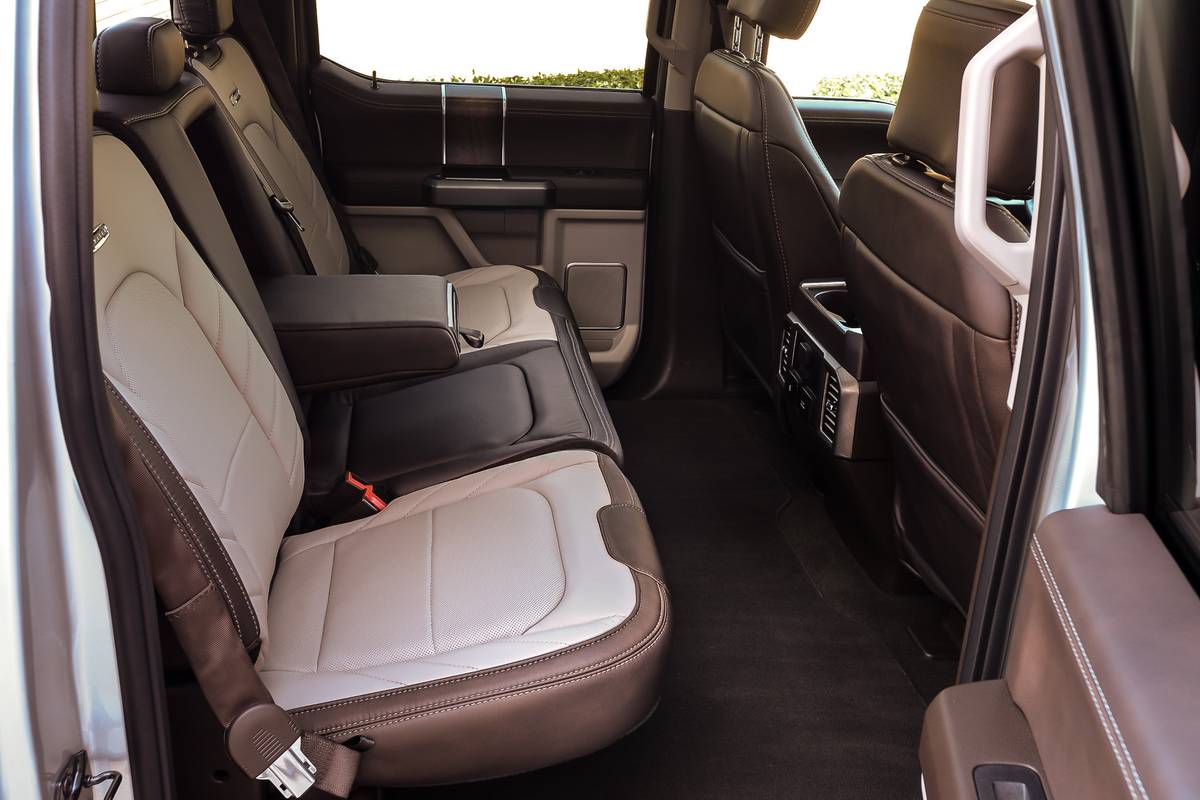 More From Cars.com:
Things We Don't
1. Limited Is More Limited When It Comes to Work
The F-150 Limited with the high-output EcoBoost V-6 we drove was posh and luxurious, but its payload capacity drops to 1,520 pounds — the lowest figure among all F-150 engine options. Is brute strength and indulgent comfort too much to ask for?
2. Raptor Is Enormous
It doesn't drive like a bus, but it's sized like one. Unless you have plenty of room to roam (and park), remember the Raptor is a giant truck that's best suited to wide-open spaces.
3. Raptor Happier Off-Road Than Towing Trailers
Towing is simply not a strong suit for the wild-and-wooly Raptor. That's because suspensions tuned for extreme off-road adventures aren't always best when it comes to towing or hauling. It's OK, but other F-150s are much better.
4. Cabin Design Showing Its Age
This is where the F-150 is showing its age. Compared with key rivals, especially the more opulent offerings of the Ram 1500 — which counterintuitively earned Cars.com's 2020 Luxury Car of the Year award — the Ford's dash design and cabin materials appear dated and outclassed.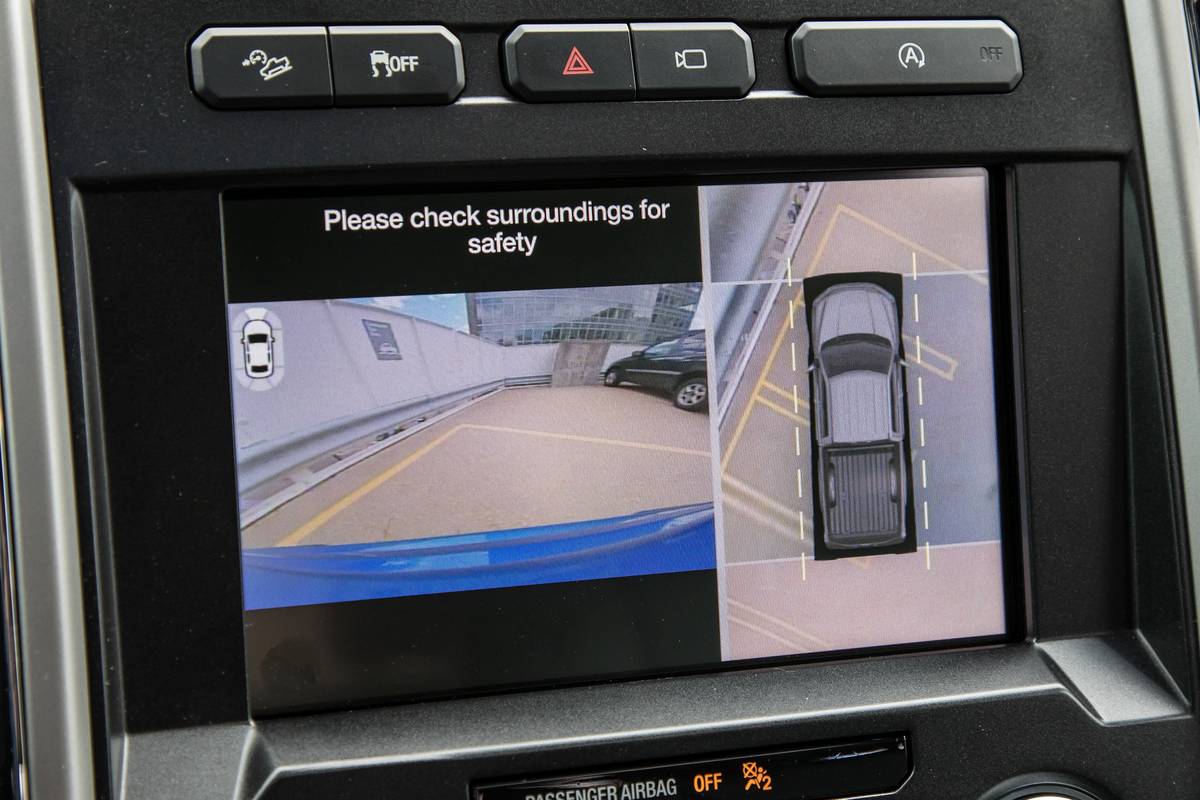 Cars.com's Editorial department is your source for automotive news and reviews. In line with Cars.com's long-standing ethics policy, editors and reviewers don't accept gifts or free trips from automakers. The Editorial department is independent of Cars.com's advertising, sales and sponsored content departments.