2020 Mini Cooper SE Hardtop Review: Electric, Fun and Priced for Its Modest Range
The verdict: An electric runabout in the traditional mold that's true to Mini's reputation for motoring fun, the SE Hardtop is priced appropriately for its modest range.
Versus the competition: Most EVs today offer greater range, efficiency and utility, but the Mini stands out for drivability, and it has more than enough range for daily use.
By some estimates, roughly 100 plug-in models could hit the market within the next few years, including both plug-in hybrids and full battery-electrics. One of the most intriguing of this new crop is an electric version of the 2020 Mini Hardtop, sold only in two-door form. It's closest to the gas-powered Cooper S, with an E added for "electric."
Related: Who Makes the Mini Cooper?
Granted, the SE Hardtop is not an SUV, which is the American motorist's preferred style, but it promises Mini driving dynamics and one of the lowest prices for an electric vehicle — $30,750 including destination charge and before any incentives. Why so low? It might be because the car's range is EPA-estimated at 110 miles, when many view 200 miles as the bare minimum. If that's how you view EVs, you might be doing it wrong.
Range: You're Doing It Wrong
Before we get into the driving aspect, a quick pep talk about EV range: If you're an EVangelist, a battery-electric car True Believer, you have my undying support if you want to own one as your only vehicle, live in an apartment (or a shack or a bloody yurt off the grid) and rely on public charging. But if you're a normal American consumer, it's critical that you know what really matters and what doesn't. A decade into a resurgence of EVs, the average American still doesn't get it: The only reasonable, affordable way to own an EV is to charge it at home. That means you'd best own property or know for a fact that you'll have dedicated parking and charging that someone else can't take away from you. For most people, it also means an EV makes a great second car, not an only car. It shouldn't be a problem, as the average U.S. household has two cars; according to Mini, 81% of its customers have three or four.
Once you accept the above, you recognize that the car's "tank" doesn't need as many miles of range as a vehicle that goes to a gas station weekly. How often do you drive more than 110 miles per day? That said, people who live in wintry climates should know the potentially devastating effects of cold temperatures on EV range, as AAA detailed and we at Cars.com learned in Chicago nearly 10 years ago with a 2011 Nissan Leaf rated at only 73 miles. But this is merely part of an equation you must calculate, not a death sentence.
Typically, people buy EVs with more range than they turn out to need before they learn this lesson — range for which they pay extra. Remember: Think range per day, not per charge, and you might save yourself thousands of dollars.
Responsive Where You Want It
The high point of the SE version of the Mini Cooper Hardtop is its acceleration. Yes, its manufacturer-estimated 0-60-mph figure of 6.9 seconds is good by modern standards — better than the base gas-powered Cooper's 7.5 seconds and slower than the 6.4 seconds of the Cooper S (both with automatic transmissions) — but that doesn't tell the whole story. The electric Hardtop is swift off the line and noticeably responsive at the lower end of the range, where we do much of our driving, and it has none of the hesitation we endure in so many gas-powered vehicles nowadays. The drive motor has 181 horsepower and 199 pounds-feet of torque.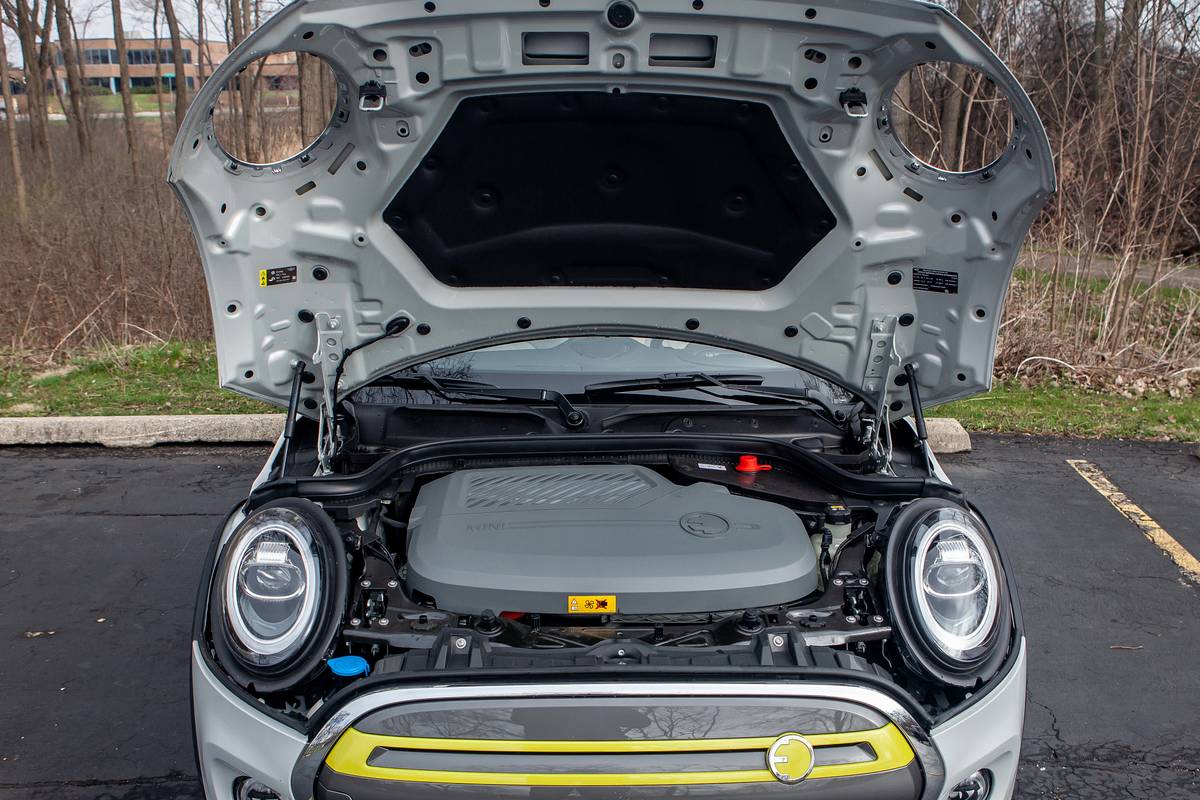 I also like the car's regenerative braking. This provision, which all EVs and hybrids have, is the system whereby the drive motor instantaneously becomes a generator when you lift off the accelerator or step on the brake pedal, using the car's inertia to put some electricity back into the battery pack for reuse. Where some EVs let you select among several levels of deceleration, the Mini has a normal-feeling amount and one additional setting for more aggressive regen that lets you drive most of the time with one pedal, which I like. You could argue more choices are better, and though I can't disagree, I thought these two were well executed. You could also argue that other EVs' use of steering-wheel paddles for controlling the degree of braking is superior, but there you'd lose me; Mini employs a simple toggle switch, and once you choose your setting, it stays. Too many competitors use the paddles like momentary handbrakes (what's the point when that's what the brake pedal already does?) or default to a different setting not long after you change it.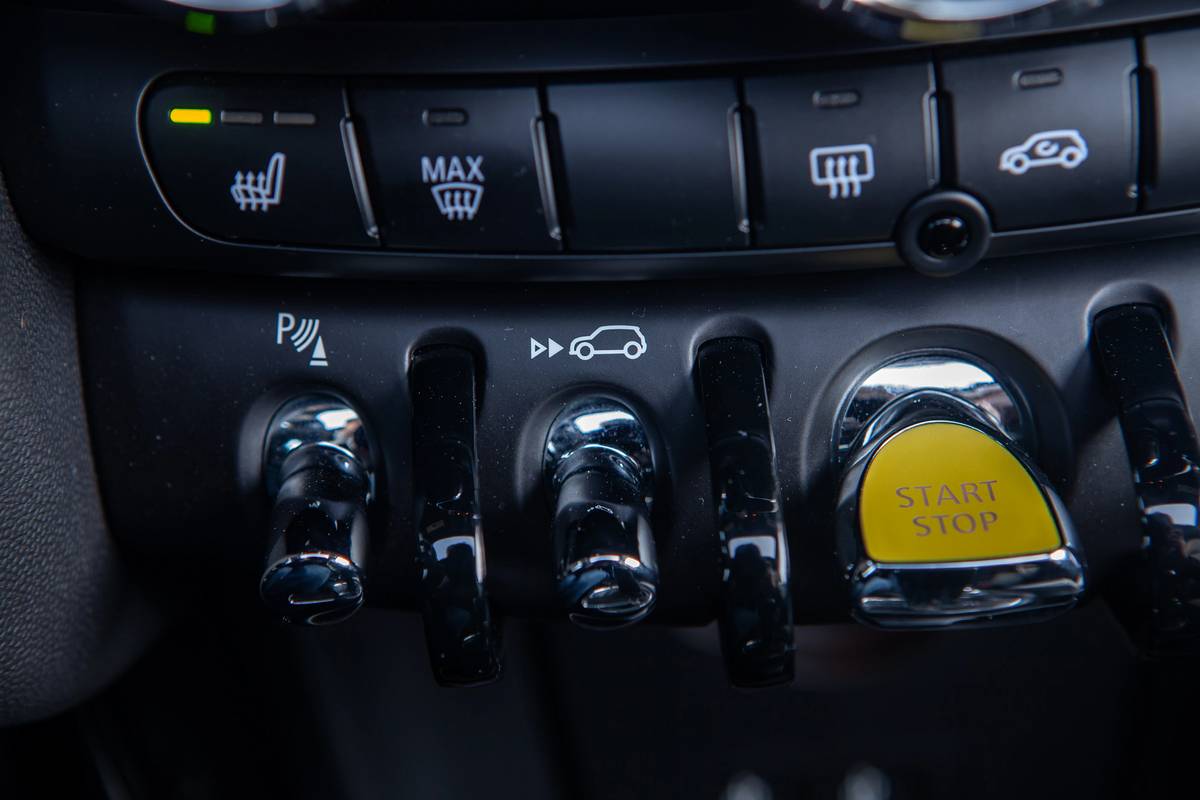 One reason I like one-pedal driving is it keeps you away from the brake pedal, which in EVs and hybrids is never as satisfying to operate as a good conventional braking system. You can acclimate to it, certainly, and as these things go, the Mini's pedal feels reasonable. But as is often the case, there's a disconnect when it transitions between the motor slowing the car and the brake pads grabbing the discs, as they do under more urgent braking. In the Mini, a counterintuitive thing happens: The pedal feels more mushy when braking firmly than when regen is in play.
Go-Kart Handling?
So how about that vaunted Mini go-kart handling (always a curious claim given go-karts are rear-wheel drive and Minis are front-wheel)? Well, I'll conditionally say it's mostly here, but I have to point out that I think the car already lost some of that joy when it grew into a larger car for the 2014 model year (yes, it looks similar and is more livable, but it ain't the same). In some ways, being electric actually helps. The battery pack is T-shaped and sits under the backseat and center tunnel, improving the EV's front/rear weight distribution percentage to 58/42 (the automatic Cooper S is rated 62.9/37.1, and the sportiest variant, the John Cooper Works GP, is 65/35). As a result, the EV feels a little more balanced when pushed, and having a weighty battery so low minimizes body roll, as it does in many electric vehicles. Here, it more than makes up for the fact that the car sits 0.7 inch higher than the gas-powered Cooper — to accommodate the battery without compromising interior space — which would otherwise raise a car's center of gravity.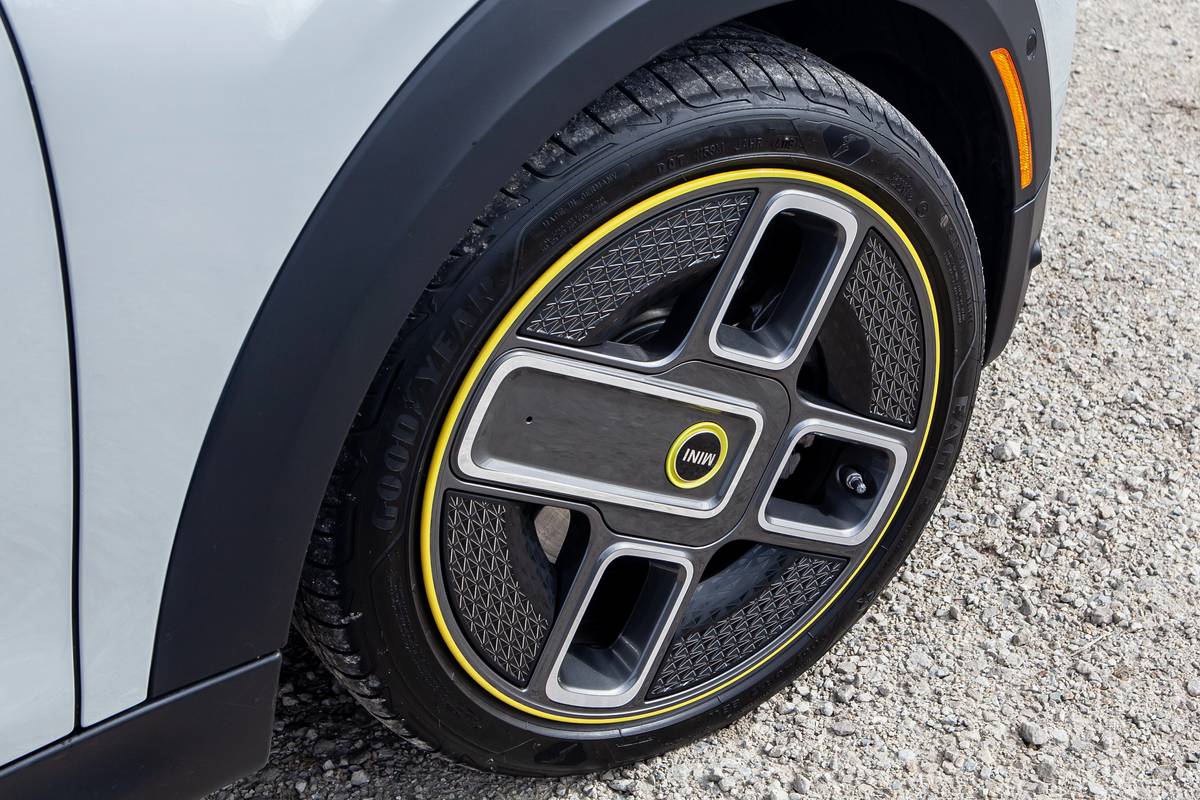 My only complaint is that the car feels a bit heavy. Minis seldom feel light to begin with; they're substantial in a positive way, but at 3,153 pounds, the SE is as much as 364 pounds heavier than an automatic Cooper S ( 291 pounds heavier if the gas tank is full). I felt its weight when pushing the car hard in turns and making quick transitions. The Mini SE Hardtop comes off better than many EVs because it has standard summer performance tires on both the standard Revolite Spoke 16-inch wheels and my test car's optional Power Spoke two-tone 17-inch wheels, which wore Goodyear Eagle F1 Asymmetric 3 tires rated 205/45R17. More often than not, EV makers fit their cars with low-rolling-resistance tires to maximize range, usually at the expense of grip.
Though summer tires definitely give the Cooper SE Hardtop better grip — and, Mini says, better rolling resistance than the tread patterns of all-season tires — it means driving the car in winter climates would be hazardous unless you switch to winter or all-season tires, which adds cost and hassle.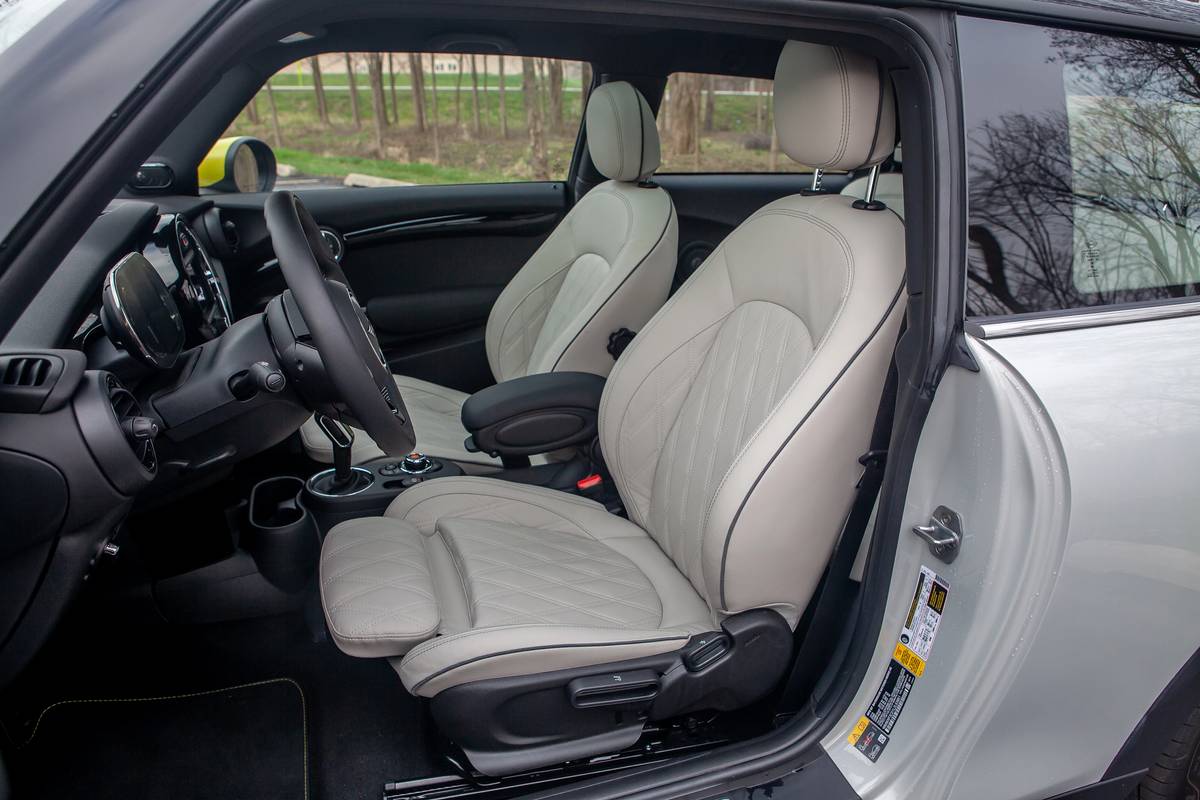 Interior and Cargo Space
The electric Hardtop's interior is like that of the gas versions, with no difference in seating or cargo dimensions, Mini says. That's good, because there wasn't much room to spare: The front seats are certainly commodious, but the backseat is for occasional use only. Legroom there comes only at the courtesy of front occupants, and getting back is an effort, too, being this is a two-door.
Interior quality is good. Mini is a premium brand, so along with quirky character comes decent materials, especially in higher trim levels like our test car, an Iconic trim, which added $7,000 above the price of the base SE Hardtop along with features including a special steering wheel, power-folding auto-dimming mirrors, an auto-dimming rearview mirror, front and rear parking sensors, a Harman Kardon premium stereo, a head-up display and the Touchscreen Navigation Package. Also part of the Iconic treatment is a panoramic moonroof fitted with one of my longstanding complaints about Minis: a retractable sunshade that doesn't shade the sun. It's nowhere near opaque enough.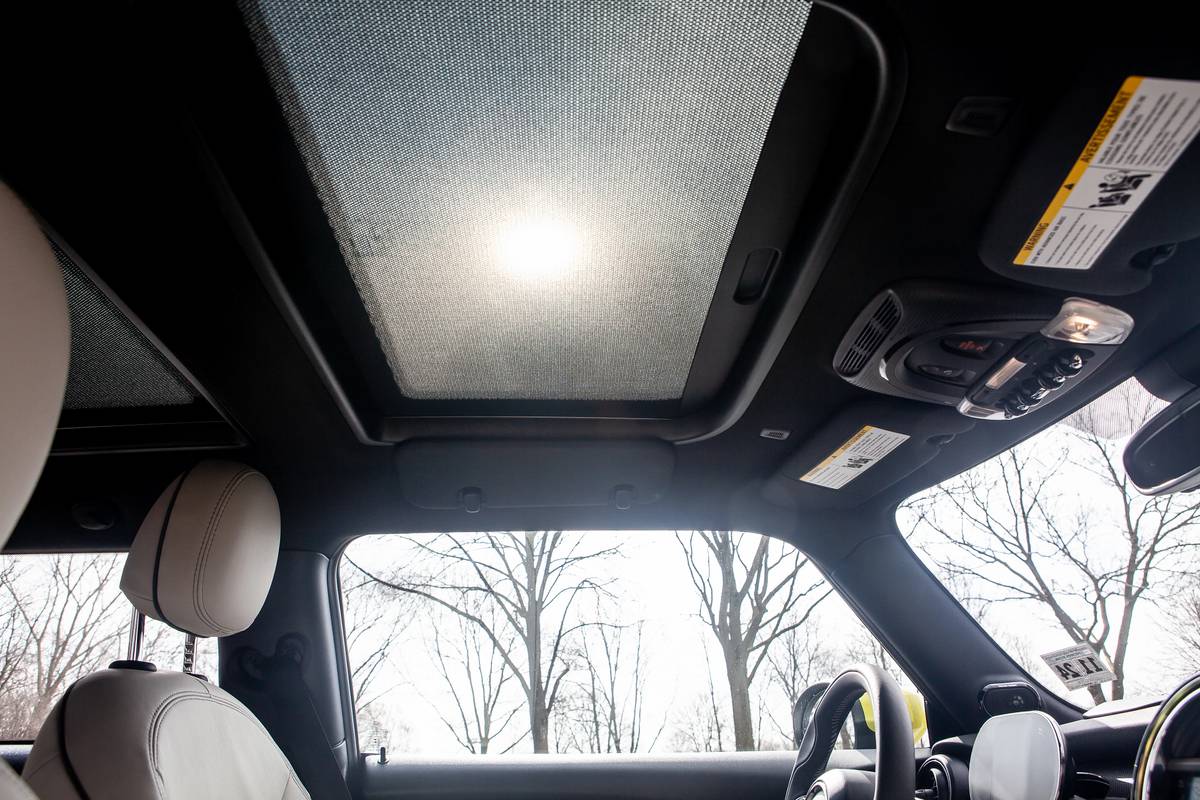 Another bummer I found was a wireless charging pad under the center armrest that wasn't large enough to accommodate my smartphone, a Samsung Galaxy S10, in its case.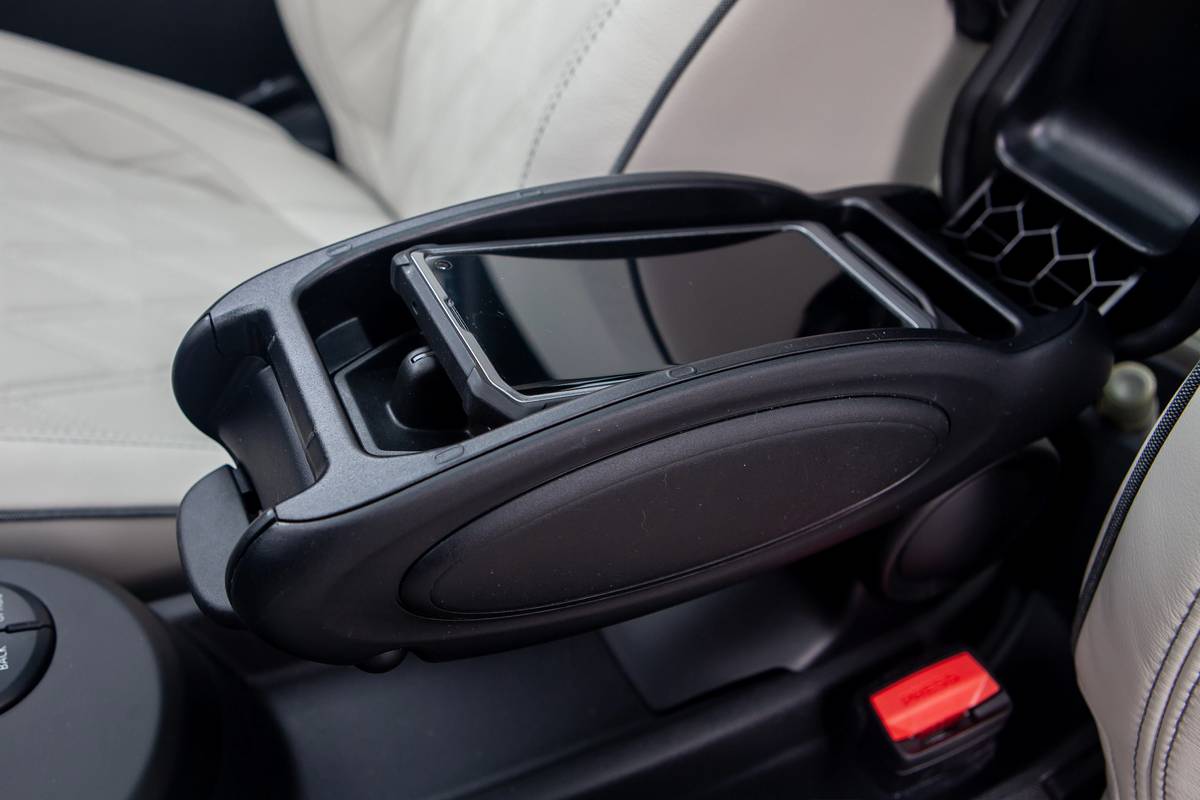 With cargo specs of 8.7 cubic feet behind the backseat and 34 cubic feet when it's folded, the hatchback isn't very roomy, but it does its job brilliantly if you think of the car as a two-seater. What it lacks in volume it makes up for with nicely executed tricks like a bi-level cargo floor that can give you more or less space below it and that stays in place when you swing it up against the backrests. By flipping a sturdy metal bracket forward, you can lock either side of the 60/40-split backrest in a vertical position to create more space behind it.
Charging and Efficiency
When it comes to charging, the electric Mini has some pros and cons. With AC charging capacity of 7.4 kilowatts, you can charge at home in as little as 4.2 hours with a 240-volt Level 2 setup. That's roughly 26 miles of range for every hour, though charging is always faster when a battery is empty versus when it gets fuller. To accomplish this, you'll need charging hardware (roughly $400-$500, sold separately) and a 32-amp 240-volt circuit (with a 40-amp breaker). Installation cost will depend on how far the charging location is from your home's electric service panel and what comes between. The car comes with a 120-volt Occasional Use Charging Cable, but a regular 120-volt household outlet is never enough for a purely electric car. By my calculations, the Mini averaged only 3.3 miles of range for every hour it was plugged into a 120-volt outlet — pretty poor performance. Typically, a small electric car will add about 5 miles of range per hour at Level 1. What's this about? Efficiency.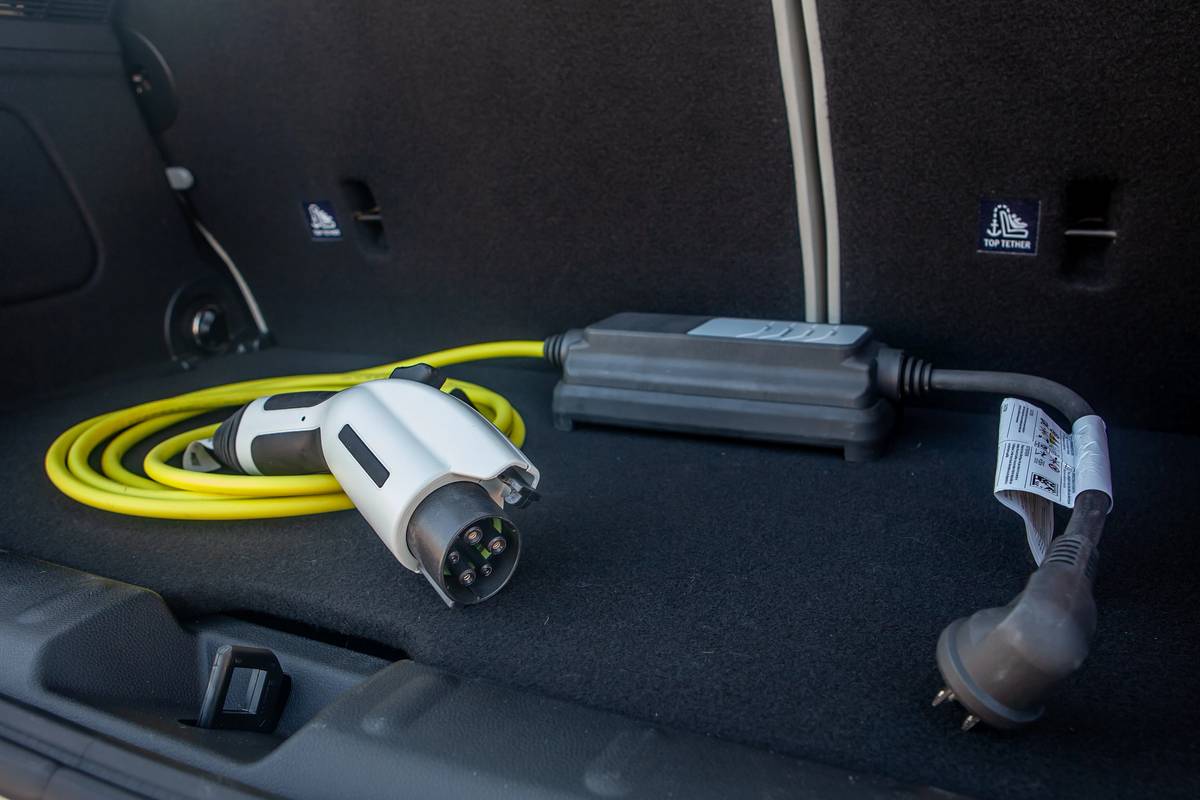 The electric Mini Hardtop isn't very efficient, which is often overlooked in EVs because, hey, at least you're not burning gasoline, right? Unfortunately, inefficiency in EVs translates to shorter range and longer charging times for a given battery capacity, plus higher cost per mile. The EPA's miles per gallon-equivalent rating isn't very useful when comparing with petroleum-powered vehicles because electric motors themselves are so efficient, the numbers make any EV seem superior. But mpg-e is good for comparing EVs to each other, and the Mini's 108 mpg-e combined rating is quite low. The BMW i3 is rated 113 mpg-e, the four-door Nissan Leaf (with its smaller battery pack and 149 miles of range) is 111 mpg-e, and the 259-mile-range 2020 Chevrolet Bolt EV is rated 118 mpg-e. And while we're dubious of citing electric models that aren't available nationally when reviewing one that reportedly is, such as the Mini, it certainly bears noting that the 258-mile 2020 Hyundai Kona Electric rates 120 mpg-e, the 170-mile 2020 Hyundai Ioniq Electric rates 133 mpg-e and every version of the Tesla Model 3 rates higher than the Mini — as high as 141 mpg-e for the 250-mile Standard Range Plus.
The Mini SE comes standard with DC fast-charging capability, which is helpful if you find yourself in need of a top-off, but we don't recommend counting on public charging — as stated above and reinforced below. Even DC "fast" charging, in the Mini's case, amounts to an 80% charge in no less than 35 minutes. The 50-kW DC rate isn't great for an all-new model, frankly, but it's workable because the car is small and its range is modest to begin with. (The new 2020 Audi E-Tron and current Tesla Model X SUVs accept 150 kW.)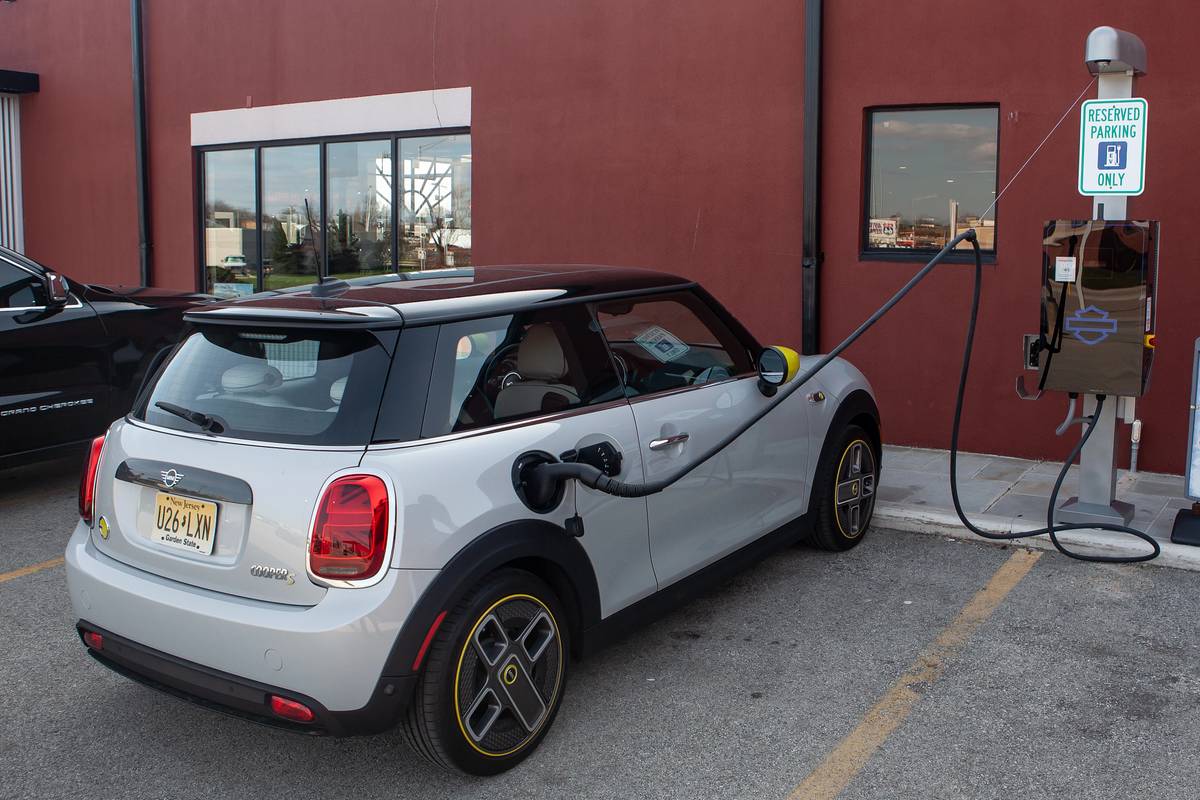 I started a fast-charging session near my home at 4:15 one afternoon and was surprised when the instrument panel read the car would be "completely charged at 6:09 p.m." It turned out this charger was limited to 24 kW, not 50 kW. I stopped after 32 minutes. My projected range had gone from 6 to 43 miles, and this location billed me 10 cents per minute, $3.22 total; that comes out to almost 9 cents per mile. Charging at home is just over 3 cents per mile. For comparison, the Cooper S gets 30 mpg combined on premium gas, and at a remarkably low $2.58 per gallon national average as I write this, that works out to 7 cents per mile.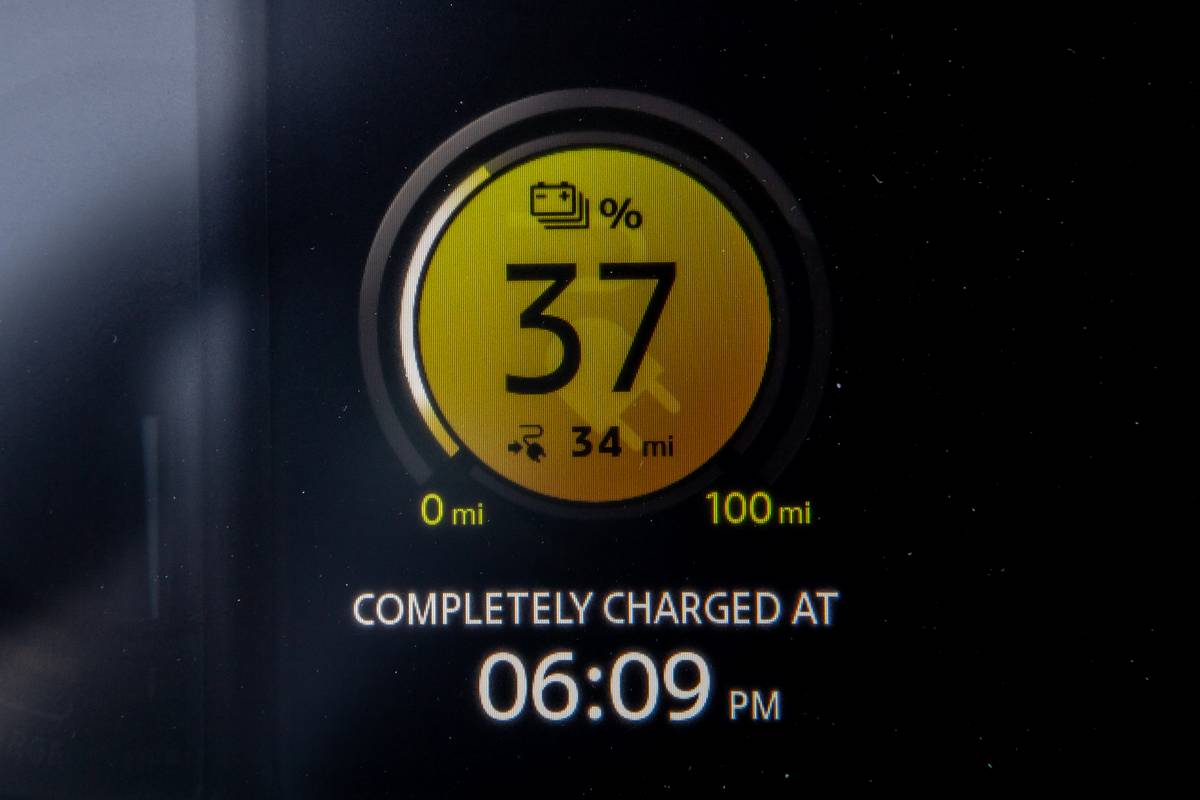 I found a DC fast charger designated as 50 kW about 10 miles away,  but it didn't work at all. I don't know why; sometimes it happens, especially with brand-new models, suggesting either the car or the charger needs a software update because the two communicate with each other before charging can commence. Cars.com bought its first EV in 2010 and has encountered scenarios like this before. Sometimes chargers mysteriously don't work, or are clearly broken, or are occupied when you need them, or become expensive when they previously haven't been — or simply vanish. My experience with the SE was a coincidence, but one that drives home my point about not expecting to rely on charging outside the home.
Should You Buy the Mini Hardtop Electric?
Priced at $30,750 before incentives, the Mini Cooper SE Hardtop is an affordable EV, and there's plenty of the federal tax credit of up to $7,500 (depending on your level of taxable income) remaining for Mini-brand vehicles. The exhaustion of these credits for Chevrolet's Bolt EV and all Teslas have made them comparatively less attractive. For those who can afford to pay more up front for an EV and its home charging apparatus — and wait for the credit with their tax returns — the payoff can come in the form of lower operating cost per mile. Though the benefit depends on your region's electric costs (the calculation above was based on 12 cents per kilowatt-hour, which is common), the fact that gas Minis use high-octane fuel means the benefit is almost assured if you compare it with a regular Mini. EVs also tend to have lower maintenance costs because there are no oil changes and the regenerative braking results in fewer brake jobs. But in the Cooper SE's case, the standard summer tires might mean added costs for different tires in some climates — unless you intend to garage it for the winter.
According to Mini, the SE is available nationally, but in what volume remains a question. As of publication, Mini's consumer site says, "Due to overwhelming demand, our inventory is running low. Reserve now, deliveries will begin late summer 2020."
Cars.com's Editorial department is your source for automotive news and reviews. In line with Cars.com's long-standing ethics policy, editors and reviewers don't accept gifts or free trips from automakers. The Editorial department is independent of Cars.com's advertising, sales and sponsored content departments.