2020 Nissan Titan Review: No Longer a 'Yeah, But' Truck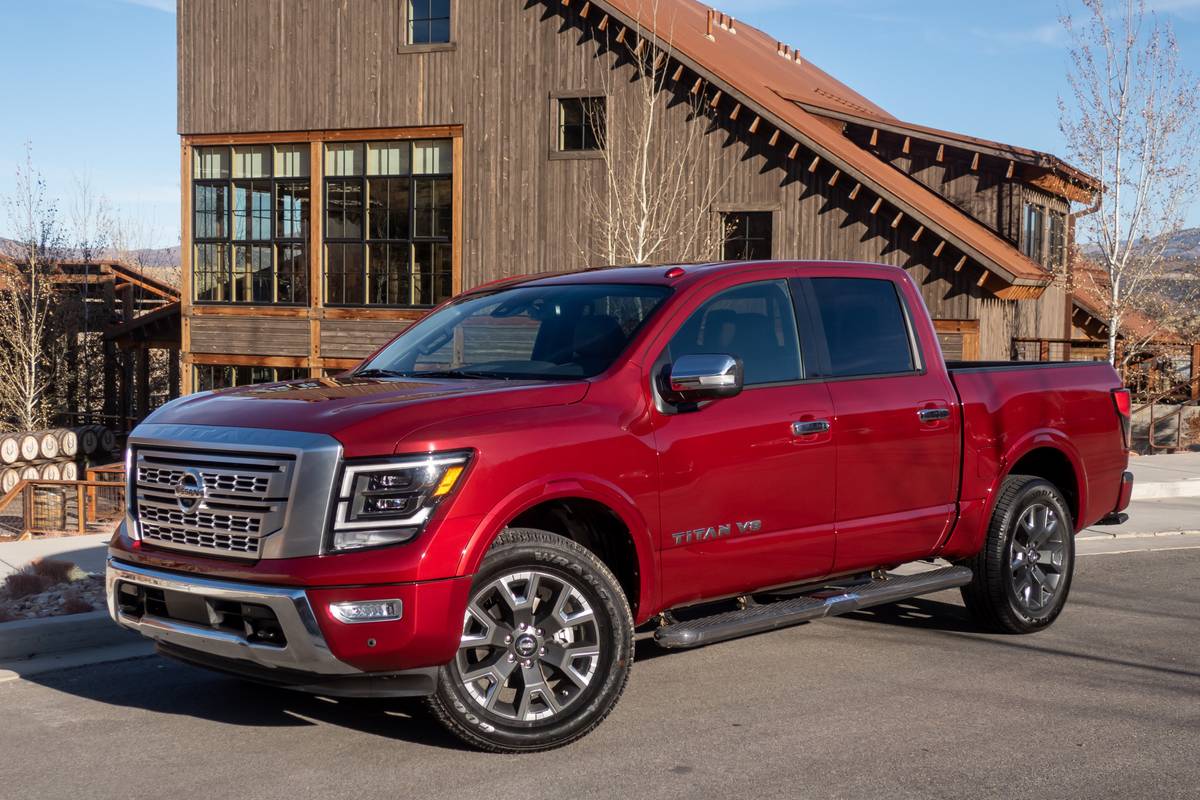 Of the two Japanese brands that build traditional full-size, half-ton pickup trucks, it's safe to say that Nissan tries harder. The Toyota Tundra has been largely the same since its first truly full-size iteration arrived back in 2007, with a few minor updates. During that same span, Nissan has introduced two refreshed versions of the Titan, including the new 2020 model you see here. It's an extensive redo of the truck, with improvements to the powertrain, chassis, technology, safety, styling and more.
But in the 16 years the Titan has been on the market, Nissan hasn't managed to take much of a bite out of the Detroit Three-dominated pickup market. Our experiences with the Titan have always been couched in phrases like "Yeah, it's got a V-8, but it doesn't feel terribly powerful," or "Yeah, it's got a comfortable interior, but that multimedia system is garbage." But we're here to tell you after driving it in Park City, Utah, that the latest Titan may be the best effort yet to try and grab some buyers willing to take a chance on the brand. No more "Yeah, buts" for the Titan. Nissan's gotten serious (per our ethics policy, Cars.com pays for its own lodging and transportation at such automaker-sponsored events).
Related: 2020 Nissan Titan Video: A Surprisingly Thorough Refresh
It's Better to Drive
Sure, there are some visual changes that differentiate the Titan from its previous models, but the more important bits are the ones you can't see — specifically, the more powerful standard 5.6-liter V-8 direct-injection engine and the new JATCO nine-speed automatic transmission, which replaces the old seven-speed auto. The engine now pumps out 400 horsepower and 413 pounds-feet of torque, a nice boost over the old engine and good for claiming the title of most powerful standard engine in a full-size pickup (when you feed it premium gasoline). The V-8 is as strong as ever, pulling with decent gusto from a standing stop, but my test of the truck in Park City was a bit hampered by the elevation — if you accept that you lose 3% of engine power for every 1,000 feet of elevation, the Titan I tested was losing roughly 18% of its output due to less dense air. That means closer to 328 hp and 339 pounds-feet of torque, which actually feels closer to the performance I observed, purely from a seat-of-the-pants feel.
That altitude-hampered output doesn't affect the performance of the new transmission, however, which is truly fantastic. It provides beautifully smooth shifts up or down with none of the harsh bangs or sudden lurching that we've experienced in previous Titans, especially under duress of towing. I was able to do some towing with the new Titan, but it was such a brief experience (10 minutes of flat highway hauling a horse trailer that was barely half of the 9,370 pounds the Titan is rated to haul) that providing a judgement on how well it tows is premature. It did prove to be smooth and unperturbed by the presence of a trailer on our very short spin, but until we can find some grades to run it up and a trailer weight that's more challenging to the truck, the jury is still out on the Titan's towing prowess.
Research the 2019 Nissan Titan now.
The ride and handling balance is improved, however. The truck feels tight and well controlled around town, on twisty roads up in the mountains or chugging along at highway speeds. The steering feedback is communicative, and the ride quality easily matches that from Ford or Chevrolet (Ram still wins this category, however, with its super-smooth coil-spring rear suspension or optional airbags). It's slightly choppy, but not harsh or unpleasant. I was not able to evaluate the Titan's performance with a payload, however, so how it behaves when actually used as a pickup is still to be determined. Fuel economy is also TBD, as neither Nissan nor the EPA have disclosed estimates. My exceedingly brief, 40-something-mile drive of the new Titan did not provide enough range to come up with a statistically significant mileage read, either, so chalk up another thing we'll have to test once we get one into our offices.
Nissan provided a brief off-road course for the Titan test, as well, with several Pro-4X models available to take up a not-terribly-challenging trail. The off-road model is perhaps the most distinctive looking of the trims, and it includes dedicated equipment like Bilstein shock absorbers, additional skid plates, red tow hooks, standard four-wheel drive with an electronic locking rear differential, and electronic hill hold and hill descent control. Chunkier General Grabber tires adorn the unique 18-inch wheels, good for all-terrain work.
The course provided was no challenge at all for the Titan, which felt like it could've handled a much more strenuous off-pavement workout. But the most notable takeaway from my off-road time was how much more easily controlled the Titan was in terms of throttle response and available torque; credit the new transmission for always being in the proper gear for the conditions. Just like the on-road experience, the new drivetrain improves the off-road experience dramatically.
Redone, Inside and Out
The 2020 Titan looks better than the past model, to be sure, with more modern front and rear ends that incorporate a lot more LEDs. They're standard from the SL trim on up (five different trims are available: S, SV, SL, Pro-4X and Platinum Reserve). They purport to provide considerably more light than the old incandescent bulbs, but this is another claim that remains to be tested, as I did not drive the truck at night. Differentiation between trims was the goal with the latest Titan, and that's been achieved to a mixed degree. The SV's body-colored grille does stand out versus the shiny chrome of the SL and the satin chrome of the Platinum Reserve, but the one that really looks different is the off-road-oriented Pro-4X, with its taller stance, chunky tires, blackout trim and "lava red" Nissan script badge.
The differentiation on the inside is also more significant. I got behind the wheel of three trim levels: the volume-leader SV, the off-road Pro-4X and the swanky Platinum Reserve. Each has a distinct feel, but even the lowly SV model shows dramatic improvement in fit, finish and materials quality. There's more hard plastic in the SV than in the other two trims, but attention has been paid to the assembly of the bits and pieces to create an environment that's easily better than what's come out of GM recently and matches Ford for niceness. (Ram still holds the title here, though, even in lesser trims.) The Pro-4X looks slick, with dark leather, red stitching and simulated carbon-fiber trim bits, while the Platinum Reserve feels suitably upscale with its wood-inlaid steering wheel and dash trim, quilted leather and soft-touch surfaces. The Platinum Reserve is easily a match for the nicest Fords but still trails Ram's most luxurious offerings (as does everyone else in the segment, so this isn't really a ding against Nissan). Toyota and GM can't even come close with their premium-trim trucks.
Find a 2019 Nissan Titan near you.
The interior is a comfortable environment, but it's immediately obvious that the Titan is a size smaller than nearly all of the rest of the field. Front-seat room isn't an issue, with big and supportive seats upholstered in either rugged-yet-high-quality cloth or smooth leather. Visibility is decent, about as good as the GM trucks, with a short windshield and high dashboard making for a more bunkerlike feel to the cabin than what you see in the airy Ford F-150 or Ram 1500. The backseat, however, is definitely tighter in every dimension than the biggest in the segment. Legroom is plentiful but not generous, and the backseat bench has an odd feel to its lower foam cushions, making it feel like there's a stiff ridge running under your thighs. Headroom is compromised a bit in models with the large dual-pane panoramic moonroof, so you might have a problem wearing your Stetson in your Titan if you're on the taller side.
Finally, Some Modern Tech
The new Titan is the first to receive Nissan's latest multimedia system, and it brings the truck into full competitiveness with the rest of the industry in terms of size and features. Standard on the Titan is a high-definition 8-inch touchscreen, the biggest standard display in the class, while a 9-inch display is optional. Either one looks fantastic and finally features easy-to-use icons, standard Apple CarPlay and Android Auto, and can be had with an optional Fender premium audio system that will pretty much blow you out of the truck when cranked up properly. It's a far cry in terms of sound quality from the old Rockford Fosgate premium audio systems Nissan used to offer in its trucks and is worth the upgrade cost, whatever that ends up being.
The other new tech the Titan features centers around Nissan's Safety Shield 360. This brings all kinds of standard electronic safety systems to the Titan pickup, including lane departure warning, rear cross-traffic alert, blind spot warning, high-beam assist, and both forward and reverse automatic emergency braking to prevent you from backing your big truck into something. Optional systems include forward collision warning, distance-keeping cruise control, a driver alertness monitor and traffic sign recognition. The Pro-4X trim also features off-road trail cams and side-view tire-positioning cameras, as well, to help you get the perfect line over a tricky obstacle. The only issue with it is the same one we've seen in other manufacturers' forward trail cams (like the one offered on the latest Toyota TRD Pro models) — the camera's resolution is garbage, leading you to have to do a fair amount of interpretation as to what you're looking at in front of the truck.
Versus the Competition
The improvements to the drivability and technology of the new Titan make it an interesting alternative to the traditional Ford, Chevy and Ram options in the segment (it's far and away a better truck than the current Tundra). The Titan doesn't offer the same level of customizability from the factory as the domestic brand trucks, however, with only one powertrain, one wheelbase and two cab styles (King Cab or crew cab). The King Cab can be had in only three trim levels (S, SV, and Pro-4X), while the crew cab adds SL and Platinum Reserve to that list. No pricing has been announced for the 2020 Titan just yet; that will come when the truck goes on sale, but traditionally it's been a bit cheaper than its Detroit-based competition, likely something Nissan is able to do thanks to the far fewer build combinations available for the Titan.
My brief drive of the Titan showed a new truck with a lot of promise, a newfound refinement, plenty of comfort and a fully up-to-date interior. But we'll need a more complete road test that encompasses more towing, driving with a payload, fuel economy, off-roading and pricing before we're able to recommend one versus its stiff competition.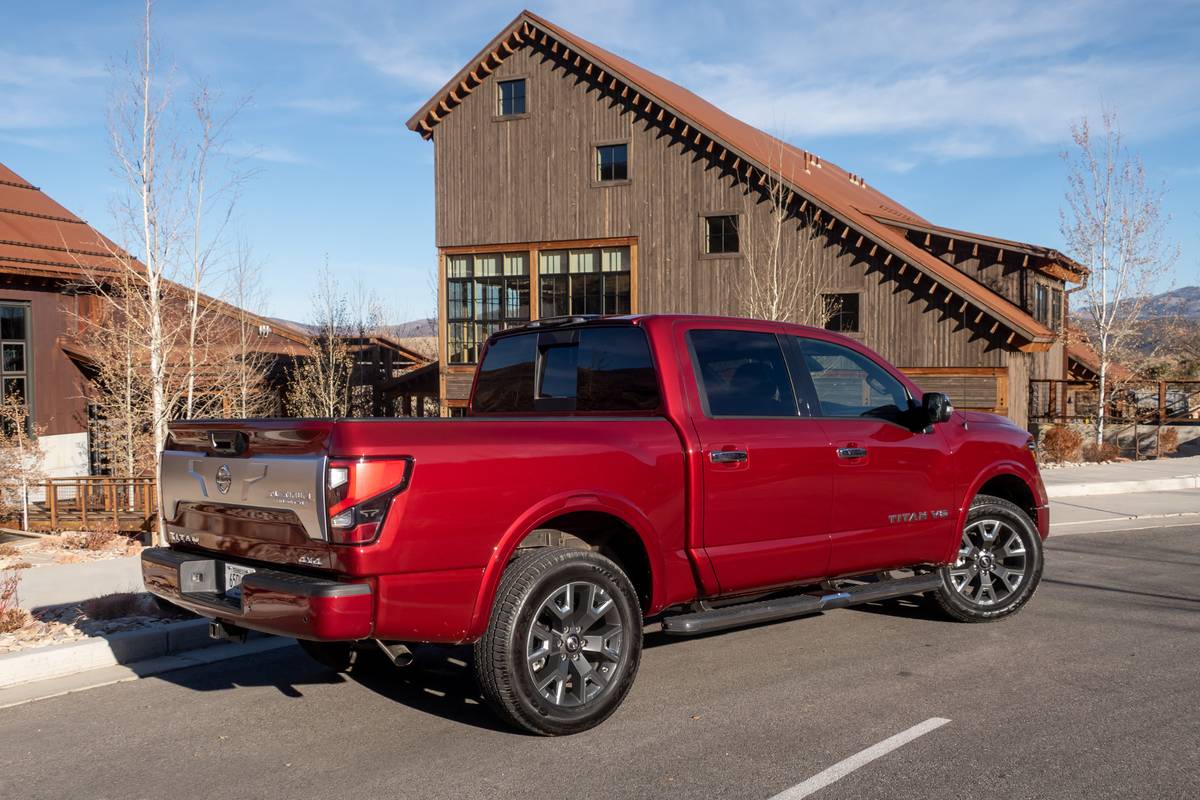 Cars.com's Editorial department is your source for automotive news and reviews. In line with Cars.com's long-standing ethics policy, editors and reviewers don't accept gifts or free trips from automakers. The Editorial department is independent of Cars.com's advertising, sales and sponsored content departments.