EXPERT REVIEW
2021 Ford Mustang Mach 1 Review: Good — and Not Only Because It's a Mach 1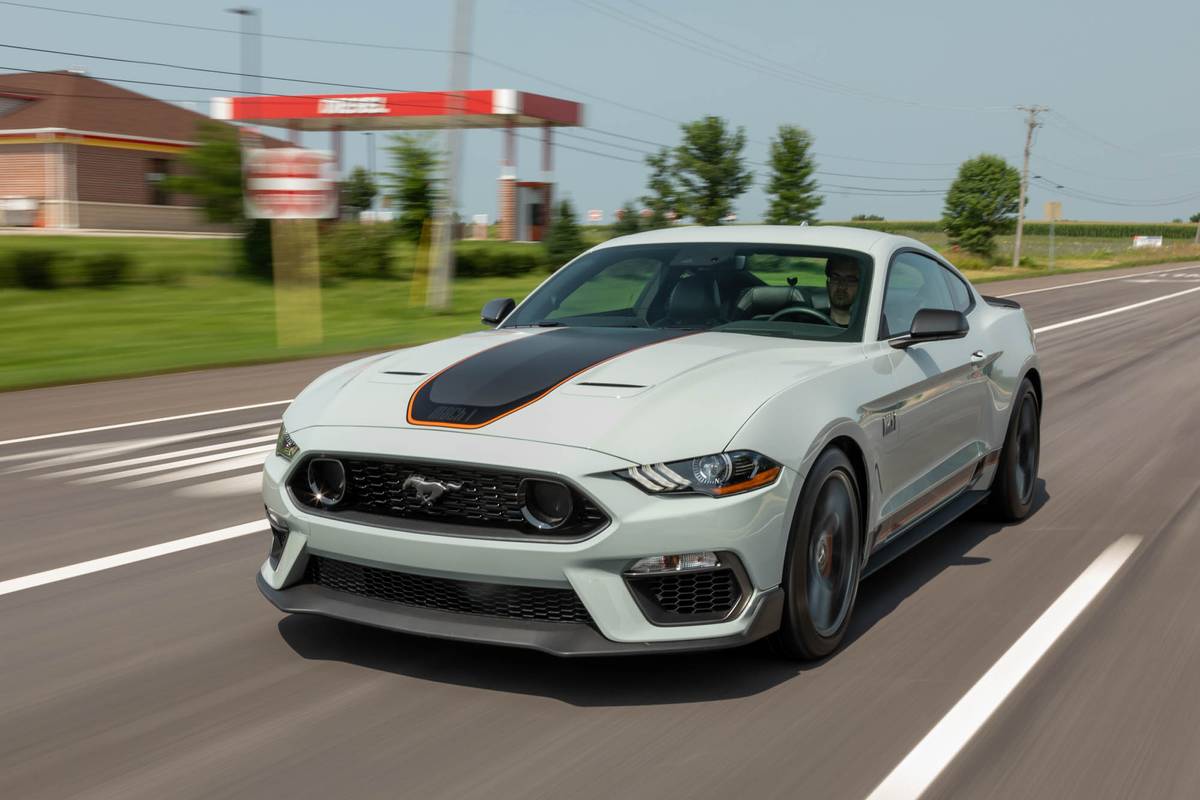 The verdict: Some versions of the 2021 Ford Mustang Mach 1 don't drive much differently from an optioned-up Mustang GT, but other Mach 1s could be quite transformative.
Versus the competition: Continual tweaking of the current Mustang platform only highlights how sophisticated and livable it really is compared with the Chevrolet Camaro and Dodge Challenger.
The 2021 Ford Mustang Mach 1 returns after a 17-year absence as a turned-up version of the Mustang GT. But there isn't a single Mach 1 package; depending on the configuration, you can turn the car up a bit or a lot versus a regular Mustang GT. I drove the version that's turned up a bit, and it's quite good — and not only because it's a Mach 1.
Related: Five-Point-Ohhh! 2021 Ford Mustang Mach 1 Is Ultimate 5-Liter Pony Car
What Is a Mach 1?
There's no simple answer to that question. The Mach 1 aims to be a tweener sitting amid the Mustang GT and Mustang Shelby GT500, taking the place of the Shelby GT350 now that it's been sent to the glue factory. There are multiple configurations and capabilities, however, so not every Mach 1 will be a replacement for the Shelby GT350 — but it can get pretty close, both in capabilities and in price.
What this car is really boils down to this: Are we talking Mach 1 without the Handling Package, or Mach 1 with the Handling Package?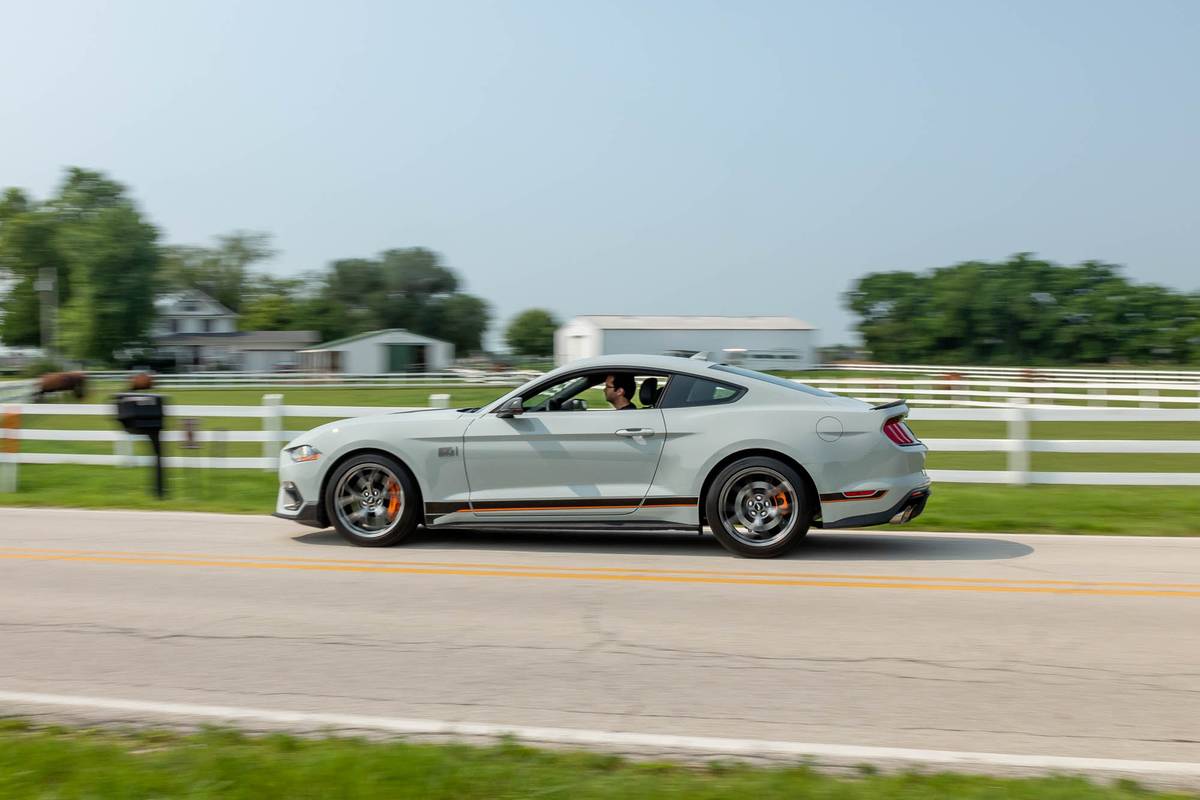 I drove a Mach 1 without the Handling Package. It was a Premium trim with added Elite and Appearance packages, plus an automatic transmission that rang up the bill to $59,390, including destination charge.
The entry-level Mach 1 ($54,595) is a smartly configured and capable Mustang, with standard equipment similar to a GT with its optional Performance Package, MagneRide adaptive shock absorbers, and active, adjustable-volume exhaust.
The Mach 1's standard transmission is the Tremec 3160 six-speed manual from the GT350, while the GT has a standard Getrag unit. I didn't drive a manual Mach 1, but in the GT350 the six-speed is buttery smooth and great for quick shifts; the Getrag is pretty clunky.
The Mach 1 also has unique suspension tuning, power steering, antilock brakes and stability control. Its optional 10-speed automatic transmission has an upgraded torque converter, an additional oil cooler and unique transmission calibration. Oh, and the 5.0-liter V-8 has 480 horsepower instead of 460 thanks to the GT350's intake manifold and tweakage of the engine's computer.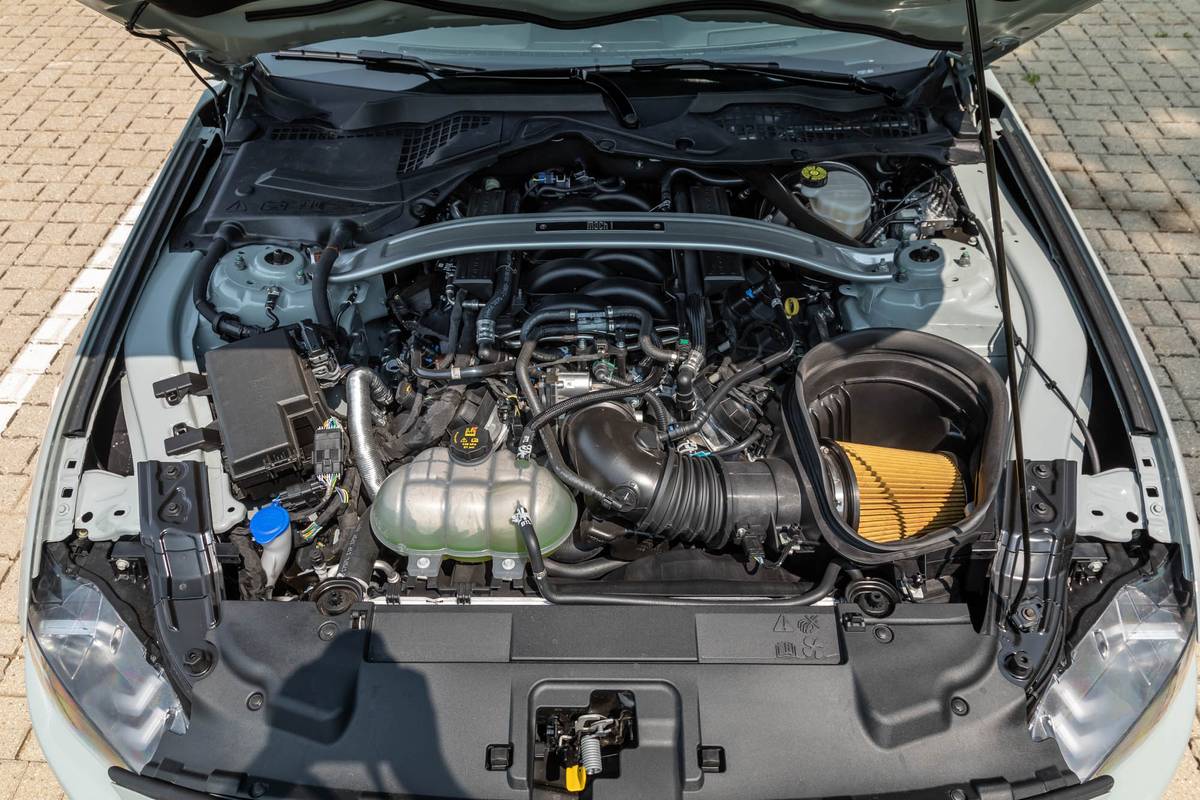 The Rest of the Mach 1 Includes:
Nineteen-inch wheels that are 9.5 inches wide in the front, 10 inches in the rear — a half-inch wider than those on a GT with Performance Package. The available Michelin Pilot Sport 4S tires, however, are the same size as the GT Performance Package, at 255/40R19 up front and 275/40R19 in the back.
Additional engine oil cooler
Shelby GT500 rear axle cooling system
Shelby GT500 lower rear diffuser
Shelby GT500 rear suspension toe-link
New front aero splitter (22% more downforce than a GT with Performance Package)
Stiffer rear subframe bushings
Stiffer steering I-shaft
Stiffer sway bars
Stiffer front springs
Brake booster from former Performance Pack Level 2
How Does the Mach 1 Drive?
That's a lot of setup to say the Mach 1 without the Handling Package and with the 10-speed automatic doesn't feel all that different on the street from a Mustang GT equipped with the GT Performance Package, magnetic shocks and the 10-speed automatic — which isn't a bad thing. Thus configured, that Mustang GT is a well-rounded, does-it-all-well-enough car that we've found proficient in all areas of dynamic testing: drag strip acceleration, a road course and even light family duty — all with better visibility and daily usability than the Chevrolet Camaro and the tenacity and nimbleness lacking from the Dodge Challenger.
The Mach 1 straddles a line of aggressiveness with the livable GT Performance Package on one side and the competition-ready Level 2 Performance Package on the other. The Level 2's ride quality was a bit more "on" all the time, with slightly increased road feel; the Mach 1 is more of a Level 1.5. The GT Performance Package, on the other hand, can be quite relaxed in comfort mode, and the Mach 1 never gets there.
The Mach 1's capability and durability are enhanced for track duty, but additional oil coolers and trick aero are not differences you'll notice unless you're beating the snot out of a car on a track. And with the same tires found on the regular GT Performance Package and just an imperceivable power boost, it mostly drives like a Mustang GT around town.
Don't miss out on the latest news, reviews and videos from our in-house experts. Get updates in your inbox.
One of my favorite features Ford made standard in the Mach 1 is its active exhaust with a "quiet mode" setting. It makes a massive difference in the car's volume, and you can program it to start in quiet mode, allowing for neighborhood-friendly starts. Then, when you're in Track mode, the exhaust is straight rowdy.
The car we drove had the optional 10-speed auto, which lets the Mach 1 rip through gears almost like a sport motorcycle; in previous Mustang GT testing with this transmission and the Michelin tires that come standard on the Mach 1, we ran as quickly as 0-60 mph in 3.9 seconds and the quarter-mile in 11.9 seconds.
Even with Mach-1-specific tuning, the automatic still has some wonkiness — shift feel can vary from mushy to tire-chirping-ly harsh in the same driving mode — but overall, I'm a fan of how it reacts when the pedal goes to the floor.
Must-Have Mach 1 Appearance Package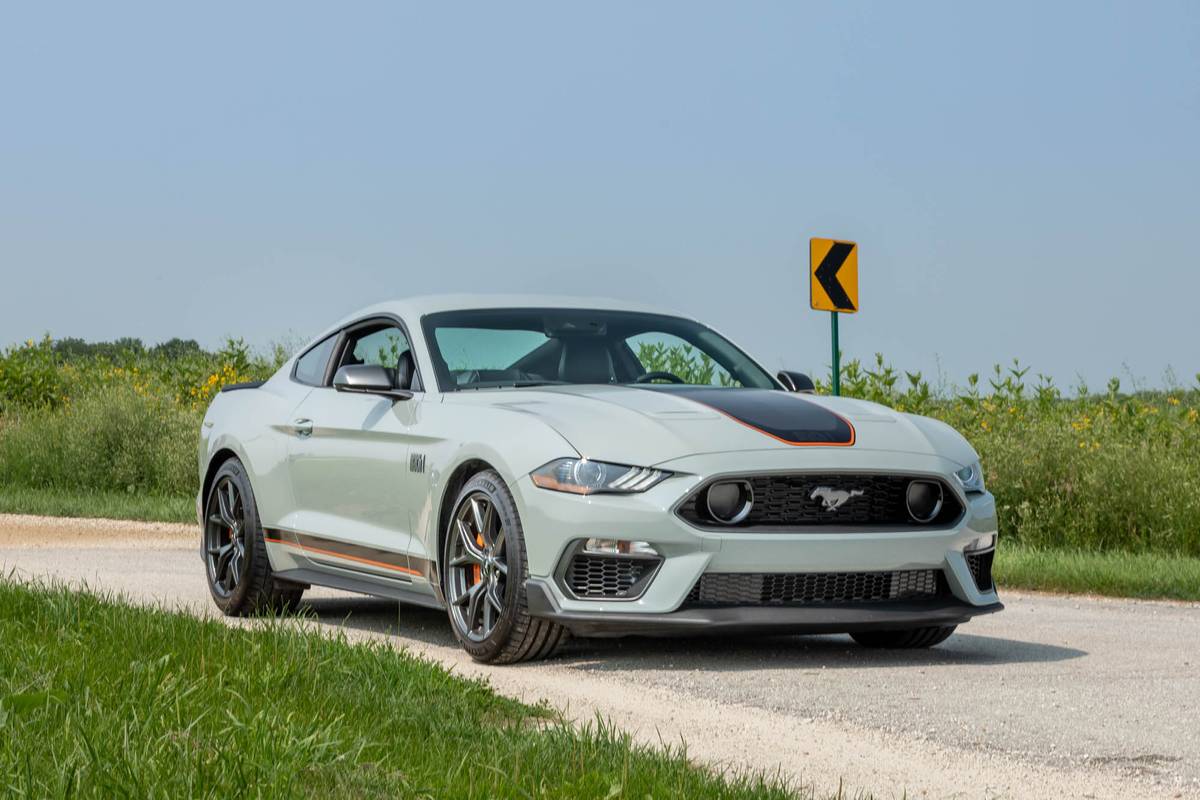 For a car that already has a Mach-1-specific grille, hood stripe and wheels, it was another appearance add-on that transformed my test car into an absolute head-turner (as judged by the number of people who reacted to this car in the time I had it). It's an optional Appearance Package, and it's available only on the Mach 1's Premium trim. It adds slick, muted Fighter Jet Gray paint (which I discovered is similar to propane tank gray when I took the Mach 1 to exchange my empty grill tank). It also adds a contrasting orange color to the brake calipers, hood, side stripe and front seats. That color combo — plus optional magnetic gray, split-five-spoke wheels — garnered a lot of attention. It caught me off guard, because at first I saw this as just a Mustang GT with some stickers on it.
The Mach 1 got a compliment or comment on every trip I took during my week of driving it. The driver of a 1965 Mustang coupe stopped in the middle of the street to check out the Mach 1 in my driveway. One person asked if it was the new electric Mustang — an understandable mix-up considering its Mach-ness — and the owner of a 2016 Mustang GT stopped and asked if I thought they'd make the Tremec standard across all Mustangs because he was unhappy with his Getrag transmission. A group of teenagers hanging in a pool parking lot crowded me while I was trying to finagle my toddler into her child seat to ask if the car was twin-turbocharged. I didn't get this much attention when I drove the latest Shelby GT500.
What Else Can You Get?
My test car didn't have it, but there's also a Mach 1 Handling Package ($3,750). It's the replacement for the now-discontinued track-ready Performance Pack Level 2, which in our testing approached Shelby GT350-levels of track-ability. On top of the Mach 1's base equipment, the Handling Package adds revised chassis tuning, plus even wider wheels and racy minimal-tread Michelin Pilot Sport Cup 2 tires; they measure 10.5 inches wide in the front (305/30R19 ) and 11 inches wide in the rear (315/30R19). There are also adjustable strut top mounts for more-aggressive alignment options, plus a larger front splitter and rear spoiler that increase downforce 150% over the base GT.
In the past, we've compared the Level 2 package with the GT Performance Package, so the Handling Package really does make this Mach 1 the dial-turned-all-the-way-up option and the most suitable replacement for the GT350. This time around, it comes standard with the Tremec manual transmission and can be optionally equipped with the 10-speed automatic, unlike the manual-only Level 2. The value equation we liked so much with the Level 2 package, however, is gone: A Mach 1 with the Handling Package is a $58,000 car, not a $46,000 one, as was that GT. That's only marginally less than the $60,000 Shelby GT350.
Is This What the Mach 1 Should Be?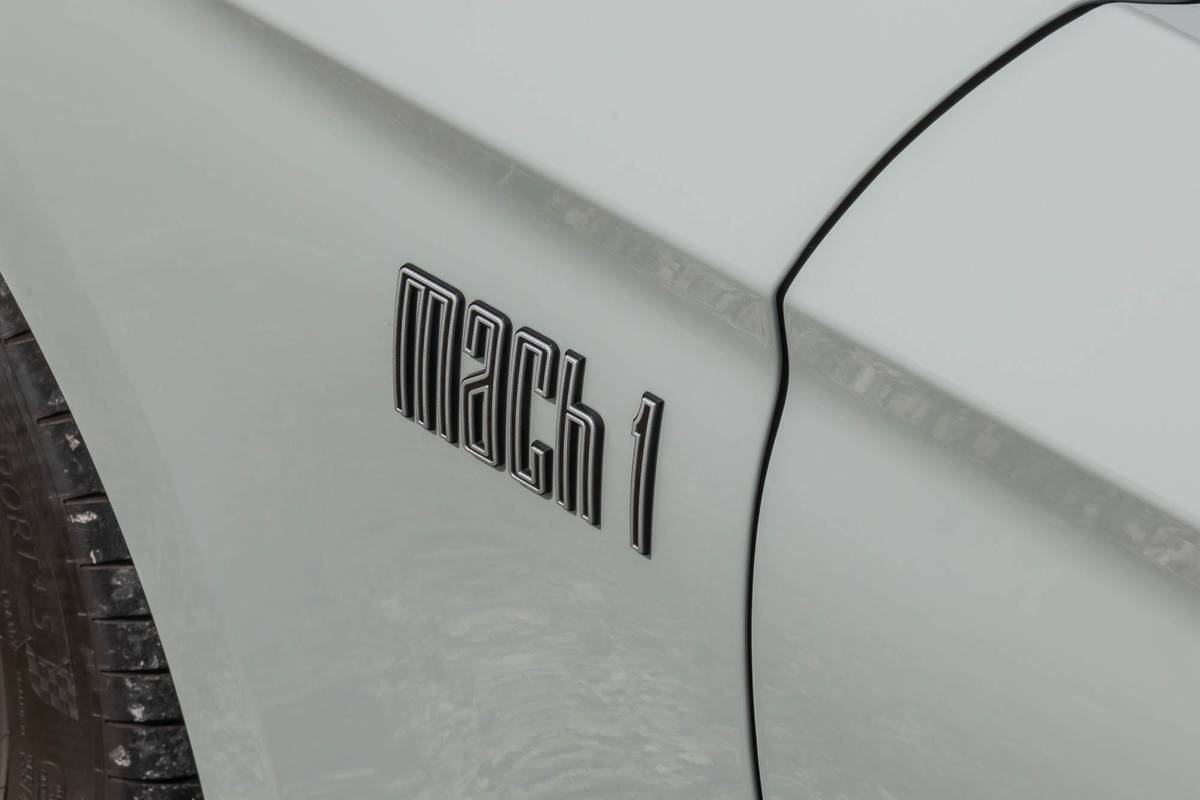 Calling this car the Mach 1 seems odd in the current Mustang lineup, considering some versions are a replacement for the discontinued Shelby GT350 and others are lightly worked-over Mustang GTs. There's no single distinguishing feature like the previous "Shaker" hood scoop, though there is a unique decal package, grille and wheel choice in addition to the mechanical upgrades. I suspect the Handling Package will be transformative, but it's optional — as is the Appearance Package that really made my Mach 1 stand out.
Excuse my cost-is-no-object daydreaming and ignorance of what Mustang historians think the Mach 1 should be, but I'd like to see a Mach 1 that's a track-focused car with the Handling and Appearance packages standard and — gasp — the dual-clutch automatic transmission from the GT500. I've been blown away by what that DCT does in the GT500, and I think my dream Mach 1 would be an absolute beast — and a totally unique, naturally aspirated track car.
Without the Handling Package, I think the Mach 1 just isn't enough more than a Mustang GT with Performance Package, which manages to deliver most of the Mach 1's experience at a more-affordable price. But what do I know? People geeked out on this car the entire time I was driving it; if that's what you're going for, then the Mach 1 (at least with the Appearance Package) won't disappoint.
More From Cars.com:
Cars.com's Editorial department is your source for automotive news and reviews. In line with Cars.com's long-standing ethics policy, editors and reviewers don't accept gifts or free trips from automakers. The Editorial department is independent of Cars.com's advertising, sales and sponsored content departments.