EXPERT REVIEW
2023 Kia Sportage Hybrid Review: Great (With a Catch)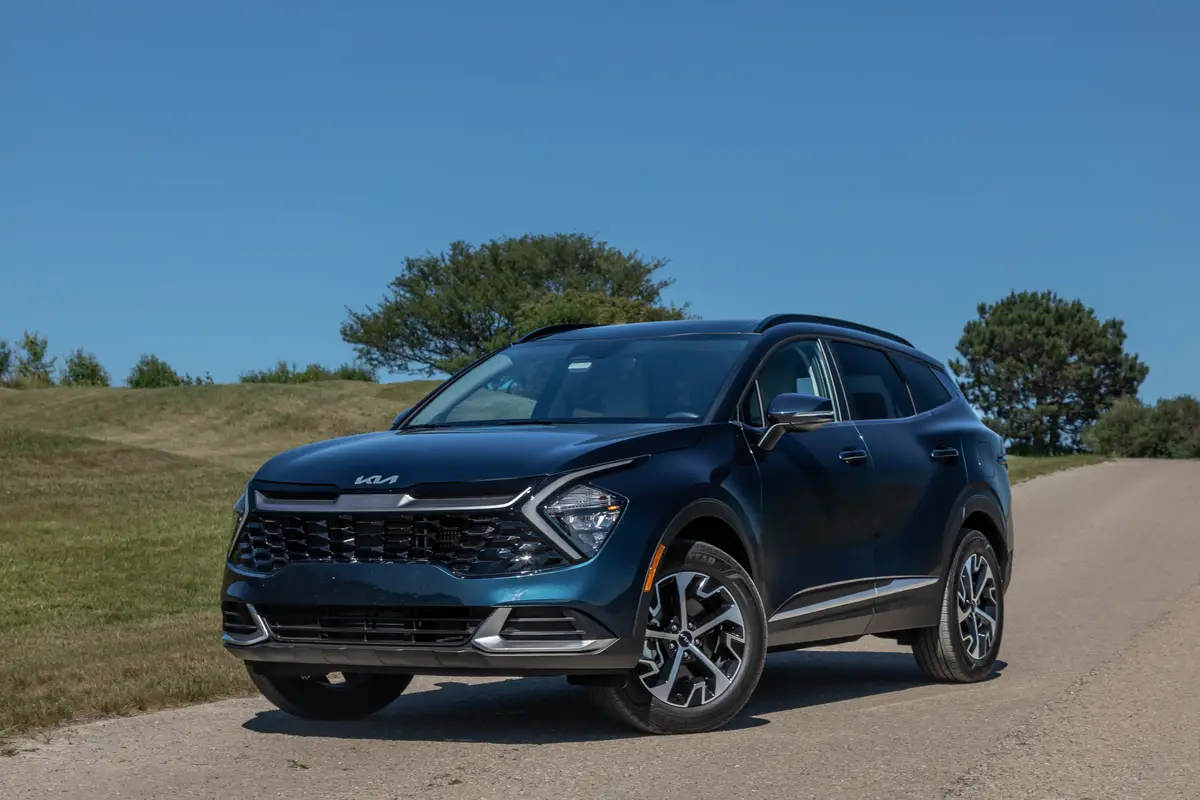 The verdict: Compact SUVs are like bunnies: cute, small, virtually identical and just about everywhere. With so many out there, it's hard to keep them all straight, but the 2023 Kia Sportage Hybrid stands out thanks to its roomy footprint, pleasant road manners and thoughtfully designed cabin.
Against the competition: The Sportage leads the compact SUV pack in value, room and infotainment system usability, but the hybrid model's fuel economy was disappointing during a road trip.
In Kia's SUV lineup, the Sportage sits between the tiny Seltos and three-row Sorento. Redesigned for 2023, the Sportage has grown in size and power, and Kia has added a hybrid model that looks nearly identical to the gas-powered version. See their specifications compared. I tested a hybrid model with all-wheel drive, which goes up against the likes of the Honda CR-V Hybrid and Toyota RAV4 Hybrid; see those three models' specs compared.
Related: 2023 Kia Sportage Hybrid Joins the Party
Quick and Thirsty
The hybrid is available in LX, EX and SX-Prestige trims. The LX comes with standard front-wheel drive or optional AWD, while EX and SX-Prestige trims have standard AWD. Power comes from a turbocharged 1.6-liter four-cylinder engine combined with a 1.49-kilowatt-hour battery and 44-kilowatt electric motor, making for total system output of 227 horsepower. The setup is paired with a six-speed automatic transmission. (The non-hybrid version uses a 187-hp, 2.5-liter four-cylinder engine paired with an eight-speed automatic.)
The Sportage Hybrid's brisk acceleration feels almost EV-like off the line; near instant torque from the electric motor and power from the turbo engine make for a peppy and engaging start. You can crank the drive mode selector to Sport for even more oomph on takeoff, and there's also an Eco mode that does the opposite, dulling responsiveness to save gas. Especially in Sport mode, the Sportage Hybrid feels as quick as the RAV4 Hybrid and much quicker than the CR-V Hybrid.
On the road, the Sportage cruises comfortably, with a smooth ride, composed handling, no-nonsense shifts and precise steering with good feedback. Choosing Sport mode adds some heft to the steering for those looking for a firmer feel. It's pretty quiet, too: The Sportage's engine noise is well muted, as are the vehicle's electrical whirring sounds — a hybrid hallmark that can annoy in other models, including the RAV4 Hybrid. The Sportage also lacks the odd, heavy brake pedal feel that's typical of many hybrids' regenerative braking systems; instead, the Sportage Hybrid's braking action is linear, with natural pedal feel.
Hybrid MPG Miss
The Sportage Hybrid does, however, have its faults, including one that was a biggie in my test: disappointing real-world fuel economy on a road trip. The Sportage Hybrid has an EPA rating of 42/44/43  mpg city/highway/combined with FWD. AWD affects the numbers considerably, lowering its combined mileage to 38 mpg. In practice, though, I achieved well short of all of these figures.
During a 408-mile road trip in an EX AWD model, I averaged a weak-sauce 33.8 mpg combined. That said, conditions were not optimal, and my trip was full of gas-hogging mitigating factors: It consisted of mostly higher-speed highway driving, so there weren't many opportunities for regenerative braking, which boosts efficiency. Also, ambient temperatures were hot, so the air conditioning was cranked, which also lowers efficiency. Lastly, the SUV was loaded with people and gear: two adults, two kids and a cargo area filled to the max.
The AWD-only 2022 Honda CR-V has an EPA rating of 40/35/38 mpg, with a more efficient redesigned version coming for 2023. Over 165 miles of mixed city and highway driving, I averaged 40.9 mpg in the CR-V Hybrid. It's the same story with the AWD-only Toyota RAV4 Hybrid, which bettered its 41/38/40 mpg EPA ratings by returning an average of 44.2 mpg in our 165-mile loop. Granted, driving conditions were quite different on that mileage drive from my drive in the Sportage Hybrid: one occupant, no luggage and lower overall speeds thanks to a mix of city traffic, slower suburban roads and faster interstate highways.
There's no EV mode allowing the Sportage to travel on electric power alone, but better mileage is on the horizon. A plug-in hybrid version of the Sportage will be out later in 2022, with an estimated 32 miles of EV-only range. If it's anything like the charming and efficient plug-in hybrid Sorento, this forthcoming model may be the just-right version of the Sportage.
Thoughtfully Designed Interior
As with the exterior, very little differentiates the hybrid cabin from the gas-only version. The only tell is the gear selector: It's a rotary dial in the hybrid, while gas-only versions have a more traditional lever.
At first glance, the Sportage's cabin is forgettably average, with predictable design and acceptable amounts of hard and soft plastics. But wait — it's actually not. There's some cool stuff going on: Small innovations combine to create a thoughtfully designed cabin that's flexible and well suited to carrying people and stuff.
In front, I appreciated the multisize cupholders that can be expanded to accommodate a large drink or contracted for a regular can or bottle. Also of note up front is a deep center console storage box that easily swallowed my family's cache of road-trip snacks.
A mom hack made the second row much more family-friendly: Kia molded two coat hangers into the front head restraints, but I used them as tablet holders for my homemade rear-seat entertainment system. (Use it this way at your own risk, however, as Kia says they weren't designed to hold tablets. ) Below those hangers are integrated hooks for shopping bags or corralling charging cables, along with large pockets to hold more stuff.
In the back, spring-loaded cargo-area handles quickly and easily pop the seats down in a 60/40 split. The dual-level cargo floor is a handy touch for corralling smaller items, and there's a bit of underfloor storage.
Control Confusion
I was impressed with the Sportage's controls for the most part. Base trim models have an 8-inch touchscreen with Android Auto and Apple CarPlay integration. The EX trim I drove, however, has a larger 12.3-inch touchscreen paired with a newly available 12.3-inch gauge cluster screen; they combine for a sleek look and high-tech feel.
I could use a little more low-tech when it comes to the knobs below the screen, however. While the touchscreen's buttons and menu structure were straightforward and easy to navigate, a pair of knobs below the screen were awkward to use because they switch functions between temperature and audio controls, similar to the controls in Kia's electric EV6 SUV. I'm all about sharing — except when it doesn't make sense. With the push of a paper-airplane-shaped button, the left knob becomes volume control and the right knob changes the station or track. Push the fan button, and the knobs now control cabin temps. Here's what (comically) happened several times during my drive: I'm listening to a song I like. I want to crank the volume. Instead, I crank the cabin temp to 80 degrees. It's not a deal breaker, but it's a quirk that caught me several times.
There's one other oddity, but only for us Android users: Pairing my phone with Android Auto was seamless, but the display could be better. The Android Auto interface takes up about two-thirds of the screen, with a lot of wasted blank space on the right side . Connect an iPhone, on the other hand, and it uses 100% of the screen. Again, it's not a deal breaker, just odd.
Ample Room
The new Sportage is larger than the previous model and among the largest compact SUVs in the class. That translates to more occupant space and cargo room  than the outgoing model and its CR-V and RAV4 competitors, according to automaker-provided measurements.
Second-row headroom and legroom are ample for two adults, and the seats are supportive and comfortable. In our Car Seat Check, the Sportage Hybrid easily accommodated two car seats thanks to a roomy backseat and easy-access Latch anchors. My twins' high-back booster seats fit well, I just had to remove the head restraints to situate the boosters flush against the seatback. The twins did need a little help buckling up, however. The outboard buckles were short and hard for them to find and grasp; the middle buckle is pretty floppy and may also be tough for kids to handle on their own.
The cargo area is deep and wide, easily swallowing a week's worth of my family's luggage. Kia says the Sportage Hybrid has 39.6 cubic feet of space behind the backseat — about 9 cubic feet  more than the outgoing Sportage and more than hybrid versions of the CR-V (33.2) and RAV4 (37.5). Bear in mind, however, that manufacturer-provided specs aren't always a direct comparison because not every automaker measures cargo volume the same way.
More From Cars.com:
Safety and Value
The Sportage Hybrid also impresses in the safety and value departments. The base Sportage Hybrid LX starts at $28,585 (all prices include destination charges) with standard FWD; AWD adds $1,800. The EX and SX-Prestige have standard AWD and start at $32,285 and $37,485, respectively. The starting price for the base Sportage Hybrid is $1,300 higher than the gas-only Sportage  LX, while the EX hybrid carries a $1,200 premium over the gas-only EX with AWD.
A suite of advanced driver-assistance systems comes standard  across all trims, including driver attention warning, a rear occupant detection system, lane-centering steering, lane keep assist, and forward collision avoidance with cyclist detection and autonomous emergency braking. Optional add-ons include a blind spot monitor with collision avoidance, rear cross-traffic alert, reverse automatic emergency braking and navigation-based smart  cruise control.
The Sportage Hybrid's sub-$30,000 starting price makes it competitive in its class. The 2022 Honda CR-V Hybrid starts at $33, 255, while the 2022 RAV4 Hybrid starts at $30,910 — although it's worth noting that these models have standard AWD. Even with AWD, however, the Sportage Hybrid is still a few hundred dollars less than the RAV4 Hybrid.
With a strong blend of space, comfort and value, the 2023 Kia Sportage stands out as a compact SUV. On a road trip, however, it disappointed as a hybrid.
Related Video:
Cars.com's Editorial department is your source for automotive news and reviews. In line with Cars.com's long-standing ethics policy, editors and reviewers don't accept gifts or free trips from automakers. The Editorial department is independent of Cars.com's advertising, sales and sponsored content departments.