5 Things to Know About the 2018 Acura TLX's Updated Multimedia System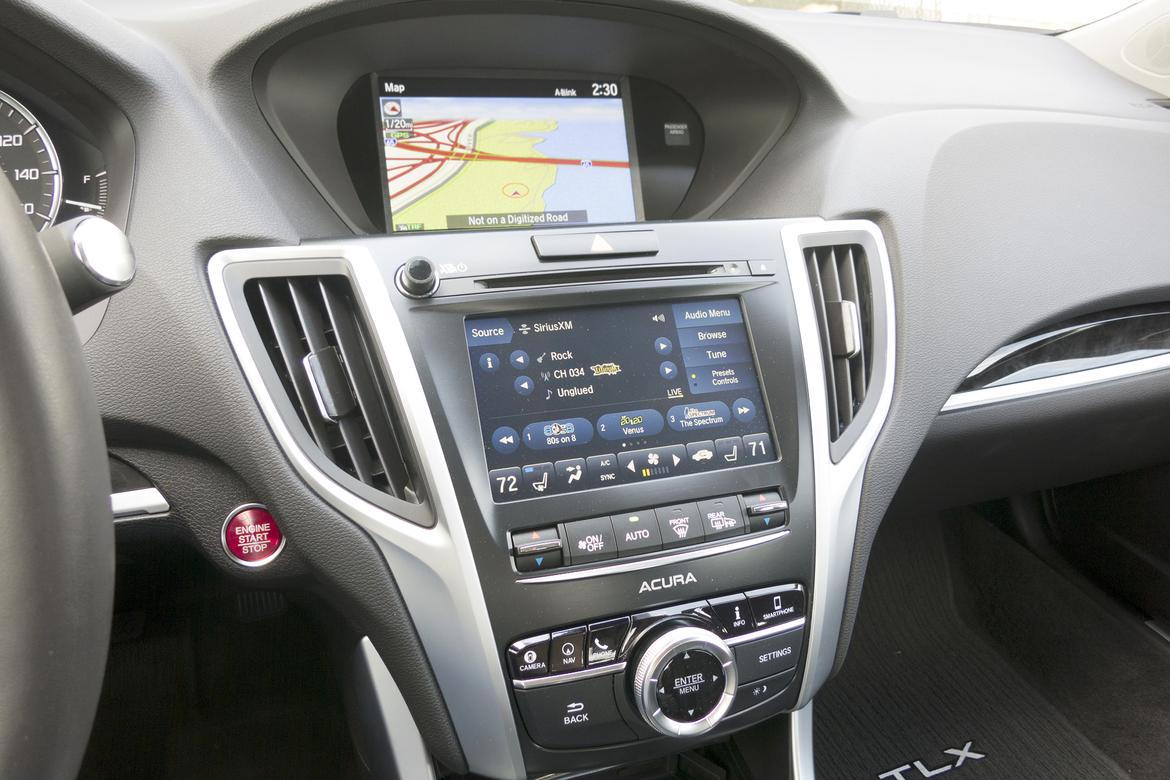 CARS.COM — If you saw our video on the refreshed Acura TLX at the 2017 New York International Auto Show last week, you know the luxury sedan's multimedia system received a big update for 2018. It still employs an unusual dual-screen setup with an 8-inch upper screen and 7-inch lower screen, but many other things have changed.
Related: 2018 Acura TLX Preview
Jonathon Rivers, the TLX's lead product planner, took me on a deeper dive through the system at the sedan's Kentucky media preview this week. Here are five takeaways:
2018 Acura TLX
1. Enter the smartphones
All trim levels include Apple CarPlay and Android Auto, both previously unavailable. Hook up a compatible iPhone or Android device, and its respective car-friendly interface appears on the upper screen. The lower screen continues to display settings for the climate control, seat heaters and radio stations — a setup that gives reason, at long last, to Acura's two-screen layout. No more flipping between the smartphone display and something else, like the climate settings. One sits at the bottom; the other is on top.
2. The song — er, knob — remains the same
As before, the lower screen is a touchscreen while the upper one is not. The latter too far away to reach, anyway, so you direct the action through a control knob with some shortcut buttons below the climate controls. But CarPlay and Android Auto work best on a touchscreen, so it begs an obvious question. Why did Acura maroon them on the screen that isn't?
Rivers said it's to keep the maps — whether from Apple CarPlay, Android Auto or the available navigation system — in your line of sight. The knob helps with some aspects: Surfing CarPlay's Apple Map is a confounding process, and the knob makes it easier. But the interface still feels one step removed from a simple touchscreen. Acura isn't alone in this regard; smartphone interfaces need touchscreens, plain and simple.
3. Faster screens, fewer menus
Rivers said screen resolutions remain the same, but the lower touchscreen is now capacitive instead of resistive. That improves response times, so you no longer need to press as hard or long for something.
Indeed, the lower screen was generally lag-free in the cars I evaluated. You don't have to root through as many menus, either.
"We deleted a lot of random and double menus we had before," Rivers said.
Heated seats, for example, previously took two taps and a submenu to adjust; now they take one. Acura claims the simplified menus and faster response times make the system about 30 percent faster to use.
4. Faster charging
The USB port below the center control panel is a 2.5-amp outlet instead of the prior 1.0-amp outlet. That should help charging times, but there's still just one port in the whole car. Rivers conceded that Acura "unfortunately" couldn't add a second USB because interior packaging prevented it.
"Some people may think it's easy," he said. "It's not."
5. Simpler volume knob, but still no tuning knob
Last year's TLX had a power button that was separate from the volume knob, something people found "kind of confusing," Rivers said. The power button now integrates with the volume knob itself. A new menu on the lower screen allows you to swipe along a line to surf radio stations, but a physical tuning knob remains missing. Rivers chalked it up to the "limitations in this being a refresh" instead of a full redesign.

That's just the tip of the iceberg. Plenty more has changed about the TLX, including a new A-Spec version with sharper suspension tuning. We'll detail all of that, plus our driving impressions, closer to the sedan's on-sale date in June. Stay tuned.