Auto Show Face-off: 2021 Ford Mustang Mach-E vs 2020 Audi E-Tron Sportback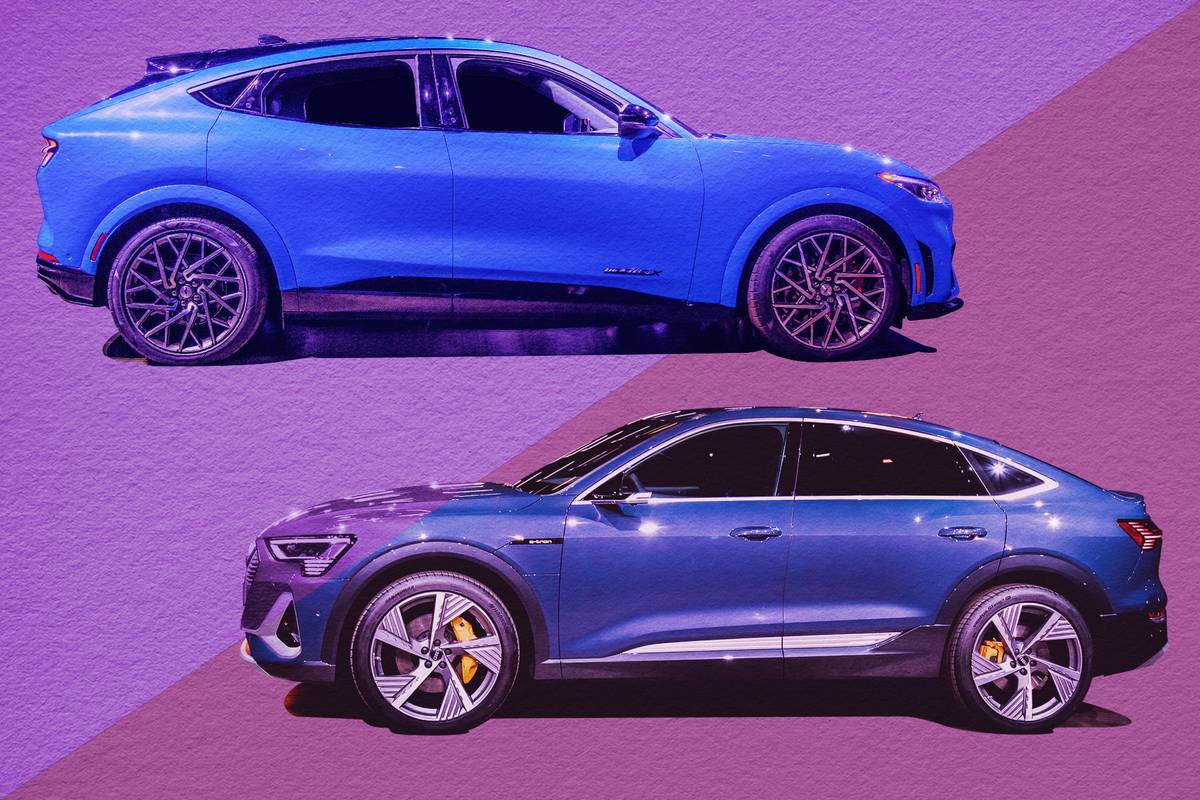 The 2019 Los Angeles Auto Show played host to the debuts of a pair of SUV-ish electric vehicles,  the 2020 Audi E-Tron Sportback and 2021 Ford Mustang Mach-E. We say –ish because both vehicles exist in that weird space between a hatchback and an SUV, with sleeker styling and some compromise to cargo and cabin room due to their shape.
Related: More 2019 Los Angeles Auto Show Coverage
View the two vehicles in profile with the details blacked out and they look incredibly similar. Both also seat up to five. But the commonality ends at that — significant differences exist between the two, especially when it comes to their respective interiors and what's often a deciding factor for these vehicles: range.
With both cars on the show floor at L.A., we decided to compare some specs and other static impressions. We'll obviously need to get behind the wheel for a full comparison, but here's how they stack up at first glance.
Range: Mach-E
We'll start with range because it's arguably the most important factor for electric-vehicle shoppers. Exact range figures remain unavailable for either vehicles as of this writing, but we do have European estimates from Audi for the E-Tron Sportback and range targets from Ford for the Mustang Mach-E. There's enough daylight between them to merit discussion.
The E-Tron Sportback offers 71- or 95-kilowatt-hour batteries with respective ranges of 216 or 277 miles, by Audi's reckoning. But both ranges employ Europe's Worldwide Harmonized Light Vehicle Test Procedure standard. There is no direct conversion to the EPA range estimates employed in the U.S., but the E-Tron SUV that's currently on sale — a more upright version of the E-Tron Sportback — has a WLTP range of 255 miles, per Audi, and an EPA-estimated range of just 204 miles. A similar conversion puts the E-Tron Sportback at 170 to 220 miles of prospective EPA-estimated range, depending on battery. If EPA range ends up in that neighborhood, the E-Tron falls well behind the Mustang Mach-E's potential.
The E-Tron has standard all-wheel drive, while the Mach-E offers rear- or all-wheel drive, plus two battery capacities and various performance specifications. Put it all together, and Ford is "targeting EPA-estimated range" for the lowest-range Mach-E — an AWD model with the standard battery — at 210 miles. At the top end, the Mach-E will offer a targeted 300 miles of range with RWD and 270 miles of range with AWD, both of which exceed the E-Tron by a good margin.
But it's closer if we talk about the Mach-E GT and GT Performance Edition, which have AWD and the extended battery but more power. Ford targets range at 235 miles, so the performance comes at a cost.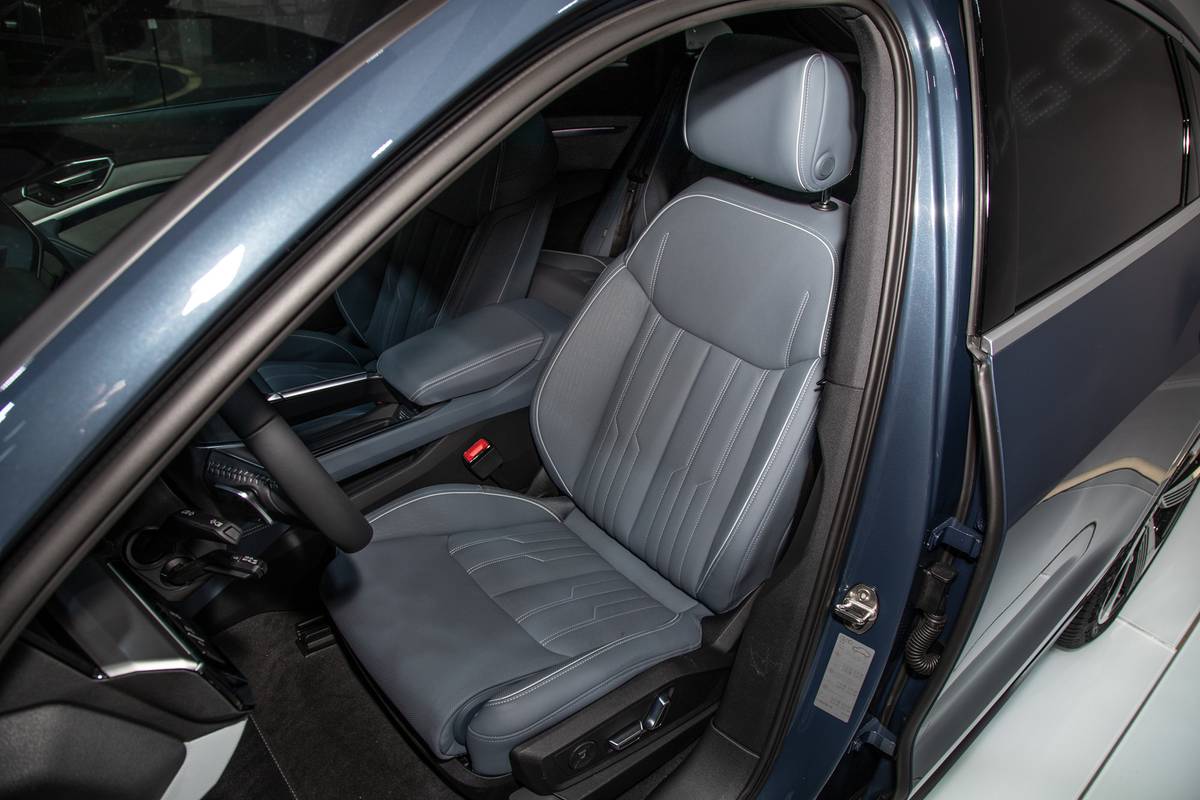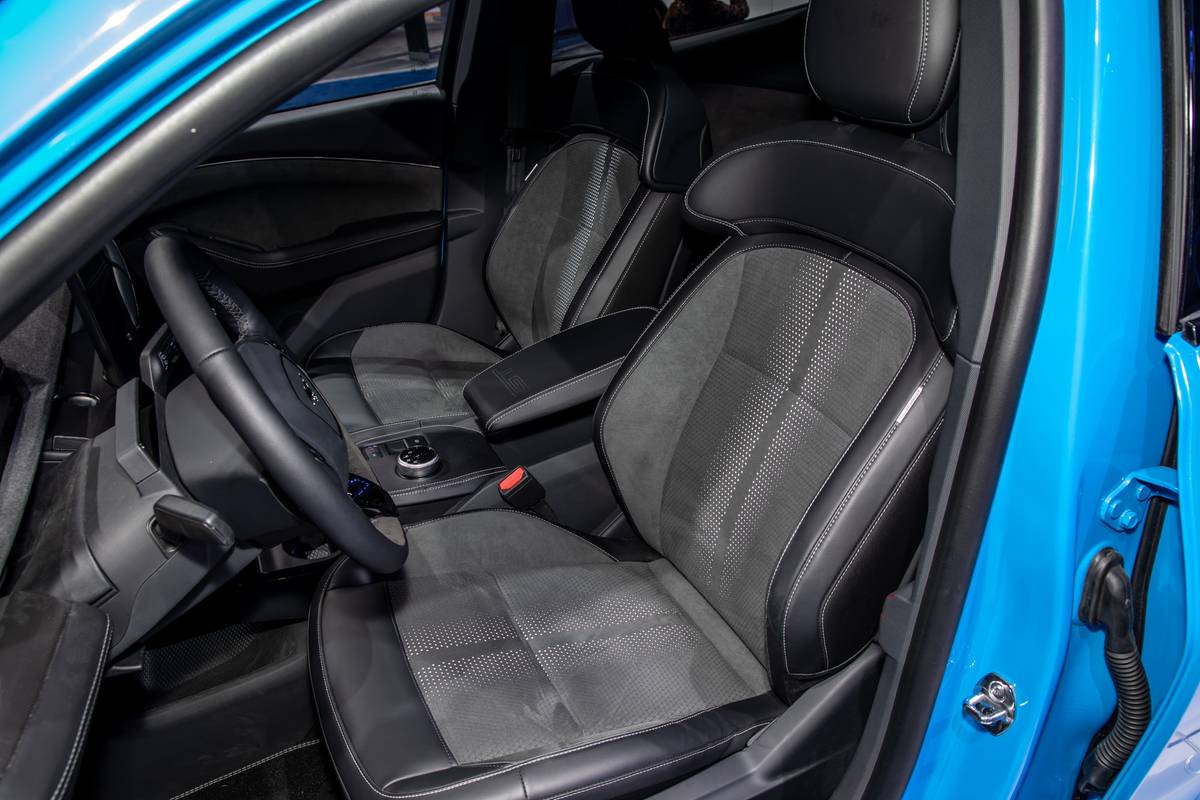 Interior Quality: E-Tron
Audi predictably takes this one, though it's worth noting that a lot can change in cabin materials between what's at an auto show and what hits dealerships. The E-Tron has better materials and more-comfortable seats. That's not to say the Ford is bad — its plant-based materials are intriguing — but, in terms of materials, it lags behind Audi. No shame in that: These two cars come from different cloths and, as we'll note later, different price points.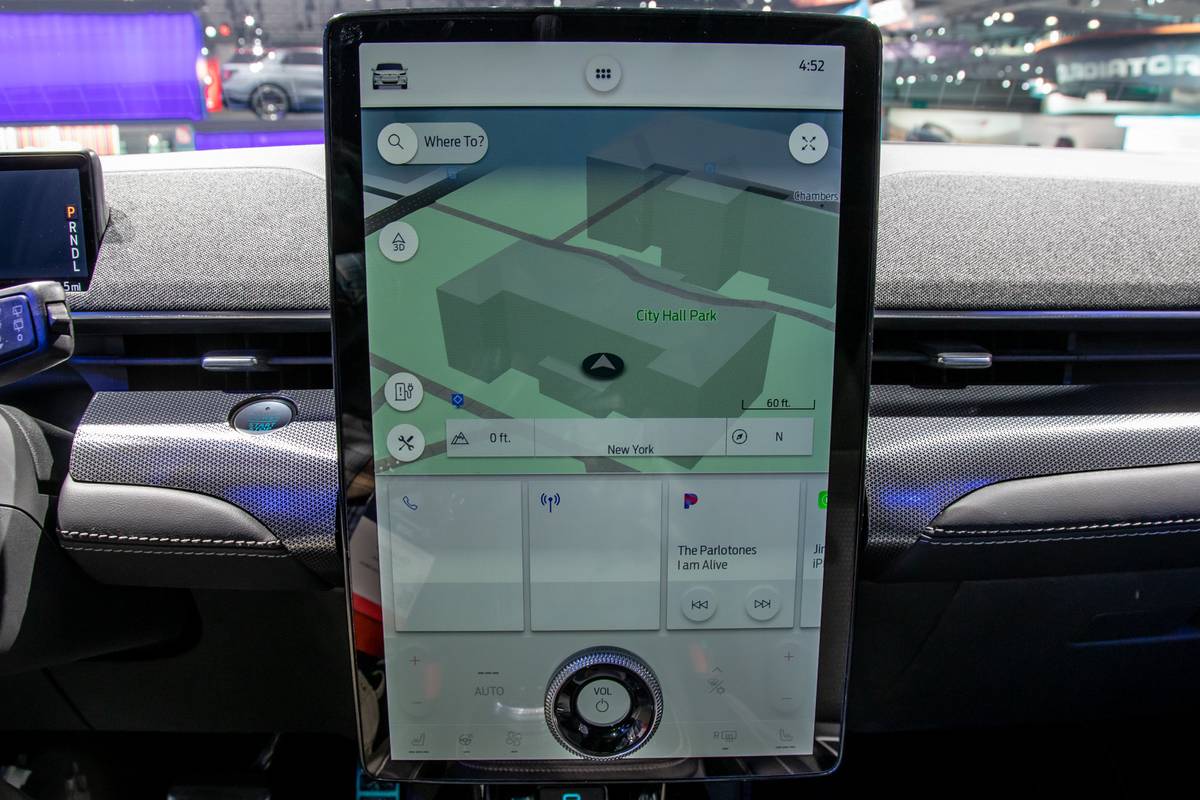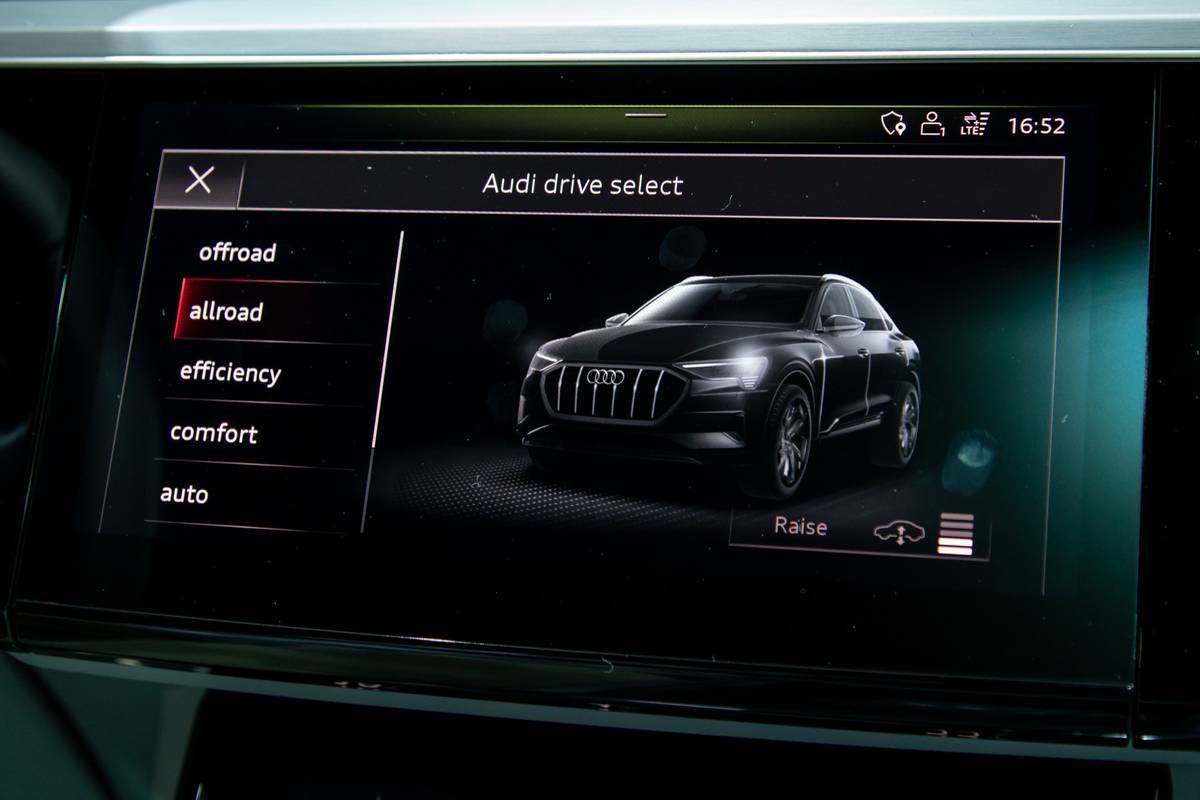 Screens: Mach-E
Both vehicles share an allergy to physical controls. The E-Tron Sportback opts for Audi's dual-screen setup — not a favorite of ours in the Audis we've tested with it. It might be among the best two-screen setups out there, but that's akin to saying this cold is the best cold you've had. Ford packs most controls into one large, vertically integrated 15.5-inch screen. The system is also more responsive than the Audi's and, from what we've seen of Ford's new Sync 4 interface, it will also provide greater functionality.
More From Cars.com: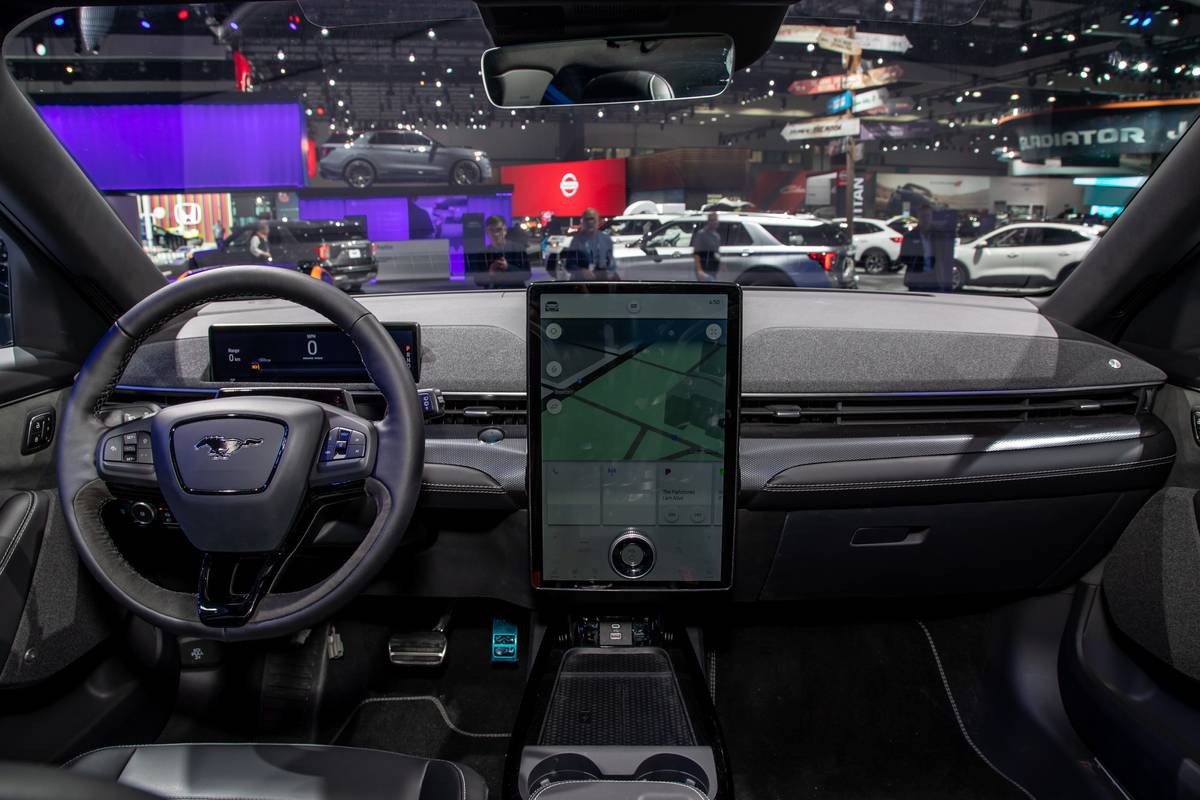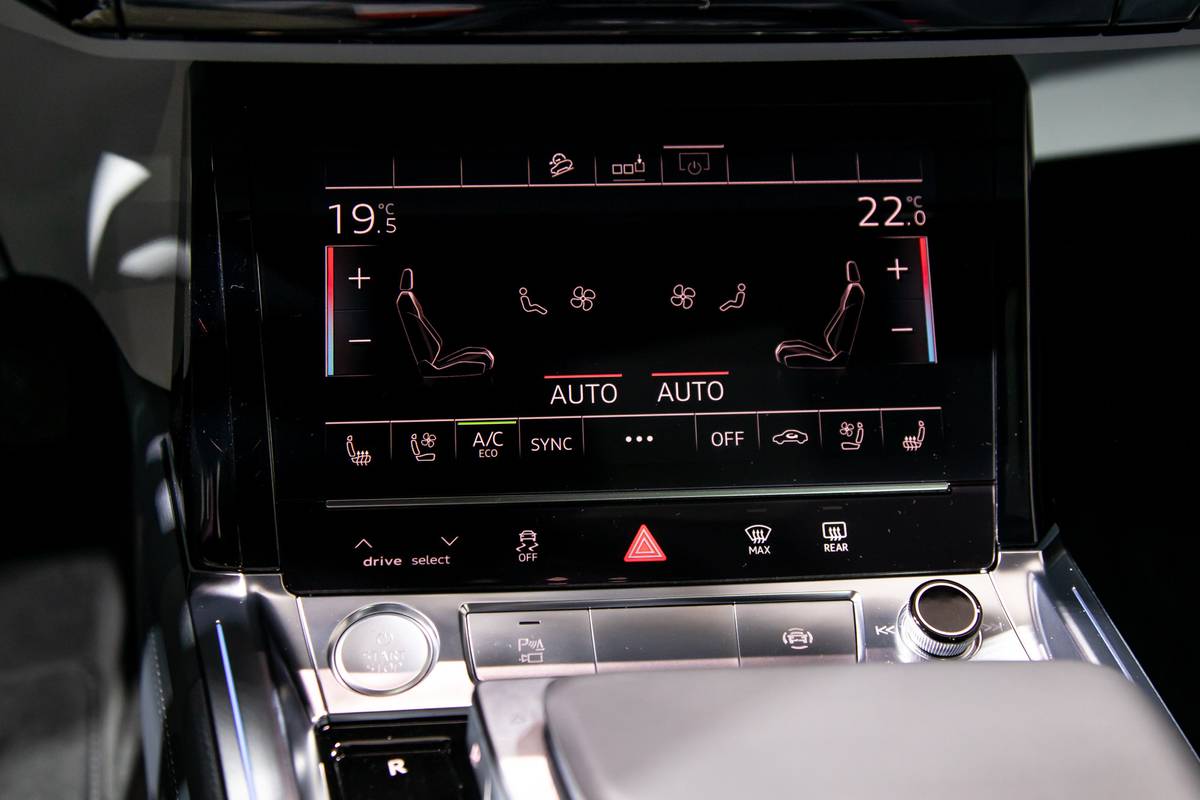 Value: Mach-E
The Mach-E will start in the mid-$40,000s for its base trim level, called Select, and prices rise from that up to the performance-oriented GT model, which will start in the low $60,000s. Even the priciest model sits well below the E-Tron Sportback. Audi hasn't priced it yet but says it will command a slight premium over the E-Tron SUV, a vehicle that starts for 2019 at $75,795 with destination fees. Though the E-Tron looks to have a nicer interior, Ford's edges in other categories swing the value pendulum firmly back toward the Blue Oval.
Both vehicles will qualify for a full $7,500 federal tax credit, though Ford shoppers may want to capitalize on that soon: Ford estimates it only has enough credits left to last for roughly the first year of Mach-E production, so if you want to ensure you get the full amount, it's better to buy early than late.
Both vehicles hit dealers at different times, too. The E-Tron Sportback goes on sale in late spring or early summer 2020, while the first Mach-E variants won't hit dealerships until late 2020 and GT shoppers will have to wait until early 2021.
Cars.com's Editorial department is your source for automotive news and reviews. In line with Cars.com's long-standing ethics policy, editors and reviewers don't accept gifts or free trips from automakers. The Editorial department is independent of Cars.com's advertising, sales and sponsored content departments.