Car Seat Basics Part Two: From Infant to Convertible Seat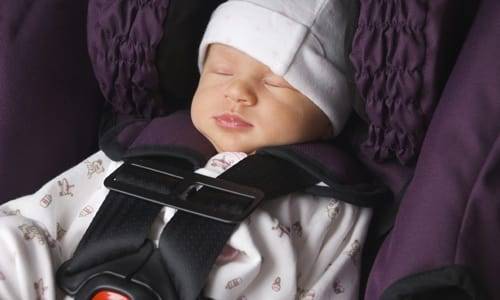 CARS.COM — Babies grow fast and require a seemingly endless supply of appropriately sized accessories — none of them more important than a child-safety seat. A trip to your local big box store will show you that there are tons of car seats to choose from for your vehicle. Which one is right depends on several factors, but the most important ones are the age, weight and height of your child.
Related: Car Seat Basics Part One: Get Your Seat Checked
The National Highway Traffic Safety Administration and the American Academy of Pediatrics recently changed their guidelines about rear-facing car seats. New parents need to know that children should stay rear-facing until at least their second birthday or until they reach the height/weight limit of the seat.
Here is a rundown of the types of seats you need and when it's appropriate to move your child up to the next grade. We'll cover booster seats and that final step to safety-seat-less travel in our next post. Remember that car seats must be installed in a vehicle's rear seat. And parents should check the fit of their child's car seat with each use.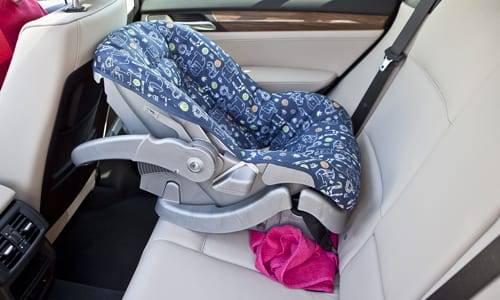 Infant car seats: This child-safety seat has a carrier handle and can be installed with or without its base. Most of these rear-facing car seats are rated for infants from 5 pounds to 20-plus pounds, but check the owner's manual for height and weight limits. Some important things to remember:
In terms of weight, the seat's harness straps are only designed to retain the weight limit listed, so it's important to stop using this seat when the child outgrows it. 
These seats also have height limits; the child's head should be at least an inch short of the top of the seat. If your child's head is above that, the head and neck won't be supported in a crash; it's time to upgrade.
When this seat is installed, it should sit at a 45-degree angle. This helps ensure that the child's airway remains open and crash forces are spread correctly across the car seat in the event of an accident. Use the level guide on the side of the seat to position it correctly. Some seats have adjustable feet to change the angle; you can also use a foam pool noodle or rolled towel in between the seatback and the car seat base to get it level.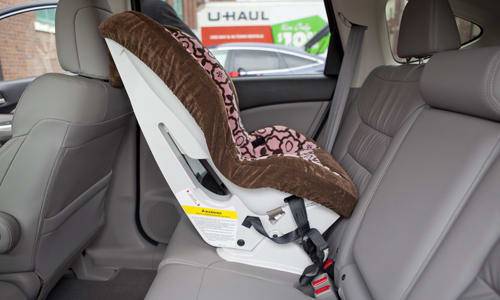 Rear-facing convertible seat: After the child outgrows the infant seat, a convertible car seat in rear-facing mode is next for your baby. These seats are also often rated for kids who weigh as little as 5 pounds, so it's possible to skip the rear-facing infant seat all together. Things to keep in mind:
Your child may be tired of facing backward, but there's no argument: It's important to maintain this position for as long as the seat allows. Again, check the owner's manual for height and weight limits. According to NHTSA, most crashes are frontal impacts, so keeping a toddler in the rear-facing seat position for as long as possible ensures the car seat's shell absorbs most of the crash force rather than the child's developing spine and neck. This position also provides more head support in the event of a frontal crash.
The angle of this seat should be 30 degrees to 45 degrees, depending on the manual's recommendations.
The harness straps should be placed at or below shoulder level and fed through the seat's lower strap slots. The harness clip should be at armpit level and the straps should be tight — you shouldn't be able to pinch more than an inch of strap webbing. Infant seats also follow these strap rules.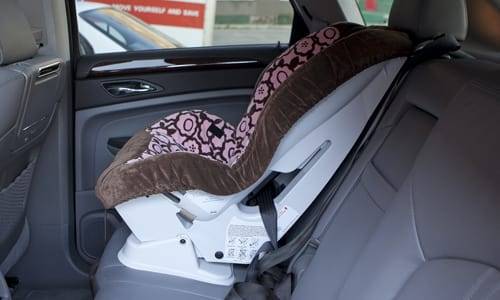 Forward-facing convertible seat: When the time is right, parents can switch their rear-facing convertible to the forward-facing position. The rules for use, however, change with the forward-facing seat in the car.
Just as with the other car seats, the harness clip should be at armpit level and the straps should be tight, but here they should sit at or above shoulder level.
Regardless of whether you're using Latch anchors or a seat belt to install the car seat, always use the top tether strap. Connecting to the tether anchor reduces head movement in a car crash, protecting the child's neck and spinal cord.
Again, use the seat's level line to get the correct angle, but never place anything (like a noodle or rolled towel) in between the seatback and the car seat.
As with other child-safety car seats, forward-facing seats have height and weight limits, too. Follow the manual's guidelines. A combination seat or a backless booster seat is next when it's time to upgrade.
For more on child-safety seats and common associated mistakes, check out our video below.
Cars.com's Editorial department is your source for automotive news and reviews. In line with Cars.com's long-standing ethics policy, editors and reviewers don't accept gifts or free trips from automakers. The Editorial department is independent of Cars.com's advertising, sales and sponsored content departments.