Genesis Serviced Our G70 Without Us Going to the Dealership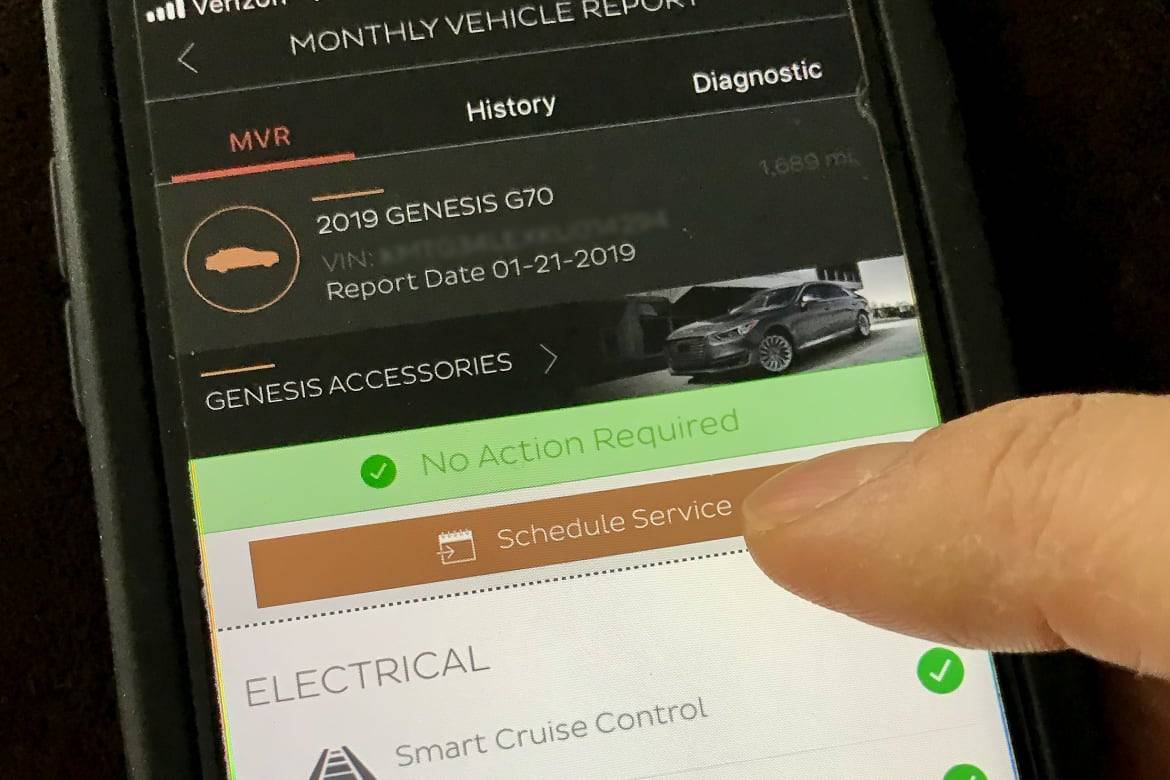 Luxury brands tout all sorts of perks, from longer warranties to amenity-laden showrooms. Hyundai's foray into the space, the car-turned-brand Genesis, adds an interesting twist: valet service appointments to keep you away from the dealer as much as possible. Genesis will pick up your car, leave a replacement and return yours when it's ready. The valet will come to your home, office or any other location, Genesis says. We've owned a 2019 Genesis G70 3.3-liter Prestige, Cars.com's Best of 2019 car, since December. Two months and some 3,300 miles in, a shaky head-up display prompted us to give Service Valet a go.
Related: Shaky Head-Up Display Prompts First Service for Our Genesis G70
We tried to schedule service through Genesis' Intelligent Assistant app. The app responded that it couldn't connect with the dealer from which we purchased the car, but it linked us to the telephone number. We called, explained the HUD problem and asked for Service Valet. The dealership scheduled a vehicle swap for the next morning at Cars.com's downtown offices, where we regularly park the G70.
The following morning, a service representative called to say the driver would come a couple of hours later than planned. We received two text messages to the same effect, complete with confirmations of our agreed-upon location and contact info. The driver called when he was 10 minutes out, too.
We met him with the G70, and he left us a silver 2019 G80 with all-wheel drive and the 3.8-liter V-6. It had all of 186 miles on the odometer.
As it turned out, we handed the keys back with all of 187 miles. Three hours after we parked the G80, the dealership called with a diagnosis but no repairs for our G70, and the service representative said he'd send the car back. Four hours after we handed it over, our G70 returned to our Chicago offices, washed clean as a whistle.
Given our dealer is 17 miles and one county away from Cars.com HQ, color us impressed after our first experience with Genesis' valet service program. The whole of it took a handful of text messages and phone calls, two meetups outside our offices, a comparable loaner car and minimal disruption to the workday.
More From Cars.com:
The valet service idea isn't new, nor are Hyundai or Genesis the only brands to offer it. Hyundai offered valet service earlier this decade on the Equus, a forebear to the Genesis G90. The move made abundant sense at the time, as the absence of a separate dealer network meant luxury shoppers had to mingle with the Elantra-buying proletariat. (Roll your eyes all you want, but surveys have reportedly shown, at least for one rival brand, that luxury-car buyers want their own space to shop.)
Genesis wants its own dealerships, but if Cars.com's long-term G70 purchase is any indication, that network — and even the effort to sell from specialized sections of Hyundai dealerships — remains far from reality.
Genesis' Service Valet works with regularly scheduled service, too, so we plan to use it at least once more this year. Stay tuned for more.
Cars.com's Editorial department is your source for automotive news and reviews. In line with Cars.com's long-standing ethics policy, editors and reviewers don't accept gifts or free trips from automakers. The Editorial department is independent of Cars.com's advertising, sales and sponsored content departments.