How Many Miles of EV Range Can We Get in the 2021 Toyota RAV4 Prime?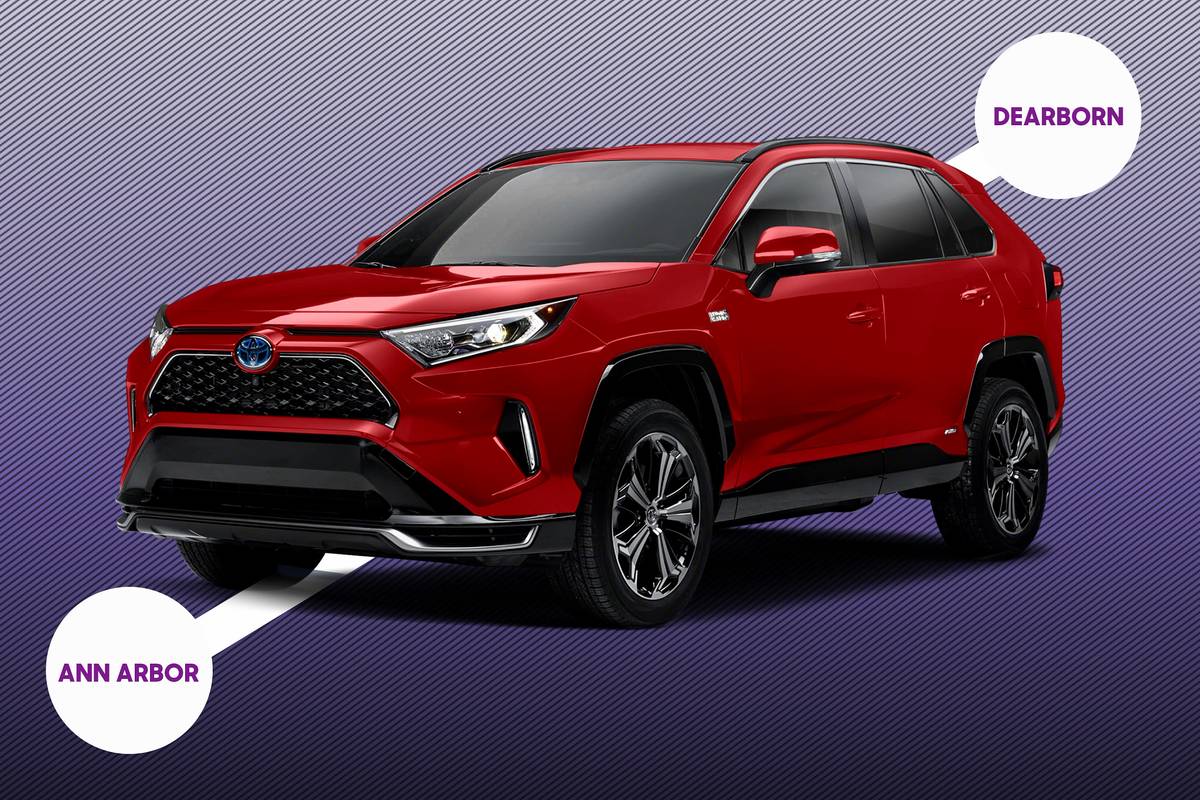 Toyota's perennially popular RAV4 SUV is a top seller as people continue to snap up SUVs, and a plug-in-hybrid version of the latest model is proving one of this year's hottest commodities. Much has been written about the new RAV4 Prime's fun-to-drive quotient, as it's one of the quickest, most powerful mainstream Toyota products the brand has ever put out; indeed, with a manufacturer-estimated 0-60-mph time of 5.7 seconds, it's the quickest four-door product to wear a Toyota badge today. And while the idea of a fun-to-drive hybrid SUV might seem like a bit of a contradiction, here it is — replete with 302 system horsepower and standard all-wheel drive.
But what if you're more interested in the RAV4 Prime's abilities as an electric vehicle or hybrid than you are in its stoplight drag-racing street cred? We put a test car through a mix of city and highway in southeast Michigan to find out.
Related: 2021 Toyota RAV4 Prime Plug-in Hybrid Primed for Purchase Under $40,000
The Specs
The Prime is rated by the EPA  to get 42 miles of electric-only range before its 2.5-liter four-cylinder engine kicks in to help it along to a 600-mile total overall range. Operated normally, it gets an EPA fuel-efficiency rating of 94 mpg-equivalent and 38 mpg combined on gasoline once you run through the electric-only range. That combined rating roughly matches a standard RAV4 Hybrid's EPA mileage (40 mpg combined), and it bests considerably the standard RAV4's combined rating of (28-30 mpg).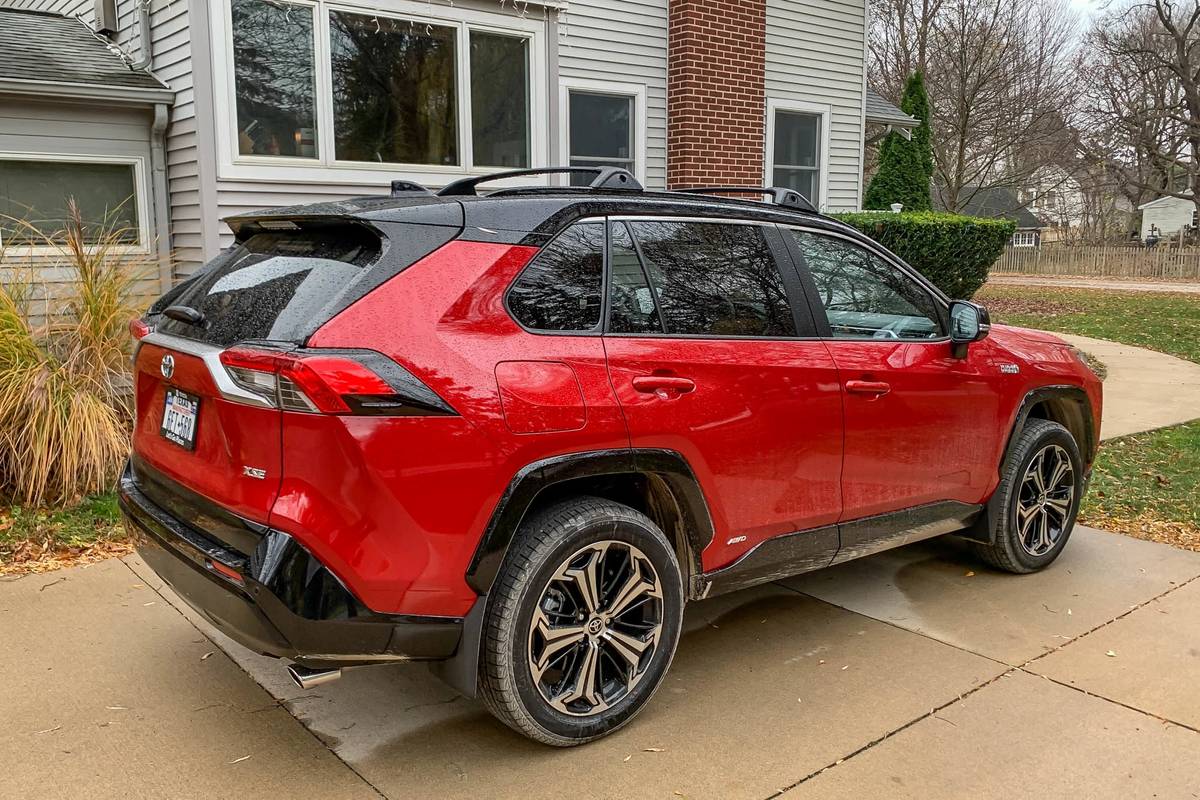 Key to the Prime is a bigger lithium-ion battery pack, a hefty 18.1-kilowatt-hour unit that allows the RAV4 Prime to operate in pure EV mode a lot longer than a standard RAV4 Hybrid. The idea behind a PHEV is that you can plug it in at home overnight, then commute to and from work on pure electric power, reserving the gasoline engine for times when it's most relevant (like on a highway drive) or when you want to go farther than just to work and back. With most Americans' commutes coming in at 20 miles or less each way (at least, before the pandemic started and we still commuted), you could theoretically enjoy the vast majority of your drives in an electric vehicle — but still take your RAV4 Prime on an easy cross-country journey without worrying where and how to charge it. 
The Route
The standard route I use for a plug-in hybrid electric vehicle is a round trip from Ann Arbor, Mich., east to Dearborn, Mich., and back. It's a mix of stop-and-go urban driving and higher speeds on a four-lane divided highway. The air conditioning is off in this instance, with windows up, tires properly filled, maximum regeneration setting engaged (if present), and driving style relaxed and average — not hypermiling, but not aggressive, either.
The purpose is to see how far the car can go on electric power, which is to say the distance it gets in a dedicated EV mode before the batteries are drained and the gasoline engine powers up. It requires a steady foot to do this, as many plug-in hybrid vehicles with gas engines will use those engines if you exceed a certain speed or demand a certain rate of acceleration beyond what the electric motor itself can provide. In the RAV4's case, however, that's less of an issue: If you have it in EV mode, it will stay there even if you really dig into the accelerator.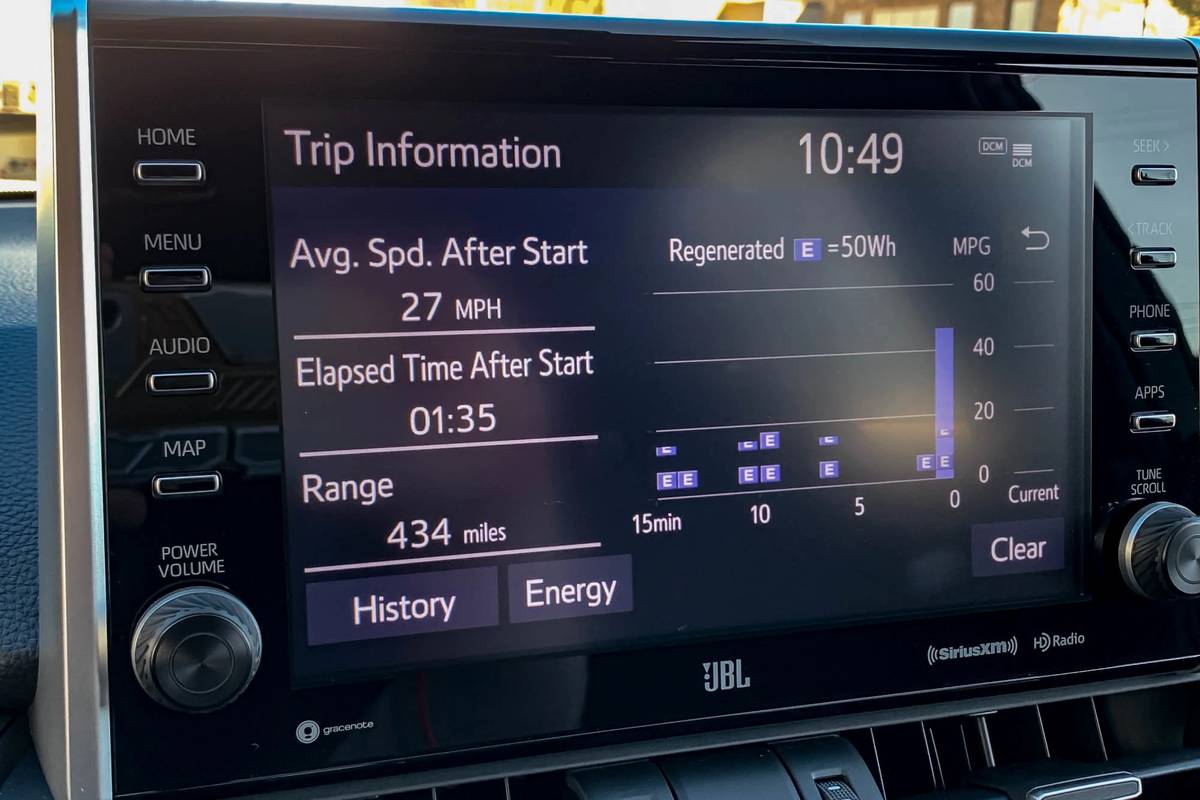 The Results
My test results showed the RAV4 Prime plug-in hybrid was able to achieve 42.7 miles on pure EV power alone, which is an astonishing match to its EPA rating disregarding rounding. It also exceeds the 39 miles of range that the Prime's trip computer said it could deliver, though that prediction also factors in previous drivers' behavior, and it's distinctly possible other automotive journalists who drove the car before me preferred to explore the Prime's performance chops instead of its efficiency.
Toward that end, I can indeed attest that the Prime is a lot of fun to drive, with formidable acceleration on tap, but it's mitigated somewhat by the SUV's considerable weight. The Prime is not a sports car, nor will anyone consider it a proper performance vehicle, but it's definitely more entertaining than most PHEV compact SUVs. One notable absence: Toyota once offered a "B" setting for its continuously variable-style automatic transmissions in hybrid models that boosted regenerative braking. That setting is no longer present. In fact, if there's a way to boost the Prime's regenerative braking, Toyota has hidden it, as I was simply unable to find such a setting. (We asked Toyota, but two spokespeople did not immediately respond.)
More From Cars.com:
Overall, the new 2021 Toyota RAV4 Prime delivered its rated EV range as promised, while still providing decent acceleration with no requirement to ease off on the accelerator or your desired cruising speeds to maintain efficiency. It's quiet, comfortable and spacious, with its hybrid systems not impeding the interior space like plug-ins with big batteries once did. For the right buyer with access to charging at home or work — but someone who isn't quite ready to take the EV plunge just yet — the RAV4 Prime could be an interesting alternative to a full electric vehicle.
Related Video:
Cars.com's Editorial department is your source for automotive news and reviews. In line with Cars.com's long-standing ethics policy, editors and reviewers don't accept gifts or free trips from automakers. The Editorial department is independent of Cars.com's advertising, sales and sponsored content departments.