NEWS
2022 Lucid Air Quick Spin: Astonishingly Good
By Aaron Bragman
November 23, 2021
It might seem hard to believe, but the Tesla Model S is nearly a decade old now, first delivered as it was in June of 2012. It's received updates since then, but not a full redesign, and the Model S now looks much like the Model S did then. But in the years since it appeared, the industry has started to catch up, and now if you want an all-electric, full-size luxury sedan, you have a few more options to choose from, including the Mercedes-EQ EQS, the Porsche Taycan or this, the 2022 Lucid Air.
Related: Long-Range Strike: Lucid Air EV Range Officially EPA-Rated Up to 520 Miles
What the Heck Is a Lucid?
The what, you say? You've certainly heard of Tesla, but you might not yet have heard of Lucid. It was founded in 2007 as a company that was meant to manufacture batteries for other automakers but eventually rebranded itself in 2016 and announced that it was going to be an automaker itself. The company built a brand-new factory in Arizona, and delivered its first cars to paying customers in October.
That car is this: the Air, a totally clean-sheet design for a luxurious, all-electric, incredibly powerful and opulent car. But the stats are simply jaw-dropping. If you're looking for an all-out performance machine, the Air Dream Edition Performance comes with 1,111 horsepower and 1,025 pounds-feet of torque. If you'd rather go for range, the Air Dream Edition Range can deliver 520 miles of it while dropping the power output to "only" 933 hp. Now, these are the first editions of the Air, the most expensive and they're already sold out — but soon there will be three other trims coming: the least expensive Pure, with 480 hp and just over 400 miles of range, the Touring that keeps the range and ups the power to 620 hp, and the Grand Touring that does 800 hp and more than 500 miles of range.
These numbers seem almost unbelievable, but it gets even better. The car uses a 900-volt battery system, by far the most powerful on the market, and if you were to plug it into one of the still-rare 800-volt, 300-kilowatt DC fast chargers that are slowly appearing around the world, you'd be able to add 300 miles of range in just 20 minutes, according to Lucid. Or if you're charging at home, the Lucid Air can charge at up to 19.2 kW if you have a robust enough Level 2 charger and the circuit to feed it.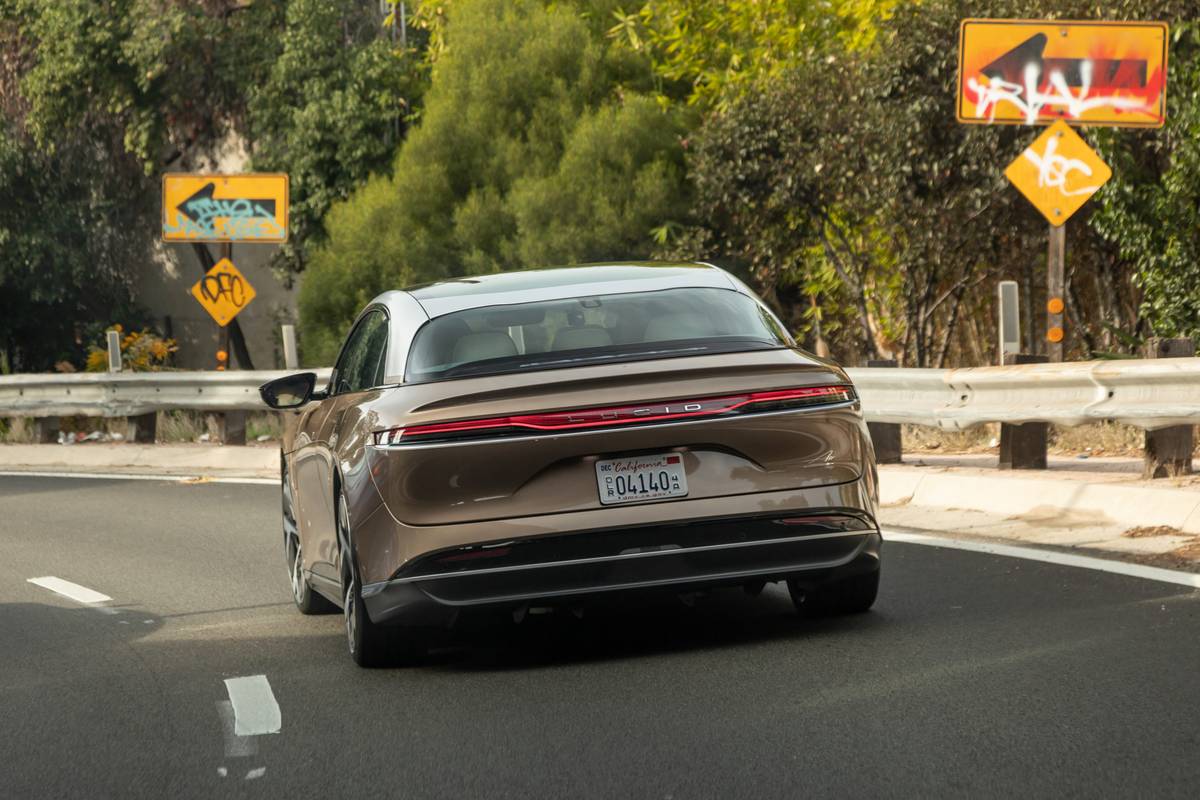 How does it do all this? How does it get amazing range numbers, incredible power numbers and charge as fast as it does? Simply put: This is basically the next-generation electric car that the Tesla Model S should have become by now but hasn't. The key is efficiency, something that doesn't get talked about all that much with electric cars. Everyone prefers to focus on battery size or range or recharge times — but if an electric car is engineered for maximum efficiency, all of those things fall into place. That's what we have here with the Air.
Next-Generation Engineering
Consider that these crazy, massive power numbers come from a dual-motor car that has an extremely sophisticated motor-differential unit with nearly three times the power density of competitors' powertrains in a package that weighs 167 pounds and could fit in a roll-aboard suitcase. The battery is a conventional lithium-ion unit, but it's built in such a way that it minimizes weight, dimensions and cooling requirements. Aerodynamics are key to the efficiency of any car, and the Lucid Air's 0.21 coefficient of drag makes it incredibly slippery. It's rated by the EPA to be the most efficient large electric sedan you can buy.
But how is it to drive? What's it like inside? Is it as good as offerings like the luxurious, tech-laden, Mercedes-EQ EQS? Yes, it is. It might even be better.
Silent Lucidity
Pop into the plush driver's seat, and gaze around at the cabin that Lucid has crafted — a mix of Tesla-style minimalism, Volvo-style materials and Mercedes-level opulence. Yes, most of the controls are handled by the touchscreen, including things like steering-wheel and mirror adjustments, but they're all easy to find and use, bright and clear, and nothing seems to be buried behind menus or difficult-to-find layers. It feels easily as sophisticated as the latest Hyperscreen technology in the Mercedes EQS, if not quite as dramatically presented, but it is far, far easier to use at first encounter. Simply put, the Air's interior doesn't do anything stupid. It's rich, drum-tight in terms of its construction, beautiful to look at and pleasing to use. That's the definition of a luxury car, in my opinion.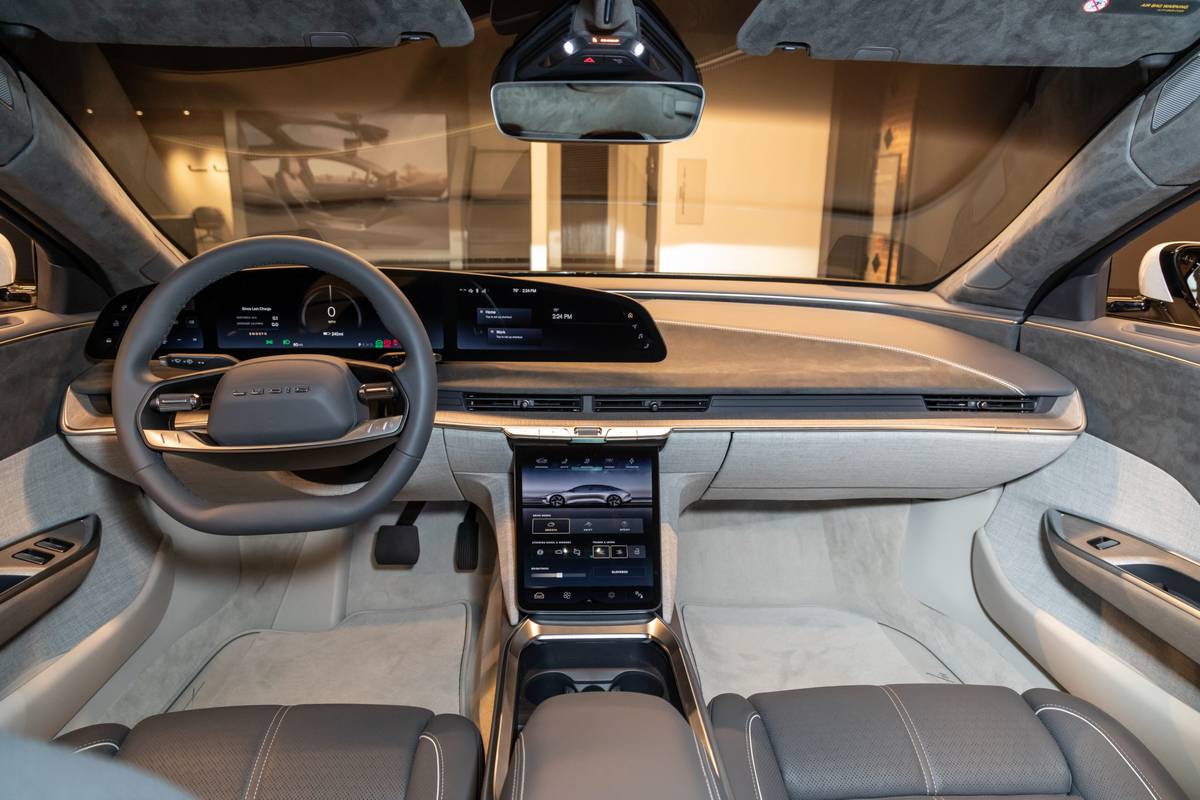 It's also comfortable. There's a bit of a duck-down that you'll need to do in order to get into it, front or back, thanks to the swoopy low roofline and super-thick roof rails. You'll need those thick rails in order to support rollover protection requirements because the roof on the initial models is an uninterrupted glass panel stretching from the base of the windshield to the rear decklid. Admittedly, this stunning glass roof is best enjoyed from the spacious backseat, as the overhead sun visors for driver and passenger break up that continuous sweep, creating an artificial windshield header that isn't a factor when you're taking the whole thing in from the rear.
The backseat is immediately identifiable as superior to the EQS. It feels like it has more headroom, more legroom and doesn't have you in an unusual seating position in order to accommodate the underfloor battery. Cargo space is also superior given that you have a large trunk out back with a super-low lift-in height and a full 10-cubic-foot frunk, by Lucid's accounting. You can't even open the hood on an EQS; no frunk for you. Forward visibility is also superior to that in the Mercedes, which has an abnormally tall dashboard to accommodate the massive 56-inch Hyperscreen. The Air's dash is low and wide, giving an excellent view forward. All functions are easy to find and operate, and there isn't anything that made me say, "Now why the heck would they do it that way?"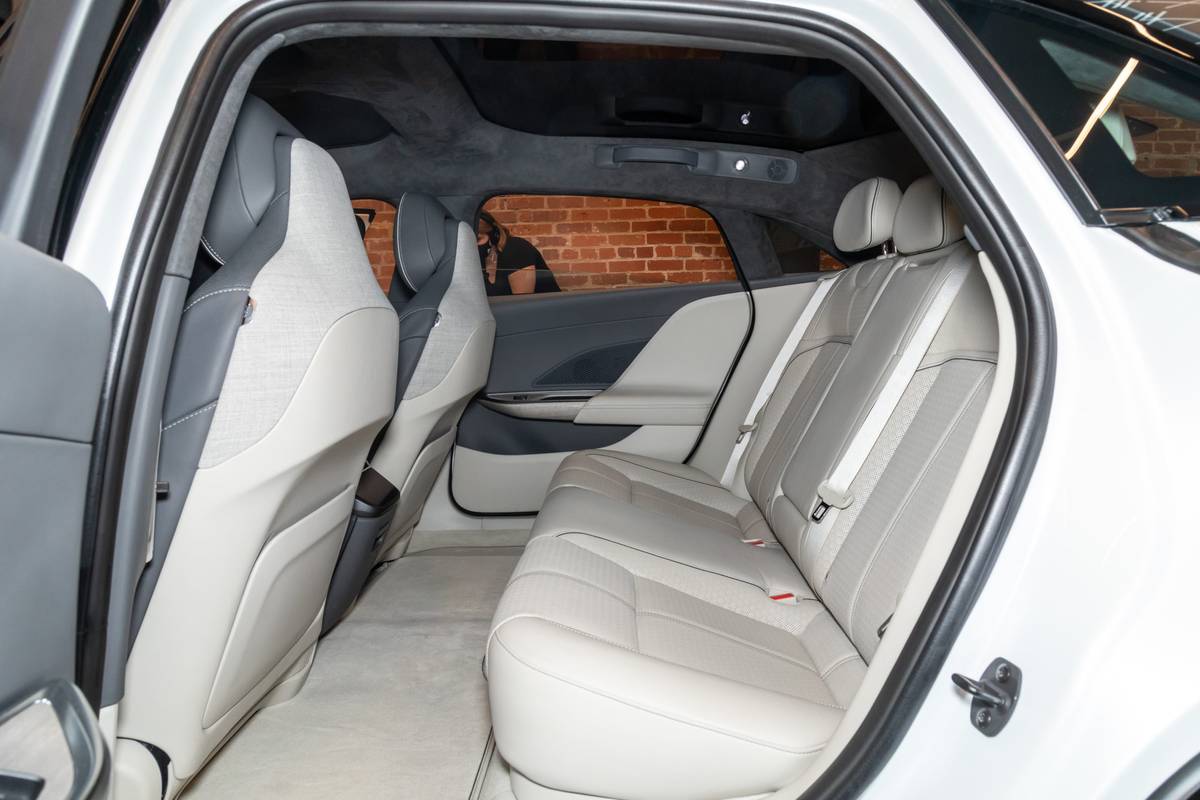 All Fury, No Sound
There's no "on" switch for the Air; it uses a passcard like some other automakers are starting to do. But once everything is operating and you move out into traffic, you're struck by the fact that it doesn't make any silly noises. There's no artificial spaceship sound, no crescendo on acceleration that simulates a V-12 engine, no weird chimes or sighs or whooshes — it just sounds like muted electric motors. There's a bit of road noise from the big 21-inch summer tires on the Air Dream Edition P I drove, but nothing unpleasant. Around the streets of Beverly Hills, Calif., the Lucid drew all kinds of stares and thumbs up, which should tell you something about the interest in this thing in a land where G-Wagens are as thick as Ford Escapes are back in my Michigan. Once traffic cleared, I was able to get out onto a few brief stretches of highway, wherein I engaged Sprint mode, unlocking all 1,111 hp (after you confirm your selection). It was then that I realized what warp speed felt like on "Star Trek."
If you're a Trekkie at all, you've seen shots of the USS Enterprise engaging warp drive: There's a flash, the ship "stretches" and then disappears into the distance with a scenery-blurring whoosh. That's exactly what flooring the accelerator in a Lucid Air Dream Edition P feels like: instant, stunning, explosive speed. You're doing triple-digit speeds before you can even think about wanting to do triple-digit speeds. "I think I'll try for 100 mph" means you're already doing 100 mph, check your speedometer. But all that fury comes with no sound — there's no blast from any engine, no aural audiotrack to warn you about what you're doing. It's just electronic magic and a sense of unbridled, apex-predator velocity out on the highway.
More From Cars.com:
Stops Good, Too
In between bouts of giggling acceleration, the Lucid Air is also an exceptional grand tourer. It feels considerably lighter on its feet than its size would suggest thanks to beautifully tuned steering and copious grip. The standard level of regenerative braking is pretty aggressive, allowing for normal one-pedal driving around city streets at lower speeds. But when you do need to hit the brakes, you're rewarded with normalcy, unlike the EQS, which has a horribly artificial feel to it. The Air drives much more like a normal car than the EQS and might prove to be a better step into something electric for someone interested in trading in their conventional S-Class than Mercedes' own EV.
It does, however, come at a cost. The first model into customers' hands is the Dream Edition, or what Lucid offered up at launch — basically a fully loaded version with all the bells and whistles. It starts at a lofty $170,000 or so and is already sold out, but less expensive versions with smaller batteries and less power output will start around $80,000 when the plant begins to crank out more examples of a wider variety in 2022.
I'm always skeptical of a startup company's first cars — they're rarely well done, frequently fraught with bugs, assembly issues, squeaks and rattles, and odd design choices. The Lucid Air exhibits none of these quirks. If any other automaker had produced this, it would be an award-winning triumph. That it came as the first car from a brand-new startup company is even more astonishing. If its first car is this good, I can't even imagine how good Lucid's next one is going to be.
Related Video:
Cars.com's Editorial department is your source for automotive news and reviews. In line with Cars.com's long-standing ethics policy, editors and reviewers don't accept gifts or free trips from automakers. The Editorial department is independent of Cars.com's advertising, sales and sponsored content departments.