Mild to Wild: Testing the Dodge Charger Hellcat's Driving Modes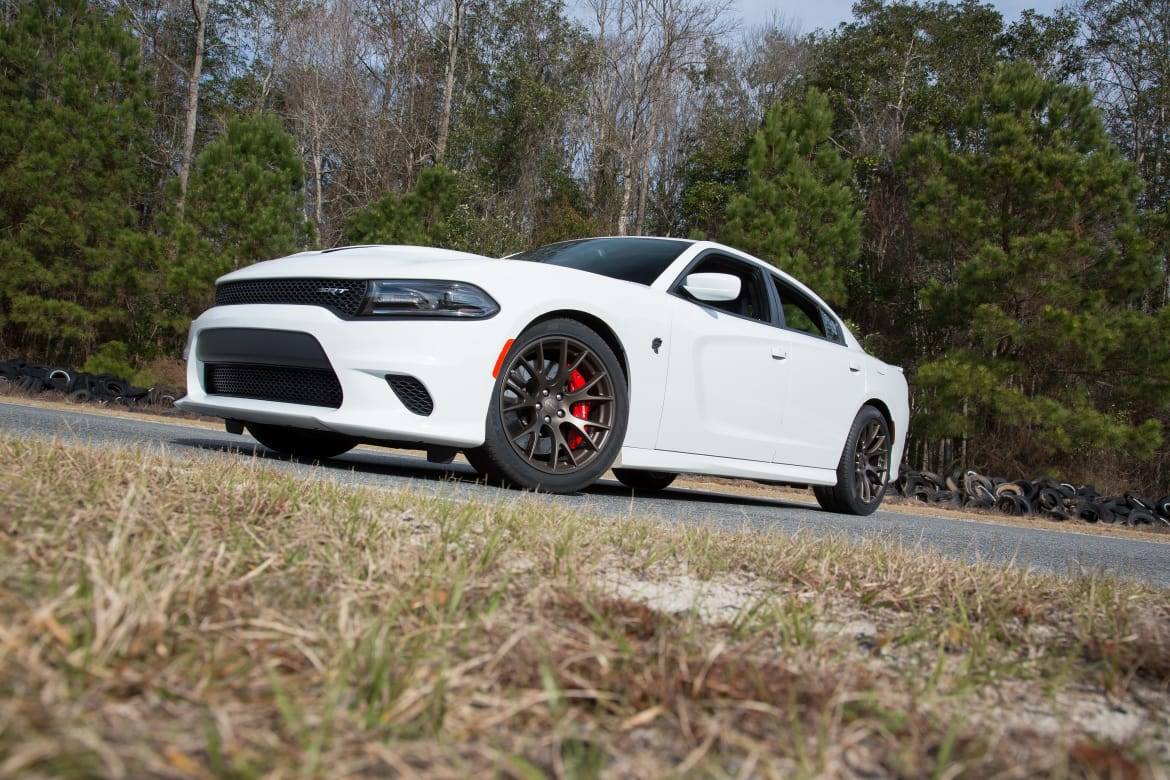 CARS.COM — More important than its 707 horsepower (gasp, I know) is the Dodge Charger SRT Hellcat's huge swing in adjustability. With the push of a button, the Hellcat transforms from a tire-frying 204-mph supercharged sedan to a remarkably sedate family cruiser capable of fitting three child seats  in the backseat – few cars have such a Jekyll and Hyde personality. We've logged many street and track miles in Dodge's super sedan; now let's take a closer look at how the various modes make the car surprisingly versatile.
Related: Challenge Won: We Do 11 Seconds in the Dodge Charger Hellcat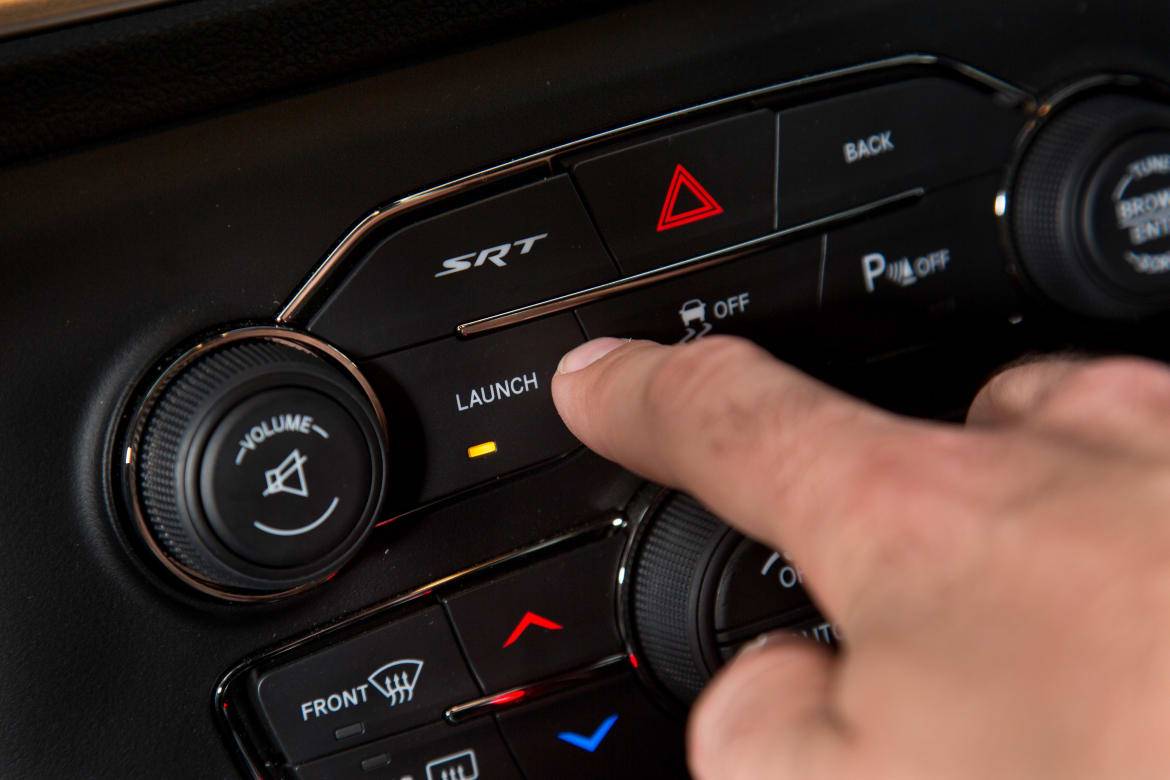 To start, the Dodge Challenger's Hellcat muscle car has five drive modes: Track, Sport, Custom, Default and Eco. They're displayed on the 8.4-inch touchscreen by pressing the "SRT" button located between the volume and tuning knobs. Each Challenger SRT drive mode has a subset of system tuning: Power (500 or 700 hp), Transmission, Paddle Shifters, Traction and Suspension. Track and Sport don't cover every imaginable driving style, so during casual driving or track testing, I frequently use Custom mode, which is where the magic happens. In there, each system is adjustable for a truly customized driving experience.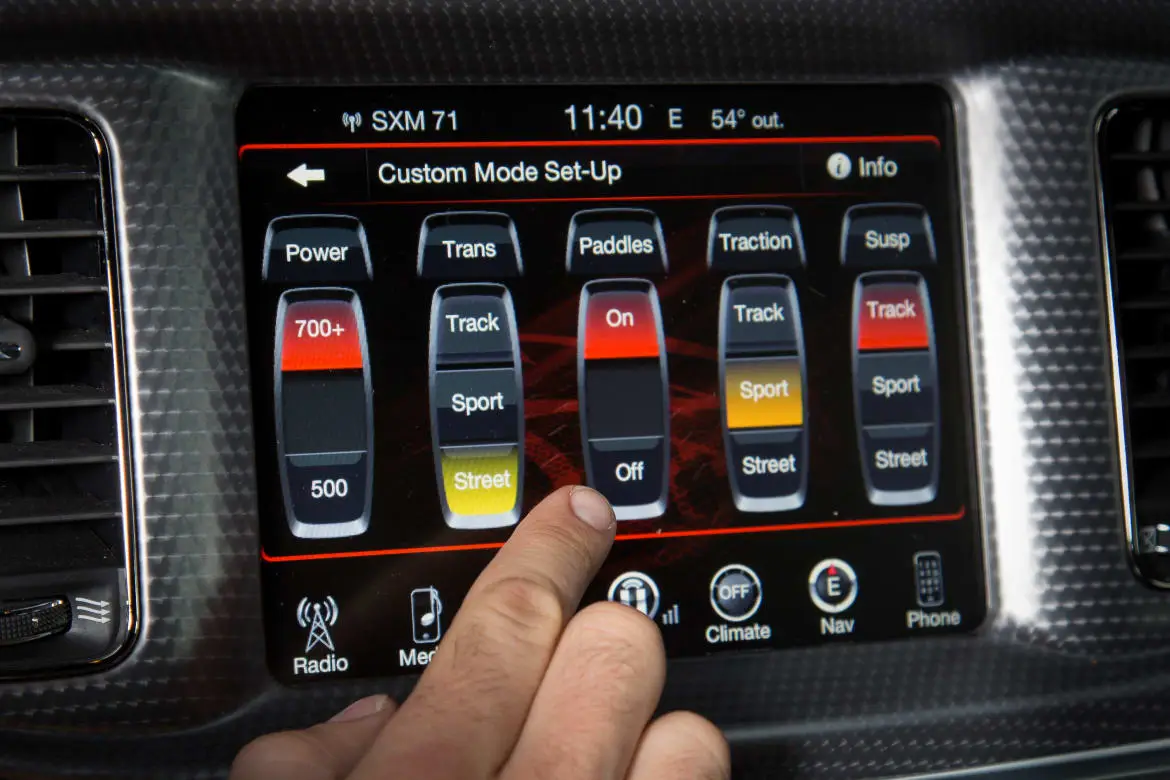 Power
The Charger SRT Hellcat's 707-hp, supercharged 6.2-liter V-8 can be detuned from 707 hp to 500 hp at the flick of a digital switch in the Custom menu. In 500-hp mode, the Dodge Charger's Hellcat isn't quite as excessive, but there's still no shortage of passing power. The 500-hp setting is active in Eco mode, which shouldn't come as a surprise. In that setting, the Hellcat is docile and buttery smooth despite being held back 207 hp. Our editors have even cracked off halfway decent fuel economy using Eco mode.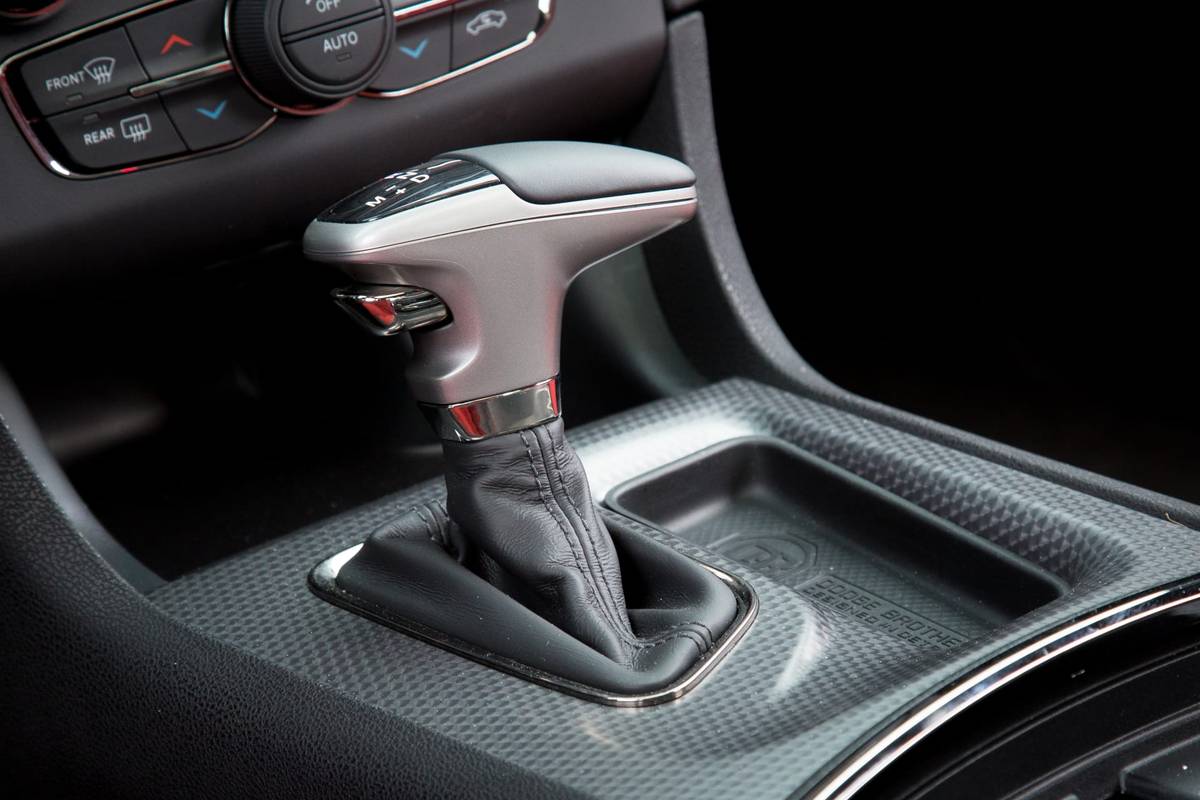 Transmission
The Hellcat's eight-speed automatic transmission has three settings: Track, Sport and Street. In Track mode, the transmission shifts hard and fast enough to shock the tires into spinning on the second gear shift, which we've experience in our testing (and which I'm pretty sure cost me a 10-second pass in stock configuration). Track mode's aggressive shift schedule also winds out gears to keep engine speed high and in the power band for road-course driving. Sport mode is slightly less aggressive and Street mode is well-suited for casual cruising. The transmission has its own tuning in Eco mode that upshifts quicker for better fuel economy and also starts in second gear.
Suspension
Of all the adjustable systems, the suspension makes the biggest swing from least to most comfortable. Track mode will rattle your teeth fillings on broken pavement and is best suited to a nice, smooth-handling course. It's too much on the street, even on twisty backroads. Sport is a good compromise and its sporty feel has relatively flat cornering, though there's no hiding how much weight you're throwing around (a lot: 4,575 pounds). Street mode is the most pillowy of the settings and the best choice for highway driving and trips to the dragstrip. If you watch our Charger SRT Hellcat dragstrip video, you can see how much space grows between the front tire and front fender as the softer damper settings let the rear squat to help plant the back tires.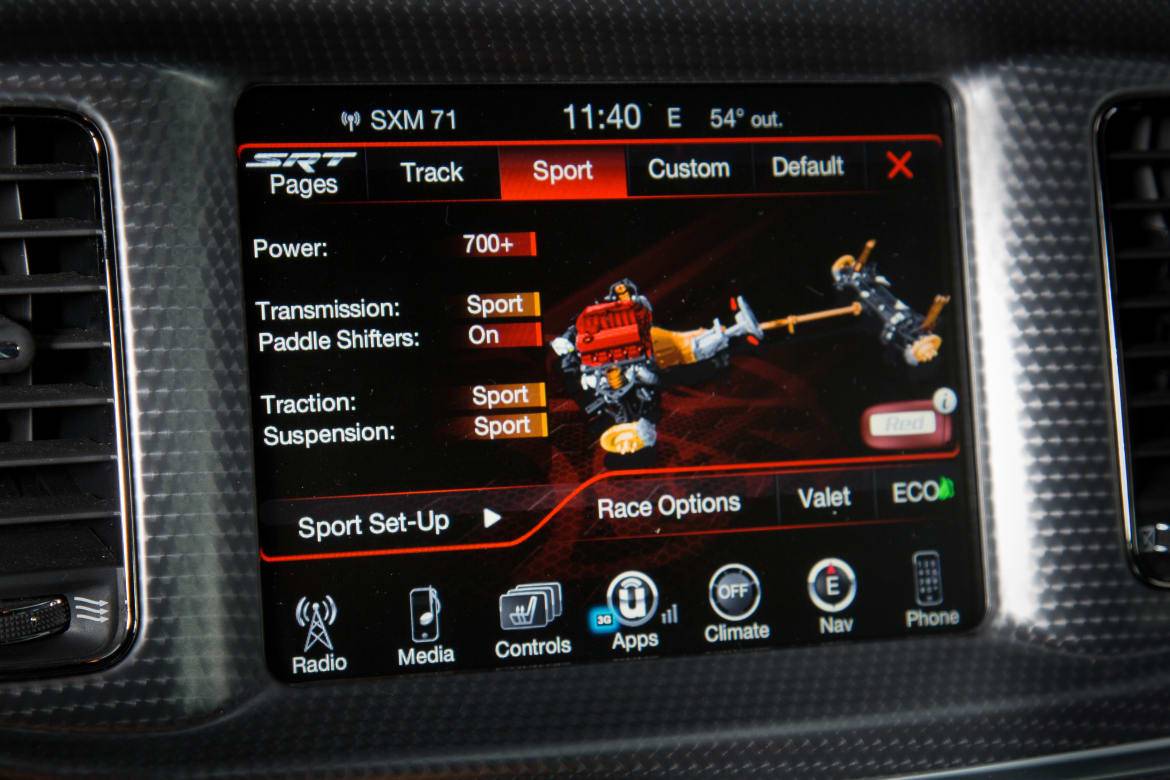 Paddle Shifters
The steering-wheel-mounted paddle shifters allow manual shifting and can be switched on or off – they're locked out in Eco mode, and enabled in Sport and Track modes. During dragstrip testing, we left the transmission in its auto mode and just hung on while trying to keep the steering wheel straight. The paddle shifters are best used for cornering where manually holding a gear can keep the engine speed in an ideal spot.
Traction
Traction and stability-system settings are a bit more mysterious because their effectiveness is not quite as obvious as transmission or suspension tuning unless you're driving sideways at wide-open throttle. Track, Sport and Street settings combine the balance of stability and traction control. Track mode has the least amount of stability control that lets the car handle freer than other modes, though traction control is still active. Sport mode turns off traction control for straight-line romps but keeps stability control active, though with less intrusion than the super-safe Street mode. Sport mode is our preference during dragstrip testing so it's not intrusive off-the-line, but it also leaves us a safety net in case things get sideways.
After programming the Custom driving mode to your liking, you can double tap the SRT button to activate the premade settings in Custom mode. Otherwise, you have to dig into the menus and select your mode. It's still not as convenient as BMW's steering-wheel-mounted programmable M1 and M2 buttons, but Custom mode is a good workaround for on-the-fly changes.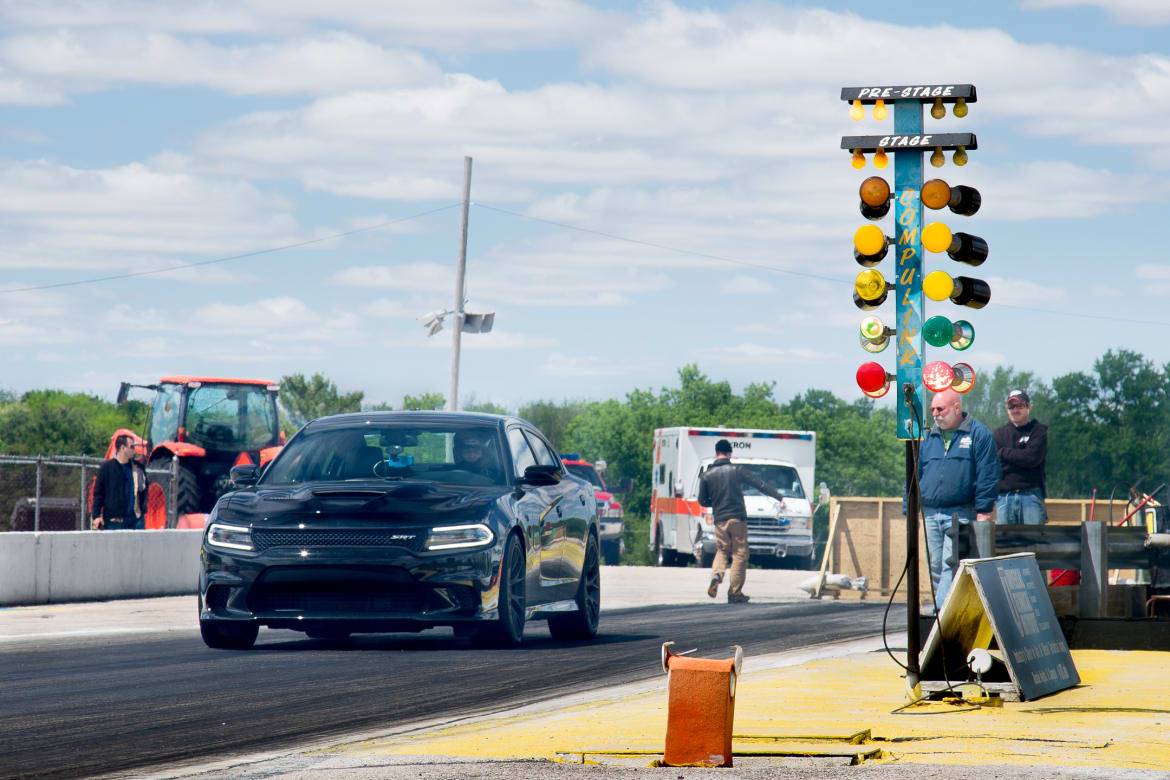 Handling isn't the Charger SRT Hellcat's strongest attribute, so my secret sauce for maximum Hellcat fun is the setting used for our best acceleration runs, Power: 700 (duh), Transmission: Track, Suspension: Street, Paddle Shifters: On and Traction: Sport.