What Does This Button Do?
CARS.COM — High-performance luxury cars and sports car models rarely disappoint. The model-year 2012 BMW M6 never disappoints when it comes to providing a multitude of modes that manifest in perplexing buttons. But there are two especially curious buttons on the M6's steering wheel named M1 and M2 that appear to have some essential vehicle function, because automakers don't typically put useless buttons on the car's steering wheel — well, typically.
Related: See More Curious Buttons
Someone at BMW might have been a Dr. Seuss fan when coming up with the buttons' names. They remind me of Thing 1 and Thing 2 from "The Cat in the Hat." Like the book characters, these buttons are useful. In this case, they help drivers when it comes to piloting this 560-horsepower luxury vehicle. Without them, the insane amount of adjustability of the BMW's dynamic systems is overwhelming.
Called M Drive, the M Drive 1 and M Drive 2 buttons save the vehicle's various suspension, engine, steering and stability control system settings in two specific configurations that can be chosen with one button press for instant driving characteristic changes. Each system on the M6 has up to three modes for suspension firmness, steering-wheel force, throttle sensitivity and stability control looseness, all of which have individual buttons for each function.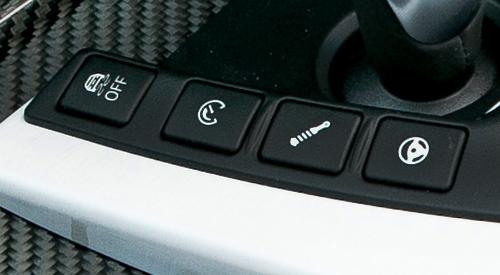 The M Drive buttons on the steering wheel keep things simple by saving favorite combinations into M1 and M2 menus. For example, M1 can be programmed with all modes in their least aggressive comfort and efficient modes for a leisurely cruise. When it's time to hammer down, M2 can be programmed with the most aggressive Sport Plus setting for the BMW's suspension, engine and steering systems as well as a little looser stability mode — M Dynamic Mode — to wring the most from the M6. Or maybe you're a person who wants all the extremes on M1 and all the extremes but a softer suspension on M2. Hit a bumpy road? Bam, push M2.
Set up like I did, driving the M6 in M1 versus M2 modes makes for a night-and-day difference in terms of vehicle dynamics. The two buttons proved extremely useful and convenient with their steering-wheel placement instead of fumbling around the BMW's console area for a sport button and stability button. I guarantee I used the steering-wheel-mounted M Drive buttons more than the car's steering-wheel audio controls.
Cars.com's Editorial department is your source for automotive news and reviews. In line with Cars.com's long-standing ethics policy, editors and reviewers don't accept gifts or free trips from automakers. The Editorial department is independent of Cars.com's advertising, sales and sponsored content departments.