Ranger, Gladiator, Ridgeline, Canyon: Which Has the Best Bed and Tailgate?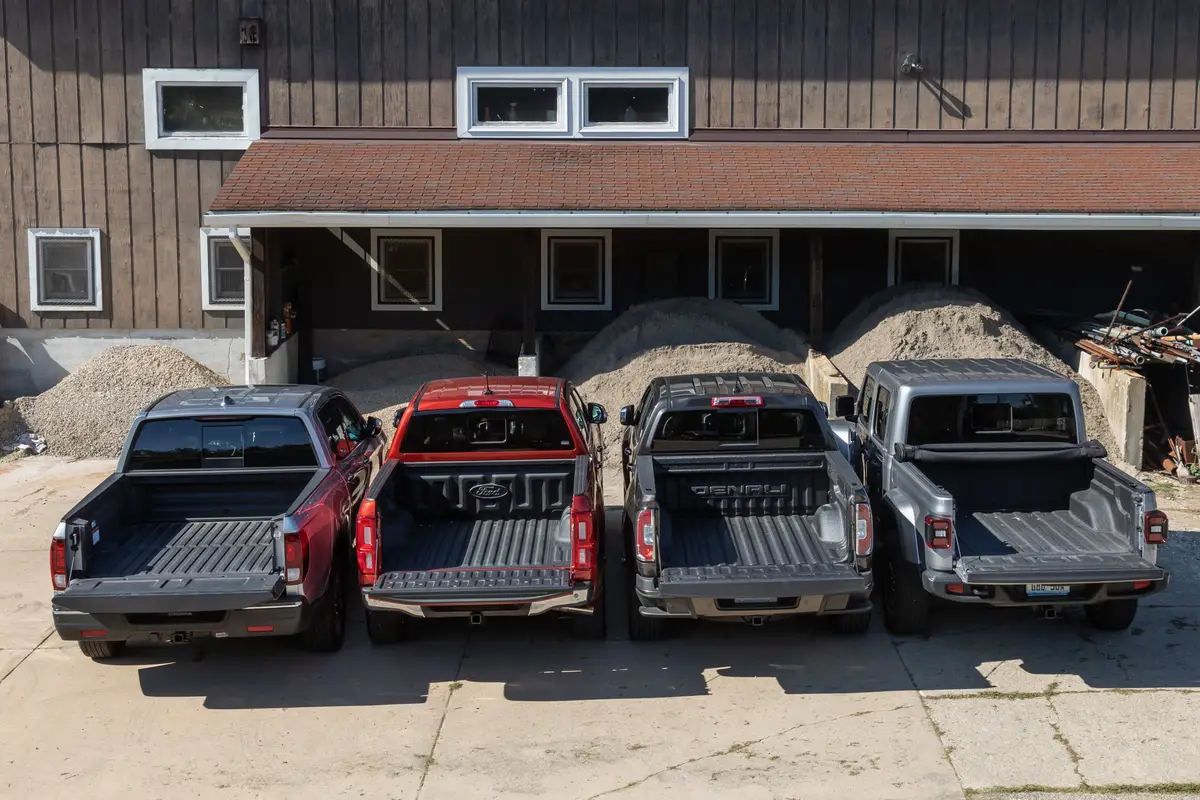 Mid-size trucks may not be workhorses like their larger full-size siblings, but they still must be ready to do various jobs when needed. One of the most frequent ways they're put to work is by having their cargo boxes loaded up — whether with a load of mulch for the backyard or a dorm room's worth of stuff when moving a child to college.
2019 Mid-Size Truck Challenge
Results | Winner | How We Tested | Bed Test | Mileage Drive
For our 2019 Mid-Size Truck Challenge, we measured the cargo boxes and scrutinized the various cargo bed features of the four trucks in our test: the 2019 Ford Ranger, 2019 GMC Canyon, 2019 Honda Ridgeline and 2020 Jeep Gladiator. The difference in measured cargo box volume from the smallest to largest bed was around 5 cubic feet, but the Ridgeline, with its unique cargo box and tailgate along with innovative features, separated itself from the other three trucks and their traditional boxes.
We evaluated each truck using a 30-point scale, with up to 20 points reserved for measured volume. Bed and tailgate features made up the remaining 10 points. See How We Tested for more information on how these trucks' beds and tailgates were tested.
Here's a closer look at each truck's cargo bed and related features.
Winner: 2019 Honda Ridgeline RTL-E Crew Cab, 25 Points (Out of a Possible 30)
Measured cargo box dimensions:
Length: 59.25 inches
Width: 58.25 inches
Height: 15.25 inches
Cubic feet: 30.5 (not including 8-cubic-foot in-bed trunk)
The Ridgeline's cargo box measures 30.5 cubic feet not counting the truck's in-bed trunk, but it's shaped differently than the other trucks we tested. The lack of intruding wheel wells contributes to a usable bed width of 58.25 inches, which is nearly 14 inches greater than the Gladiator's next-widest box. On the other hand, the Ridgeline also has the shortest sidewalls in our test at 15.25 inches, or 1.5 inches shorter than the Gladiator's bed walls and 5 inches shorter than the Ranger's, which are the tallest.
The other thing that makes the Ridgeline's cargo bed different is its number of innovative features. One of them — its in-bed trunk — is made possible by the Ridgeline's car-based unibody platform, but many of its other features aren't platform-dependent. These include box-side supplemental lighting, a household power outlet, eight fixed tie-down cleats rated to 350 pounds and a dual-action tailgate that lowers like a traditional tailgate or swings open like an SUV swing gate; these extra features pushed the Ridgeline to the win in this category.
The tailgate's dual-opening design is important because the swing gate makes it easier to reach things in the in-bed trunk. Lifting a hinged rear section of the box floor reveals the trunk, which is a substantial 8 cubic feet, according to our measurements. Though you can't lock the tailgate as you can with the other trucks, there's a lock for the trunk that's part of the power locking system. The trunk is also washable and includes a drain.
One downside of this layout is that Honda elected to put the temporary spare tire and jack on a ledge in the trunk. While this keeps them secure, it also makes them difficult to reach if you get a flat tire while hauling a load of gravel or dirt in the bed.
The Ridgeline has one last feature that's sure to wow your friends: an available Truck Bed Audio System. Rather than fitting the cargo box with traditional speakers, the Truck Bed Audio System uses the bed walls to bring sound from the truck's stereo outside the cab. Sound quality is surprisingly good — even with 25 bags of salt in the bed. (We didn't consider this audio system in our scoring because it isn't a functional element of the cargo box.)
2019 Ford Ranger Lariat SuperCrew, 21 Points
Measured cargo box dimensions:
Length: 58.25 inches
Width: 44 inches
Height: 20.25 inches
Cubic feet: 30
The four-door Ranger SuperCrew has a 5-foot cargo box with a measured cargo volume of 30 cubic feet, second only to the Ridgeline's 30.5-cubic-foot box. To get a 6-foot box, you must choose the SuperCab (extended-cab) body style; the Canyon is the only truck in this test that offers a 6-foot box with a crew cab.
Unlike the Ridgeline, which doesn't have wheel wells intruding into the cargo box, the Ranger has a traditionally shaped box. The bed's 20.25-inch sidewall height was the tallest in our test, besting the Canyon's by a quarter inch.
Even though we tested a top Lariat trim level, the Ranger's cargo box had the fewest features of the four trucks. It has six fixed cleats rated to a stout 661 pounds each, a power-locking tailgate and supplemental lighting at the rear of the cab.
2019 GMC Canyon Denali Crew Cab, 21 Points
Measured cargo box dimensions:
Length: 59 inches
Width: 43.5 inches
Height: 20 inches
Cubic feet: 29.7
Four-door crew-cab Canyons offer a choice of a 5- or 6-foot cargo box; our truck had the 5-foot bed. Its length, width and height measurements are very similar to the Ranger's, and its measured volume was a slightly smaller 29.7 cubic feet.
Our test truck was a high-end Denali trim level, but the cargo box had relatively few amenities. There were four fixed cleats rated to 250 pounds each, supplemental lighting at the rear of the cab and a damped tailgate. The tailgate lock, however, isn't on the power lock system; you must use a key to manually lock or unlock it.
2020 Jeep Gladiator Overland Crew Cab, 21 Points
Measured cargo box dimensions:
Length: 59.75 inches
Width: 44.5 inches
Height: 16.75 inches
Cubic feet: 25.8
The all-new Gladiator is around 5 inches longer than the next-longest truck in our test, the Canyon, but its cargo box was the smallest of the four with a measured capacity of 25.8 cubic feet. The Gladiator's bed length and width are close to the Ranger's and Canyon's, but the Jeep's bed walls were around 3 inches shorter. The Gladiator, however, was the only truck in our test with a tailgate you can set at an angle by looping the cables in front of a cleat. The four fixed cleats in the Gladiator's cargo box are rated to 500 pounds.
The Gladiator was also the only as-tested truck with a tonneau cover. (Factory or aftermarket tonneau covers are available for the other trucks, too.) The fabric cover is easy to roll up when not needed and, in conjunction with the power-locking tailgate, helps create a secure, covered storage area. Other features include box-side supplemental lighting and a damped tailgate.
How We Measured
When measuring the length, width and height of each cargo box, we rounded to the nearest quarter inch. For box width, we measured between the wheel wells where present. For box height, we measured up to any trim molding. Length was measured from the top of the cargo box with the tailgate closed.
More From Cars.com:
Cars.com's Editorial department is your source for automotive news and reviews. In line with Cars.com's long-standing ethics policy, editors and reviewers don't accept gifts or free trips from automakers. The Editorial department is independent of Cars.com's advertising, sales and sponsored content departments.