What Were the Best-Selling Cars in 2017?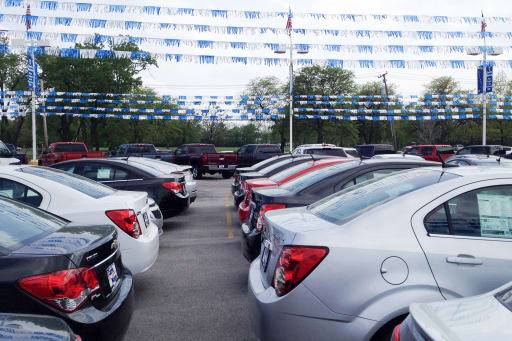 CARS.COM — What goes up, must come down — or at least plateau. After seven consecutive years of gains, U.S. new-car sales fell in 2017. The dip was modest — 1.8 percent, by Automotive News' count — and demand remains strong in historical terms. By the newspaper's tally, car sales in 2017 outpaced those of the last down year, 2009, by 65 percent.
Related: Got Good Credit? Your Car-Loan Interest Rate May Depend On It
Curiously, the best-selling cars from both years read like reshuffled deck chairs, with successors to eight of 10 nameplates still atop the 2017 pile:
1. Ford F-Series (up 9. 3 percent)
2. Chevrolet Silverado (up 1.9 percent)
3. Ram pickup trucks (up 2.3 percent)
4. Toyota RAV4 (up 15.7 percent)
5. Nissan Rogue (up 22.3 percent)
6. Toyota Camry (down 0.4 percent)
7. Honda CR-V (up 5.8 percent)
8. Honda Civic (up 2.8 percent)
9. Toyota Corolla (down 13.0 percent)
10. Honda Accord (down 6.5 percent)
Look closely at the order of these top selling cars, however, and significant differences emerge. Last year on the 2017 list, the first model that isn't an all-new pickup truck or SUV is the No. 6 Toyota Camry. That's a marked contrast in best-selling cars from 2009, when the average price for a gallon of regular unleaded gas climbed 60 percent and the Camry landed at No. 2. In the previous year, we saw no such volatility in pump prices — and sedans, coupes and hatchbacks accounted for just four of the top 10 best-selling cars. 
That's a snapshot of sales trends over the past few years, as shoppers migrate from cars — that is, sedans, coupes, wagons and hatchbacks — to trucks and SUVs amid steadier gas prices and low interest rates. Indeed, Automotive News tallies indicate sales for non-luxury mid-size sedans plunged 16.1 percent from 2016 to 2017. And that's despite redesigns for two major players, the Toyota Camry and Honda Accord, hitting the market late in the calendar year. Sales for their compact counterparts fell 3.4 percent, but sales for compact SUVs (nameplates like the Ford Escape, Honda CR-V and Nissan Rogue) increased 4.2 percent.
The shift in selling cars came even as automakers and dealers tilted incentives toward sedans, coupes and hatchbacks. Take a sales-weighted average of incentives among the top-five best-sellers in those body styles, and discounts per Autodata Corp. gained 12.9 percent in 2017. That's notably higher than the same weighted average of discounts among the top five best-selling SUVs in 2017, whose incentives gained only 7.1 percent. In short, anyone shopping popular SUVs in 2017 saw bigger discounts — but anyone shopping their lower-riding counterparts saw larger deals still.
Granted, those shopping for any new cars, not just the best-selling cars like the Toyota Corolla or the Honda Civic, saw bigger discounts in 2017. Incentives increased industrywide last year — a trend we've chronicled monthly in our Best New-Car Deals series — averaging $3,672 for the year. That's up 9.7 percent from 2016 ($3,348 per car). And that's concerning for the industry.
"You take a little bit of a deeper look beyond the topline sales metrics and you start to get a little bit more uncomfortable with the results, particularly with the rise in incentives," said Thomas King, senior vice president of J.D. Power and Associates' data and analytics division. "Incentives are proportionally larger on the car segments, which are certainly struggling … [but] across the board, we are certainly seeing elevated spending."
The good news for shoppers? King sees no sign of a slowdown.
"Incentives only ever go up unless you have some major correction in the industry like the recession," he told Cars.com. "The number of new cars that get sold is really a function of how many vehicles manufacturers decide they want to sell. The only way we really see a step back in incentives spending is [that] the industry takes a step back."
King thinks that's unlikely: "Nobody likes to set sales plans that include significant contractions."
Editor's note: This story was updated, Jan. 8, 2018, to correct the percentage gain of the top five best-selling SUVs' incentives in 2017.
Cars.com's Editorial department is your source for automotive news and reviews. In line with Cars.com's long-standing ethics policy, editors and reviewers don't accept gifts or free trips from automakers. The Editorial department is independent of Cars.com's advertising, sales and sponsored content departments.