What's on a Car's Window Sticker?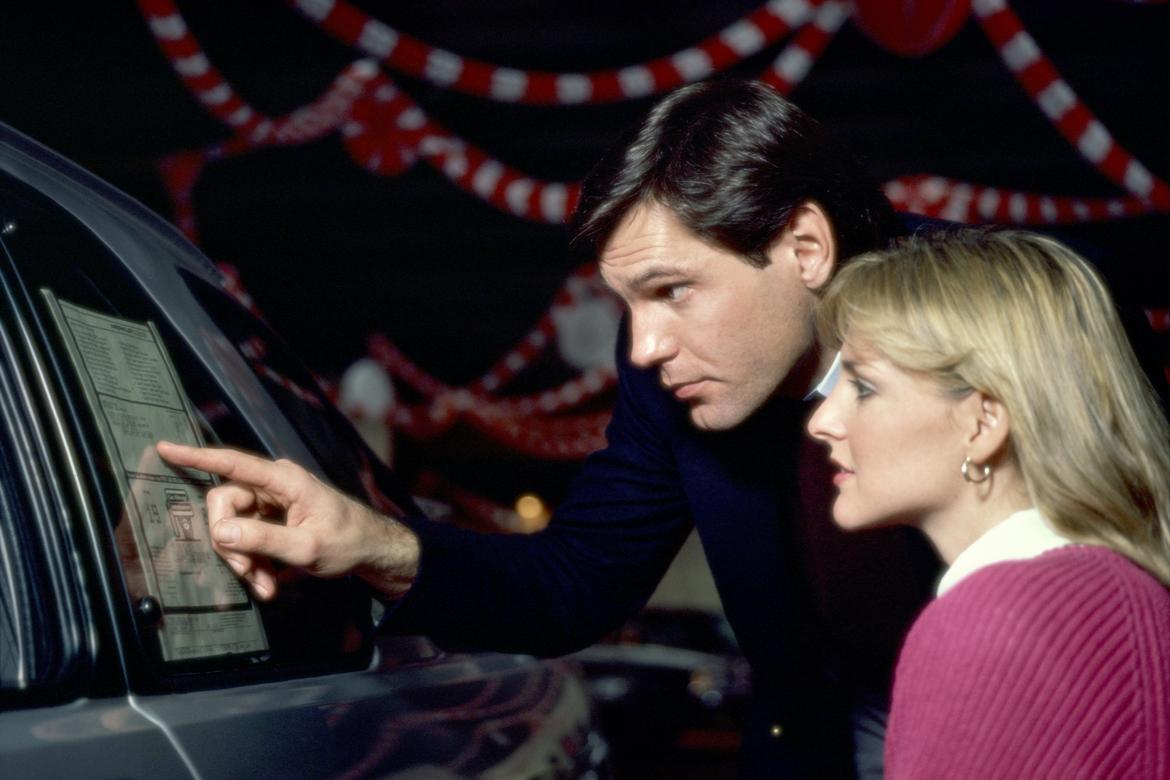 CARS.COM — When a car or truck is built, it's issued a window sticker known as a Monroney sticker. Information on the window sticker verifies its make, model and year and provides its suggested retail price — thus, its "sticker price" — and a comprehensive list of its standard and optional equipment. Each vehicle also has a vehicle identification number on its window sticker. All of these statistics officially identify the car or truck for shoppers on a dealer's showroom floor. If you are in the market for a new car, the window is one of the most important places to look. Glancing at the window provides you with most of the information you need to know about any new vehicle.
Related: Should I Buy a New or Used Car?
When you're shopping for a new car from a dealer, the car window is the first place you should look on any vehicle for a lot of important information. The sticker on the window is a rich source of essential information about a new automobile. The window sticker lets you know exactly what's included with any particular new car, as well as helping to ensure that you're getting the exact options you're paying for.
The window sticker also provides a valuable historical record. It's a good idea to keep copies of the sticker in the glove box for reference, as when future repairs are needed and specific parts are required. The sticker also documents the list of original accessories that came with the vehicle if you eventually sell it.
U.S. law requires a window sticker, known as a Monroney label, to be displayed on all new cars. These stickers must include certain information about the vehicle in these six areas:
Manufacturer's Suggested Retail Price
MSRP, or manufacturer's suggested retail price, is the retail price for which the manufacturer suggests a dealer sell a car. It is different than the price the dealer paid the manufacturer for the car, which is the invoice price. Dealers can choose to sell cars for higher or lower than the MSRP, but most buyers negotiate with dealers to get them to sell for less than the MSRP to minimize their costs as much as possible.
Engine and Transmission Specifications
The window sticker is required to show the type of engine in the vehicle with its size and number of cylinders, like a 3.5-liter V-6 or a 2.5-liter four-cylinder. The type of transmission is noted as well, such as a six-speed manual or eight-speed automatic.
Standard Equipment and Warranties
This large section on the sticker's left side has a list of safety features, such as airbags and a backup camera; interior features such as heated seats, a touch-screen display and satellite radio; and exterior features, including the type of wheels, side mirrors and headlights.
The warranties for basic, powertrain and roadside assistance are listed in years and miles. For example, a three-year/36,000-mile basic warranty would cover repairs for factory-installed parts for up to three years or 36,000 miles driven, whichever comes first. A five-year/100,000-mile powertrain warranty covers engine and transmission repairs for five years or 100,000 miles, whichever comes first.
Optional Equipment and Pricing
The optional equipment section lists the additional features included on the car in question, and the price for those features. This could include anything from special paint finishes to a navigation system to a sport package.
Also listed on this part of the window sticker is the total price of the car, including optional equipment and the destination charge, a fee for transporting the car from the factory to the dealership.
Crash-Test Ratings
The National Highway Traffic Safety Administration uses a five-star scale to rate a vehicle's safety, with five stars being the best. It performs frontal, side barrier and side pole crash tests, and assigns a rollover rating. NHTSA does not rate every car, but all cars must meet Federal Motor Vehicle Safety Standards. These ratings must be displayed on the window of all new cars sold at dealerships.
Fuel-Economy Ratings
Starting on 2013 models, the Monroney stickers must include a more comprehensive fuel economy and environment section with fuel-cost estimates, emissions ratings and, for alternative-fuel vehicles, additional efficiency details.
On the left side of the fuel-economy section is the EPA's estimated fuel economy for combined city/highway driving in mpg or miles per gallon-equivalent for electric vehicles. Separate ratings for city and highway driving are immediately to the right. It also shows how many gallons of fuel (or kilowatt-hours for electric vehicles) are consumed past 100 miles. For electric cars, the label also shows estimated charging time and driving range.
To the right of the fuel-economy information is an estimate of how much money you will save on fuel costs over five years compared to the average new vehicle. Below is an estimated annual fuel cost as well as a fuel-economy and greenhouse-gas rating and a smog rating, both on a scale from one to 10, with 10 the best score.
Underneath these sections are the numbers used to calculate estimated fuel costs and a reminder that your mileage may vary. Finally, there is a QR code that can be scanned to get more information.
Parts Content Information
This box includes six pieces of information about the origins of the car's parts. These include the percentage of parts that come from the U.S. or Canada, the names of any other countries that contribute 15 percent or more of the equipment, the final assembly point, the country of origin for the engine and transmission, and a note that parts content does not include final assembly, distribution or other non-parts costs.
Cars.com's Editorial department is your source for automotive news and reviews. In line with Cars.com's long-standing ethics policy, editors and reviewers don't accept gifts or free trips from automakers. The Editorial department is independent of Cars.com's advertising, sales and sponsored content departments.