What's the Best Subcompact SUV?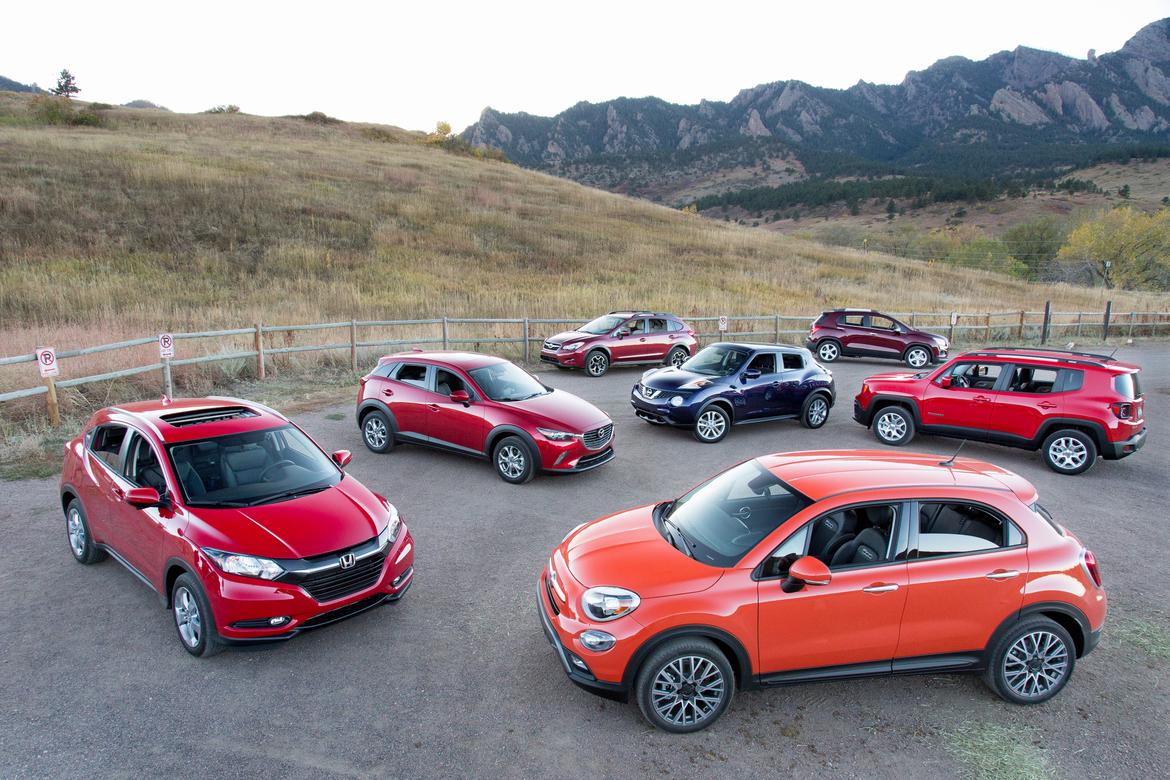 The subcompact SUV category is nearly a brand-new car segment. More than half of the entries have been on sale for less than a year. We discovered while testing this group that it's really a collection of compromises. While they offer more space than subcompact cars and better fuel economy than compact SUVs, there are other tradeoffs as well, as you'll read below. Still, all of these automakers have high hopes for this segment, and several of them have the sales to back up those hopes.
The Subcompact SUV Challenge
Results | What to Expect | Mileage Test
The contenders:
2016 Chevrolet Trax (new for 2015)
2016 Fiat 500X (all-new)
2016 Honda HR-V (all-new)
2015 Jeep Renegade (all-new)
2016 Mazda CX-3 (all-new)
2015 Nissan Juke
2015 Subaru XV Crosstrek
To compete, the automakers needed to provide us with an SUV that has all-wheel drive as an option (whether they wanted the competitor to have that was up to them); it could not be more than $27,000, including the destination fee. The automakers provided all the SUVs except for the CX-3; Mazda did not have one available, so we secured one through a broker.
We put the SUVs through a week's worth of testing in and around Boulder, Colo.:
We drove them on a 204-mile real-world mileage course that started in Boulder, headed into the Rocky Mountains and Estes Park, Colo., and down through Loveland, before driving south to Denver and then returning to Boulder.
We had our judges drive them back-to-back-to-back on the same pavement to evaluate ride, handling, comfort, acceleration and more.
We brought in an in-market couple to test the SUVs for their utility, ride and more.
From all of that testing, we found our winner. Our judges were:
Aaron Bragman, Detroit bureau chief for Cars.com
Joe Bruzek, road test editor for Cars.com
Jennifer Geiger, assistant managing editor for Cars.com
Brian Robinson, producer for PBS' "MotorWeek"
Chris Woodyard, auto writer for USA Today
Joel and Christine Kruppa, our in-market shoppers. Joel, 31, is a mechanic and his wife, Christine, 30, is looking to replace her Honda Civic with one of these subcompact SUVs. She's an office manager, and they live in Lakewood, Colo.
The scoring broke down this way:
75 percent from the judges' scoring
15 percent from our family shoppers
10 percent from the mileage drive
What You Get
What the Judges Said
7. 2016 Chevrolet Trax, 566 points
The Verdict: "The Trax seems unrefined compared to the rest of the group," Woodyard said, "not quite ready for prime time. Still, the storage was the best in the group."
What They Liked
The vroom-vroom: "The turbocharged engine was one of the gutsiest in the group," Bruzek said, in a comment that was echoed by several judges. "I felt powerwise, it accelerated pretty well," Joel said.
The room, room: "Chevrolet wasted no space in the Trax's cabin," Geiger said. "Despite its tiny dimensions, it's loaded with handy nooks and crannies for stashing small items." Robinson liked the "nice, big, flat load floor," and Bragman said, "it doesn't feel cramped at all."
The tech: Several judges applauded the built-in Wi-Fi hot spot, "a big bonus for families with tablet-addicted kids," Geiger said. "I like that I can unlock my car from my phone," Joel said.
Its soft ride: "It isolates the cabin from rough roads," Bruzek said, and Bragman agreed: "It's quiet and smooth on just about any surface."
What They Didn't
Poor interior quality: "I would say it feels quite cheap," Joel said. "It feels like a rental car, and this is the LTZ [top trim]." "The interior has unconvincing imitation leather, cheap-looking fake metal trim and so much hard plastic that the cabin practically echoes," Geiger said. "The interior looks and feels 10 years behind every other vehicle here," Robinson said.
Rough power: "The Trax's powertrain polish is a problem," Geiger said. "It shakes at idle, groans up to speed and clunks into gear." The "engine felt coarse," Woodyard said. "Engine noise is especially egregious," Robinson said.
Missing features: "The only USB port is in a dash cubby," Bragman said, "with no external gap for a cord." "There's no navigation or sunroof," Woodyard added. "It lacks advanced safety features," Bruzek said.
Research the Chevrolet Trax | Search Inventory Near You | Car Seat Check
6. 2015 Nissan Juke, 632 points
The Verdict: "Love it or hate it, and I've always done more of the latter, you have to give the Juke its props," Robinson said. "It was way ahead of the game, basically starting this whole fun-sized crossover craze."
What They Liked
Moves like dagger: "It's got sports-car moves, and the steering feel is outstanding," Bragman said. "Once that turbo spools up, hang on: Acceleration is fierce." It has "plenty of zip," Geiger said, and Bruzek liked its "hot-rod acceleration for this class," and "sports-car handling with its all-wheel drive." "It's a CVT [continuously variable transmission] that feels like it has gears," Joel said. "It legitimately feels like a traditional transmission. Even in Normal mode, there isn't that buzzing that the Honda has. So much better."
Visibility: "The surround-view camera system is one of the most useful safety features I've ever used, taking the anxiety out of parking maneuvers," Geiger said.
Unique styling: "The Juke looks like nothing else on the road, and I celebrate its weirdness," Geiger said. "Its animated, frog-face styling turns heads." "Still fun, still quirky," Robinson said. "Even with all of the competitors that have entered the segment, the Juke still stands out."
What They Didn't
Unique styling: "It's so, so ugly. Not even like 'pug-dog' ugly, it's just hideous," Bragman shuddered. "Do we need to say it?" Woodyard asked. "It hurts the eyes."
It's tiny: "There should be a sign on the Juke's cargo area that says, 'Warning: Just for show,' " Geiger said. There's "so little interior space that it's hard to really consider it an SUV," Robinson said. "This should be a two-seat roadster, not a four-door hatchback," Bragman said. "If you need to carry anything other than two small kittens in the backseat, look elsewhere," Geiger added.
Sound and fury: "NOISY," Robinson yelled. "Whether it's the engine, wind noise or tire noise, there is a full-on aural assault upon your ears happening at all times." Bruzek was troubled by its "rough ride."
Interior quality: "The materials are mixed bag of nice and weird," Bragman said, and others agreed. "The Juke's designers were probably aiming for sporty with the cabin, but it's far from it," Geiger said. "The honeycomb-pattern sport seats hit the mark, but the glossy-red plastic paneling is garishly off-base."
Research the Nissan Juke | Search Inventory Near You | Car Seat Check
5. 2015 Jeep Renegade, 651 points
The Verdict: "The Renegade charms with its rugged good looks, high-quality cabin and seamless multimedia system," Geiger said, "but its unrefined powertrain and trucklike handling are disappointing."
What They Liked
SUV, baby! "The Renegade has fantastic styling," Bragman said. "It's the only vehicle here that looks and feels like a proper SUV." Bruzek liked the "distinctly Jeep styling and design Easter eggs" hidden both in the SUV's cabin and exterior. "It's more rugged than luxurious," Joel said. "It's very Jeep."
Riding high: "The tall ride height and squared-off roofline provide class-beating headroom and a commanding view of the road," Geiger said. Bruzek also liked that it has "power seating at this price r