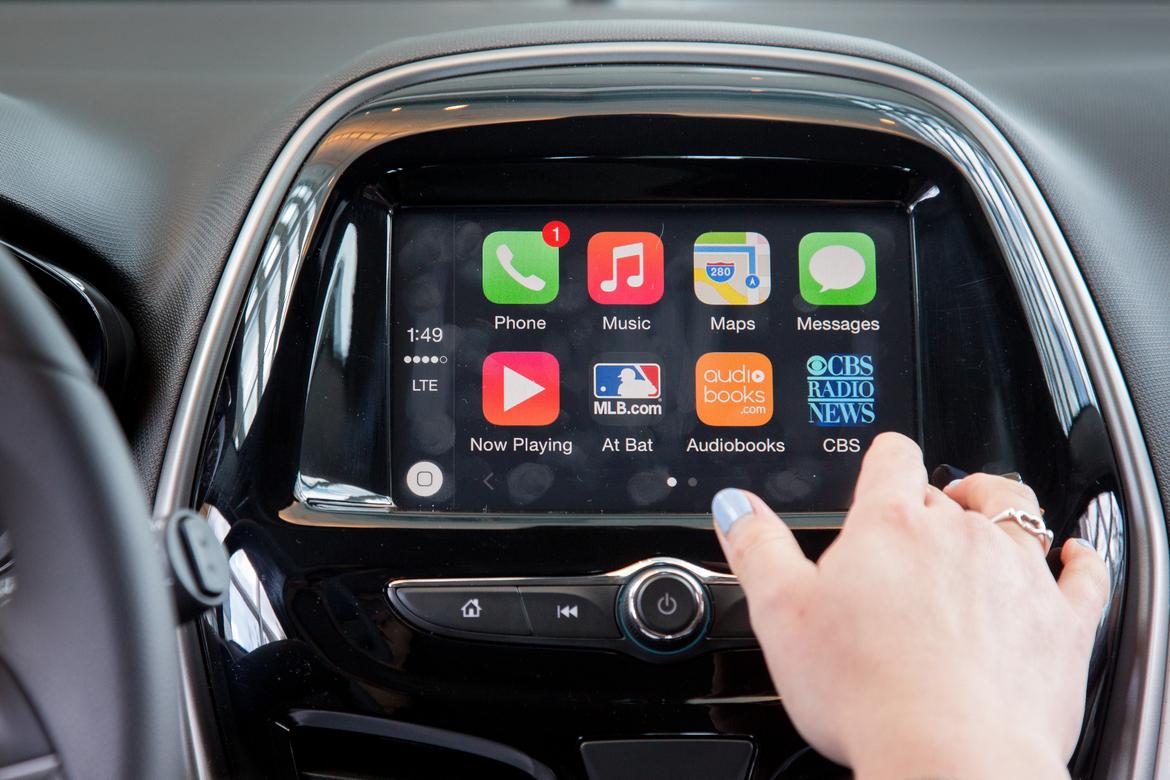 CARS.COM — If you're among the millions who crave the ability to seamlessly link your smartphone to your vehicle, many model-year 2016 vehicles can satisfy that desire with Apple CarPlay and Android Auto.
Related: Which 2016 Cars Have Android Auto?
Apple CarPlay allows users to control smartphone functions such as text messaging, navigation and music via their car's dashboard touch-screen, steering-wheel buttons and voice commands. The system is scheduled to become available on more than 40 vehicles during the 2016 model year.
Features such as these usually appear first on high-end vehicles and then trickle down to the lower-price cars, and CarPlay started that way: Its world debut was on the $302,450 Ferrari FF.
For the 2016 model year, though, mass-market brands such as Chevrolet and Volkswagen are getting the jump on many luxury makes by offering CarPlay on most models. CarPlay is scheduled to be available on the Honda Accord and Civic, and the Hyundai Sonata. It's also slated to be available on the redesigned-for-2017 Hyundai Elantra.
The operative word here is "scheduled," because some automakers said they would offer these features earlier only to find that integrating a smartphone into a vehicle's audio system is no easy task. On several vehicles, only one of the two systems will be available initially, and the other will be added later in the model year. It is possible that one or both could be delayed.
These late-availability additions will be updated on 2016 cars already sold. Owners will be able to get the connectivity later either via an update they perform themselves or at the dealership.
For example, Ford says that later this year it will make a software update available for its Sync 3 infotainment system that will allow vehicle owners to use Android Auto and CarPlay.
GM vehicles equipped with a 7-inch audio screen were supposed to have CarPlay and Android Auto from the start of 2016 production. On models with an 8-inch screen, CarPlay was supposed to be installed from the start of 2016 production, but Android Auto was not scheduled to be added until March 2016 production. On vehicles produced before then, software for Android Auto should be available through dealers in March.
Moreover, CarPlay and Android Auto may require specific audio systems and/or a built-in navigation system on some vehicles, so they won't be available on all trim levels.
Several automakers have indicated they will soon add CarPlay and Android Auto, so expect more models to get them during the course of the 2016 and 2017 model years. (The list below is accurate as of Feb. 1, 2016.)
BMW, Fiat Chrysler Automobiles (Chrysler, Dodge, Fiat, Jeep and Ram brands) and Toyota (Toyota, Lexus and Scion brands) do not currently offer CarPlay or Android Auto in their 2016 models. Toyota is developing its own platform, SmartDeviceLink, that is an open-source version of Ford's AppLink. Unlike Ford, though, Toyota does not plan to add CarPlay or Android Auto capability. FCA announced compatibility is coming with the next generation of its multimedia system.
CarPlay is supposed to work with iPhone 5 and later versions. The best approach is to try CarPlay before you buy to ensure that it does at least some of what you want and to have realistic expectations that the plug-and-play promise might not be entirely fulfilled. Click here to read our hands-on test of CarPlay and continue below for a list of 2016 vehicles that offer it.
2016 Vehicles Offering Apple CarPlay
Cadillac
ATS
CTS
CT6
ELR
Escalade
XTS
Chevrolet
Camaro
Colorado
Corvette
Cruze
Impala
Malibu
Silverado 1500
Silverado 2500/Silverado 3500
Spark
Suburban
Tahoe
Volt
GMC
Canyon
Sierra 1500
Sierra 2500/Sierra 3500
Yukon
Yukon XL
Honda
Accord (EX, EX-L and Touring)
Civic (EX, EX-L, EX-T and Touring)
Hyundai
Sonata (late availability)
Kia
Optima (late availability)
Sportage (late availability)
Mercedes-Benz
(Availability started with Dec. 1, 2015, production)
CLA
CLS
E-Class coupe and cabriolet
GLA
GLE-Class (availability began with Jan. 8, 2016, production)
Volkswagen
Beetle (SE models and higher)
CC (Trend models and higher)
Golf (all trims except base 2-door)
Golf GTI
Golf SportWagen
Golf R
e-Golf
Jetta
Passat
Tiguan
Volvo
XC90