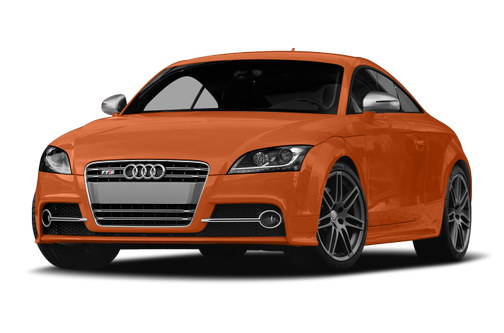 Key specs
Base trim shown
Overview
The good:
Performance potential
Standard stability system
Brushed aluminum interior trim
2 trims
Starting msrp listed lowest to highest price
Notable features
High-performance TTS trim level
Automatic transmission only
AWD only
3.2-liter V-6 engine dropped
Coupe or roadster
2011 Audi TTS review: Our expert's take
What does an S add?
Grammatically speaking, an S can create a plural. Tack it on to the end of a noun and suddenly there's more.
In the automotive world, the S at the end of a car's name is shorthand for speed, sportiness and a certain amount of sexiness that just doesn't come with the standard model. S is the big plus sign and exclamation mark all at the same time.
The 2011 Audi TTS is no exception. The TT is a great little coupe that already provides a sporty ride wrapped around German precision. The TTS is more; it's like a TT that goes to 11.
The heart of the TTS is its beautifully built 265-horsepower TFSI direct injection turbocharged 2-liter four-cylinder engine. While nearly identical to the TT's 2-liter engine, the TTS uses a few different pieces to add 54 horsepower. But because the TTS is also lighter than the TT — Audi uses more aluminum in its body components — it matches the less powerful TT's gas mileage: 22 mpg city and 31 mpg highway.
Sadly, there's no manual transmission to go along with that beautiful engine. Instead, Audi offers a silky smooth S tronic dual clutch six-speed transmission. This gear box shifts incredibly fast and anticipates what the driver will do next. (This is meant as a metaphor; Audi uses a number of sensors and a computer to send messages to the transmission and get ready for the next shift.)
All of that power, light body and high-speed transmission lets the TTS bolt from 0 to 60 mph in 4.9 seconds. Standard all-wheel drive doesn't hurt either, letting the TTS rip through corners as if it were on rails instead of pavement.
Of course, the magnetic suspension, a high-tech dampening system that can nearly instantly adjust how the car's body reacts to bumps, corners and other high speed driving, adds to the car's performance.
Then there's the car's Servotronic steering system. A new standard edition to the TT family for this model year, it feels extremely precise. The new system is speed sensitive and changes the steering ratio depending on the speed. If you're driving slowly, the ratio is quicker, and as you speed up, it gets tighter. This means it's easier to park and safer to cruise along on the highway. It's also incredibly fun to drive; there may be a reason why TTS rhymes with yes.
The one gripe I had with the TTS was the accelerator pedal. There was a brief pause between the moment you pressed the pedal and when the car began moving forward. An owner may get used to this idiosyncrasy, but I found it annoying. The one way I was able to bypass this lag was to always mash the pedal when taking off.
Like TT but better
Inside, the TTS is similar to the TT, but still better.
There are some features such as the Silk Nappa Leather package that are options for the TT but are standard on the TTS.
In fact, for the 2011 TTS, Audi has added a number of standard features such as the auto dimming rearview mirror, 10-way power seats, nicely placed aluminum accents on the flat bottom steering wheel, center console and door handles. These add just the right amount of sparkle to an otherwise dark interior.
There are all of the features you'd expect in a luxury sports car. Audi includes the large color screen in the center stack, and it's easy to operate. There's an uncluttered feel to the entire cabin that exudes purpose. This car caters to the driver and allows the driver to focus on driving.
The leather interior with its heavy stitching is simply stunning. But that isn't enough for a bunch of German engineers. This leather is specially treated so that if the car is parked in the sun, the leather can reduce thermal heating by as much as 68 degrees. This means you can wear shorts and drive the car during the summer and not worry about burning your thighs.
The TTS coupe comes with a 2+2 configuration, which is automotive shorthand for second-row seats so small no people can actually fit in them. (There's 32.6 inches of head room in the second row and 29.3 inches of legroom back there.) The second row, however, does fold down and creates a lot of very useable space — transforming the 10.1-cubic-feet space behind the second row into 24.7 cubic feet.
Of course, it will play your iPod or Sirius satellite radio through the nine-speaker stereo system, allow for Bluetooth connectivity for hands-free cell phone operation, bring up maps on a crystal-clear screen and offer other features you'd expect.
Nice, not mean
The exterior is just as nice with just as many pieces of jewelry that help it sparkle.
The TTS is not a big coupe. It is only 164.5 inches long, about the size of many subcompact cars. But it's perfectly proportioned, with its big 19-inch wheels pushed out to the corners of the coupe. It may be small, but it looks sharp; call it the Tom Cruise of sports cars.
Well, maybe more of a Christian Slater, because the TTS doesn't look aggressive or mean. There's a roundness to the exterior that hides much of this car's capabilities. Only the S badge might suggest there's something more to it.
A stripe of LED lights below the headlight gives the TTS some electrical war paint that makes everyone recognize this car means business. The LED trend around the headlights has caught fire with lots of carmakers, but still, Audi seems to just do it better.
Of course, you need the letter S if you want to spell the word "cash."
The TTS isn't cheap. It may be just a one letter difference, but the TTS starts at $47,000, $8,700 more than the regular TT.
It's a small price to pay to keep that grin on your face every day you drive it. The TTS will add an S to every mile.
sburgess@detnews.com (313) 223-3217
Report Card
Overall: *** 1/2
Exterior: Excellent. Well-proportioned and curvy. Looks good from every angle.
Interior: Excellent. Nicely laid out and excellent choice in materials.
Performance: Good. All-wheel drive and powerful engine make this car a dream to drive.
Pros: Fun to drive, lots of high-tech performance features. Clearly outperforms the base model TT.
Cons: Expensive and only seats two people.
**** Excellent *** Good ** Fair * Poor
Warranty
New car program benefits
Bumper-to-bumper

48 months/50,000 miles

Corrosion

144 months/unlimited distance

Powertrain

48 months/50,000 miles

Roadside assistance

48 months/unlimited distance
All model years for the Audi TTS