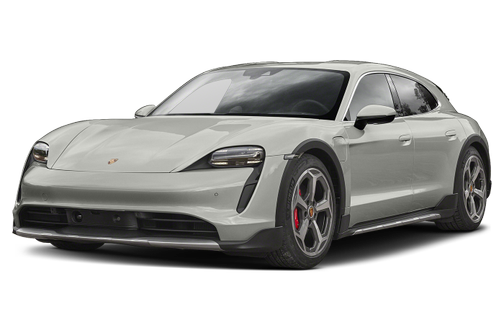 Key specs
Base trim shown
76

Combined MPGe

Combined MPGe

Miles per gallon-equivalent is how the EPA provides efficiency ratings for battery-electric vehicles in a way that can be used in comparison with gasoline-powered vehicles. Actual mileage will vary depending on driving conditions, driving habits, elevation changes, weather, accessory usage (lights, climate control), vehicle condition and other factors.

Related: Top 10 Most Efficient Electric Cars

215

mi.

EPA-est. range

EPA-est. range

EPA-estimated range is the distance, or predicted distance, a new plug-in vehicle will travel on electric power before its battery charge is exhausted. Actual range will vary depending on driving conditions, driving habits, elevation changes, weather, accessory usage (lights, climate control), vehicle condition and other factors.

Related: Electric Cars With The Longest Range

10

hrs.

Level 2 charging

Level 2 charging

Charge time estimates are based on using a 240-volt charging circuit charging from empty to 100% battery capacity. Level 2 is the fastest way to charge at home, though charging times can vary and are dependent on factors such as the capabilities of the charging circuit, charging equipment and the vehicle's onboard charger. Level 2 charging time provided by Chrome Data, a JD Power company.

22

mins.

DC fast charging

DC fast charging

DC fast charging is the fastest way to charge and only available at pay-for-use public charging stations, though some EVs come with complimentary charging for a limited time. Real-world DC fast charging times can vary greatly, even on the same vehicle, because of this type of charging's sensitivities to ambient and battery conditions. DC fast charging time provided by Chrome Data, a JD Power company.

93

kWh

Battery capacity

Battery capacity

Battery capacity is measured in kilowatt-hours, which is a measure of how much energy is used over time. A 70-kWh battery has more energy capacity than a 50-kWh battery and would result in a longer driving range if all other factors were equal. But more battery capacity doesn't always mean longer range because of differences in energy consumption from vehicle to vehicle. Battery capacity provided by Chrome Data, a JD Power company.

195.4" x 54.9"

Dimensions

All-wheel drive

Drivetrain
View all 2022 Porsche Taycan Cross Turismo specs .
Overview
The good:
Acceleration with launch control (Turbo S)
Better-than-expected driving efficiency
DC fast-charging capability
Sports-car handling
Sophisticated ride quality
Hatchback cargo versatility
The bad:
Maximum power comes only with launch control
Turbo S' supercar pricing
Range may be limiting
Backseat foot room
Fingerprint-magnet touchscreens
No physical controls for center screens
4 trims
Starting msrp listed lowest to highest price
Notable features
All-electric performance car
Hatchback version of Taycan sedan
EPA-estimated 202-mile range (Turbo S)
Up to 750 hp (Turbo S)
DC fast charging up to 270 kilowatts
Adaptive air spring suspension
2022 Porsche Taycan Cross Turismo review: Our expert's take
The verdict: The Porsche Taycan Cross Turismo Turbo S isn't a no-compromise vehicle, but it combines attributes of a sports car, electric car and utility vehicle in a way that feels natural and engaging.
Versus the competition: Driving the Taycan Cross Turismo Turbo S feels more like a Porsche than an EV, but that comes at a price — to your wallet as well as in range and efficiency.
There are few cars electric or gasoline-powered that can do what the battery-powered Porsche Taycan Cross Turismo Turbo S can do: combine acceleration, handling, luxury, light off-road abilities, efficiency and added cargo versatility. That checks a lot of boxes on a practical level, but the Taycan Cross Turismo Turbo S also tingles the senses in a way few EVs do, combining the tuned-in, direct responses of a Porsche with the instant, stomach-dropping acceleration of up to 750 electron-moving horsepower and 774 pounds-feet of torque.
Related: What to Know Before Purchasing an Electric Vehicle: A Buying Guide
All of that, however, doesn't mean it's a no-compromise vehicle: Its EPA-rated 202-mile range is underwhelming, though I did observe encouraging efficiency and range predictions in moderate weather, suggesting it may boast more real-world range than its rating suggests. Then there's the cargo area, which is more versatile than the Taycan sedan's but still smaller than the cargo area of Porsche's smallest SUV, the Macan. Plus, my test Taycan Cross Turismo Turbo S' as-tested price of $216,000 is legitimate supercar money — think Porsche 911 Turbo S or McLaren GT.
That said, the Taycan Cross Turismo is available at a more affordable price, starting at just under $100,000 (including destination and excluding any EV incentives). There are two versions of the utility-minded Taycan: the Cross Turismo and the Sport Turismo. The Sport Turismo is limited to the GTS trim level, which has a sportier appearance akin to the Taycan sedan, while the Cross Turismo, which has plastic wheel arches and other cladding, is available as the Taycan 4 Cross Turismo, the Taycan 4S Cross Turismo, the Taycan Turbo Cross Turismo and, of course, the top-dog Taycan Turbo S Cross Turismo reviewed here.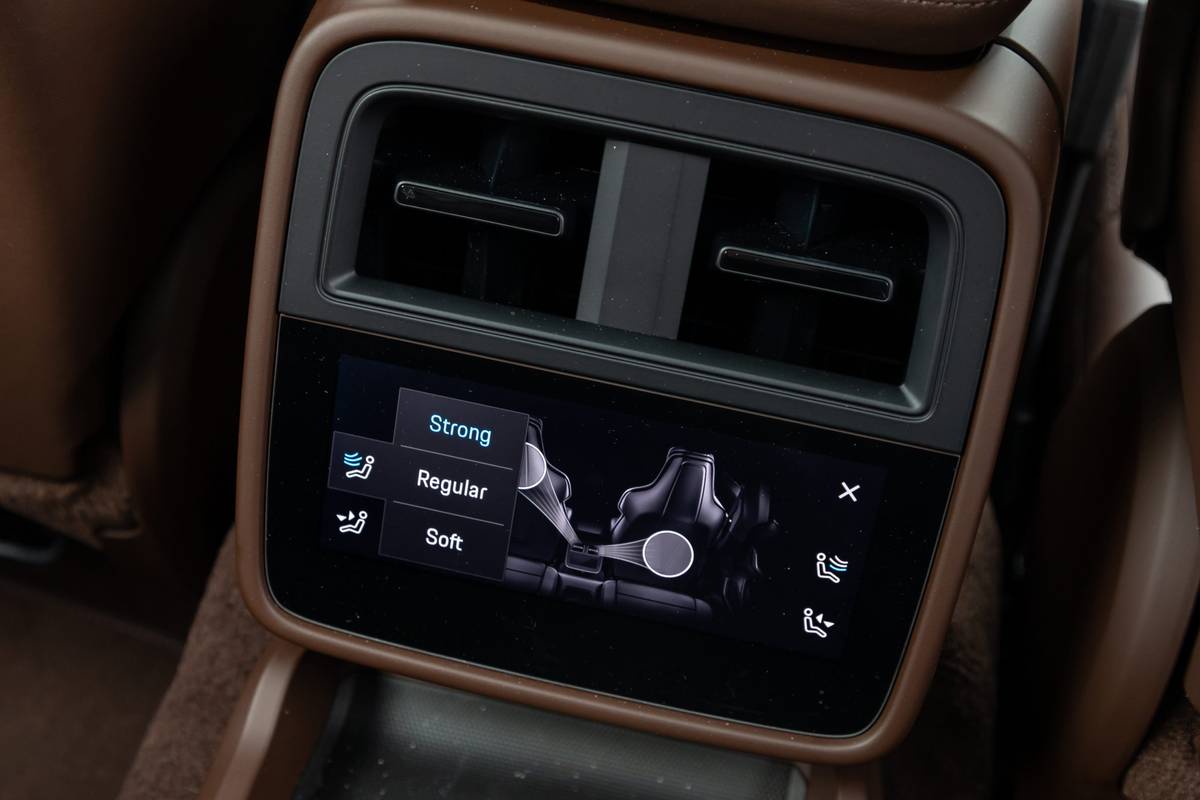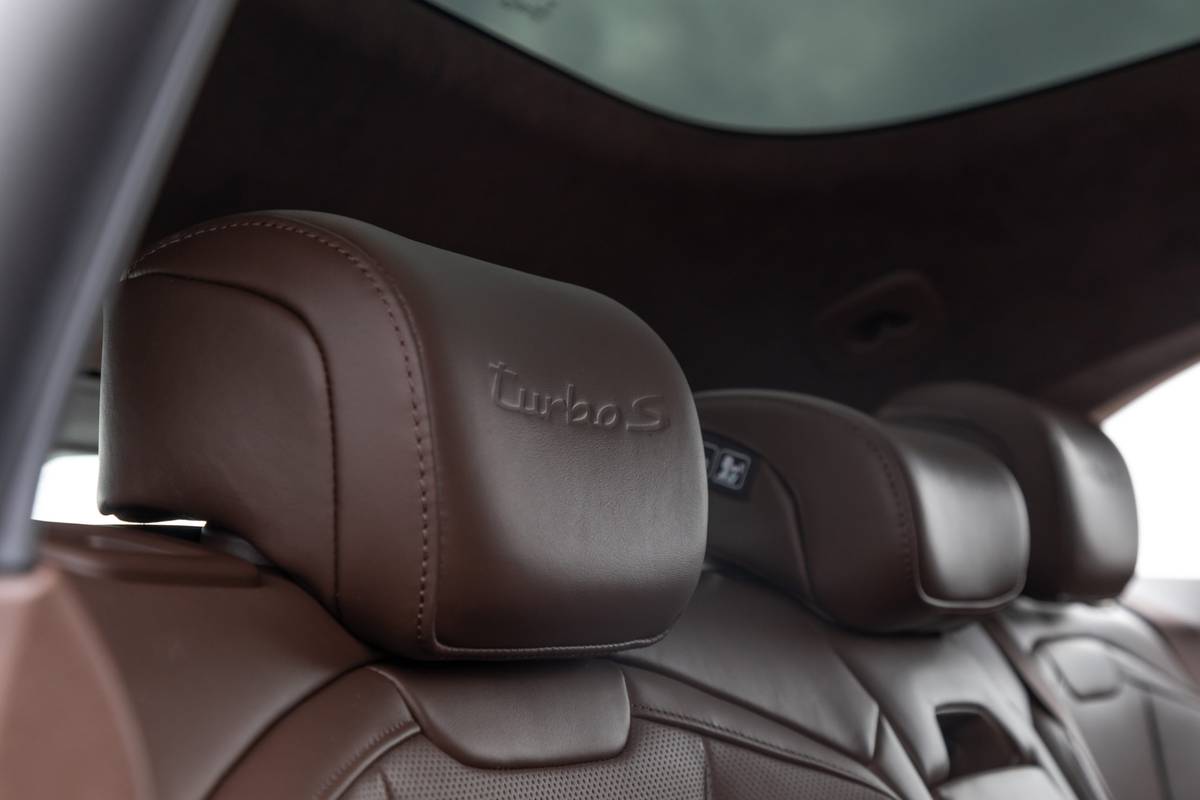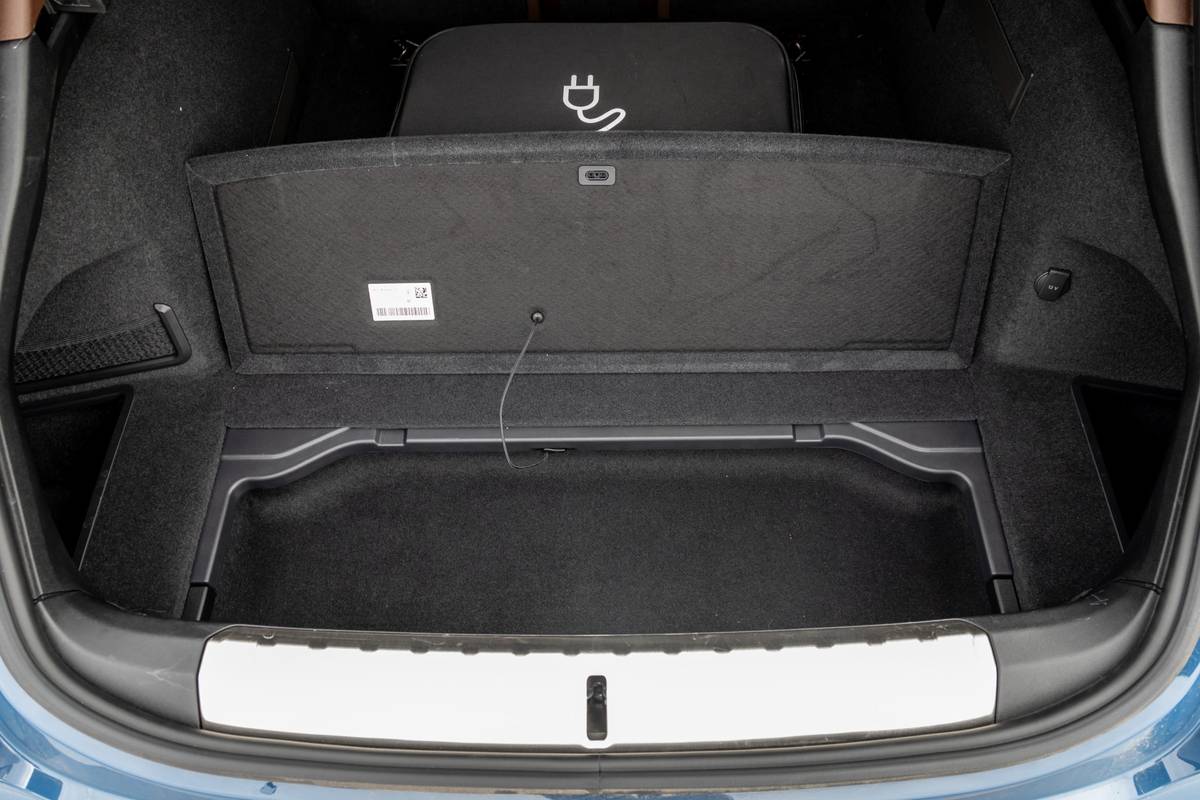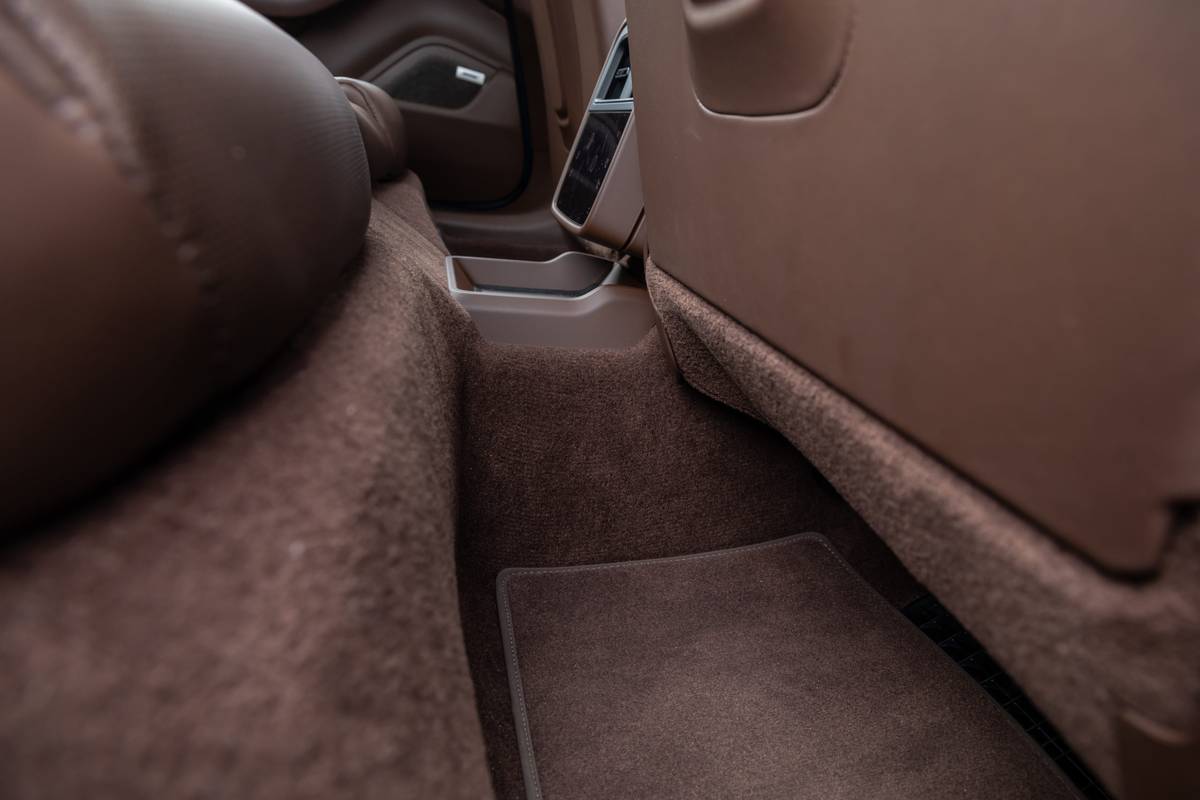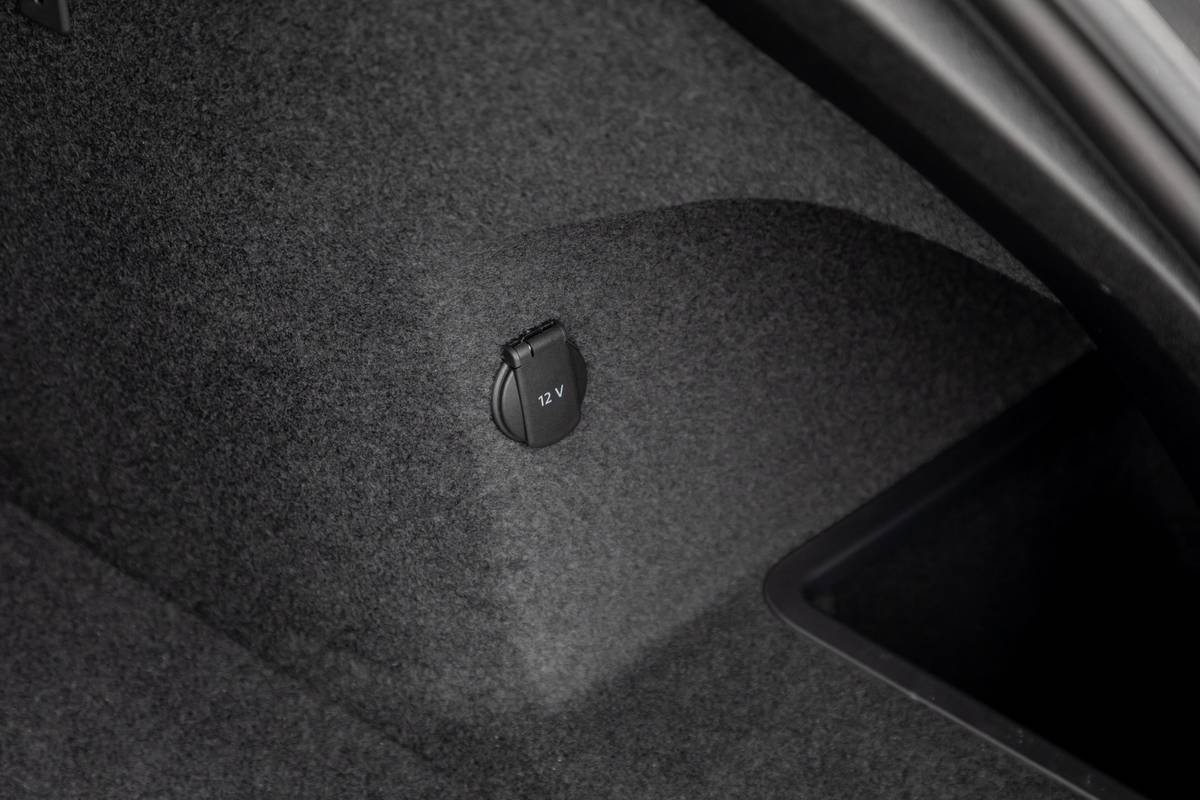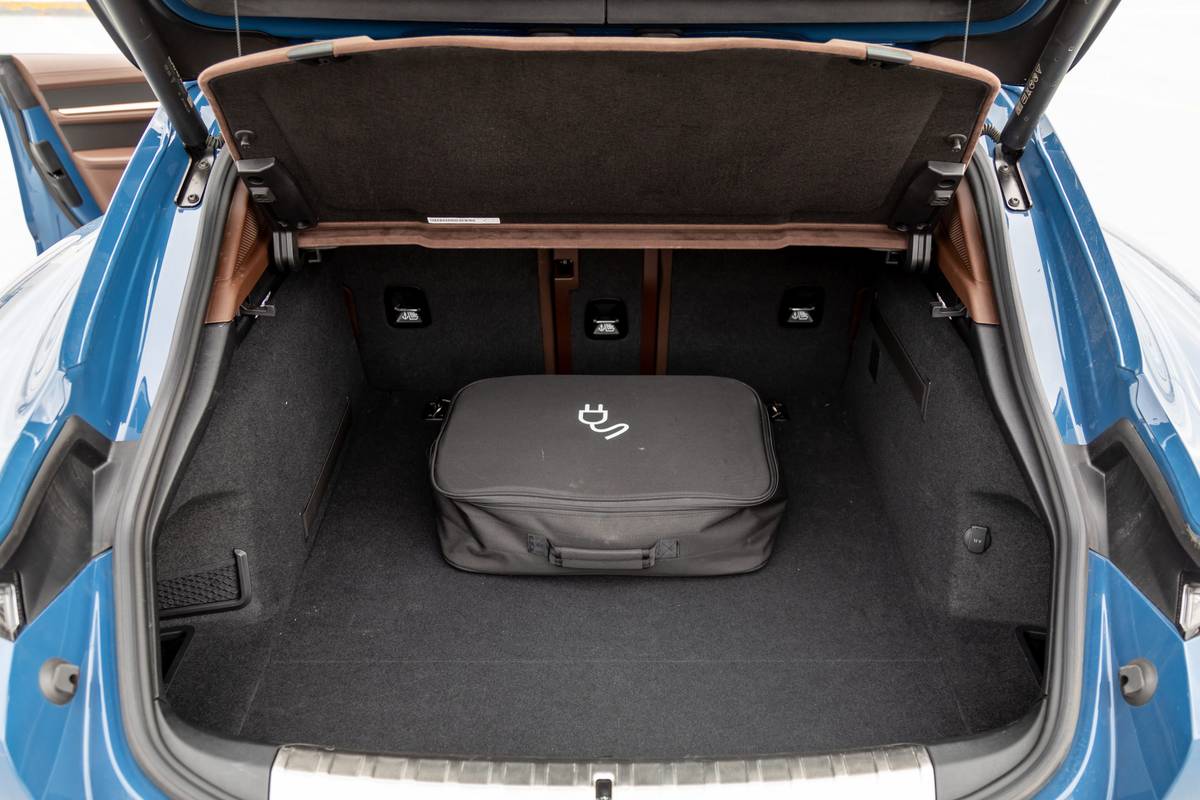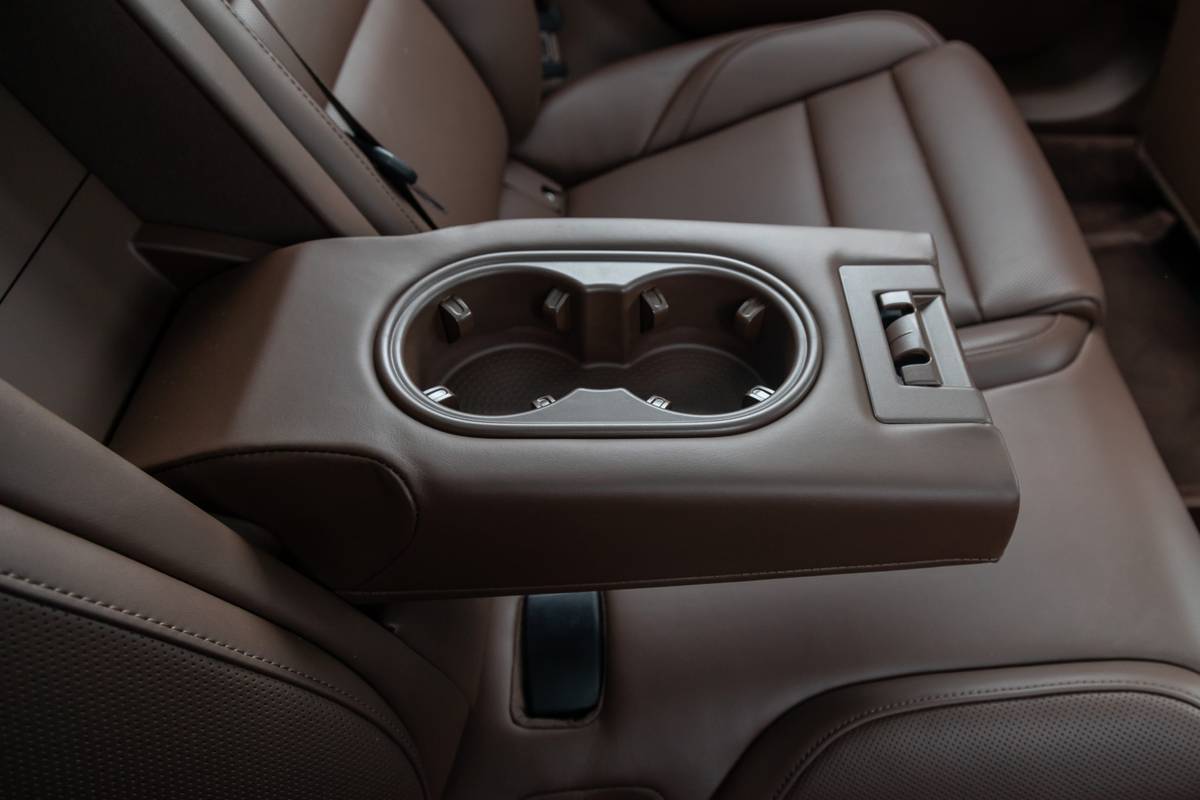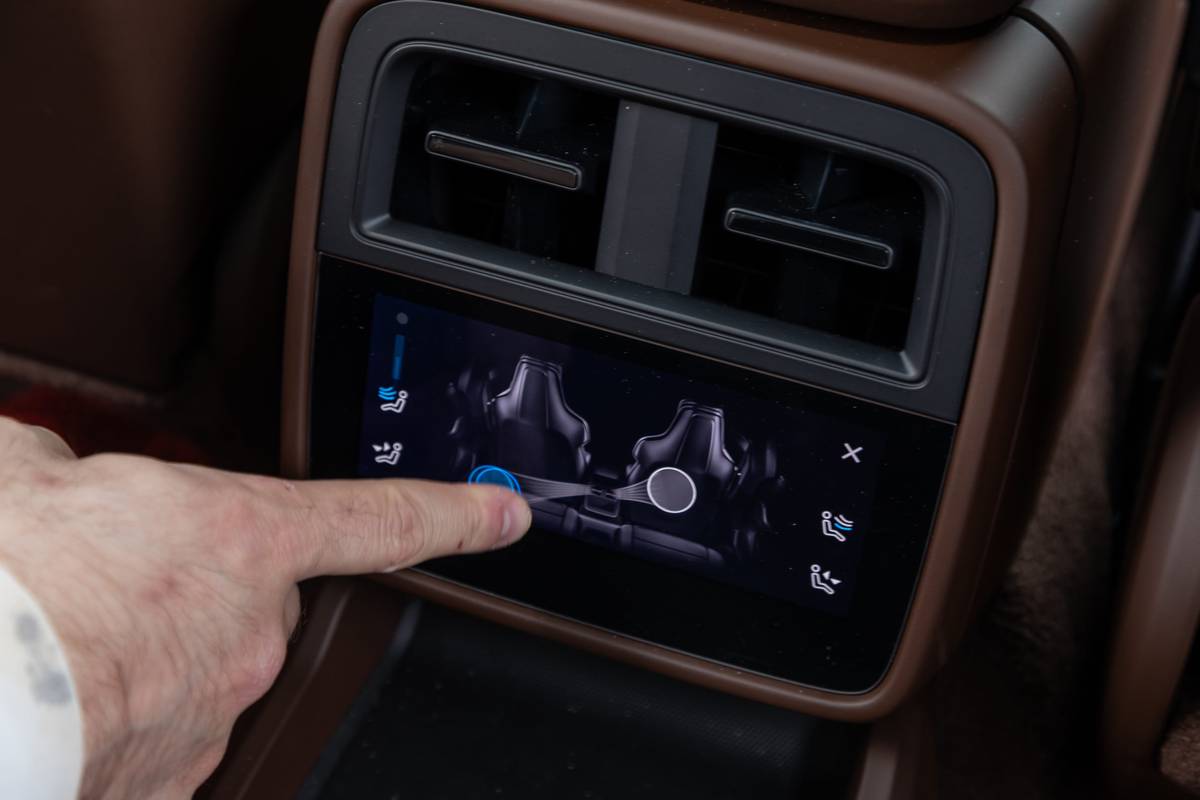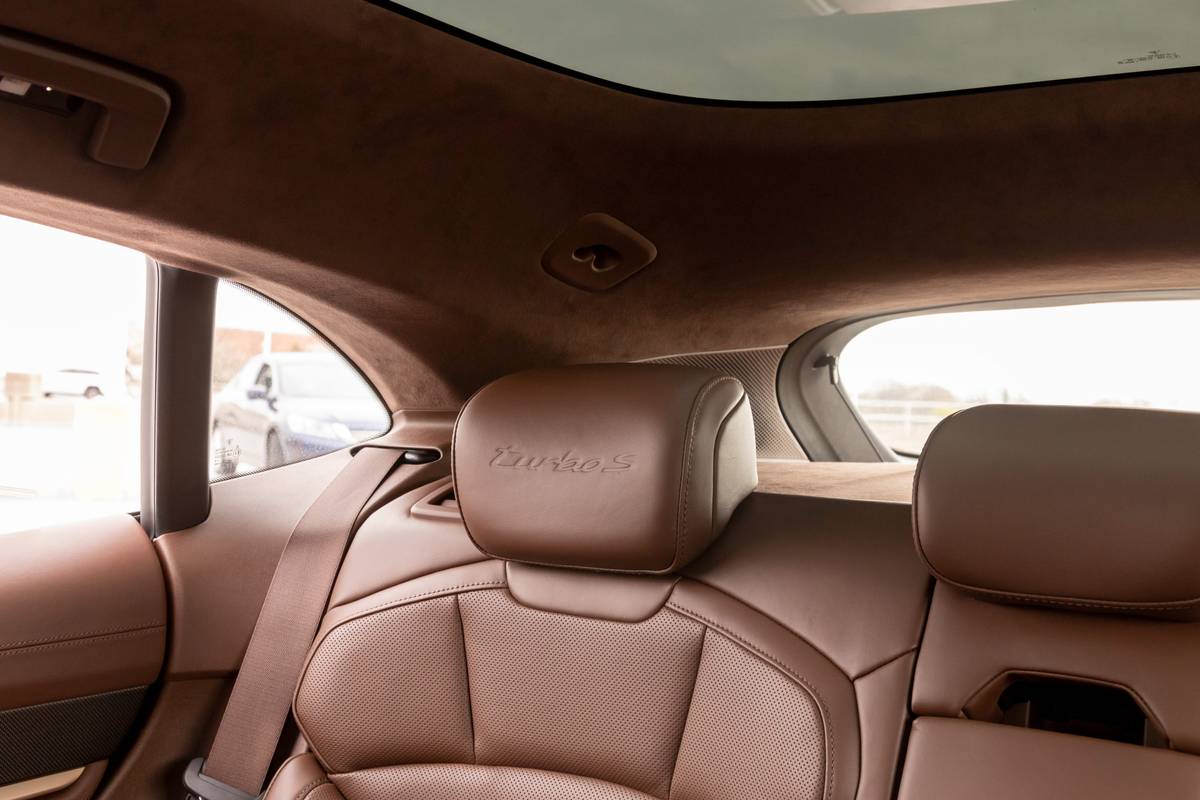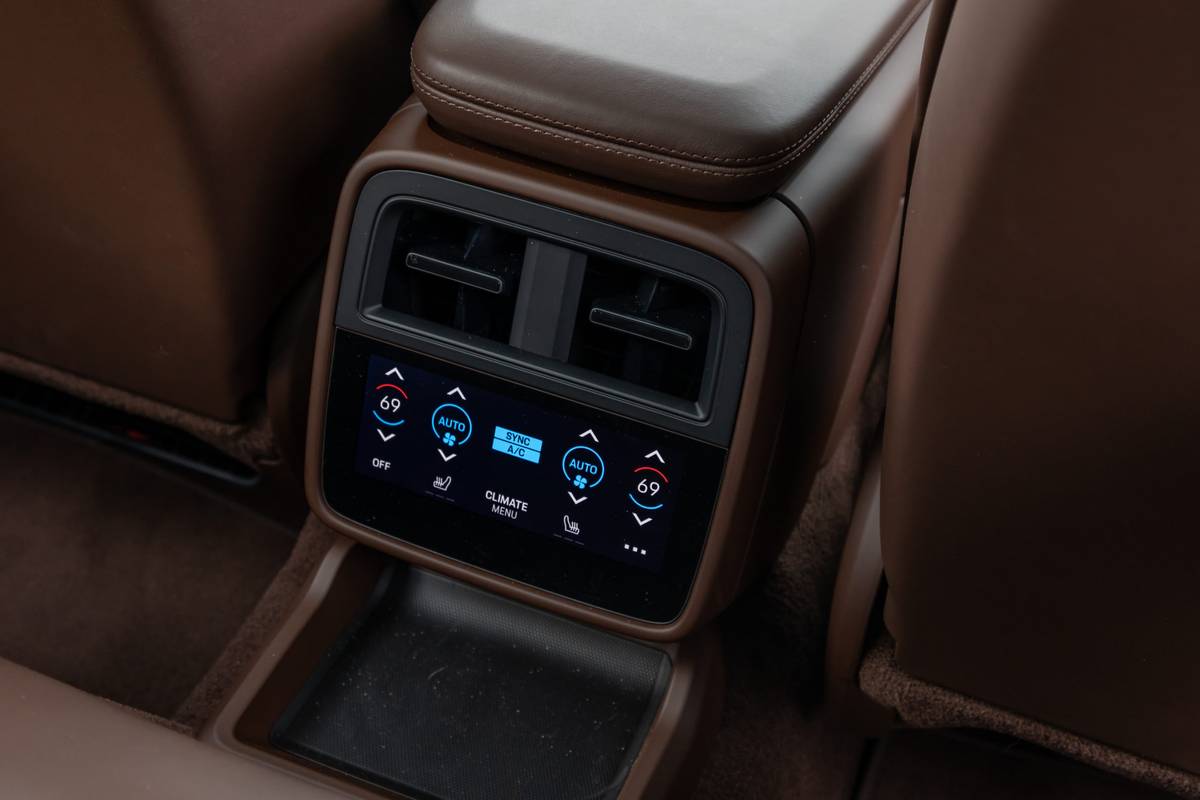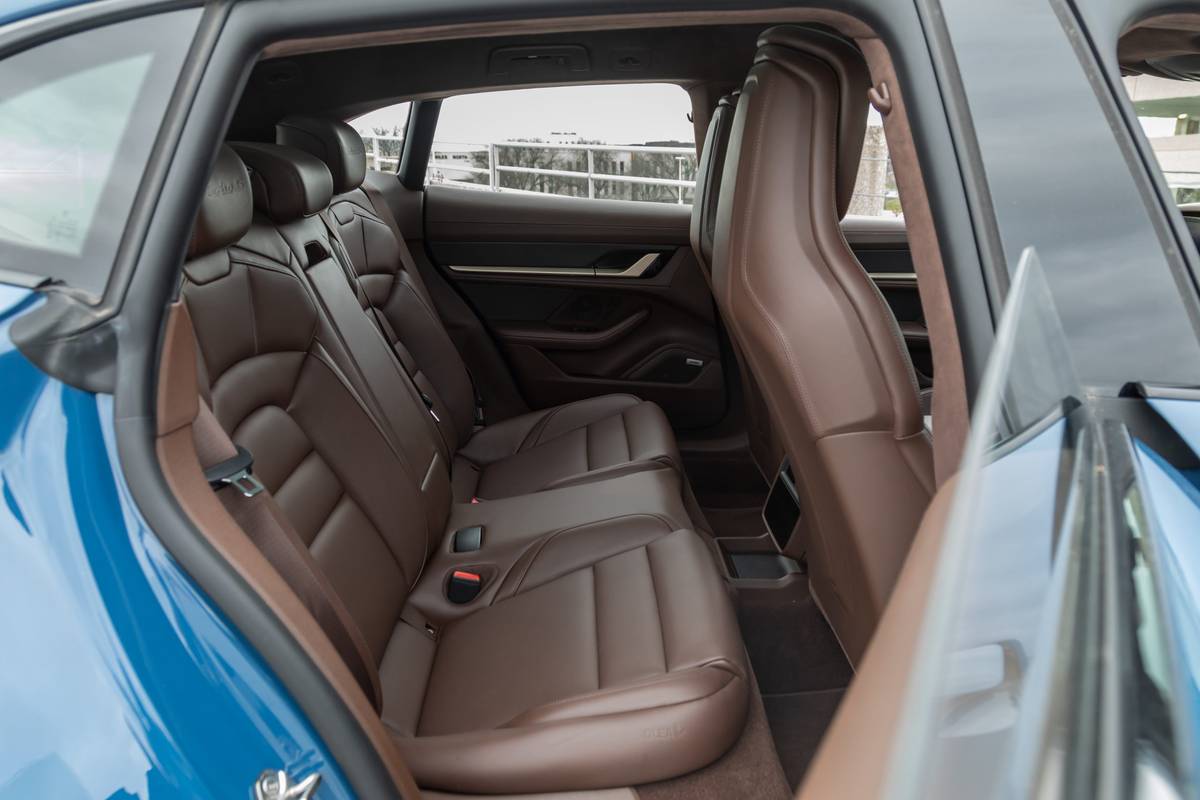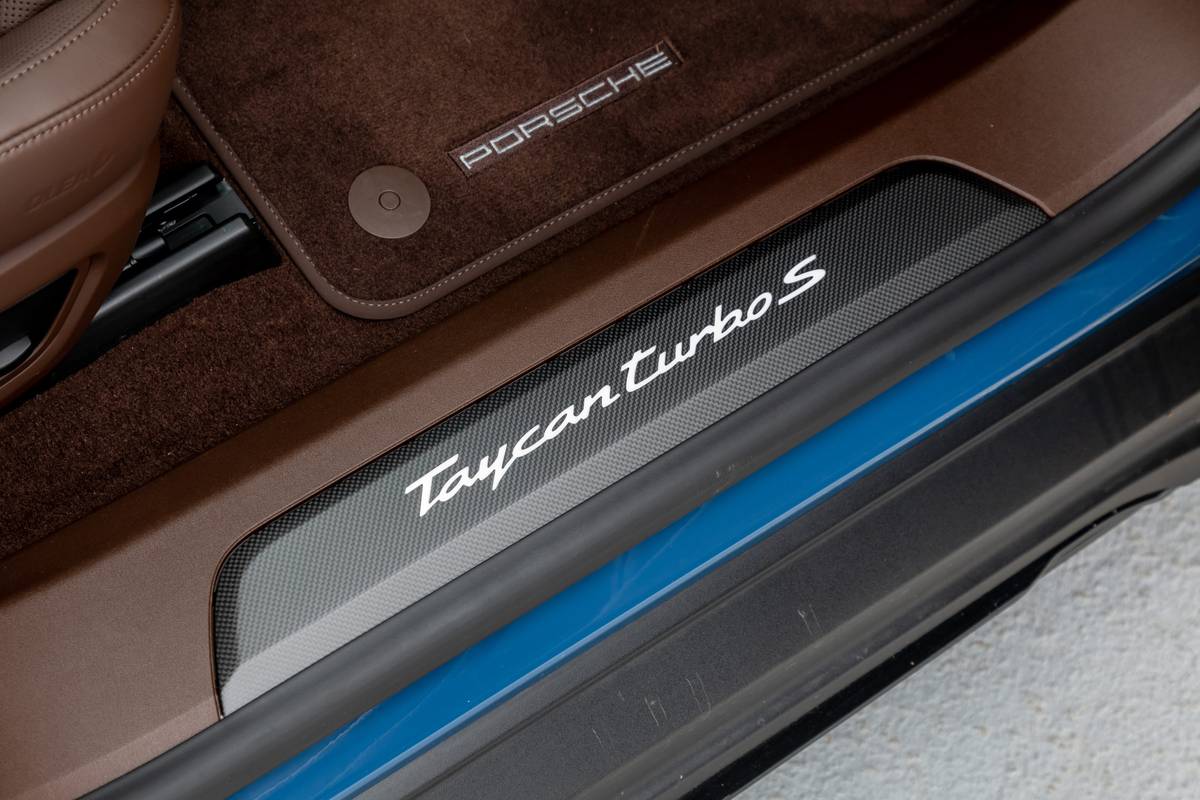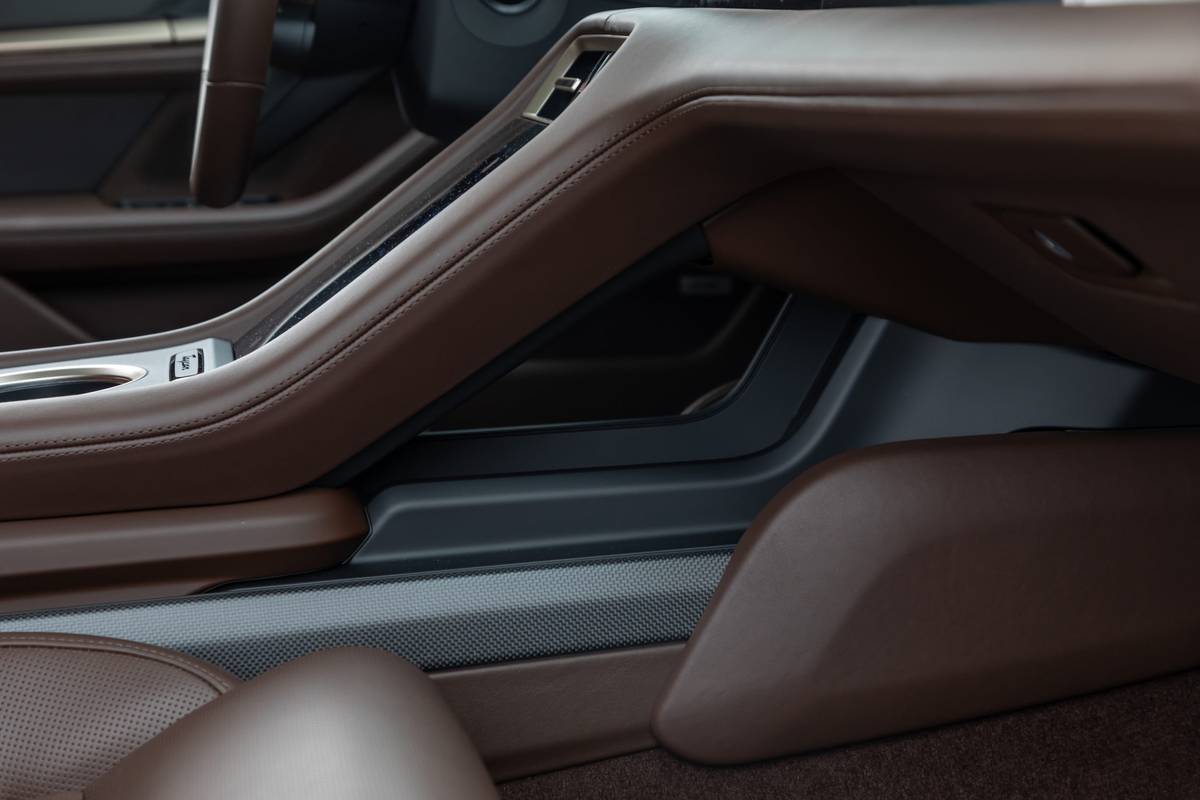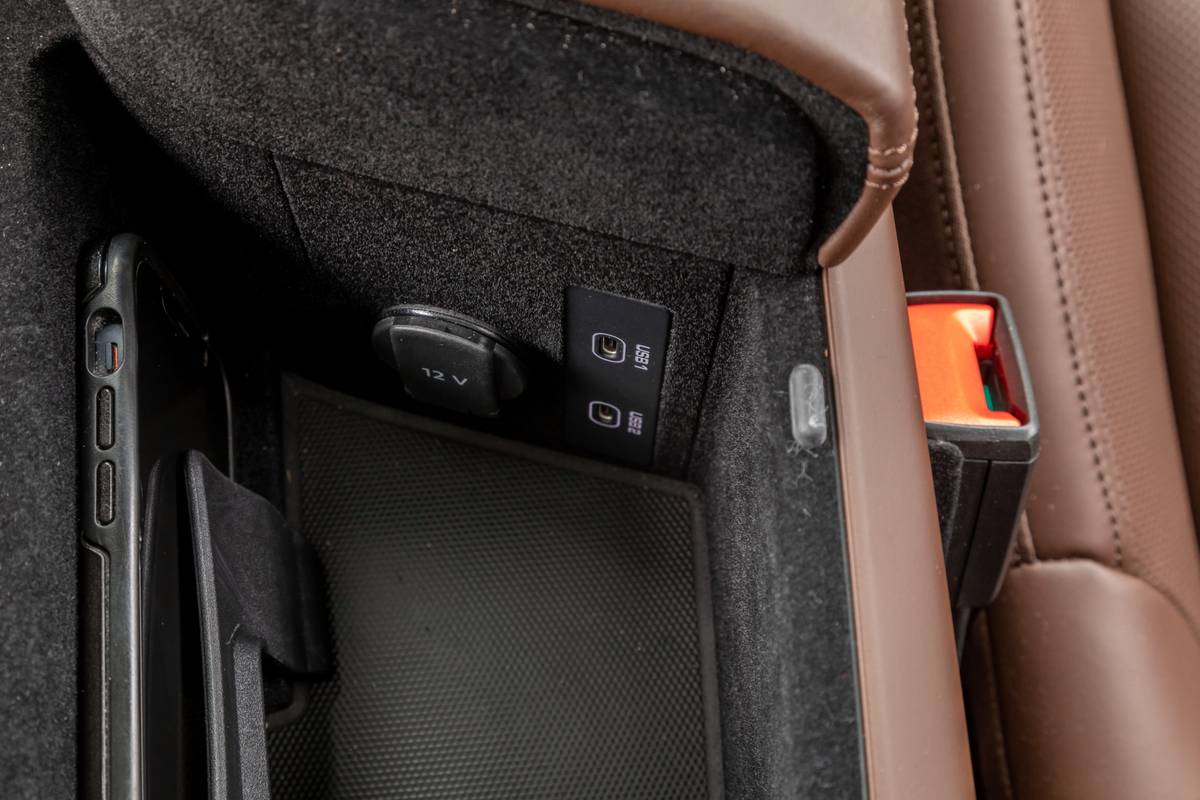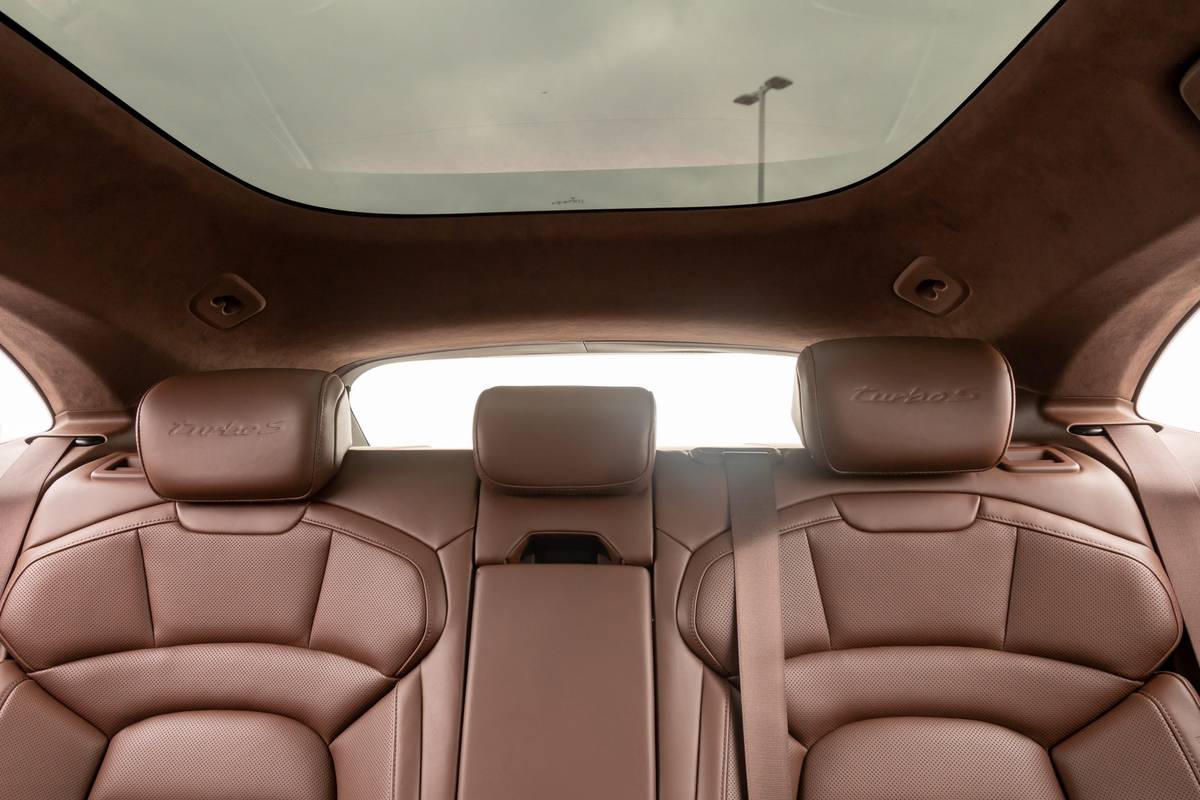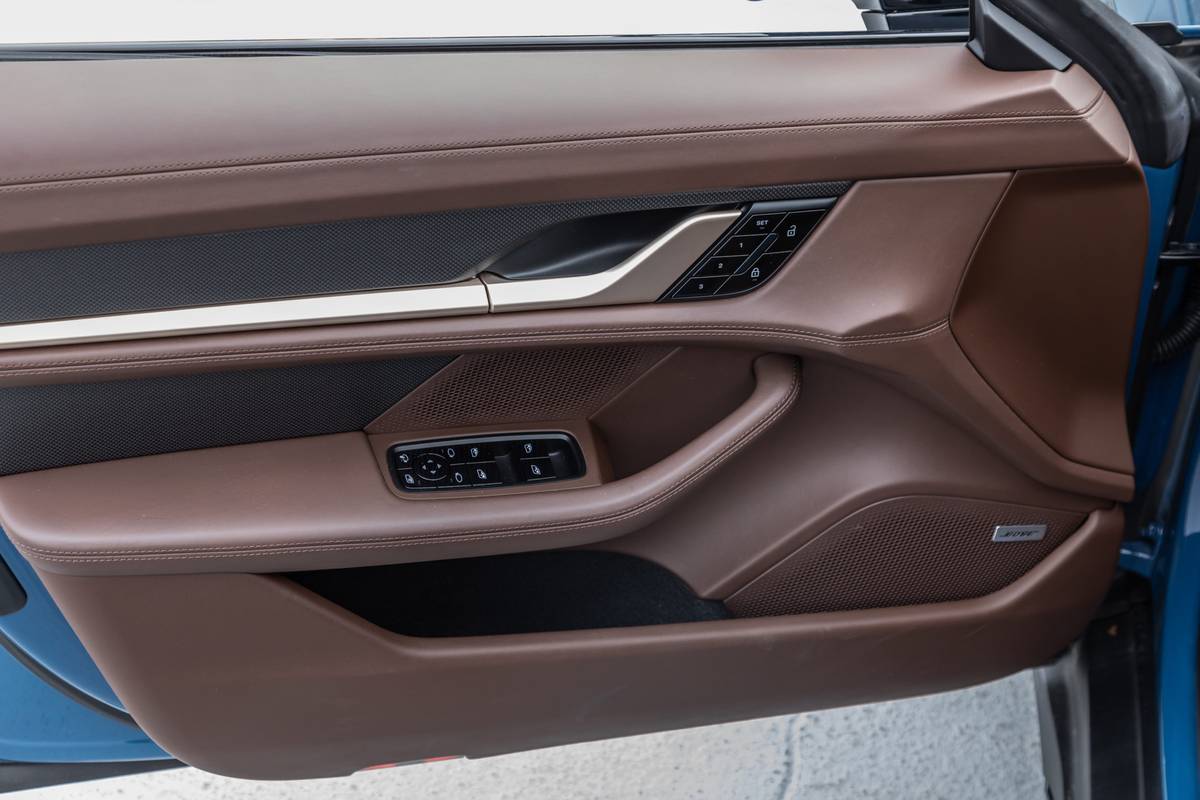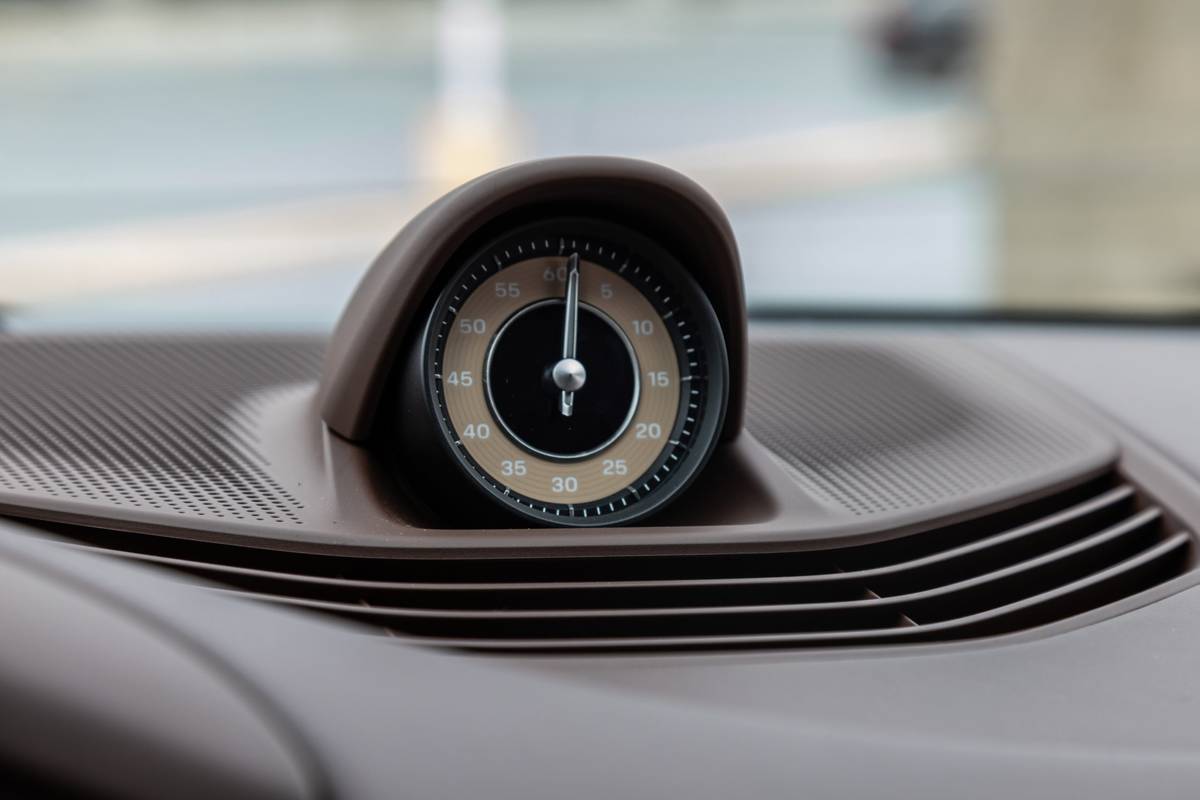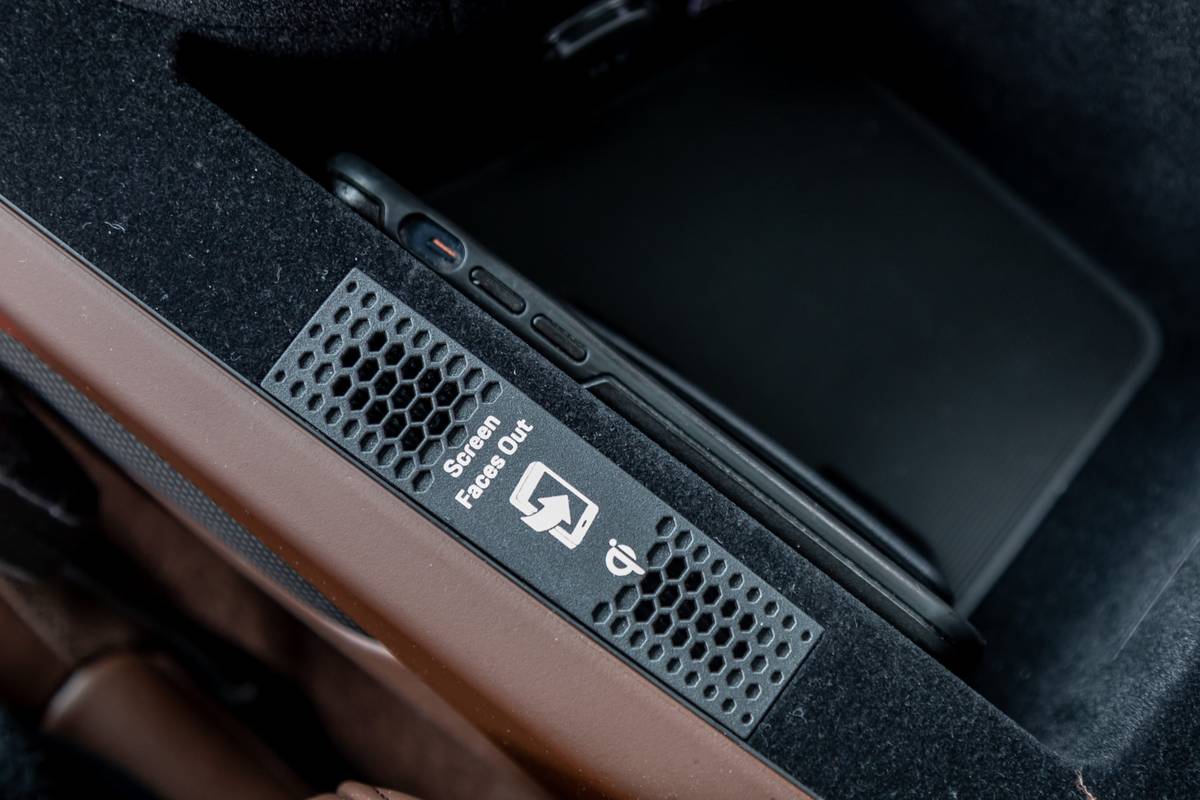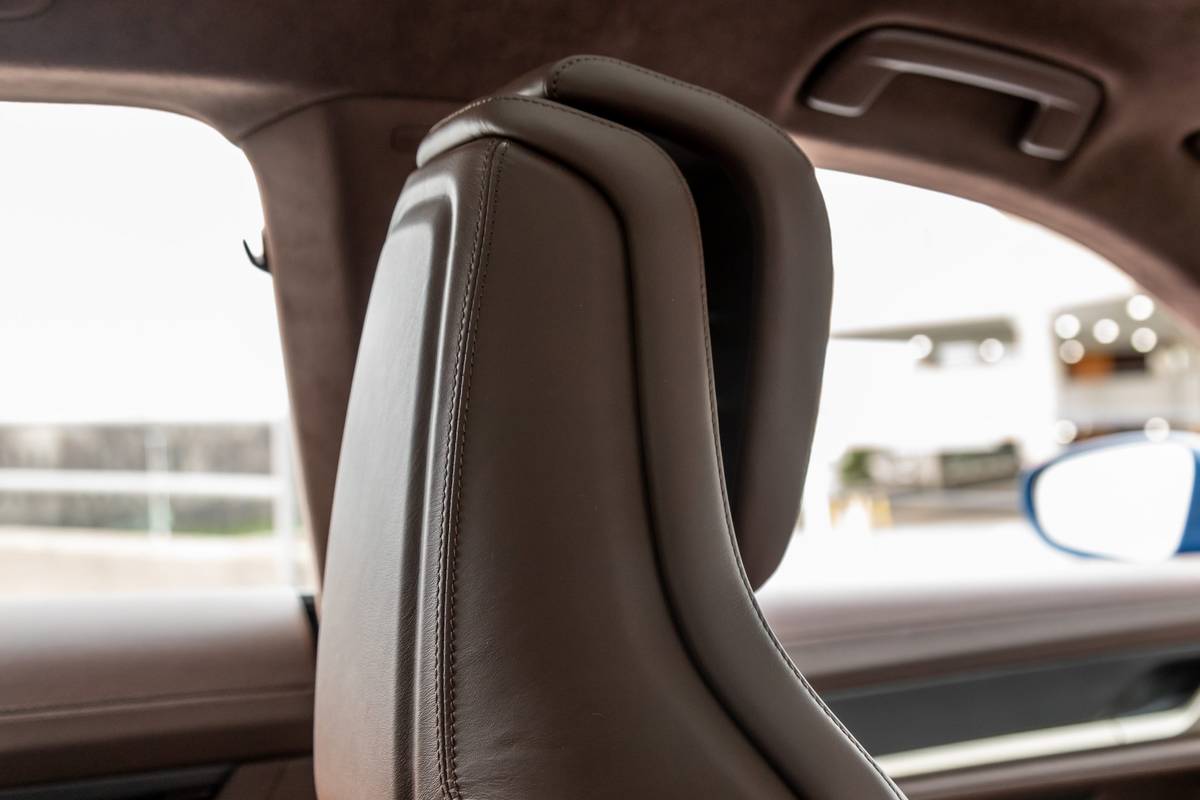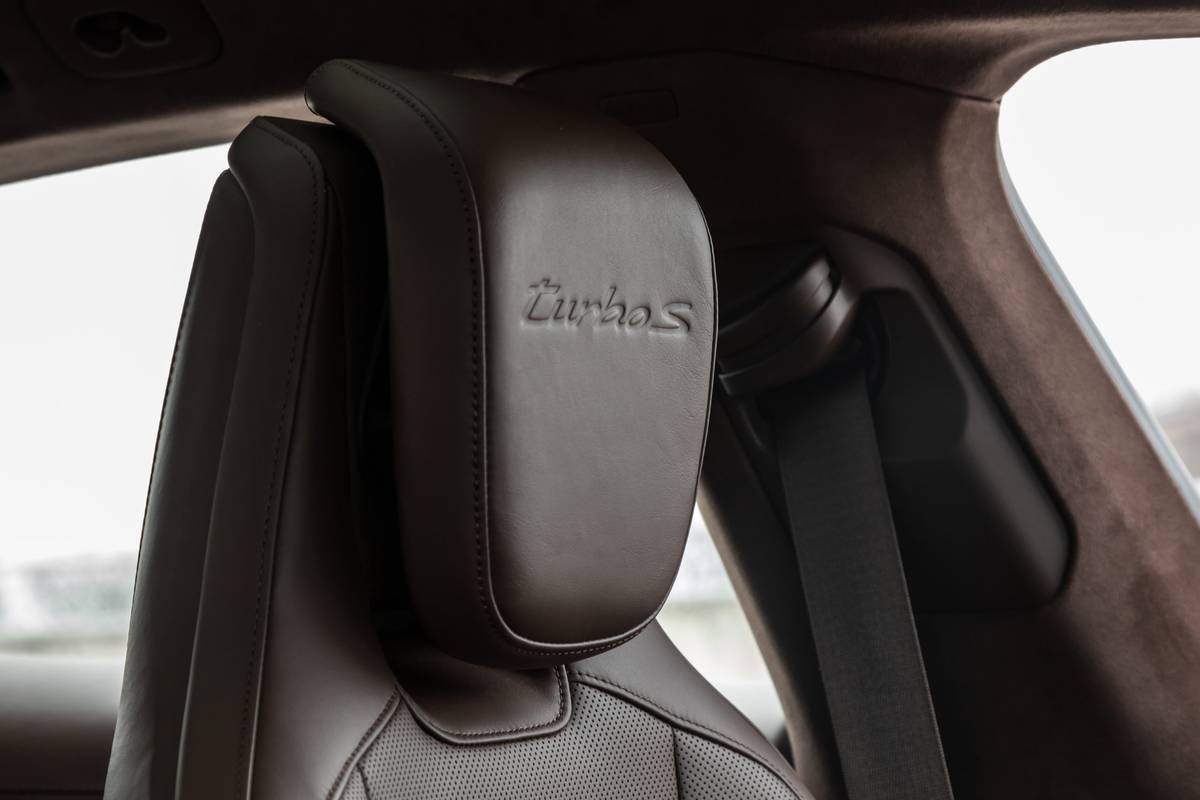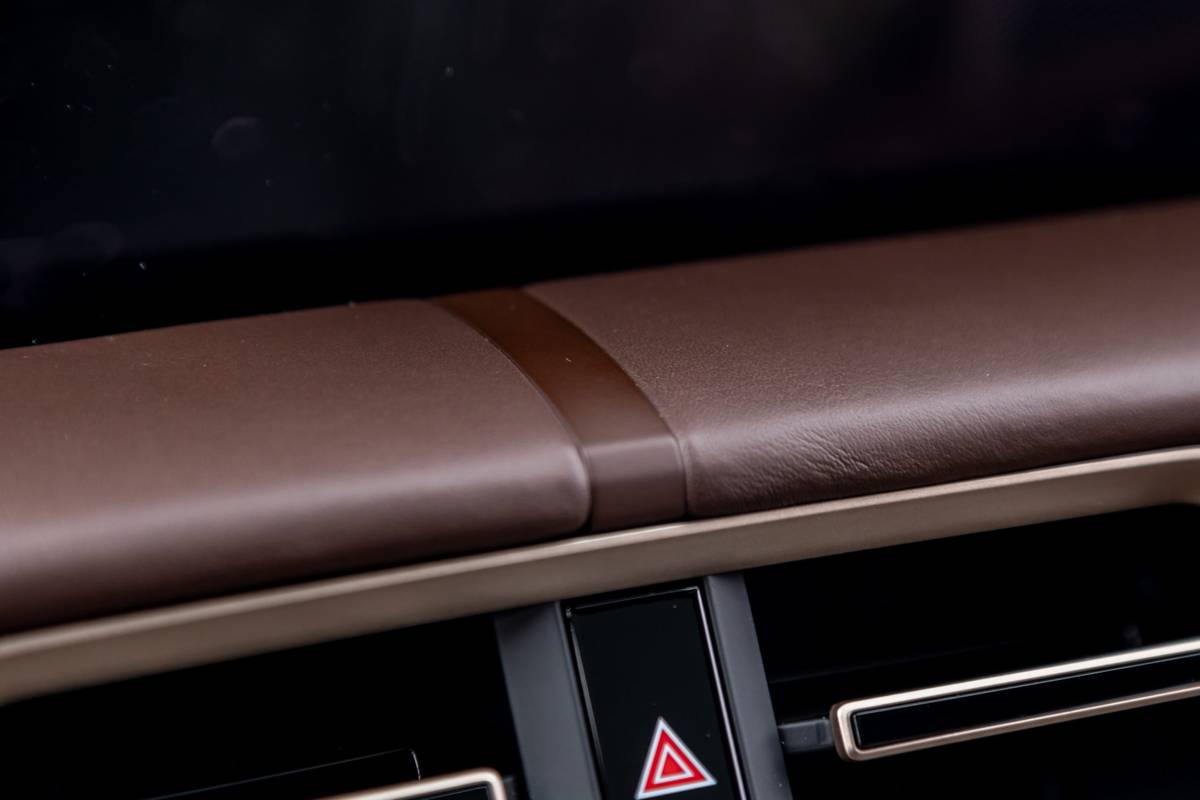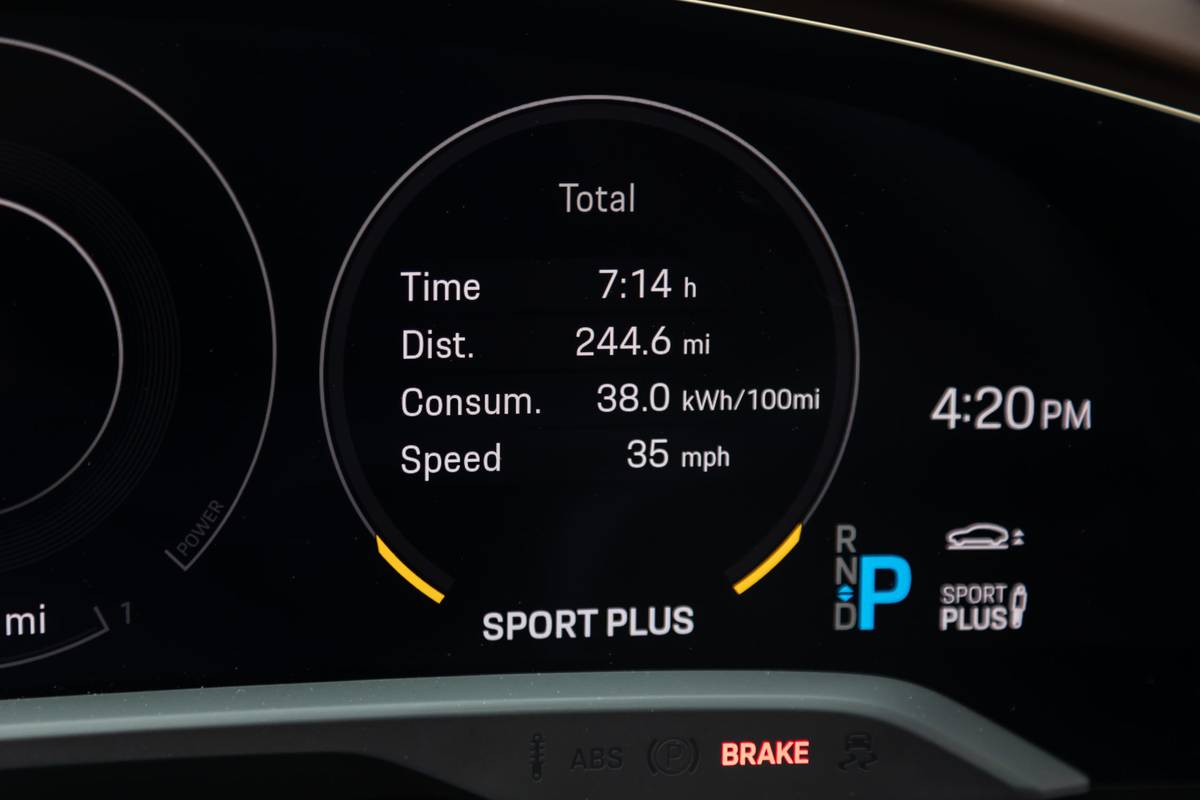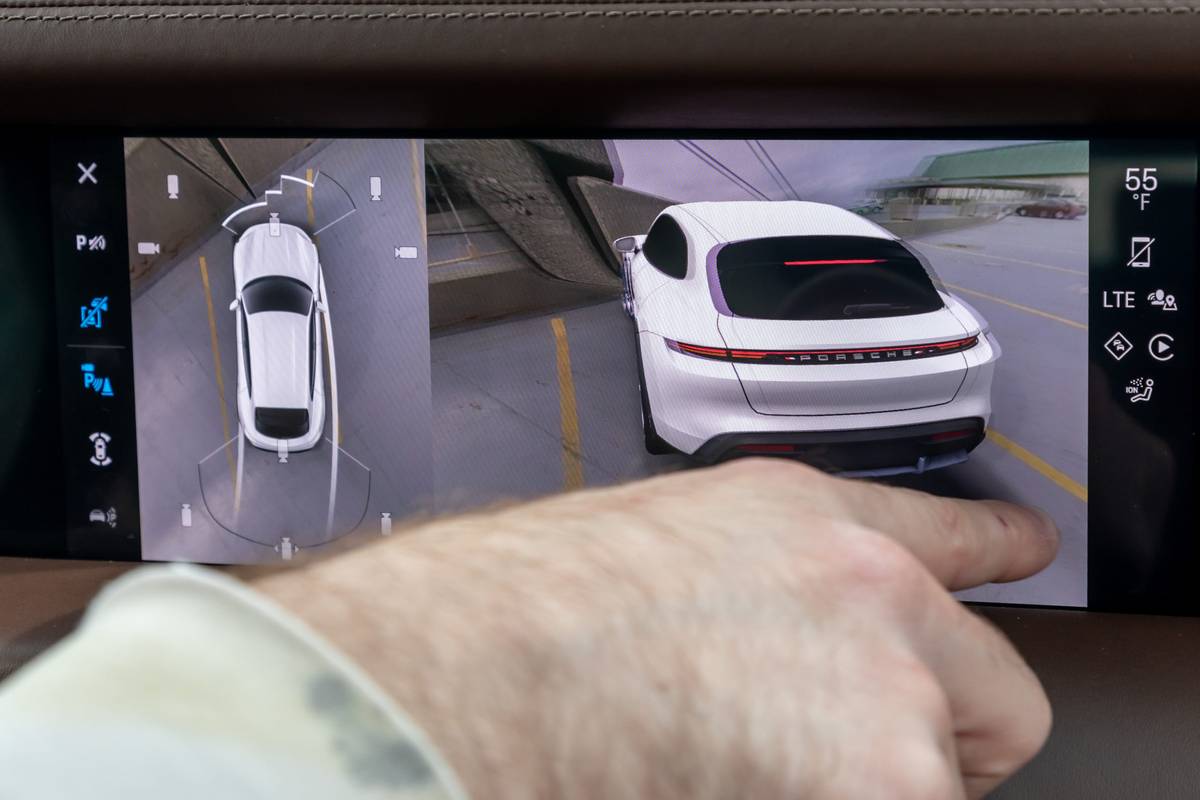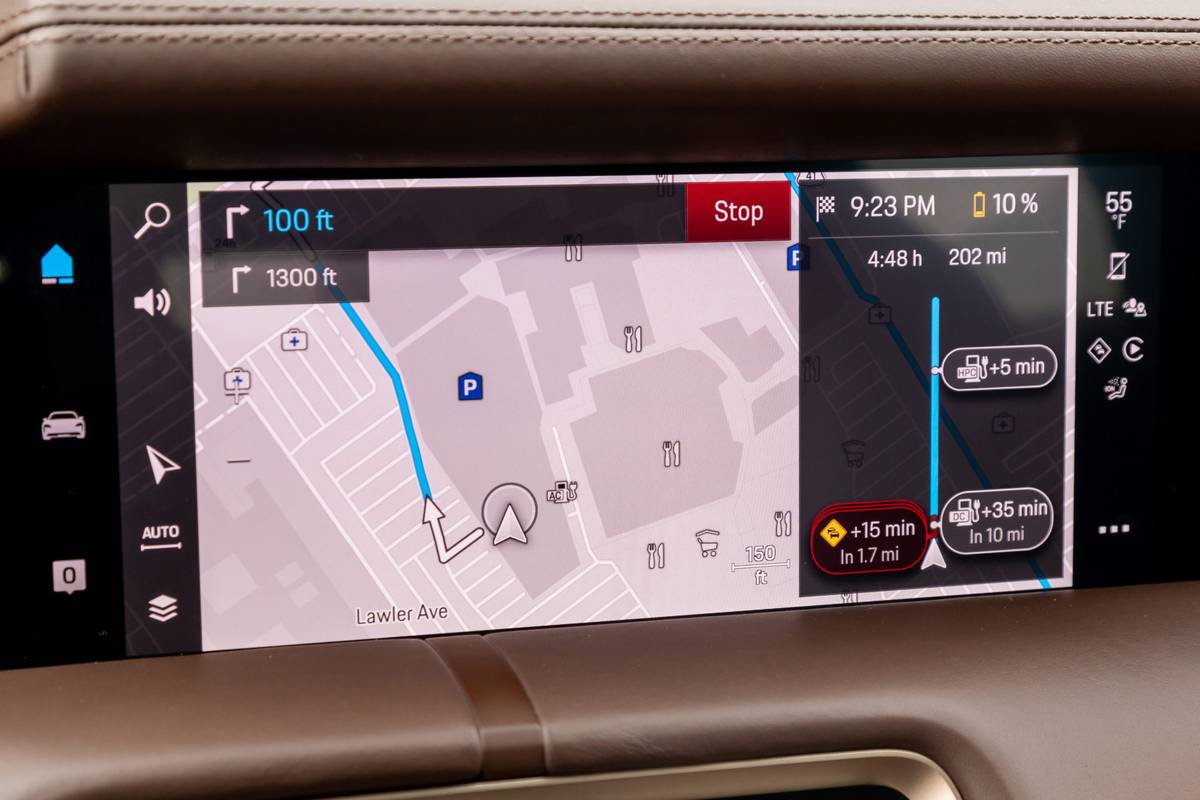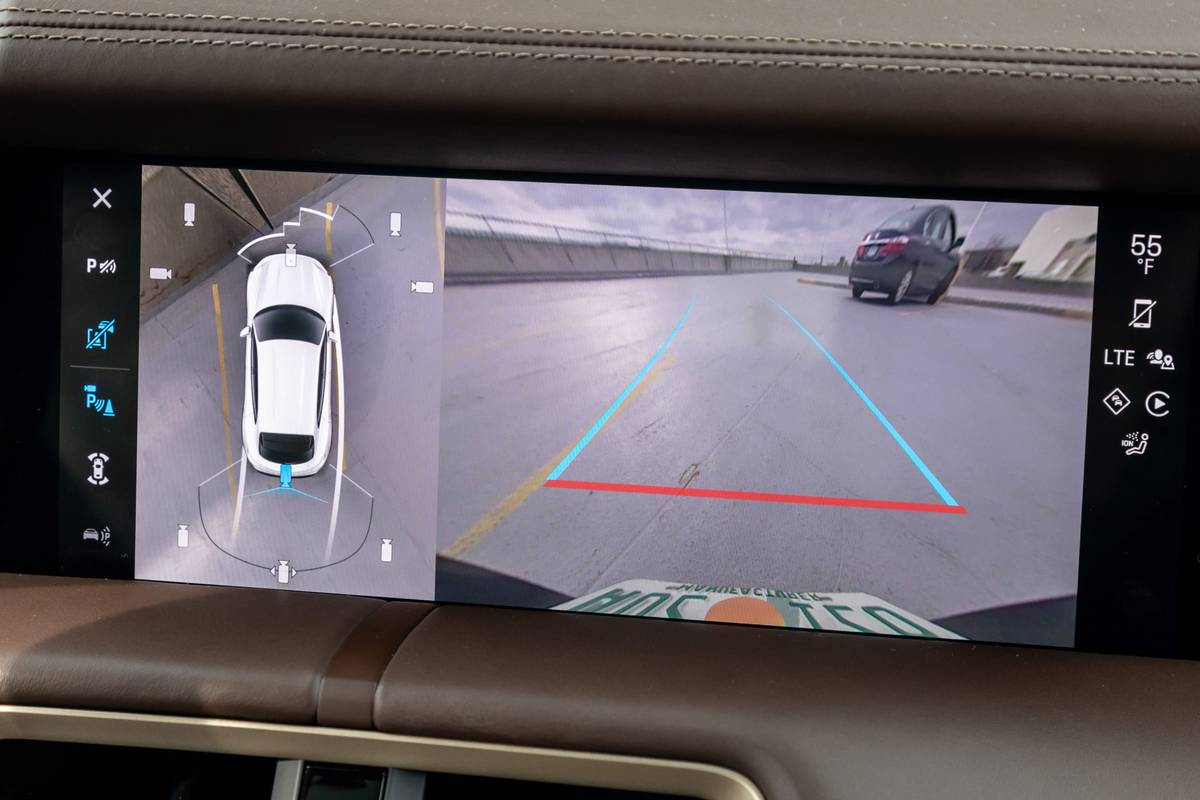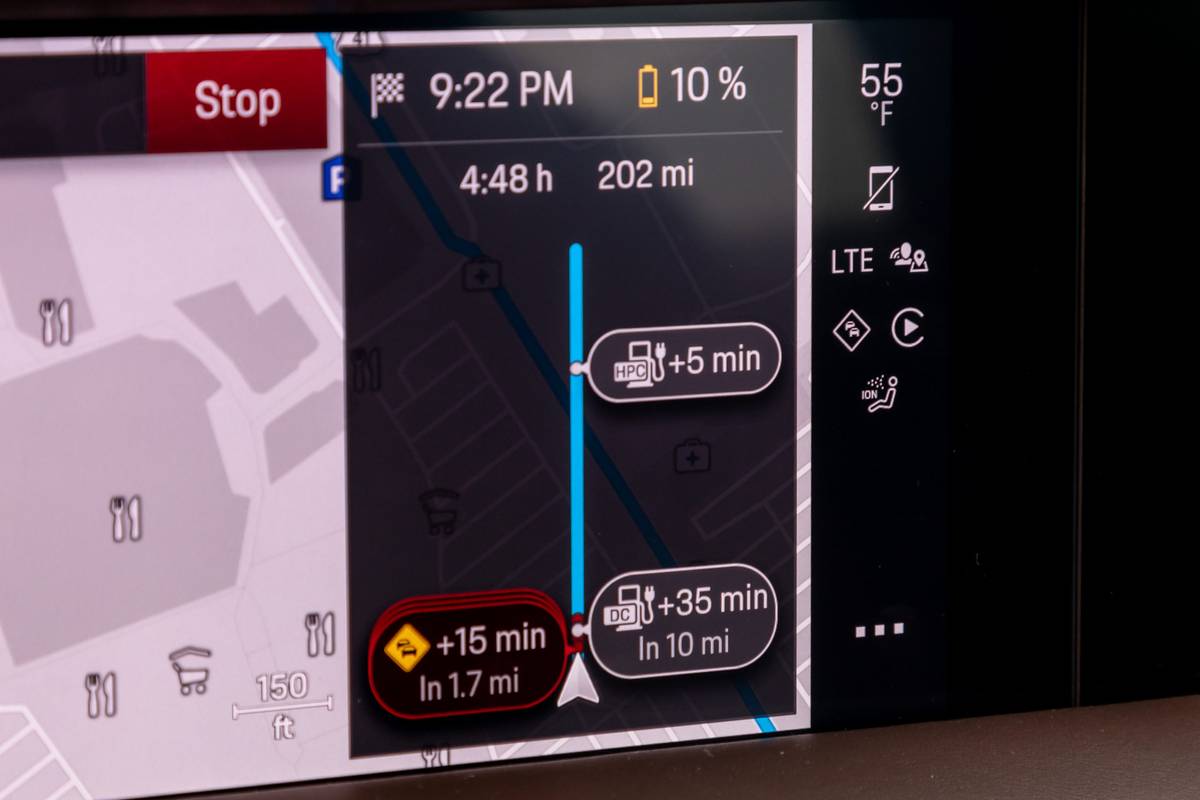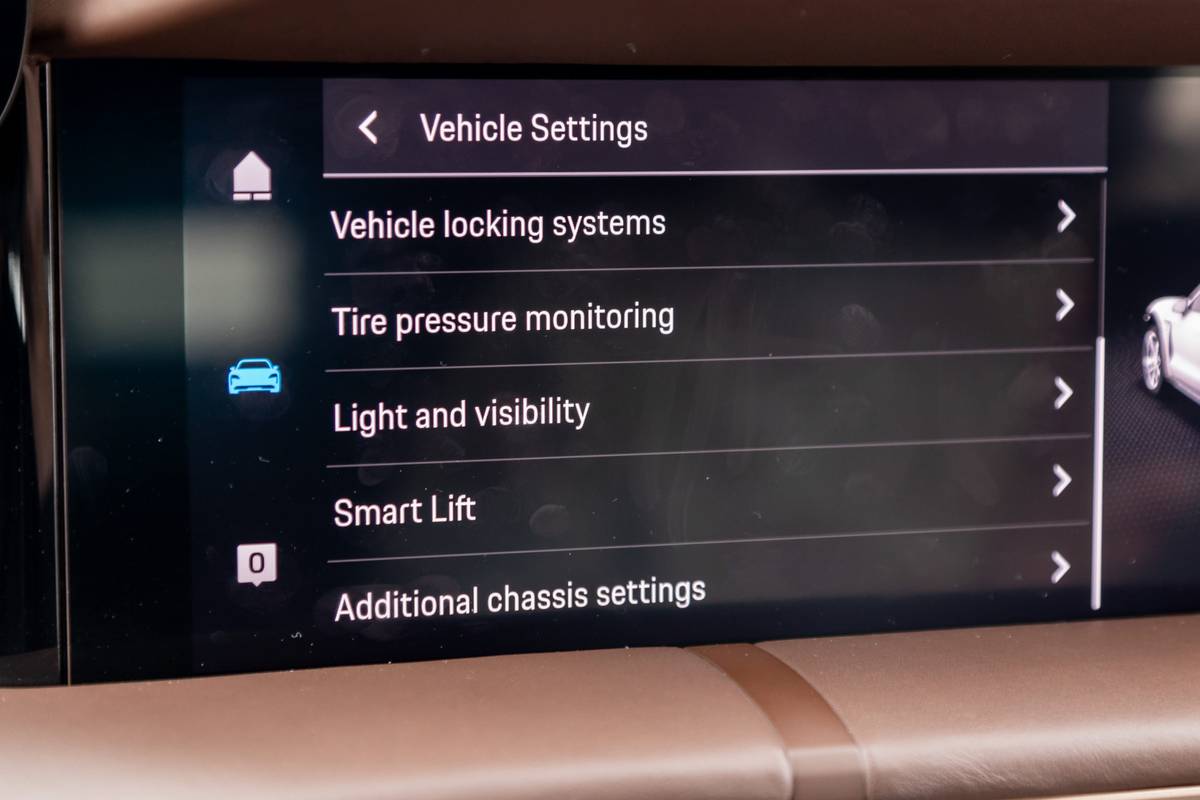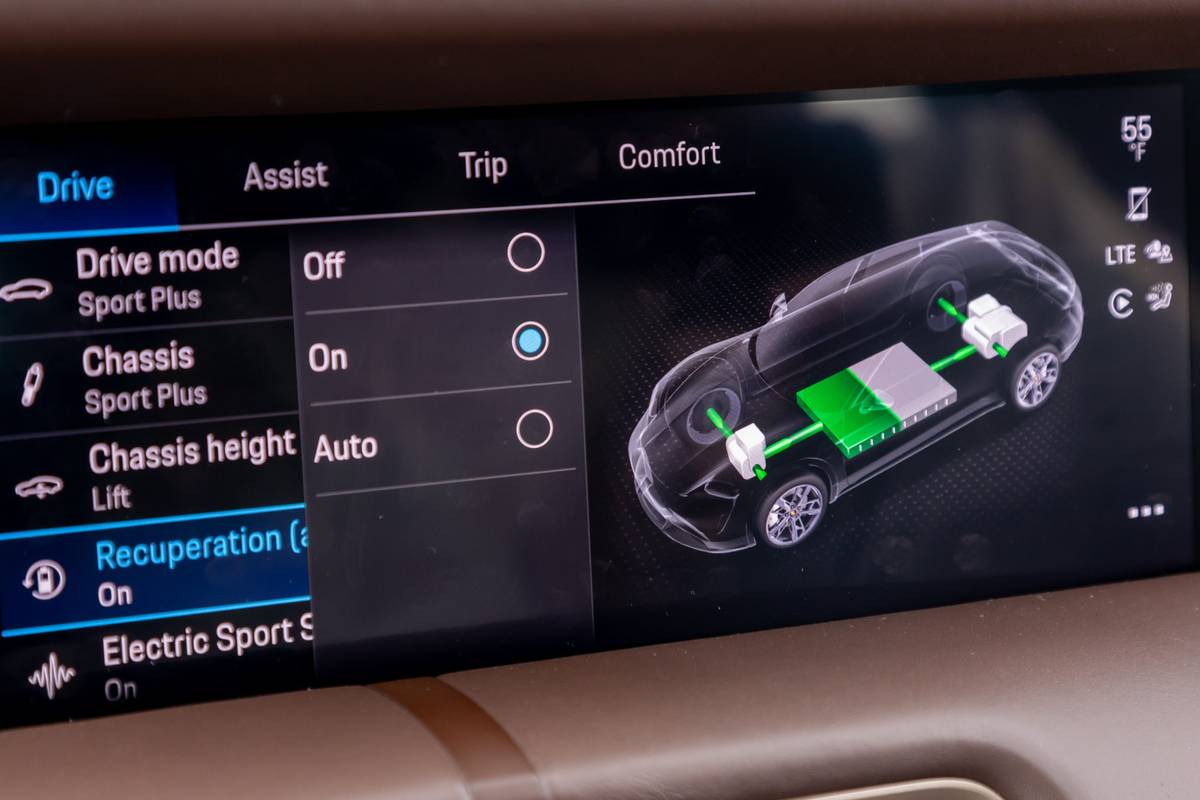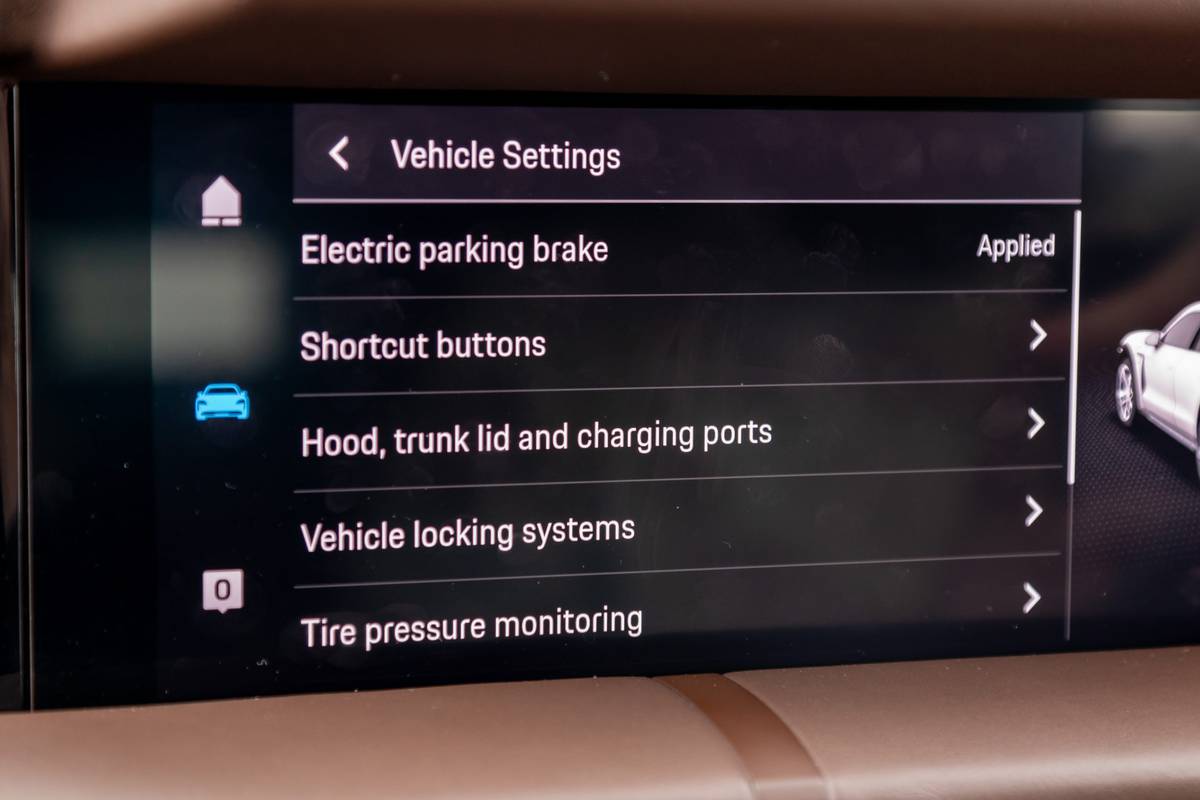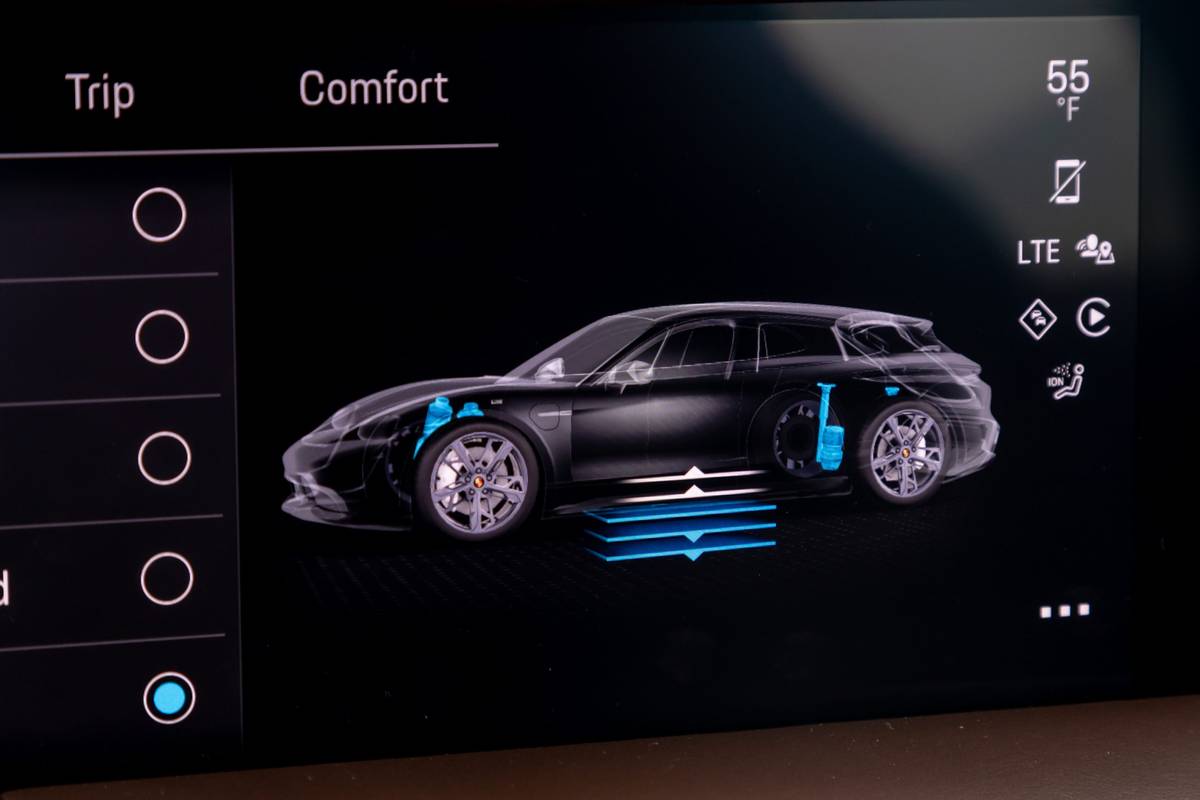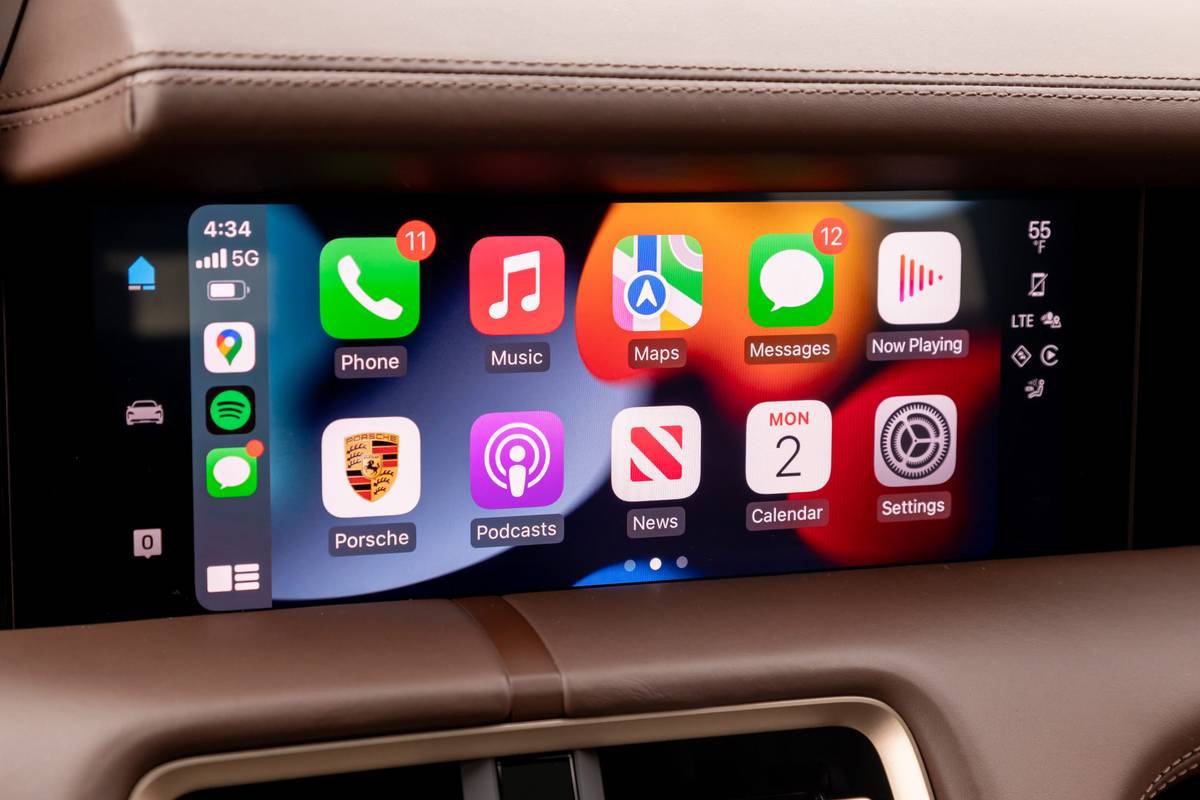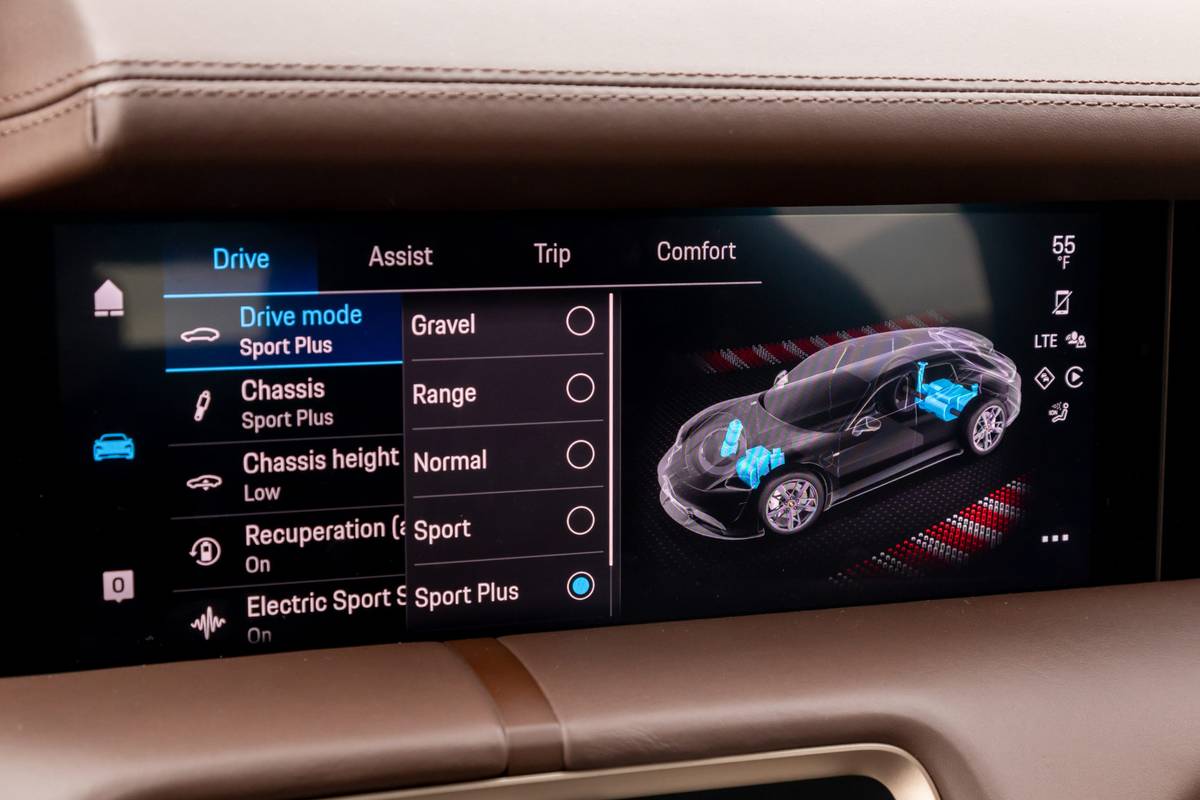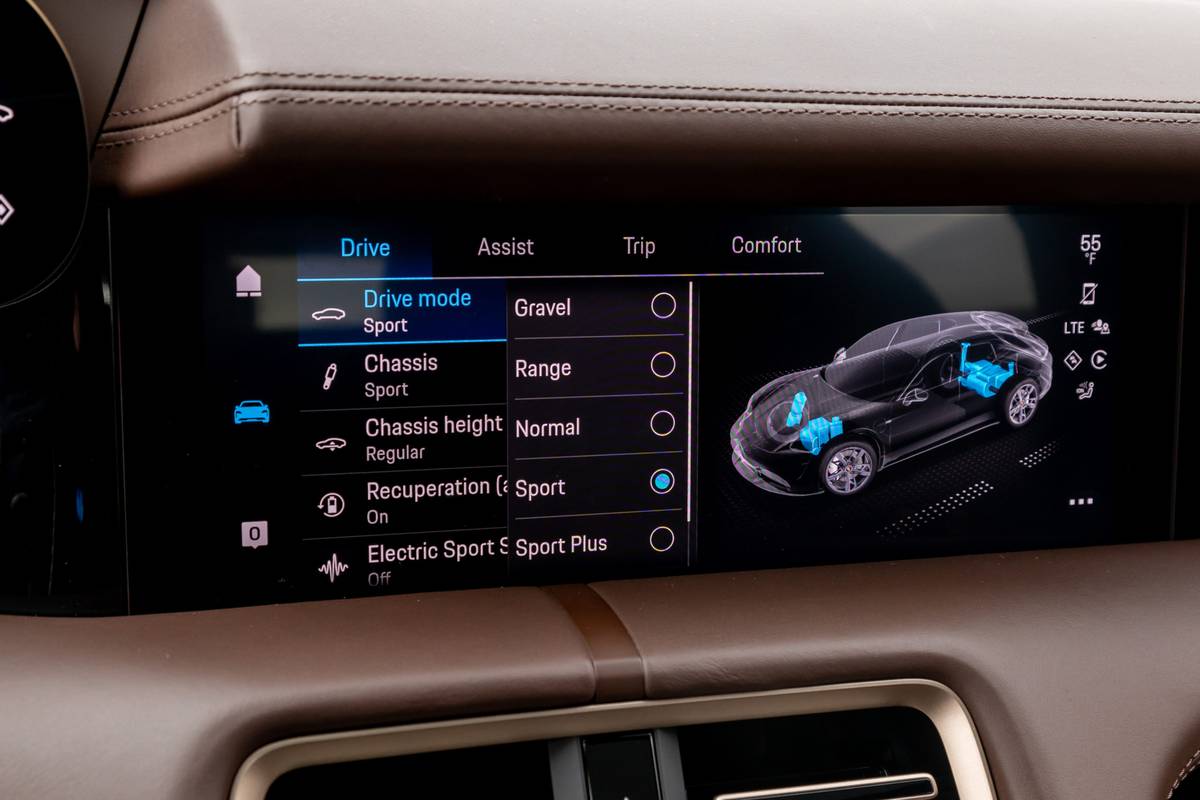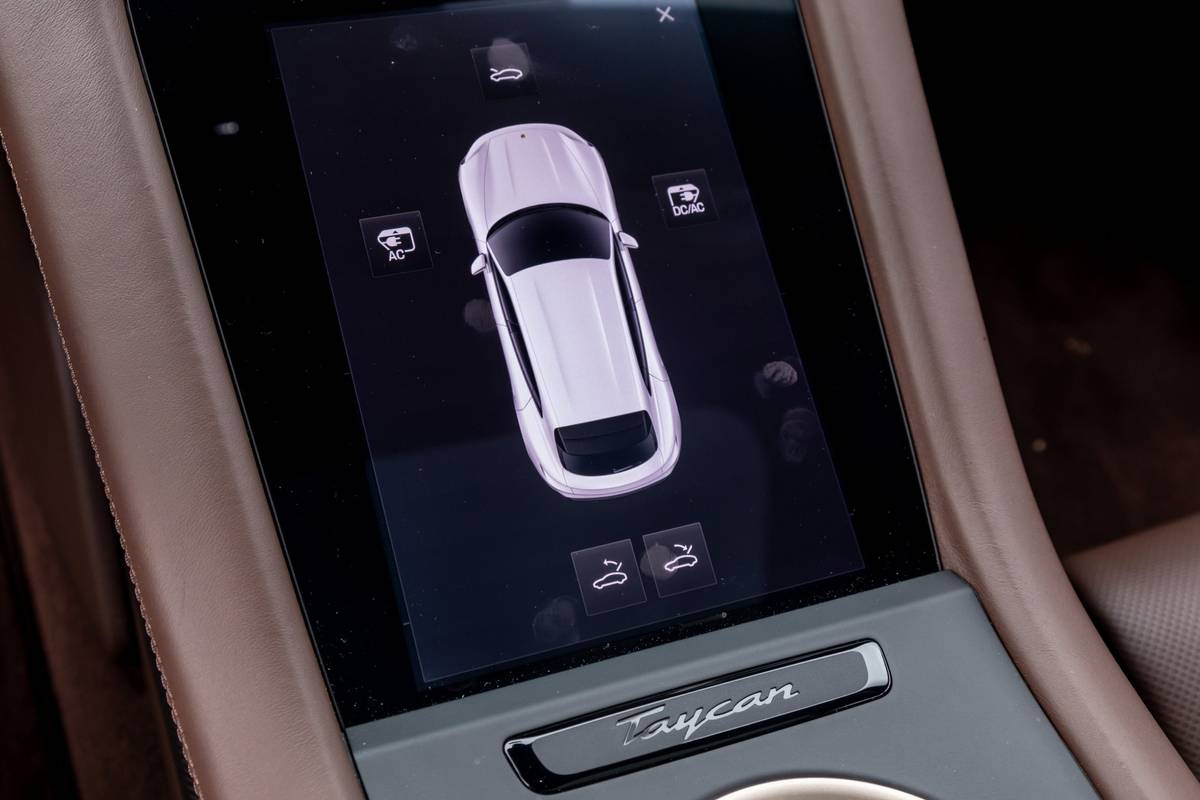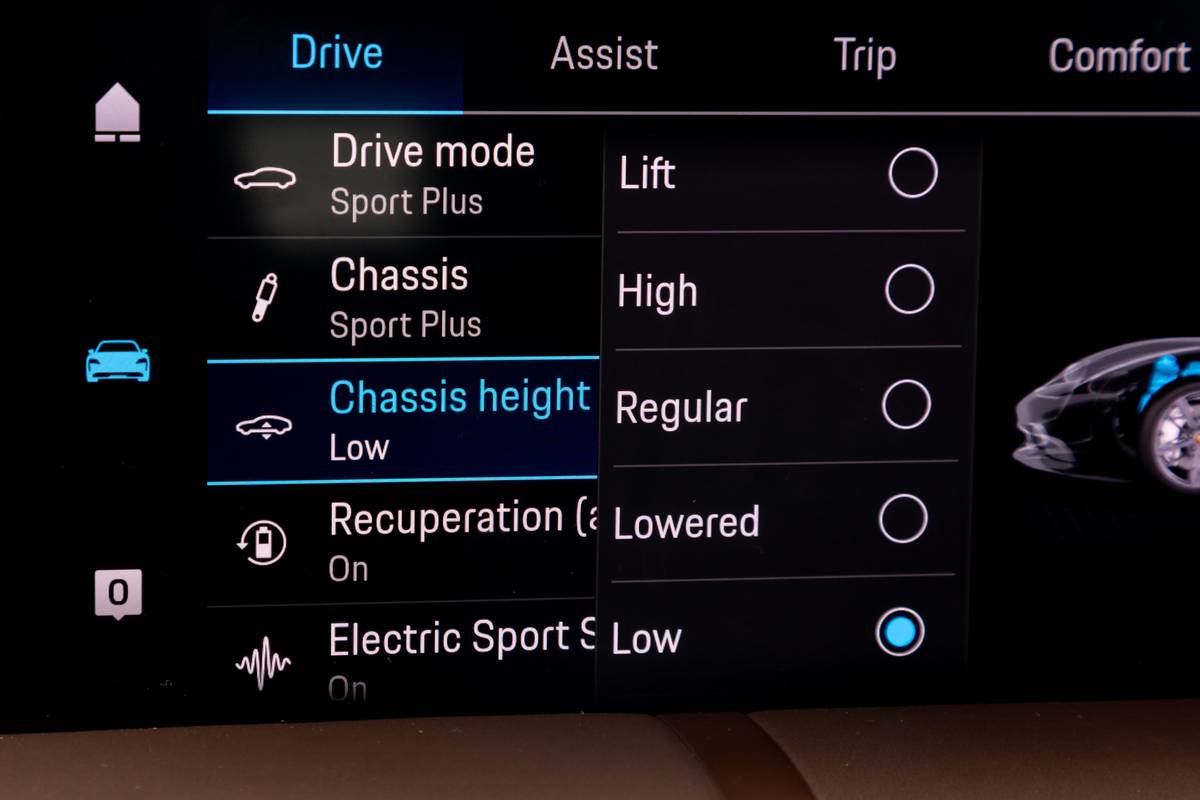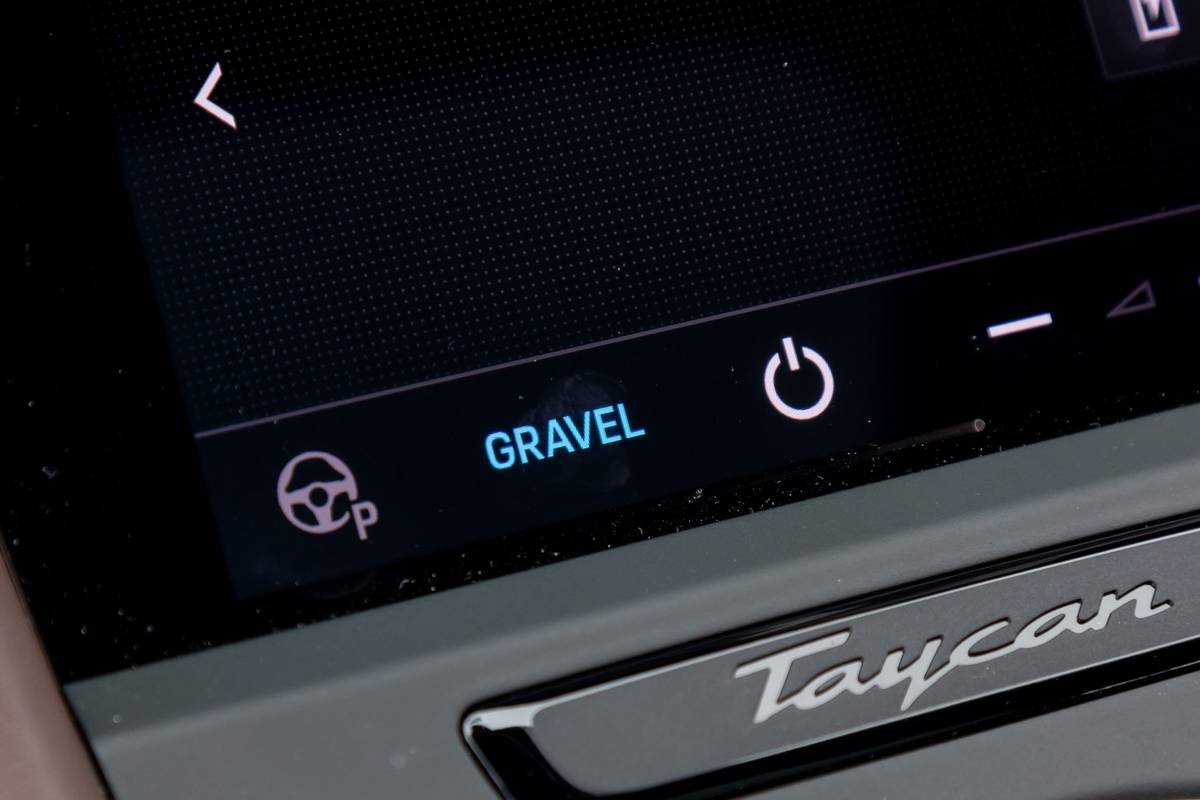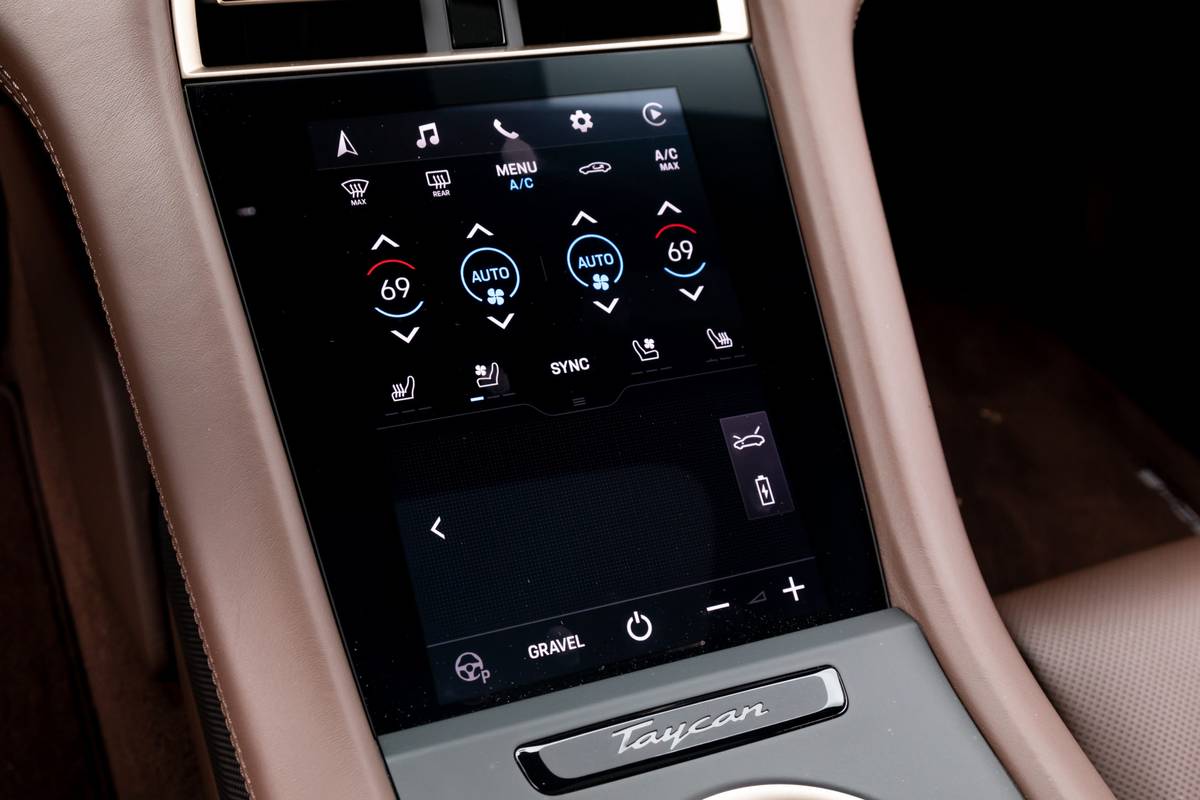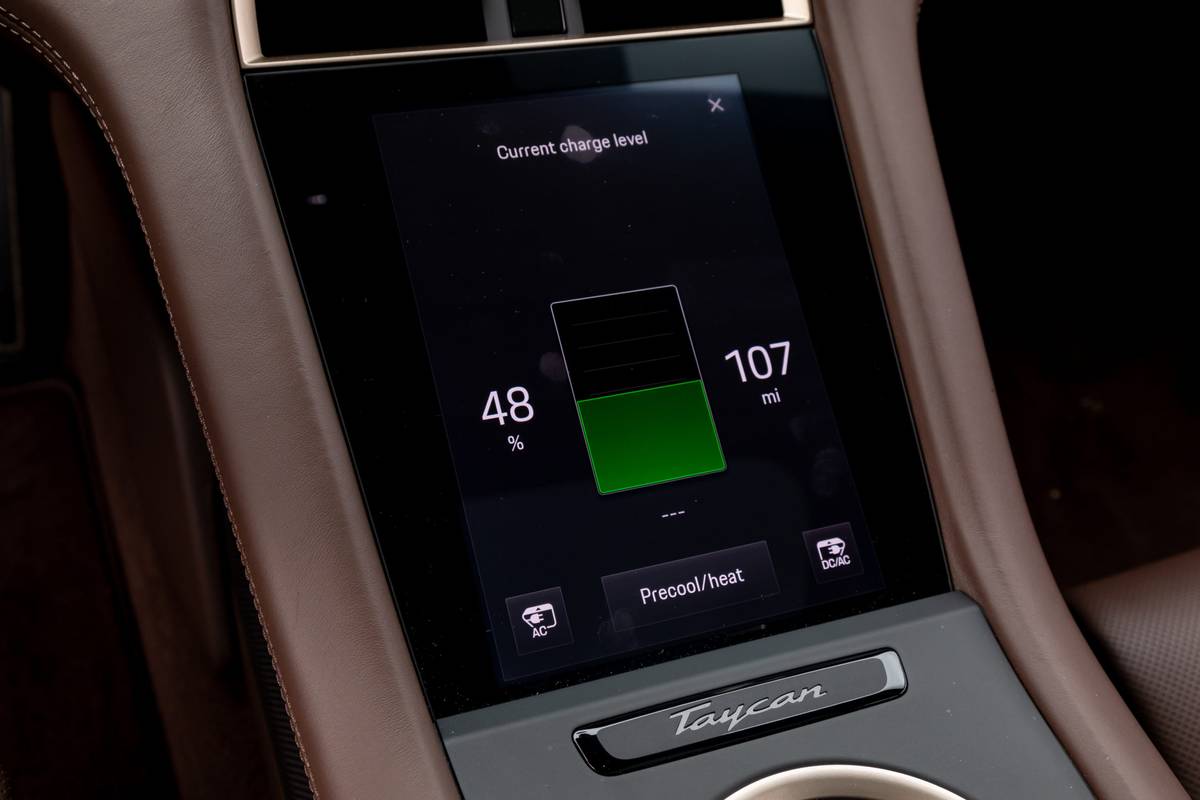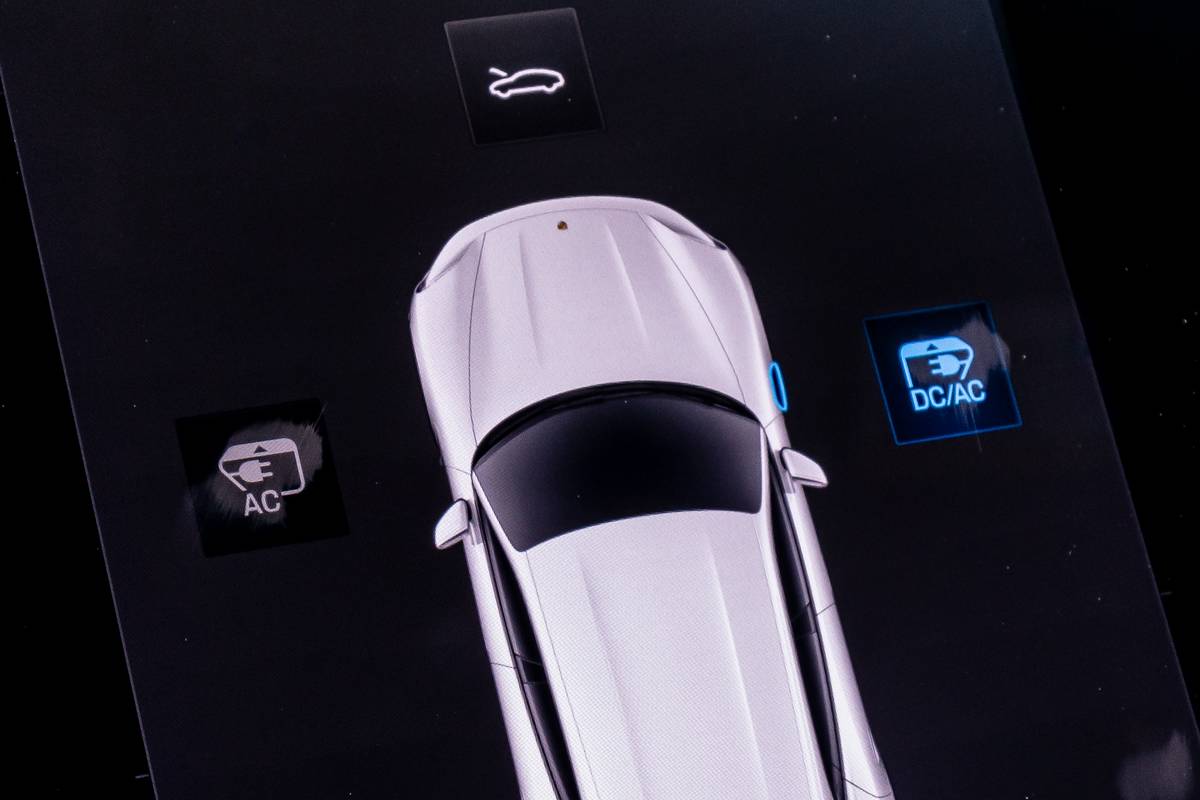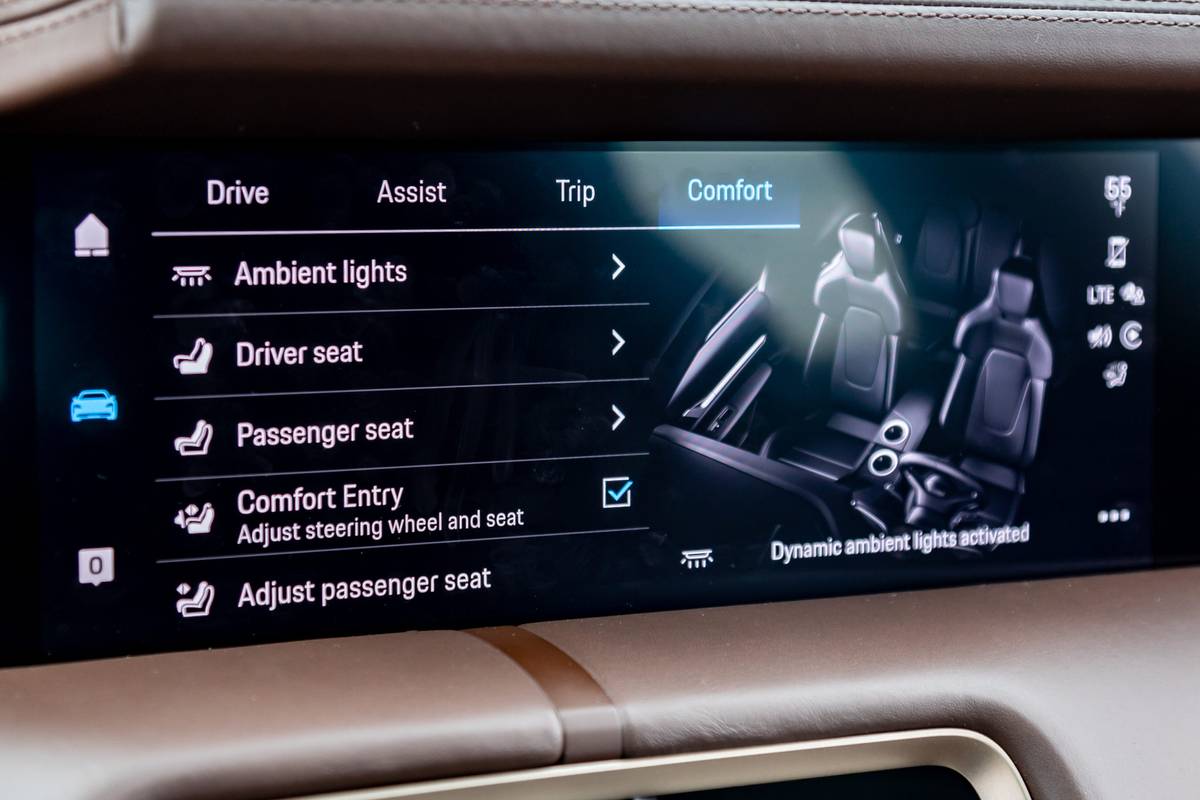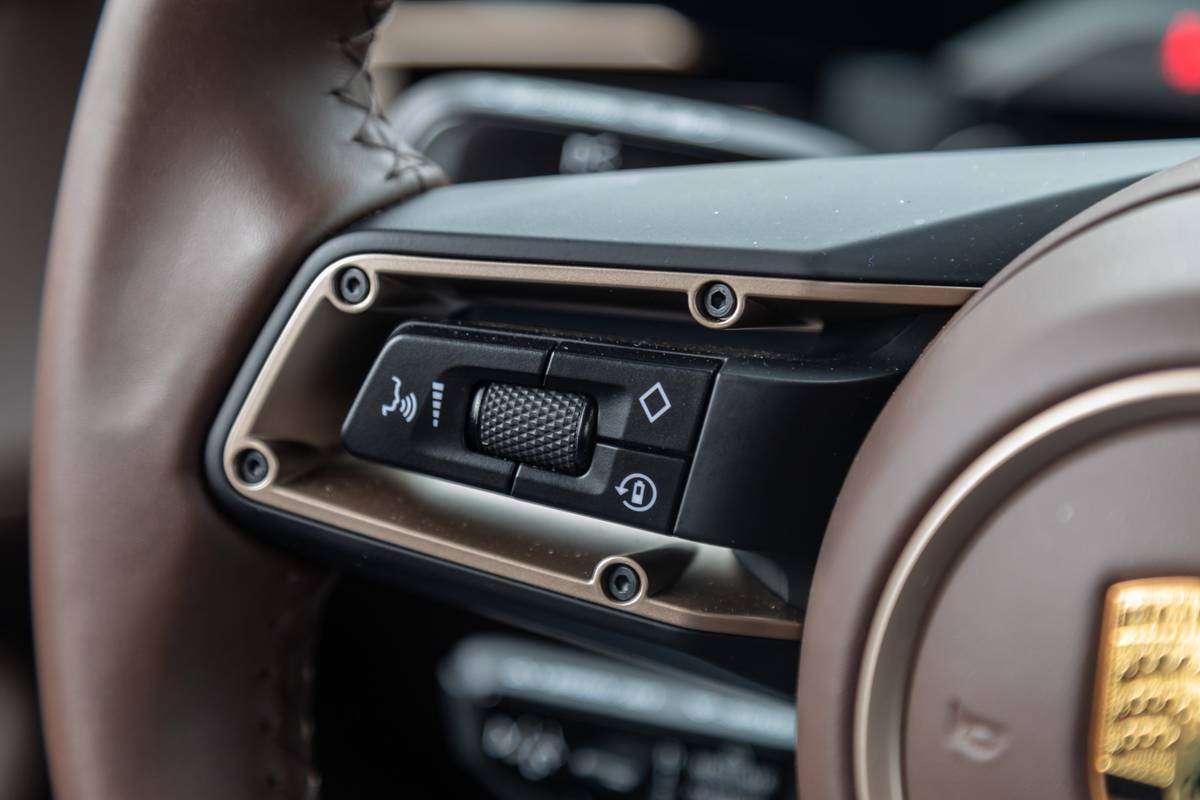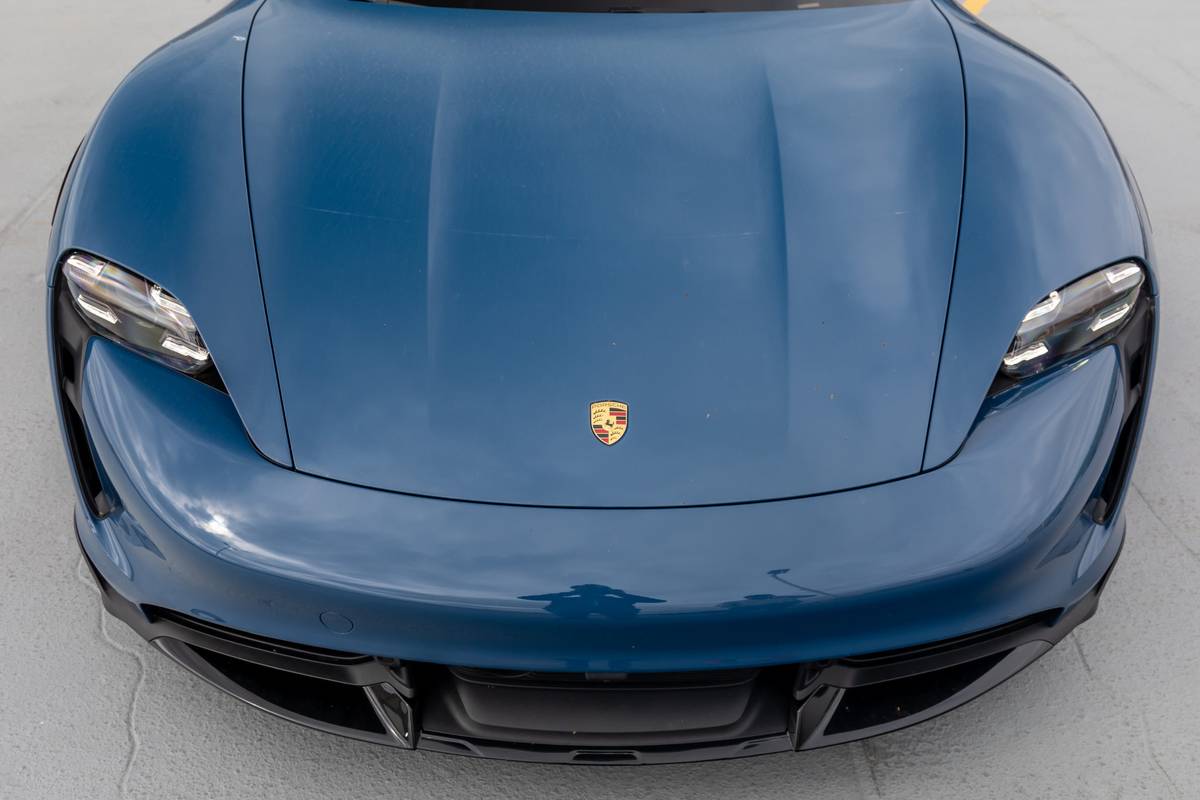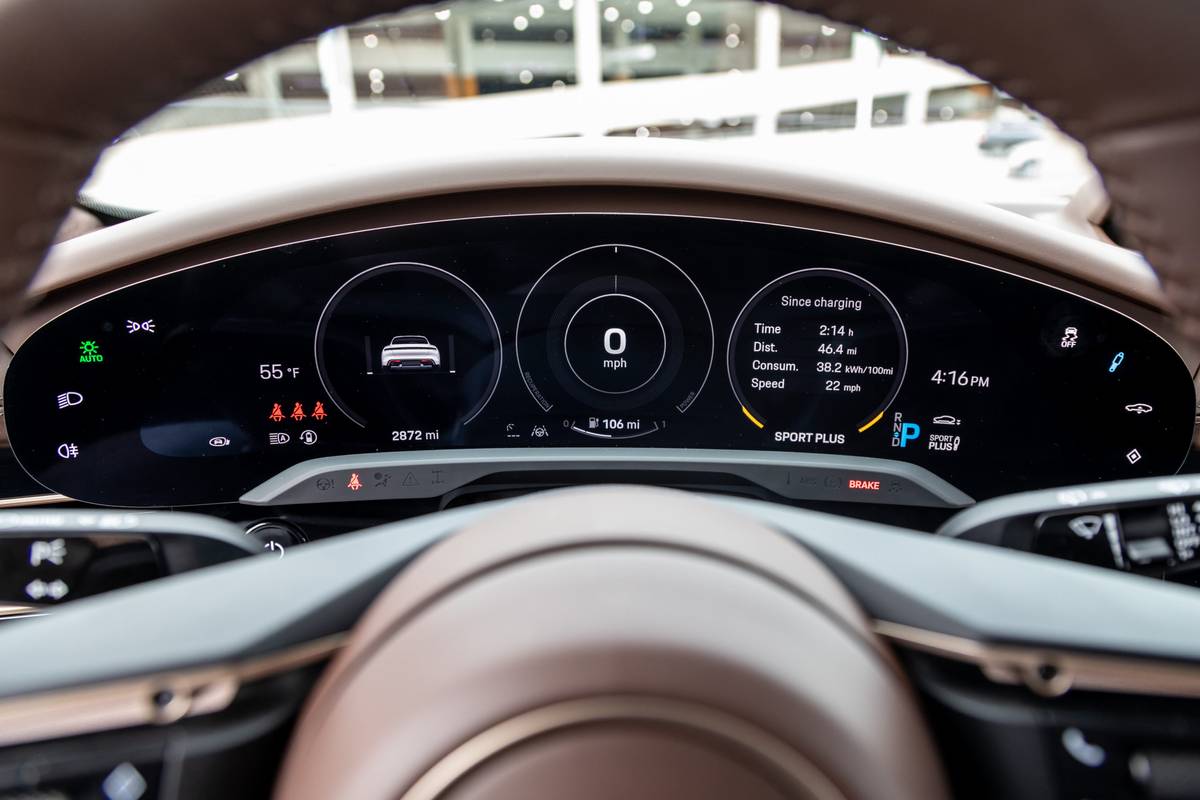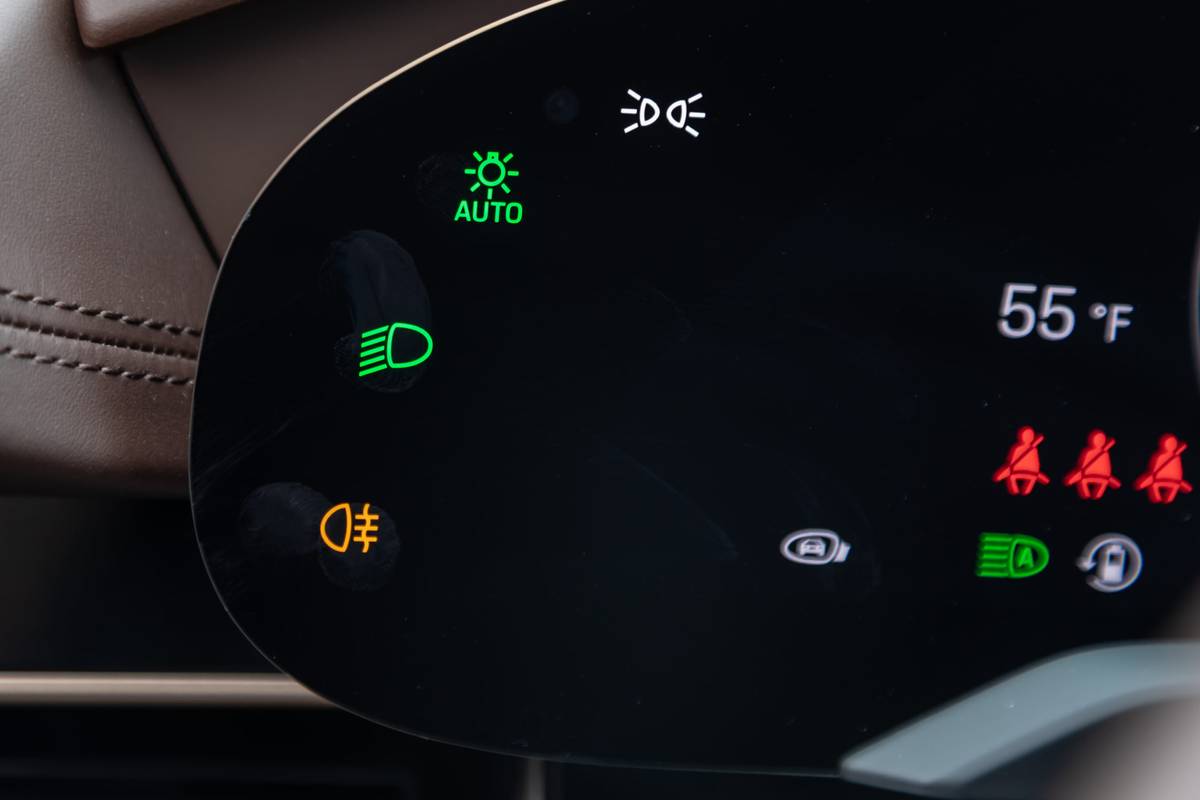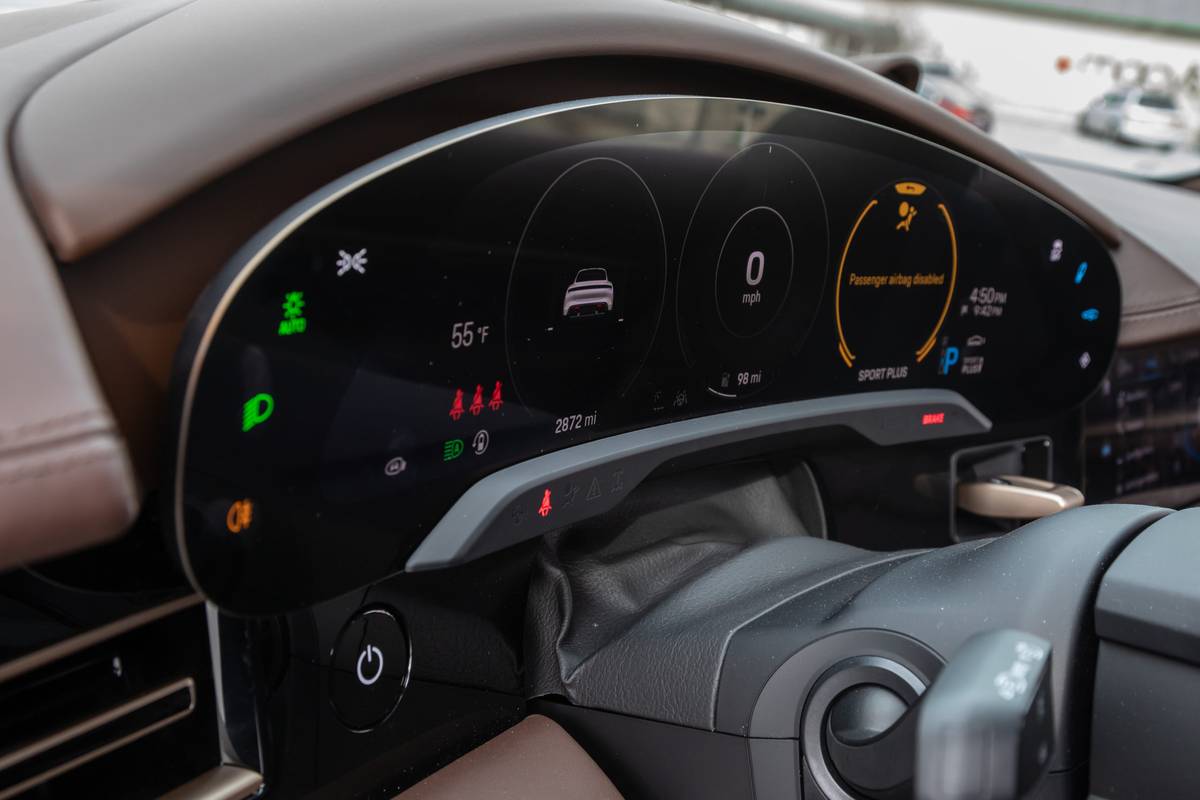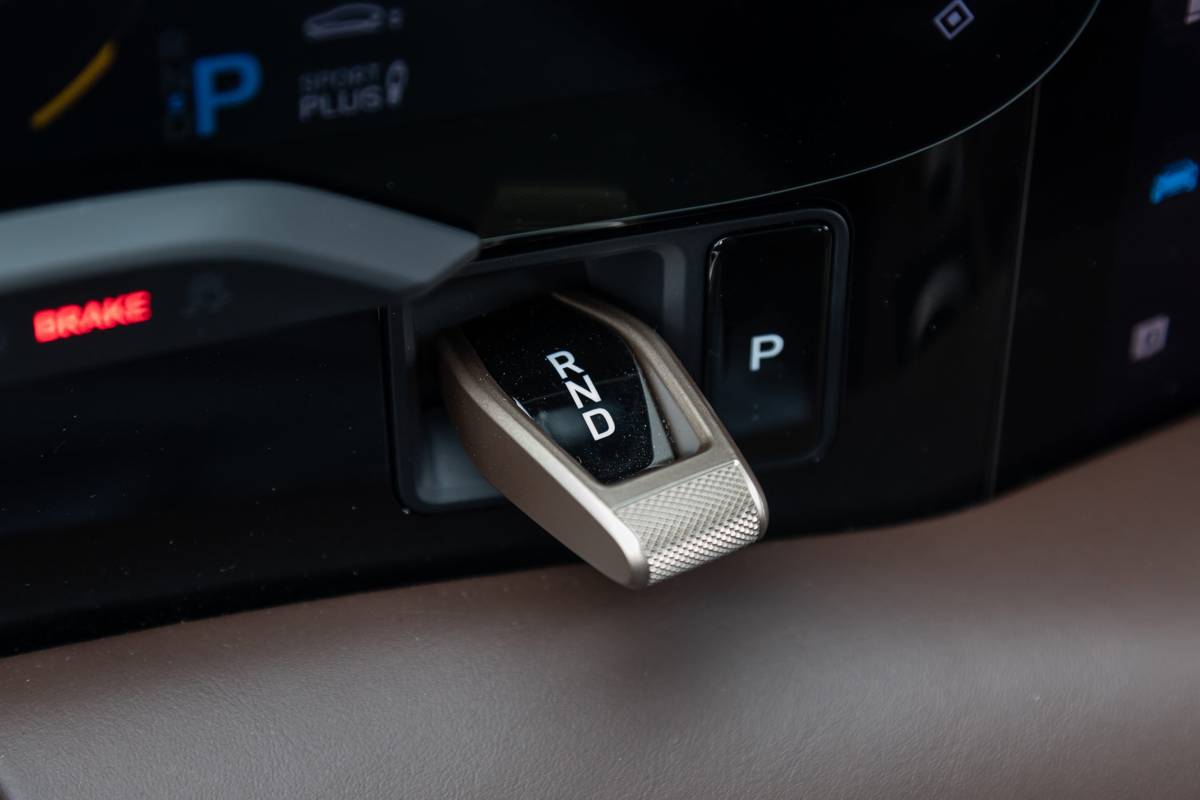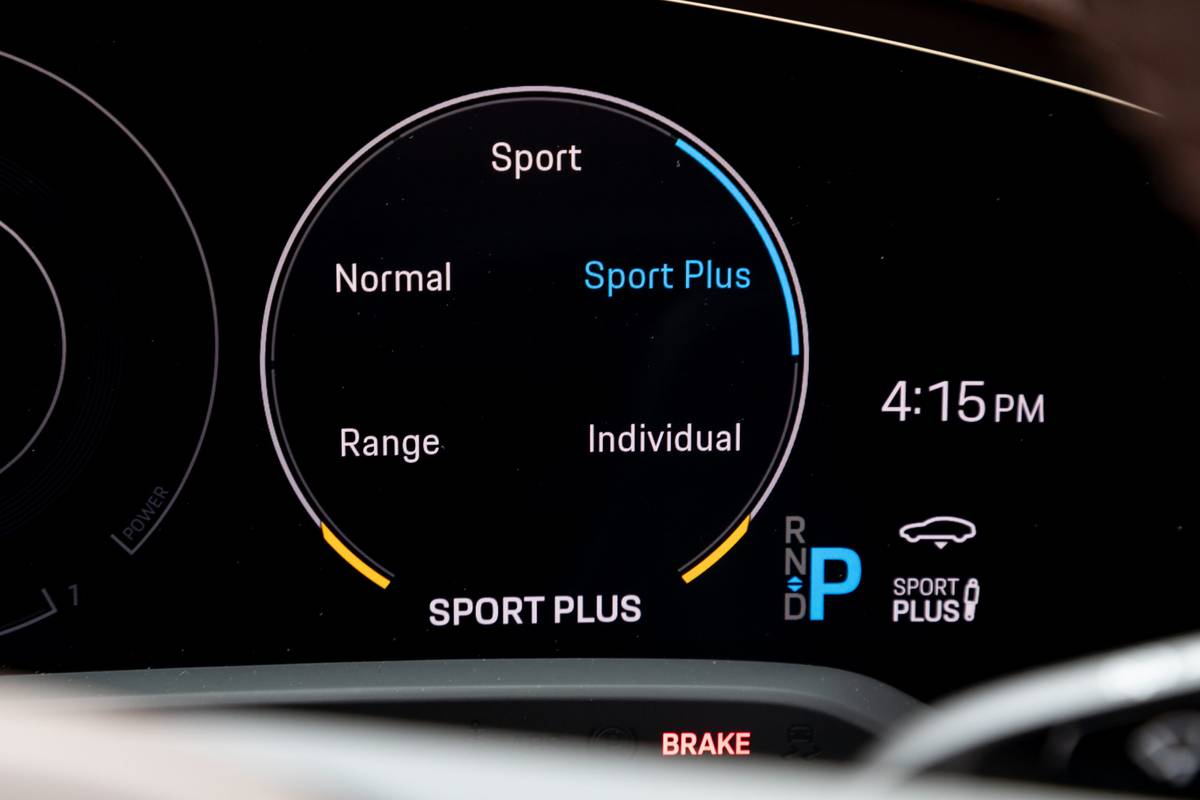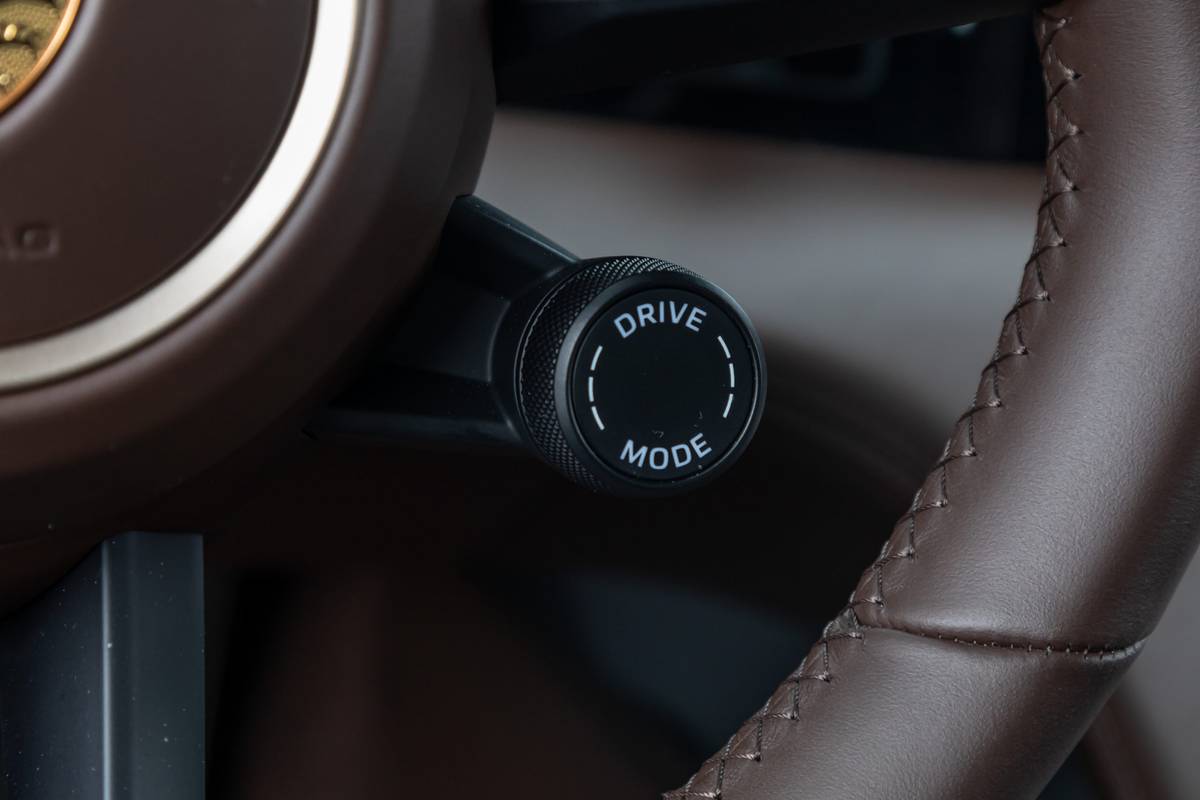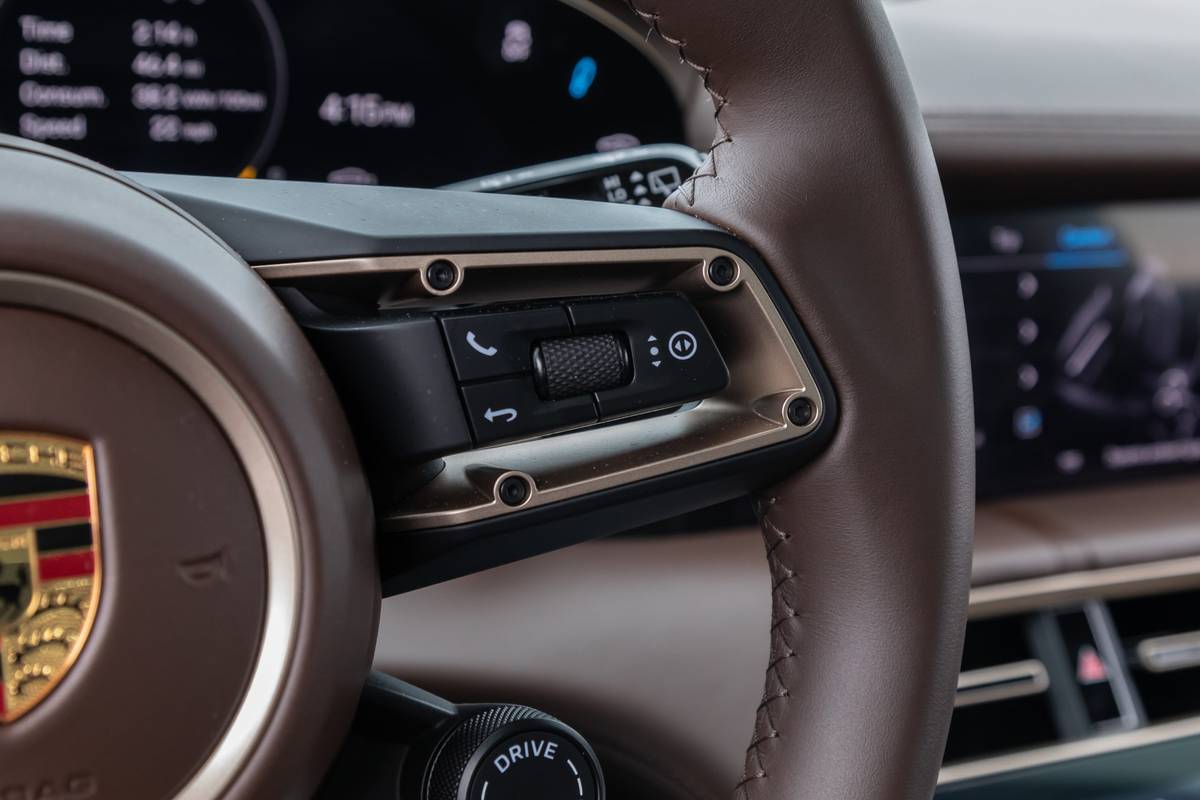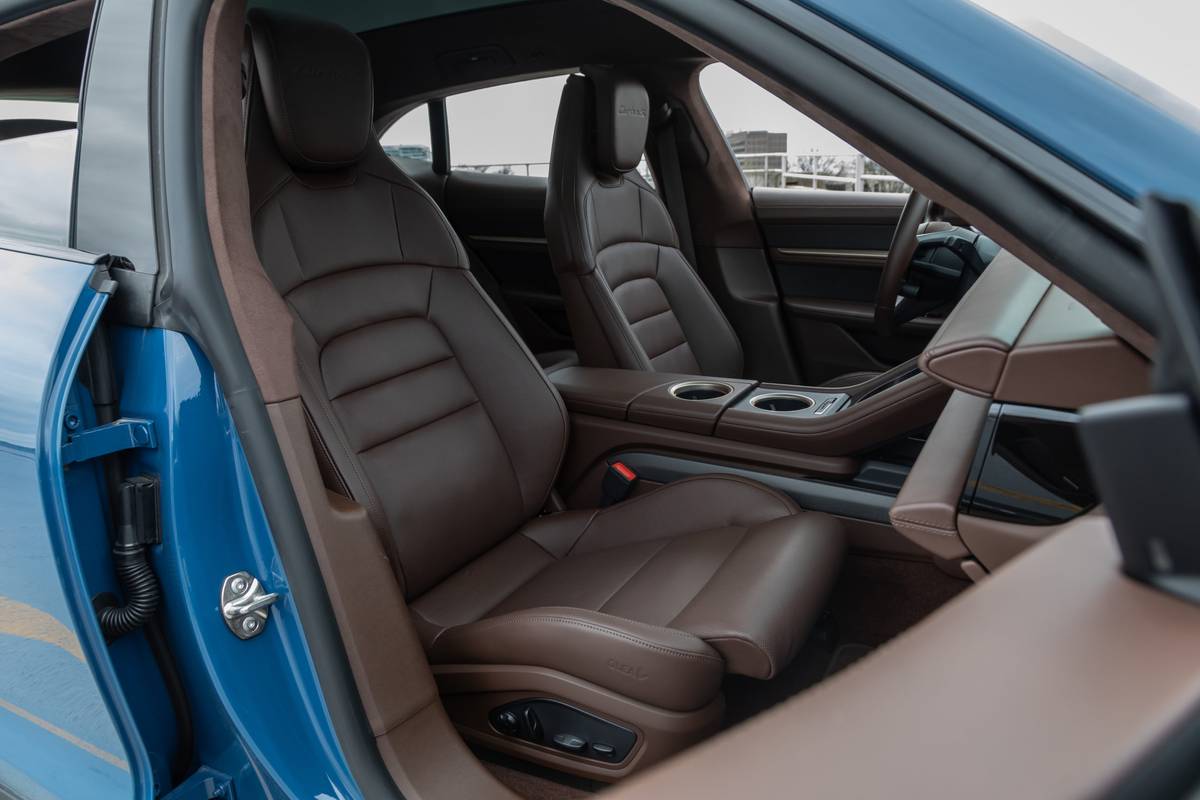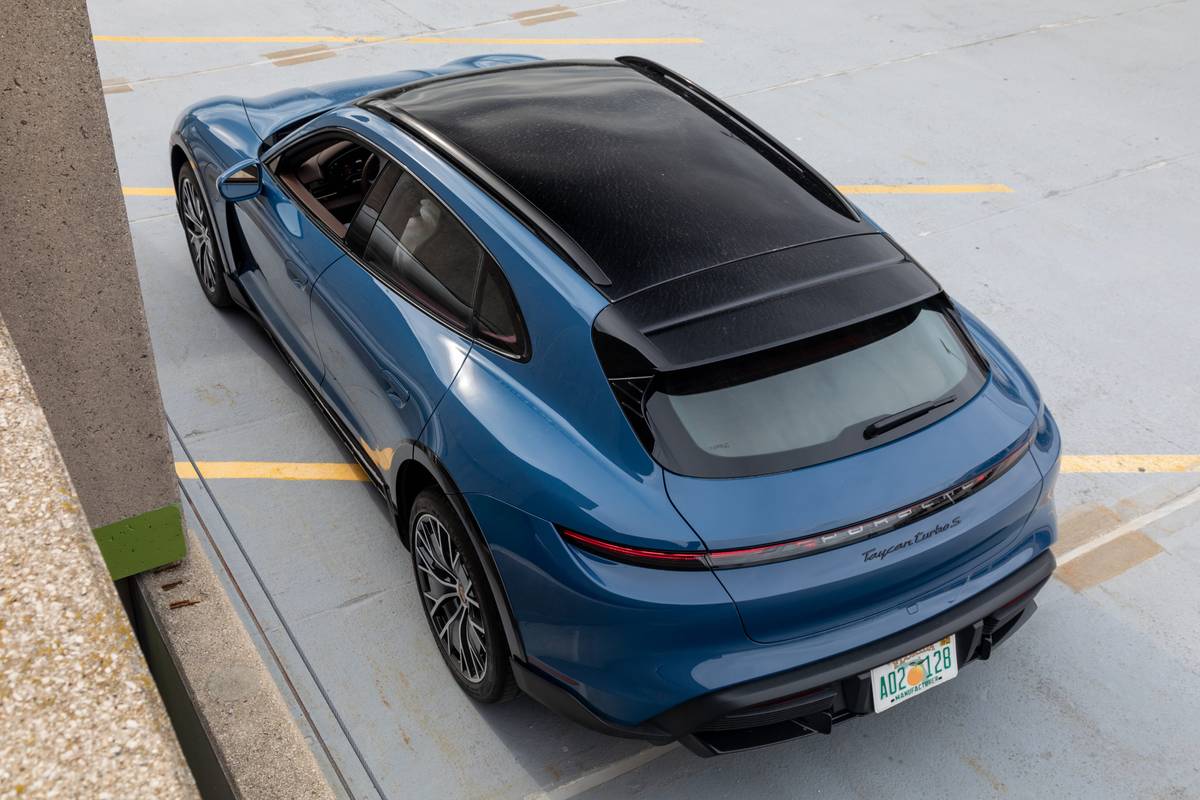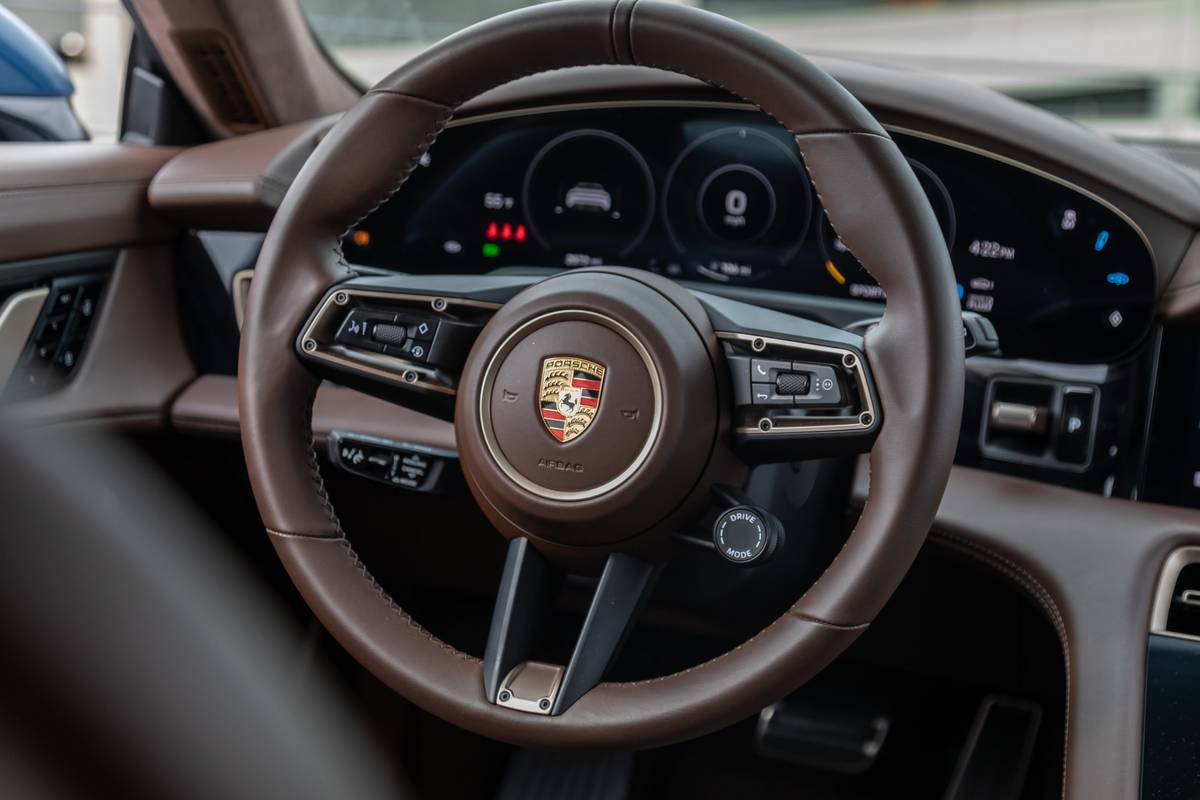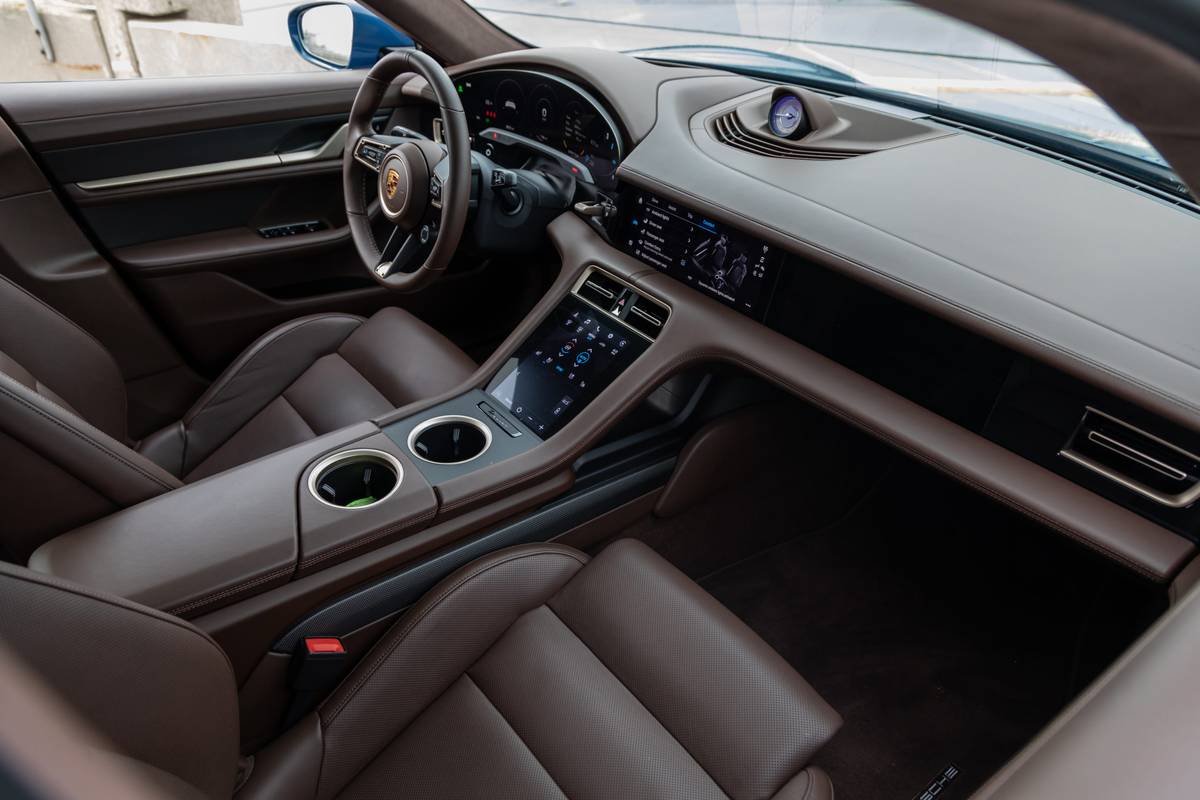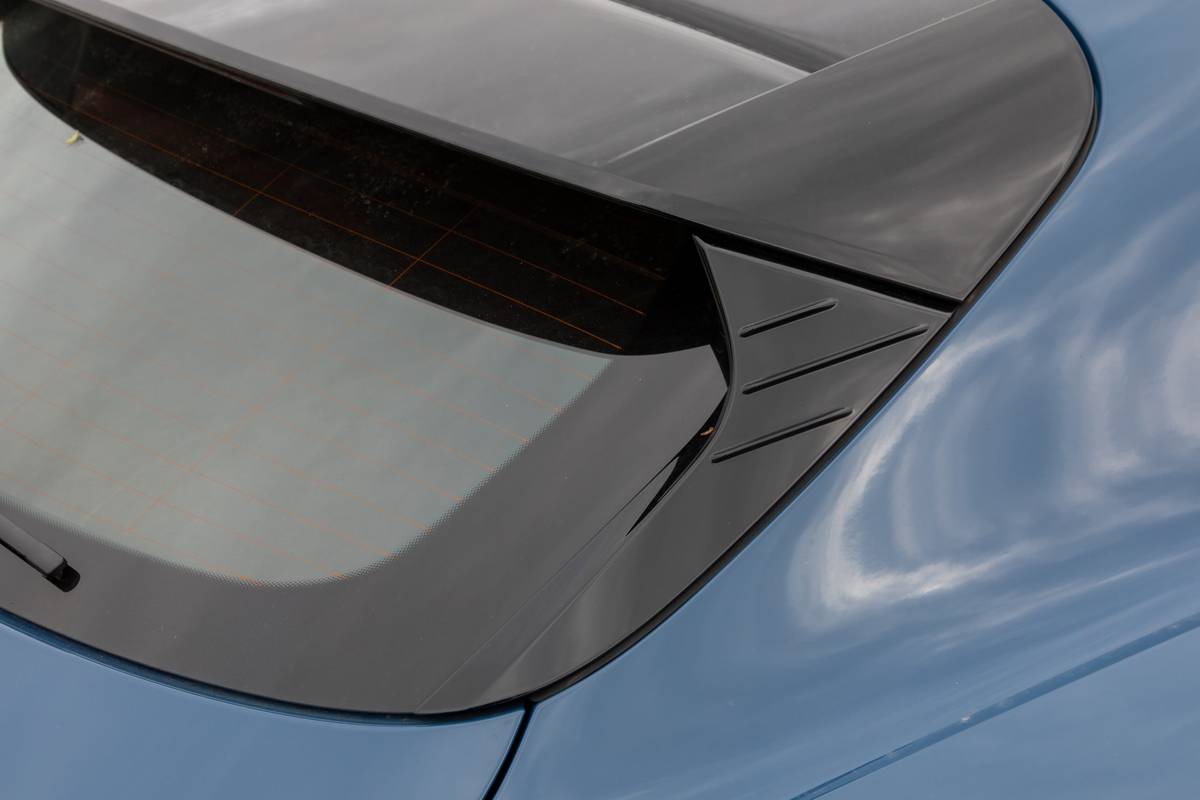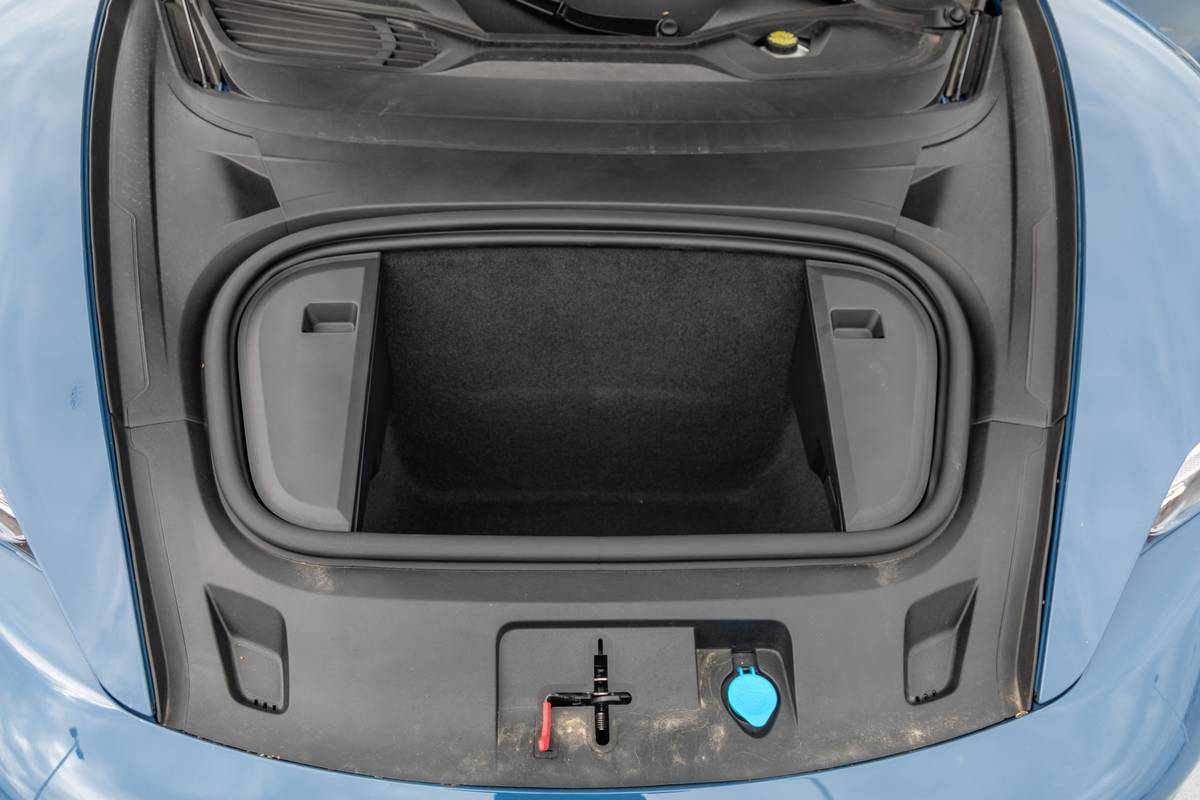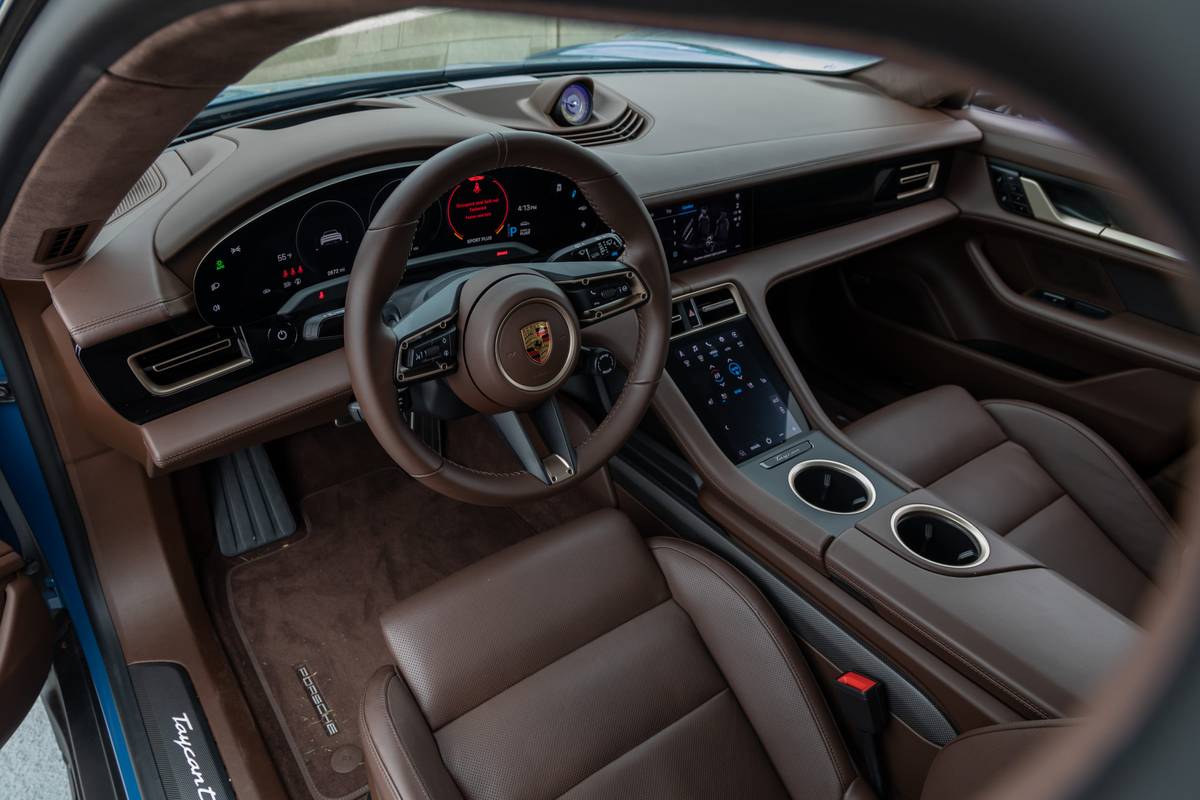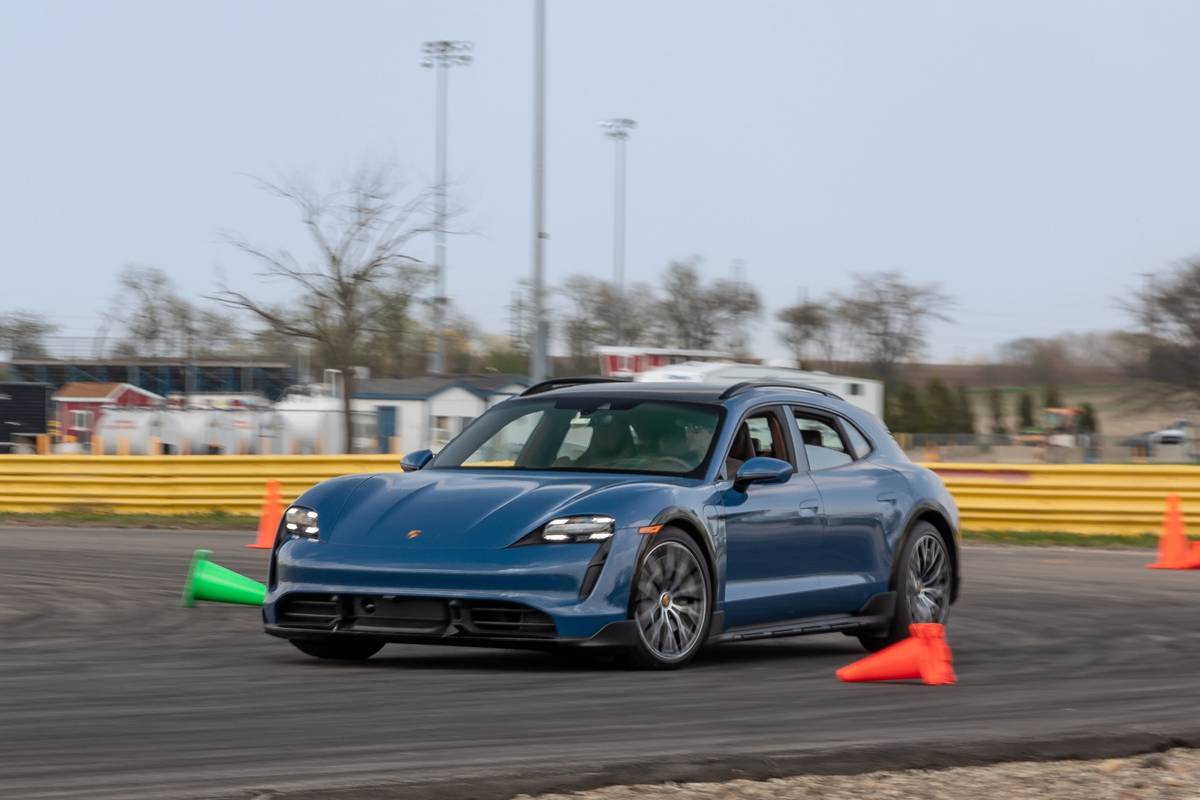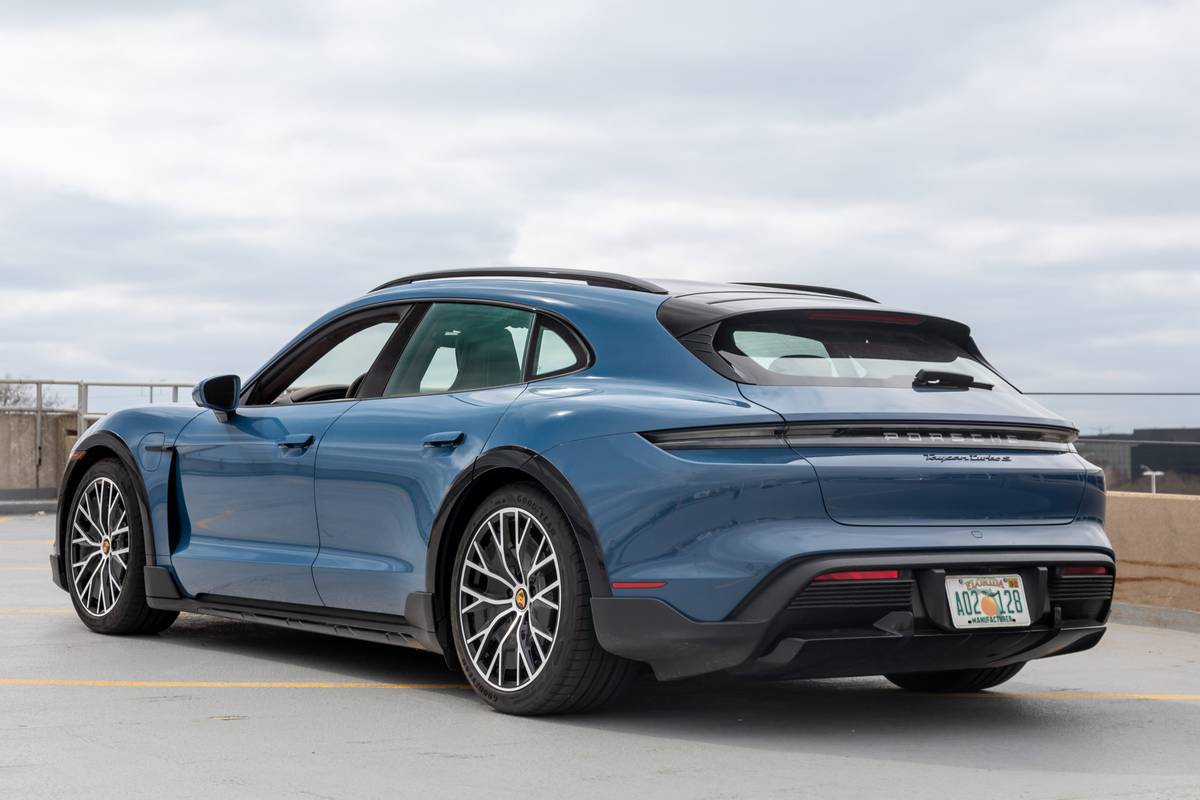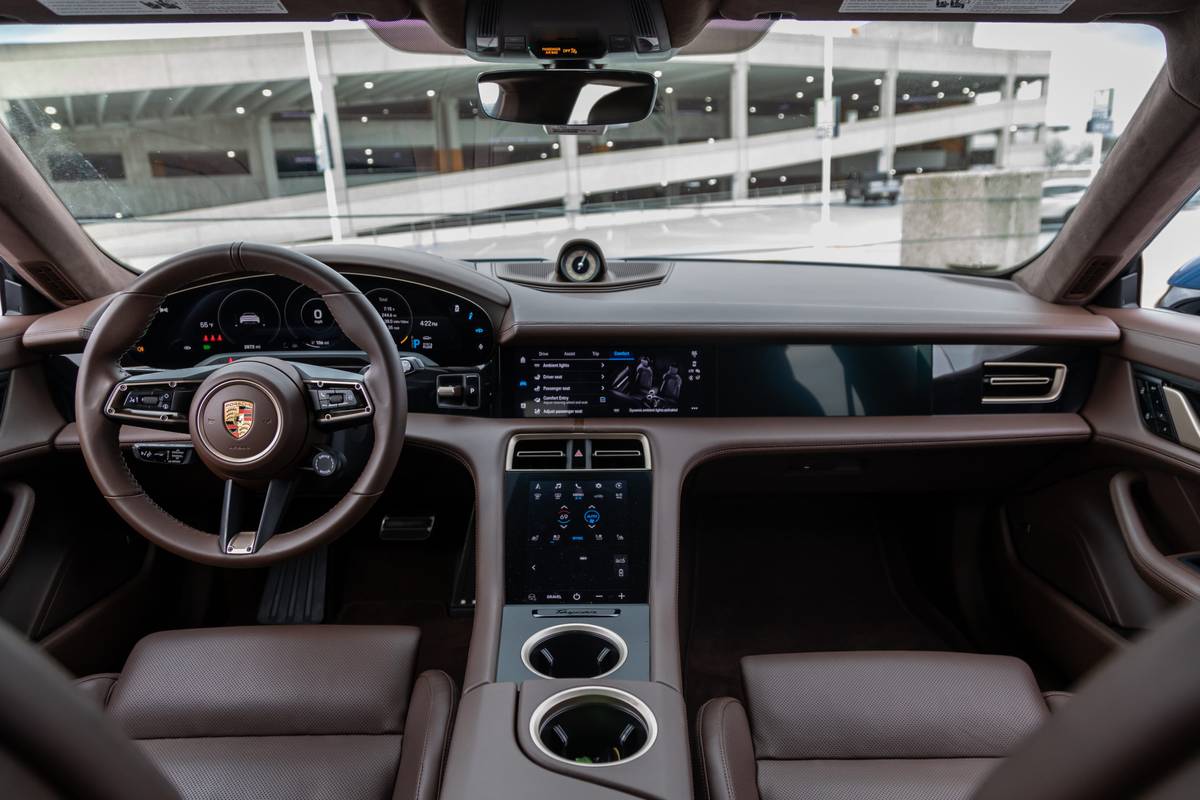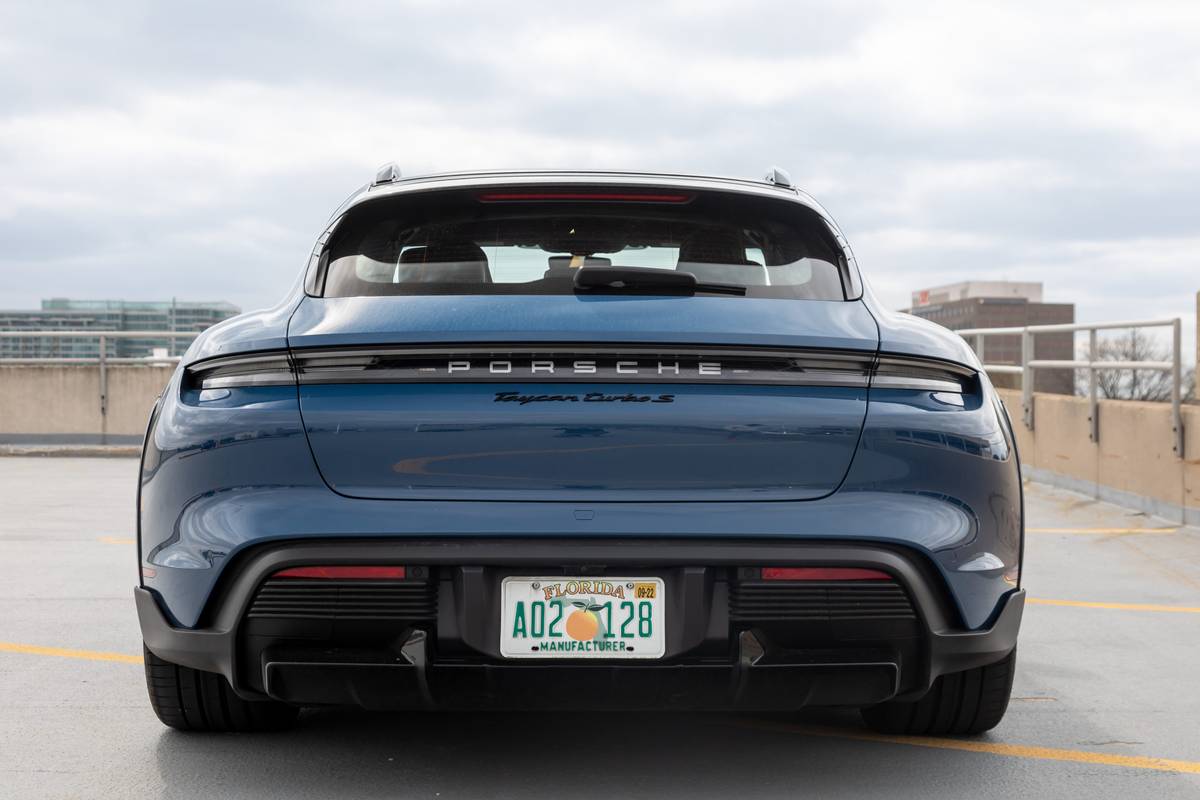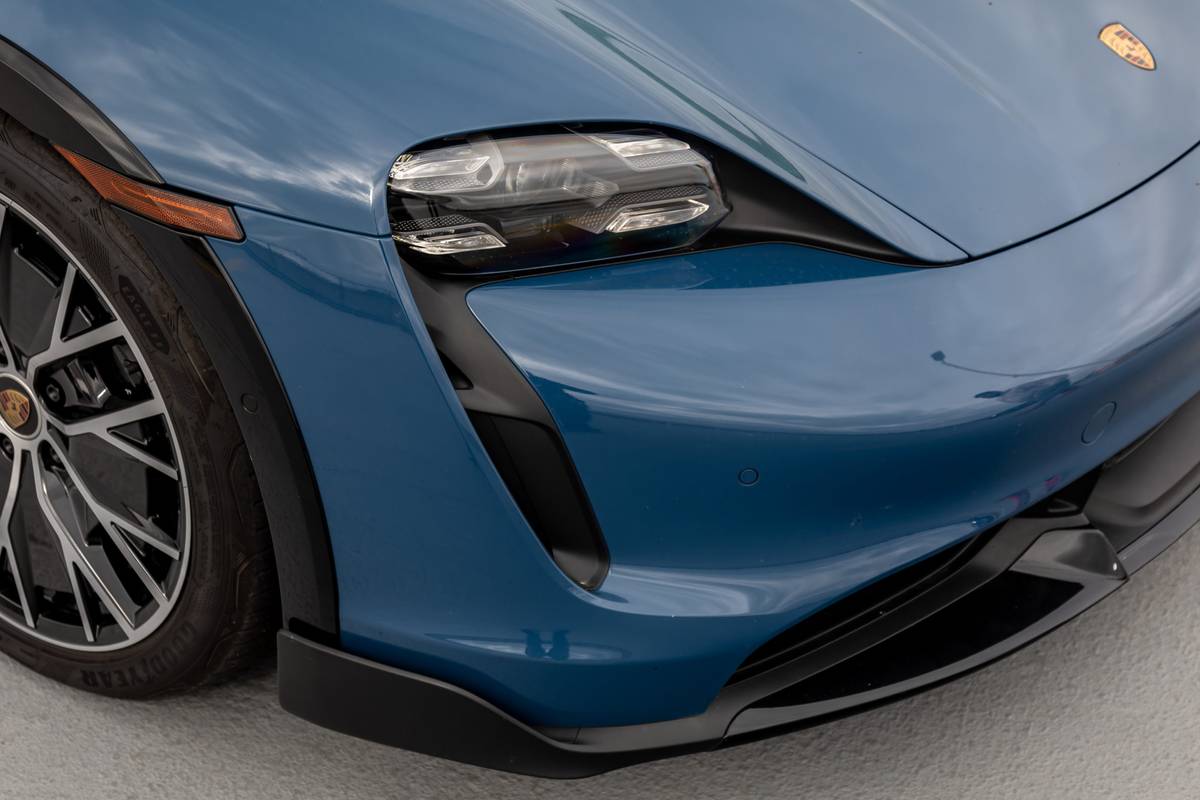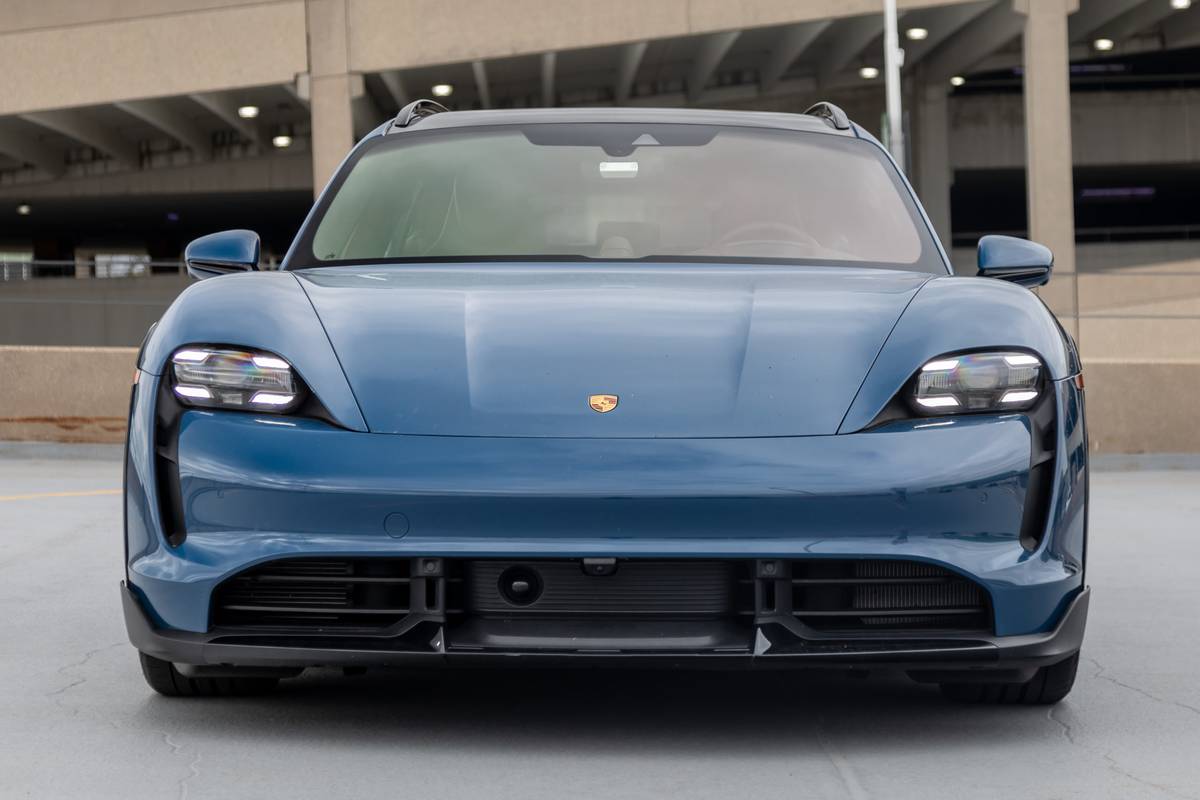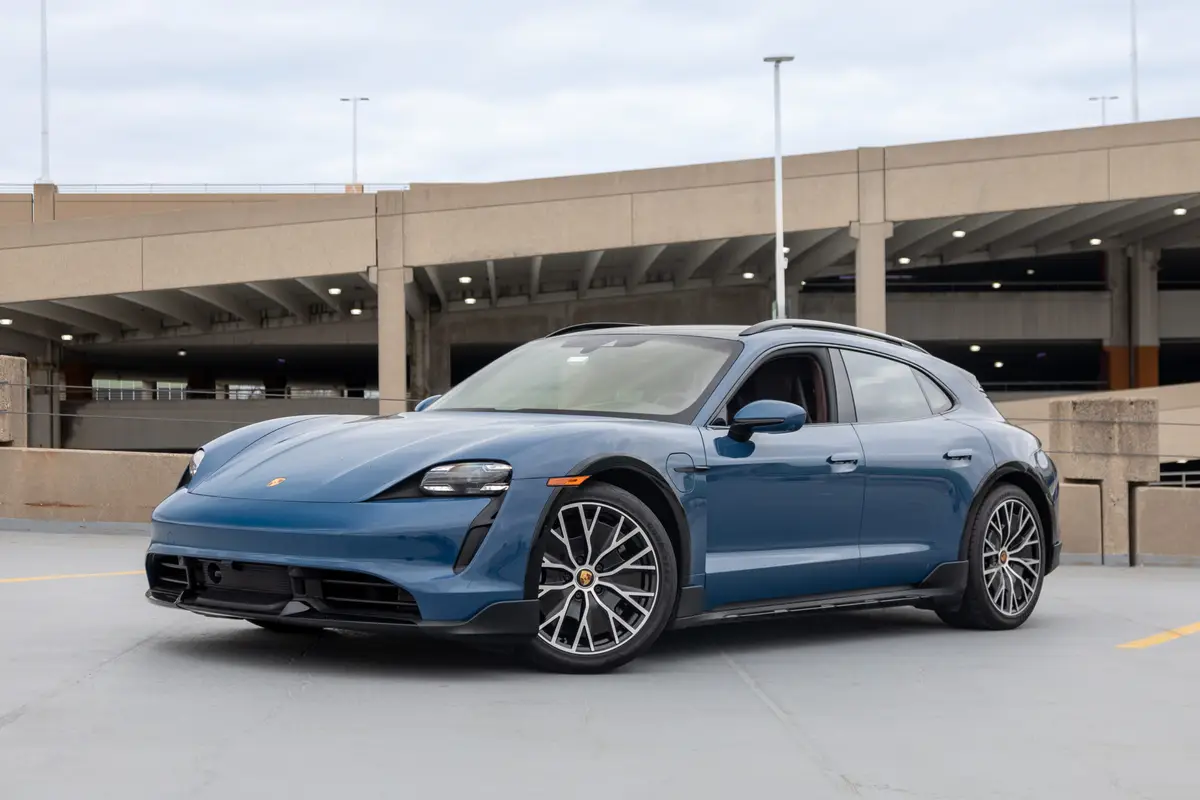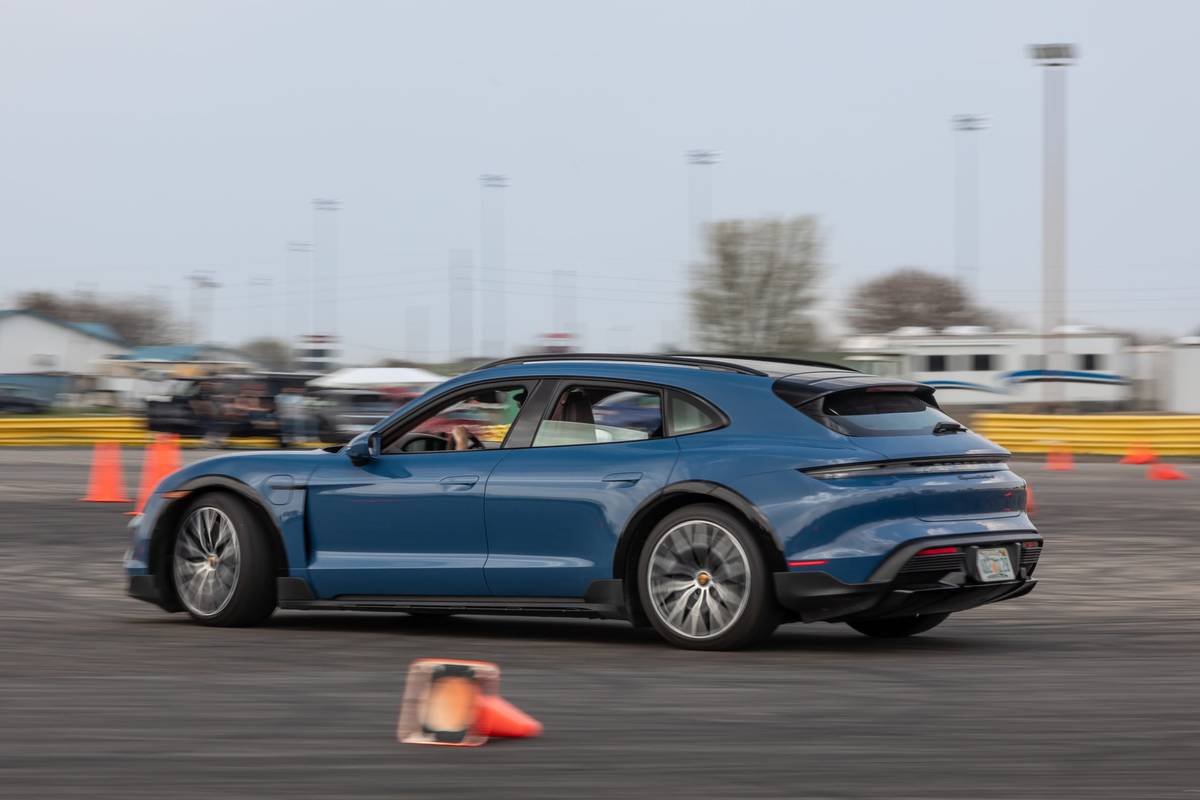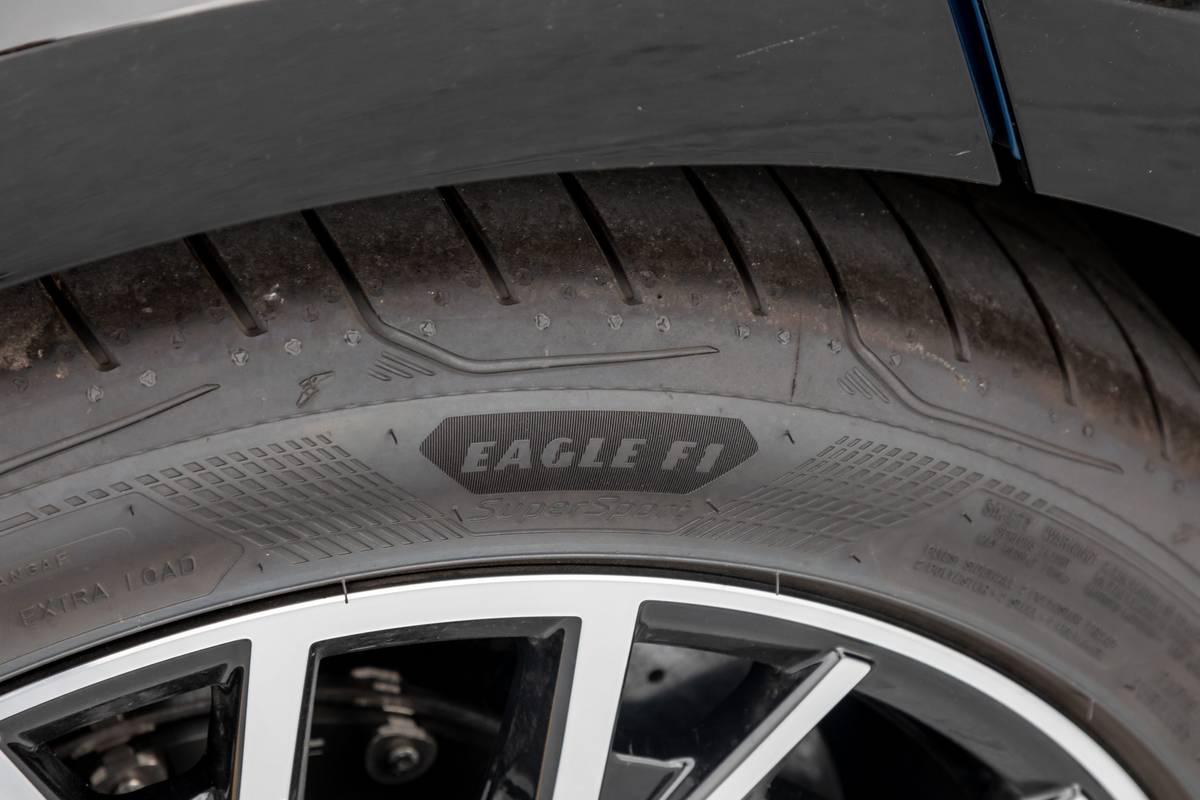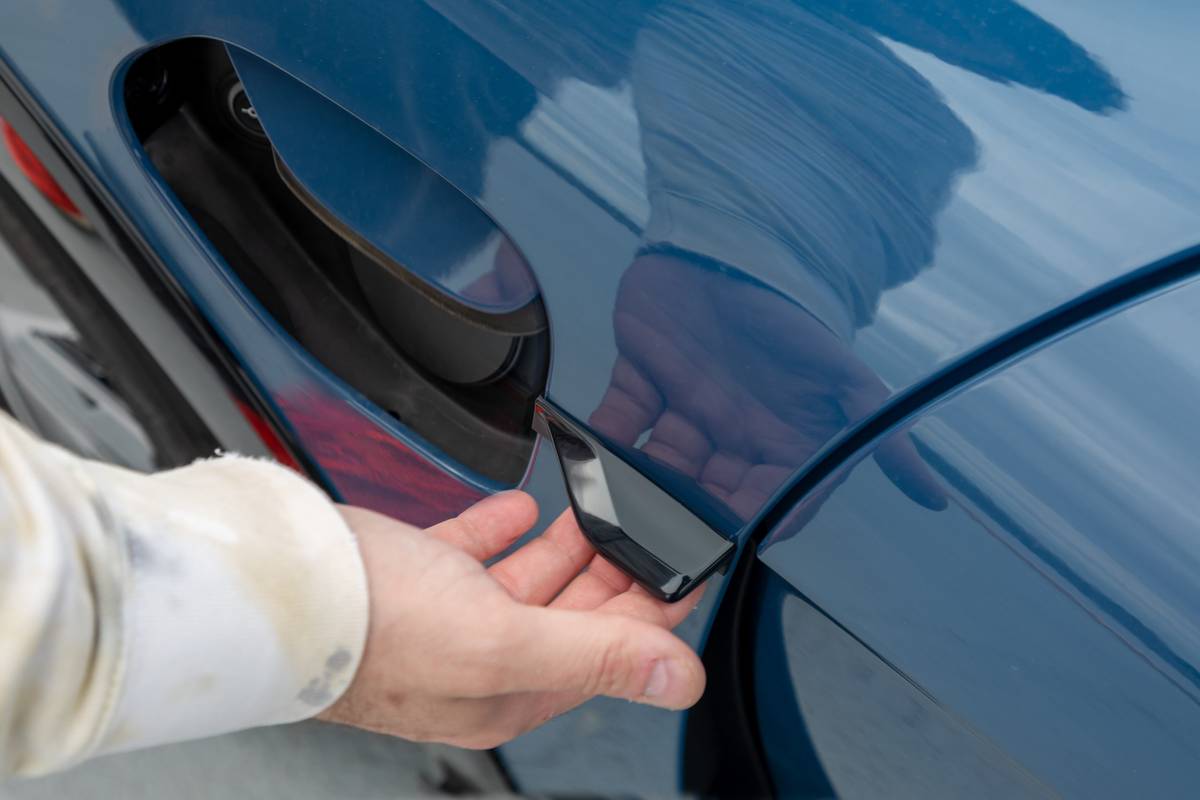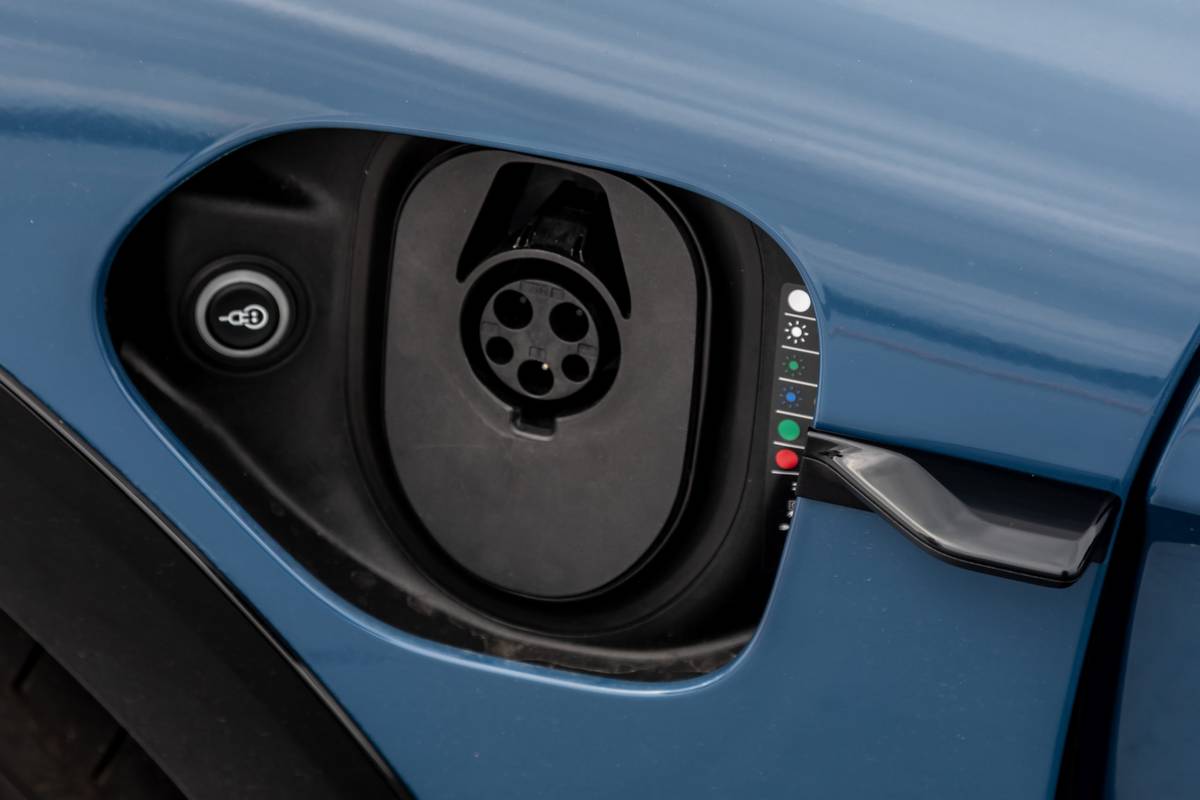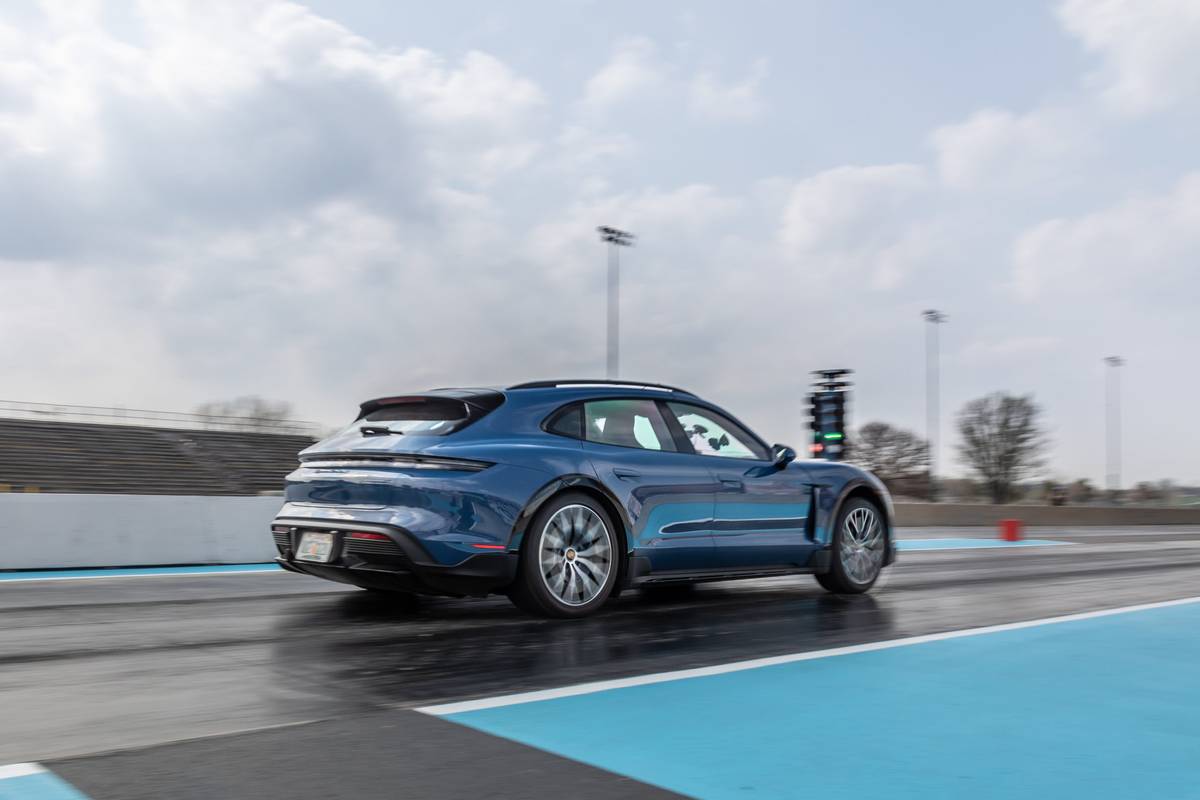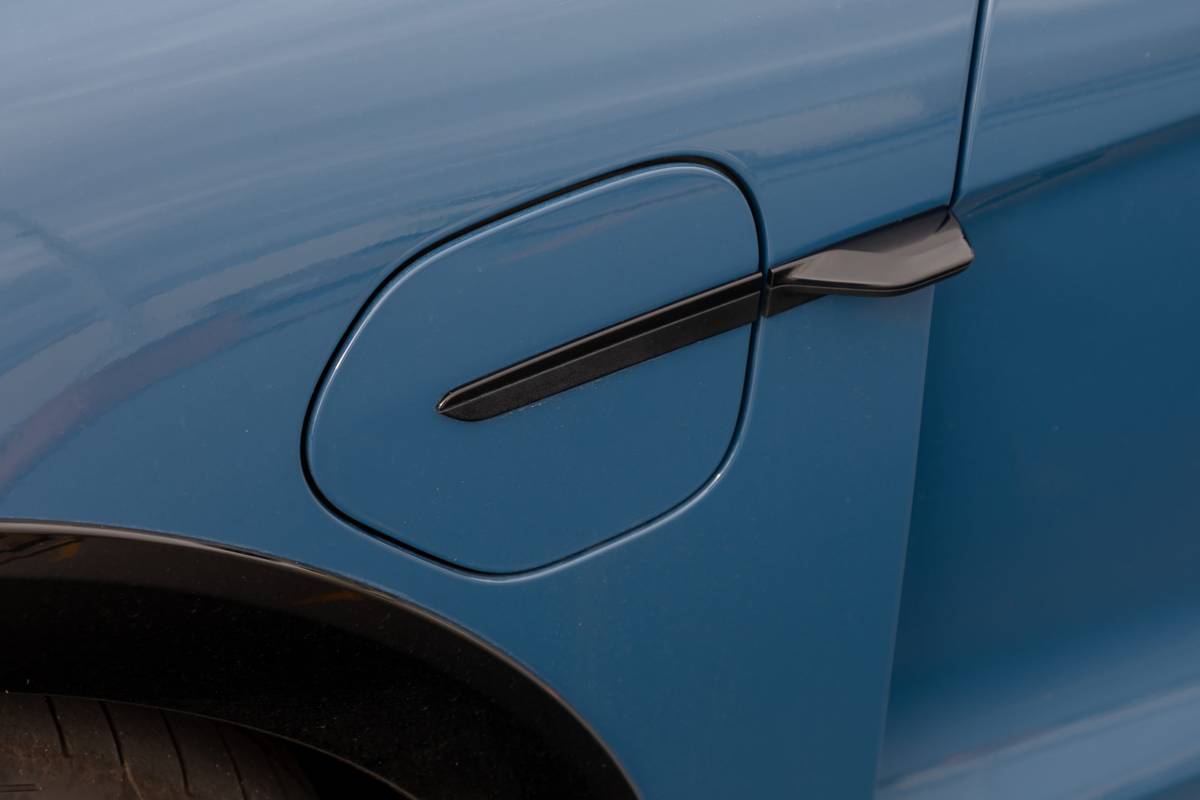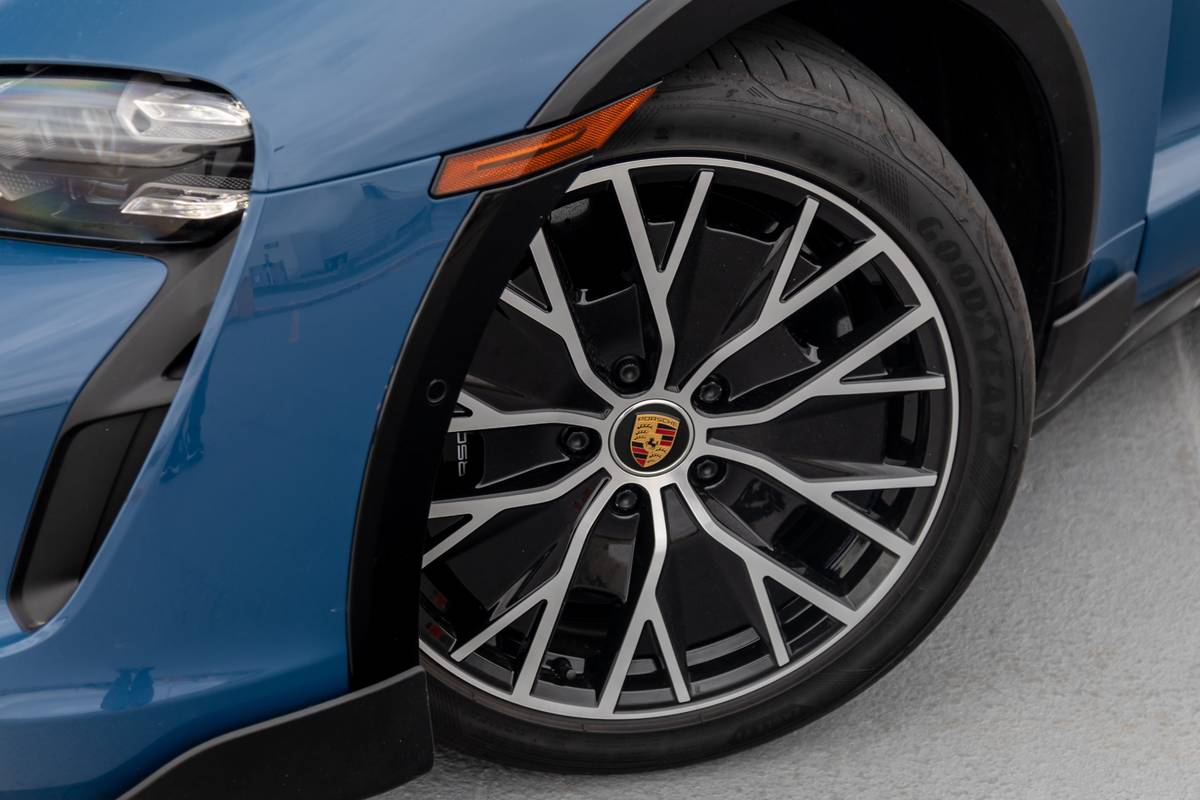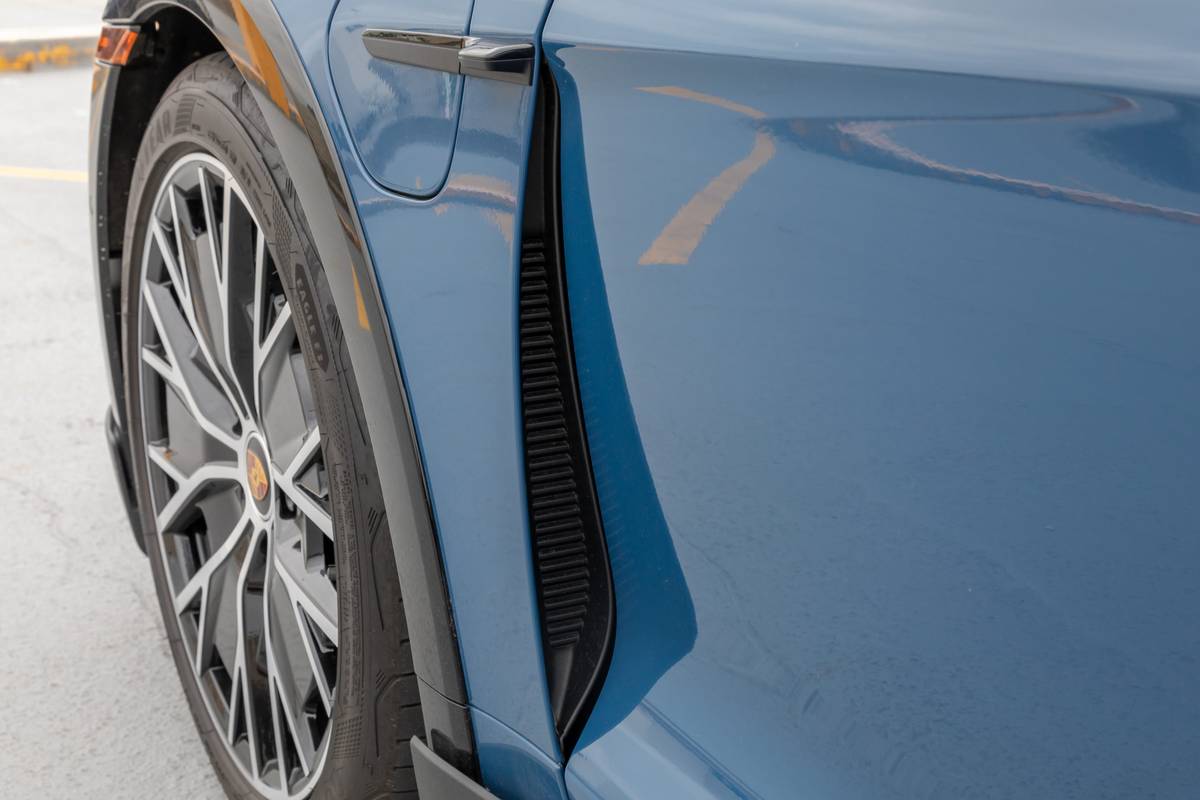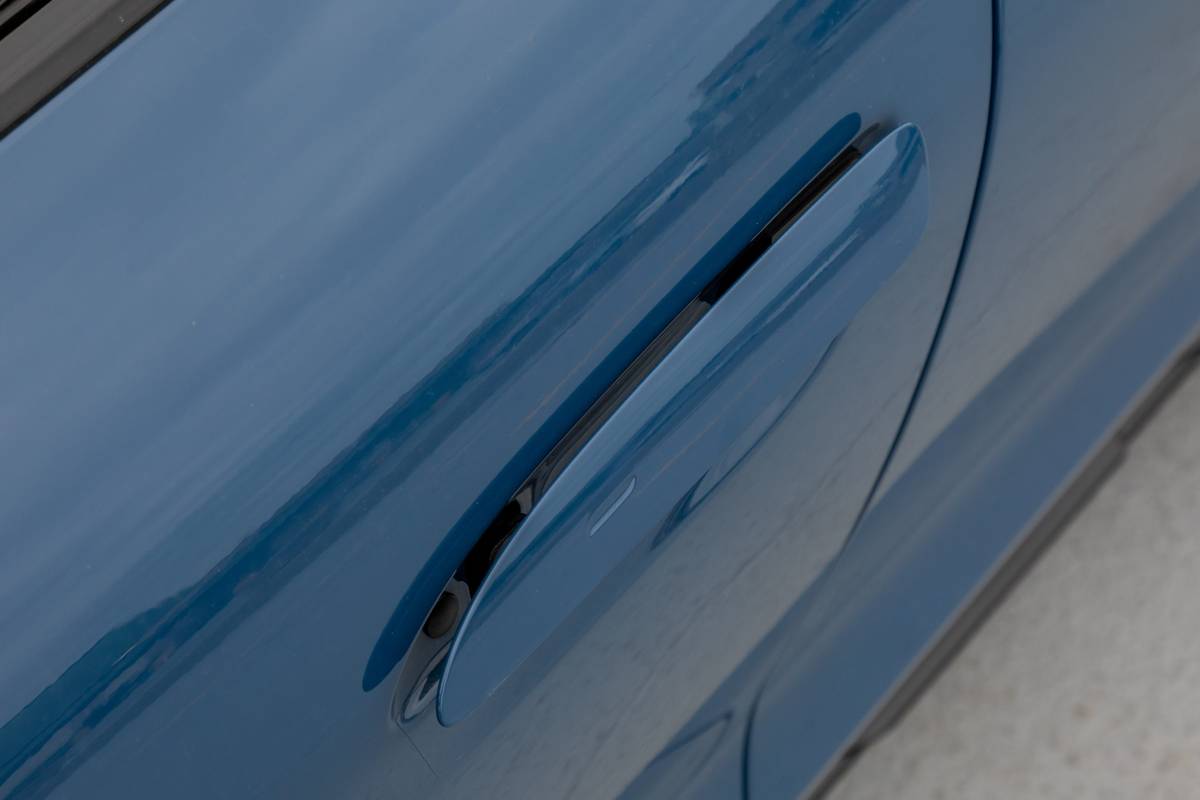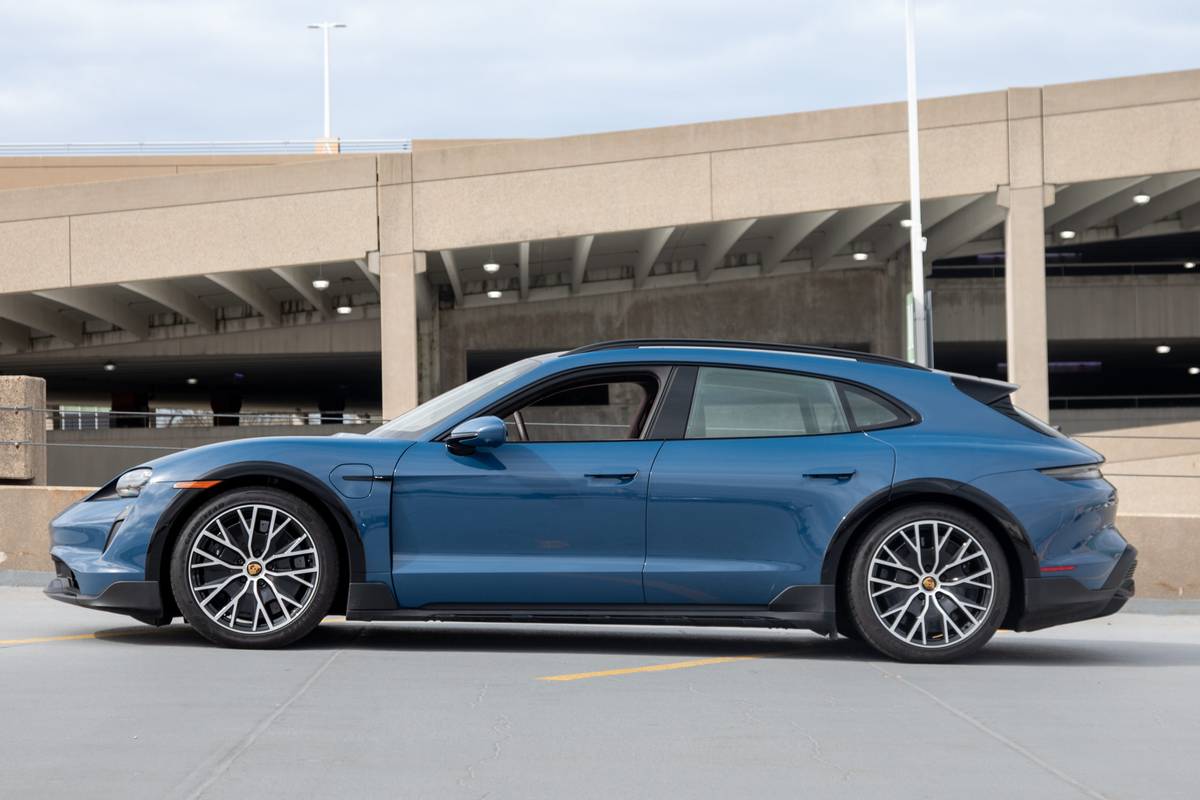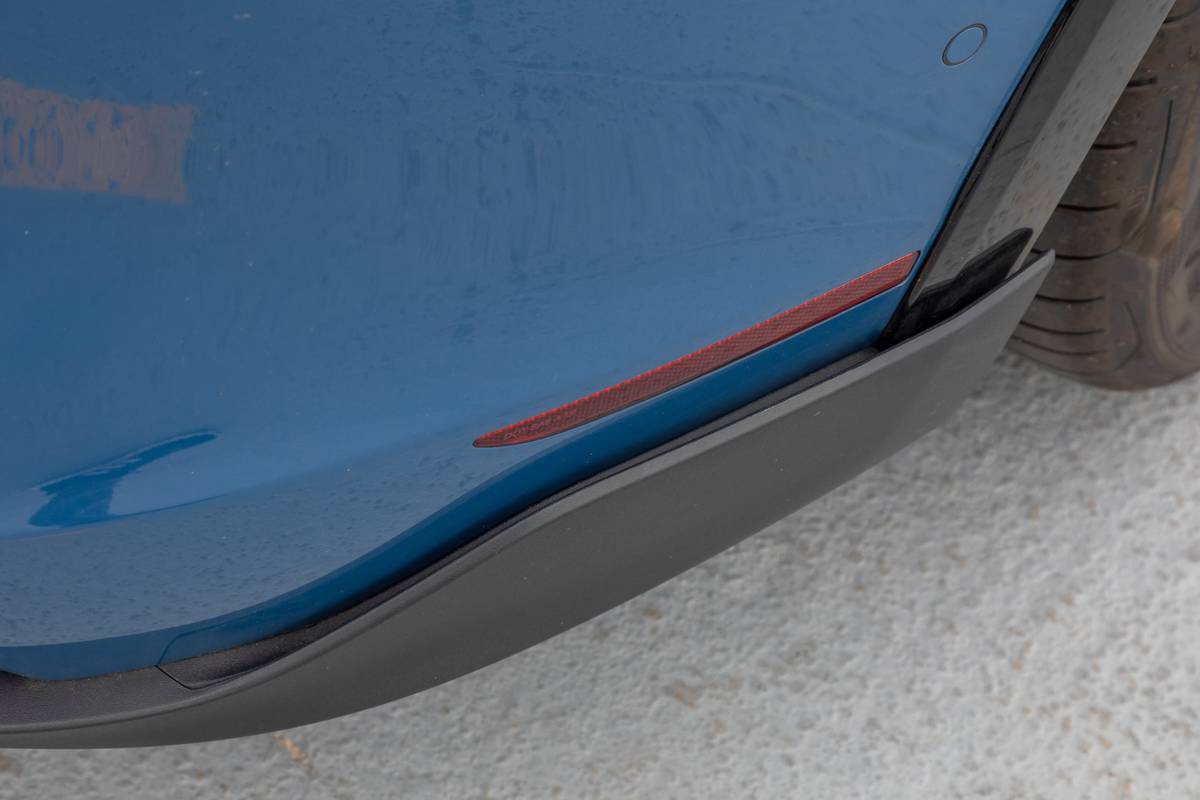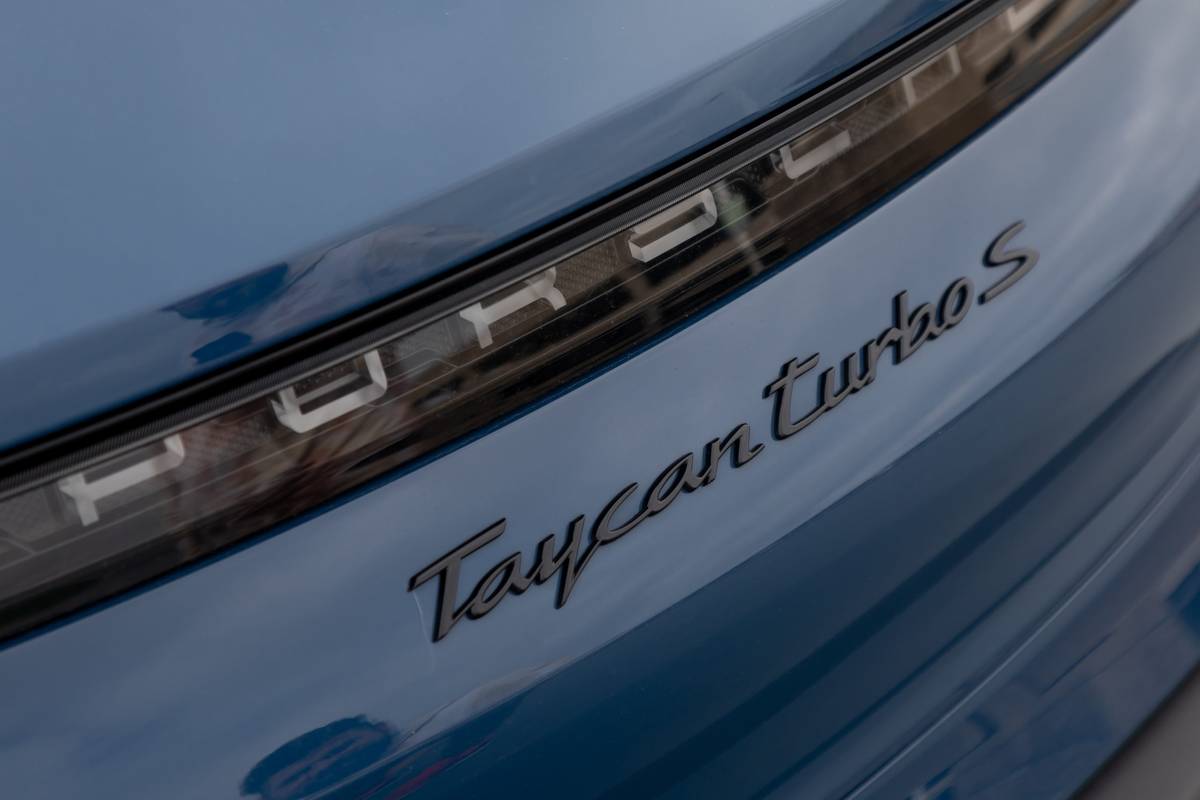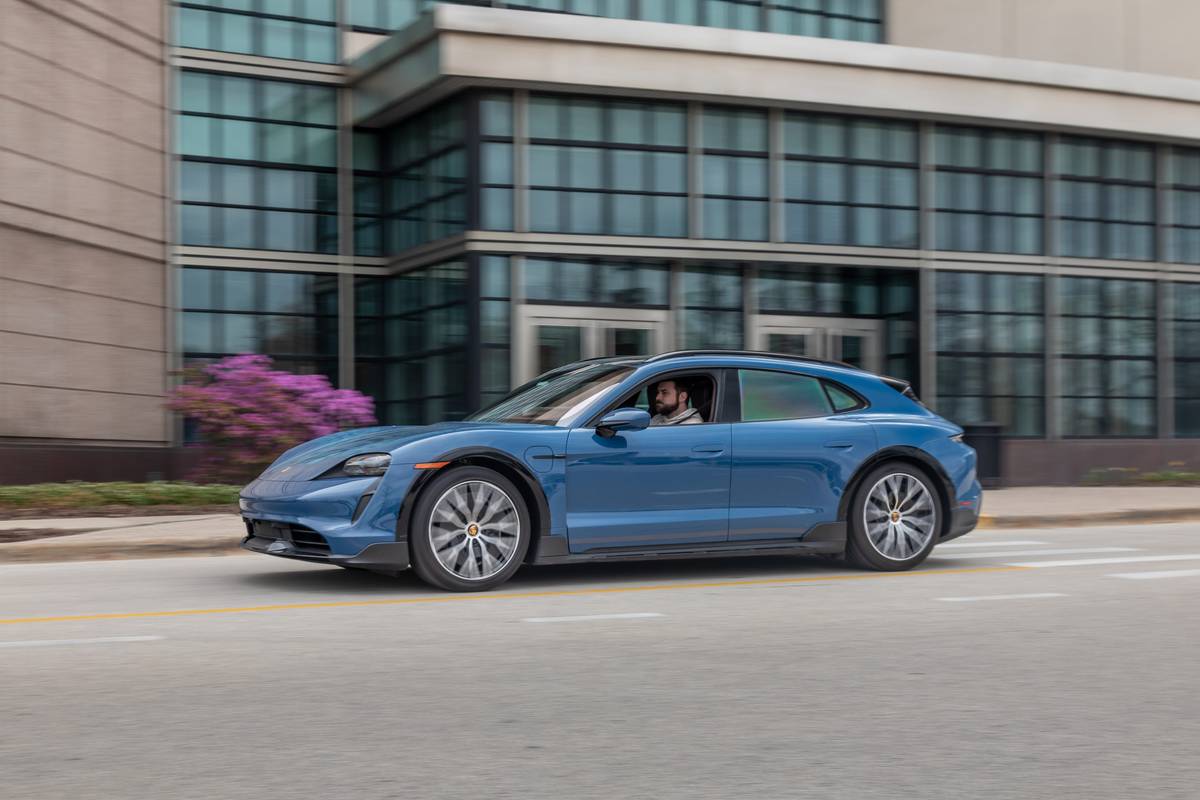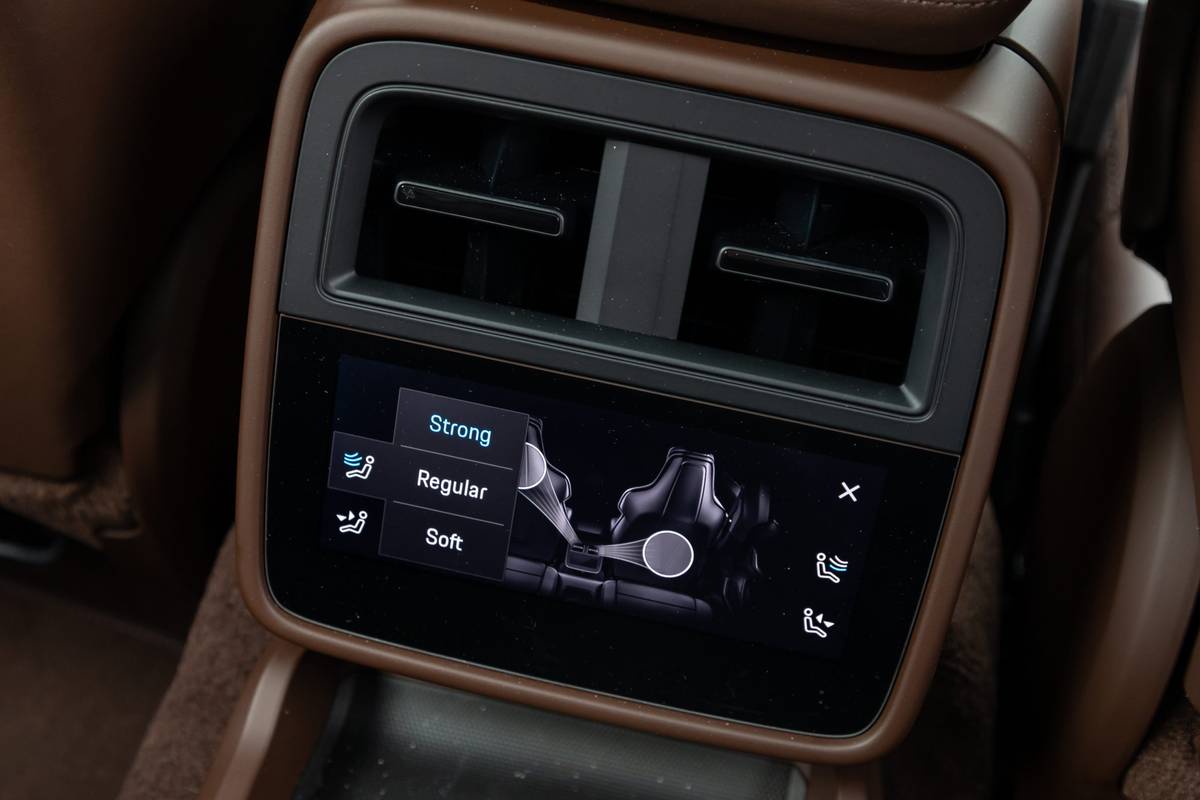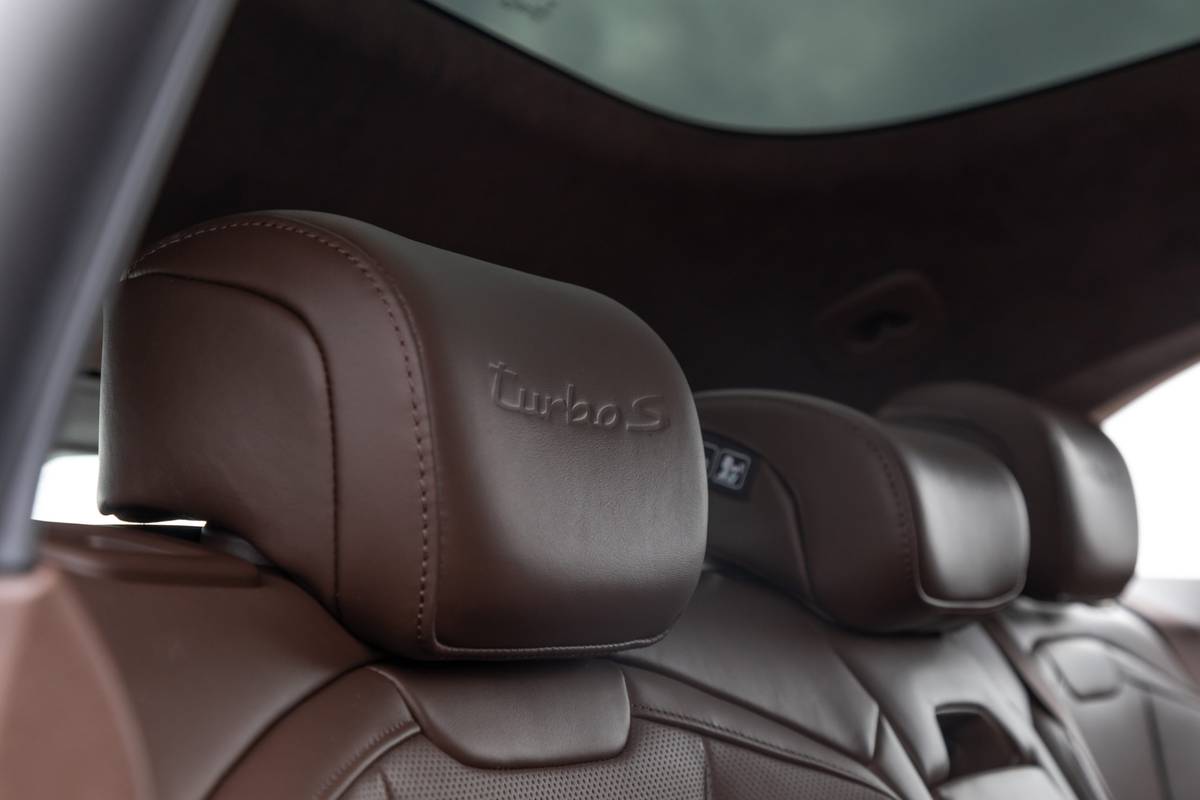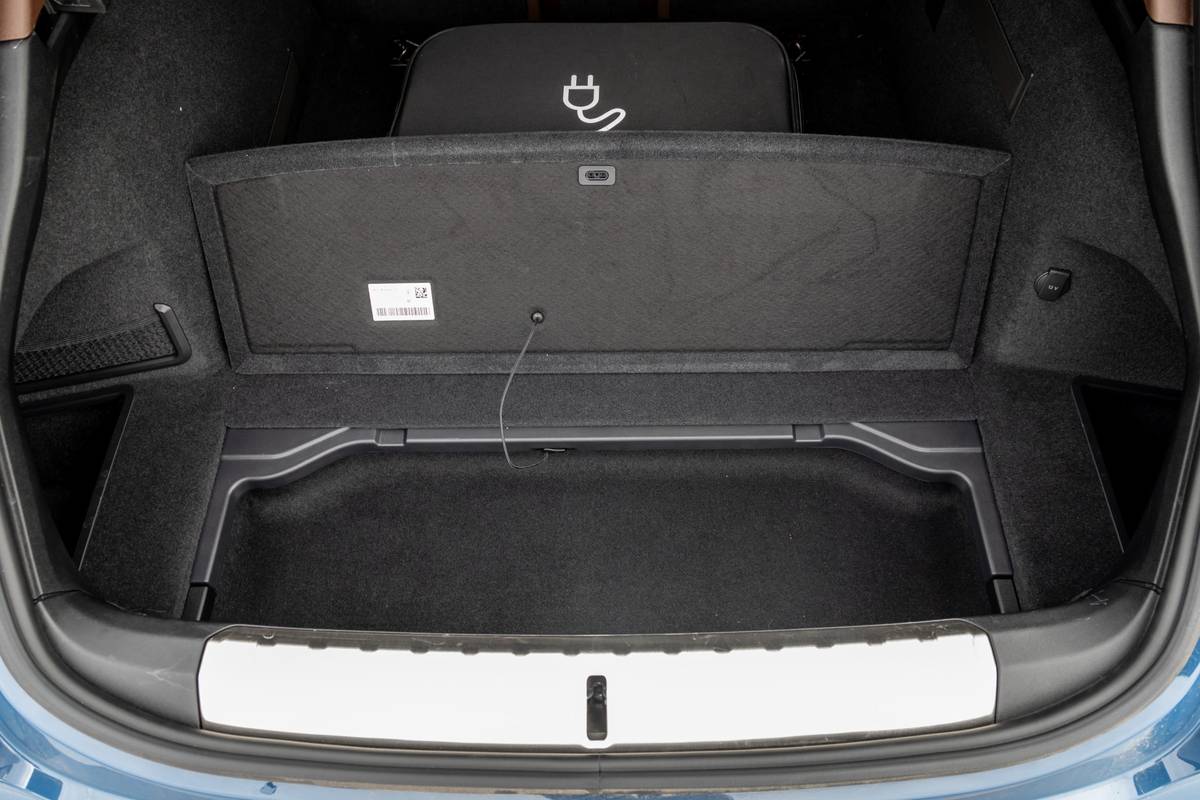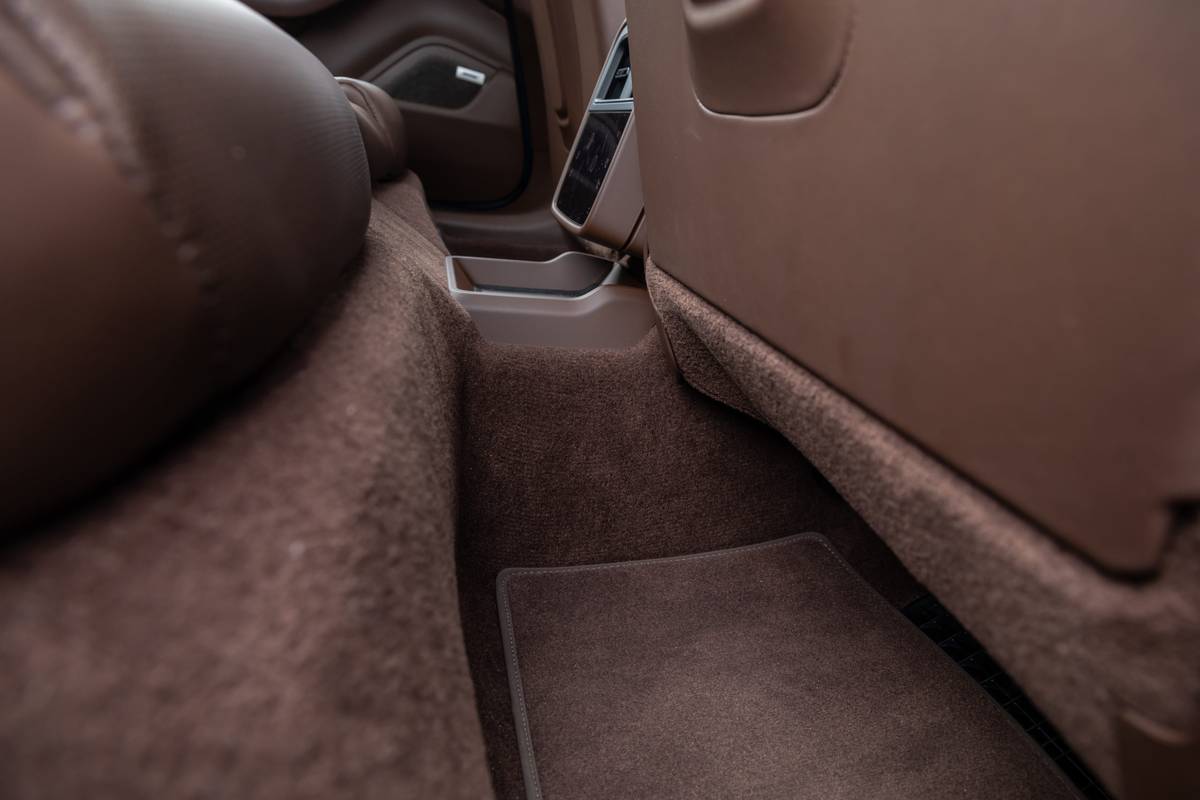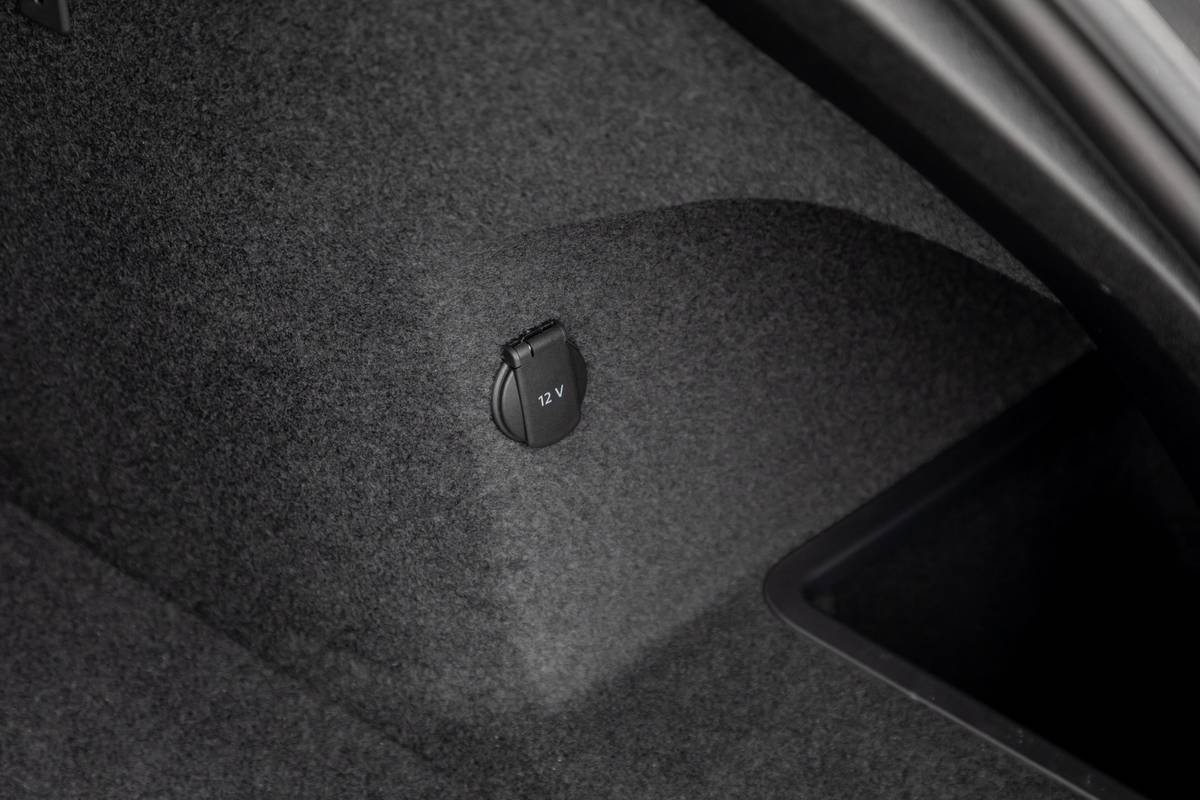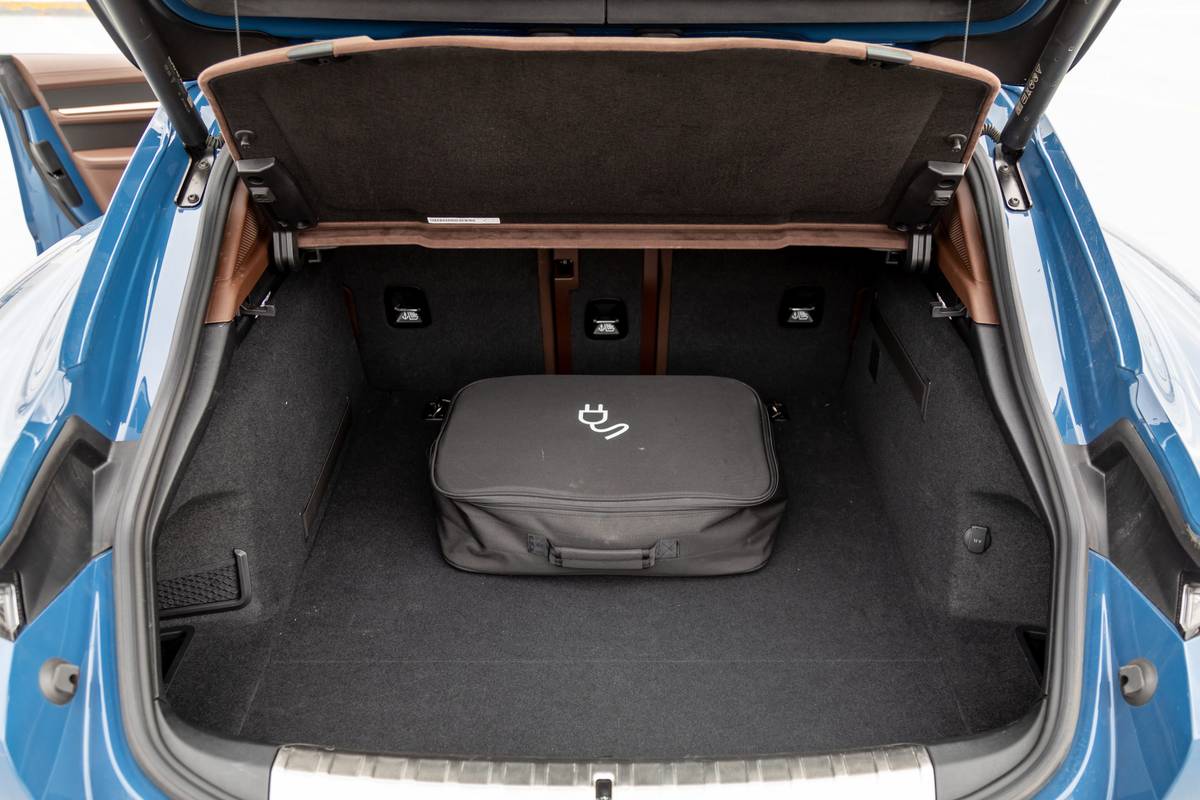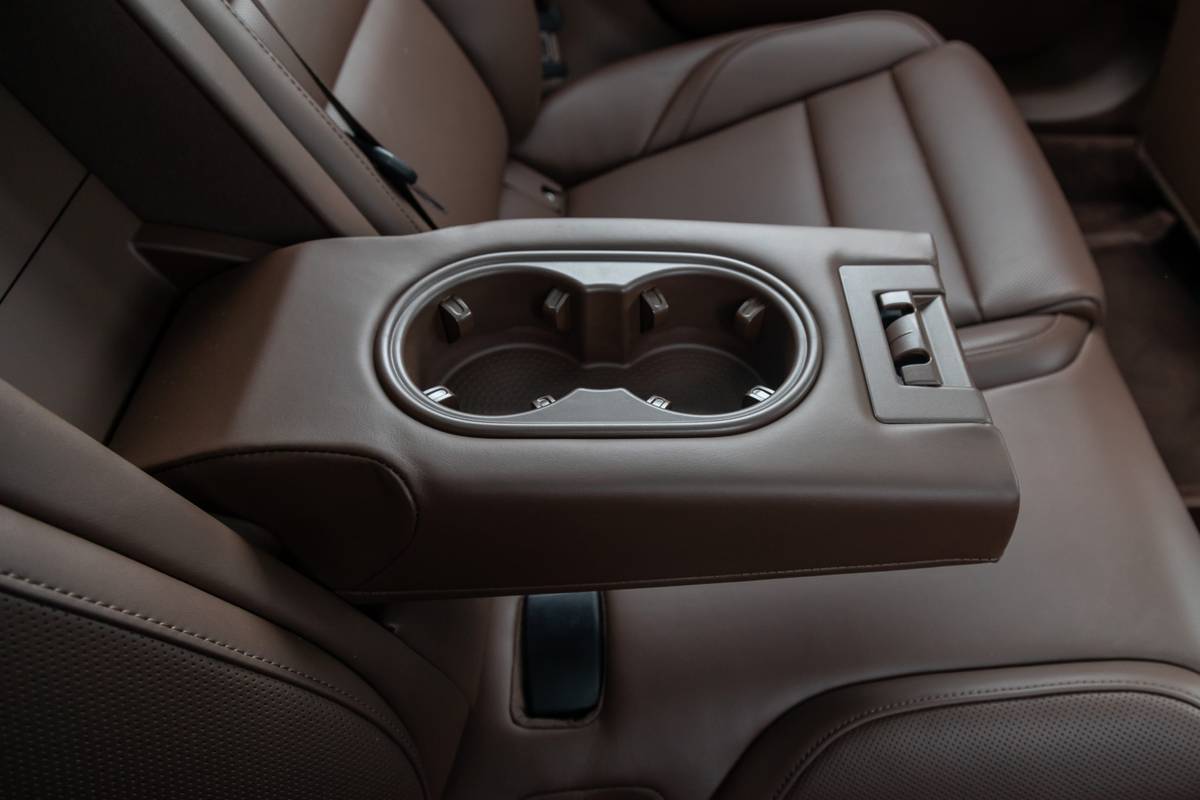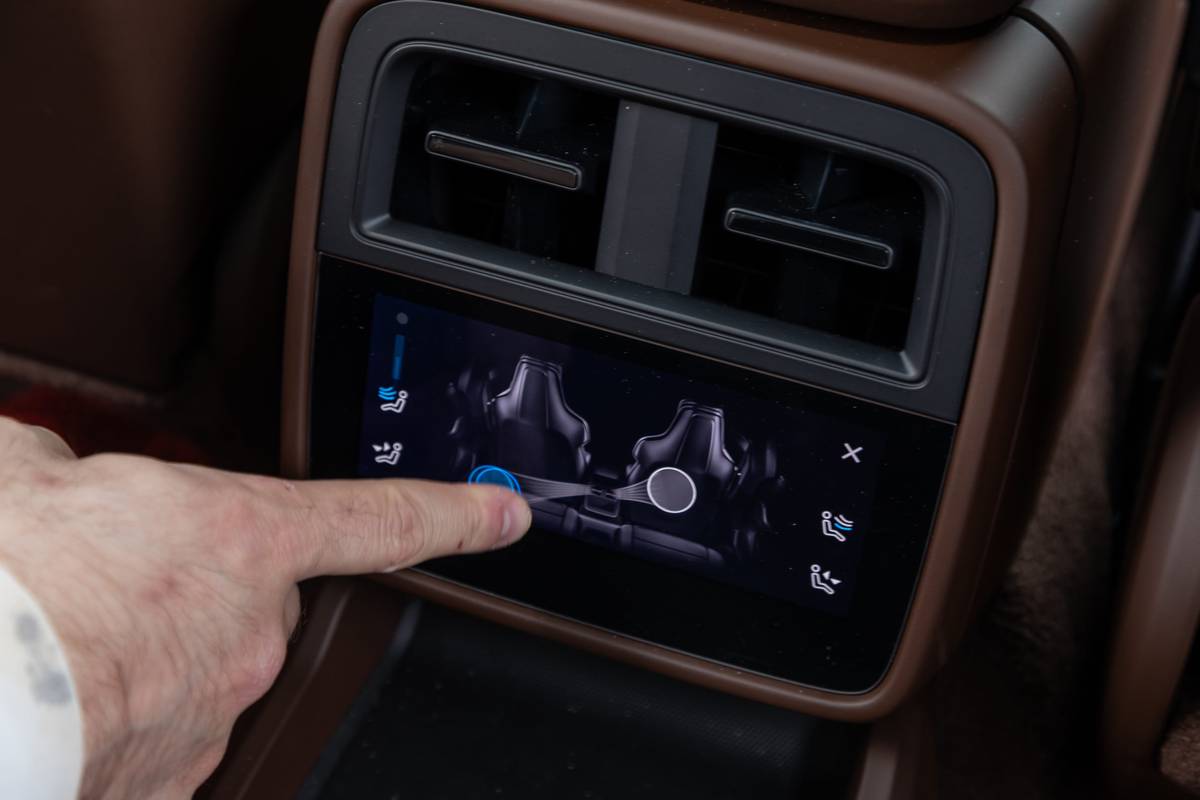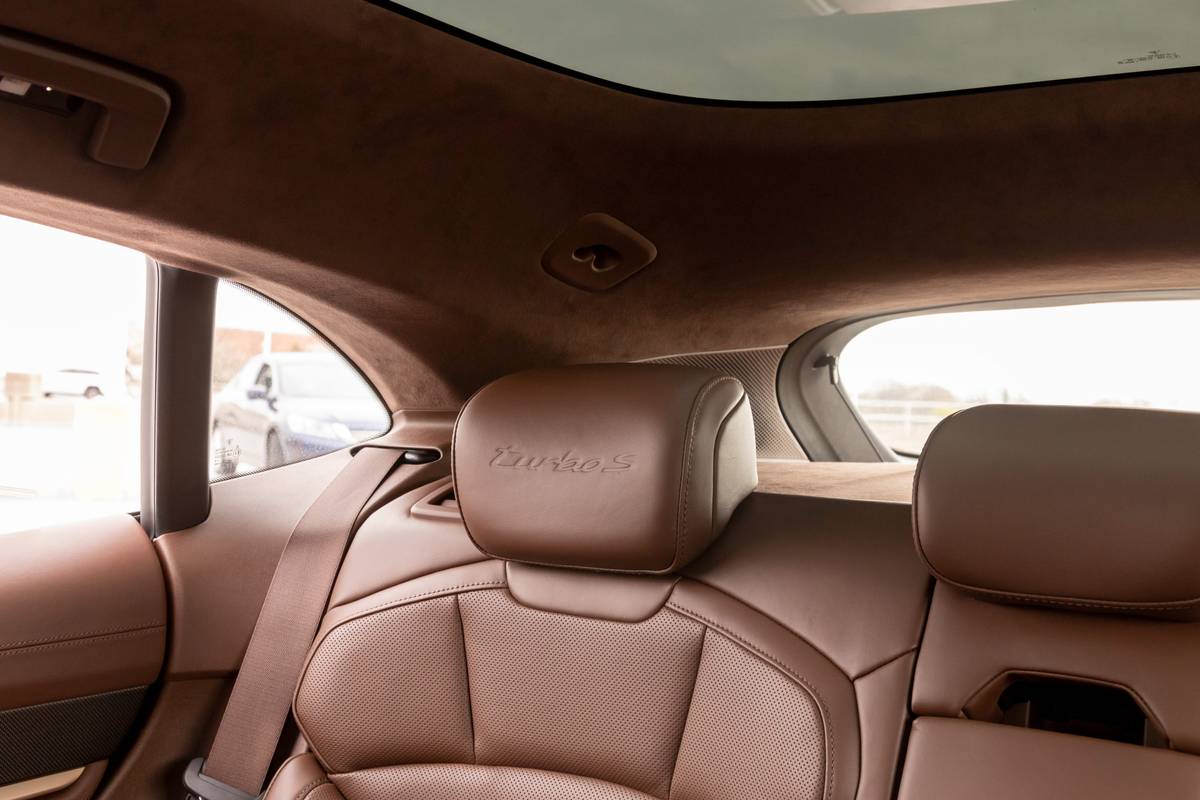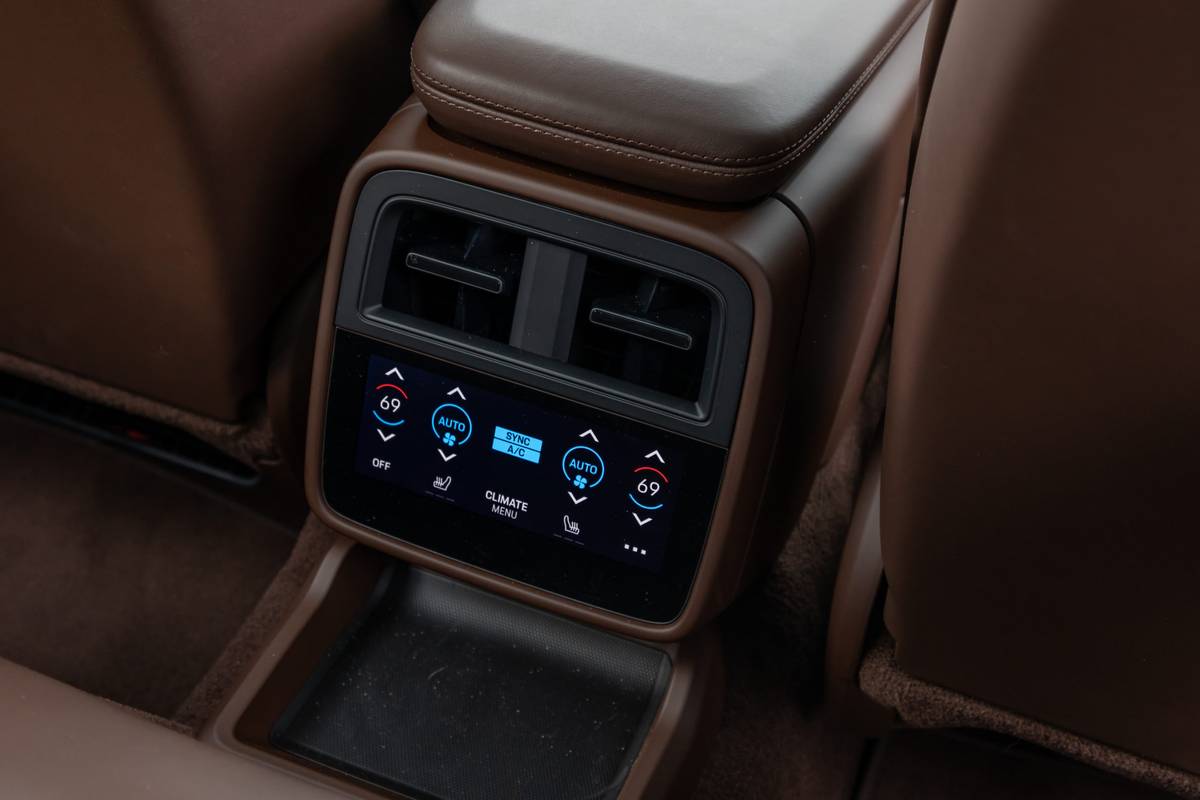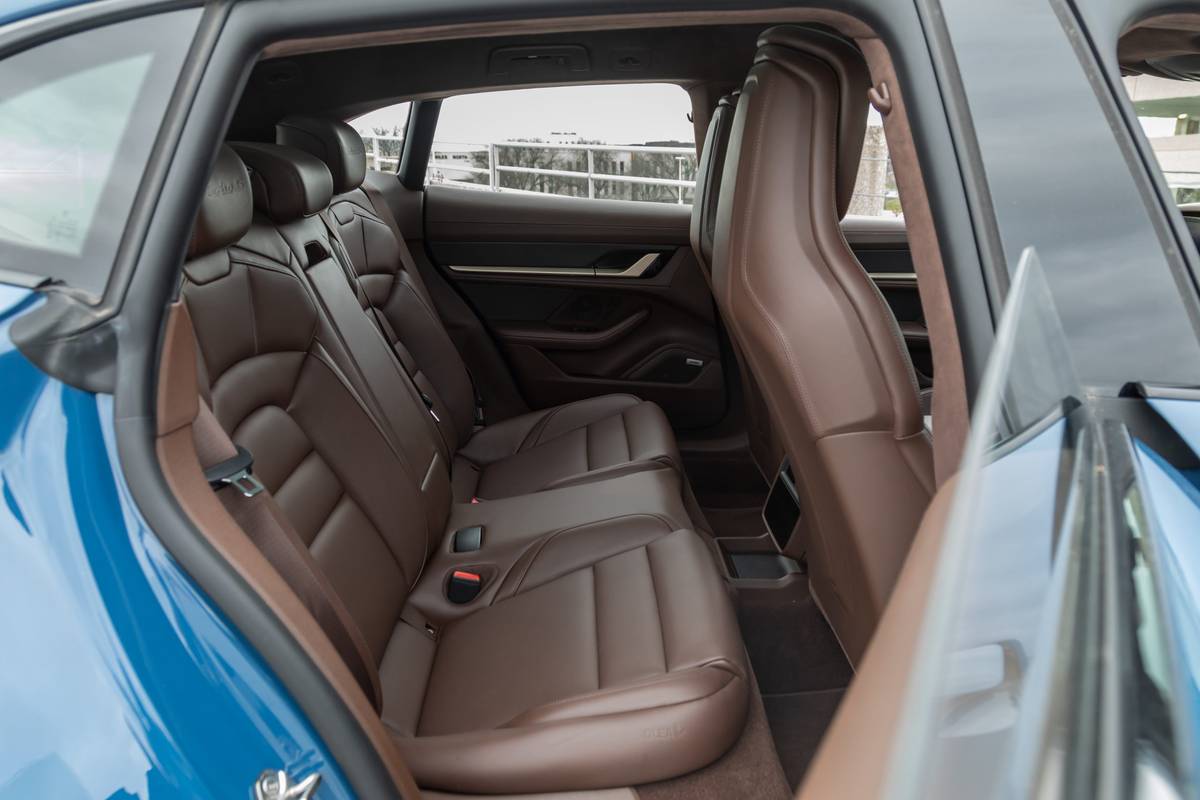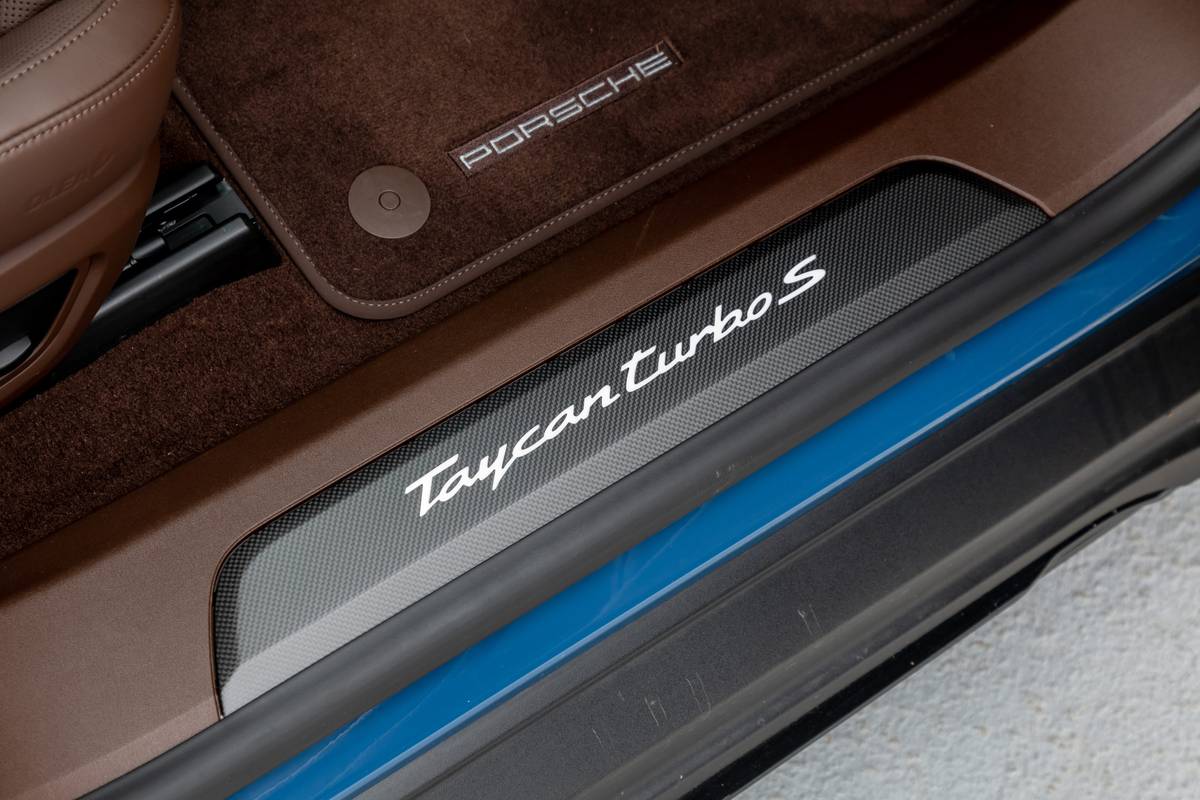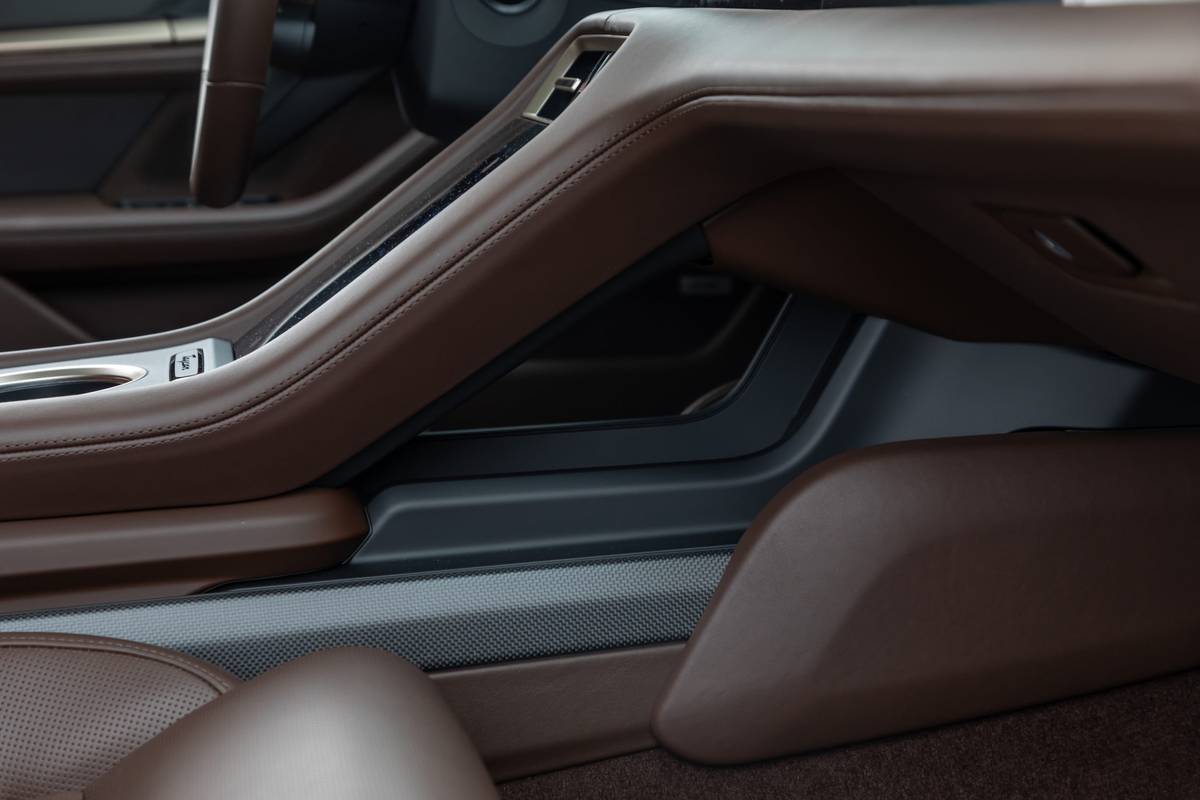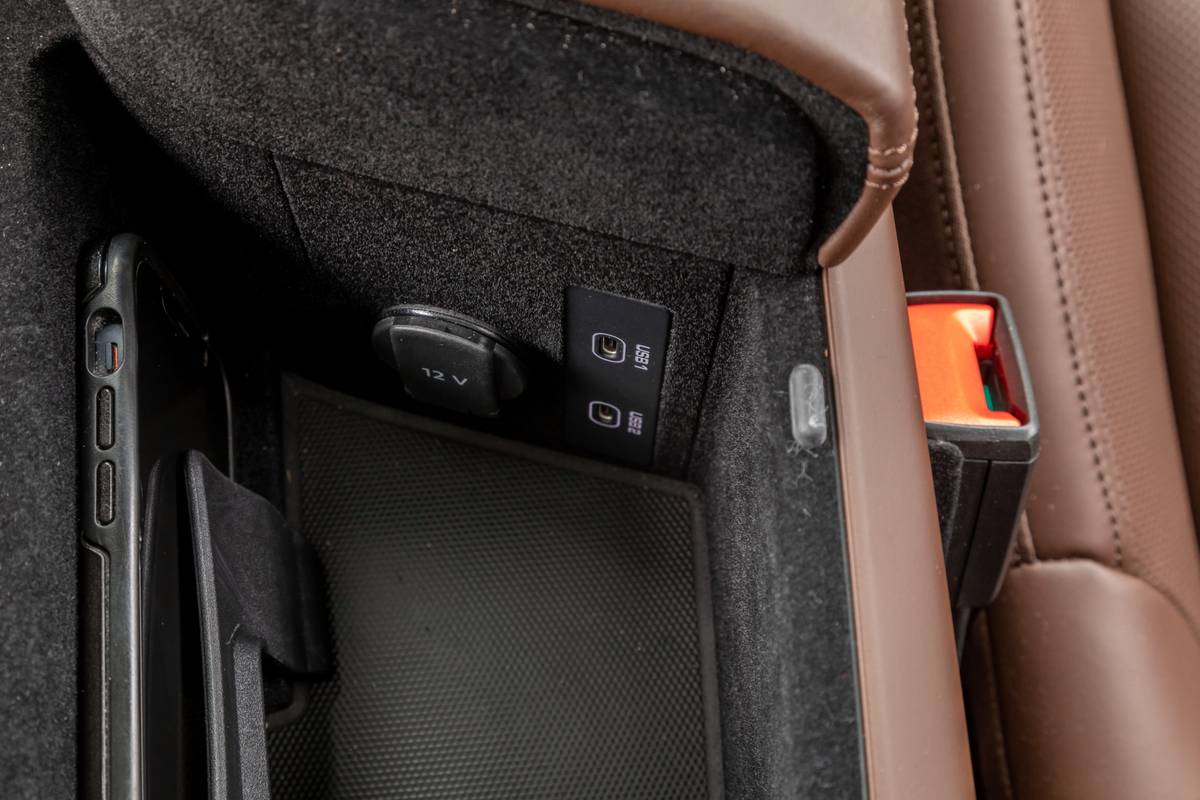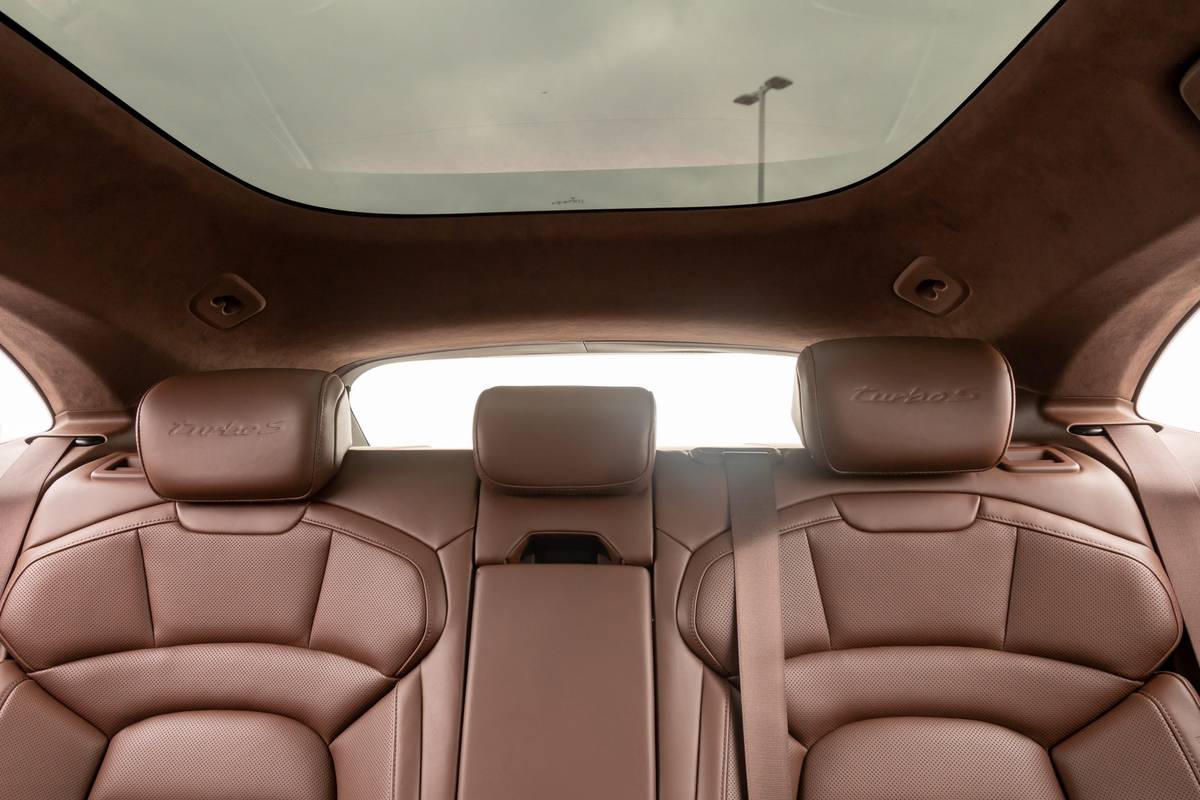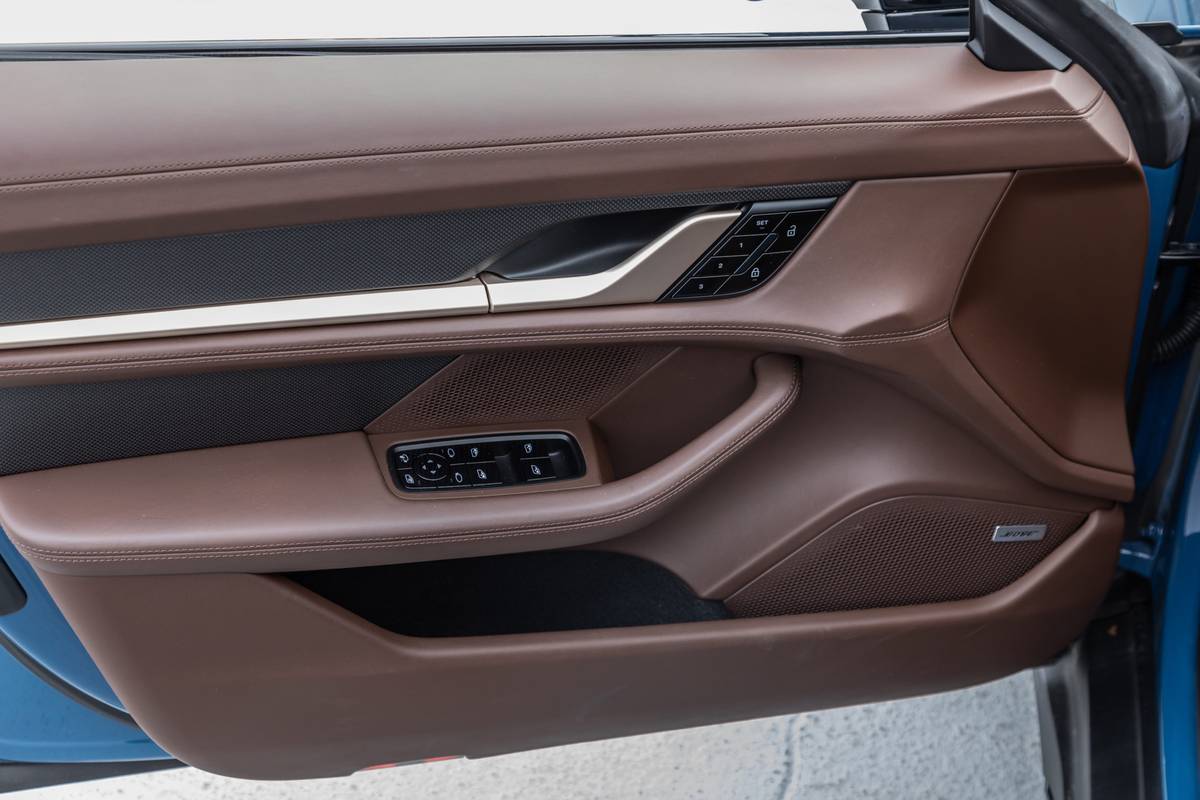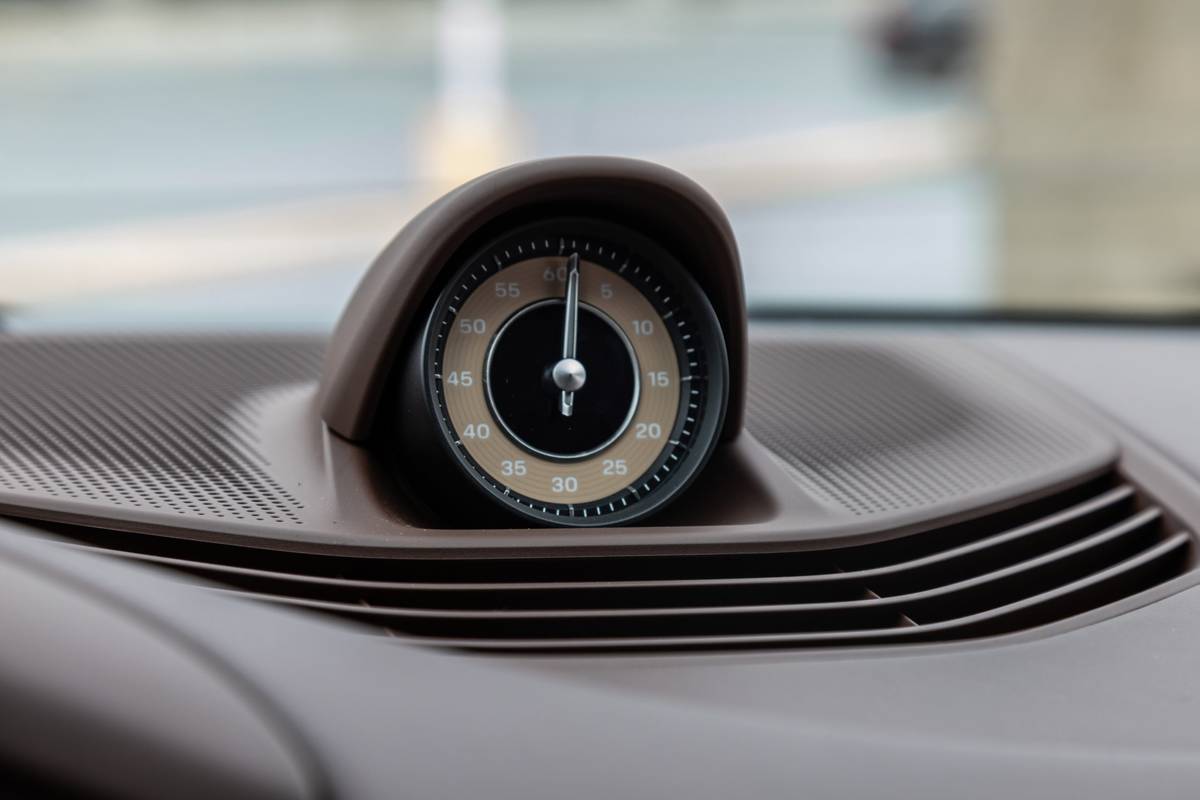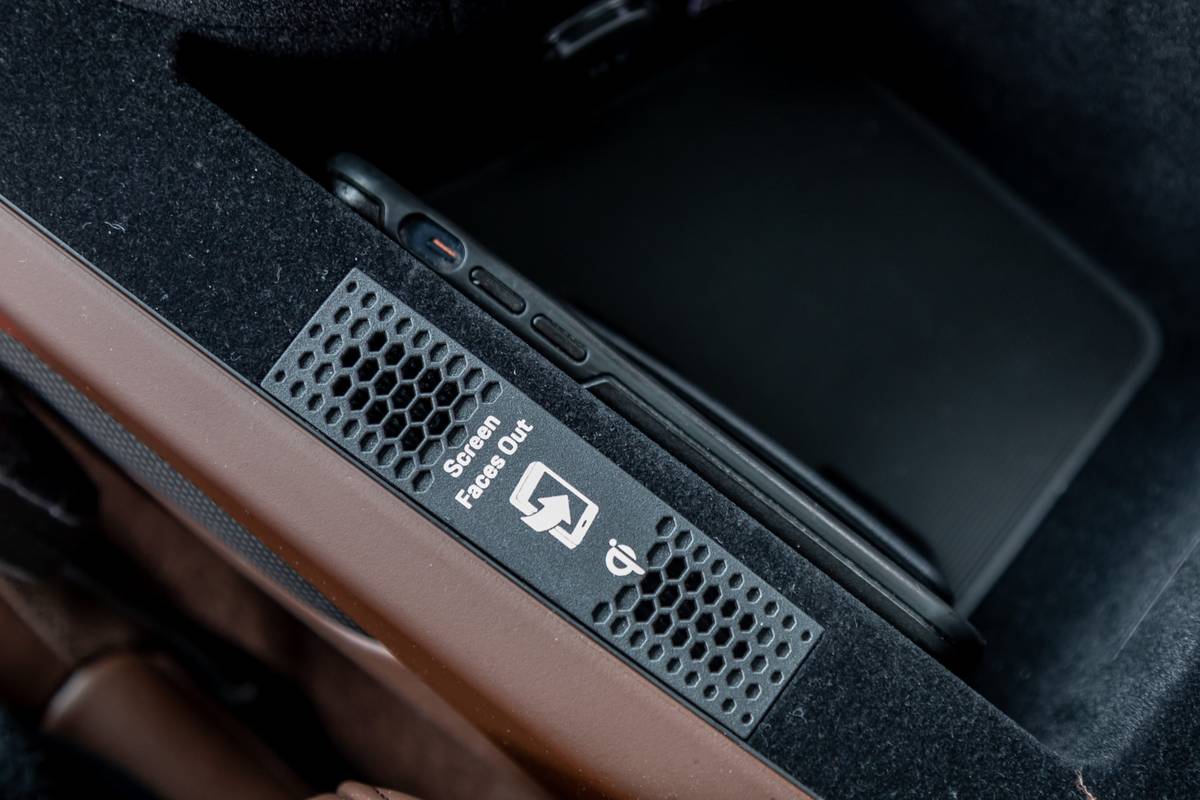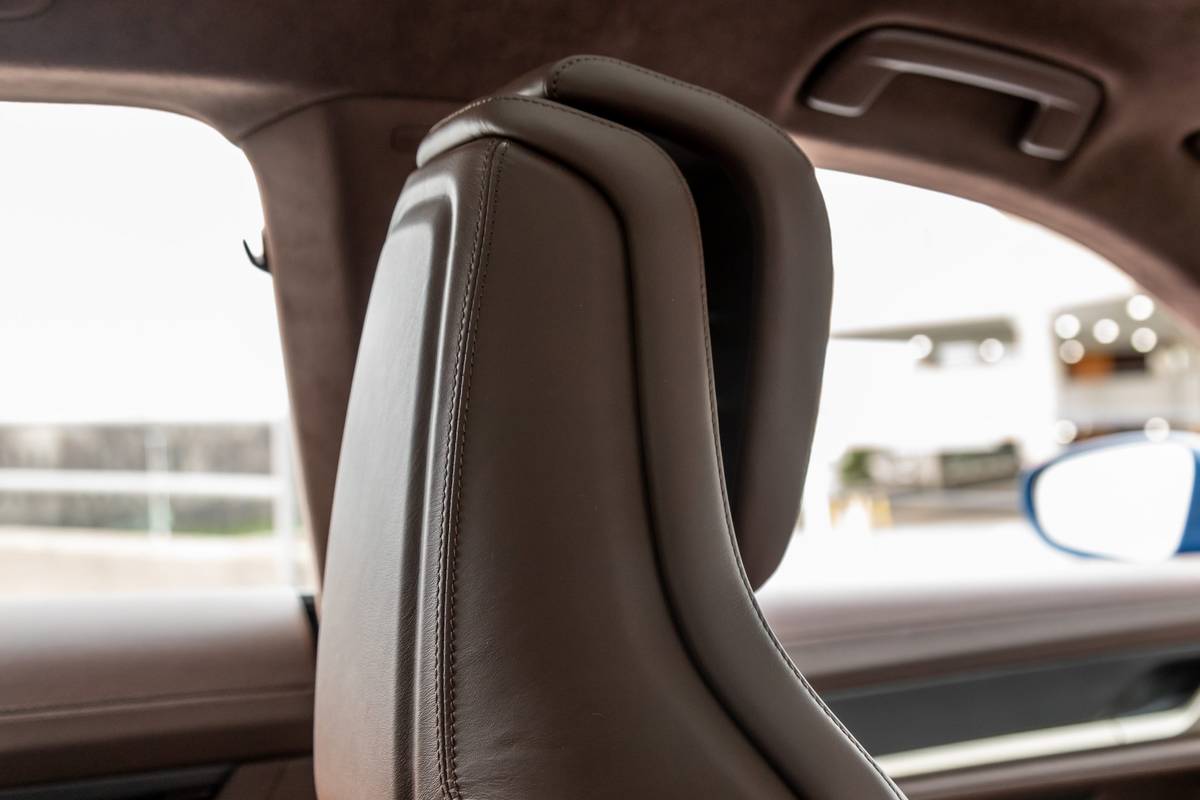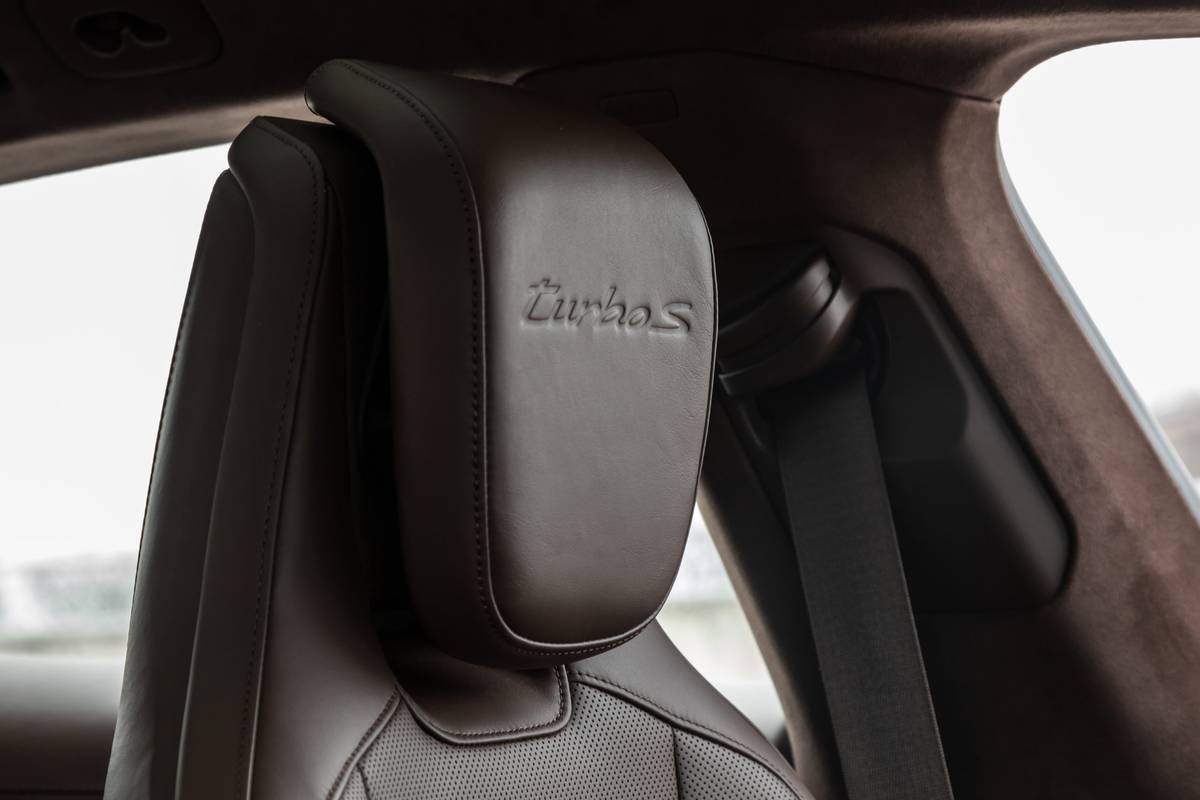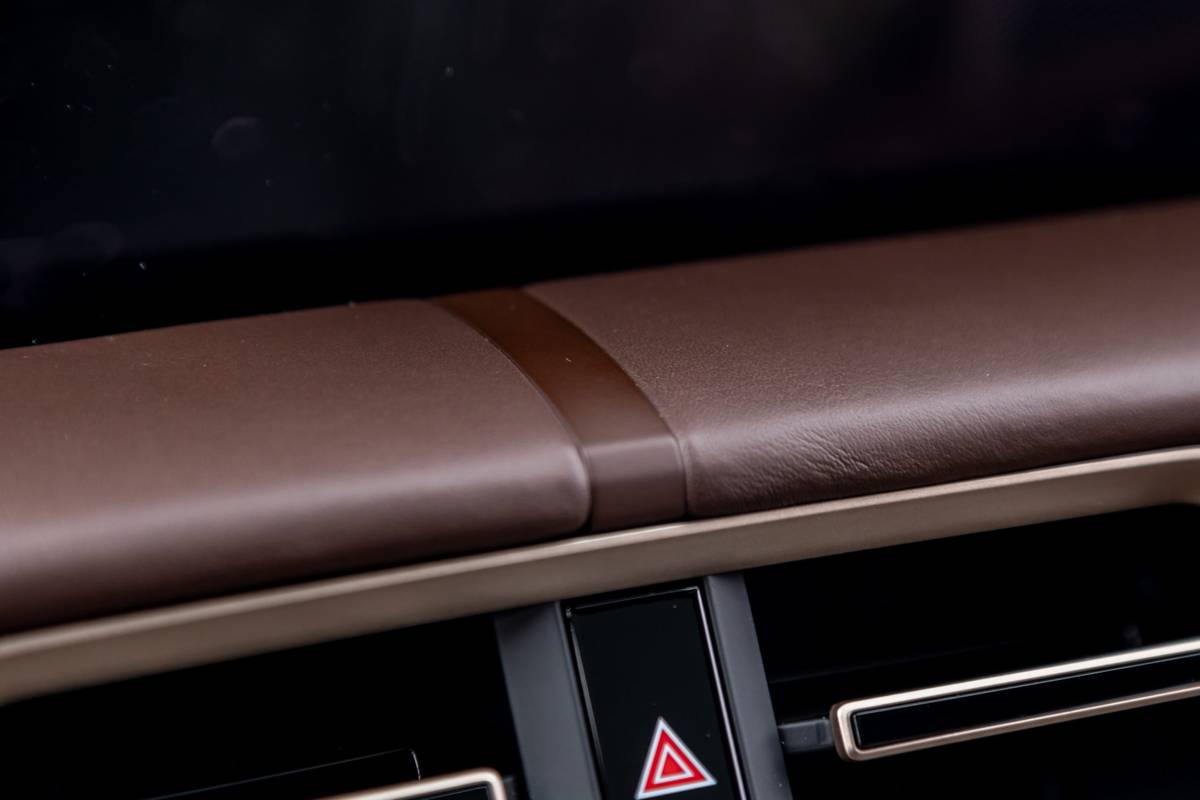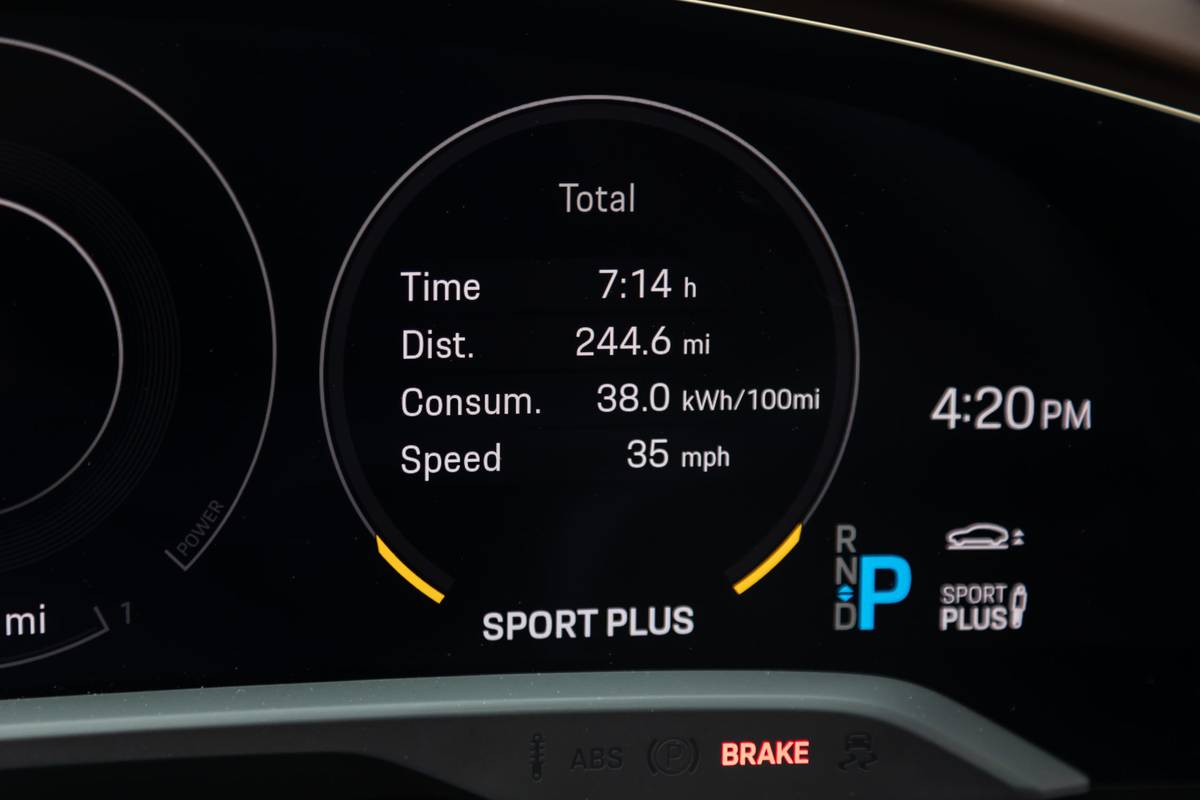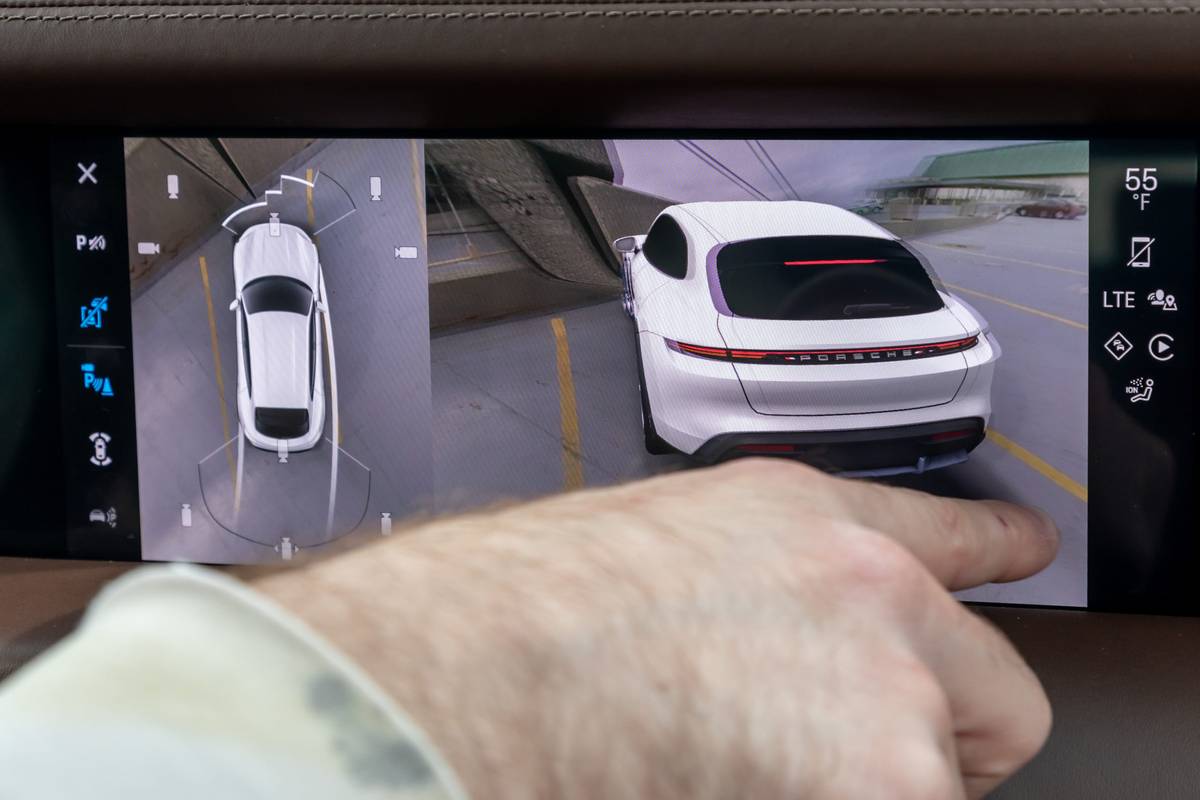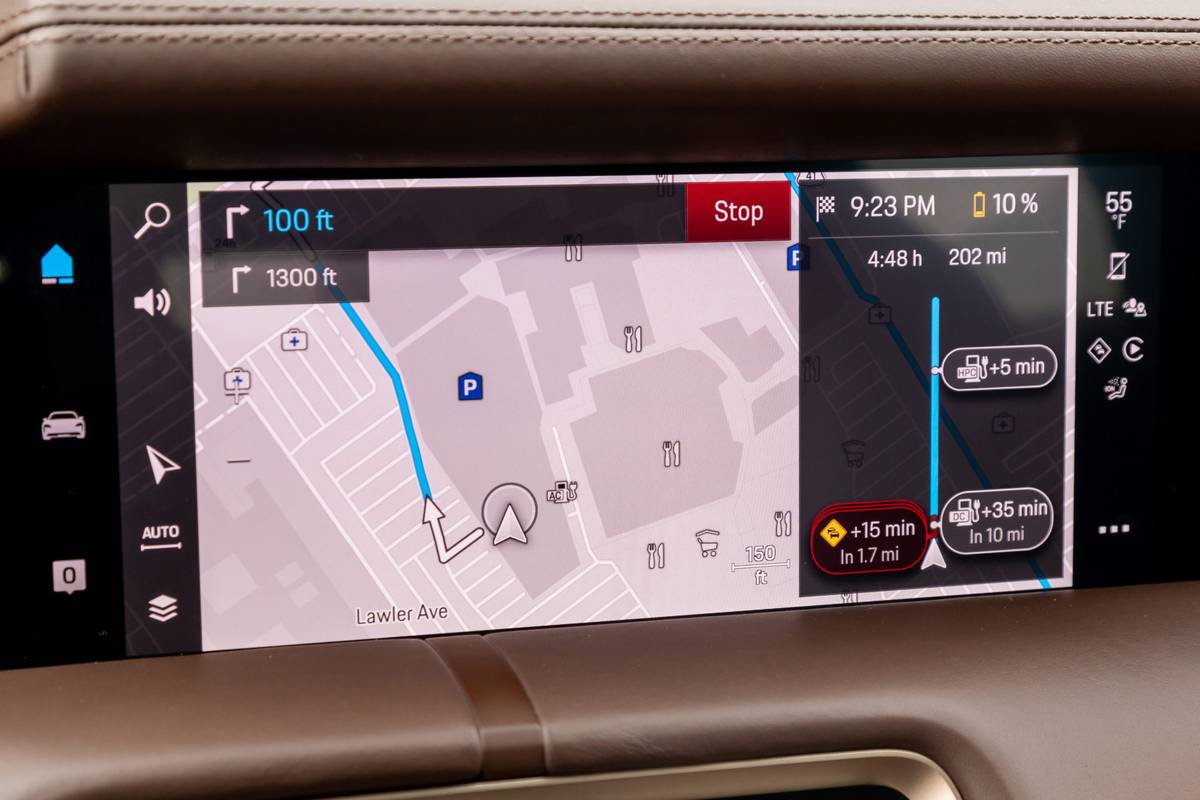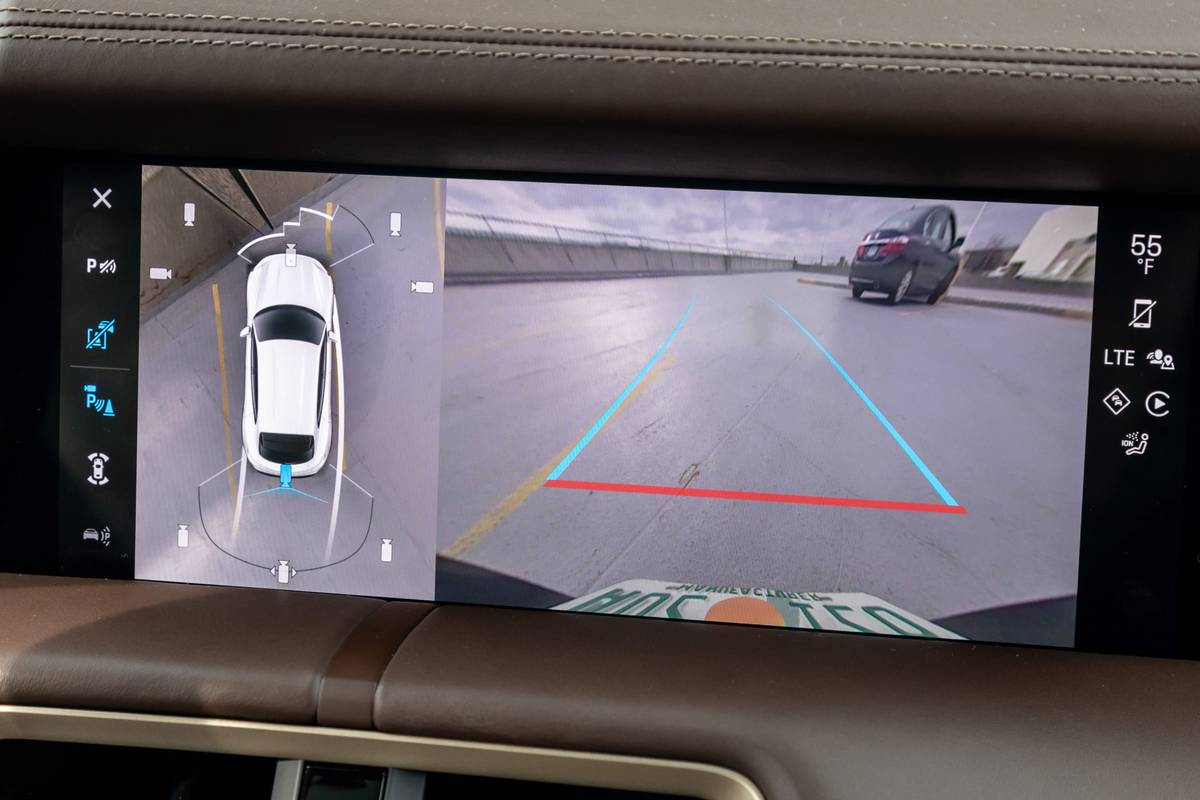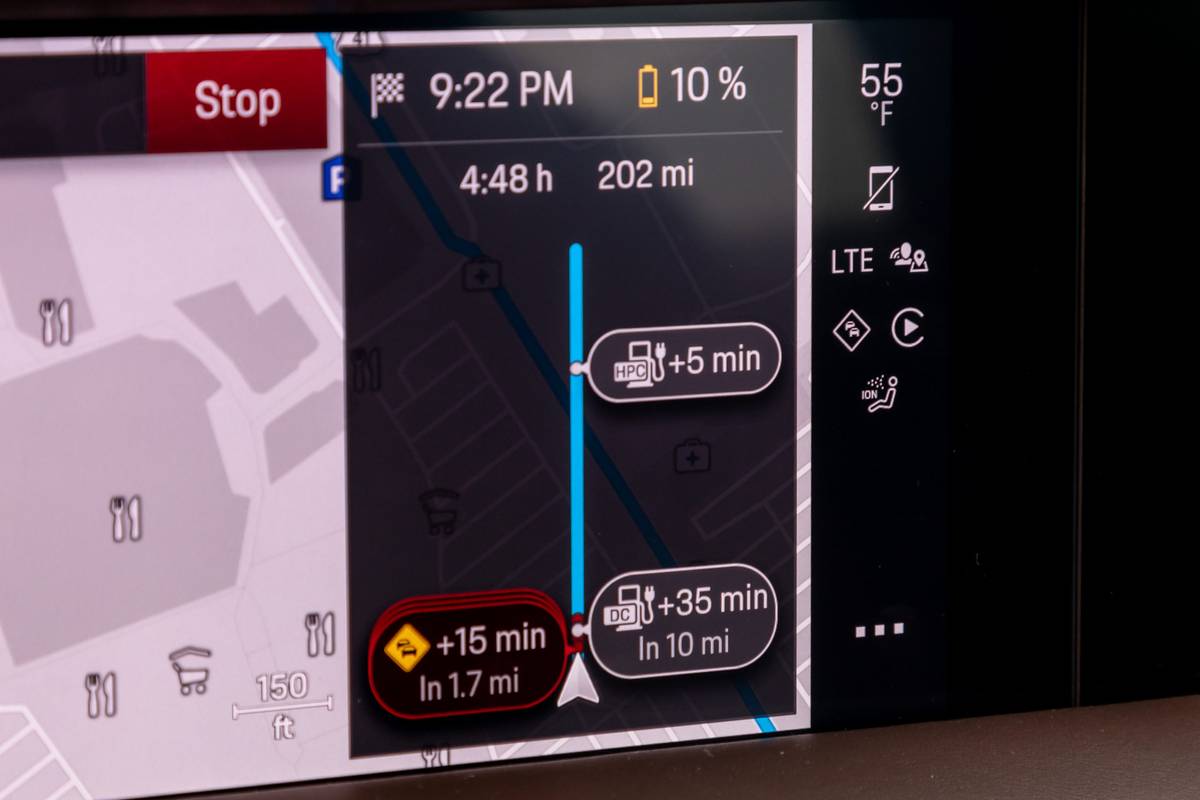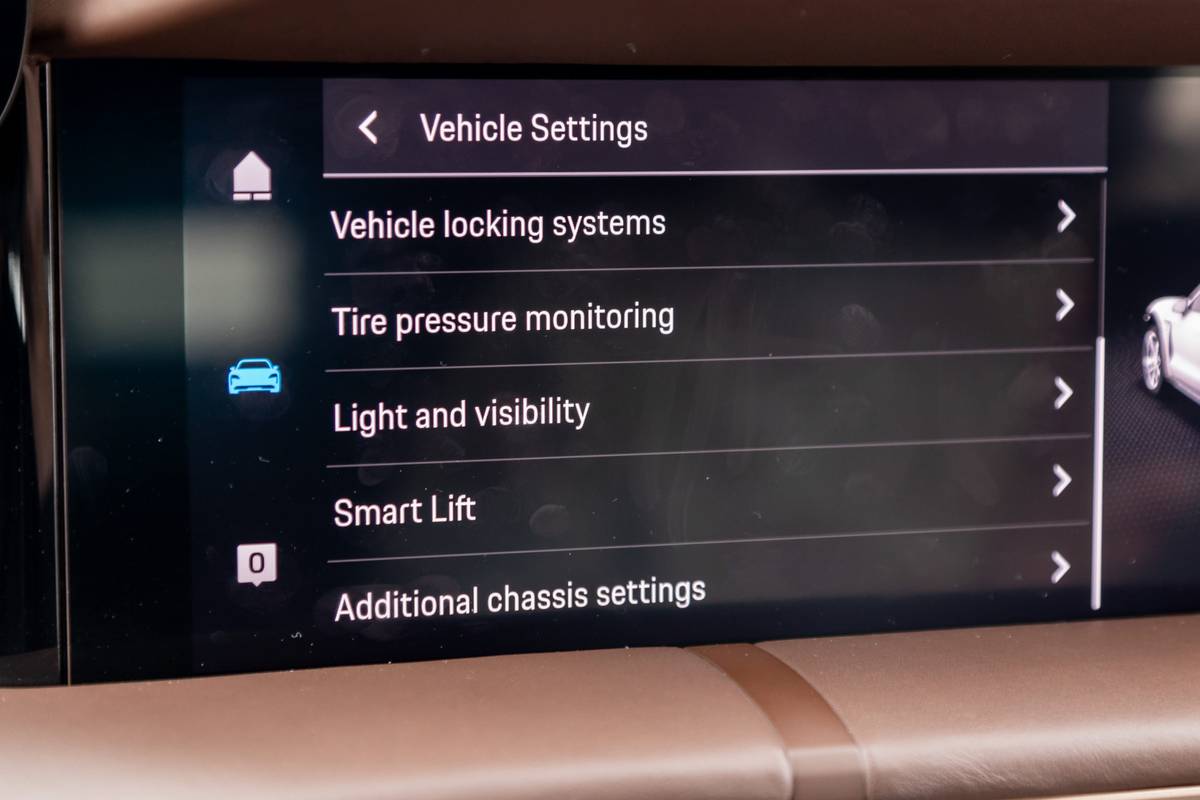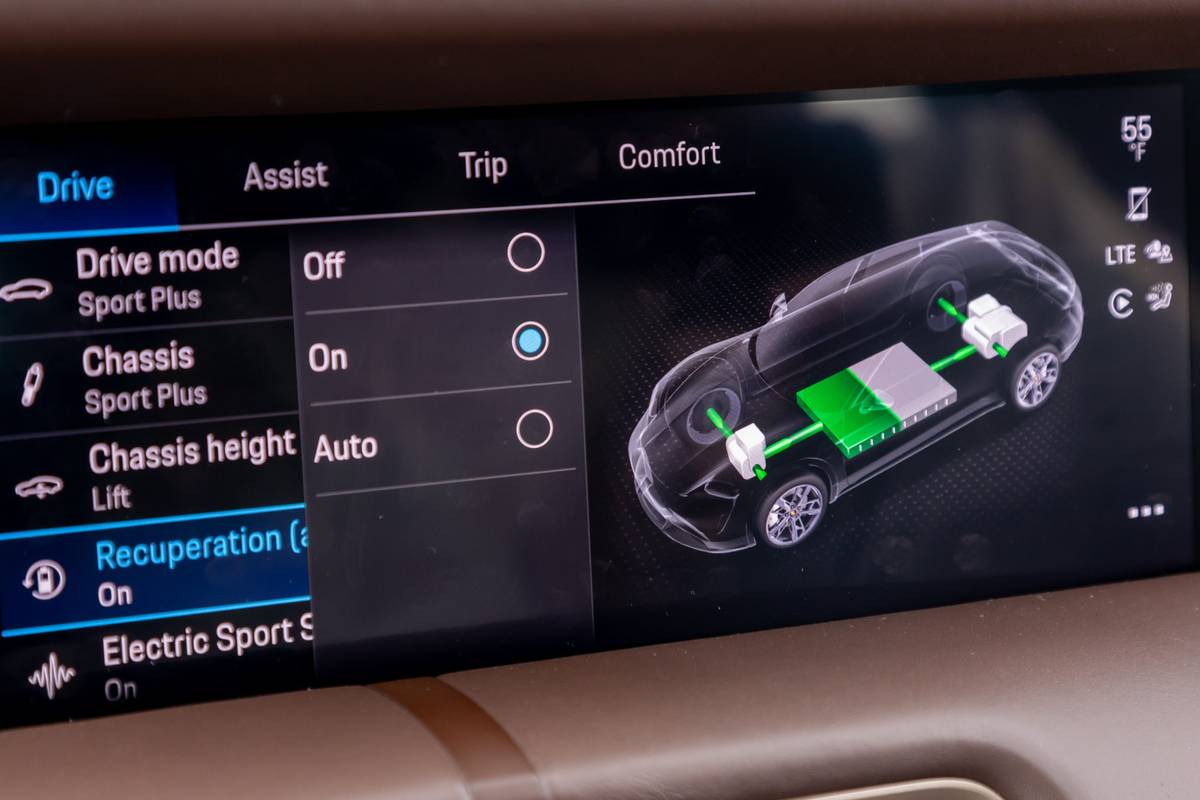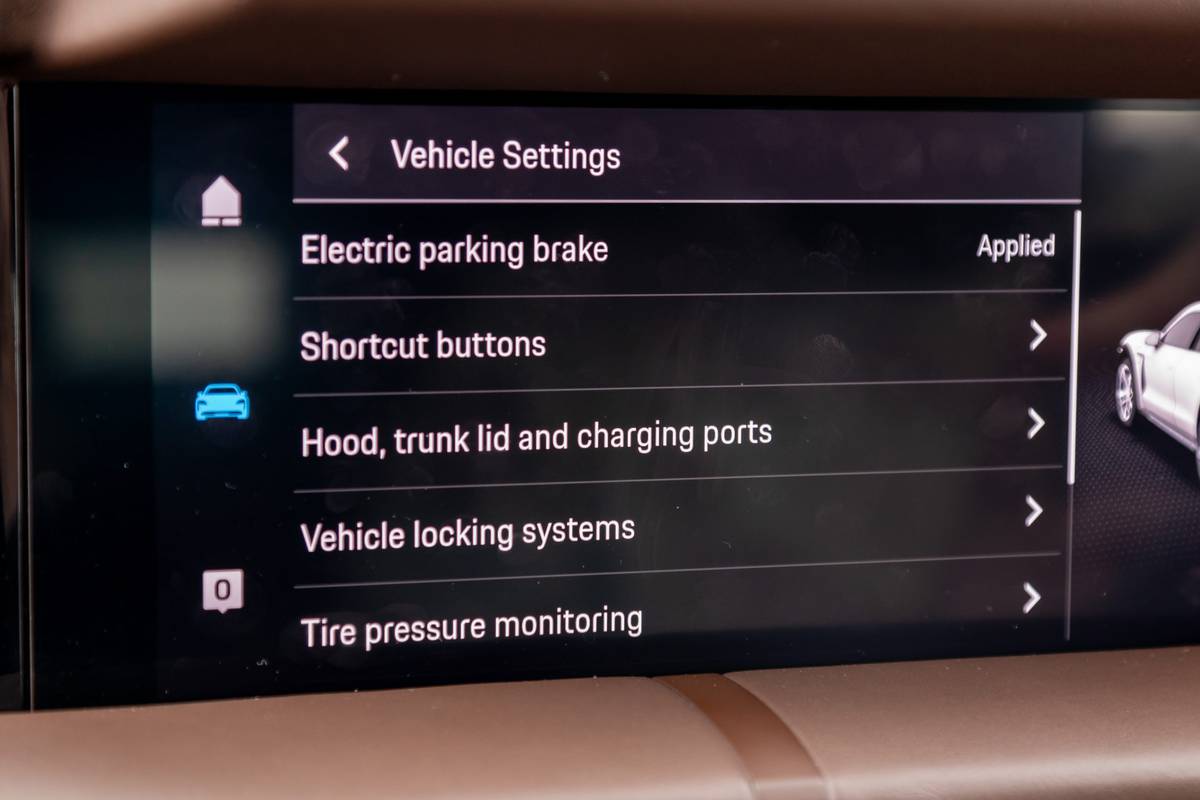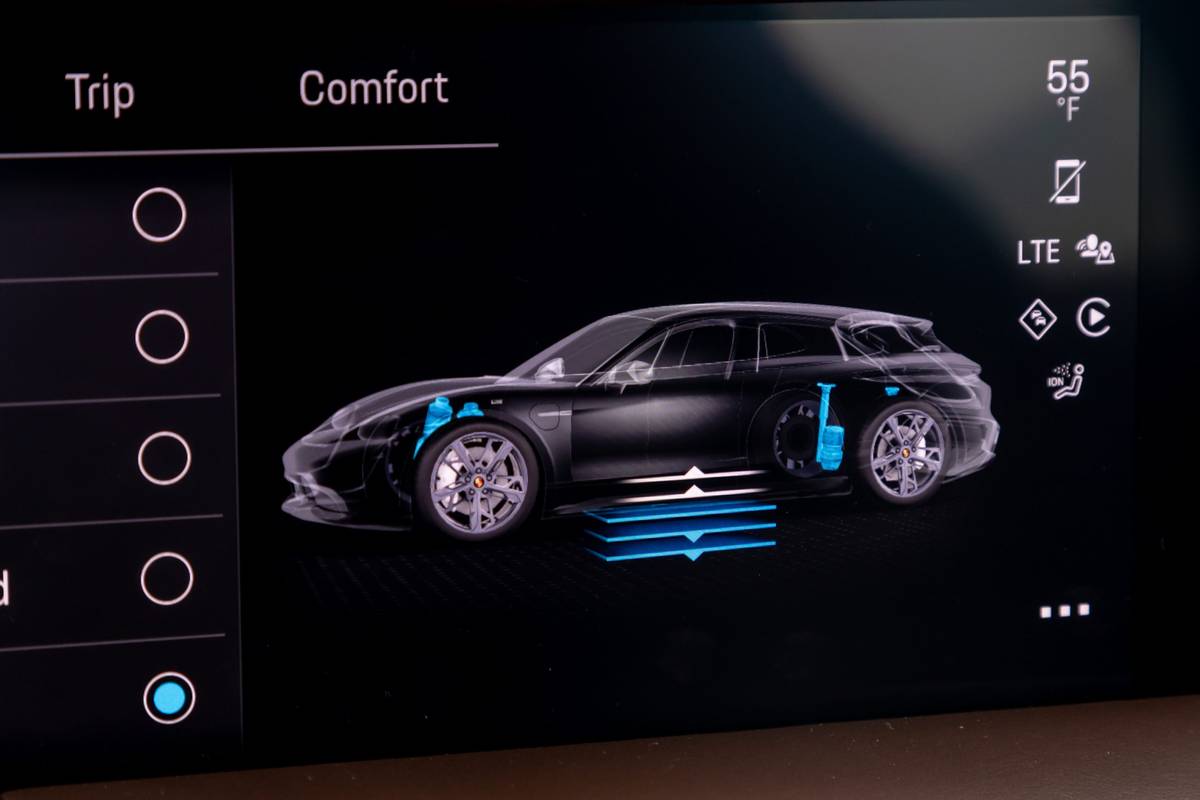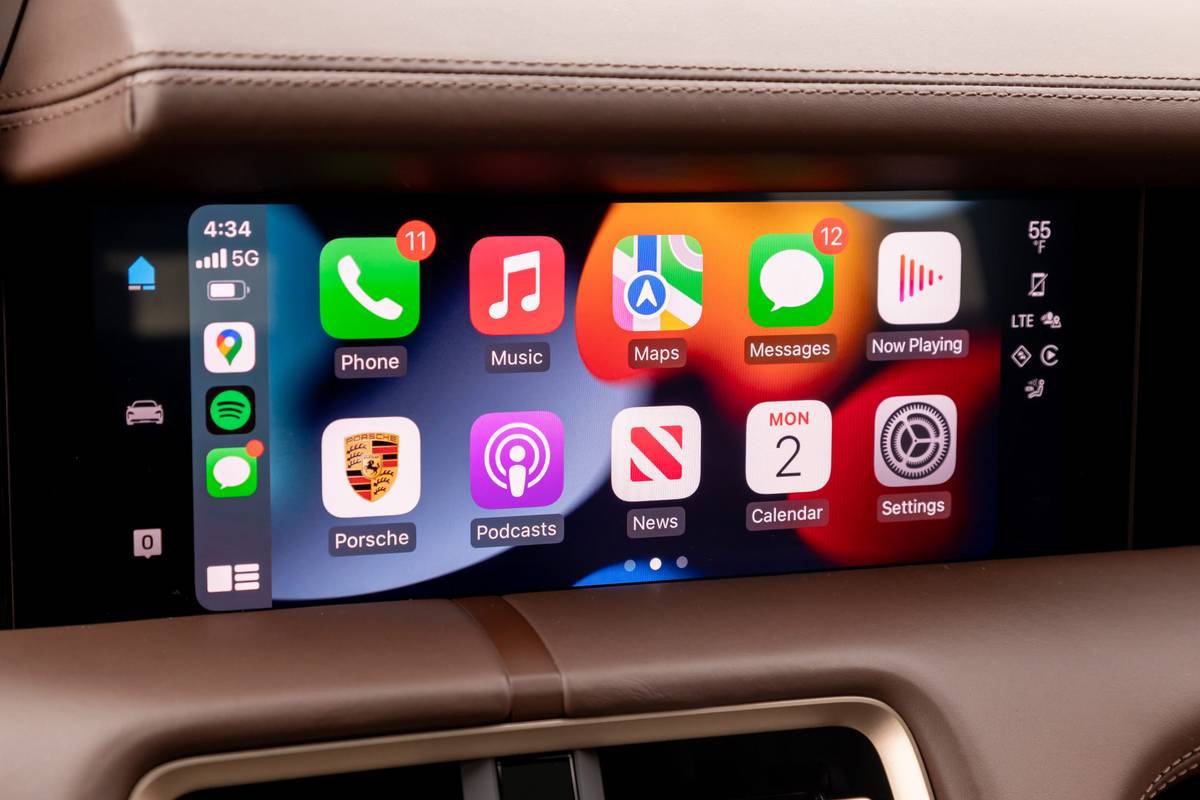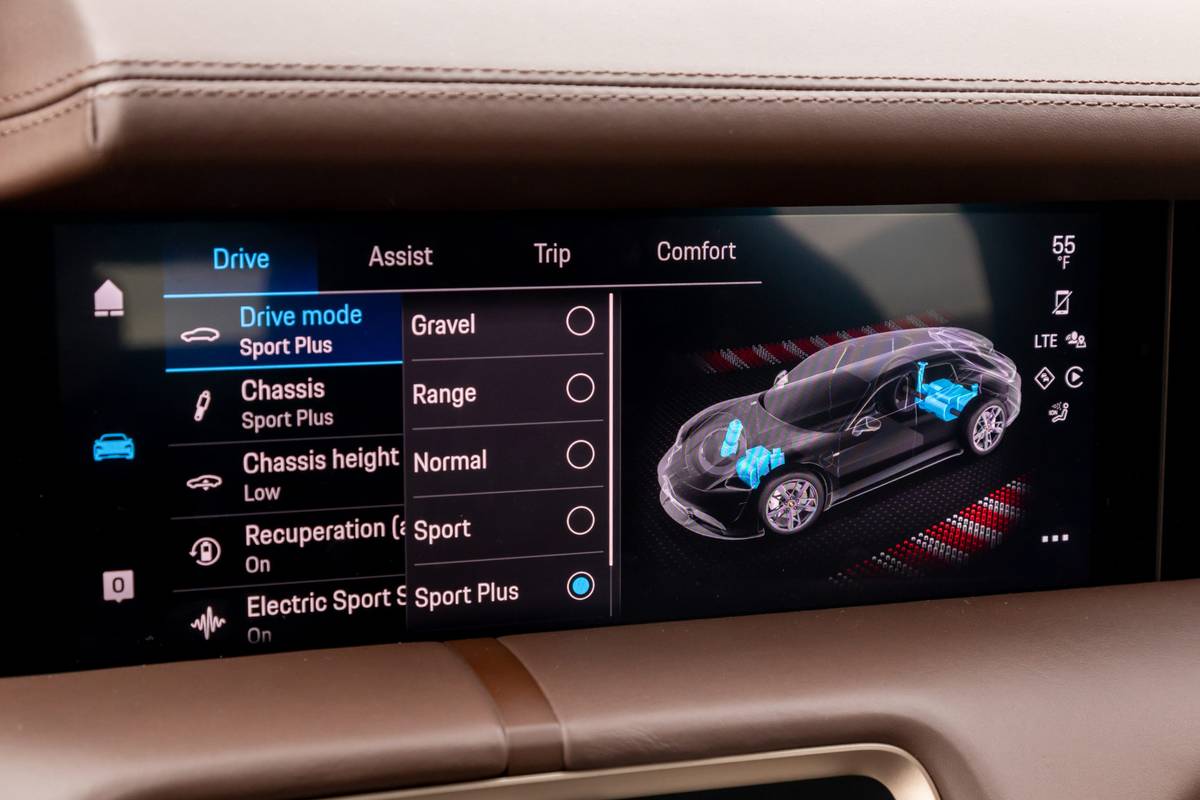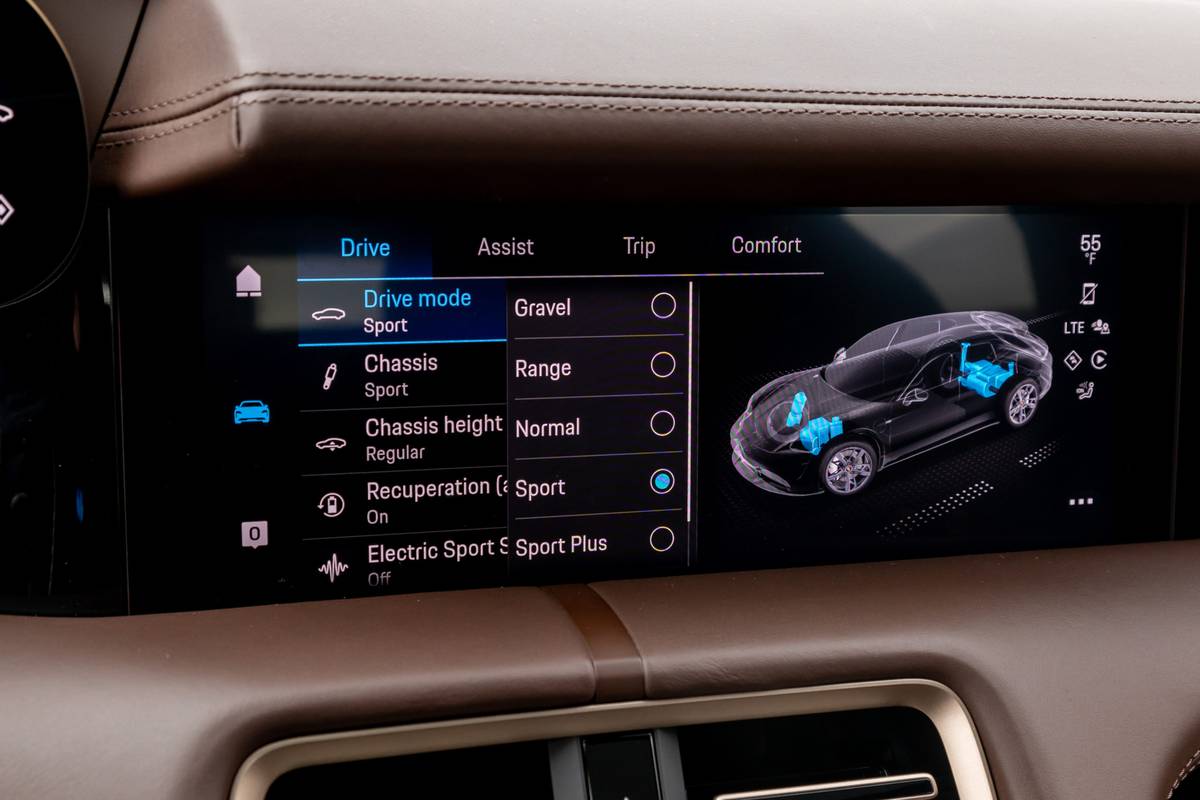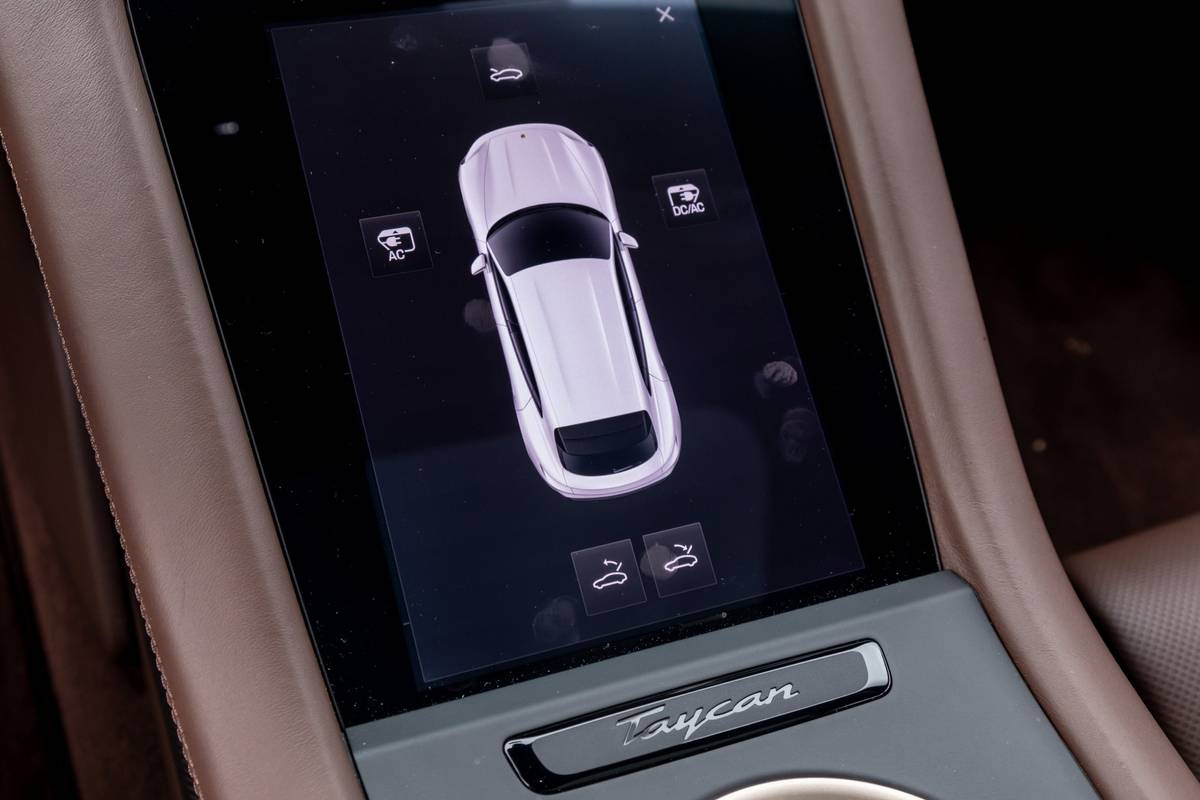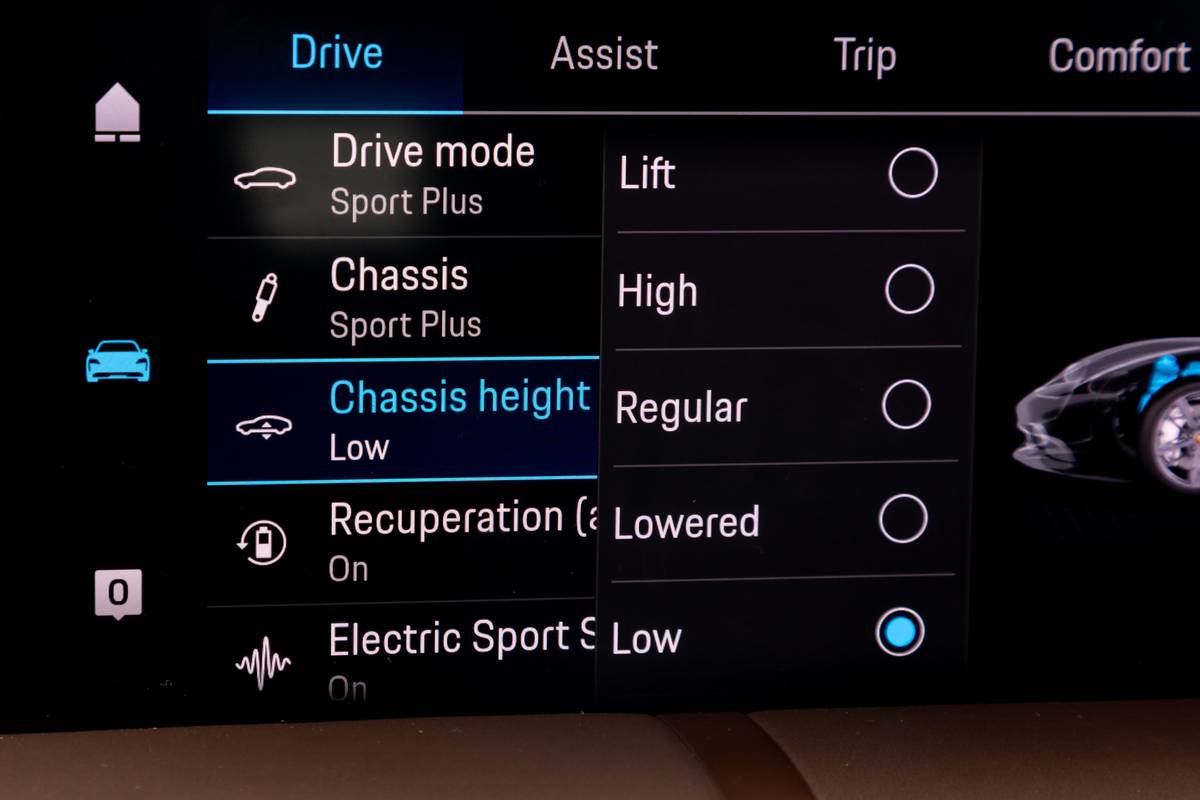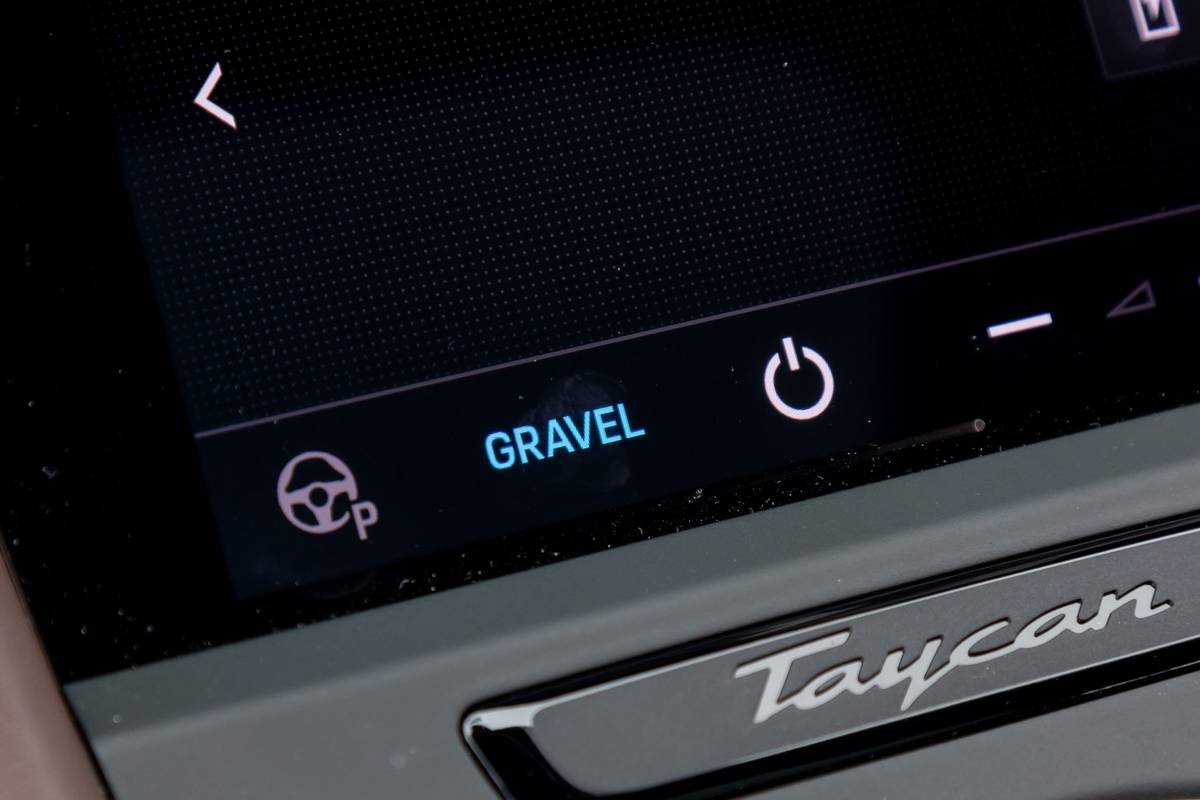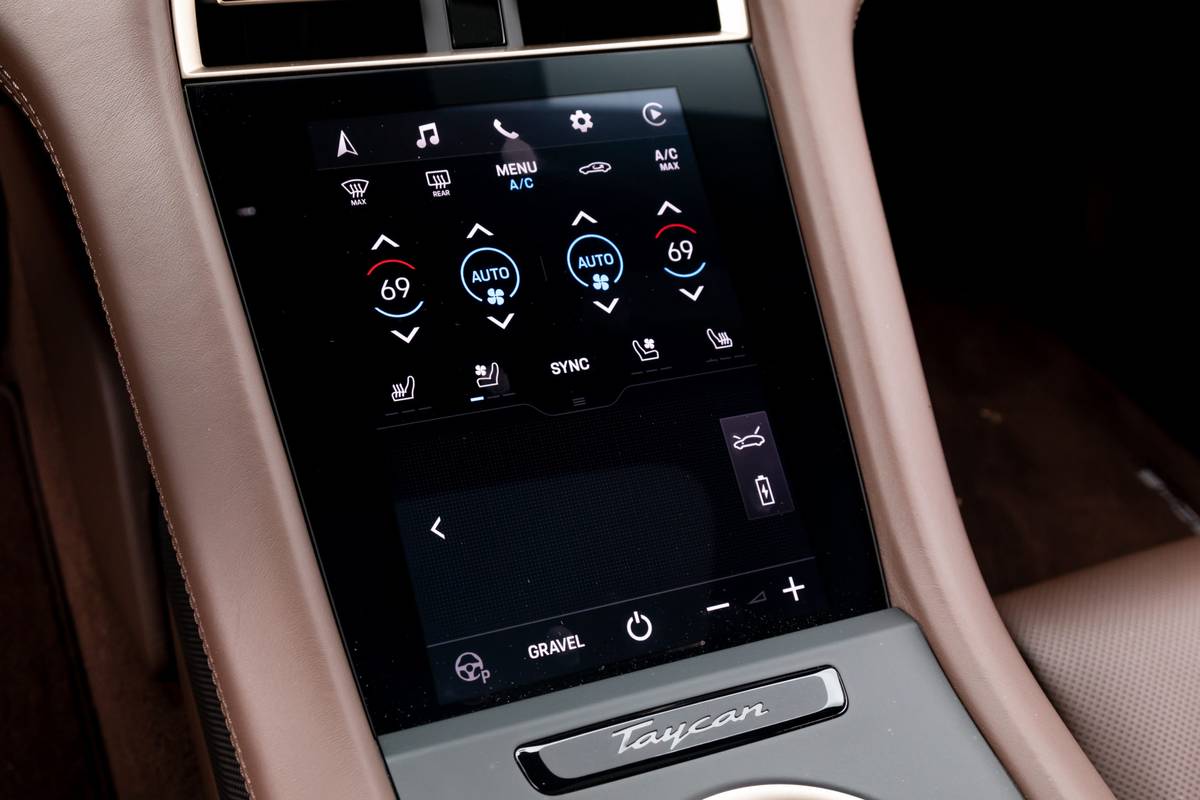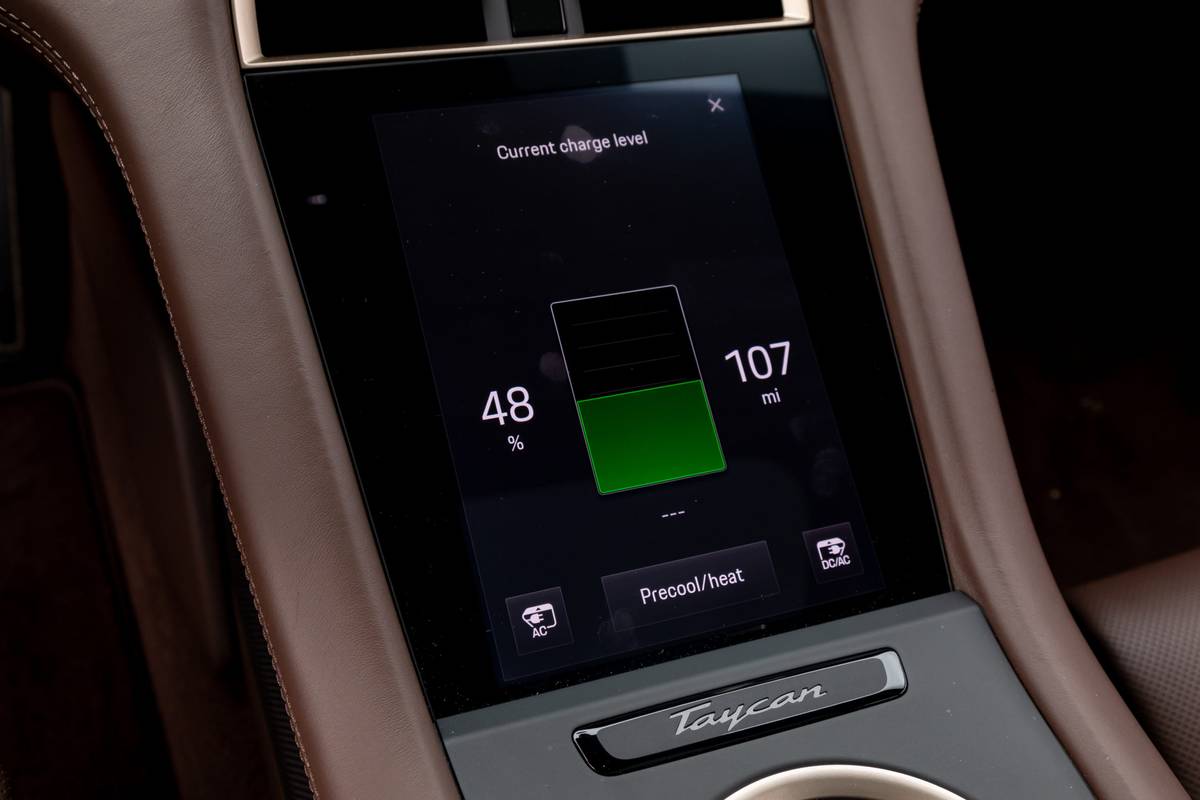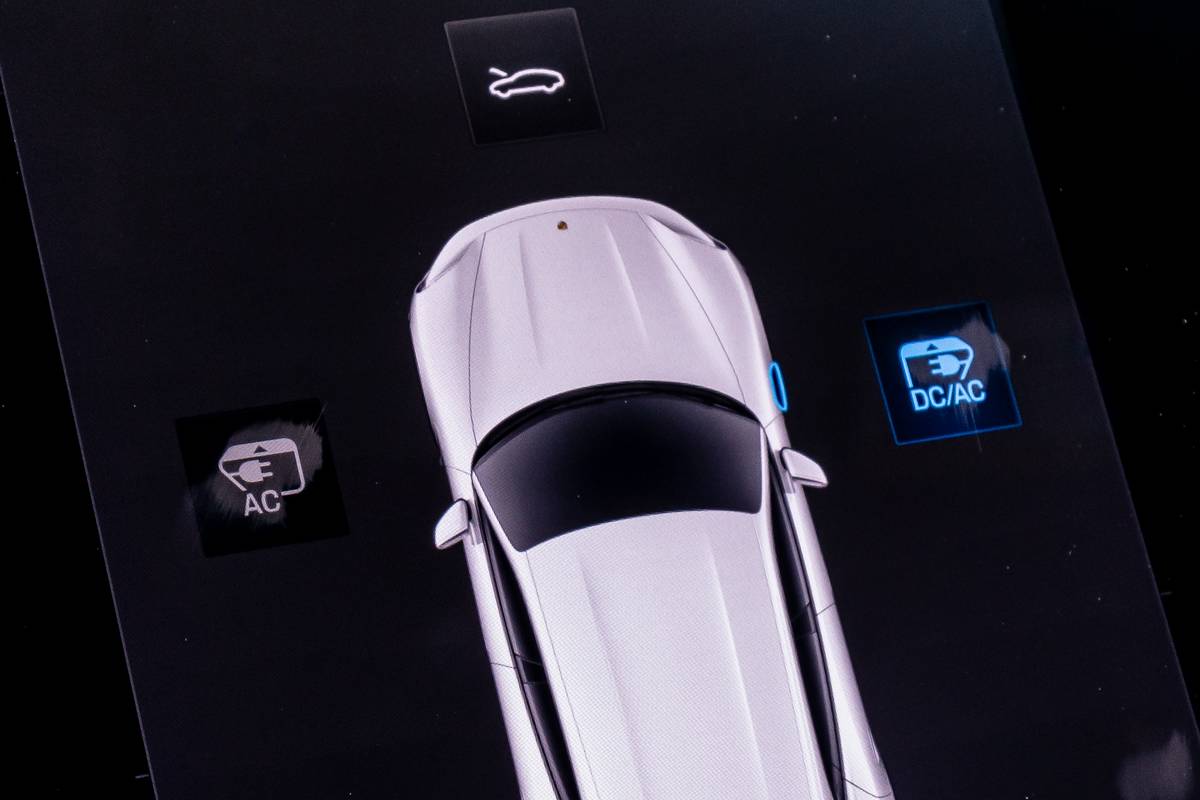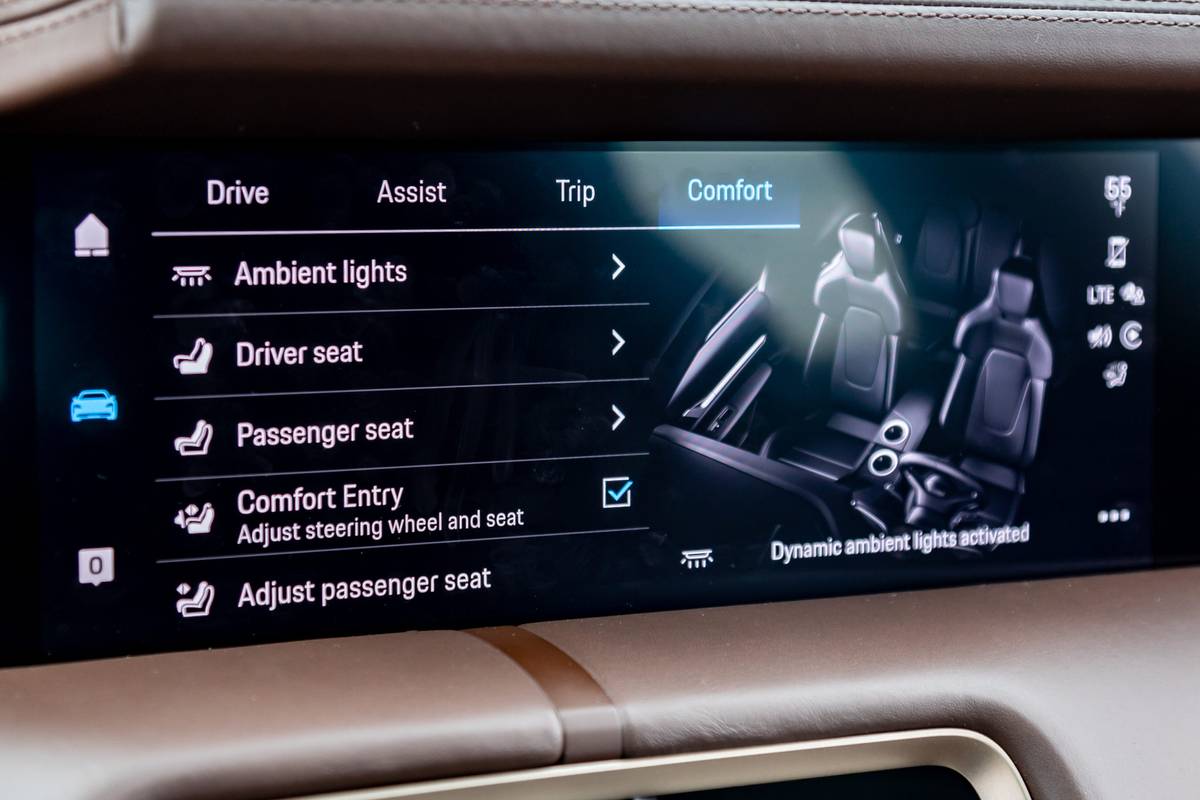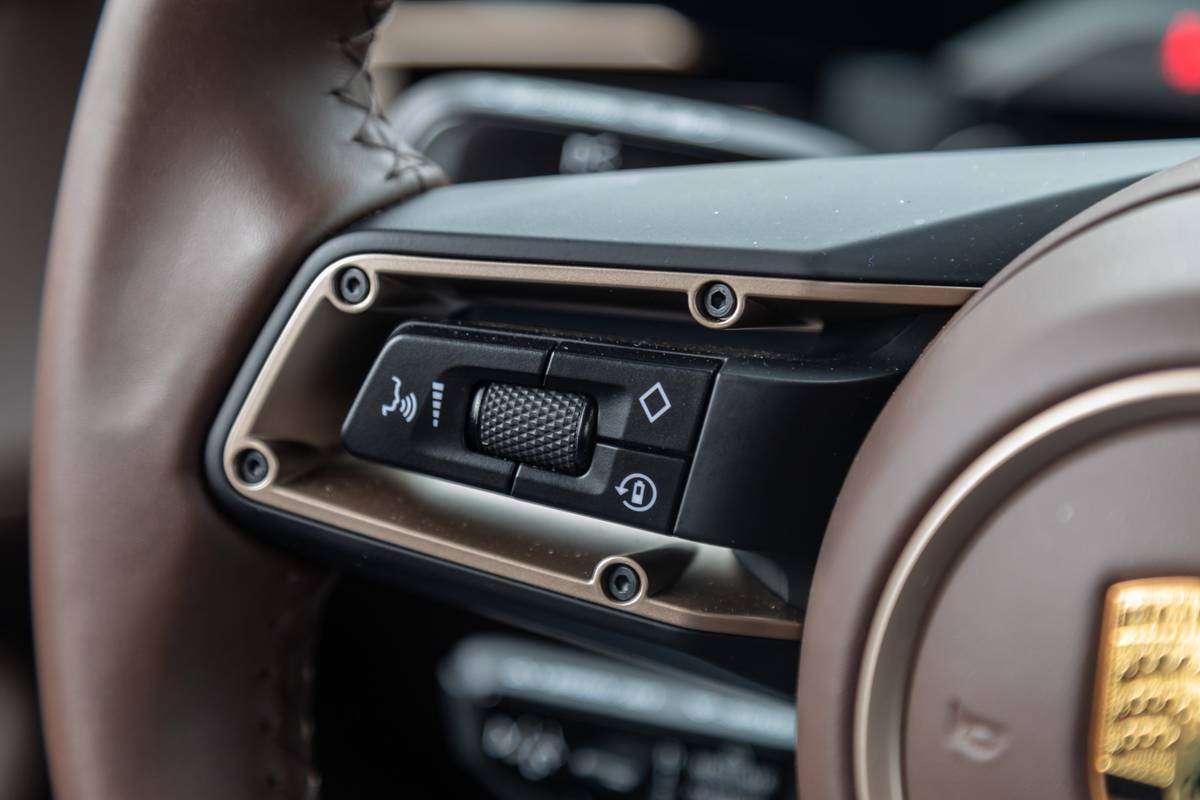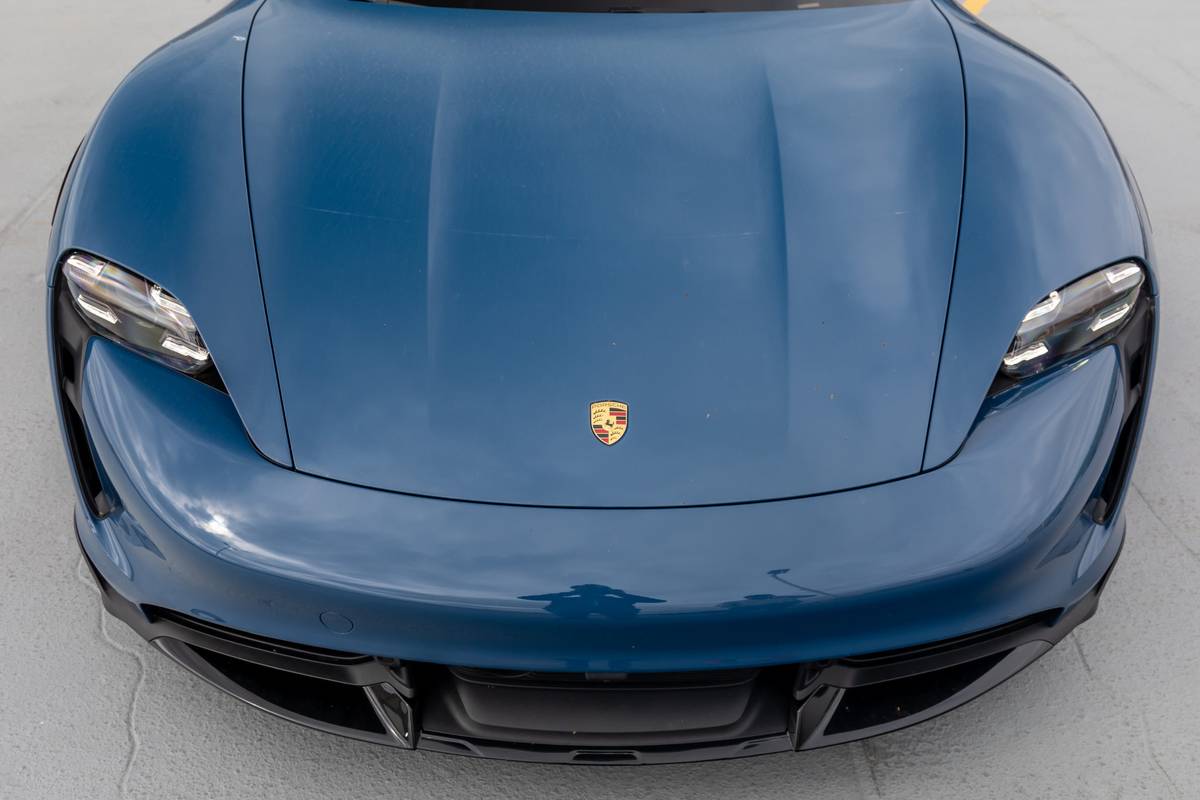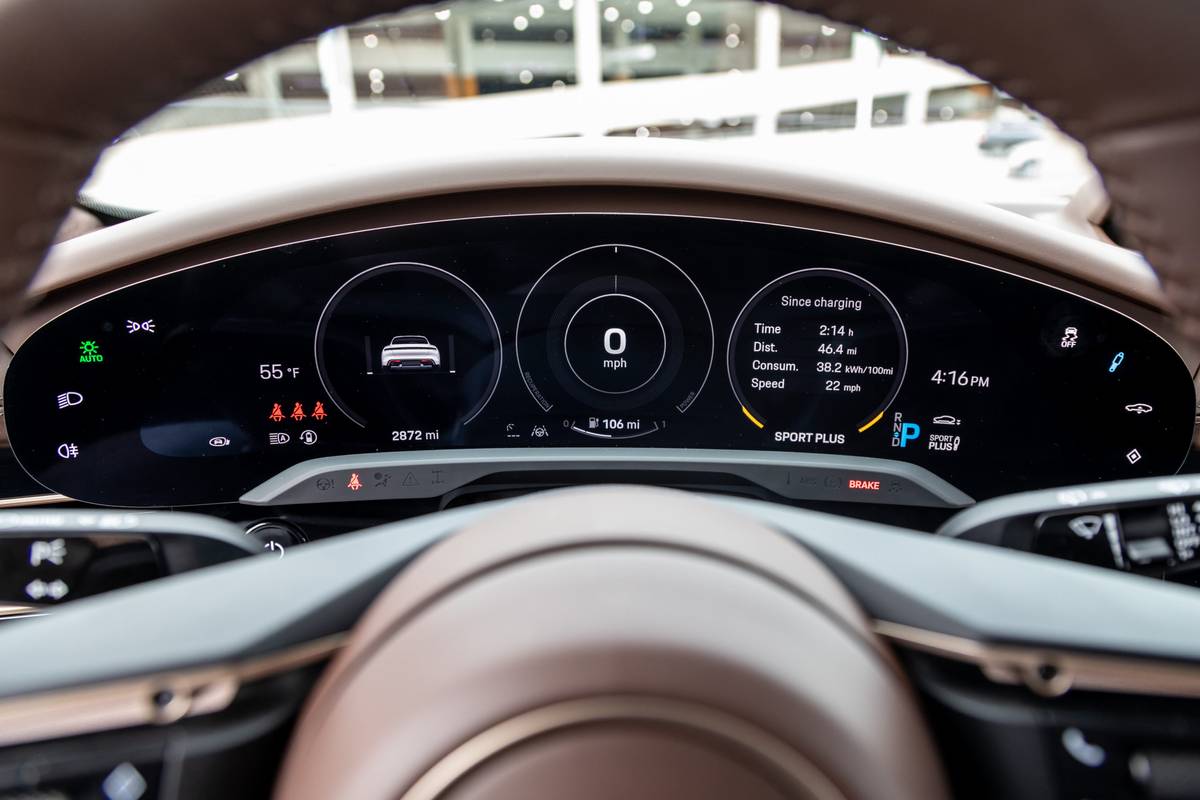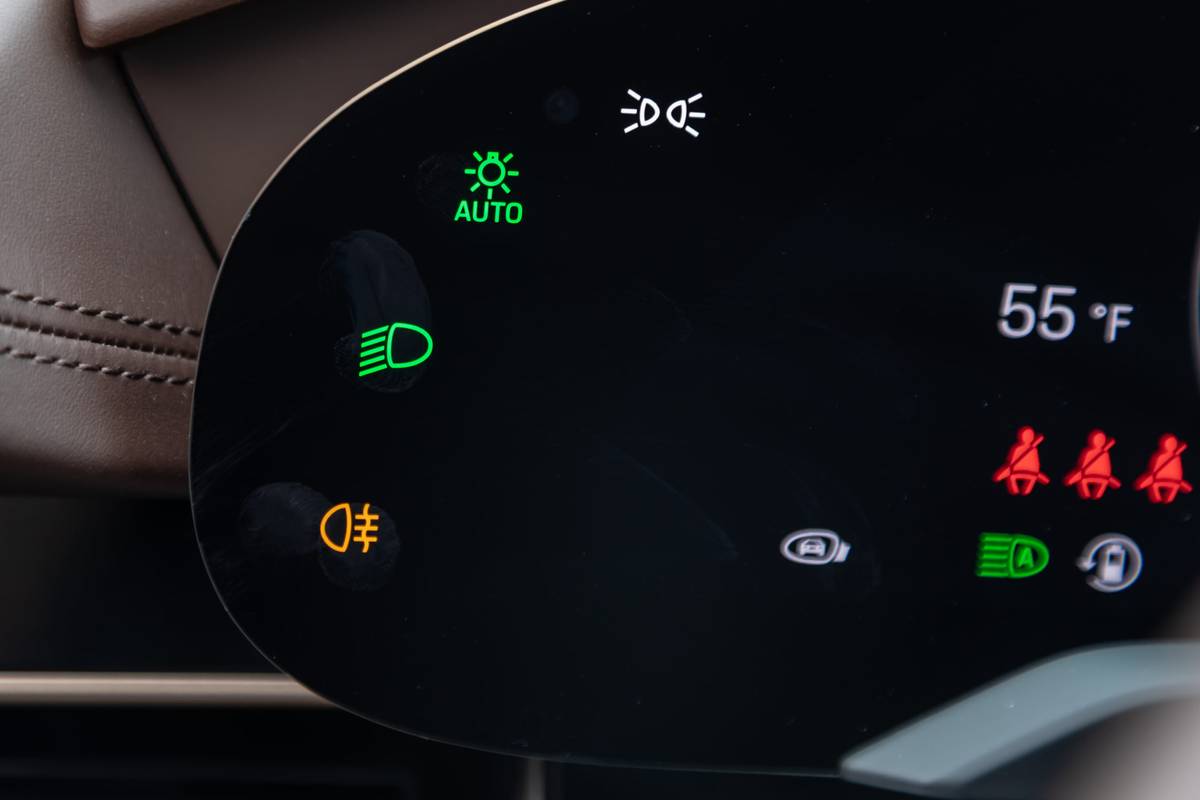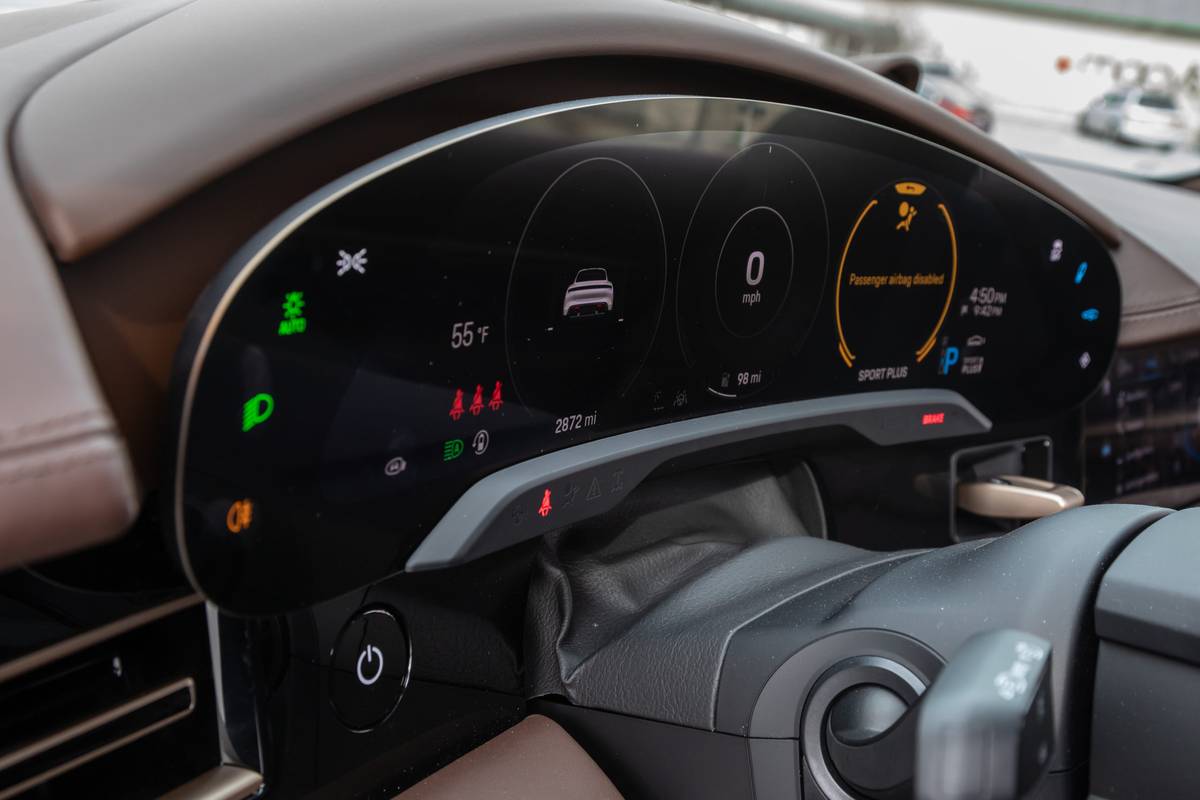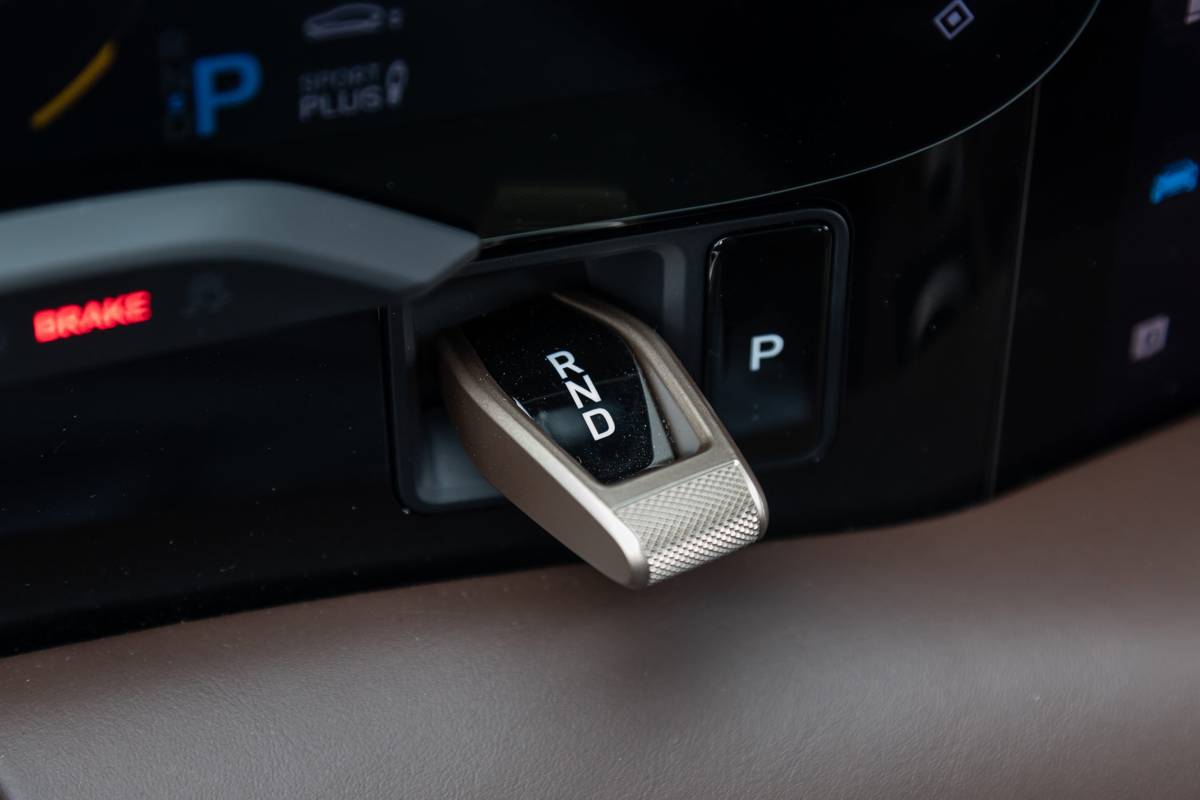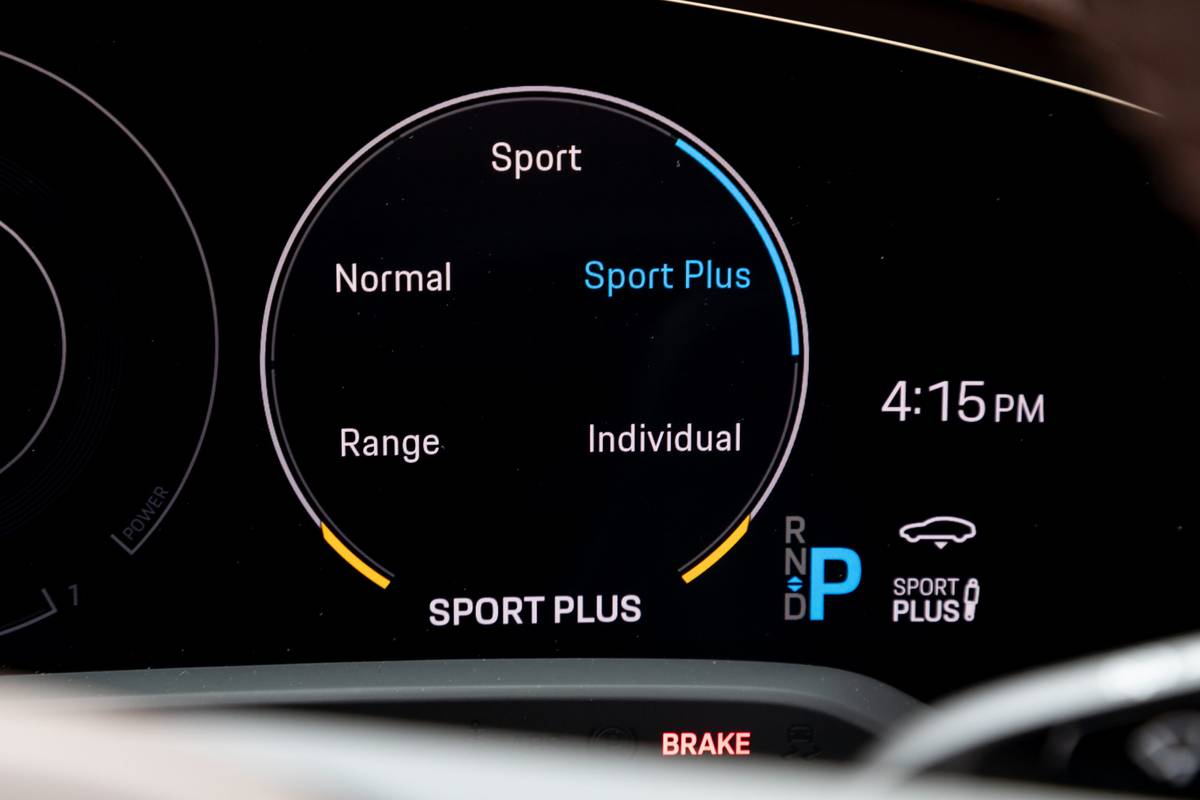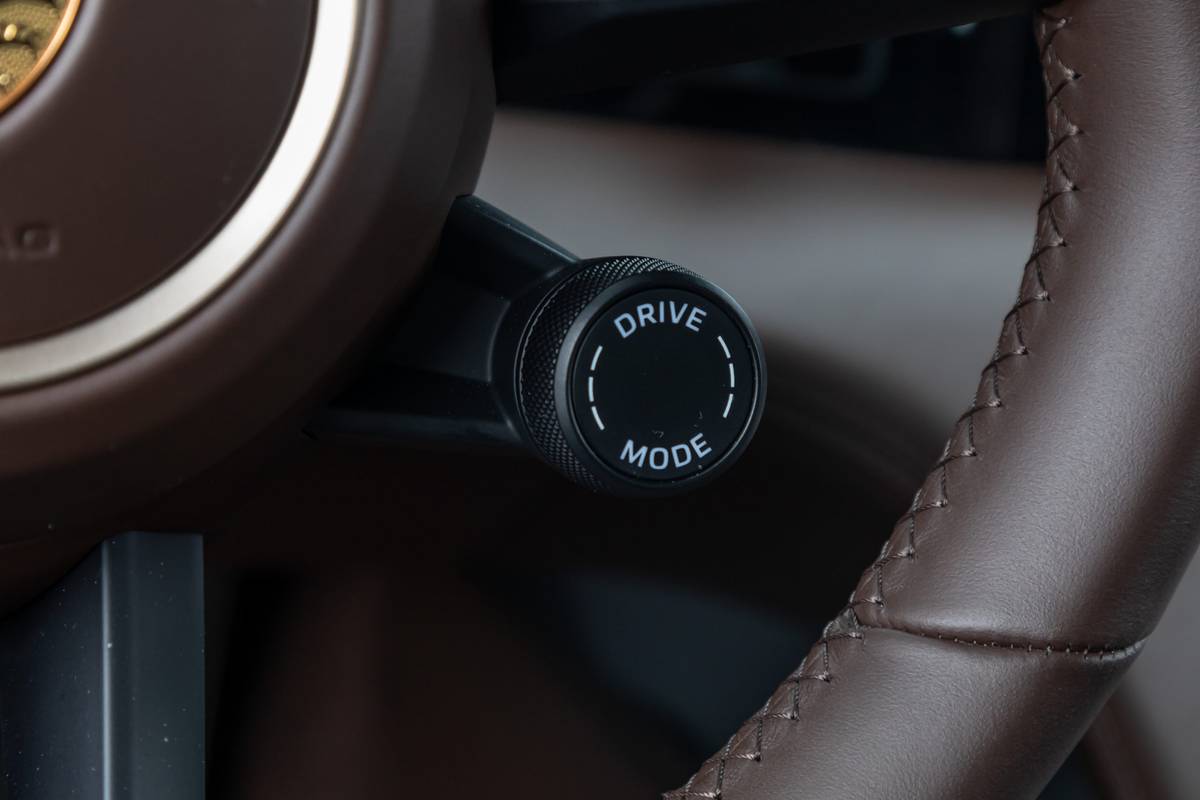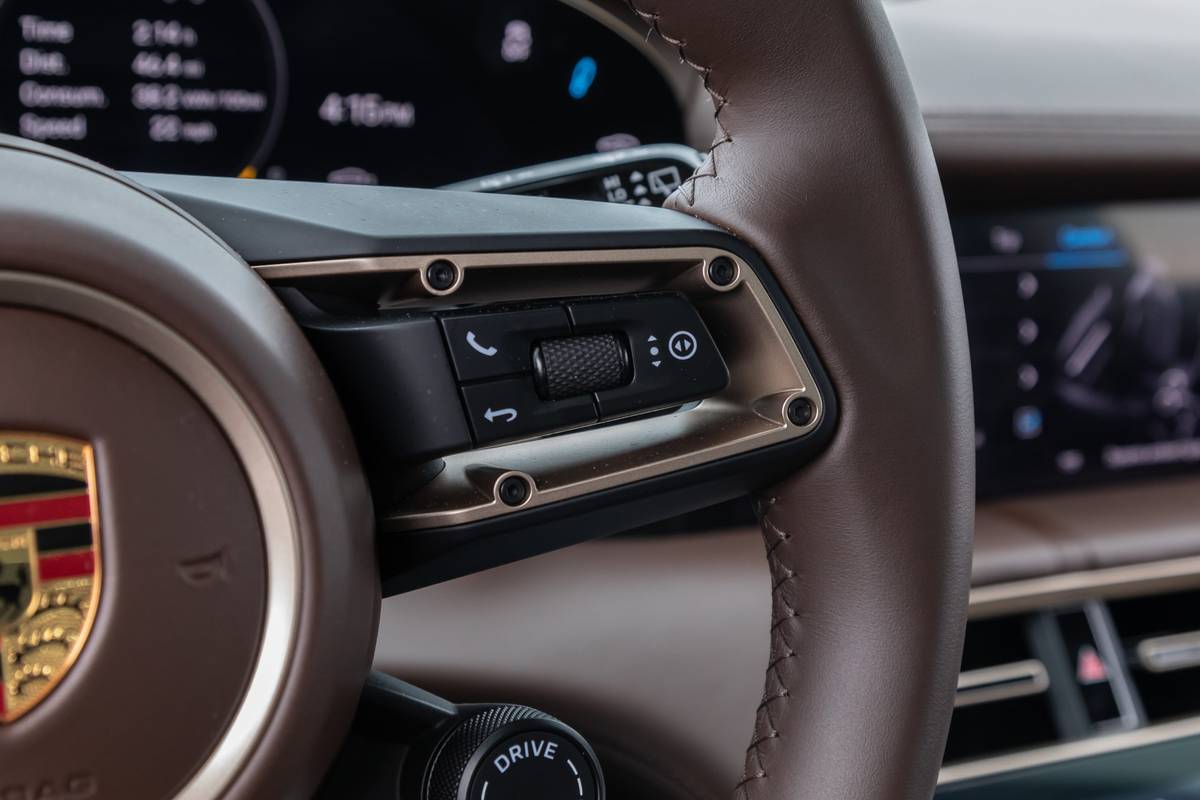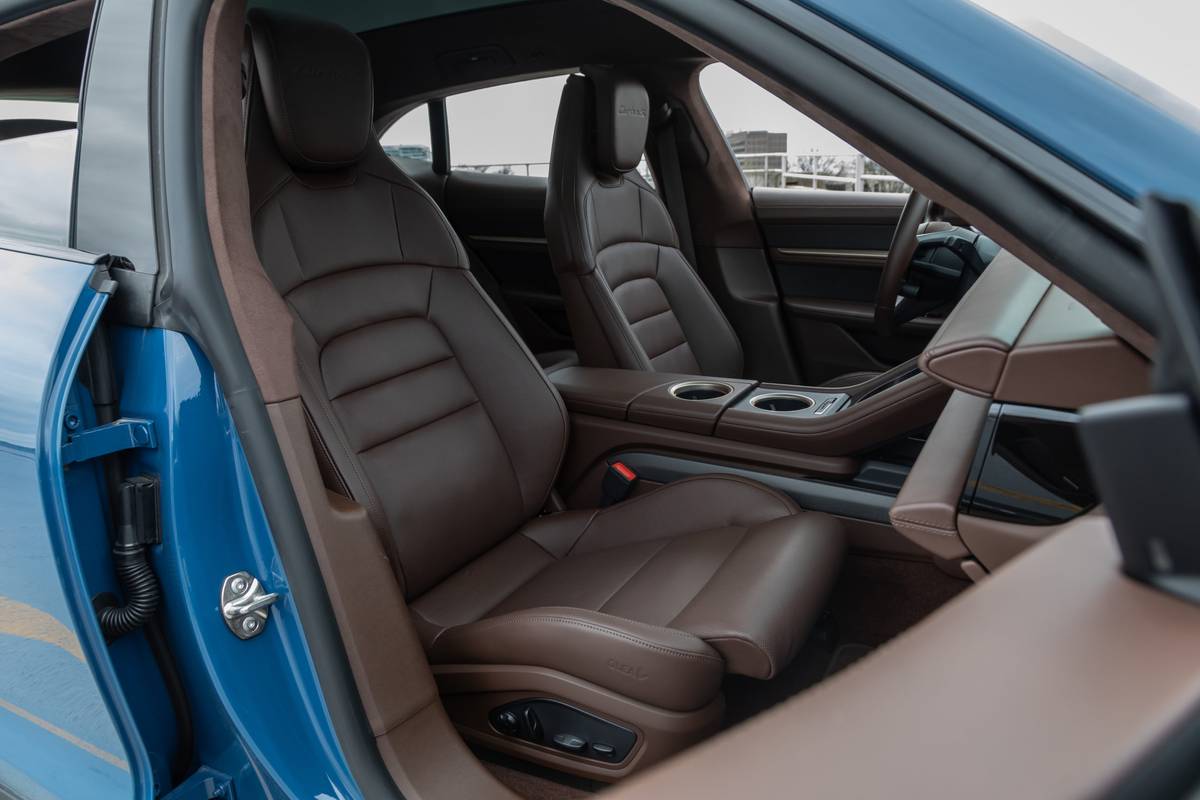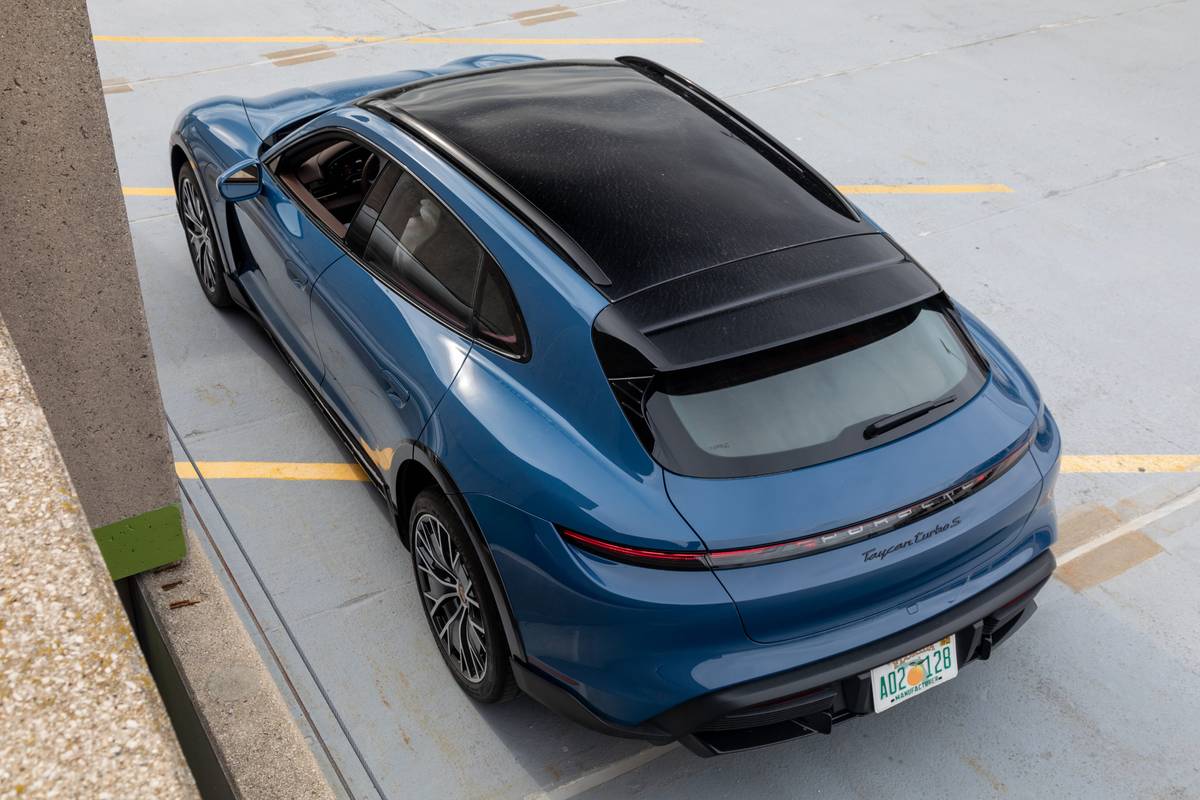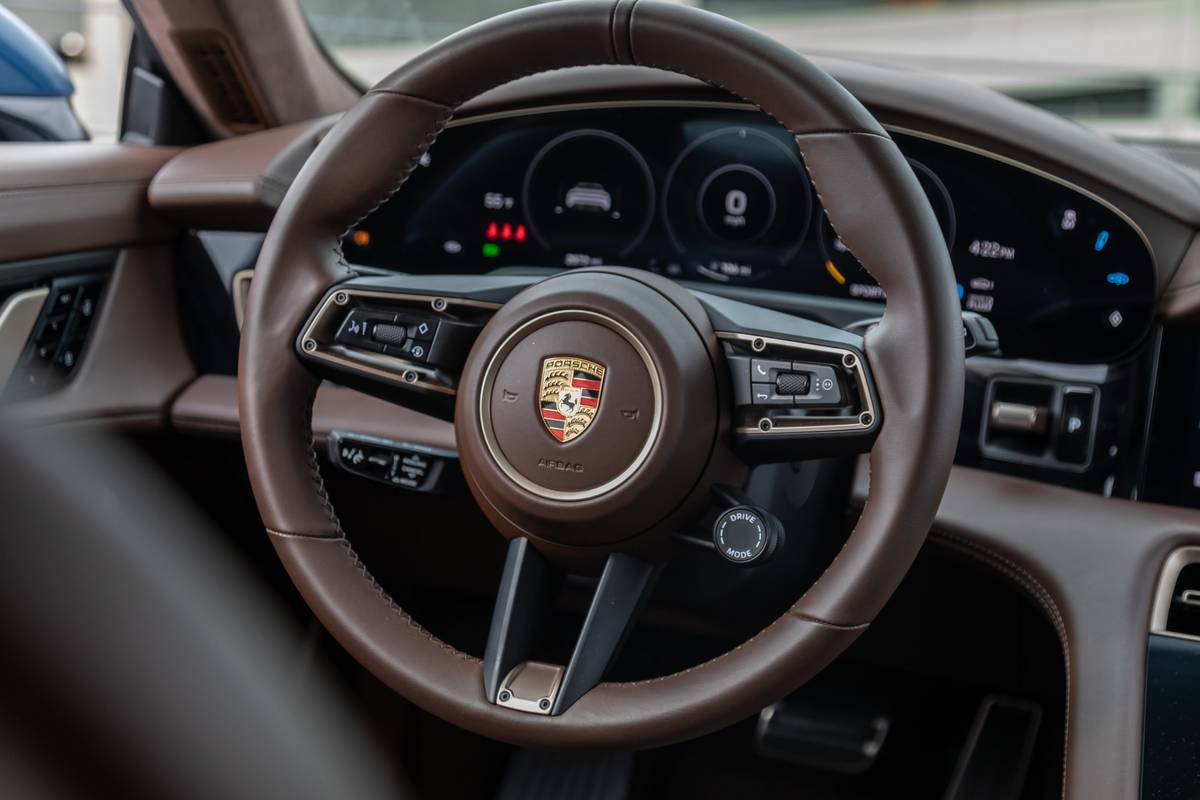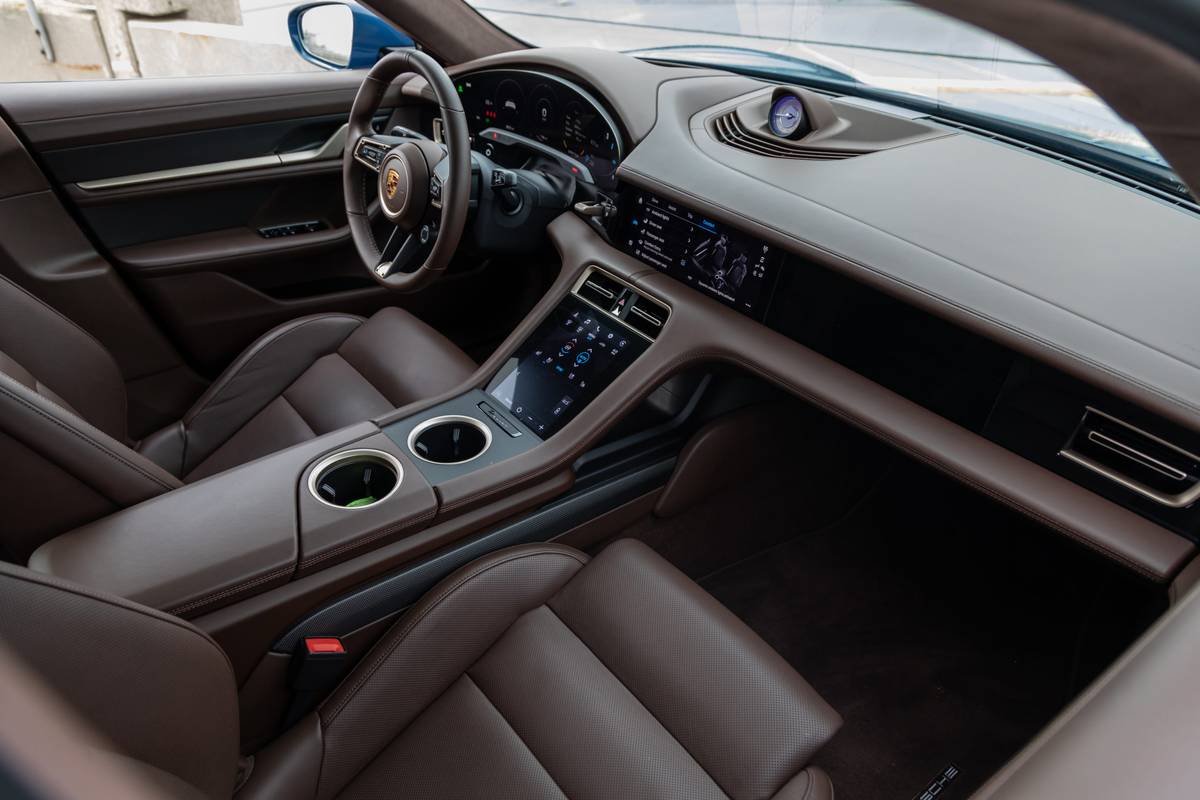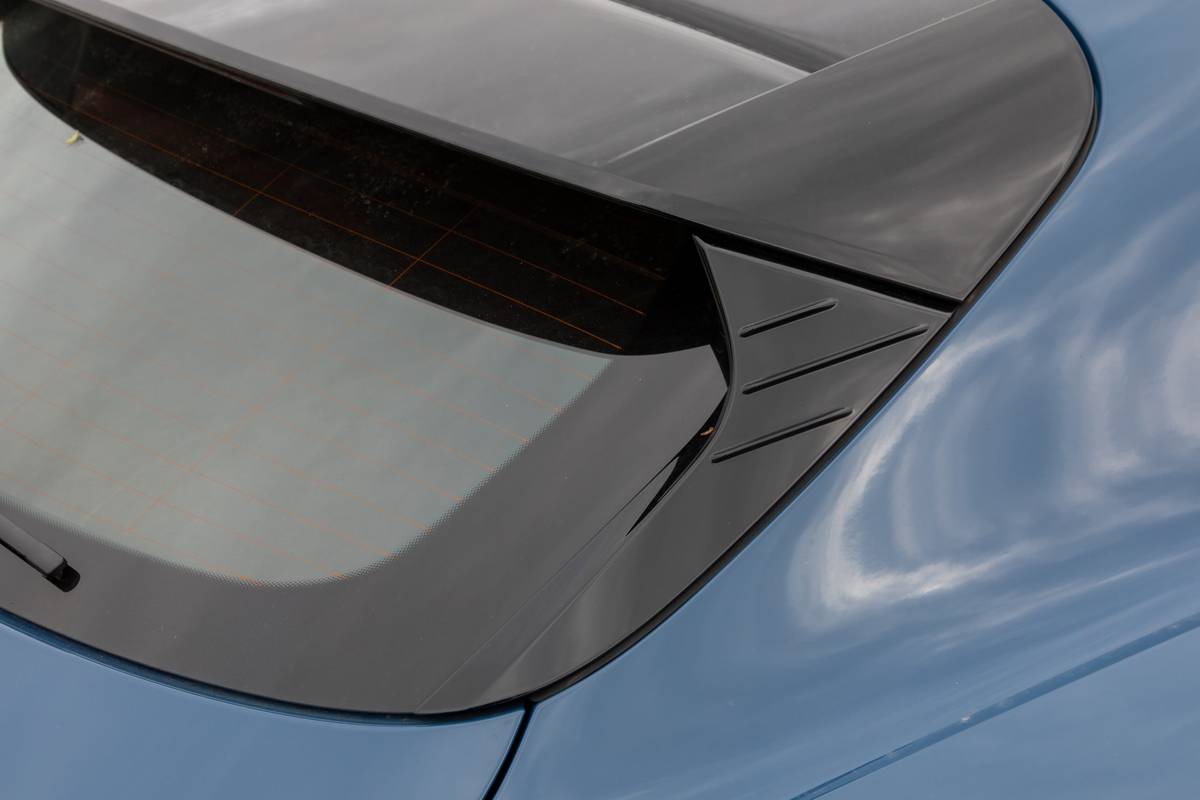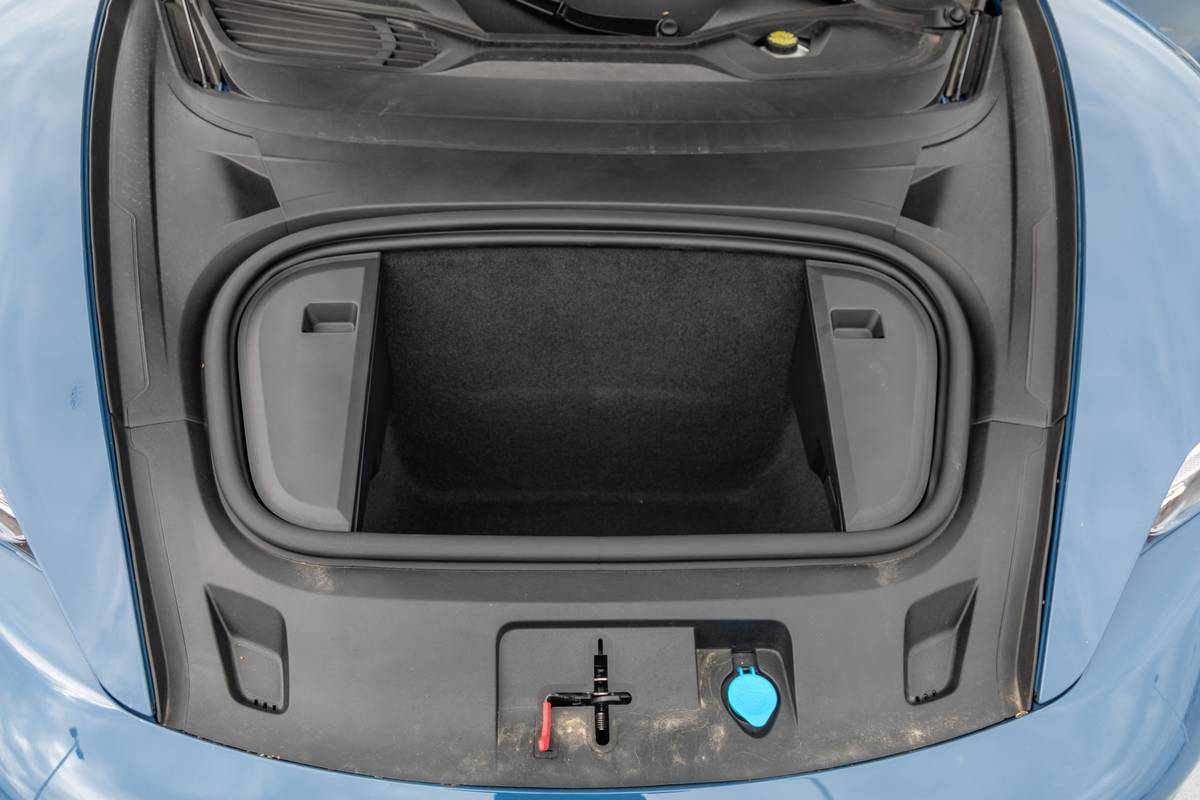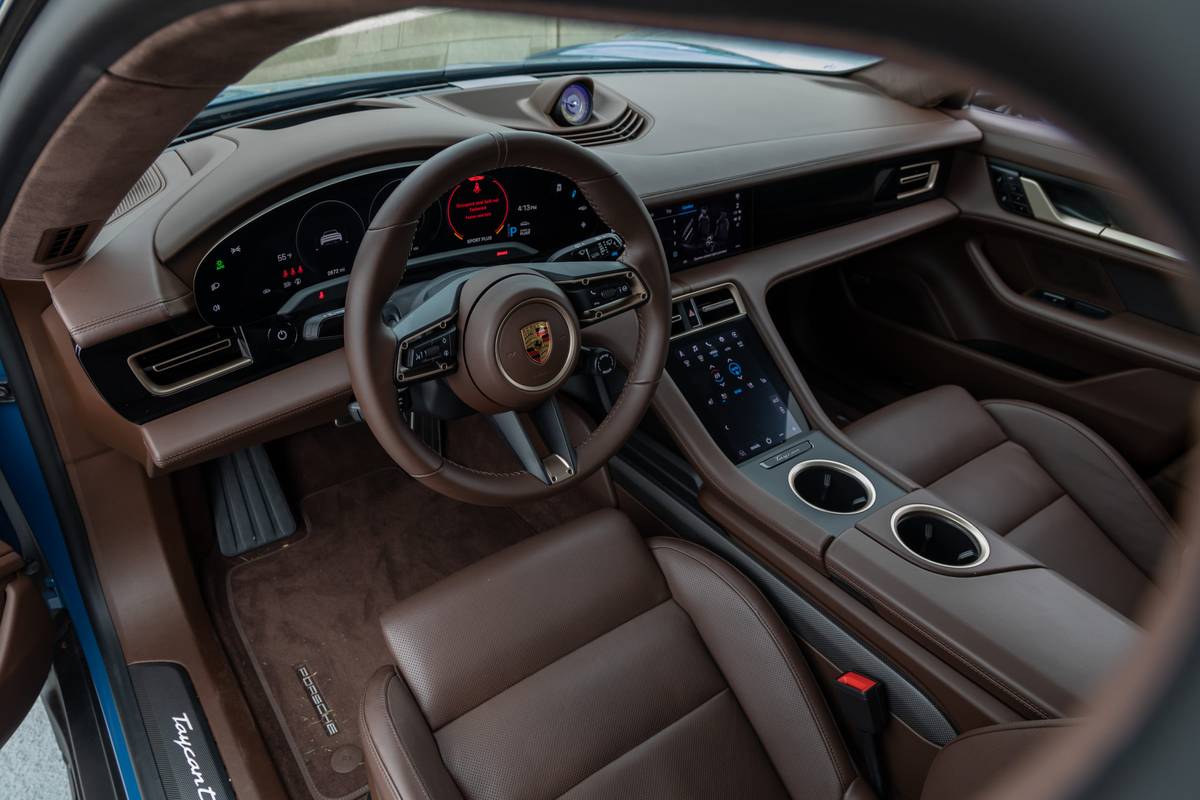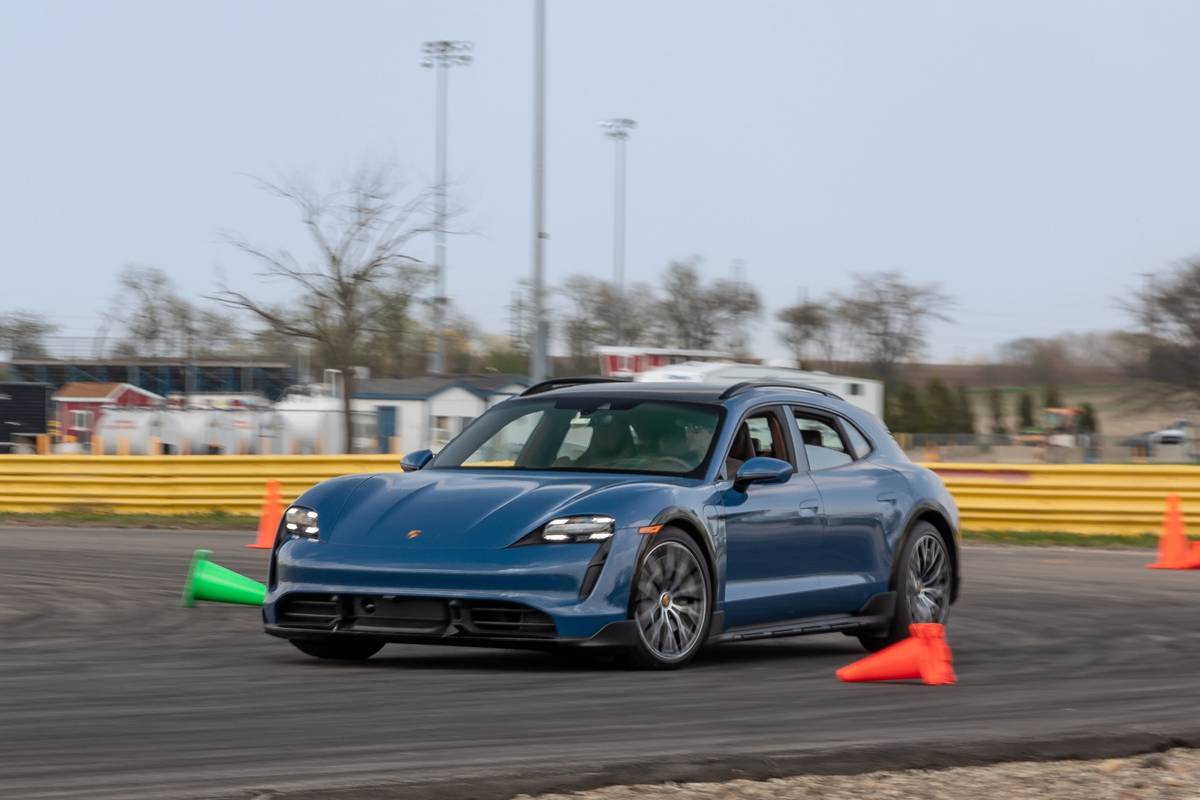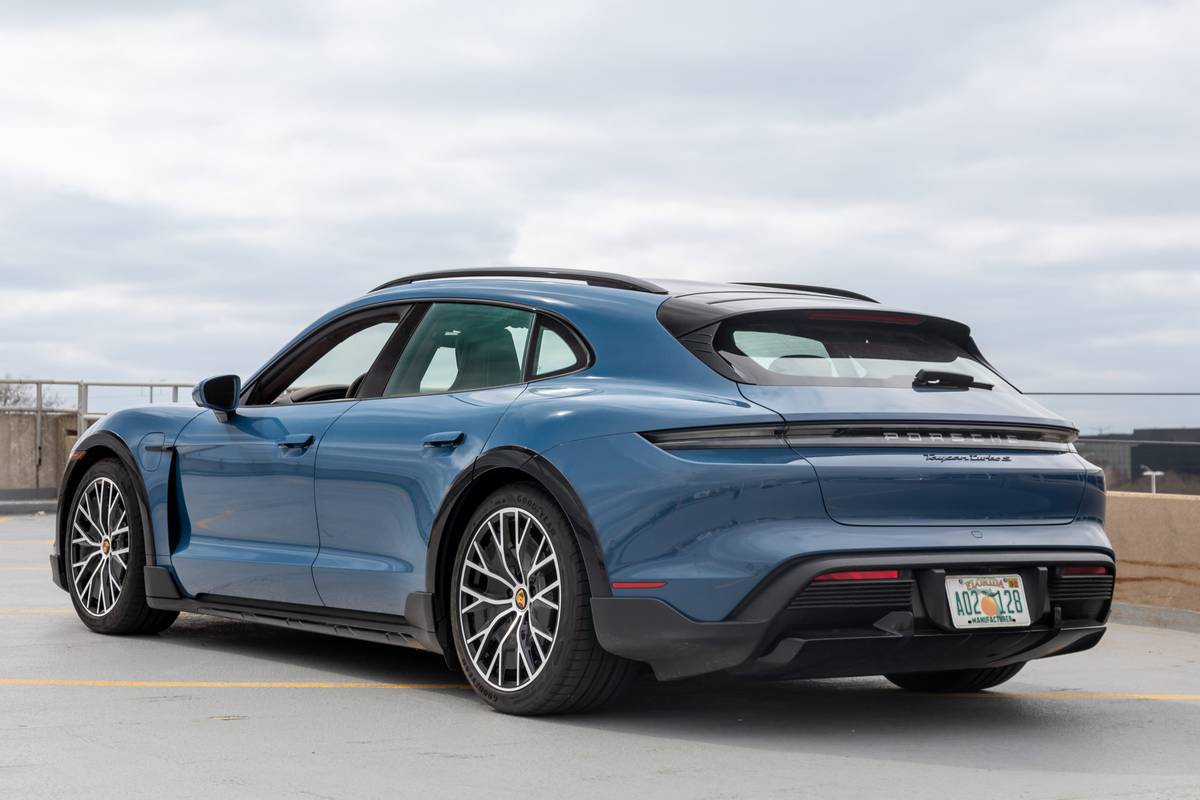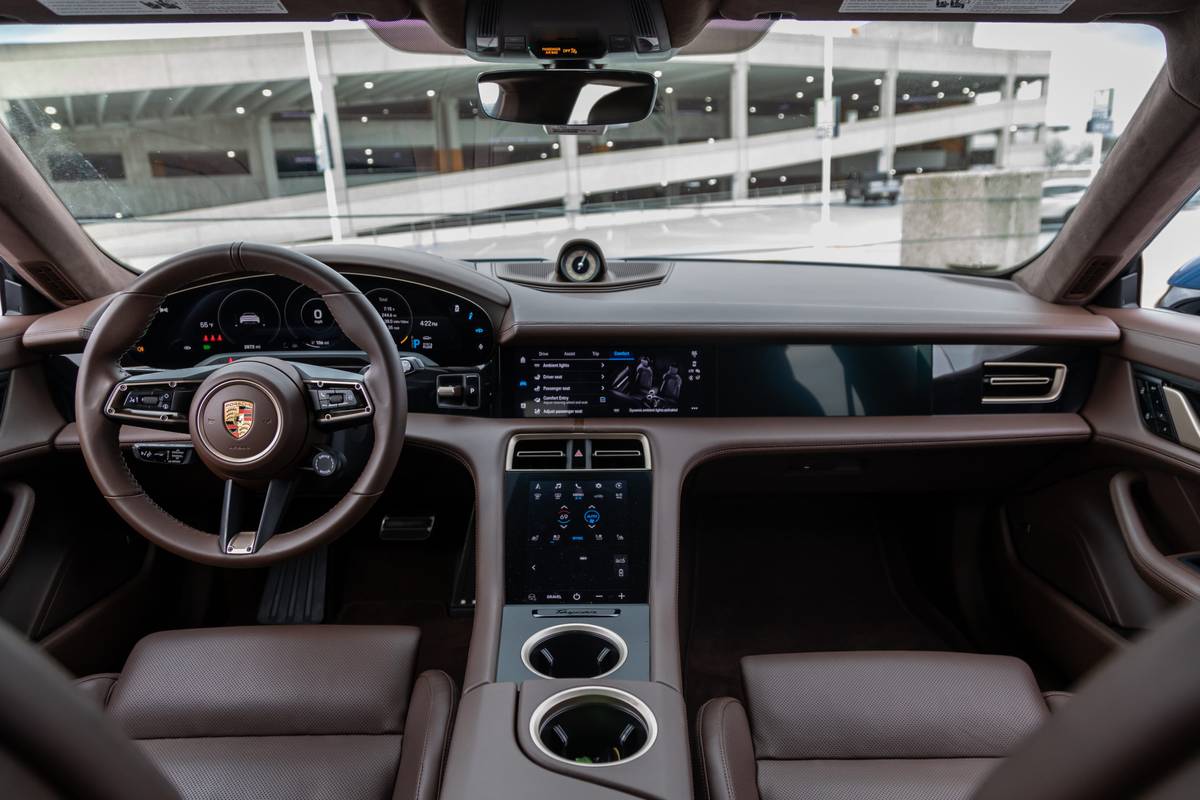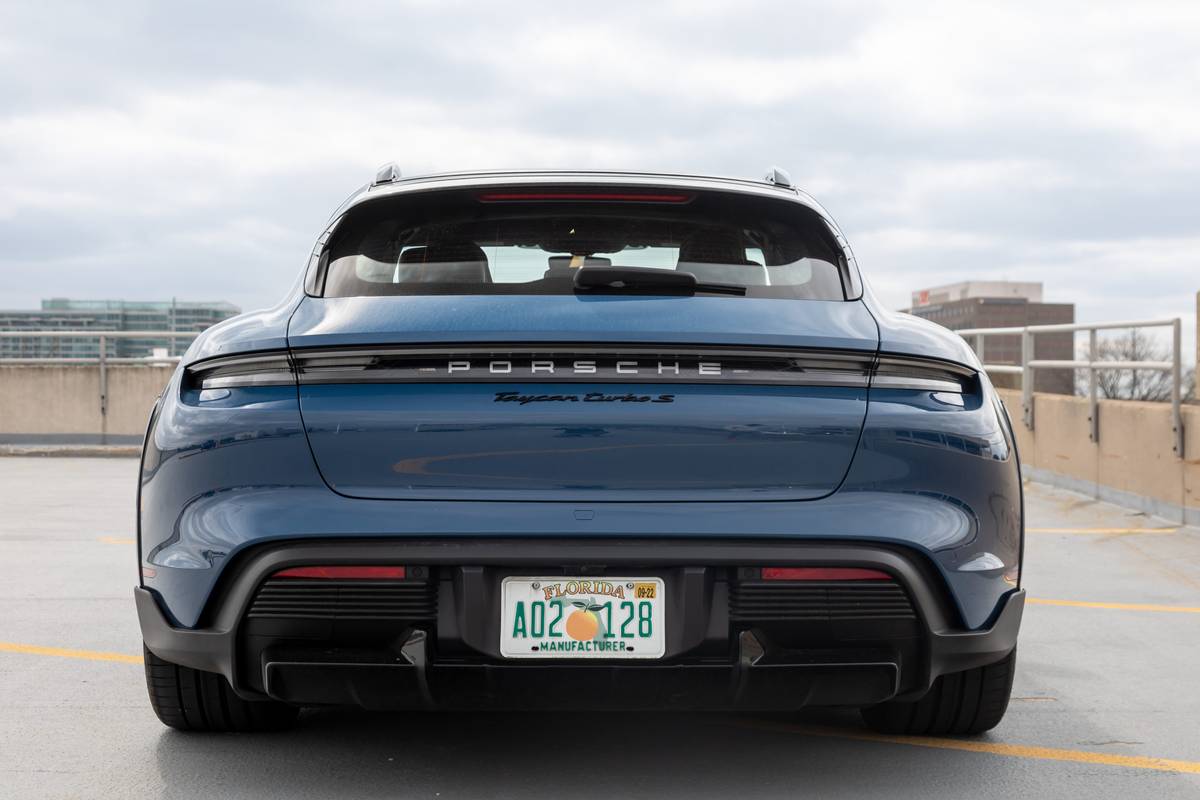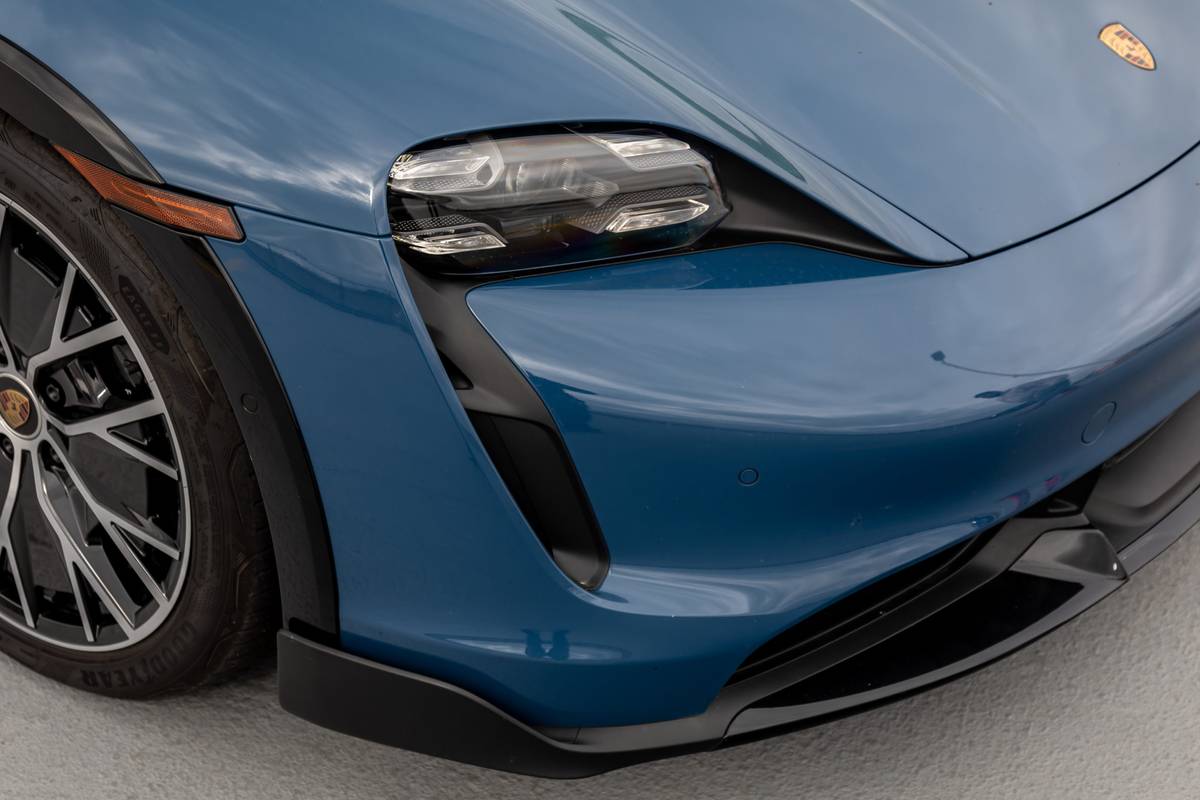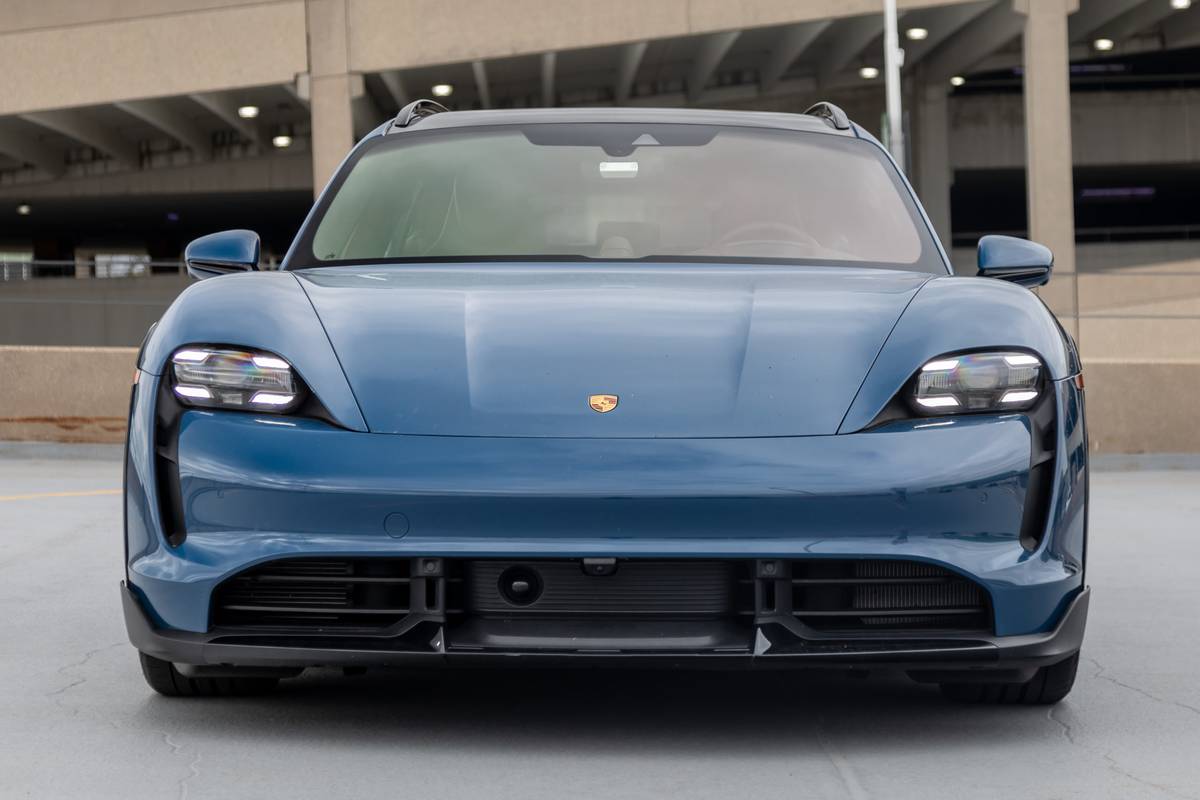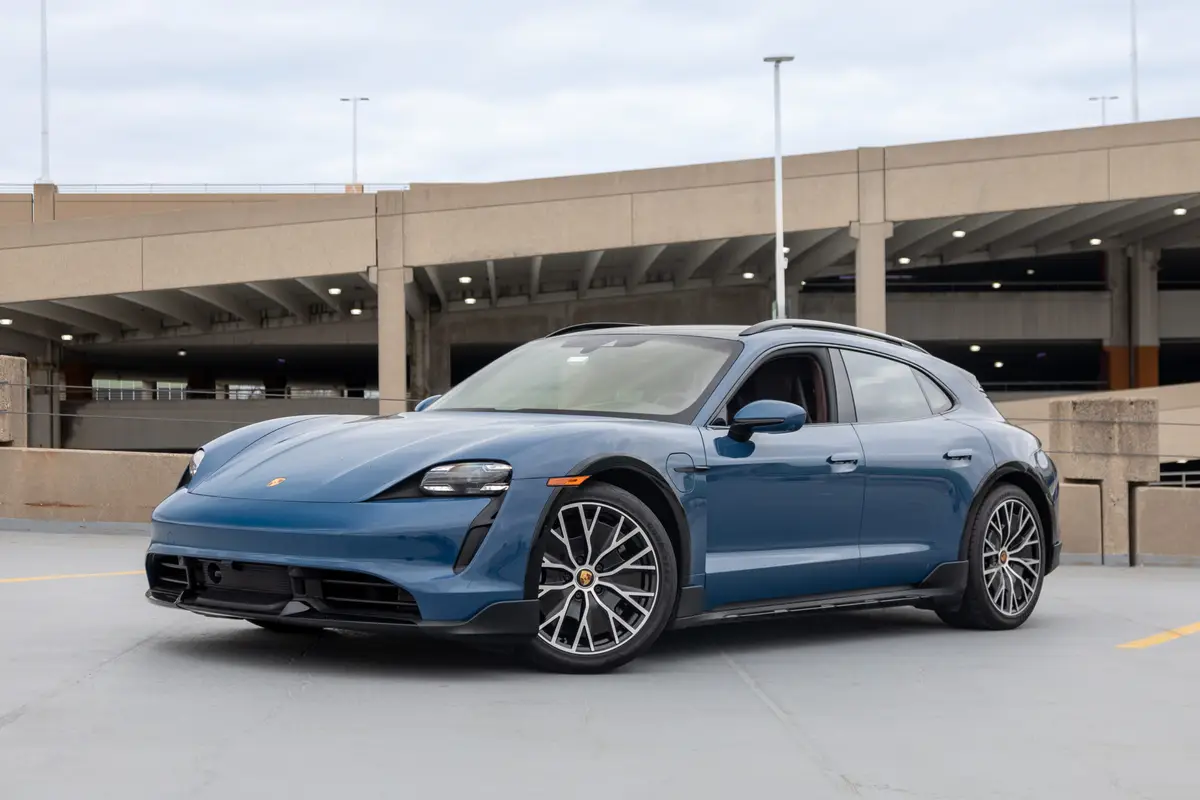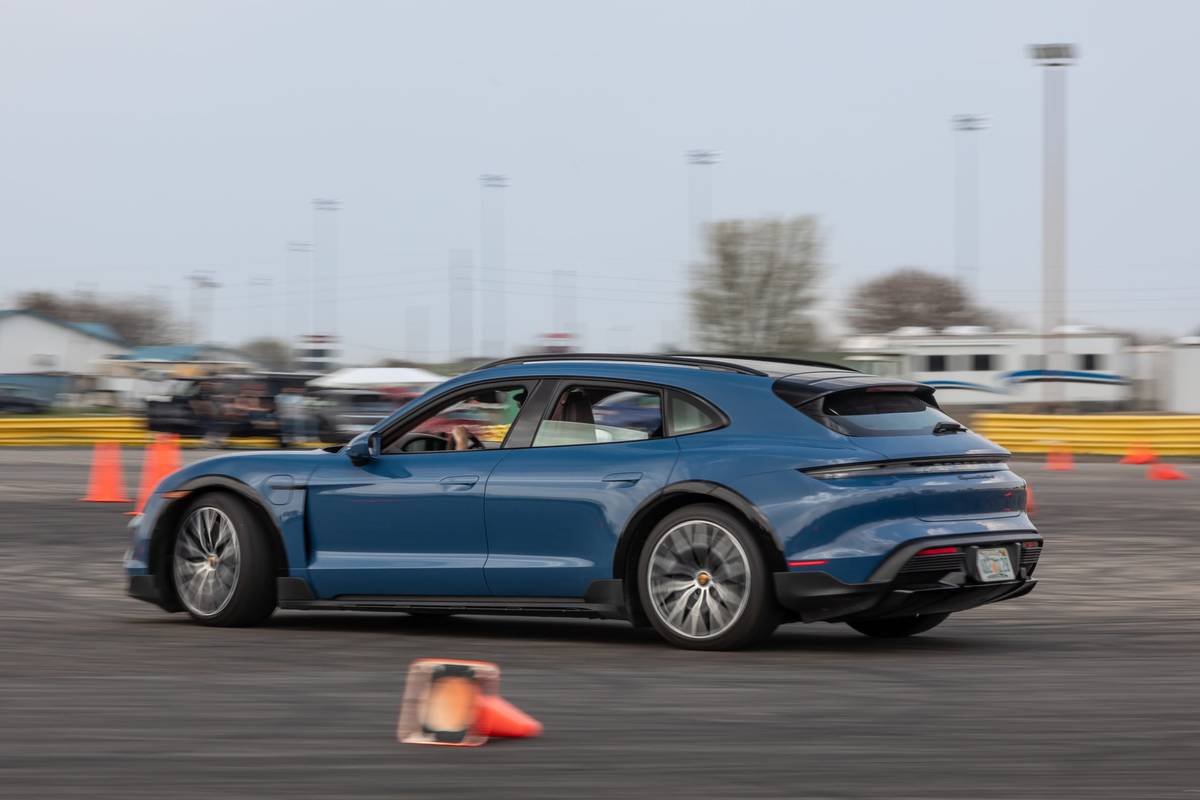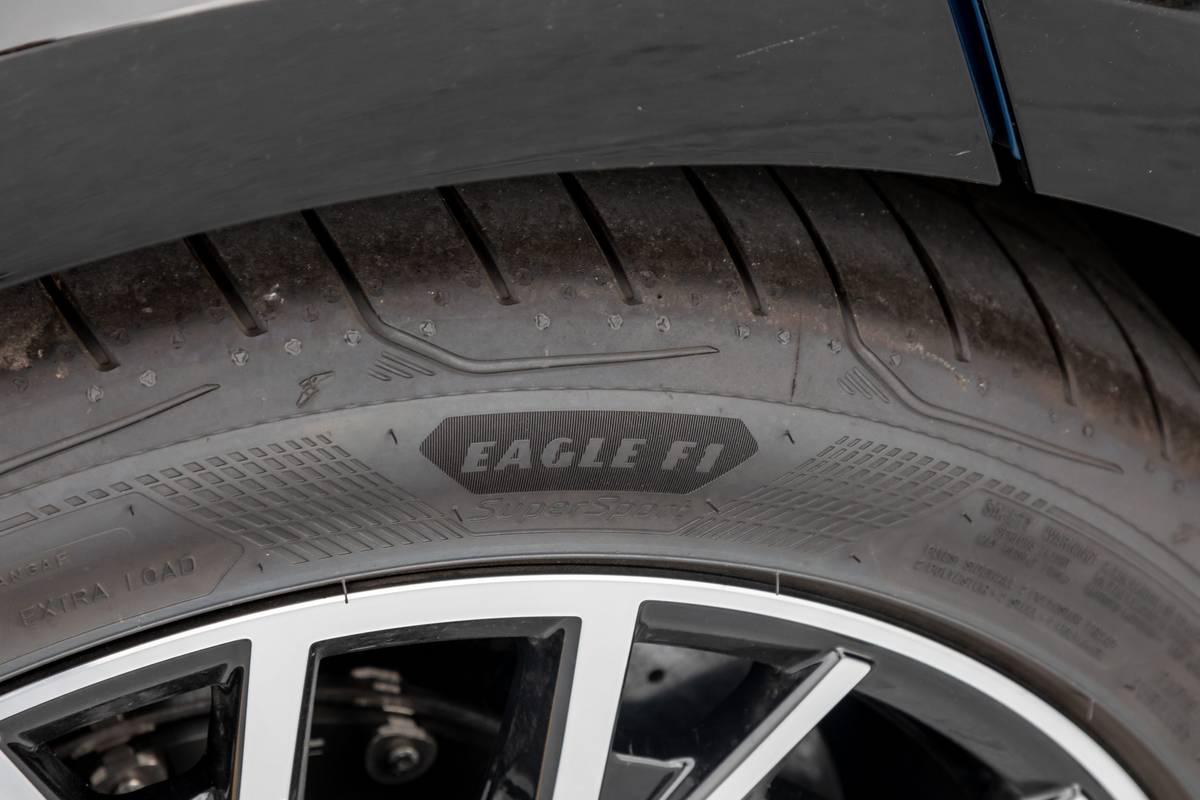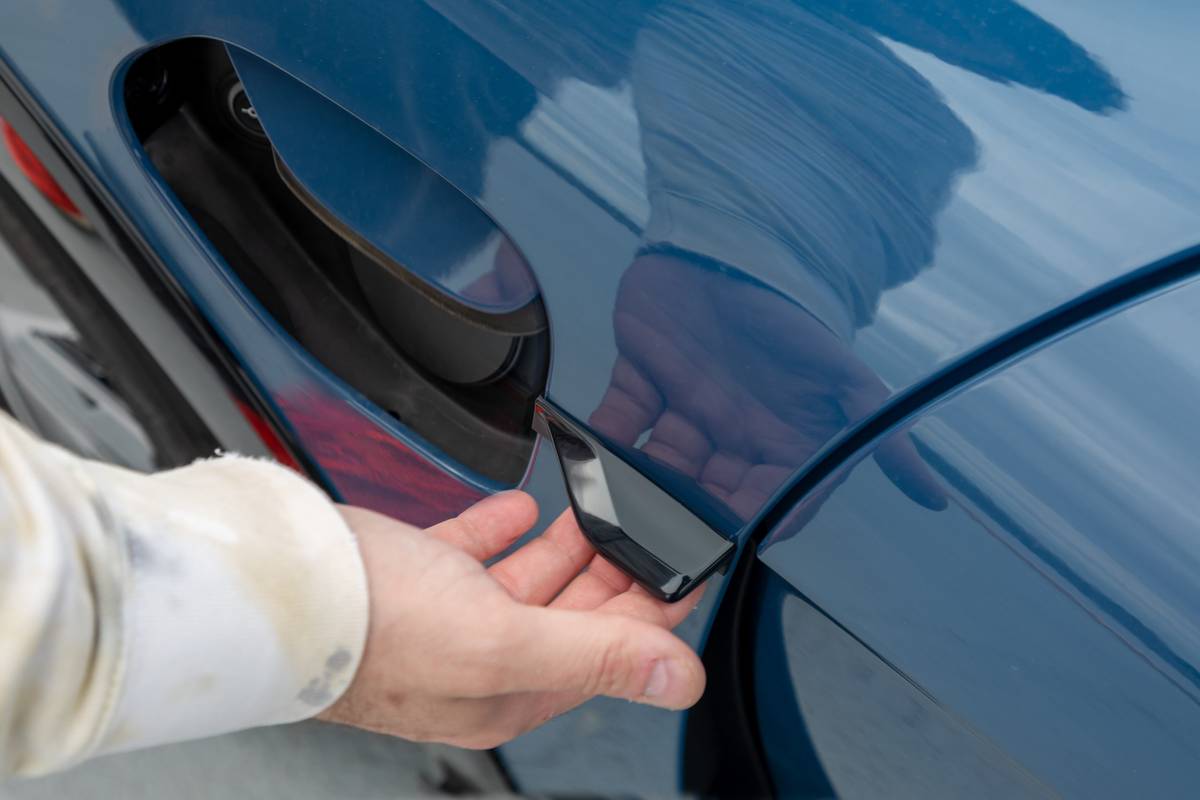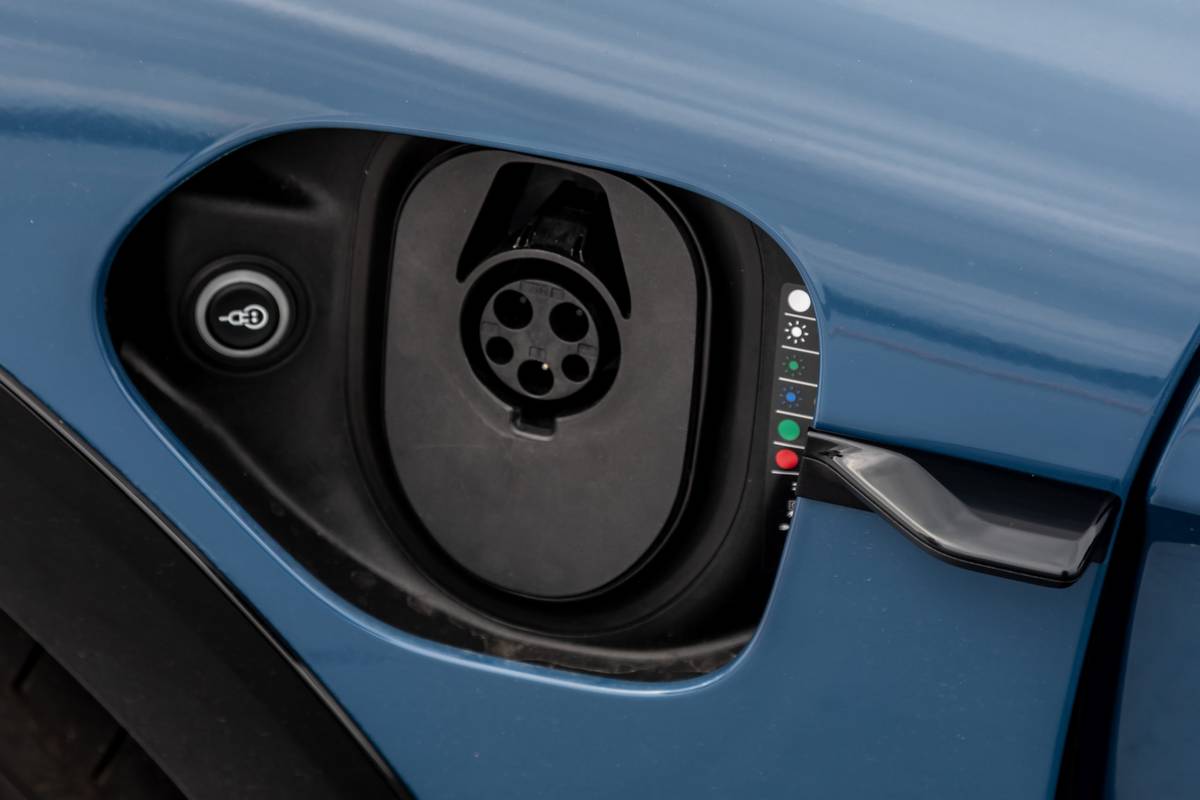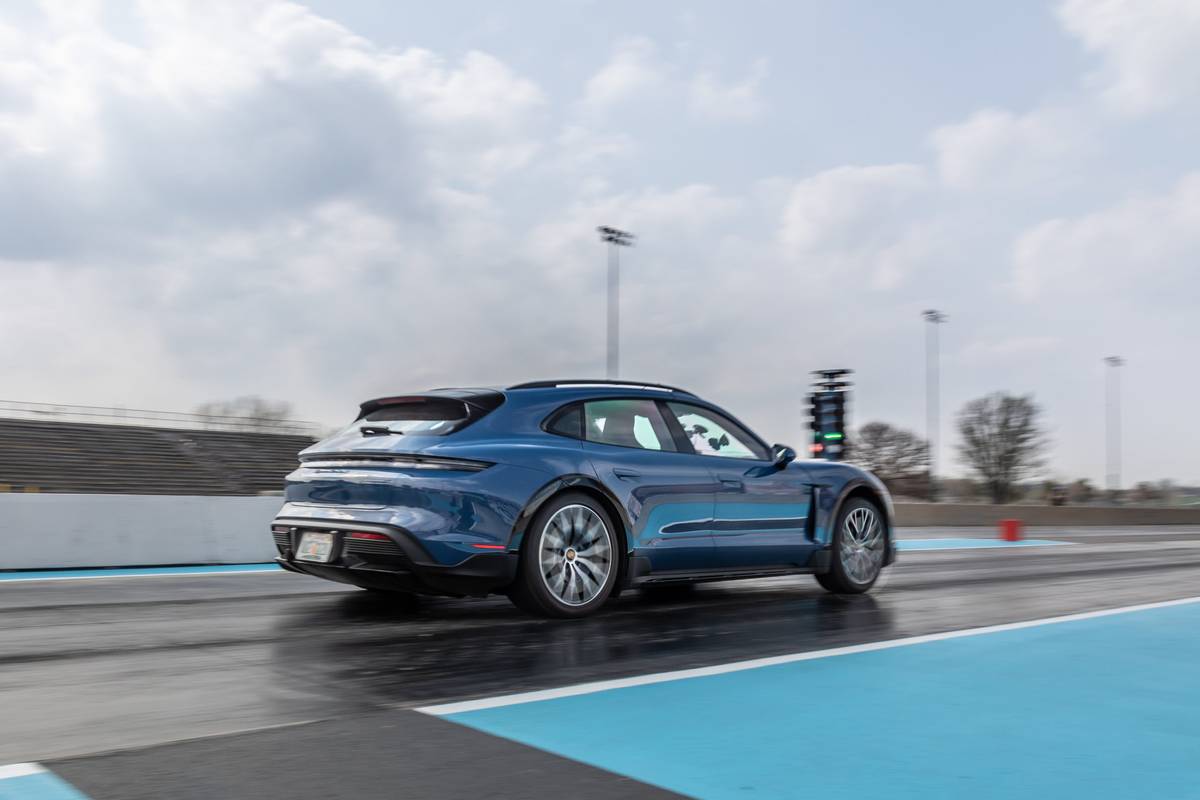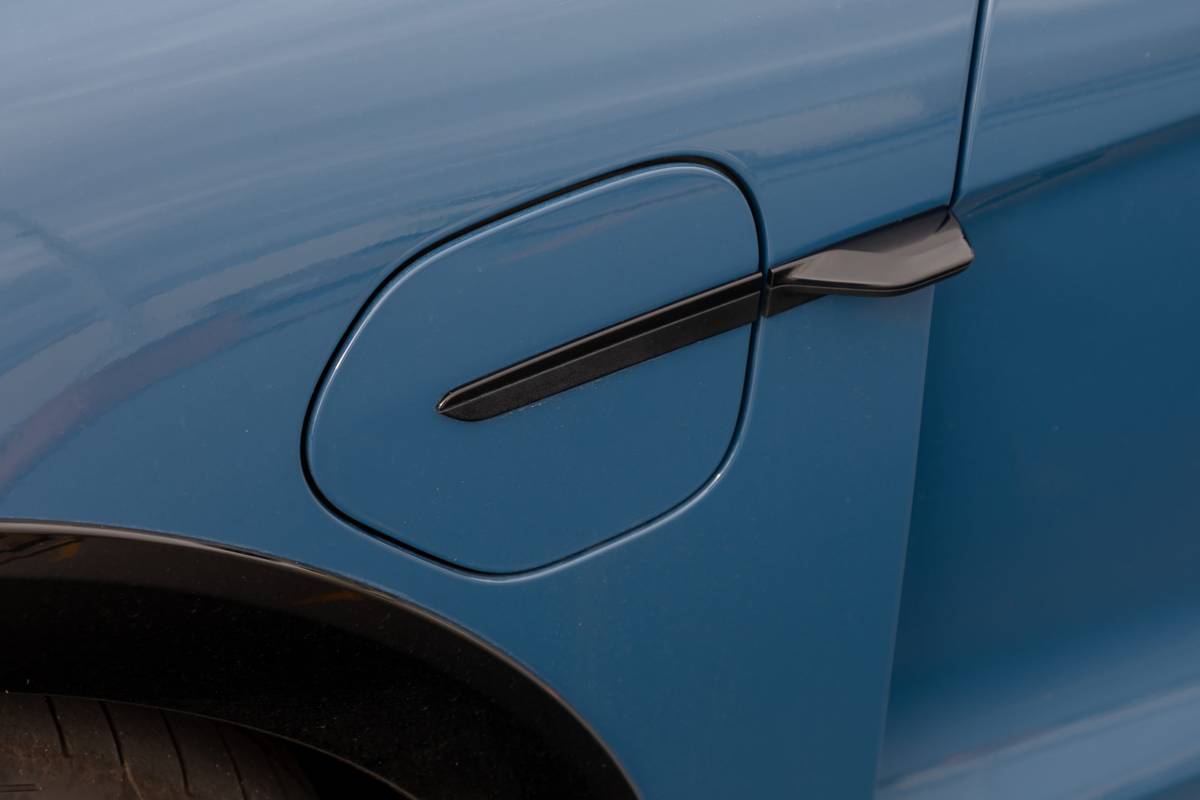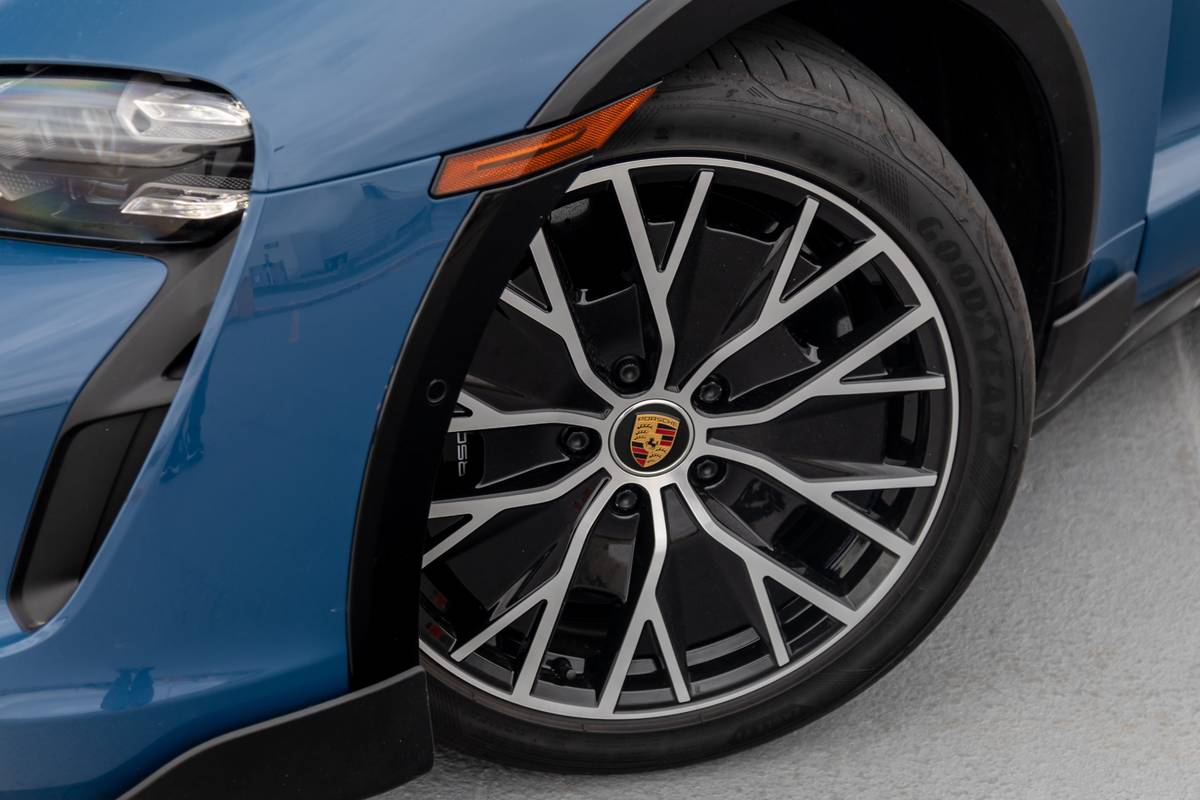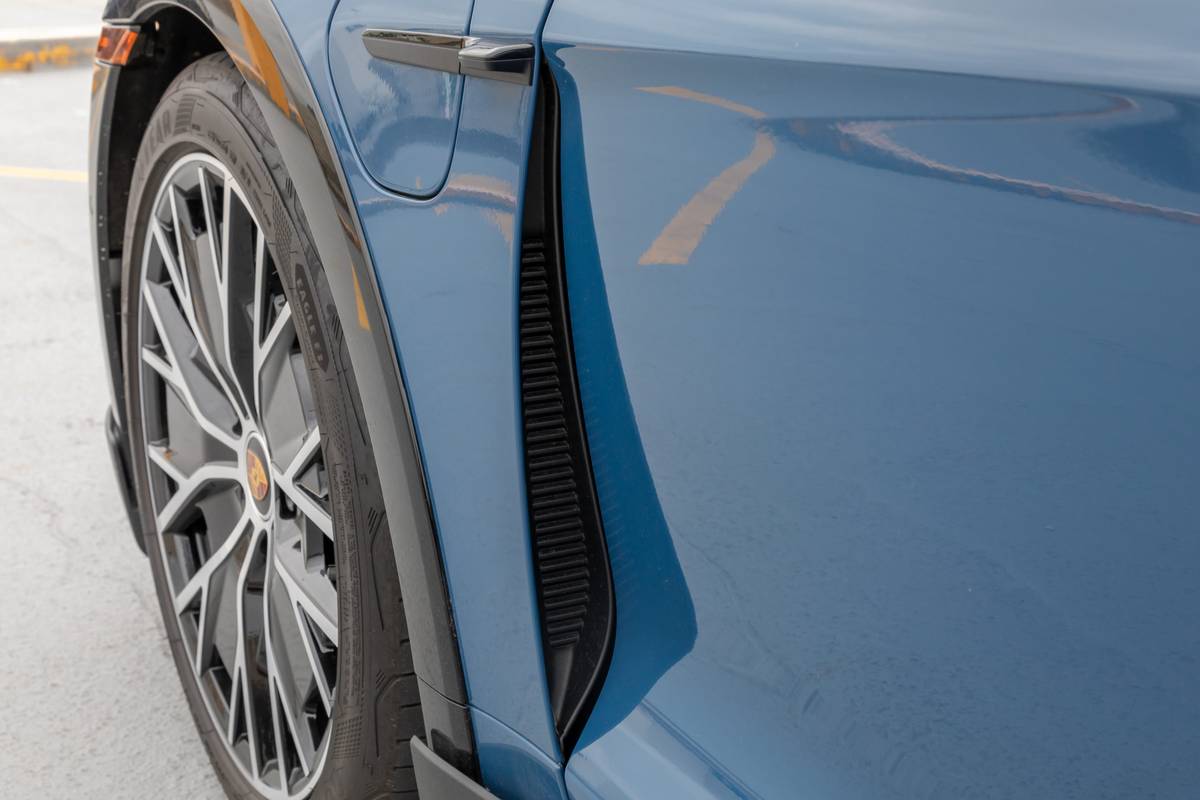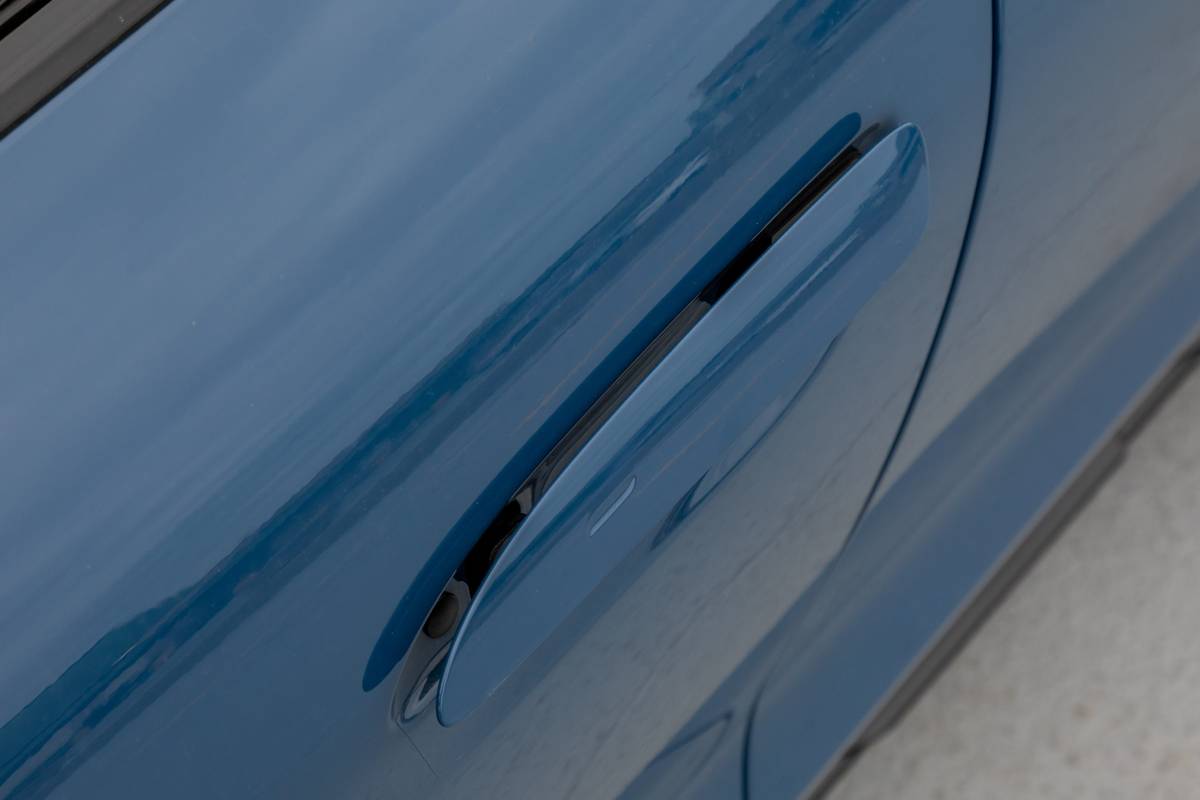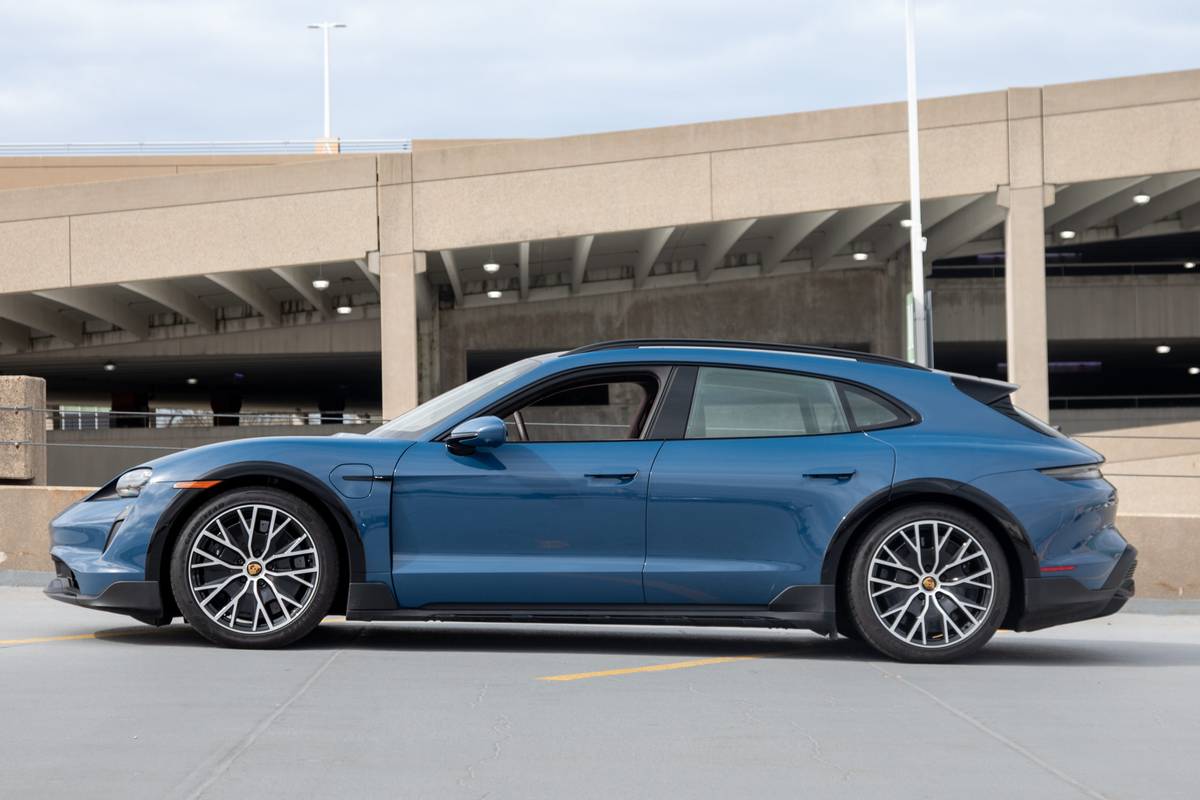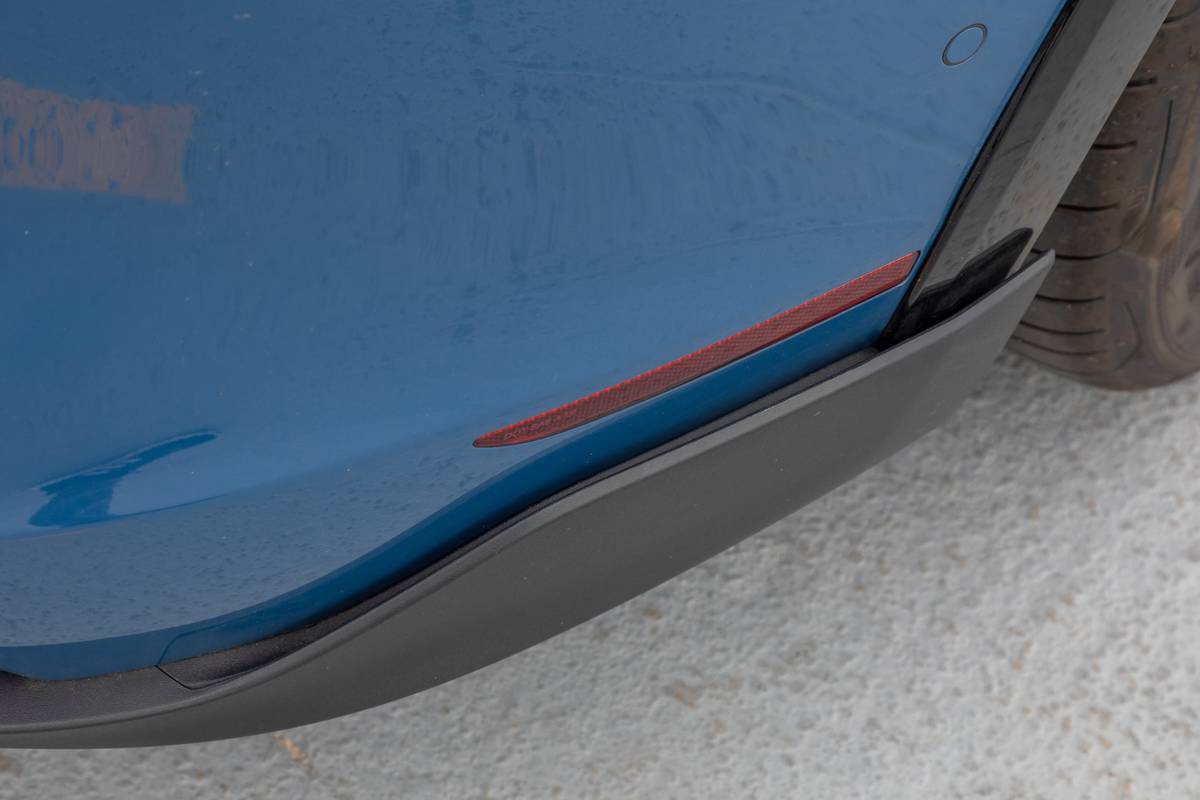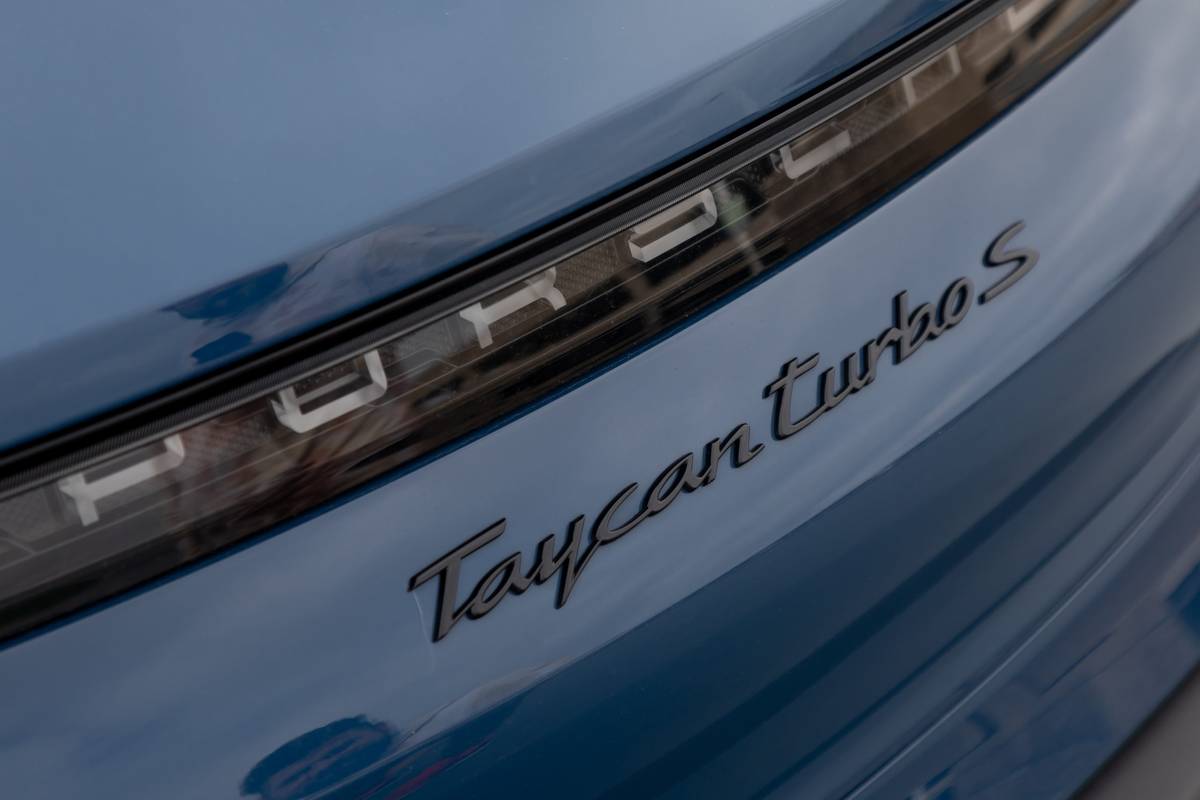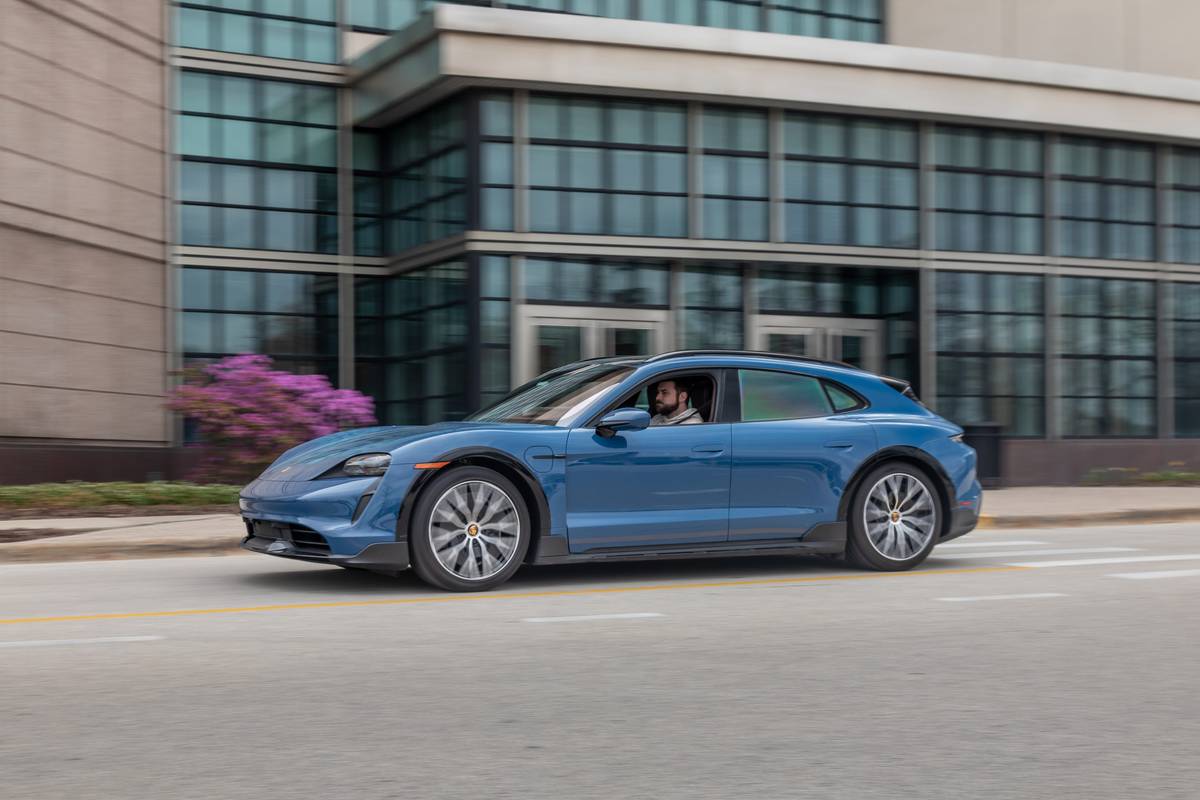 The car I drove was a 2021 Taycan Cross Turismo, but there are few changes to the 2022 model, limited to the inclusion of Android Auto and updated battery thermal management for faster DC fast charging. For 2023, Porsche says changes include an increased range and shorter charge time — but in an interesting twist, those updates can be added to older-model Taycans via a free dealer-installed software update.
The Turbo S Bits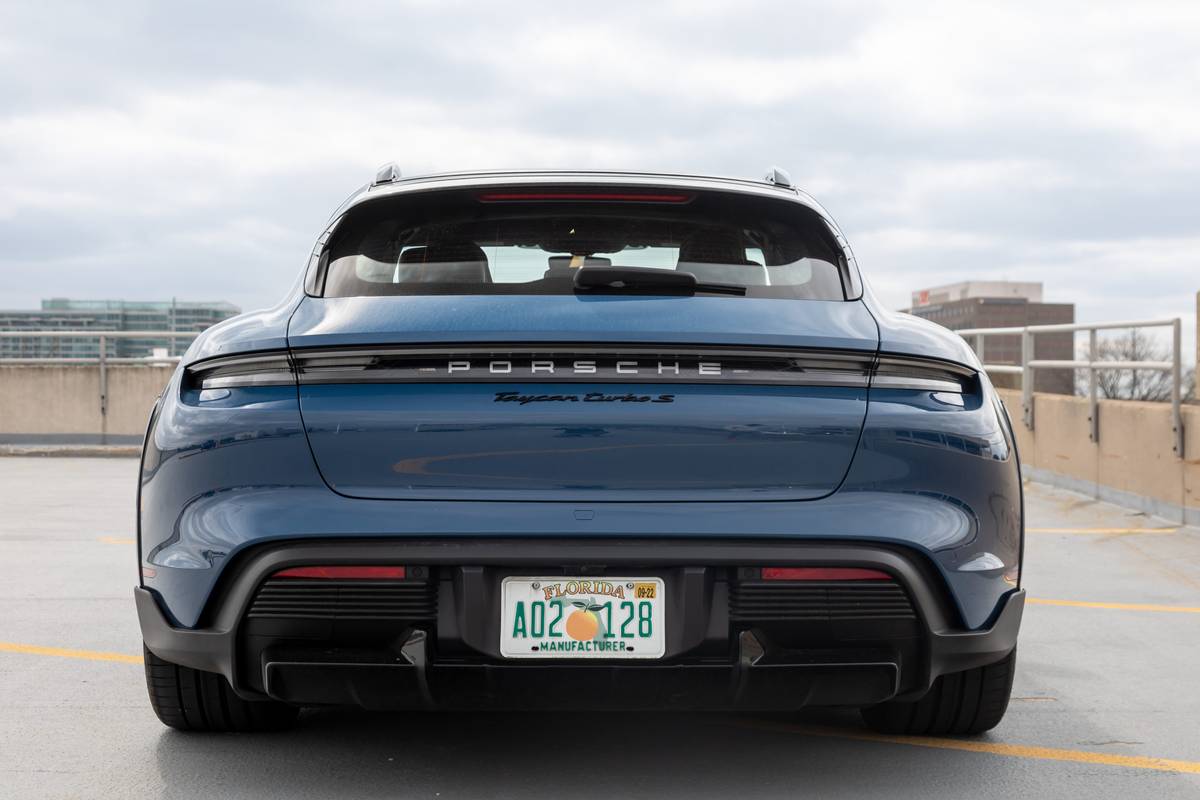 The highest-performance Cross Turismo Turbo S oddly keeps the Taycan's off-roadish fender accents and Gravel lift mode, which raises the suspension for more ground clearance. It's a strange juxtaposition for a car with 750 hp on tap from its electric powertrain — consisting of an 800-volt battery system (versus the more common 400-volt architecture) and powerful electric motors at the front and rear. Note, however, that the full wallop of 750 hp comes only when using the car's quick-start launch control feature; in normal operation, the Turbo S rolls with 616 hp. That's unfortunate because it means the car's top stated specs — 0-60 mph in 2.7 seconds and 750 hp —  come only when using a feature whose real-world application is extremely limited. We did the work, though, to see what the car's acceleration looks like both with and without launch control.
Taycan Cross Turismo Turbo S 0-60 MPH and Quarter-Mile Acceleration
0-60 mph without launch control: 3.1 seconds
0-60 mph with launch control: 2.9 seconds
Quarter-mile time and speed without launch control: 11.04 seconds at 125.74 mph
Quarter-mile time and speed with launch control: 10.56 seconds at 132.14 mph
Interestingly, acceleration from 0-40 mph was virtually the same both with and without launch control, perhaps because we battled a little wheel slippage when using launch control, or perhaps because Porsche doesn't ramp in the launch control power until around 40 mph. Also, it's odd feeling the rear powertrain's two-speed gearbox change gears during a full-acceleration blast; that experience is usually reserved for traditional gas-powered cars, not EVs, which generally have single gearing. Above 40 mph, however, the difference becomes more apparent up to the quarter-mile mark. That's when the extra 134 hp makes itself known, chopping nearly half a second off the quarter-mile time.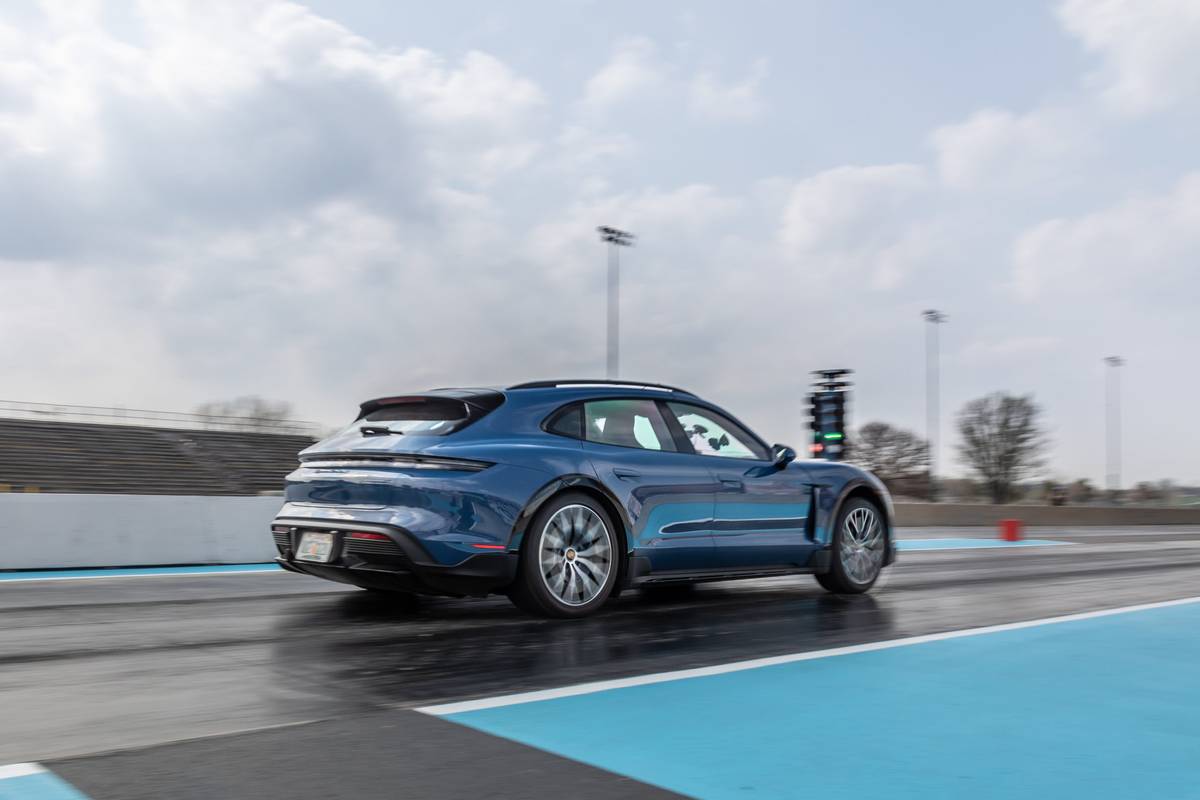 Ten-and-a-half seconds in the quarter-mile is a thrill, but it still falls behind the Tesla Model S Plaid (itself a hatchback): Its 0-60 acceleration figure is 1.99 seconds, and it does the quarter-mile in 9.23 seconds at 155 mph, according to Tesla. Honestly, though, just about everything falls behind the Plaid, so that's not a giant knock against the Taycan. It would be nice, however, to get the Taycan's advertised maximum horsepower without using launch control.
There's no question the Taycan Cross Turismo Turbo S is a more well-rounded vehicle than the Tesla, with dynamics more like a traditional gas-powered performance car — more like a Porsche (surprise!). The Plaid's ability to reach stratospheric speeds quickly exceeds my comfort level on the street — and I'm a fan of straight-line speed. There's also feedback and resolution in the Taycan's steering wheel that connects you to the car versus the Model S' yoke-style steering wheel, which is an oddity to drive.
The Taycan Cross Turismo Turbo S I drove was equipped with the optional Porsche Dynamic Chassis Control Sport suspension, which is comprised of active front and rear antiroll bars (to minimize body roll), and massively wide rear Goodyear Eagle F1 Super Sport summer tires (295/35/20 in back, 255/35/20 up front). It surely aided in making the Taycan Cross Turismo a seriously competent-handling vehicle. On a small autocross course, the Taycan Cross Turismo felt light, nimble and responsive, with sharp reflexes and seemingly endless grip. That's especially impressive considering its curb weight of 5,199 pounds, and the fact that most EVs just don't handle like sports cars. There's always the "low center of gravity" promise, but their skinny, efficiency-minded tires and sloppy suspensions usually don't deliver. That's simply not the case with the Taycan, which rolls on legitimate sports-car tires and has a well-tuned suspension. And it does so with a firm-not-harsh, high-quality ride you'd expect from Porsche. Hours behind the wheel fly by with ease.
Another unique characteristic of the Taycan Cross Turismo is how it sounds. The car's soundtrack doesn't come across as artificial or "piped in" as it can in other EVs, and it does a fantastic job conveying changes in accelerator input. It's what you'd hear if you stuck your head inside one of the drive units and your ears could pick up on how fast the motors are turning at any given moment. Most EVs' augmented cabin sounds are more like comical, Atomic Age spaceship noises, but the Taycan nails it. Its sound truly augments the experience, adding a layer of enjoyment like a traditional performance car's engine would.
Taycan Sedan Vs. Taycan Wagon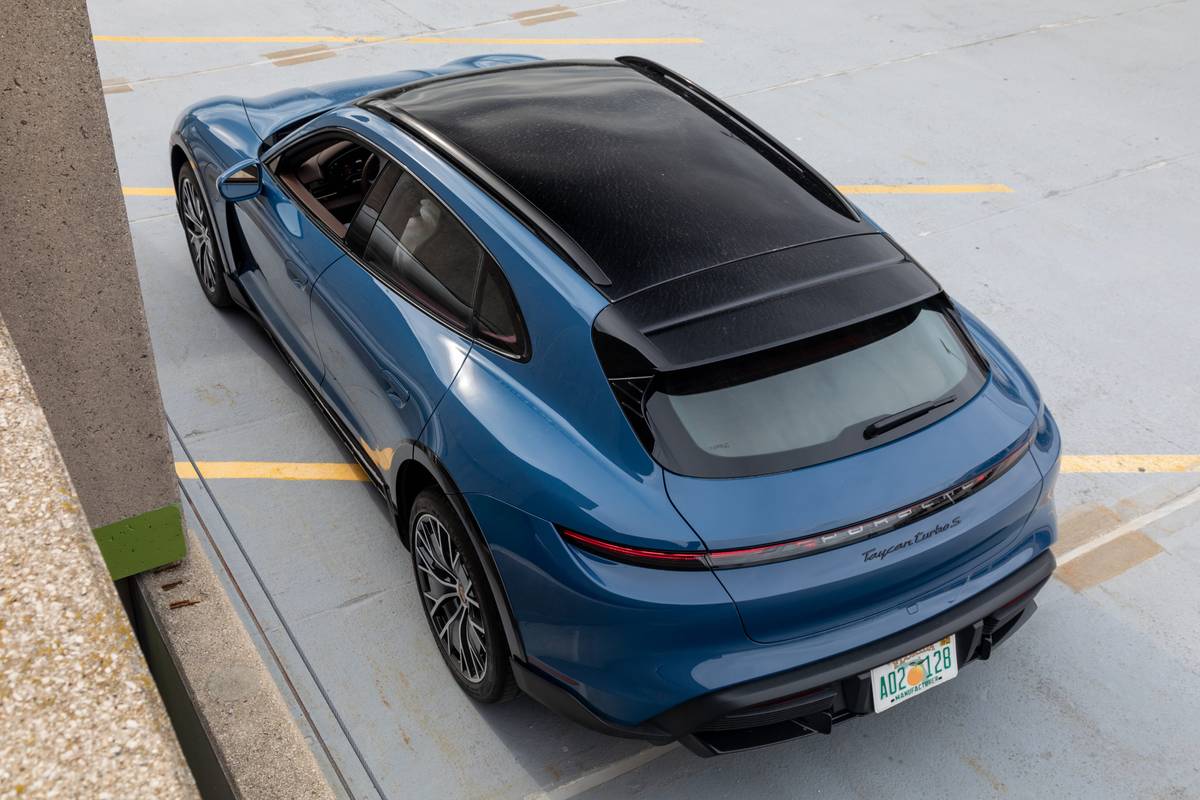 The Cross Turismo wagon is a more cargo-friendly version of the Taycan EV thanks to an open cargo area and rear liftgate versus the enclosed trunk and folding backseat of the sedan. The cargo area is still relatively small compared with Porsche's SUVs, so don't expect to throw a couple of mountain bikes or a hardware store haul in the back; even a week's worth of groceries for a family of four taxed the cargo area.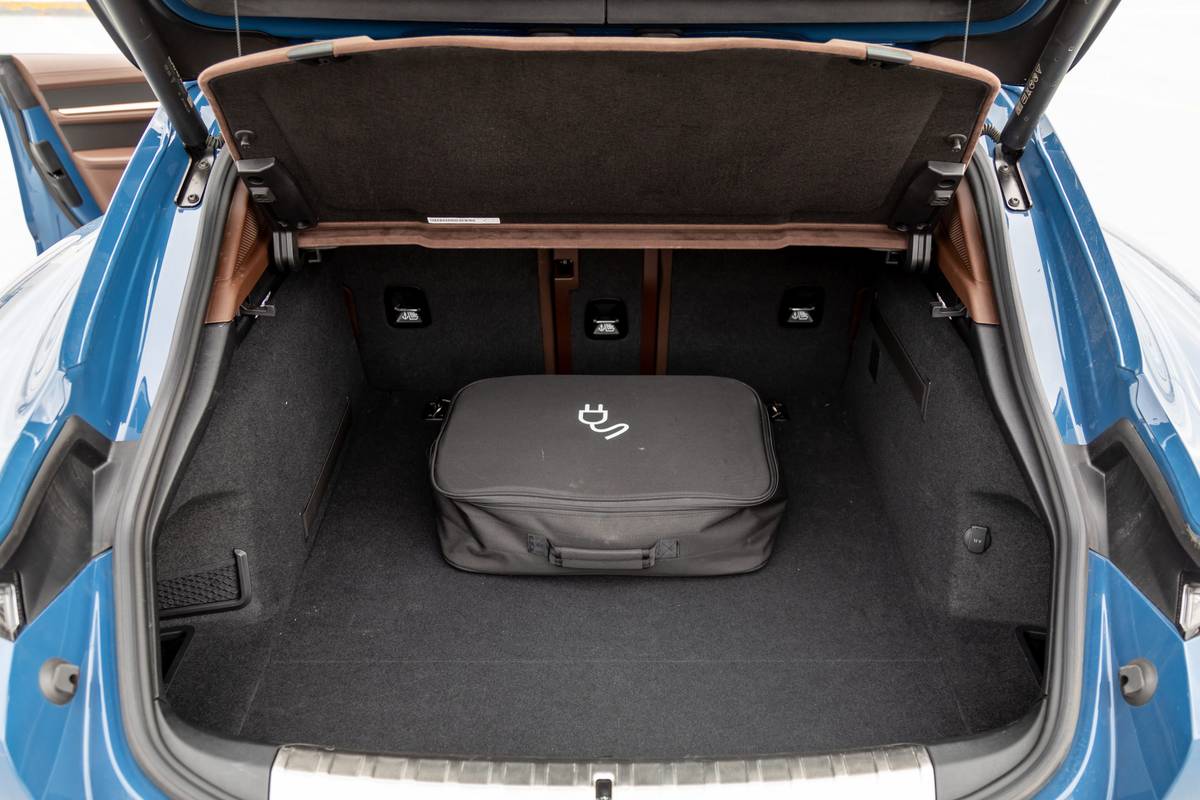 Here's how the standard Taycan Cross Turismo's cargo space measures behind the backseat compared with the rest of Porsche's SUV and wagon lineup:
Standard Porsche SUV and Wagon Cargo Space Behind the Backseat (Automaker Specs)
Cayenne SUV: 27.2 cubic feet
Panamera Sport Turismo wagon: 18.3 cubic feet
Porsche Macan SUV: 17.2 cubic feet
Taycan Cross Turismo wagon: 15.8 cubic feet
The Taycan also has a front trunk (frunk) good for another 2.9 cubic feet of space, but it's best suited for the large bag that holds the car's mobile charging apparatus: a combined Level 1 and Level 2 mobile charger. If stored in back, it doesn't fit in the below-floor storage area, so it needs to be secured to the cargo hooks in the middle of the cargo area. Why secure it? In addition to not wanting loose gear in the car in case of a crash, the Taycan Turbo S accelerates so violently that cargo must be secured before hammering down.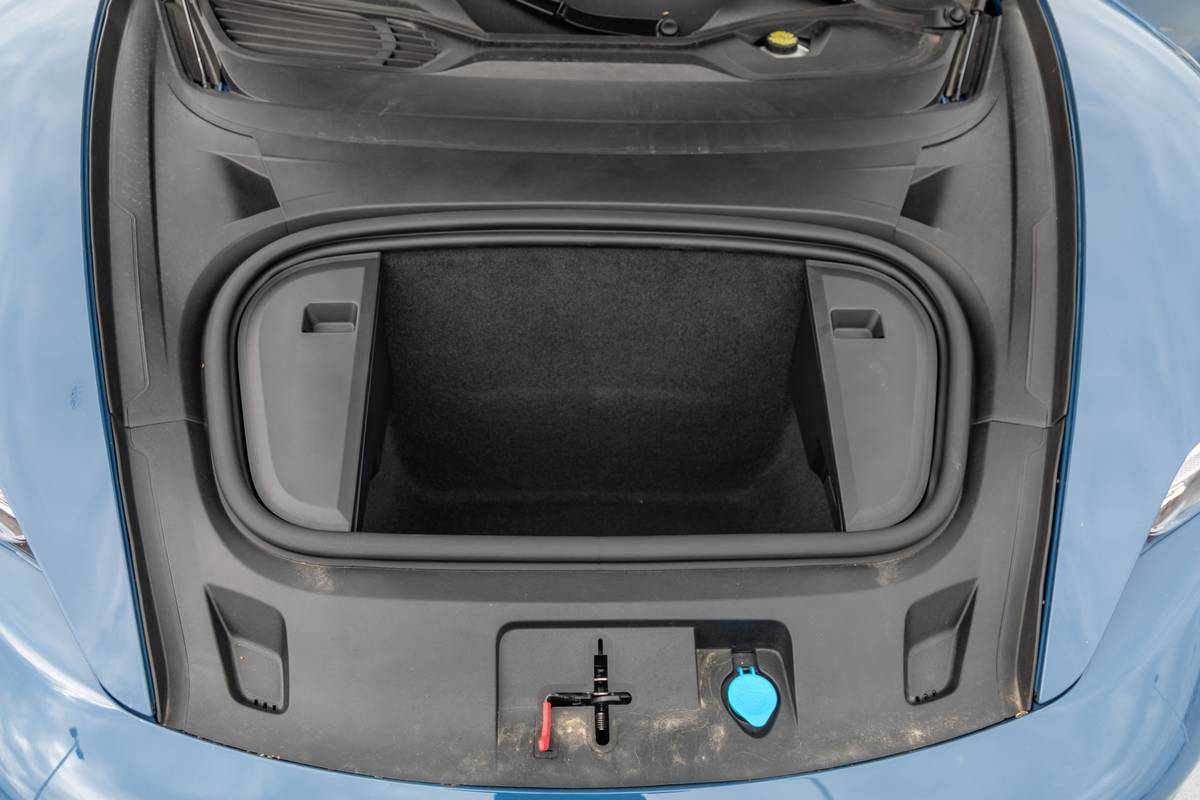 There's more to the Cross Turismo than just additional cargo room. The Taycan Cross Turismo's longer roof adds a staggering 3.62 inches of backseat headroom, according to Porsche. At 6 feet tall with a slender frame, after dropping into the highly sloped bottom cushion, I found the backseat to be comfortable. Foot room, however, is crowded by narrow footwells, bulky front-seat mounts and a large center floor hump — a rarity in an EV. Otherwise, sitting in one of the outboard rear seats was a pleasant experience. Sitting in the middle seat, however, is not; it's raised uncomfortably high compared with the outboard seats, so there will be few people who can comfortably sit there.
For those needing more cargo space, the backseat folds flat in a 40/20/40 split, and there's a factory roof-rack system available to carry bikes, skis and other gear on top of the vehicle instead of inside it.
Interior, Displays and Multimedia Controls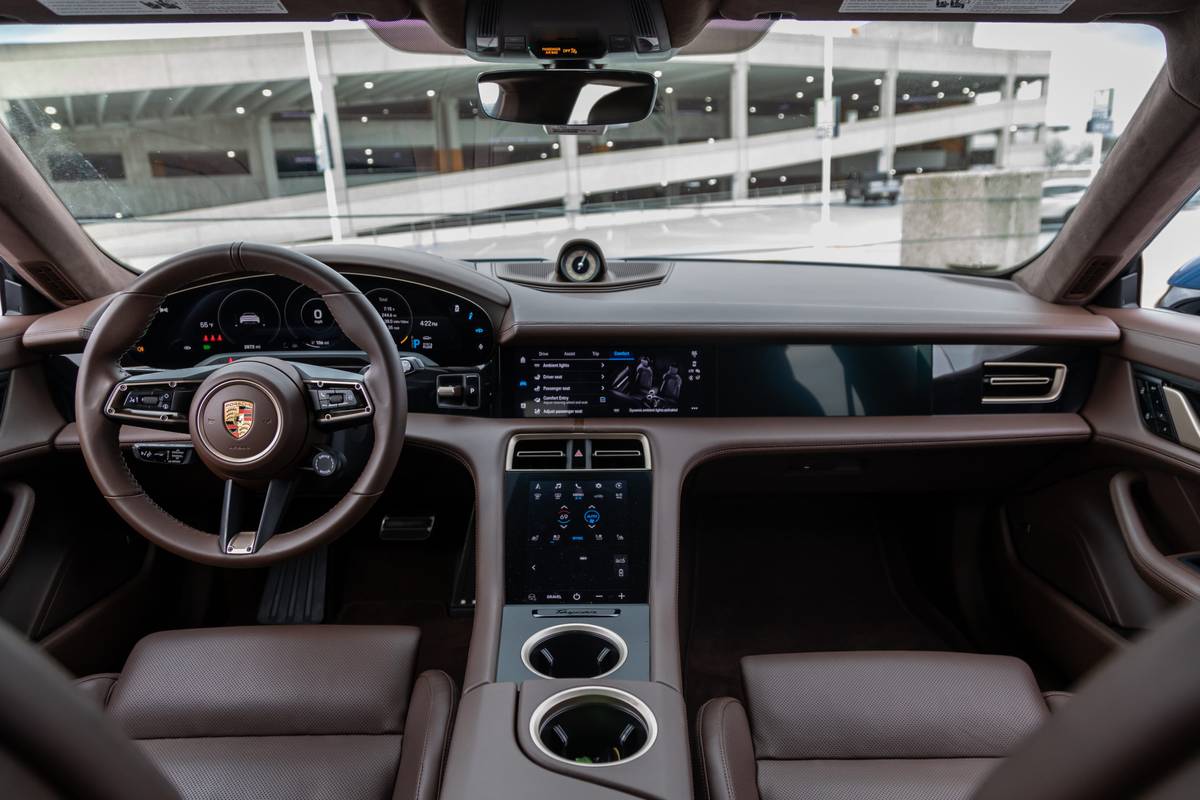 Another area that lived up to expectations was the Taycan's interior, which in our test car was highlighted by Olea Club leather in Truffle Brown (a $2,450 option) and matching $660 Truffle Brown seat belts. There was also a couple of grand worth of other interior add-ons, including noise-insulated glass, an air ionizer, a heated GT Sport steering wheel and more. Versus the simple and conservative styling of a Tesla Model S, the Taycan hits hard, with a rich interior that feels every bit as luxurious as you'd expect from a car with a six-figure price tag. You'll find similar levels of luxury on less expensive Taycans, too.
There's no escaping the oddity of controls inside premium EVs, especially when comparing the Model S with the Taycan; both make odd choices when it's time to interact with the car's multimedia and climate control systems. In the Taycan, there are no volume or tuning dials for its dual screens, nor are there physical buttons, which I think cheapens the interior: While the rest of the cabin is finished in fine materials with high-quality accents, the screens become quickly covered in fingerprints — an unsightly occurrence that could be significantly lessened if there were knurled-metal or heavy-weighted dials and buttons.
Once you get beyond the physical control interaction, however, the screen's menus and interface are easy to navigate, and it's easy to find various settings and controls. Plus, you get wireless Apple CarPlay, with wired Android Auto in 2022 and newer models.
Taycan Cross Turismo Turbo S as an EV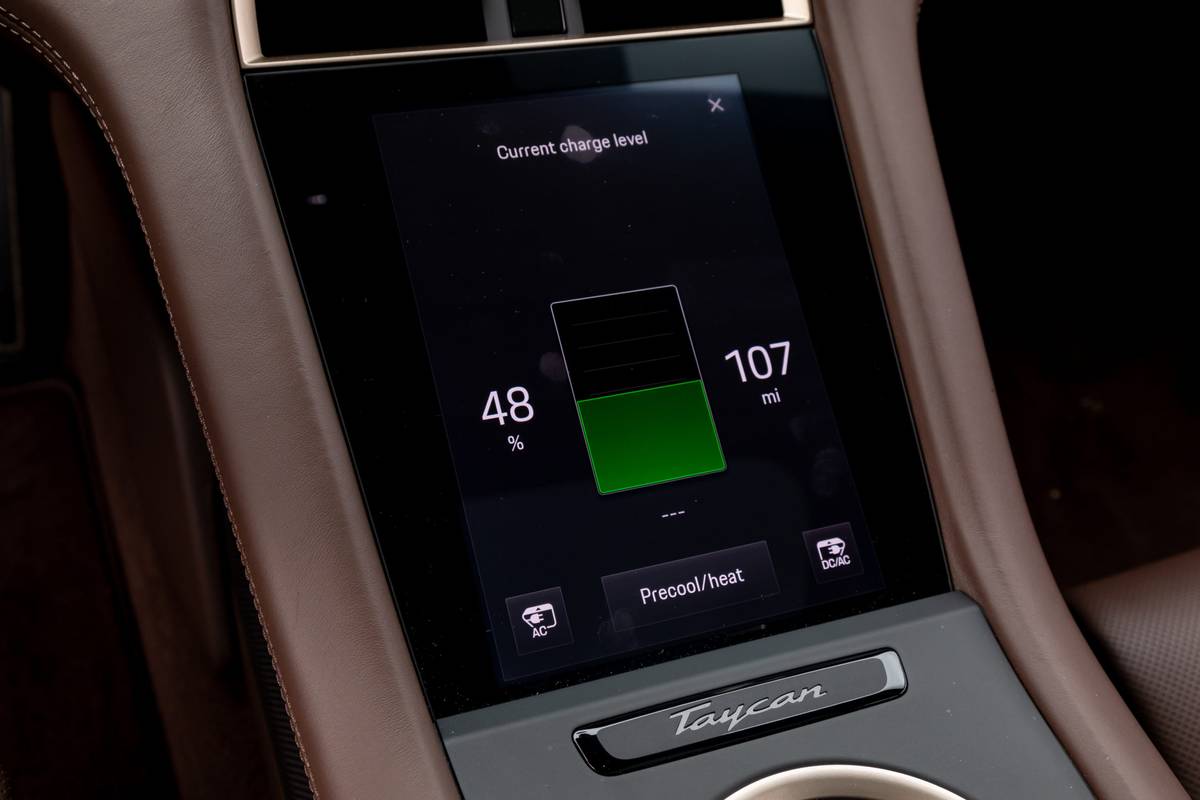 It's easy to forget the Taycan Cross Turismo is an EV given how normal and Porsche-like it is to drive. As an EV, though its range and efficiency specs don't always look impressive on paper, there's more to the story than ratings. I observed range predictions above the car's ratings, with efficiency that made those range predictions believable.
Range
Though the Taycan's EPA-rated range is 202 miles, when 100% charged, the Taycan predicted a range of 230-plus miles. Range predictions can be wildly inaccurate depending on the vehicle and driving conditions, but over the course of my test, the Taycan's predicted range tracked closely to actual miles driven — and I wasn't being easy on the car. My driving included comparatively inefficient highway driving as well as simply enjoying the car in its more aggressive sport modes.
After driving 177 miles at mostly highway speeds, at an average of 46 mph in 50-60-degree weather, the car reported my driving efficiency at 36.6 kilowatt-hours per 100 miles — far better than the EPA combined consumption rating of 46 kWh per 100 miles. The EPA's number, however, includes energy losses due to charging, not just driving efficiency. Comparing the Taycan Turbo S' mpg-equivalent with a Porsche 911 Turbo S' mpg, the Taycan's 73 combined mpg-e is more than four times more efficient than the 911 Turbo S. The Model S Plaid with standard 19-inch wheels is rated an impressive 116 mpg-e, 29 kWh per 100 miles.
I was impressed with the Taycan's highway efficiency. With a net battery size of 83.7 kWh (net is the usable battery rating versus the gross rating of 93.4 kWh), my observed efficiency translates to a theoretical driving range of 228 miles. As for range accuracy, I traveled 177 miles using 169 miles of rated range, which works out to a difference of just 5%.
DC Fast Charging
It's unfortunate the Taycan isn't capable of traveling longer distances because other aspects of the car put it in a good position to be a successful road-tripper. Most importantly, the Taycan has a trip-planning function that, like Tesla's, uses the native navigation system to automatically route the car to DC fast chargers (including 350-kilowatt Electrify America charging stations the Taycan can use) to alleviate range anxiety and make road-tripping an EV (once an unthinkable task) a less stressful endeavor. This is still a relatively rare EV feature, but it should be more widespread.
Adding to the car's road-tripability is that the Taycan can accept up to 270 kW of power from a DC fast charger capable of supplying that level of power; in optimal conditions, Porsche says the Taycan can go from a 5% charge to an 80% charge in 23 minutes at such chargers. It's worth noting that fast-charging speeds can vary depending on ambient and vehicle conditions, and we've found it difficult to achieve most automakers' fast-charging claims.
Of course, 350-kW fast charging stations are still fairly rare outside of highway corridors. You're more likely to find 150-kW chargers, which Porsche says can charge the Taycan from 5% to 80% in 36 minutes. Porsche sells a $460 "onboard 150 kW/400V-volt DC charger" option to allow 150-kW charging on 400-volt DC fast chargers, but it's likely unnecessary. According to Electrify America, all of its DC fast chargers support charging up to 900 volts, with the only difference being the peak current that's provided. If you did run into a 400-volt, 150-kW charger without Porsche's onboard charger option, the Taycan could only charge at 50 kW. The Taycan comes with three years of complimentary DC fast charging from Electrify America, which is a subsidiary of Porsche's parent company, Volkswagen.
AC Home Charging
More important than fast charging is AC home charging, and the Taycan is in good shape there, too. Standard with all Taycans is a Level 1 and Level 2 mobile charger capable of 9.6 kW, achieved via Level 2 on a 240-volt circuit with a 14-50 connector (50 amp circuit). Porsche says this setup can charge the Turbo S in 10.5 hours. On my 50-amp home charging circuit, I added 24 miles of range per hour. That should be enough, considering you'll likely be charging overnight and not from 0%.
The Taycan's standard onboard charger is good for up to 11 kW with compatible wall-mounted electric vehicle service equipment that can also supply 11 kW. This setup should charge the Taycan a bit faster.
There's more power and faster recharge times to be had with an optional 19.2-kW onboard vehicle charger ($1,680) connected to a compatible 19.2-kW wall-mounted Porsche Wall Charger Connect ($1,586) on an 80-amp circuit. With this setup, the Taycan can fully charge in around five hours.
Is the Taycan Cross Turismo Turbo S' Range a Deal Breaker?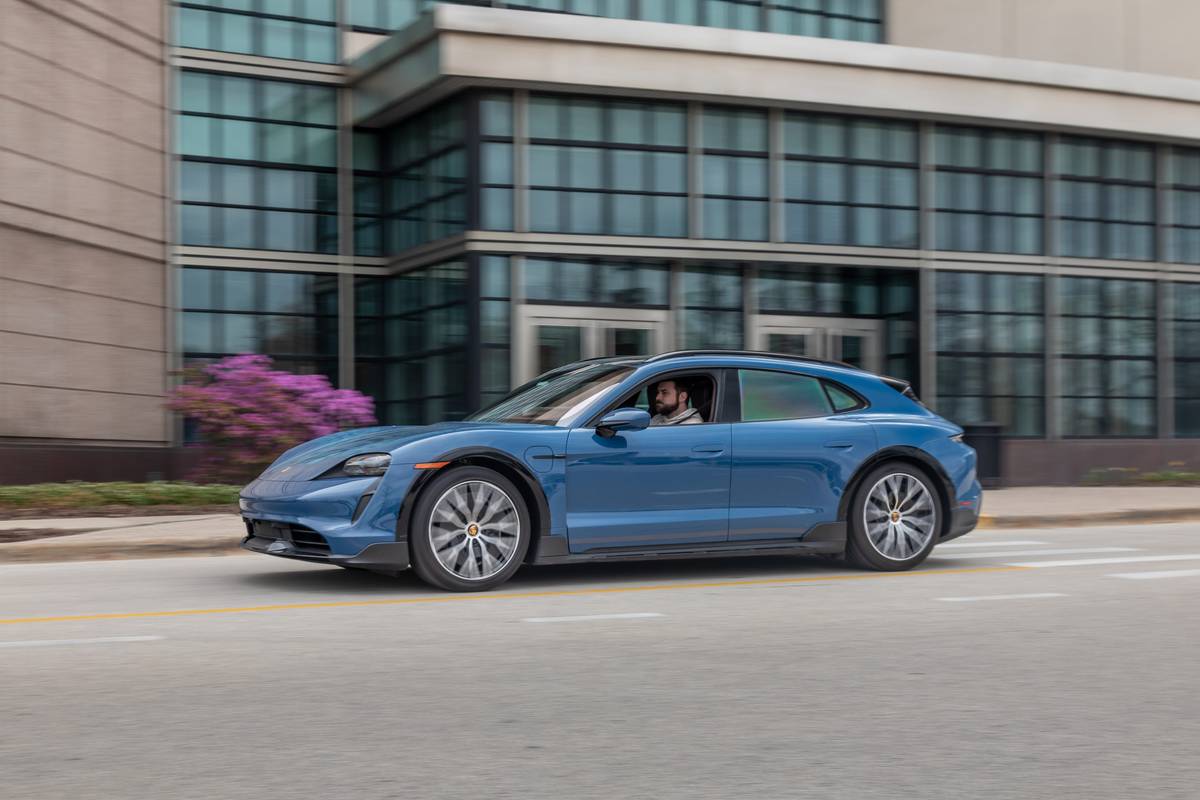 The Taycan Cross Turismo Turbo S' EPA-rated range of 202 miles may look paltry, but I'm pretty confident you can stretch it if needed. Is 230 miles of range instead of 202 going to change anyone's mind when a Model S Plaid is rated at 396 miles of range? Unlikely, but while overindexing on range isn't a bad thing, it also shouldn't be your only consideration when shopping for an EV. While the Taycan Cross Turismo Turbo S' range isn't a highlight, it remains a riot to drive, with one of the most rewarding performance EV driving experiences on the market.
Around the same time I was driving the Taycan, I also evaluated a Model S Plaid, a Kia EV6, a Hyundai Ioniq 5, a Tesla Model Y and a Chevrolet Bolt EV. In all honesty, I was burnt out on EVs. But the Porsche wasn't like those other EVs; it had character, it was rewarding to drive spiritedly and it made me giddy — and the longer-roof Cross Turismo wasn't bad to look at, either. Add in wagonlike utility, and the Taycan Cross Turismo Turbo S checks a lot of boxes — perhaps more boxes than anything else out there. That comes at a price, however: In August 2022, the median price of a new Taycan Cross Turismo Turbo S in Cars.com's national inventory was a supercar-like $214,000. That'll also buy you supercar-like exclusivity, however, considering there were only eight for sale at that time.
More From Cars.com:
Cars.com's Editorial department is your source for automotive news and reviews. In line with Cars.com's long-standing ethics policy, editors and reviewers don't accept gifts or free trips from automakers. The Editorial department is independent of Cars.com's advertising, sales and sponsored content departments.
Warranty
New car and Certified Pre-Owned programs by
Porsche
New car program benefits
Bumper-to-bumper

48 months/50,000 miles

Corrosion

144 months/unlimited distance

Powertrain

48 months/50,000 miles

Roadside assistance

48 months/50,000 miles
Certified Pre-Owned program benefits
Maximum age/mileage

13 Years/124,000 miles

Basic warranty terms

2 years/unlimited miles after new-car limited warranty expires or from the date of sale if the new vehicle limited warranty has expired

Powertrain

2 years/unlimited miles after new-car limited warranty expires or from the date of sale if the new vehicle limited warranty has expired

Dealer certification required

Roadside assistance

Yes
View all cpo program details

Have questions about warranties or CPO programs?

All model years for the Porsche Taycan Cross Turismo