$4,003–$10,991 Inventory Prices
Key Specs of the 2010 Volkswagen New Beetle
New Beetle base trim shown
Body Type:

Hatchback

Combined MPG:

24 Combined MPG

Engine:

150-hp, 2.5-liter I-5 (regular gas)

Drivetrain:

Front-wheel Drive

Transmission:

6-speed automatic w/OD and auto-manual
From the Cars.com Vehicle Test Team
The good
Visual appeal, especially of convertible
Ride comfort
Steering response
Resale value
The bad
Backseat space
Cargo space in convertible
Once innovative design now somewhat dated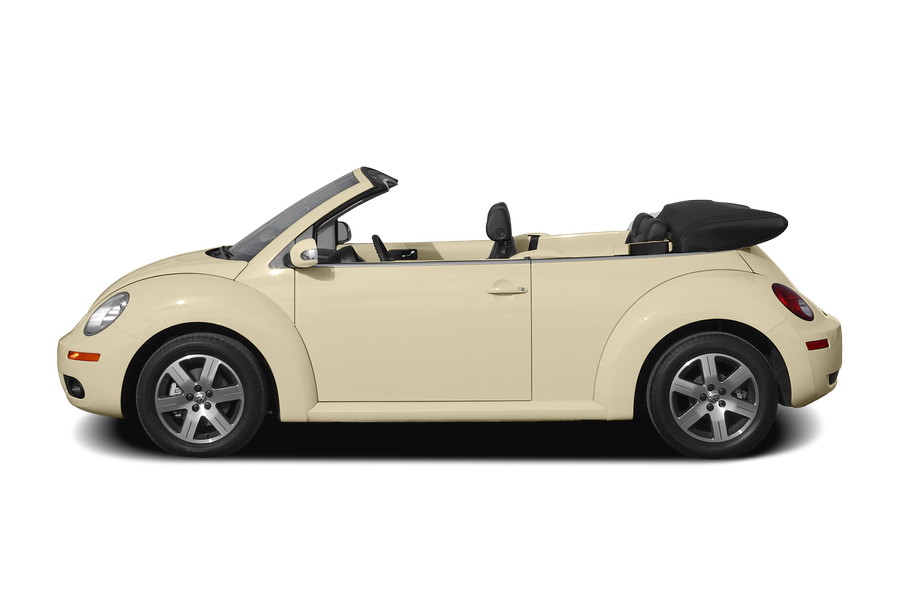 Notable Features of the 2010 Volkswagen New Beetle
Retro styling
Manual or automatic
Coupe or convertible
2010 Volkswagen New Beetle Road Test

Editor's note: This review was written in July 2009 about the 2009 Volkswagen New Beetle. Little of substance has changed with this year's model. To see what's new for 2010, click here, or check out a side-by-side comparison of the two model years.

Volkswagen's New Beetle is a classic love-it-or-hate-it car. Even though the model has been on the road virtually unchanged for 12 years, people still have strong opinions about the retro-styled Bug. During my week driving a convertible Beetle, some called it "cute" and others laughed and pointed because a dash-mounted flower holder still comes standard. The Beetle hasn't aged gracefully in its 12-year lifetime, which shows mostly on the inside. In its time on the road, compelling alternatives have appeared, including the Mini Cooper convertible and Volkswagen's own Eos retractable-hardtop convertible.

Most small convertibles are sports cars, often with two seats, but the Beetle is a compact ragtop that isn't sporty. Compared with the 2009 Mazda MX-5 Miata and 2009 Cooper convertible, this four-seater rides smoothly — the compact equivalent of your grandparents' Ford Crown Victoria.

Those who find the styling charming and reminiscent of the original Beetle may not be turned off by the Beetle's shortcomings. I, on the other hand, didn't find the driving experience satisfying or interior contemporary enough to justify the price tag on this drop-top.
Interior & Cargo
Sitting in the ... Read more
Latest 2010 New Beetle Stories
Great choice for inexpensive style and fun!
This is really a very good car. It is clearly not designed for a lot of general purpose use but for a fun, casual car to tool around in on a nice day it's hard to beat for the money. It is in excellen... Read full review
Clean, great running, and nice handling vehicle.
Roomier than I ever expected from what one would consider a small vehicle. Handles well in all traffic situations. Fantastic on gas mileage - 30+MPG... Read full review