CARS.COM — At Cars.com, we pay a lot of attention to compact SUVs, which have proven to be extremely popular among car shoppers. In fact, we did Compact SUV Challenges in both 2015 and 2016, and the Honda CR-V won the 2015 edition.
Related: 2017 Honda CR-V Preview
However, in our Challenge from this summer, the 2016 edition of the CR-V slipped to third place behind two redesigned 2017 models: the 2017 Ford Escape and 2017 Kia Sportage, which finished first and second, respectively.
The reasons for the 2016 CR-V's decline versus fresher competition? An engine/transmission combination that felt sluggish and a multimedia system that drove many on our staff to madness. William Jackson, one of the most mild-mannered car reviewers I know, said, "I'm not sure we can call this a multimedia system. I stopped trying to use it because it made me want to punch something."
Well, Bill, take a step back from the heavy bag for a second because Honda has come back with a redesigned version of the CR-V for 2017 that has set out to address these issues directly, with a new engine option and updates to the multimedia system — including the addition of a physical volume knob. Did they go far enough to flip the script on these issues? And what about the rest of the CR-V's new family-friendly features?
I tested a 2017 CR-V Touring with all-wheel drive to find out.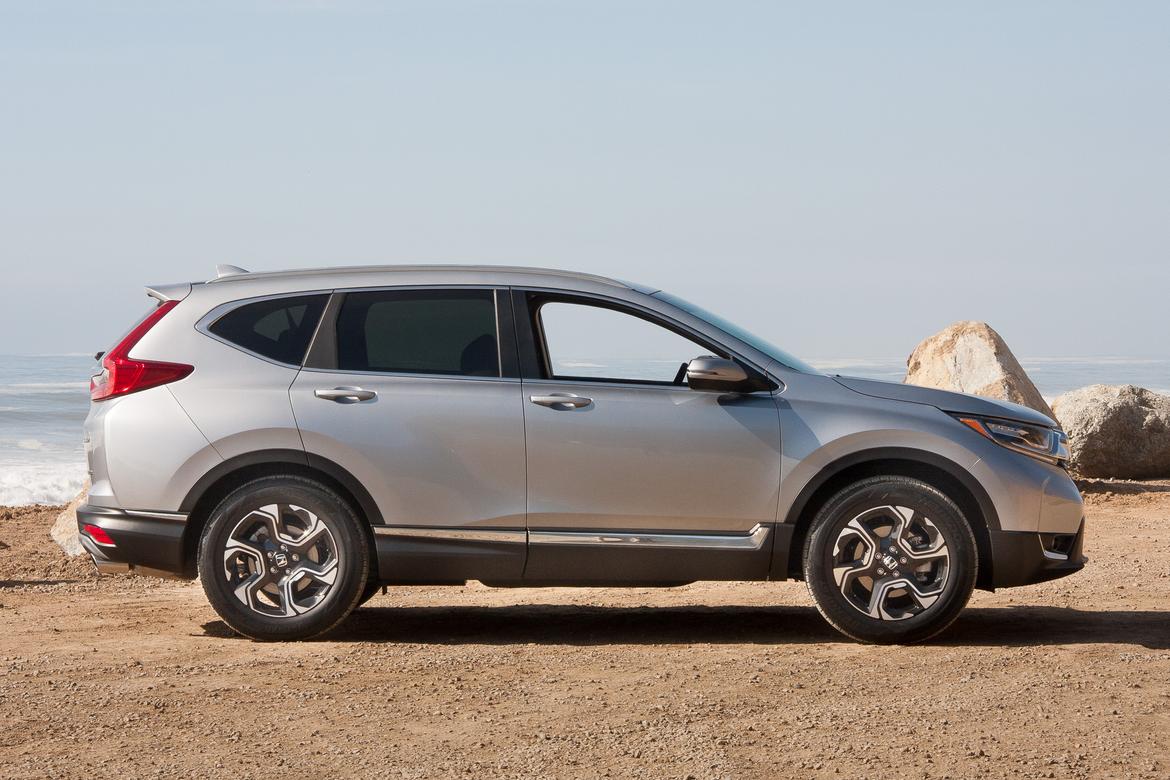 Powertrain Updates
The CR-V now has two engine options for the first time. The base engine is a carryover from the 2016 model, a 184-horsepower, 2.4-liter four-cylinder found only on LX models. EX and above models get the newly available engine, a turbocharged 1.5-liter four-cylinder that is shared with the Civic. Thanks to some modifications to the turbo, the engine makes more horsepower (190 hp versus 174 hp in continuously variable automatic transmission-equipped Civics) and also delivers 17 more pounds-feet of torque, (179 versus 162) which comes on at only 2,000 rpm. With both engines, a CVT is the only transmission option.
Honda also updated the steering; it takes fewer turns to move the wheel from one extreme to the other, the goal being a tighter feel on the road. The suspension components have been updated, the brakes are larger for more stopping power and the available all-wheel-drive system can now send 57 percent more torque to the rear wheels.
The goal of these changes, which touched pretty much every part of the powertrain and handling: Bring the CR-V's driving experience up to par with the rest of the class.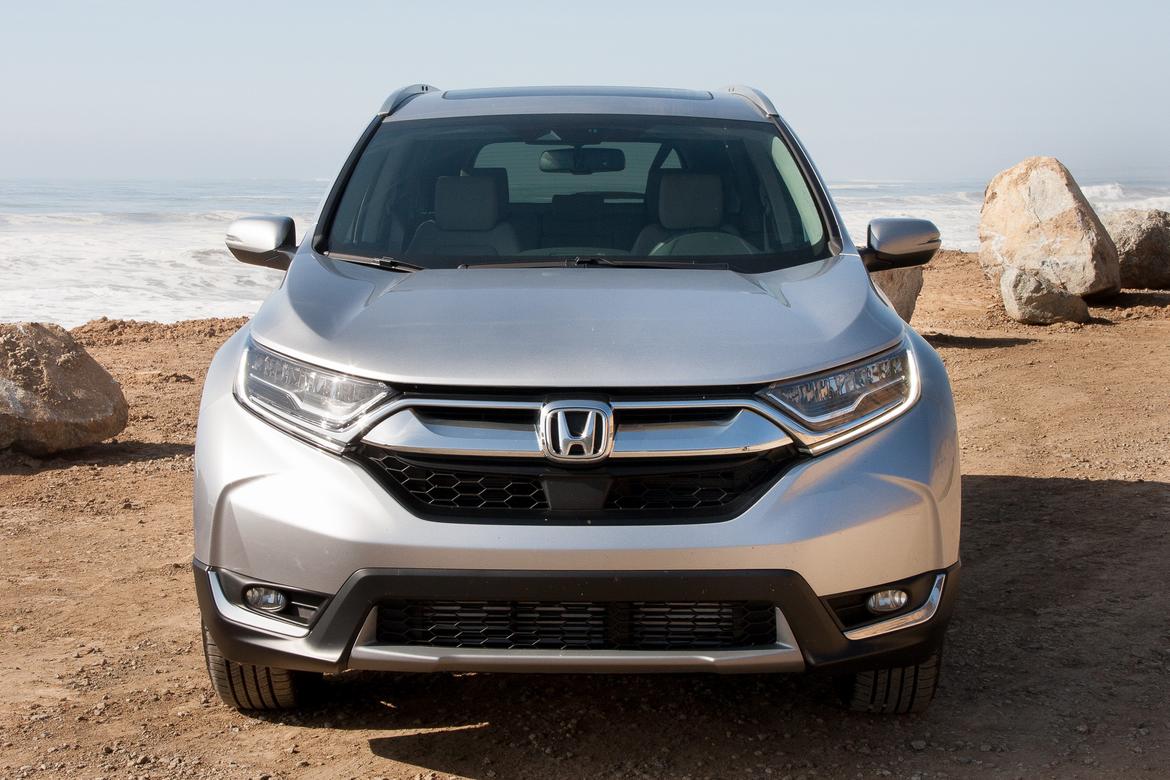 Were they successful? Partially. I had higher expectations for the engine. It's nearly a perfect match for the Civic and I was hoping that it would add some needed impetus when put into the CR-V, but that isn't the case. The Touring AWD I tested weighs nearly 600 pounds more than a Civic Sedan Touring, and the added horsepower and torque from the engine weren't enough to offset that amount of added bulk. It's marginally better than the old engine, but the CR-V still doesn't feel peppy — especially at low speeds or from a stop.
The other changes worked better, however. The steering has improved and the suspension makes the CR-V more comfortable and less busy over broken pavement. Honda also added standard active noise cancellation to all trim levels, and the interior is seriously quiet.
EPA fuel economy estimates are better with the more powerful, turbocharged engine. With the base engine, front-wheel-drive models offer 26/32/28 mpg city/highway/combined and AWD models get 25/31/27 mpg. Moving to the turbocharged engine, there are gains for FWD (28/34/30 mpg) and AWD (27/33/29 mpg). Both take regular gas.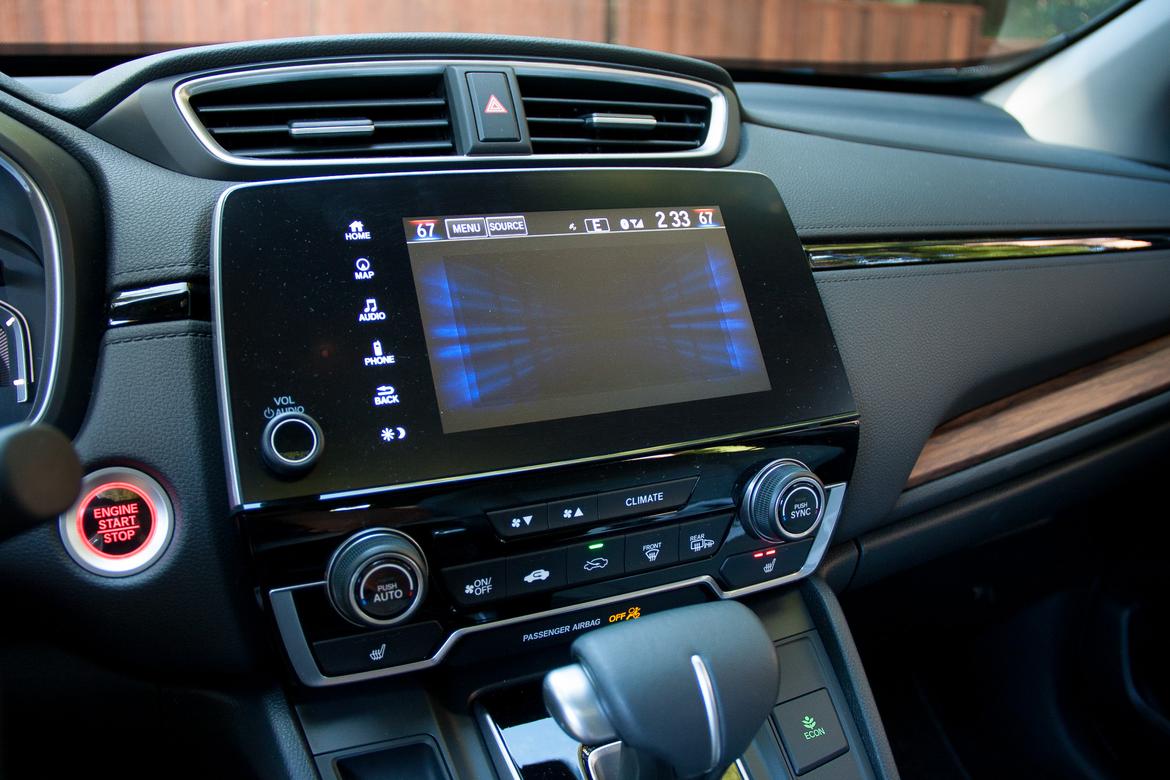 Multimedia Updates
Many members of the Cars.com staff have bemoaned Honda's Display Audio system (standard on EX and above) and its reliance on touch-sensitive panels rather than mechanical controls. Honda has heard these cries and installed a volume knob, and the menus have also been revamped to make them more intuitive. It's a step in the right direction, but now that I have one knob, I'd really like one for tuning as well. If you give a mouse a cookie and all...
Android Auto and Apple CarPlay now come standard with the Display Audio system, so if you don't like Honda's menus, there are built-in alternatives. The screen does look nice in its new location, high up on the center console for easier viewing.
More Family-Friendly
The previous CR-V's strengths were its interior volume and packaging — that's how much space it gives you inside for its exterior size. Both of those elements have also been strengthened in this redesign. The 2017 CR-V is taller and longer than the previous model, which translates to 2.1 extra inches of rear legroom. Even though our test vehicle had all-wheel drive, there was not a large hump on the floor in front of the rear seat, so three people can fit there more comfortably. The rear side doors also swing open widely now, nearly perpendicular to the CR-V. This will be a welcome change for those with small children, as the larger opening makes it easier to strap kids into a child-safety seat or to install and remove those seats regularly.
The cargo area has also increased to 39.2 cubic feet behind the backseat (2.0 cubic feet more than last year). The cargo floor can also be dropped down by a few inches to open up even more vertical cargo space. Honda says it added 9.8 inches of length between the liftgate and the front seats so objects more than 5 feet long can be stored when the backseat is folded flat. This seemed conservative to me, so I decided to lie down in the cargo area and close the liftgate. I can confirm that objects up to 5 feet 11 inches (plus shoes) can be stored behind the driver's seat when it's set in my driving position.
There is one caveat to watch out for with the cargo area, however: The dual-height cargo floor is rated to hold only up to 220 pounds in either the higher or lower position, so if you have to move something heavy, be careful about where the weight is being positioned. If it's too heavy, the rear seats might have to be folded down and the cargo kept atop those seats, where there is more support.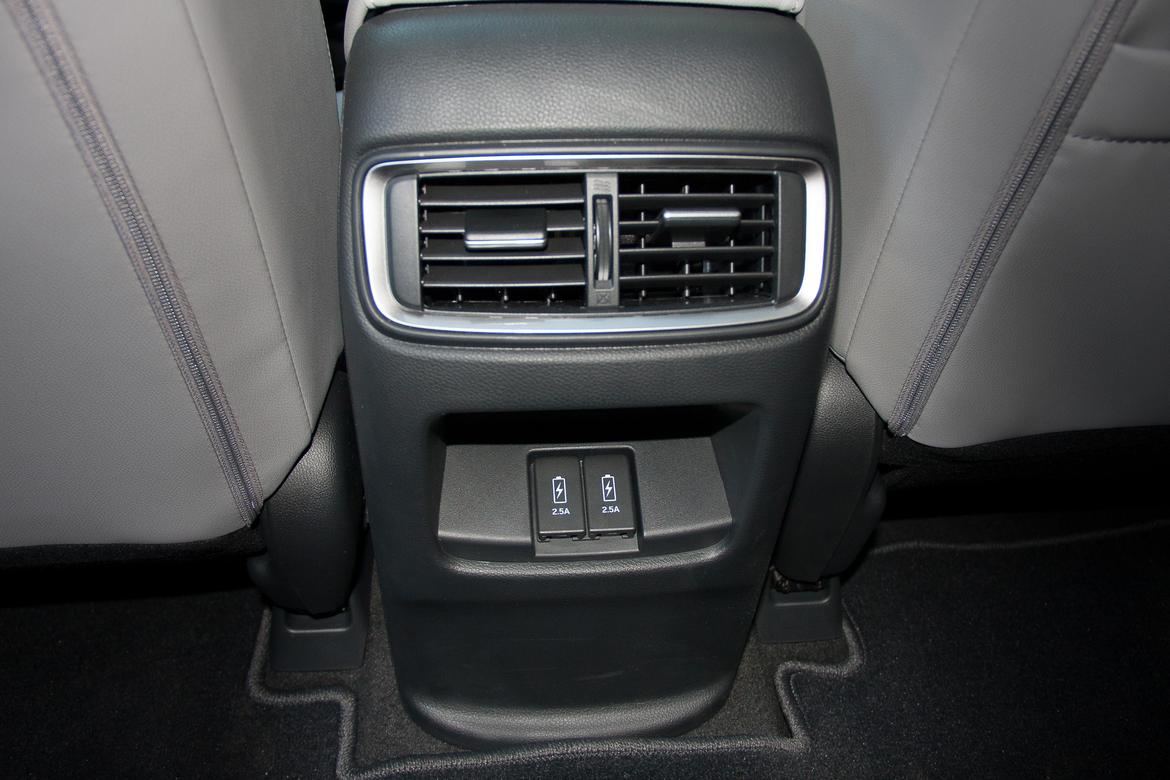 Also growing for 2017 is the number of USB ports. EX and above models get two ports up front and also two 2.5-amp charging ports in the rear, good for tablets and more power-hungry smartphones. These ports are also located in my preferred position: behind the center console. (I don't understand why some ports come located in the fold-down center armrest where they can't be used if there are three people in the backseat.)
One final new feature for 2017 is a hands-free liftgate, which — like the one found on the Ford Escape — requires kicking or a little jig to be performed under the rear bumper to open. I much prefer systems like the one found on the Kia Sorento that only requires you to stand behind the gate with the key fob for three seconds for the gate to open. The finicky foot sensors have proven to be more of an impediment at times, though my "Riverdance" skills are improving.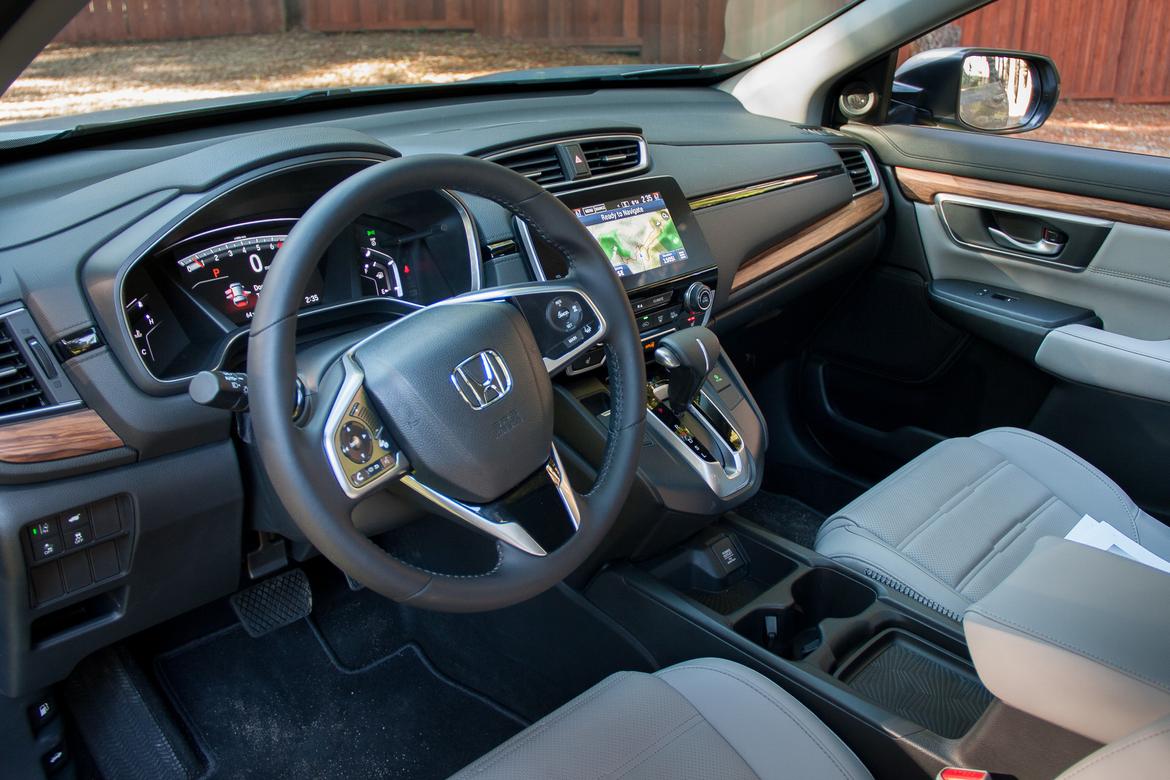 Conclusion
With the 2017 CR-V's updates, it's almost as if Honda read a list of our complaints and addressed them directly. But even though the changes are only partially addressed, the rest of the improvements are impactful enough that I didn't mind as much.
While I was disappointed that the new engine didn't more comprehensively overhaul the CR-V's driving experience or make it feel more alive — and that there aren't two knobs on the multimedia system — this new CR-V is so family- and cargo-friendly that it may override those concerns.
The redesigned 2017 CR-V is seriously quiet, family-friendly, offers more safety features than ever before and is much better looking than the previous version to my eye. If the CR-V's destiny is to be "just all right" to drive but to excel in other areas, that's going to be enough for many folks to give it a chance when it hits showrooms on Dec. 21, 2016.