2018 Ford Expedition: Real-World Fuel Economy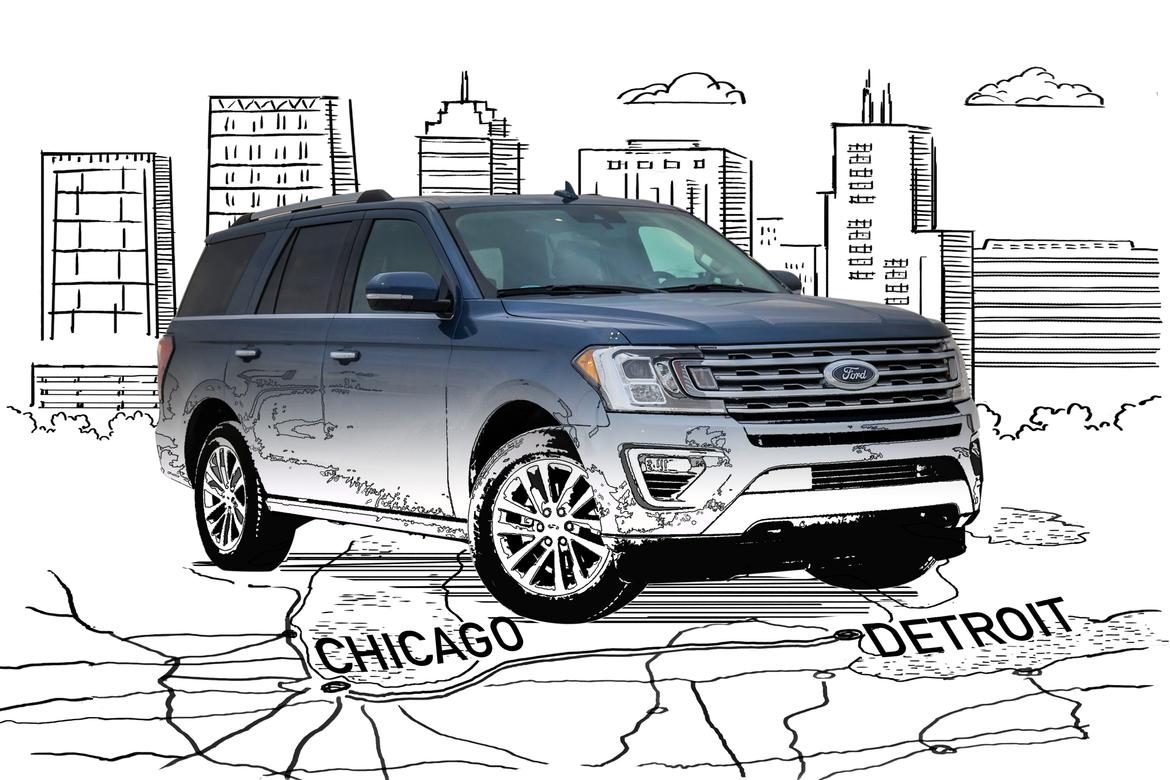 CARS.COM — The redesigned 2018 Ford Expedition retains its predecessor's turbocharged EcoBoost V-6 engine rather than the V-8s used in other full-size SUVs. Paired with a new 10-speed automatic transmission and a skosh of weight loss, the new Expedition notches an EPA-estimated 20 mpg combined with rear-wheel drive or 19 mpg with four-wheel drive (1 mpg less across the board for the extended-length Expedition Max).
Related: 2018 Ford Expedition: First Drive
That's up a significant 2 mpg (in rounded EPA figures, anyway) versus the outgoing model, and it matches or beats the Expedition's competitors. That the SUV also packs the potency to haul three rows of adult passengers or a 5,500-pound horse trailer with ease is especially impressive, but how does its mileage stack up in the real world?
We didn't hook up a trailer this time to find out, but we did schlep part of the Editorial crew through wintry conditions from Chicago to Detroit to cover the 2018 North American International Auto Show. How thirsty was Ford's latest family hauler?
Relative to the EPA ratings: quite.
Our test car — a four-wheel-drive, regular-length Expedition Limited — had fuel-milage ratings of 17/22/19 mpg (city/highway/combined). After 282.5 miles of mostly highway driving with two editors trading off behind the wheel, the trip computer read a fuel economy of just 17.6 mpg.
Of course, conditions for premium fuel economy were less than ideal. Recent snowfall had cleared out by the time we hit Chicago's interstates the morning of Jan. 14, but frigid temperatures and moderate wind remained. Temperatures along our route ranged from 10 to 18 degrees with crosswinds around 10 mph for most of the trip, according to Weather Underground. And with four adults plus three days' luggage and multimedia gear, we saddled the Expedition with at least 600 pounds.
Other notes:
The day before we left, we topped off the Expedition with 87-grade octane fuel — the minimum requirement, though Ford recommends premium gas for maximum performance ratings. We couldn't return to the same gas station for any pump calculations, as the SUV's range precludes a single-tank round-trip.
We drove normally (no hypermiling or acceleration tests) with windows and moonroof closed, avoided cruise control and kept our test car's automatic climate control in auto mode with temperatures between 68 and 72 degrees.
We drove in the four-wheel-drive system's 4x4 Auto mode, which continuously adjusts power between the axles based on traction conditions.
We left the drive mode selector in its Normal (out of[MK9] Normal, Sport, Eco, Tow/Haul and various off-road modes).
Total driving time was 4 hours and 4 minutes with an average speed of 69 mph, according to the trip computer. Tracked mileage involved minimal idling or engine warmup, as we reset the trip computer upon leaving Cars.com's Chicago studios after nearly an hour of driving to pick up various editors.
Mileage mediocrity notwithstanding, the Expedition drew compliments for its road-trip chops. Ford's EcoBoost V-6 (375 horsepower, 470 pounds-feet of torque) had passing power to spare, even without the bump in power for the top Platinum trim level. The SUV can't hide its truck-based roots, which elicit some shimmy over broken pavement, but the suspension's comfort-oriented tuning ensured miles of undisturbed comfort otherwise.
"From the rear passenger seat of the Expedition, it was a very comfortable and spacious ride," Assistant Managing Editor Melissa Klauda said. "I was able to work with no issues as we cruised down the freeway and over potholes. It often felt like we were riding in a large yacht."
Assistant Managing Editor Jen Burklow also enjoyed the journey. "I spent the entire trip in the second row working and was totally comfortable from beginning to end," Burklow said. "When we got to Detroit, I was not stiff like I am normally after a long trip. At 5-feet 8-inches tall with long legs, the second row of a vehicle can leave me feeling cramped. Not so in the Expedition."
Cars.com's Editorial department is your source for automotive news and reviews. In line with Cars.com's long-standing ethics policy, editors and reviewers don't accept gifts or free trips from automakers. The Editorial department is independent of Cars.com's advertising, sales and sponsored content departments.