2018 Ford Expedition: First Drive
CARS.COM — Big SUVs used to be all the rage — just as minivans replaced the family station wagon in the 1980s, so too did big SUVs do the same to those vans in the 1990s. But since then, the Great Recession and gas price shocks have returned big SUVs to their original place in the market — expensive specialty vehicles bought by people for whom only a big, multi-passenger vehicle that can tow significant amounts will do.
Related: 2018 Ford Expedition Review Video
The segment leader is the Chevrolet Tahoe and Suburban, and it wasn't hard to figure out why — the main competitor, the Ford Expedition, hadn't seen a major update in almost a decade. All that has changed — behold the behemoth, the all-new 2018 Ford Expedition, that's aiming to knock the Chevy off its top truck throne.
Old-School Truck, New-School Materials
Like the old Expedition, the new one maintains a traditional truck-style body-on-frame construction. Underneath, the Expedition is an F-150 with an independent rear suspension instead of a solid live axle. This arrangement also allows for a lower loading floor in the cargo area that enables the third row to fold away completely — an advantage over the Chevy Tahoe's style of seats.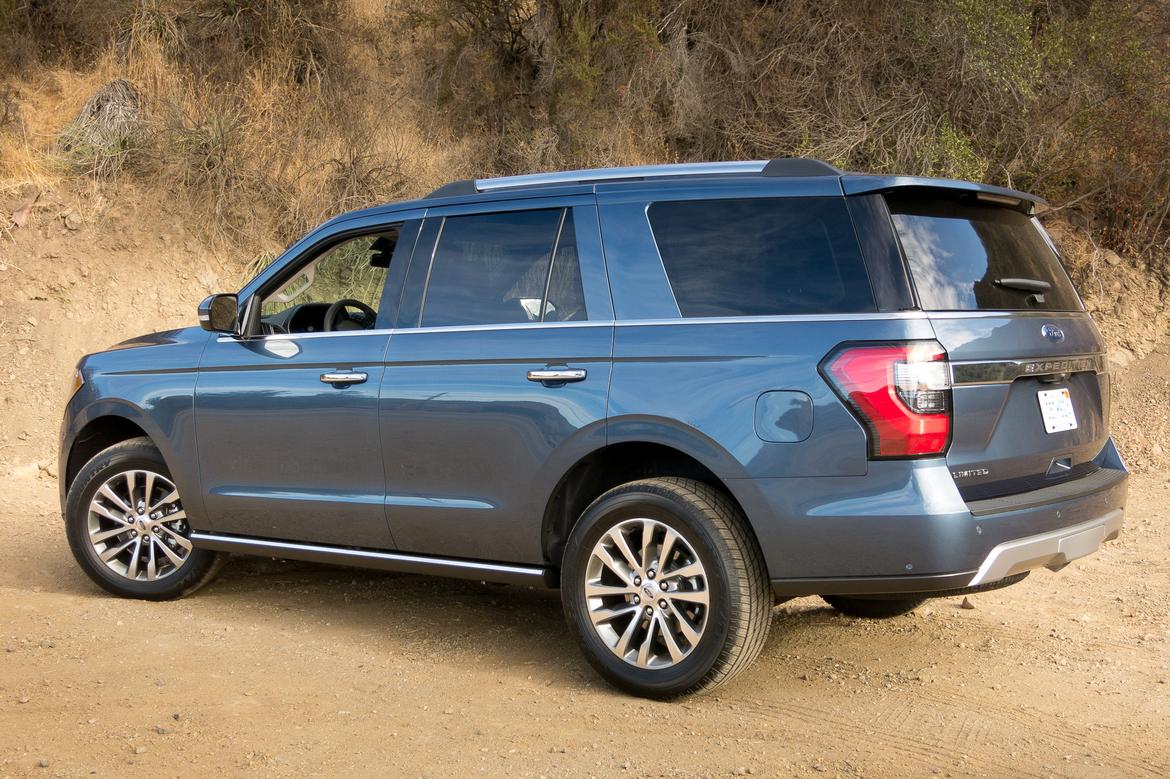 Like the F-150, the body is now aluminum, but the weight difference isn't that significant — Ford has added all kinds of equipment and sound insulation that offsets some of that aluminum construction benefit. The body looks slick, with a new and thoroughly modern appearance that is much more in keeping with the modern style of truck — high beltline, smaller windows and a chunkier style. It's fresh, attractive and has a distinctly more aerodynamic look than the outgoing model.
Like the old Expedition, the new one is available in two lengths: Expedition and Expedition Max. The extra room doesn't do anything for passenger space but does increase the available cargo area behind the third row, so you're not forced to choose between those extra rear passengers and extra luggage capacity.
Old-Style Power, New-Style Engine
Powering the new Expedition is Ford's ubiquitous twin-turbocharged 3.5-liter EcoBoost V-6. It's a carryover engine from the last Expedition, so it shouldn't be a surprise to not see a V-8 under the hood. It puts out a healthy 375 horsepower in most trim levels and 400 hp in the top Platinum trim. New to the setup is a standard 10-speed automatic transmission, available to either a rear-wheel-drive or all-wheel-drive configuration, and an electronic limited slip differential.
Fire up the V-6, and it sounds for all the world like a well-tuned turbo-diesel. Some of the engine's noise is artificially generated (all that soundproofing would prevent you from hearing the engine, otherwise), but the sound that does come through is a fun mix of turbos whooshing and raspy exhaust. It sounds sufficiently butch for the truck it sits in.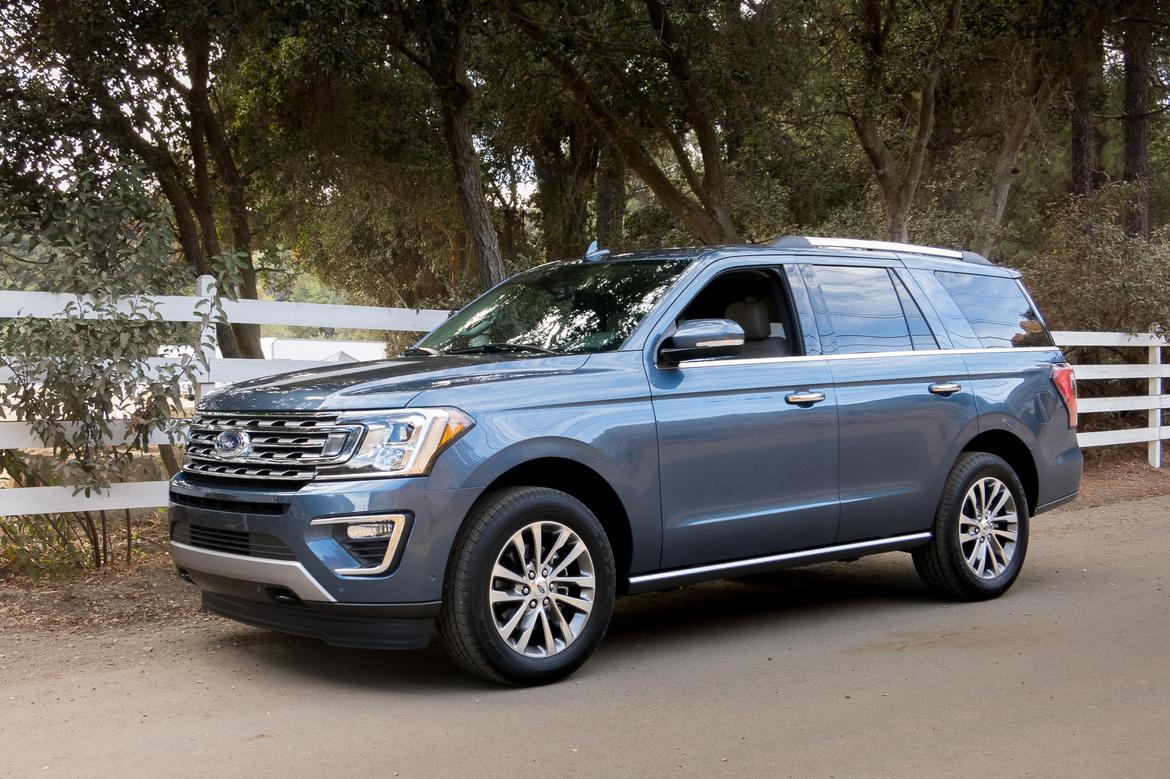 I found driving it to be quite a pleasant surprise, as well — it more than adequately powers the Expedition in either regular-wheelbase or Max versions, and gets even more punchy when you twist the rotary drive mode selector into Sport. Climbing the canyons above Malibu, Calif., handling the tight, twisting sweepers, descending into quick switchbacks — the Expedition exuded confidence and stability. Sport mode tightens up the steering feedback, and changes both the throttle mapping and transmission shift points, making those twisties even easier to take. Nobody will confuse the Expedition for a Mustang, but it by no means embarrasses itself on high-speed, challenging roads.
Ride quality is also outstanding. Wheel sizes vary from 18- to 22-inch models depending on trim level and equipment. Higher-spec trims get an electronically adjustable suspension, but even lesser models' suspensions provide a smooth, well-controlled ride. There are no crazy tippy body motions — it's clear the Ford ride and handling engineers have done their homework. If you need an off-road rig, Ford's got you covered here too: An FX4 package is available that brings underbody protection, a two-speed low-range transfer case, special tuning for the electronic limited-slip differential, Michelin Primacy tires on smaller wheels, off-road shocks, a heavy-duty radiator and unique badging.
The Expedition also tows like a champ. Hooked up to a 5,500-pound horse trailer, the Expedition Max I drove chugged up 6 percent inclines with ease, able to accelerate despite the load it was hauling. The 10-speed automatic is well-matched to this engine, holding gears on downhill grades that saved the Expedition's brakes and maintained easy control. Trailer sway control comes with the heavy-duty towing package, as does Ford's super-nifty Pro Trailer Backup Assist feature, which allows you to back a trailer up using a special control wheel on the dash and the backup cameras. It takes the guesswork and trial and error out of backing up a trailer, making even the newest novice look like a veteran trucker.
Better Inside, But Details Are Important
The interior looks as if it could have been lifted directly from the F-150, with all the pros and cons that entails. It's spacious, with excellent outward visibility, but the front seats remain oddly short and become unsupportive over longer voyages. The backseats are high with plenty of room, and fore-and-aft sliding ability allows the two rear rows of passengers to negotiate legroom among themselves. The third row is actually usable for adults even when the second row is adjusted all the way rearward; put it forward a bit, and there really isn't a bad seat in the house. The second row also tilts and slides forward at the touch of an electronic button, making ingress to the third row easier.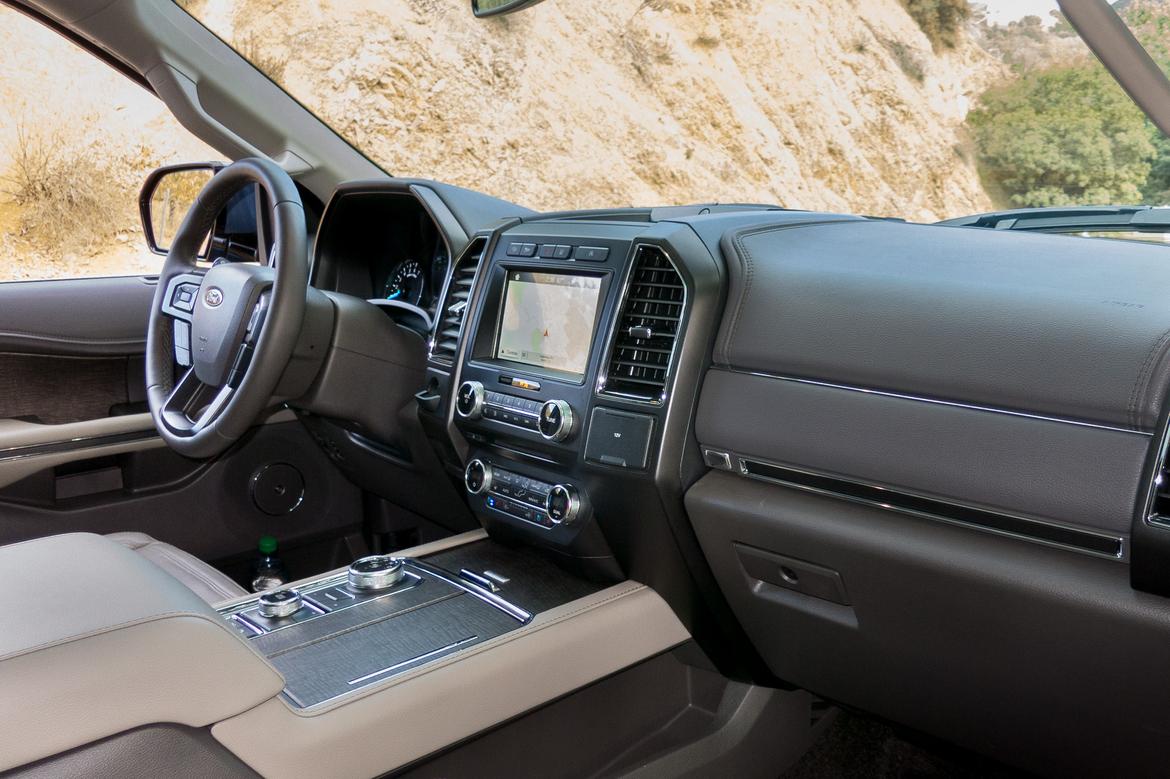 Material quality in the cabin is mixed, however. The F-150 isn't known for having the best environment in the segment; it features plenty of hard plastic and seams between parts that simply don't look like they flow together well. Some of this, like plastic mold flashing on the grab handles, can be chalked up to early build quality (our test units were some very early examples), but some of it is simply how it's designed — it's a pickup truck at heart that's been given a healthy makeover, but it's still a pickup truck in the ways that count. For a vehicle that can easily approach $90,000 in fully loaded Platinum trim or even top $70,000 in a well-equipped Limited model, this kind of detail becomes important. All the fancy quilted leather in the world doesn't excuse the fact that other parts look cheap.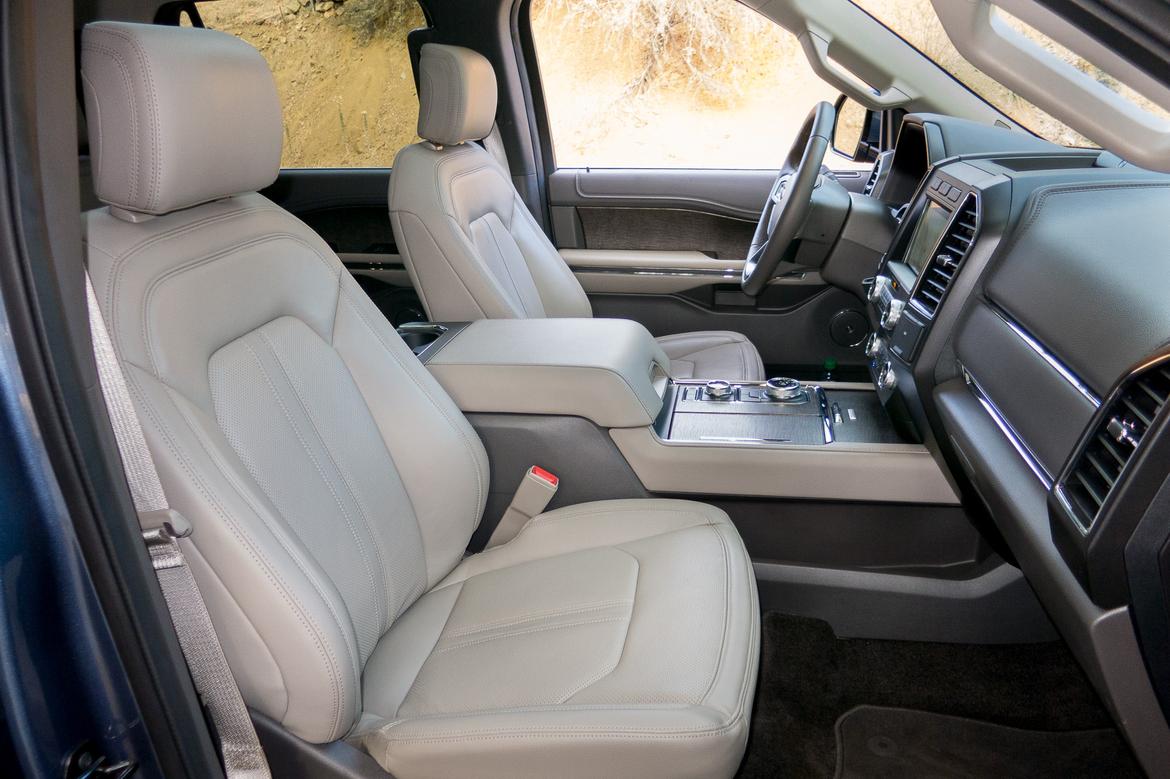 The Latest Tech
Thankfully, Ford loads you up with tech goodies for that kind of coin. The new platform means that a fully updated electronic architecture is present, chock full of gadgets that entertain (you can stream live TV to the entertainment system via Slingplayer and Sync 3, or even hook up a big screen TV for tailgating), some that keep you safe (all kinds of lane-keeping aids, steering aids, anti-collision aids, autonomous braking systems), and some that help you drive (like the aforementioned trailer backup assist). The high-end audio system is the new B&O Play brand, and it sounds fantastic. The entire experience in the Expedition is one of a significant upgrade, easily on par with the Chevy and GMC models, and surpassing them in flexibility, spaciousness, and amenities.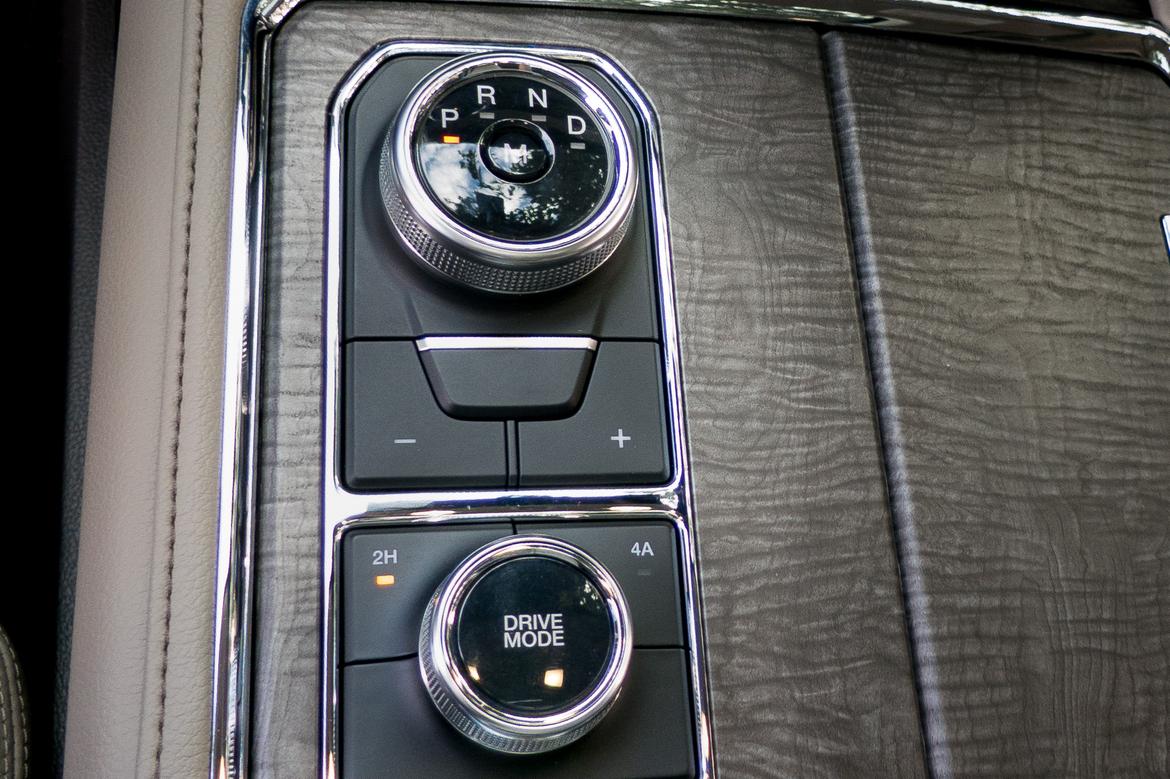 All This Utility Does Not Come Cheap
If you haven't priced out a full-sized SUV in a while, you'd better be sitting down for this next part. The starting price for an Expedition XL 4x2 is $49,290 including destination and delivery, but you'll never see one of those on a dealer lot — those are meant for fleet sales to utilities or city governments. Far more likely is the XLT trim, which starts at $52,890 in 4x2 trim. Specifying four-wheel drive adds between $3,100 and $3,200 to the price depending on trim level. Add in everything you can get, and you're looking at an Expedition Max Platinum 4x4 that will stop short of 90 grand. For comparison's sake, the new 2018 Lincoln Navigator starts around $73,000, and can top out around $100,000.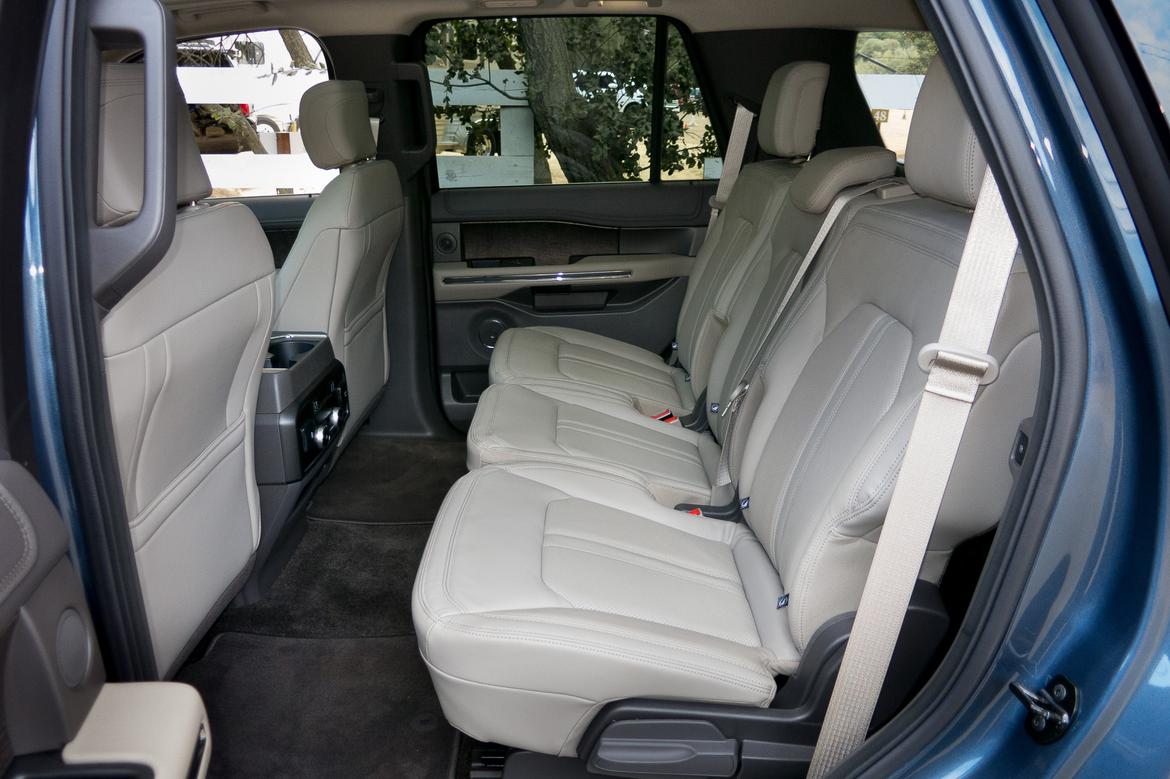 Still, this is easily competitive with vehicles like the Chevy Tahoe, Suburban and GMC Yukon. With buyers snapping up big SUVs in increasing numbers, Ford's update to its big truck comes at the perfect time. That the truck is as good as it is should put Chevy on notice.
Cars.com's Editorial department is your source for automotive news and reviews. In line with Cars.com's long-standing ethics policy, editors and reviewers don't accept gifts or free trips from automakers. The Editorial department is independent of Cars.com's advertising, sales and sponsored content departments.