2018 Mazda6 Signature 2.5T First Drive: Premium Without the Status-Badge Price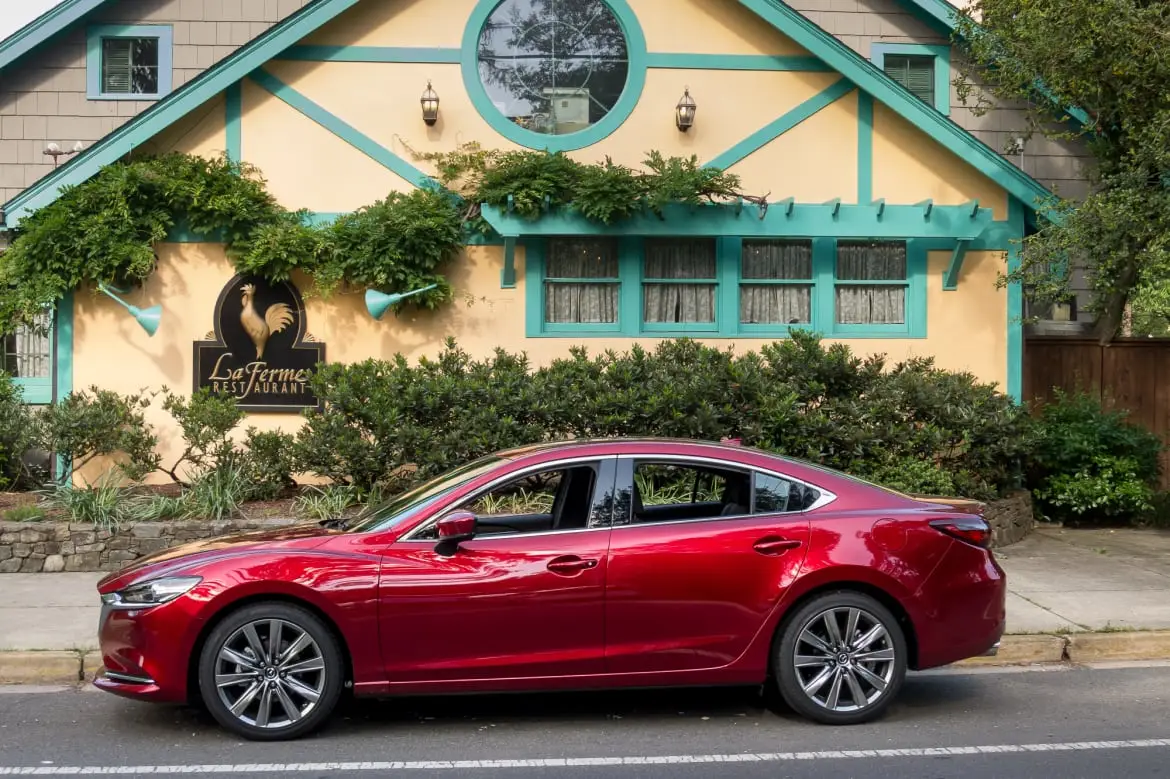 Buying a new car should be a rational choice, but it's inevitably an emotional one, too. Mazda hopes to bridge that gap with the redone 2018 Mazda6 sedan, offering shoppers top-shelf style at a craft beer price.
Related: Mazda's Nicer 2019 CX-3 Will Cost You More
It's a tough time to be a mid-size sedan manufacturer given Americans' preference for SUVs and much-improved rivals including the 2018 Toyota Camry and Honda Accord. But rather than abandoning the market, Mazda is trying to better compete with a more premium 2018 Mazda6 just going on sale now.
The Mazda6 already was known for driving manners a cut above mainstream rivals and also has been a style leader since the current design broke cover as a 2014 model. But it also came with the baggage of lagging multimedia technology, a noisy interior and lackluster power that were out of step with the brand's "Mazda Premium" effort to forge more upscale products that "drive better and bring joy," according to one official. Mazda attempts to address these failings for 2018, and all Mazda6 trim levels — from the base Sport ($22,840 with a six-speed manual), Touring, Grand Touring and Grand Touring Reserve — share in some or most of the improvements, including a new powertrain.
But the flagship for the effort to offer a premium car without a luxury-brand price is the new top-of-the-line Mazda6 Signature. Mazda calls the Signature an "aspirational" model, and that's as true for the brand as it is for potential buyers. It's the second Signature model, following one for the new 2018 Mazda CX-9 three-row SUV. Expect more.
A week in a 2018 Mazda6 Signature 2.5T showed that it mostly delivers. For starters, the $35,640 price gets you the whole bundle of new and premium features and a new engine; there are no option packages and only a few extras. The test car was priced at $36,435, including fancier door sill plates ($125), a cargo mat ($75) and Soul Red Crystal Metallic paint ($595). That's the most expensive paint option (five of the eight colors have no charge), but it's also a bargain for the deep, rich finish.
How It Drives
The biggest single contributor to the premium feel for the Mazda6 is the new turbocharged 2.5-liter four-cylinder. It's lifted from the bigger and much heavier CX-9 SUV and powers the sedan's Grand Touring trim level and above with the same 250 horsepower on premium fuel (227 hp on regular) and a muscular 310 pounds-feet of torque. The lb-ft of torque, which kicks in at 2,000 rpm, is the same regardless of fuel, so you shouldn't notice a difference on cheaper gas in regular driving except possibly at higher altitude.
With the new turbo, the Mazda6 now can compete with rivals' power upgrades. And as you will see in your first drive, it brings a personality change, not just more power than the 187-hp, 2.5-liter base engine. The turbo inline-4 is smoother in traffic and also much quieter overall than the coarse-sounding base motor.
While the six-speed automatic might seem old-school, it shifts refreshingly crisply with solid kickdowns and no stumbling for the right finely sliced gear like you sometimes get with nine- or 10-speeds. A manual mode with paddle shifters clicks off shifts positively, but the well-configured Sport driving mode handles most situations just as well without the fuss.
You don't need to hunt for a way to turn off the stop-start system; it doesn't have one. Yet the turbo still delivers a respectable EPA fuel economy rating of 23/31/26 mpg city/highway/combined. The base four-cylinder, which now features cylinder deactivation to run on two under light loads, is rated 26/35/29 mpg with the six-speed automatic and 24/33/27 mpg with the six-speed manual offered only on the entry Sport model. (See the ratings here.)
The Mazda6 already handled better than most peers (though not by as wide a wide margin as rivals have improved), and the 2018's redesigned front and rear suspension continues to deliver composed, agile handling, while improving the ride and minimizing torque steer from the new turbo engine. The Mazda6 handled Washington, D.C.'s bumps and notoriously broken pavement with an aplomb typical of more expensive sedans, even with the Signature's 19-inch wheels. Steering also already was at the head of the class; a new steering rack keeps it there.
Is That the New One?
Mazda designers didn't tinker much with the athletic styling, which is a good thing, though the subtle changes serve to understate at first glance how extensively the car has been improved overall. Slimmer, squinty LED headlights with integrated LED foglamps are now standard and strengthen the wing design with the larger mesh-filled grille. A sleeker front bumper incorporates inlets to direct a curtain of air alongside the front wheels, an aerodynamic aid. The rear is even less obviously altered, with revised taillights and exhaust tips. Higher trim levels trade 17-inch alloy wheels for new 19-inch designs.
Climb in the 2018, however, and it's clear you're not in Kansas anymore. Everything is new save for the leather-wrapped steering wheel and some minor trim and controls. Mazda is becoming known for its upgraded interiors, and the 2018 Mazda6 Signature, with light Parchment or an exclusive Deep Chestnut color scheme, is a new high point. It evoked for me the luxury feel that the old Mazda 929 had for its time.
A new dashboard adds to the feeling of space with a strongly horizontal design. In the Signature, it's swathed with high-quality materials including contrast-stitched Nappa leather and Ultrasuede Nu along with Japanese sen wood trim and satin chrome-finish accents. The result is elegant, though you have to look closely to appreciate the understated, dark sen wood. These materials and stitching also trim the door panels.
All-new seats are covered in soft Nappa leather over a new foam that, like a good mattress, felt firmly supportive, but not hard, over a long drive and also does a good job of filtering out road vibration. Mazda says the new seats' contours echo and support the natural shape of the human spine, keeping occupants in place without the aggressive bolstering that gave a narrow feel to some past Mazda seats. The result is more "friendly to the love handles," as one Mazda official described the design.
The Signature test car also featured front and rear seat heaters, as well as the sedan's first front-seat ventilation system. The system wicks dampness away from your body by sucking in air rather than trying to blow it at you; it worked on a humid D.C. day.
Reinforcing the premium interior feel on the road is noise control that, if not quite as tomblike as some vehicles, is much improved thanks to more sound-deadening material that contributed to about 150 pounds of overall weight gain versus the previous model year.
The Signature interior also showed attention to detail in places often targeted for cost-cutting in mainstream cars. The materials and finish don't fall off for the rear seat, and at floor level — where you could assume no one would notice — the front-seat power adjusters are in a panel with satin metal-finish controls that looks like a design, not an afterthought.
The backseat is a bit tighter than some rivals, but at 6-foot-2, I could sit comfortably (with some compromise from the front-seat occupant). Headroom is adequate but not airy due to the sleek roofline. That roofline also makes the backseat seem more confined because of the way it cuts side vision for taller passengers. Coupled with a relatively small opening for your feet, it also makes access more difficult. Take note if you need to use the rear seat often for older passengers or child seats.
Tech Much Improved, Not Yet a Highlight
The wait is almost over for fans of Apple CarPlay and Android Auto. All Mazda6 trim levels will come with it starting this summer, and earlier 2018 Mazda6 sedans will be eligible for a free retrofit.
Tech highlights in the Signature test car now, however, included a solid 11-speaker Bose audio upgrade, satellite radio, in-car navigation, auto-dimming interior and driver-side mirrors, a configurable 7-inch instrument and information display flanked by a pair of straightforward analog instruments, and the Mazda6's first 360-degree camera system.
Meanwhile, the supplemental transparent panel that Mazda used for a head-up display is history, replaced by a system that displays the information (now including traffic sign recognition) on the windshield. It's higher, brighter and seemingly floats farther "out there."  The change was dramatic for me. The higher position now is in the line of sight for a tall driver; the old system was too low to be usable for me. The windshield image also is easier to focus on, and the brighter display is clear and sharp even in sunlight.
The multimedia system's makeover is substantial but still has room for improvement. All models get a new 8-inch touchscreen and still include a center console knob controller with shortcut buttons and a volume control, but the updated Mazda Connect media system still has the familiar Mazda appearance that is looking dated compared with flashier new systems. And the new 360-degree camera system is welcome, but its low resolution oddly falls short.
Another oddity is having a large device bin at the front of the console, but the power and media connections (two USB/media ports, a 12-volt outlet, an SD card slot and an analog auxiliary input in the test car) in a cluster at the rear of the center console bin under the armrest. That makes for easier access for the rear seat, but it leaves cords stretching to the front for anything that you don't want to leave in (or doesn't fit in) the modest console bin. I ended up using the closer cupholders.
Standard Safety
A low-speed front collision system with automatic braking is standard on the base Sport. A more complete suite of safety and driver aid technology is a $625 option on the Sport and is standard on the other trim levels. It includes more robust automatic braking, full-speed adaptive cruise control with stop-and-go capability, lane departure warning, lane keep assist, automatic headlights, automatic high beams and rain-sensing windshield wipers.
The 2017 Mazda6 with optional LED headlights earned a Top Safety Pick Plus from the Insurance Institute for Highway Safety. The 2018 has equally high scores for crashworthiness and the front collision technology, but the standard LED headlight system has not yet been tested to qualify for an award.
Will the Premium Push Work?
Will this all add up to changed perceptions and higher sales for a more premium Mazda6?  Weak links in this strategy include lack of all-wheel drive, which is increasingly a defining option for luxury sedans. Also, Mazda is working with dealers for an upgraded local experience, but the upgrades are a work in progress.
Still, if you're looking for a sedan and a designer label is not a must-have, the 2018 Mazda6 Signature 2.5T's driving chops and premium features for the price are worth a serious look. I think it's more likely to be tougher competition for other mainstream sedans (compare features and pricing with rivals here than it is to steal buyers from luxury brands (compare with some here). But shoppers considering a status-brand sedan should consider that they'll need to pile on costly option packages or end up settling for less in comfort, fewer features and inferior safety tech just to get the status brand.
Cars.com's Editorial department is your source for automotive news and reviews. In line with Cars.com's long-standing ethics policy, editors and reviewers don't accept gifts or free trips from automakers. The Editorial department is independent of Cars.com's advertising, sales and sponsored content departments.