2019 Hyundai Santa Fe First Drive: A Modern Mid-Size SUV
We were a quarter of the way up the hill when I felt the Hyundai Santa Fe's tires start slipping and I got that sinking feeling in my stomach. The steep, rock-strewn dirt path rising 275 feet to the top of Empire Pass outside Park City, Utah, was the final leg of our drive route, and now I wondered whether we were going to make it to the top just as a fast-moving hailstorm was rolling over the mountains.
Before I could really think about what I'd do if we started sliding down the hill, the Santa Fe's rear wheels picked up the slack and kept us moving forward. It was an impressive performance by the redesigned 2019 Santa Fe's optional all-wheel-drive system on the kind of terrain Jeep typically finds to demonstrate the off-road capabilities of the Cherokee and Grand Cherokee, two Santa Fe competitors.
Related: Video: 2019 Hyundai Santa Fe First Drive
Showcasing the Santa Fe's off-road capabilities — albeit in a controlled setting — aligns with Hyundai's goal of reestablishing the Santa Fe's SUV cred just as a wave of all-new and redesigned two-row mid-size SUVs are slated to hit dealerships in the coming months. The 2019 Santa Fe, which replaces the five-seat Santa Fe Sport in Hyundai's lineup, is arriving at dealerships now.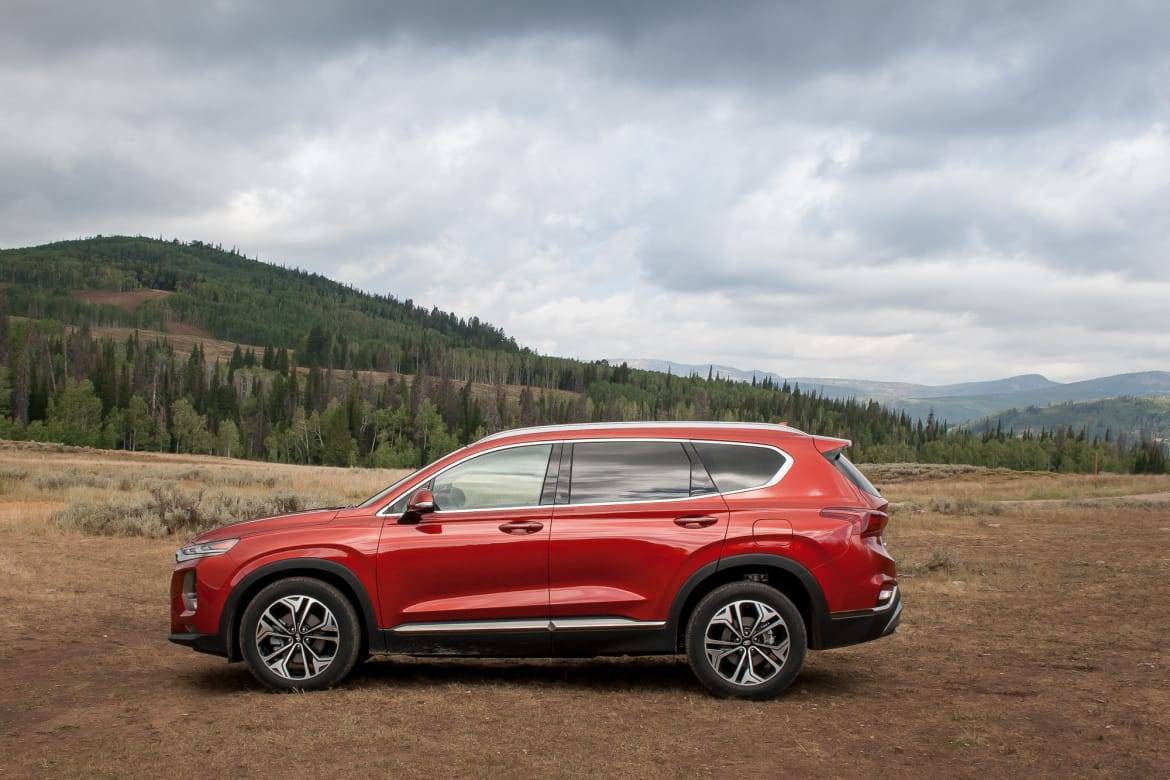 The 2019 Santa Fe's profile looks more upright than the Santa Fe Sport's, with a windshield that's not as raked. The design does give it something of a traditional SUV look, but a big practical advantage is good visibility: Thin front roof pillars and side mirrors mounted on the front doors rather than the base of those pillars contribute to the Santa Fe's great forward views. Hyundai has also flattened out the SUV's beltline, increasing visibility for rear passengers and providing better over-shoulder views for the driver.  
The Santa Fe's front end is, without question, the most polarizing aspect of the design. Like Hyundai's subcompact Kona SUV, the Santa Fe has slim LED daytime running lights below the front edges of the hood that flank a gaping grille (the headlights sit below the daytime running lights). It's not a new design tactic — the pre-2019 Cherokee had something similar — but it's an approach that's gaining steam; the upcoming 2019 Chevrolet Blazer also uses it.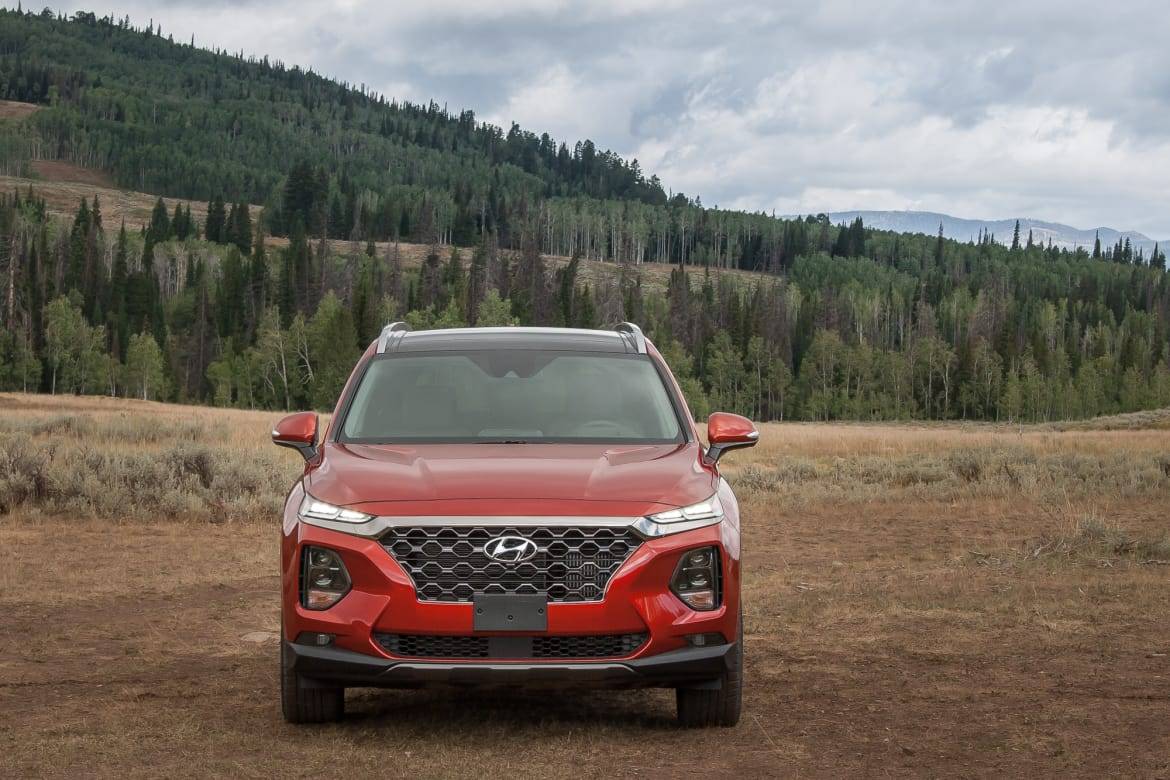 The altitude at the beginning of our drive was around 8,600 feet, and as someone who spends most of my time in the lowlands of Illinois, I could feel it. The Santa Fe's optional turbocharged 2.0-liter four-cylinder engine, however, didn't seem to mind the thin air. Rated at 235 horsepower and 260 pounds-feet of torque, the turbo four-cylinder is quiet, smooth-revving and offers great midrange punch. Passing power is modest, but that's mainly due to the eight-speed automatic transmission, which was unwilling to choose a low enough gear even when it kicked down.
The gas pedal's responsiveness also takes a little bit away from the powertrain. There's some lag when starting off from a stop regardless of whether you're in the Comfort or Sport drive mode, and once you're moving, the gas pedal can feel a bit too responsive, with a jumpiness that makes accelerating smoothly harder than it should be. 
I don't think I encountered a single pothole during our daylong drive, which has to be a minor miracle. The Santa Fe's suspension tuning is comfort-oriented without feeling floaty, which seems like the right approach for this class. It feels composed and stable through sweeping corners, but its handling doesn't set it apart; the Santa Fe has numb, isolating steering feel and moderate body roll in tight corners.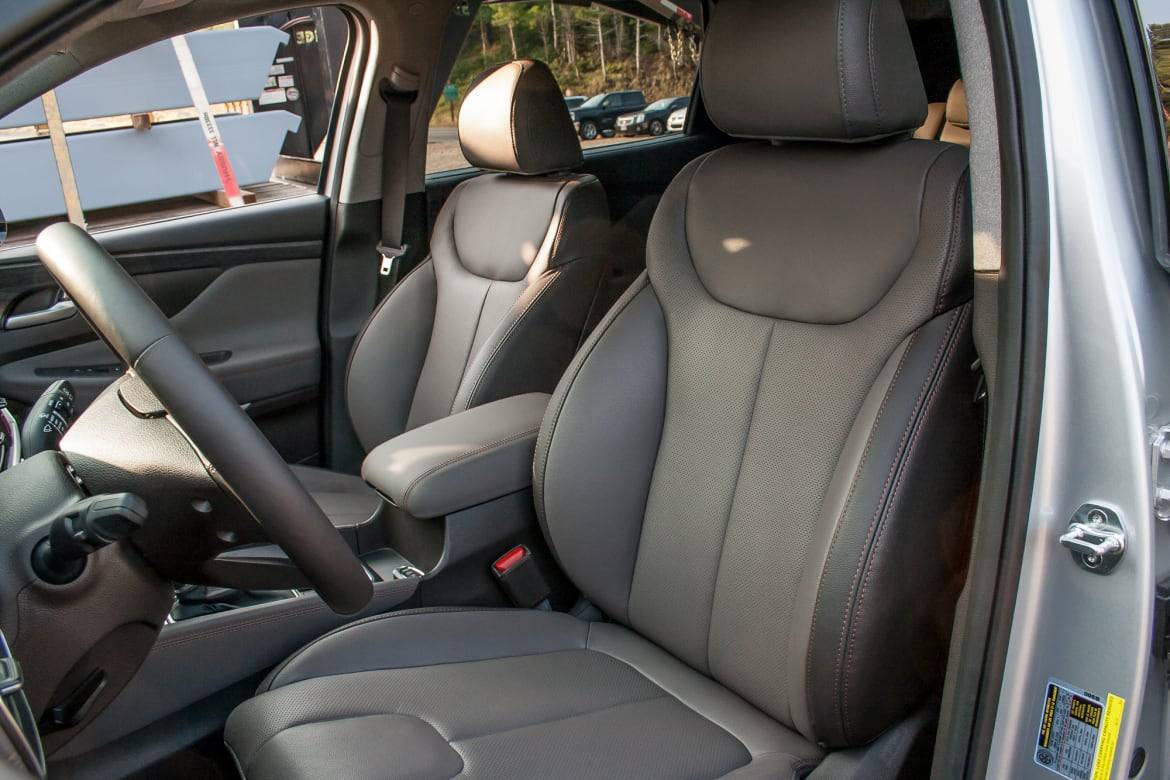 Hyundai touts the Santa Fe's variable-density front seats, which use three types of cushioning. The seats are wide and supportive, but the cushions felt a little flat to me. The 60/40-split folding backseat is comfortable for adults; there's good legroom and the seat cushion is high enough off the floor to provide thigh support. The rear seat slides forward and backward to balance cargo and passenger needs, and the backrest reclines.
As automakers have been adding small SUVs to their lineups and redesigning large three-row models, the two-row mid-size SUV class that the Santa Fe competes in has been comparatively quiet. That's about to change, though, as brands rush to meet consumers' appetite for SUVs of any size.
The 2019 Santa Fe is one of the first to hit dealer lots, and while it does have some drivability issues, there's a lot here for value-minded shoppers who want the latest active safety features at no extra cost (automatic emergency braking, blind spot warning, lane-keeping assist and adaptive cruise control are all standard). Now it just needs a way to keep the driver calm when it's on the side of a hill.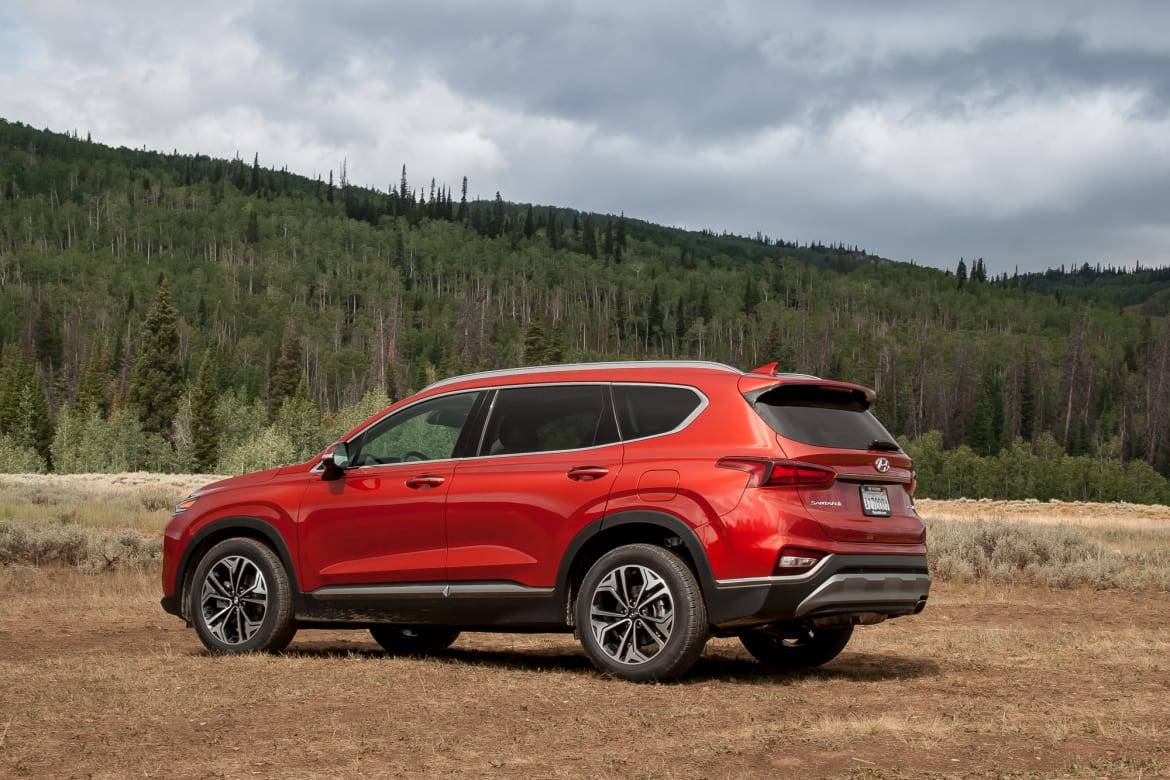 Cars.com's Editorial department is your source for automotive news and reviews. In line with Cars.com's long-standing ethics policy, editors and reviewers don't accept gifts or free trips from automakers. The Editorial department is independent of Cars.com's advertising, sales and sponsored content departments.