2019 Infiniti QX50: Beauty Is Skin-Deep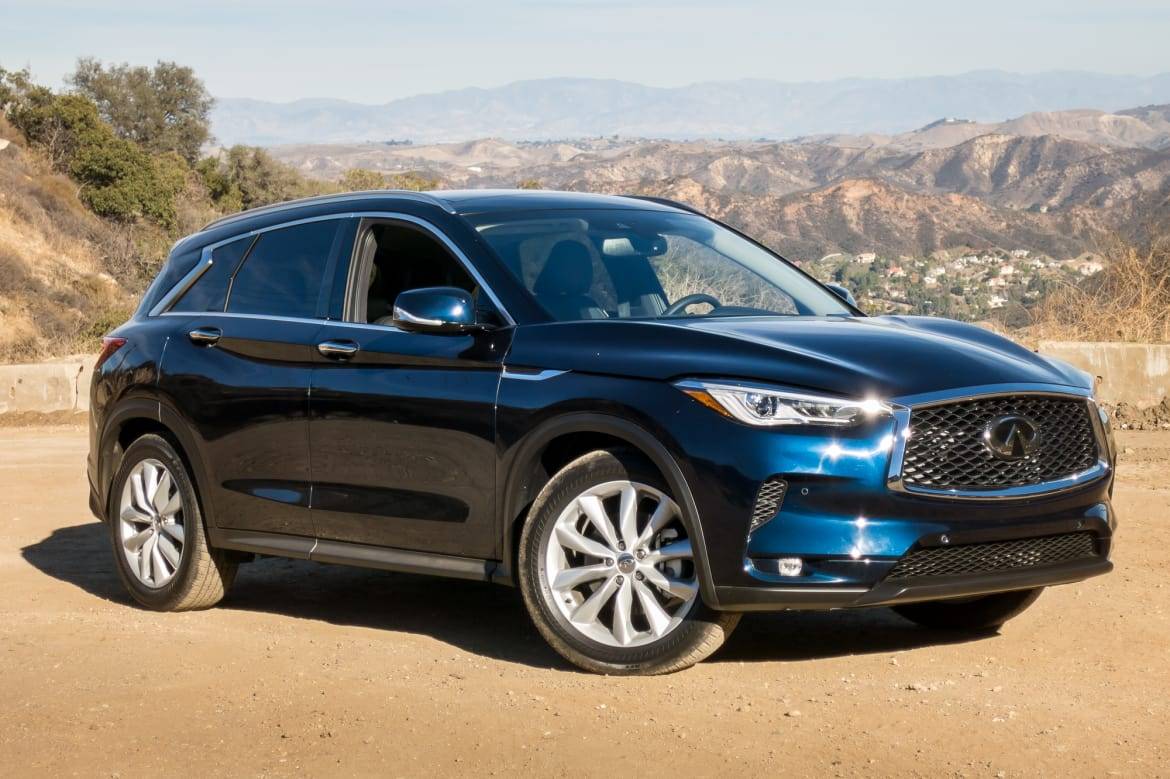 CARS.COM — It's hard to get too excited about the redesigned Infiniti QX50, a smallish luxury SUV with promising technology and a lush interior but notable warts past that. Put it all together, and Infiniti's latest redesign is a middling choice in a crowded vehicle class, especially if your budget precludes all the bells and whistles.
Related: Infiniti QX50 Returns for 2019 With True Luxury Cred
After skipping the 2018 model year, the Infiniti QX50 returns in redesigned form for 2019. I spent a day and a half driving an all-wheel-drive QX50 Essential at Infiniti's Los Angeles-area media preview. (Per company policy, Cars.com pays for its airfare and lodging at such automaker-hosted events.) Officials said the SUV should hit dealerships in late February or early March, and it will come in three trim levels (Pure, Luxe and Essential) that range from about $37,500 to nearly $60,000 with all major options. The spread is a bit pricier than the outgoing QX50 but still a slight value against a four-cylinder Audi Q5, BMW X3 or Mercedes-Benz GLC-Class — just a few of the QX50's many rivals.
Doozy of a Drivetrain
Out goes the old QX50's big V-6, replaced by a turbocharged four-cylinder engine (268 horsepower, 280 pounds-feet of torque) with a high-tech variable compression ratio that drives the front or all four wheels through a continuously variable automatic transmission. As such, the Infiniti QX50 charges up steep inclines and makes quick work of freeway onramps, and its much-improved fuel economy — 27 mpg combined with front-wheel drive or 26 mpg with all-wheel drive (AWD), Infiniti says — edges out the competition.
Alas, none of that power comes smoothly or particularly soon.
The culprit is hard to pinpoint — the CVT, accelerator tuning or just some old-school turbo lag — but the result is clear: The QX50 takes too long to get going. The gas pedal delivers feeble power up front, then abrupt bursts of grunt when the cavalry arrives. Step on it for an uphill start, and the power swell can spin the front wheels for moments on end before the AWD finally transfers power to the rear. Swell this is not.
Past those beginnings, things improve. The transmission responds more readily to your right foot, and it cuts engine revs to simulate upshifts during moderate acceleration — a contrast with most CVTs, which limit the faux upshifts to full throttle near redline. Sport mode even kicks up revs on downhill grades to simulate downshifts, rev-matching and all. It's lively; I only wish the responsiveness came sooner.
The chassis stays reasonably planted over rapid elevation changes, but ride quality with the QX50's standard 19-inch wheels is a touch busy on anything but glass-smooth pavement. It's seldom harsh or bouncy, but it also lacks the sophistication that rivals like the X3 nail. (Twenty-inch wheels and lower-profile tires are optional on the Infiniti QX50, but I didn't drive models thus equipped.) Infiniti says suspension tuning is the same across all trim levels. Adaptive shock absorbers, a common option among competitors, aren't offered.
More Tech
Our test car had the QX50's optional Direct Adaptive Steering, the latest generation of Infiniti's steer-by-wire system that we've criticized in earlier iterations. Feedback is numb on twisting mountain roads even in Sport mode, and it's utterly absent at low speeds, where DAS dials up so much power assist that parking-lot maneuvers feel like a video game. The system degrades otherwise acceptable handling. Enthusiasts will cry foul, but I suspect many SUV shoppers will love DAS. Don't fret the three-point turn: In a steer-by-wire Infiniti QX50, you can do it with one finger.
You can drive with just a few fingers if you get the QX50's optional ProPilot Assist system. Also offered in the Leaf and Rogue from parent company Nissan, ProPilot Assist is packaged with the DAS option in the Infiniti QX50. It includes adaptive cruise control and lane-centering steering, both of which work all the way to a stop. Intended for highways with proper lane markings, ProPilot Assist kept natural position for the most part on L.A.'s Highway 101, tracking mild curves and merging traffic like a human driver might.
It isn't a hands-free system like Cadillac's Super Cruise, and it warns you in short order if it senses you've let go of the steering wheel. It requires a forceful hand: My test car sometimes flashed warnings when I gave insufficient resistance even with my hands on the rim.
A Thing of Beauty
A stone's throw from the QX50 Concept and QX Sport Inspiration Concept that preceded it, the production Infiniti QX50 follows in the design language seen on the Q50 and Q60, both handsome cars. Sweeping contours on the QX50 keep a few bumper openings — a pair for reflectors in back, another for air intakes up front — from looking busy. Speaking of which, all the major bumper openings on our test car were functional, not faux. Nice.
Infiniti wraps much of the QX50's dashboard, upper doors and center console in a mix of stitched vinyl and real leather. I couldn't tell the difference: It's convincing stuff, with raised seams and rich textures where your arms and elbows rest. Cheaper plastics hang below eye level, which we've come to expect in this class, but Infiniti hides them well enough.
Both rows have adult-friendly room, with reclining and sliding adjustments for the second row. Pure and Luxe trims have vinyl upholstery; Essential versions get leather. Pile up the options beyond that, and you can get quilted semi-aniline leather seats with suedelike accents on the upper doors, dash and console. As such, the cabin is mighty handsome.
What the Functionality
Less handsome are the dashboard's twin touchscreens, which emulate those in the Q50 and Q60. The displays (8 inches for the upper unit, 7 inches for the lower) have straightforward menus and pinch-and-swipe capability, but the skyward angle of the upper unit means it's often washed out by sunlight, and the lack of a tuning knob makes channel surfing a chore. What's more, the two-screen setup makes sense only if you leave a navigation map up top, yet two of the QX50's three trim levels lack navigation. It would come in handy for a navigation map from Apple CarPlay and Android Auto, but the Infiniti QX50 offers neither.
Officials said wireless versions of both smartphone integrations would come in future model years, as will wireless phone charging — but that will require new hardware, so don't expect an update for existing owners. In the here and now, the 2019 QX50 is a multimedia Luddite.
Final Thoughts
We'll save a deeper dive on styling, value, safety and practicality for a full review when we get a QX50 back to Cars.com HQ, but the initial takeaway is mixed. Some aspects of Infiniti's latest SUV hold promise, but it has too many shortcomings to stand out against more than half a dozen major competitors. Smallish SUVs are fast becoming luxury brands' bread and butter, and the QX50 might see considerable attention on that trend alone. Whether it's enough to lift the tide at a bit player like Infiniti remains to be seen.
Cars.com's Editorial department is your source for automotive news and reviews. In line with Cars.com's long-standing ethics policy, editors and reviewers don't accept gifts or free trips from automakers. The Editorial department is independent of Cars.com's advertising, sales and sponsored content departments.