2020 Audi Q7 Review: Quibbles With the Biggest Q
The 2020 Audi Q7 occupies an important, family-friendly space in Audi's lineup. Although it ranks numerically beneath the Q8, the Q7 is the only Audi that seats more than five occupants as Audi's only three-row SUV. For 2020, it's been refreshed with rather extensive changes: a brand-new dashboard with a dual-touchscreen setup, a new grille that seems directly lifted from the Q8 and a new turbocharged V-6 that replaces the 2019's supercharged V-6 as the engine used for the Q7 55 TFSI. A turbo four-cylinder carries over for the base Q7, called the 45 TFSI.
Related: 2020 Audi Q7: New Screens, New Smile
Such updates might typify a full redesign, and that gives the 2020 model some serious differentiation from the 2019. Add what's only a small price increase atop that, and the 2020 Q7 holds real promise. After a few hours behind the wheel, however, I'm not entirely convinced that all such changes are for the better. The Q7 is flashier and the styling more connected to the rest of Audi's lineup (especially its larger vehicles), but the updates don't necessarily make it easier to use — and they fail to address some of the SUV's shortcomings.
New Engine, New Problems
Although the Q7's available V-6 displaces the same 3.0 liters, it's now turbocharged instead of supercharged, a change that increases output to 335 horsepower and 369 pounds-feet of torque; that's up 6 hp and 44 pounds-feet, though Audi's quoted 0-60-mph acceleration time (5.7 seconds) remains unchanged. All-wheel drive is standard on all trims.
The previous Q7 suffered some drivetrain lag, and it seems to have worsened with the new engine. Available power is plentiful, and if you apply gas when the transmission is already in the correct gear — such as at lower speeds — the Q7 accelerates impressively for a 5,000-plus-pound SUV. But call for any acceleration while in motion that requires transmission to downshift and it becomes frustrating. Even activating the transmission's Sport mode doesn't fix the problem: Hit the gas, and little happens for a couple of seconds before the Q7 downshifts and accelerates. It's kind of like when my mother used to ask me to do dishes: I'd hear the request but show little interest hastily getting to the task.
On top of that, fuel economy has substantially dropped. EPA-estimated mileage for the 2020 Q7 is 17/21/18 mpg (city/highway/combined), a significant percentage decline from 2019's 19/25/21 mpg rating. (Both the V-6 and four-cylinder had the same EPA fuel economy for 2019, but we're still waiting on figures for the 2020 four-cylinder.) With premium gasoline recommended for advertised power ratings, the drop in mileage hurts all the more.
Ride and handling are both adequate. My test vehicle had 21-inch wheels as a part of a cosmetic package, but those didn't seem to hurt ride quality, which remains confident even over broken pavement. The SUV exhibits a good amount of body roll in corners, and the steering is too low-effort to fully appreciate. Such qualities don't hold the Q7 back, but I hope Audi's just-announced SQ7 has some tricks up its sleeve. The Q7 does offer an optional adaptive air suspension, which my test vehicle didn't have — a setup that could aid steering and dynamics.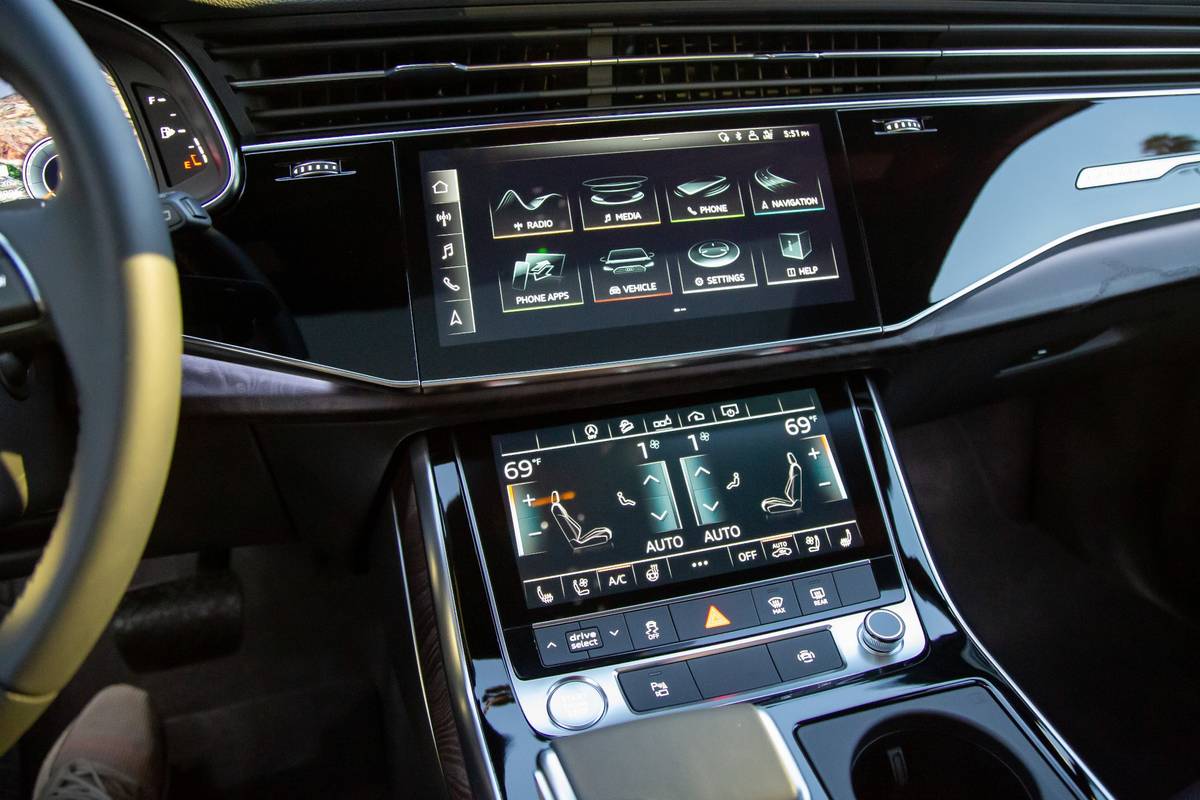 Touched-Up Interior
The dashboard has been completely reworked, giving the Q7 what amounts to the Q8 interior. That means physical climate controls are gone, replaced by a lower, 8.6-inch touchscreen that houses controls for the climate and seat temperature among other functions. As a showpiece, the new dashboard and multimedia system look great: The screens are sharp and the whole of it gleams. With a standard 12.3-inch Virtual Cockpit instrument panel, too, the Q7 has a futuristic look and feel.
Audi's multi-touchscreen approach has divided our staff, and even though I'm among the editors who likes it more, I'm still not sold. It feels cool, but I still prefer physical climate controls, like the ones on the Q3 or refreshed 2020 A4/S4. The haptic feedback you get from Audi's screen makes it easier to use than the dual touchscreens found in the latest Jaguar and Land Rover models, but it's still inferior to a good old-fashioned dial — especially when driving and trying to keep your eyes on the road. Both screens become fingerprint magnets; I could see a smudge from every single control that I pressed. In the daylight, those smudges dominate the panel. One final pet peeve: Why is the volume knob so far away? It's tucked all the way to the passenger side, where it's neither easy to see nor operate.
3 Rows, 1 of Them Comfortable
The 2020 Q7 seats seven occupants in all configurations, with a second-row bench seat that cannot be swapped out for captain's chairs in what continues to be a strange omission. The second row folds in a 35/30/35-split, such that owners can fit three car seats across the bench — an accommodation that puts the Q7 among the handful of new SUVs that can fit three seats across.
The front seats have enough bolstering to hold occupants comfortably in place, but not so much to be aggressive. The second row is less promising: Outboard seats have minimal bolstering, so you slide around quite a bit. The middle seat, though wider than many, is still not the most comfortable spot to sit in. The cupholders in the center armrest are also tiny; you can maybe fit a soda can in there, but anything larger will have trouble.
Third-row access comes via the sliding and tilting second-row seat. Although the middle seat can be lowered to help open up cargo space, the third row remains problematic in a few different ways. There simply isn't enough room to fit an adult back there comfortably even if you slide the second-row seat forward. Headroom is lacking, too. Not only does the third row feel like it has dimensional shortcomings, it's also missing creature comforts, with no visible air vents or USB ports. Versus the third rows in rival SUVs, this feels downright draconian.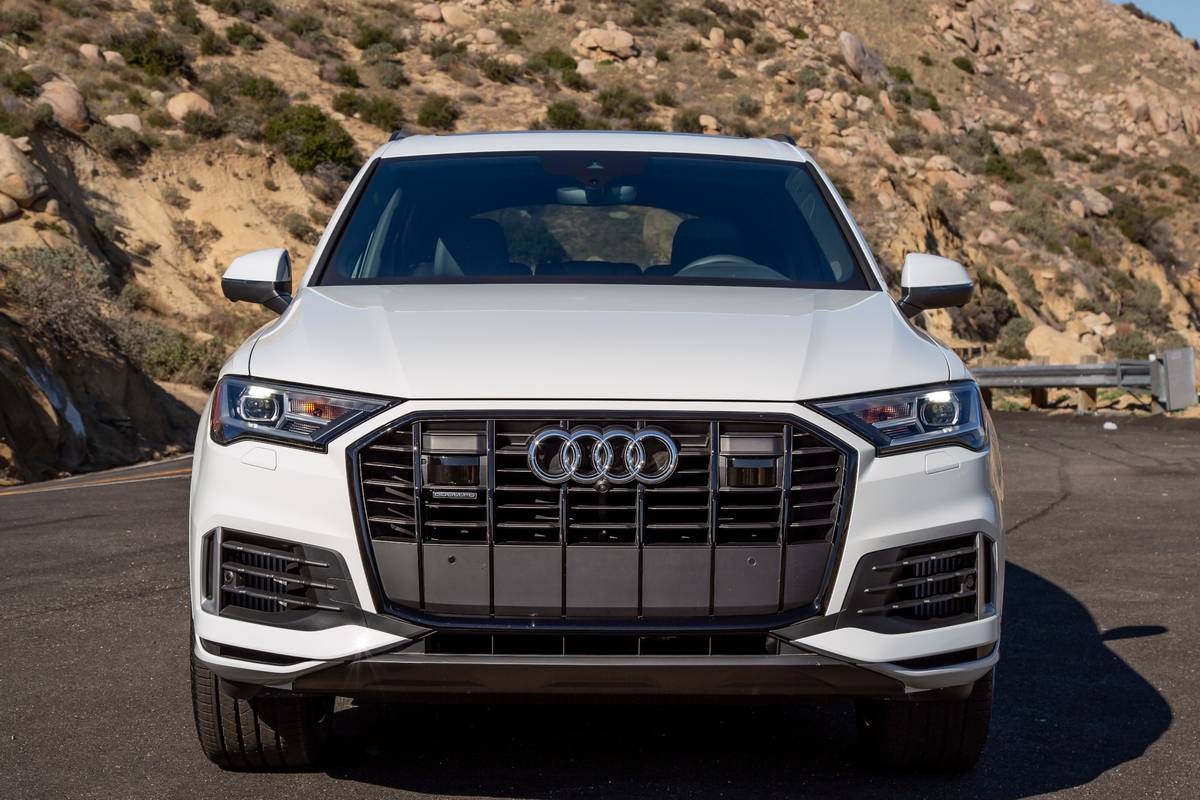 Value and Final Thoughts
I tested a Premium Plus trim of the 2020 Q7, the middle of three trims — Premium and Prestige are the other two — with V-6 models starting at $61,795 (all prices include destination) and four-cylinder models starting at $55,795. (Under Audi's newish naming scheme, derived confusingly from the kilowatt-based automotive ratings used in Europe, the four-cylinder goes by 45 TFSI, while the V-6 is 55 TFSI.) Various options packages and features bumped the price of my 55 to $71,990, an echelon that puts the Q7 in close proximity to the Cadillac XT6, Lincoln Aviator and Volvo XC90.
My lack of enthusiasm for the Q7's changes may come in part because I've seen this show before, just on different Audi models. Audi lifted the Q7's powertrain, dual-screen setup and styling from other Audis, but I find such changes don't elevate the Q7's standing — at least not enough for a vehicle that struggles in some important family qualities, such as third-row space.

Further complicating matters for Q7 shoppers is the arrival of mass-market vehicles with luxury-grade interior quality and more room for occupants and cargo, such as the Hyundai Palisade. The 2020 Q7 is not a bad choice in the traditional sense: Its dynamics are solid, and it still looks and feels the part of a luxury family hauler. But its deficits are impossible to overlook, especially with the new powertrain coming up short.
Cars.com's Editorial department is your source for automotive news and reviews. In line with Cars.com's long-standing ethics policy, editors and reviewers don't accept gifts or free trips from automakers. The Editorial department is independent of Cars.com's advertising, sales and sponsored content departments.