2020 Luxury Car of the Year
What's eligible: Any 2020 model vehicle regardless of when it was introduced or last updated.
Criteria: Along with general excellence, the best cars represent ultimate luxury in their class and/or are exceptionally well-rounded, providing their luxury along with above-average usability and drivability.
Winner: 2020 Ram 1500 Laramie Longhorn/Limited
Awards belong to products that raise the bar, and whenever we asked ourselves which luxury vehicles had wowed us in the past year, discussions led exclusively to something that was unlikely — some would say scandalous — in its model, its brand, its very body style. But if you've been in the new Ram 1500 in its Laramie Longhorn or Limited trim levels, you'll undoubtedly be nodding your head right now in agreement. While the latest Ram 1500 received some powertrain and suspension updates, the interior of these top trims is nothing short of stunning. Lower-trim models like the Tradesman and Laramie are pretty good, too, but once you get into the luxury trims, the world changes: Luxurious real leather abounds. Genuine open-pore wood adorns surfaces you regularly see and touch. Creative stitching holds it all together. Unique color combinations move well beyond the black, gray and beige seen everywhere else. You can get the urban-styled Limited with a blue interior, believe it or not, while the Western-themed Laramie Longhorn can be had in an eye-popping two-tone mix with filigree stitching and simulated alligator-patterned leather that's classy and sure to appeal to vast swaths of the country.
But the Ram 1500's luxury credentials aren't just about cabin materials. The onboard technology has also been upgraded to levels not seen on competing vehicles even from luxury brands. There's a 12-inch vertically oriented multimedia screen to awe your passengers, able to display a couple of different functions at the same time (including Apple CarPlay or Android Auto) or be used as a full, 10-inch-tall navigation screen. Definitely go for the 19-speaker Harman Kardon premium audio system, one of the best we've heard in any vehicle — truck or not.
As good as the interiors are, it's a lot of the other refinements that allow such a cabin to exist as a quiet place of respite. It has frame-mounted, active-tuned mass modules that work in conjunction with active noise cancellation technology on V-8 models to create a truly hushed cabin environment. New frequency response damping shock absorbers help smooth out the ride and handling, as well. It's as if Ram engineers and designers got together to make a pickup truck into a true American luxury vehicle — and we're here to say they've succeeded in ways we had never imagined. It's not just a good pickup; it's a great luxury vehicle, one you'll enjoy driving, riding in or being seen in.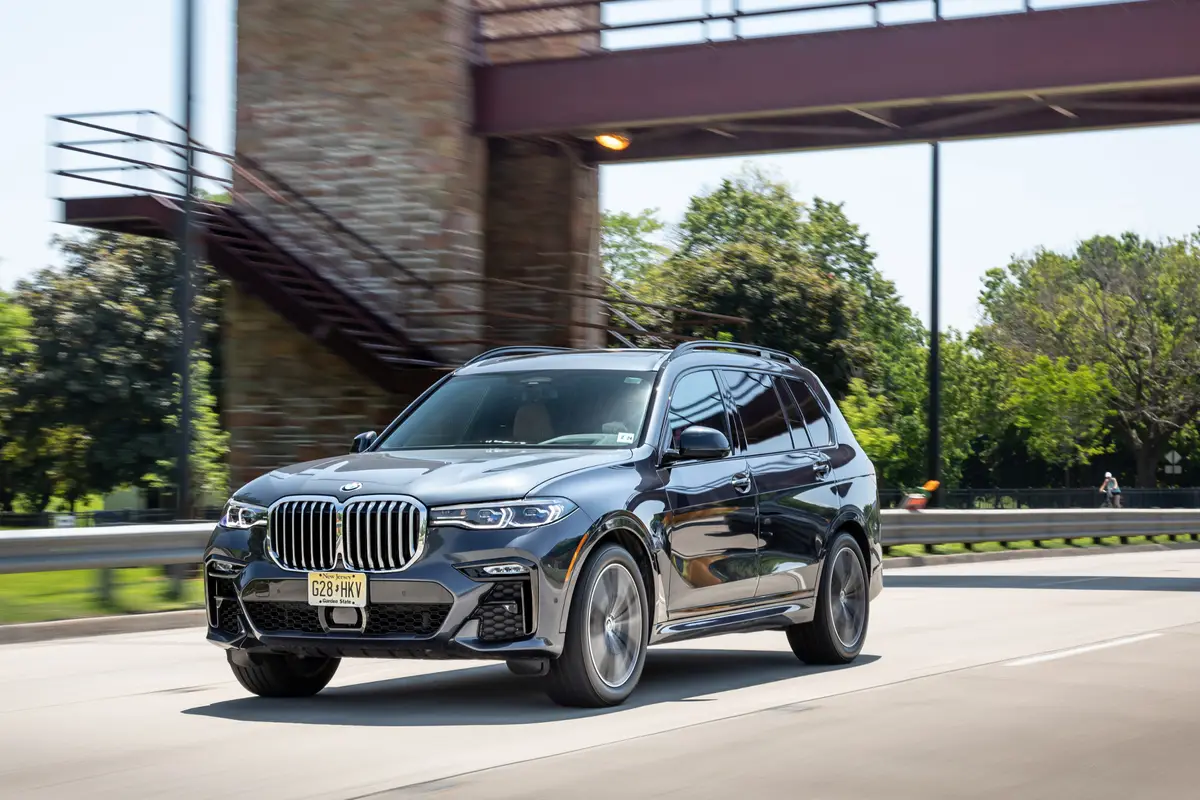 2020 BMW X7
BMW's first three-row SUV is something special. Yes, it's big, but it's also luxurious in ways that many of its competitors are not. The accommodations up front are beautifully styled, with all of the typical BMW design cues, premium leather, optional ceramic controls, lovely wood and creature comforts galore. But that quality interior doesn't drop off when you move rearward — all of the luxurious materials continue. The second row is as nice as the front seats, something we can't say of the new Mercedes-Benz GLS-Class. Opt for the second-row bench and you get seating for seven or a cavernous cargo area, as the bench folds flat. (The optional captain's chairs that reduce seating to six are powered, however, and do not fold flat.)
Powertrains start with a base 335-horsepower, turbocharged inline-six-cylinder and also include twin-turbo V-8s in mid-level 456-hp or stonkin' 523-hp versions. All engines come with a standard eight-speed transmission and all-wheel drive. The styling is a little controversial due to BMW's use of a huge, toothy twin-kidney grille, but we think it works much better on the tall, bulky X7 SUV than on the lower, leaner 7 Series sedan.
The X7 isn't cheap — it starts at just about $75,000 and can easily top $100,000 when you load it up with the big engine and all of the semi-autonomous driving aids, like the spectacular Extended Traffic Jam Assistant function. But with its powerful engines, dramatic styling and competitive pricing (not cheap, but competitive), the BMW X7 is an impressive luxury SUV.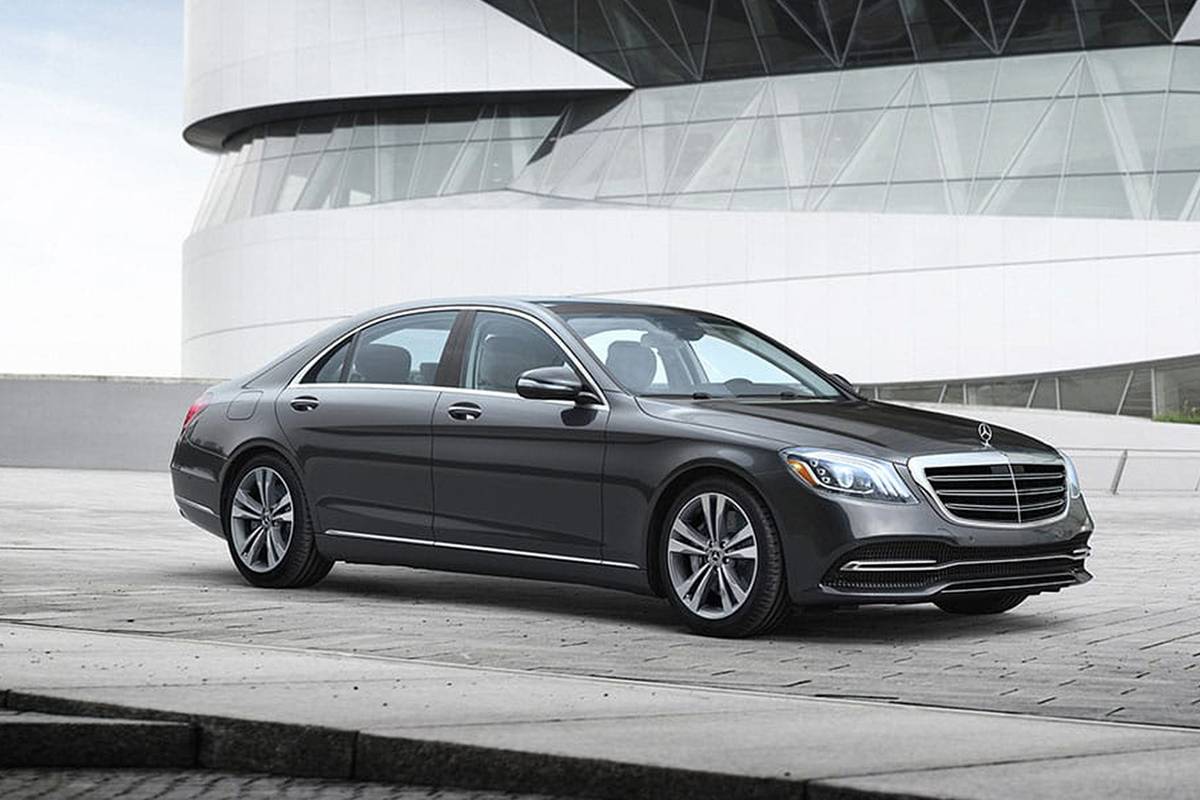 2020 Mercedes-Benz S-Class
The Mercedes-Benz S-Class hasn't seen an update in a few years, but last year's winner of this award remains one of our perennial favorites (and we do allow repeat wins when they're deserved). Even with the newly refreshed BMW 7 Series on the scene, we still prefer the S-Class, with its superior materials, extraordinary interior technology, stunning semi-autonomous driving aids and ridiculously roomy interior space.
The interior also offers a bewildering array of customizing options, most of them centered on the multi-adjustable interior LED lighting options. It has programs that can "energize" you through a combination of aromatherapy, massage, light patterns and music. Powertrains are a choice of turbocharged V-6, turbocharged V-8 or plug-in gas-electric hybrid. If you want more traction, Mercedes-Benz's 4Matic all-wheel drive is optional. It's the quintessential German limousine, but you have the option of either enjoying being driven in one (pick the Maybach) or enjoying driving it yourself (any of the AMG versions).
As we stated last year, the sedan alone is worthy of the award, but don't overlook the breadth of the S-Class. Don't need the big backseat? Go for the S-Class coupe. Want some wind in your hair? Get the convertible version, which brings additional tech like the AirScarf to keep your neck warm. Or if you want something classy, powerful and dramatically styled for a heap of money, the AMG versions of the coupe and convertible are practically without peer. With this kind of variety, there's an S-Class version to satisfy the sybaritic desires of anyone with the means to enjoy one.