Accord Vs. Altima Vs. Camry: Which Is the Best Mid-Size Sedan?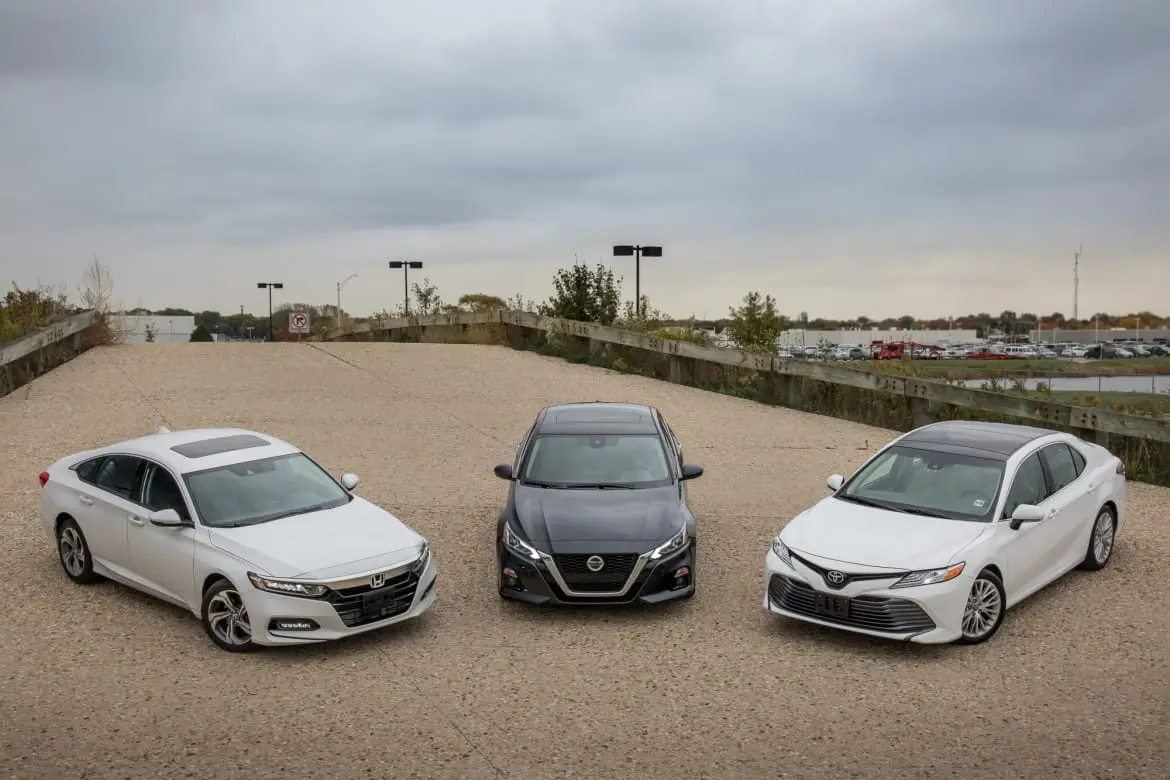 There's no question that American consumers are increasingly flocking to SUVs — and to hatchback cars masquerading as SUVs — at the expense of conventional cars, but cars still represent millions of annual sales. Of those cars, mid-size sedans remain popular, and none are more popular than three Japanese models that outsell competitors by a substantial margin, accounting for nearly 645,000 year-to-date at the end of September: the Toyota Camry, Honda Accord and Nissan Altima.
2018 Mid-Size Sedan Challenge
Results | How We Tested | Photo Gallery | Video
Now that Nissan has redesigned the Altima as a 2019 model, we set out to test it side by side with its top rivals, which were similarly overhauled for the 2018 model year. We set a price range of $28,000 to $32,000 (including destination charges), as equipped, and required automatic transmissions and a volume-selling engine choice. Our contestants include mid-priced trim levels of each model: the 2018 Honda Accord 1.5T EX-L, Nissan Altima 2.5 SV and Toyota Camry XLE.
Three judges individually awarded points in 12 categories: front seats, rear seats, multimedia features, interior quality, in-cabin storage, visibility, powertrain, ride quality, handling, braking, noise and value.
Each model was also awarded points based on our measurements of its cargo volume and assessment of associated factors, the advanced active-safety and driver-assistance features with which the test vehicle was equipped, and its grades in our Cars.com Car Seat Check, which gauges the accommodation of various child-safety seats (see our methodology in the How We Tested article). All categories combined for a possible maximum score of 1,000 points.
Our Challenge judges were:
Aaron Bragman, Cars.com Detroit bureau chief
Jennifer Geiger, Cars.com news editor
Kelsey Mays, Cars.com senior consumer affairs editor
This three-way Challenge proved to be one of the closest races in Cars.com history, and we're confident a shopper could be reasonably satisfied with any of the three — but preferences vary widely, so read on to learn the strongest and weakest aspects of each contestant, and don't miss the scorecards at the end for the big picture.
3 2018 Toyota Camry XLE, 700 out of 1,000 points
The verdict: The Camry's third-place finish obscures the likelihood that it would rank third in the full field of mid-size sedans. A few flaws, such as a tired, chaotic multimedia system, proved fatal, but many aspects remain praiseworthy.

2018 Toyota Camry XLE

Cars.com photo by Christian Lantry

Our Test Vehicle
As-tested price: $30,390
Powertrain: 203-horsepower, 2.5-liter four-cylinder; eight-speed automatic transmission; front-wheel drive
Estimated city/highway/combined mpg: 28/39/32
The Camry fell to the Nissan Altima by just six points overall, and we can't emphasize enough what a strong entry the Toyota became when redesigned for the 2018 model year. Look solely at the rankings and the Altima actually rated last in more judging categories — eight versus the Camry's five losses — but where the Camry failed, it did so more dramatically, and the points totals reflect it. It also ranked first alone in just two categories, where the Altima led in four.
The Good
Child-seat accommodation: "With the highest possible scores in our evaluation of car-seat accommodations, the Camry made Cars.com's 2018 Car Seat Check Honor Roll, one of only eight cars to do so out of 85 tested," said judge Kelsey Mays. "Neither the Accord nor Altima made the Honor Roll."
Cabin storage: "The lack of a sunglasses holder in our moonroof-equipped car is a drag, but cabin storage otherwise abounds, with deeper cubbies and larger compartments than either rival furnished," Mays said. Jennifer Geiger added, "My favorite is the large one under the climate controls. It's wide enough to host a couple devices and some snacks."
Visibility: Aaron Bragman cited "excellent visibility from the driver's seat thanks to a high seating position and low beltline. The upright greenhouse also helps for that rear three-quarters view into the blind spots." Mays agreed: "The high seating with big, flat chairs and a low console gives the Camry the least hunkered-down seating position of this group. It's no SUV, but it might feel the least different for anyone coming out of one."
Handling: "The Camry has a smooth, well-damped ride that contributes to it being a pleasant commuter, but it doesn't come at the expense of handling prowess," Bragman said. "The Toyota turns in smartly and doesn't embarrass itself on twisty roads at all — this may be the most adept, athletic Camry I've ever sampled." The Camry rated just one point behind the top-ranked Accord for handling.
Powertrain: "The engine and transmission are strong, providing plenty of power for acceleration and passing," Bragman said. Geiger added: "Its eight-speed automatic is a willing and able partner with smooth, responsive shifts."
Interior quality: "Our mid-priced trim level's cabin looked top-trim-worthy to me," Geiger said. "Highlights include its handsome stacked-dashboard design, color-contrasting quilted seats and interesting-looking accents on the dashboard and doors. Our model's huge panoramic moonroof also gave the cabin a sense of open airiness the others lacked."
Also noted: As equipped, our Camry was the only contestant with several features and attributes: free scheduled maintenance (two years or 25,000 miles), a panoramic moonroof, height adjustment for the front passenger seat, one-touch windows for the rear doors as well as the fronts, and consistent cabin materials in the backseat.
The Bad
Multimedia system: "The Camry's system is a tired, overcomplicated jumble of screens, panel buttons and knobs just begging for retirement," said Geiger. "Dated graphics and a lack of Apple CarPlay and Android Auto make it stand out as the old-timer in the group." (Note: Toyota has added Apple CarPlay for the 2019 model year.) Bragman added: "Why is the volume knob all the way up on the top of the touchscreen, as far from the driver and passenger as it can be? And those buttons have the same 1990s boombox feel as the Honda Accord's multimedia system — awful compared with the slick feel of the Altima's buttons. "
Noise: "Road, wind and drivetrain noise are excessive," Mays said. Bragman agreed: "Driving next to big trucks on the highway can make you cringe. It doesn't feel well-insulated from noise." And Geiger piled on: "Even at idle, the Camry is loud and its gruff engine note intrudes into the cabin."
Brake pedal: "I'm not a fan of the Camry's brakes — they have squishy initial feel upon application and don't improve as you increase the pedal pressure," Bragman said. Mays said the spongy pedal "diminishes stopping confidence."
Backseat: "In a field of large backseats, the Camry's feels merely OK," Mays said. "Knee clearance is unexceptional, and the trade-off for abundant headroom is a low seating position." Bragman noted there's "noticeably less room between my knees and the front seatback, and the space under the seat for toes is cramped."
Also noted: Geiger found the steering too heavy, Mays cited too much delay for multiple-gear downshifts and Bragman noticed "the non-covered front seat storage bins are all hard plastic, no rubber liners, so anything in there rattles around while you're driving," adding to an already lengthy noise menu.
Research the 2018 Toyota Camry | Search Inventory | Car Seat Check
2 2019 Nissan Altima 2.5 SV, 706 points
The verdict: There's plenty to like in the redesigned Altima, not the least of which is value, but some interior aspects remain weak spots.

2019 Nissan Altima 2.5 SV

Cars.com photo by Christian Lantry

Our Test Vehicle
As-tested price: $29,030
Powertrain: 188-hp, 2.5-liter four-cylinder; continuously variable automatic; front-wheel drive
Estimated city/highway/combined mpg: 28/39/32
Though it ranked last in eight categories, the Altima balanced things out by leading in four. Perhaps its greatest accomplishment is earning rare raves for a controversial transmission type.
The Good
Value: "Our cloth-trim example was more affordable than the Accord and Camry by more than $1,000 yet still packed a bevy of multimedia technology and best-in-group self-driving features," Mays said. "That's significant value."
Powertrain: "The 2.5-liter and continuously variable automatic transmission are a solid pair," Geiger said. "Power is ample and the CVT is among the most responsive and natural-feeling I've sampled thanks to its simulated shifts that feel and sound believable." Bragman called the transmission "the first example of a CVT that I've actually enjoyed driving — it's responsive, quick to react to driver inputs, and makes the Altima feel light and fun." The owner of a fourth-generation Altima, Mays said, "Nissan has come a long way."
Multimedia system: "This is the best multimedia system in the group, and perhaps the best one Nissan has yet come up with — clean, easy to use and it displays only the necessities so as not to distract," raved Bragman. "Android Auto and Apple CarPlay are present, as are physical volume and tuning knobs, a crisp 8-inch screen and a best-in-group four USB ports," Mays tallied. Geiger added, "Its visibility high on the dash is good, and its menu system is easy to figure out."
Safety and self-driving tech: Though the contestants were very close, the Altima edged out the others because it was the only car to offer lane-centering steering all the way to a stop, a feature confined until recently to expensive luxury cars.
Noise levels: Though the Accord rated a couple of points higher, "For this group, noise abatement is exceptional," Mays noted.
Also noted: Ultra-quick-ratio steering, high-quality feel to the controls and a Rear Door Alert system that reminds you something — or someone — could still be in the backseat. As equipped, our Altima had the only heated steering wheel in the test.
The Bad
Front seats: "The front seats feel short, lacking in thigh support, and their high position makes me feel like I'm sitting on the edge of the seat instead of back in it," Bragman said.
Interior quality: "The Altima's interior is a big letdown," Geiger said. "The overwhelming theme is chintzy: lots of driver-knee-area hard plastic, tacky looking faux carbon-fiber trim on the door panels and cheap-feeling velourlike seat upholstery stand out." Bragman said, "The touchscreen mount in particular seems made up of several small parts that join together where a larger, seamless piece would look and perform better." Mays added, "You could chalk up the missing features in our Altima SV to its lower price, but the degradation of cabin quality is less excusable."
Cabin storage: "There isn't a lot of front-seat storage for passengers' electronics, and the well that is provided isn't all that deep," Bragman said. Mays noted that "storage under the center armrest similarly underwhelms. The glove compartment is small, too — a curious shift from a brand whose glove boxes often could be mistaken for tunnels to China."
Ride quality: "The Altima's ride has a severe case of the wiggle-jiggles," Geiger said. "Small bumps upset composure and larger ones ripple through the cabin unsettlingly."
Child-seat accommodation: "The backseat cushions are too short, and poor accommodations for our booster seat dinged the Altima's scores for child-seat provisions," Mays said.
Visibility: "Visibility to the rear corners is clear, but what's with that giant brakelight in the center of the back window?" Geiger asks. "It appears taller than others and impedes the view straight back."
Trunk space: "As-tested cargo space fell short of both the Camry and Accord, and the opening between trunk and cabin with the seats folded was notably smaller than the Accord's," Mays said.
Steering: "The Altima's steering is a weak point — it feels light, vague and contributes to an overall disconnected-from-the-road feeling," Geiger said. Bragman agreed: "It doesn't match the powertrain's capabilities. The ratio is quick and the car is responsive, but the steering feel is video-game numb, eliminating a major part of driving pleasure."
Also noted: "With a phalanx of ProPilot Assist buttons, the steering wheel feels too crowded," Mays said. "And oversized climate dials that seem like they were plucked from a pickup truck." As equipped, the Altima was the only contestant without a power front passenger seat.
Research the 2019 Nissan Altima | Search Inventory | Car Seat Check
1 2018 Honda Accord 1.5T EX-L, 729 points
The verdict: With the most appealing ride and handling balance as well as refreshingly straightforward multimedia controls and a handsome, well-made cabin, the Accord overcomes its maligned transmission to take the prize.

2018 Honda Accord 1.5T EX-L

Cars.com photo by Christian Lantry

Our Test Vehicle
As-tested price: $30,865
Powertrain: 192-hp, turbocharged 1.5-liter four-cylinder; continuously variable automatic; front-wheel drive
Estimated city/highway/combined mpg: 30/38/33
Typical of Cars.com Challenge winners, the Accord was strong in many judging categories despite topping only four alone — and never by a wide margin. As important, it ranked last alone in only two categories, and in those cases only by a few points versus the second-place finisher.
The Good
Trunk space: "Cargo volume was best in the group by our measurement, as was the generous opening between the trunk and cabin with the backseat folded down," Mays said.
Noise levels: "I found the Accord to be wonderfully isolated in the loud environment of downtown Chicago," said Bragman. "Not much road noise entered the cabin either on the potholed streets or at speed on the highway. I credit the car's excellent damping and solid-feeling construction for creating a cabin that feels pleasantly insulated from the outside world."
Backseat: "It's a bit stingy on headroom, but legroom is endless," Mays said of the top-rated backseat.
Ride and handling: "The Accord's road manners are solid," Geiger said. "It strikes the most comfortable balance in terms of ride and handling — bumps are well-damped and it maintains composure in corners." Mays characterized the steering as "not as quick-ratio as the Altima's, but it's close to it — and it has a lot better feedback." Bragman said, "This car feels like it's a class above the other two — it has a heft to it, a substantial feel like it's an entry-level luxury car, not an ordinary family sedan. The ride is cushy, the steering is solid and not over-boosted."
Front seats: By the numbers, the Accord tied with the Camry in this regard, but "I found the Honda had the most comfortable front seats in the group, with long cushions and excellent adjustability," Bragman said. It also had 12-way versus 10-way power adjustments and the only seat-position memory in the test, as equipped.
Interior quality: "At first glance, the cabin may seem boring, but look again: Its blend of quality soft-touch materials and interesting trim accents combine for an understated but sophisticated look," Geiger said. "It doesn't quite match the design pizazz of the Camry," with which it ties for first place, "but it's leaps and bounds ahead of the Altima in both quality and style."
Multimedia system: Though it trailed the Altima by one point, "the Accord multimedia system has excellent touchscreen graphics and swift response times, with an intuitive interface that organizes everything into apps," Mays said. "Smartphone users will pick it up in no time." Geiger cited the supplemental knobs as well as the screen location: "Its placement high on the dash is great for visibility, and its tabletlike shape and crisp graphics give the cabin a modern look," she said.
Also noted: "Hey, a conventional gear selector!" Mays exclaimed. "The push-button selector that comes with the Accord's larger engine is a confusing mess. I'm glad the lesser variants avoid it." He also called out "the Audi-like steering thumbwheel and the meticulous tick-tick-tick when you turn the climate and stereo dials."
The Bad
Transmission: "The CVT does the engine no favors — it isn't responsive, doesn't react quickly to driver inputs and, in any kind of aggressive driving, disappoints in its laggy performance," Bragman said. Geiger added: "Its rubber band-like unnatural feel and loud drone annoy." The CVT is responsible for the Accord's last-place drivetrain ranking.
Value: Priced $475 above the Camry and $1,835 above the Altima as tested, the Accord had the highest price in the contest yet didn't include enough additional features to justify it, so it lost points for value.
Low seating position: Though the seats themselves are his favorite, Bragman said "that low roofline leads to a low seating position, making me feel like I'm sitting in a tub — a weird first for a Honda product, which used to have low beltlines and amazing visibility. It also makes backseat ingress and egress a challenge — just try not to hit your head on that low C-pillar." Mays agreed: "Shoppers accustomed to coupes might accept the Accord's driving position, but I've got enough of a beef with it to need A.1. steak sauce."
Child-seat accommodation: "Although two car seats fit comfortably in the backseat, the Accord lost points in the Car Seat Check for its buckles," Geiger explained. "They sit flush with the upholstery and then sink down into the cushions when pushed; this could make them tough for kids to grasp and use independently."
Also noted: "The multimedia system is better than the previous generation and its touch-sensitive panels, but it's still a reach to the buttons around the touchscreen, most of which look cheap and have a 1990s boombox feel," Bragman said. As equipped, our Accord had two USB ports, the fewest in the contest.
Research the 2018 Honda Accord | Search Inventory | Car Seat Check
How Each Sedan Scored
Cars.com's Editorial department is your source for automotive news and reviews. In line with Cars.com's long-standing ethics policy, editors and reviewers don't accept gifts or free trips from automakers. The Editorial department is independent of Cars.com's advertising, sales and sponsored content departments.