Coolest Cars of the 2019 SEMA Show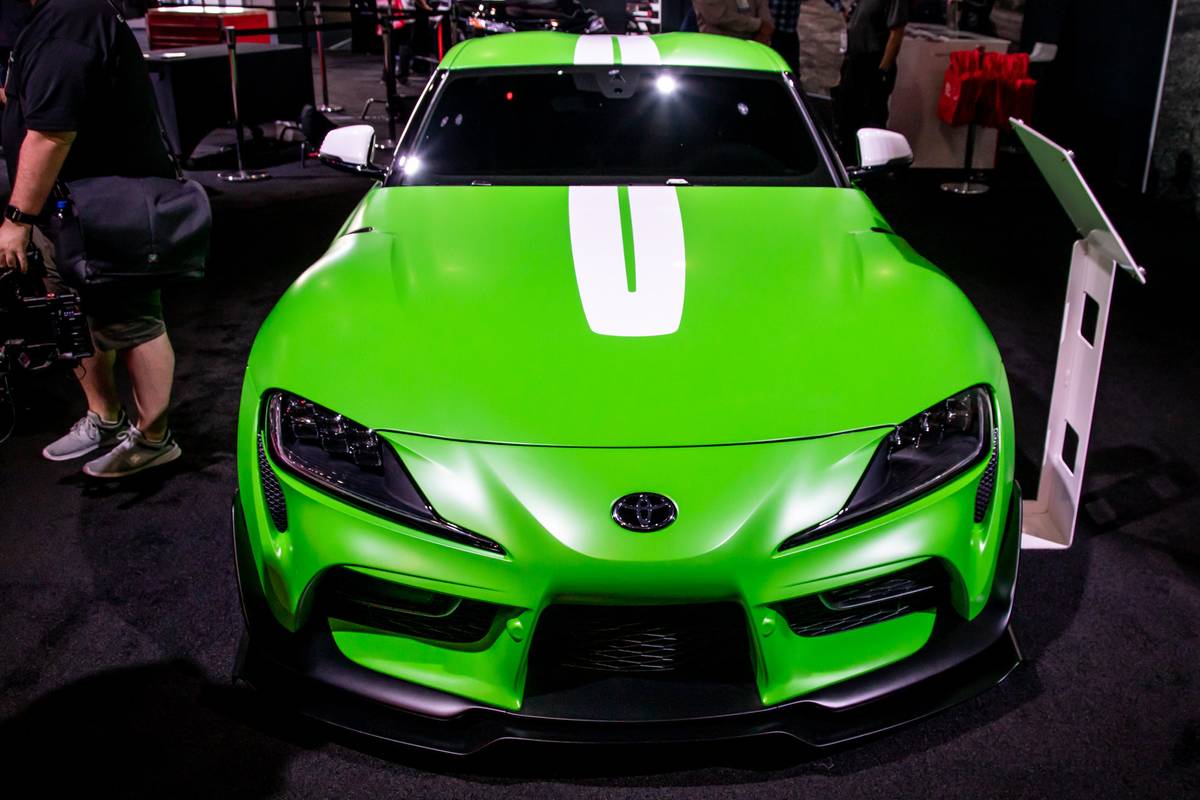 Another auto show has passed, though the 2019 Specialty Equipment Market Association Show in Las Vegas is not like the traditional shows. Think of any car and there's a customized version of it at the SEMA Show. Manufacturers partner with aftermarket parts companies to show just how much cooler — or terrible, in the case of the slammed G-Wagen I will not force you to see — production cars can be. The results show up along with the other displays at this aftermarket supplier trade show.
Related: Coolest Cars of the 2019 Tokyo Motor Show
But enough of that: On to the cool cars! A popular choice this year was the new 2020 Toyota GR Supra; Toyota brought a bevy of customized versions. Elsewhere, the trend toward electrification touched a modern Mustang and a classic Chevrolet pickup truck, and Ford also decided to spice up a first-generation Bronco for Mr. Car himself, Jay Leno.
2020 Toyota GR Supra Heritage Edition, HyperBoost Edition, Performance Line Concept, Wasabi Concept and 3000GT Concept
Photo gallery: 2020 Toyota GR Supra Heritage Edition, HyperBoost Edition, Performance Line Concept, Wasabi Concept and 3000GT Concept; Cars.com photos by Christian Lantry
I told you Toyota brought a lot of Supras to Vegas — and these aren't even all of them. The Heritage Edition shows what arguably is the look the production GR Supra should've had from the get-go with a rear spoiler taken from the fourth-generation Supra of the 1990s, headlights and taillights inspired by the MKIV Supra, a body kit and a big front splitter and giant rear diffuser. The widebody Hyperboost Edition is partly by Rutledge Wood, with a 20-piece carbon-fiber body kit and a custom turbocharger that boosts the engine output to more than 750 horsepower. The tamer Performance Line Concept, the work of Toyota's in-house Toyota Customizing & Development, features custom wheels, a carbon-fiber body kit that increases downforce and a custom exhaust system. The aptly named Wasabi Concept is a bright green work of art from the Toyota Genuine Accessories team.
The prettiest of the bunch, though, is the 3000GT concept that harkens back to the special  Japan-only 1994 Supra TRD 3000GT, which had a body kit honoring the Supra's success in Japanese grand touring car racing. This modern version appropriates the iconic four-vent hood of the original, with more vents and a wing inspired by the rad 90s body kit. It also adds a gorgeous brushed silver and gold vinyl wrap, racing seats, Brembo brakes and TWS Motorsport 19-inch wheels.
Hyundai Veloster N Performance Concept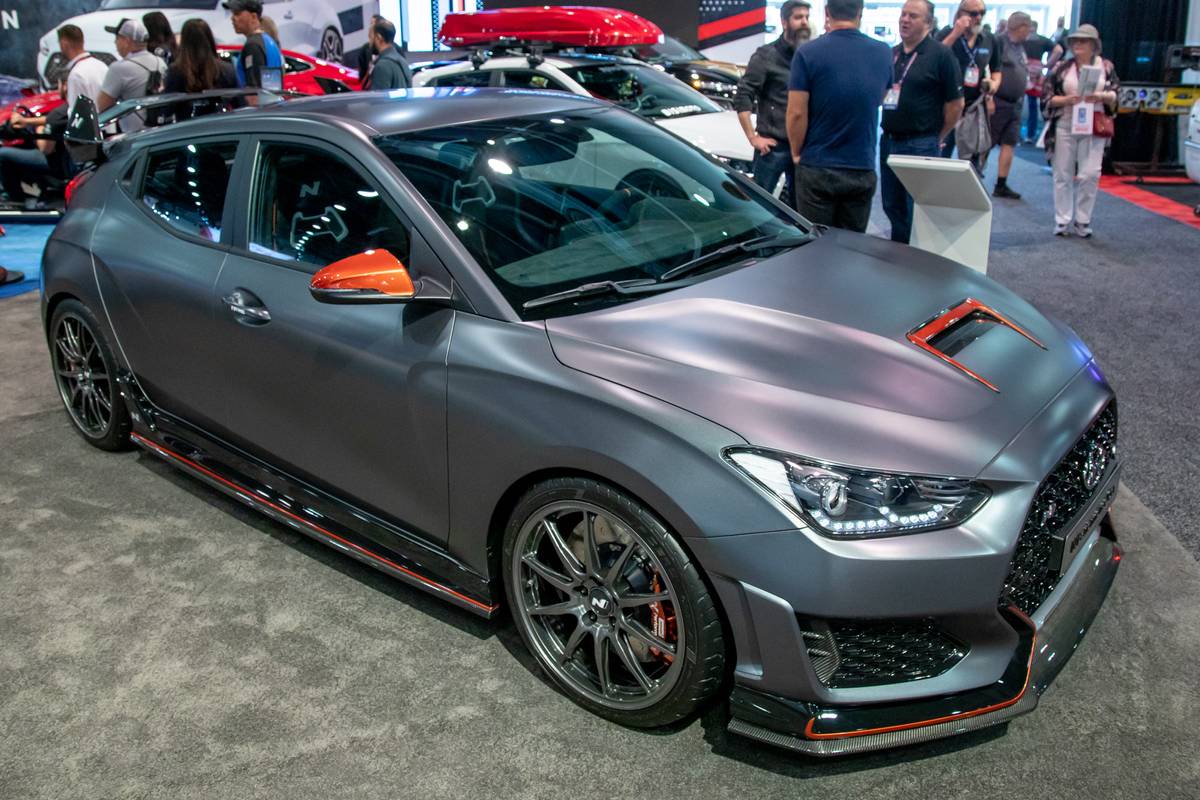 Hyundai's Veloster N hot hatch already is boatloads of fun. With the N Performance Concept, the South Korean automaker has turned up the fun far beyond 11. The car now has an aftermarket coil-over suspension, front and rear anti-roll bars, additional chassis bracing, big Alcon forged brakes, 19-inch OZ forged racing wheels and a ton of new aero bits including the hood and rear spoiler. Inside, custom sport seats hug occupants and most touch surfaces — including the shifter boot — have been covered in or replaced by Alcantara simulated suede.
Nissan Frontier Desert Runner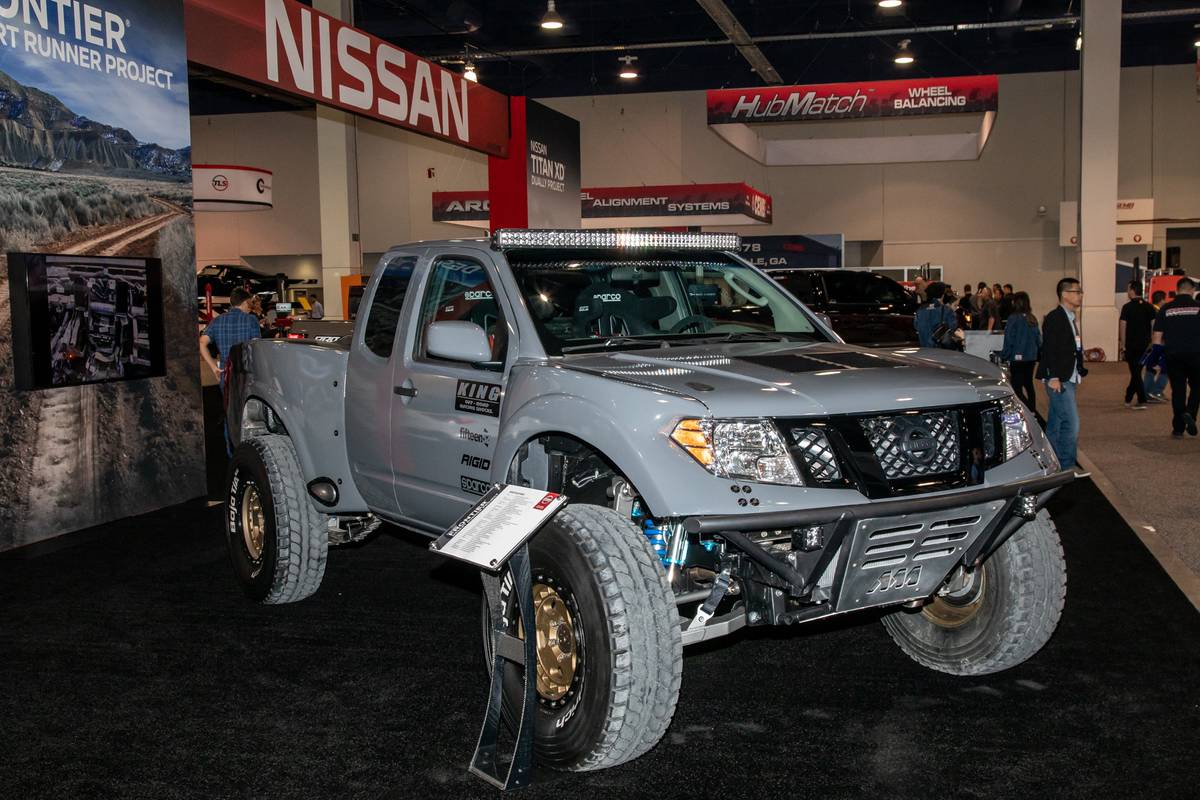 Nissan turned its aging Frontier pickup into a crazy desert-running race truck for the SEMA Show. It swapped the Frontier's 4.0-liter V-6 for a turbocharged, race-ready version of the larger Titan pickup's 5.6-liter V-8 and paired it with a custom six-speed manual transmission. Nissan also added custom fenders along with custom front and rear bumpers and a custom spare tire carrier, gave it 37-inch BFGoodrich Baja T/A tires wrapped around Fifteen52 wheels,  added a long-travel front suspension, fitted it with King Racing Triple Bypass shocks front and rear, and stripped the interior to race-spec with a coated floor, Sparco racing seats, harnesses and a quick-release steering wheel. This thing would dominate the desert … or even the terrible pavement of Chicago (hint hint, Nissan).
Ram 1500 Rebel OTG Concept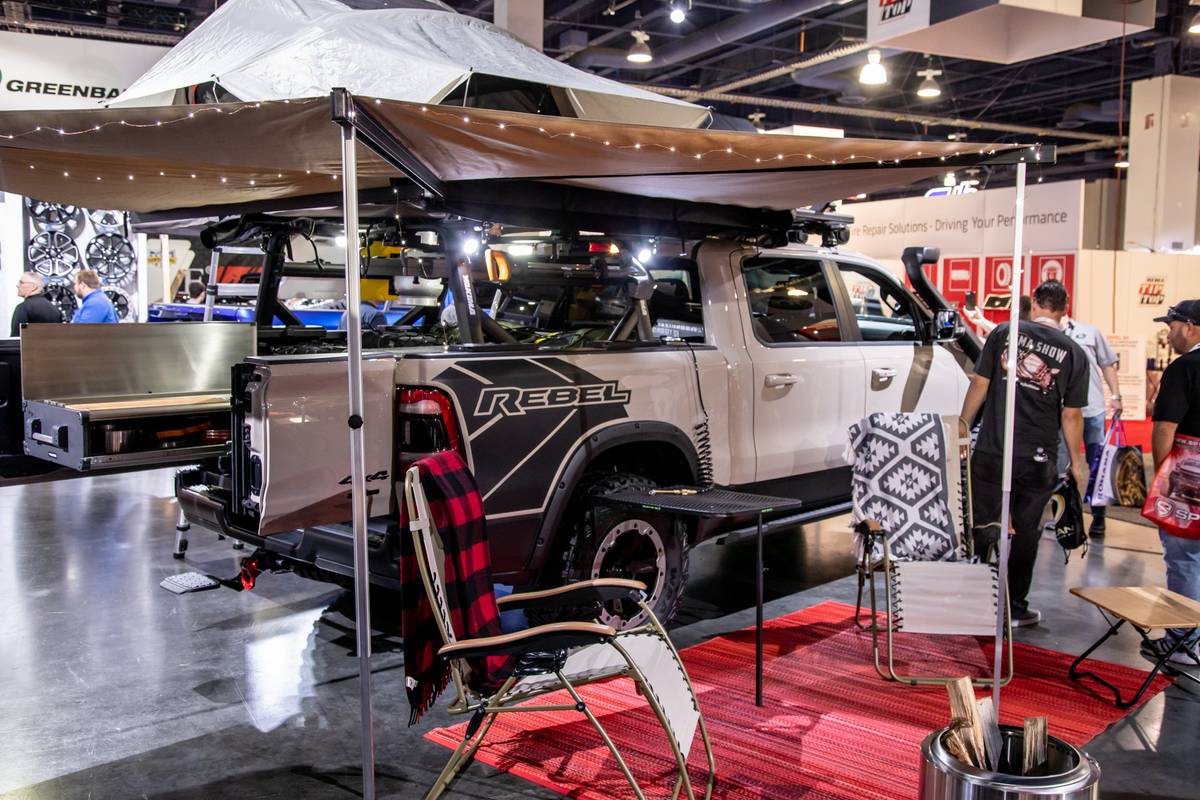 OTG stands for "off the grid," and this pickup is prepared to take you there for a long time. Starting with an EcoDiesel-powered 2020 Ram 1500 Rebel as a canvas, the masters at Mopar lifted the Rebel 2 inches and added 35-inch tires with beadlock wheels. Then they added custom accessories such as a front bumper with an integrated winch, a snorkel air intake and a bed rack with a collapsible rooftop tent and stowable ladder. They decked out the bed itself with a battery-powered cooler, gas-powered stove and sink with onboard water storage. Solar panels and a backup power supply will help increase your stay in the wilderness.
Mopar Lowliner Concept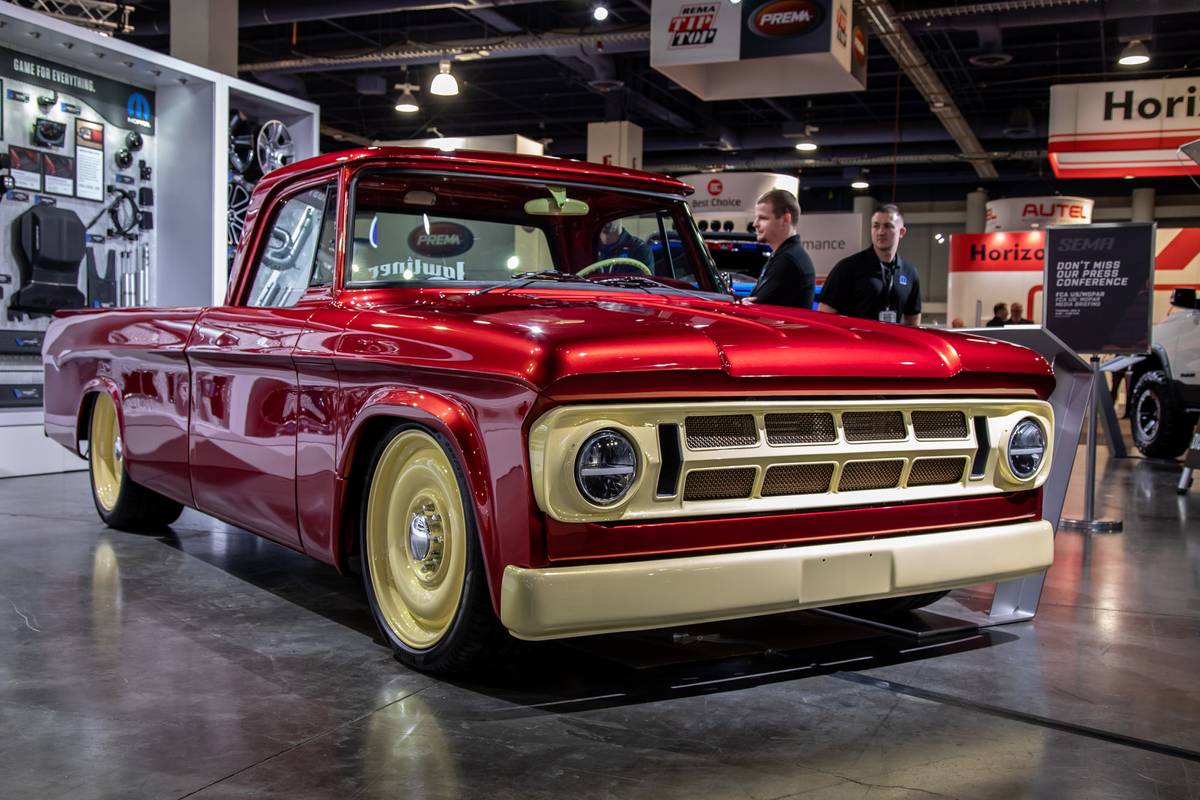 Where the previous two pickups were designed to go off-road, the Lowliner Concept from Mopar is strictly for the pavement. Starting with a 1968 Dodge D200 heavy-duty pickup, designers lowered the ride height significantly and also lengthened the wheelbase. The Lowliner rides on 22-inch wheels customized to look like the steel wheels of the late 1960s, but modern touches include LED headlights. Under the hood — the custom powered forward-tilt hood — sits a 5.9-liter Cummins diesel engine that is paired with a six-speed manual transmission with a floor-mounted shifter. The final touch of perfection is the Lowliner's beautiful Candied Delmonico Red and Dairy Cream paint scheme.
Chevrolet E-10 Concept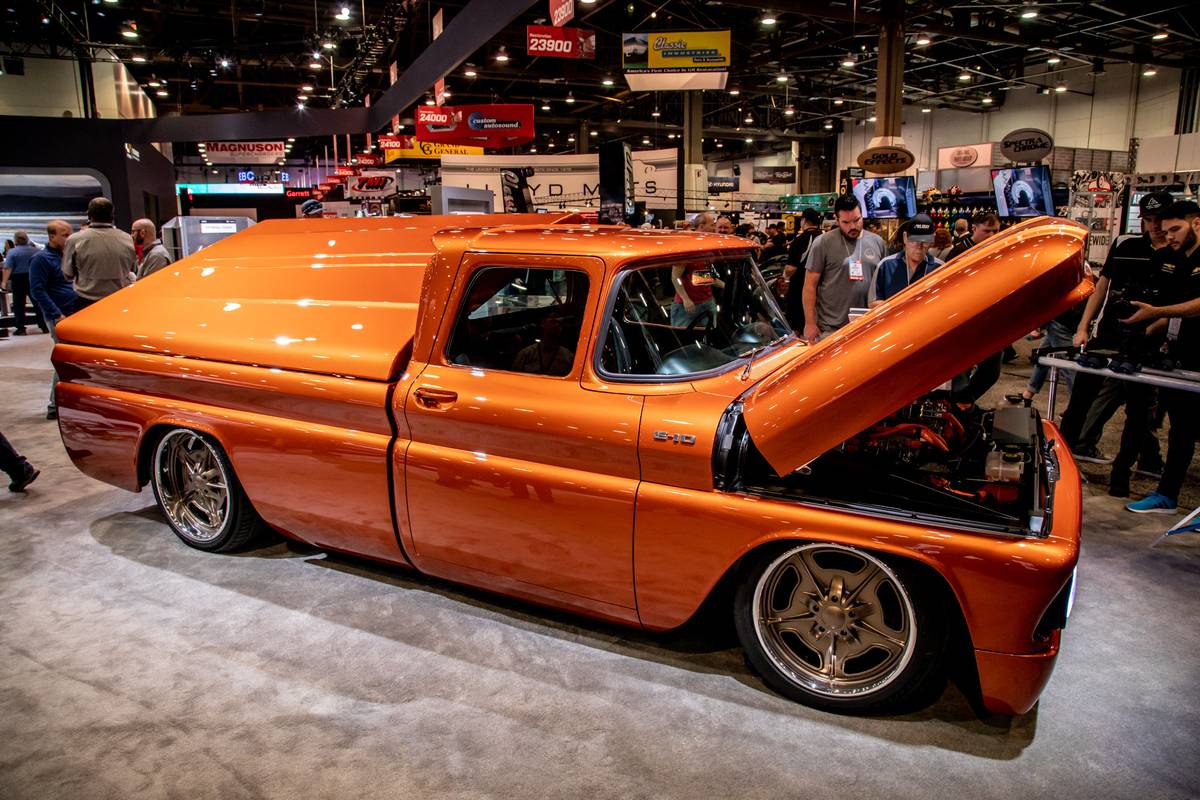 Another old-school truck from an American manufacturer is the Chevrolet E-10 pickup that started its life as a 1962 C-10 pickup. But where Ram and Mopar went with tradition under the hood, Chevrolet looked to the future: The E-10 is powered by an electric crate motor from Chevrolet and two sets of batteries borrowed from the Bolt EV that hide in the bed. Chevrolet estimates the electric motor produces 450 hp and says the truck should run from 0-60 mph in about 5 seconds, with a quarter-mile time of roughly 13 seconds.
Ford Mustang Lithium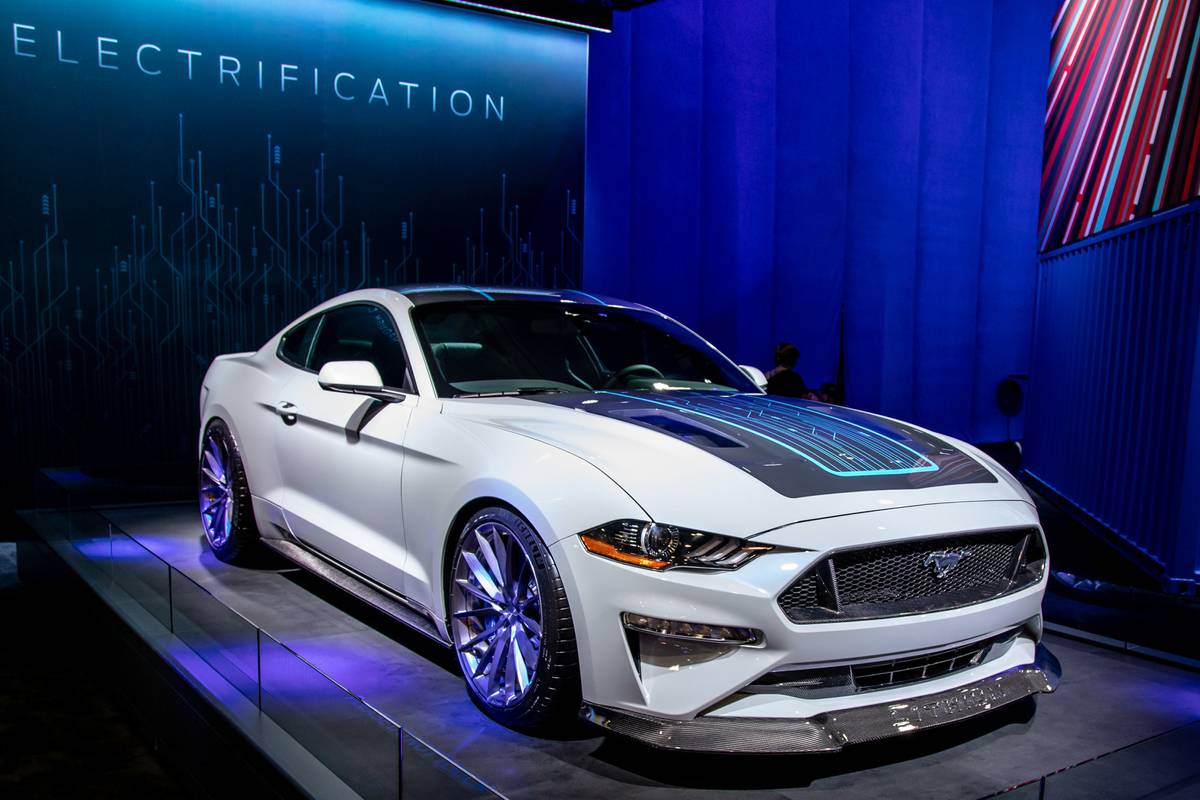 Ford also got in on the electric engine-swap act, but it used a modern car to showcase the power potential of electric motors. The Mustang Lithium is a joint venture between Ford and Webasto that uses a Phi-Power electric motor and an 800-volt Webasto battery system to produce more than 900 hp and more than 1,000 pounds-feet of torque. In a twist, the motor is paired to a custom Getrag six-speed manual transmission capable of withstanding all that torque. Other special features include the Mustang Track Handling Pack and Brembo front brakes from the Shelby GT350R. The Mustang Lithium's driving mode choices: Valet, Sport, Track and Beast.
Jay Leno's 1968 Ford Bronco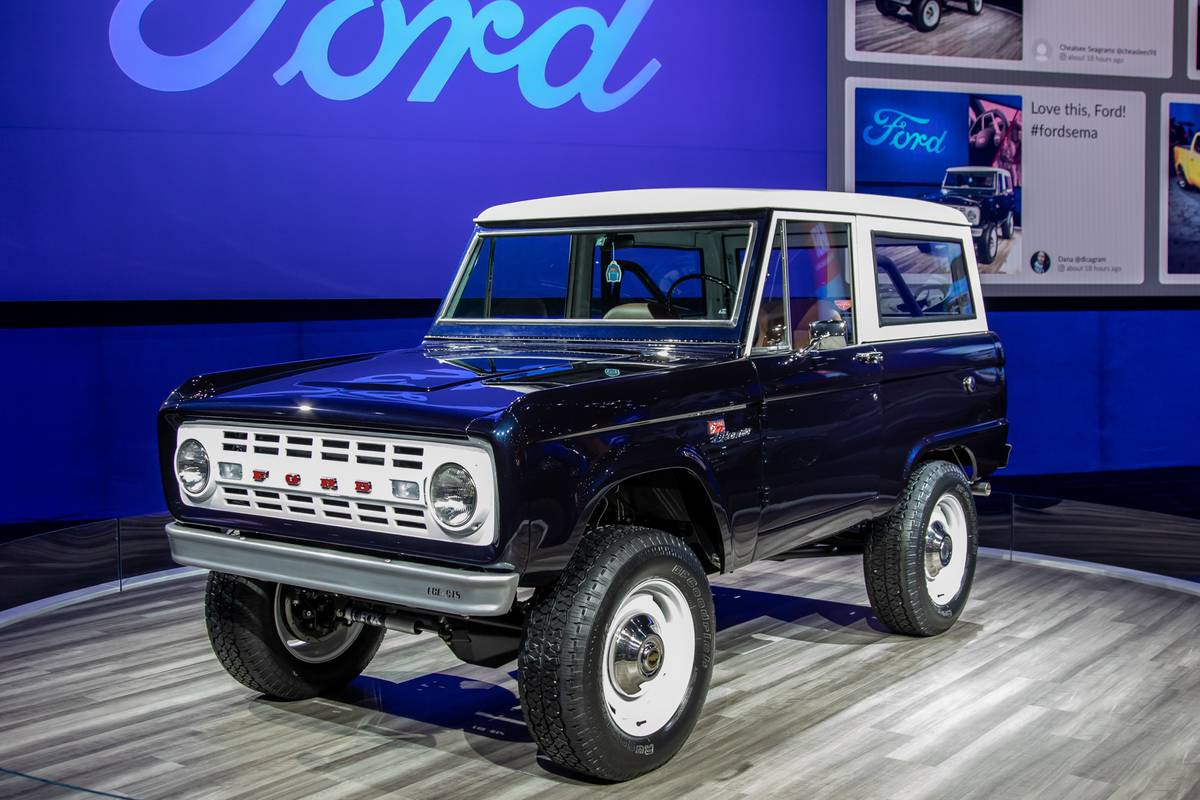 Hiding under the hood of this pristinely restored first-generation Bronco is a monster: the supercharged 5.2-liter V-8 from the new Mustang Shelby GT500. That gives this off-roader some serious sleeper status, especially with the rest of its modifications. Those include a Tremec five-speed manual, Fox racing shocks, Borla mufflers and Vibrant Performance exhaust components. Painted in a custom "Tonight Blue" from PPG paint, this Bronco is just delightful. Ford should make this the new Bronco.
More From Cars.com:
Cars.com's Editorial department is your source for automotive news and reviews. In line with Cars.com's long-standing ethics policy, editors and reviewers don't accept gifts or free trips from automakers. The Editorial department is independent of Cars.com's advertising, sales and sponsored content departments.