Dodge, Kia Are Most Reliable Car Brands in First 90 Days, While Tesla Perturbs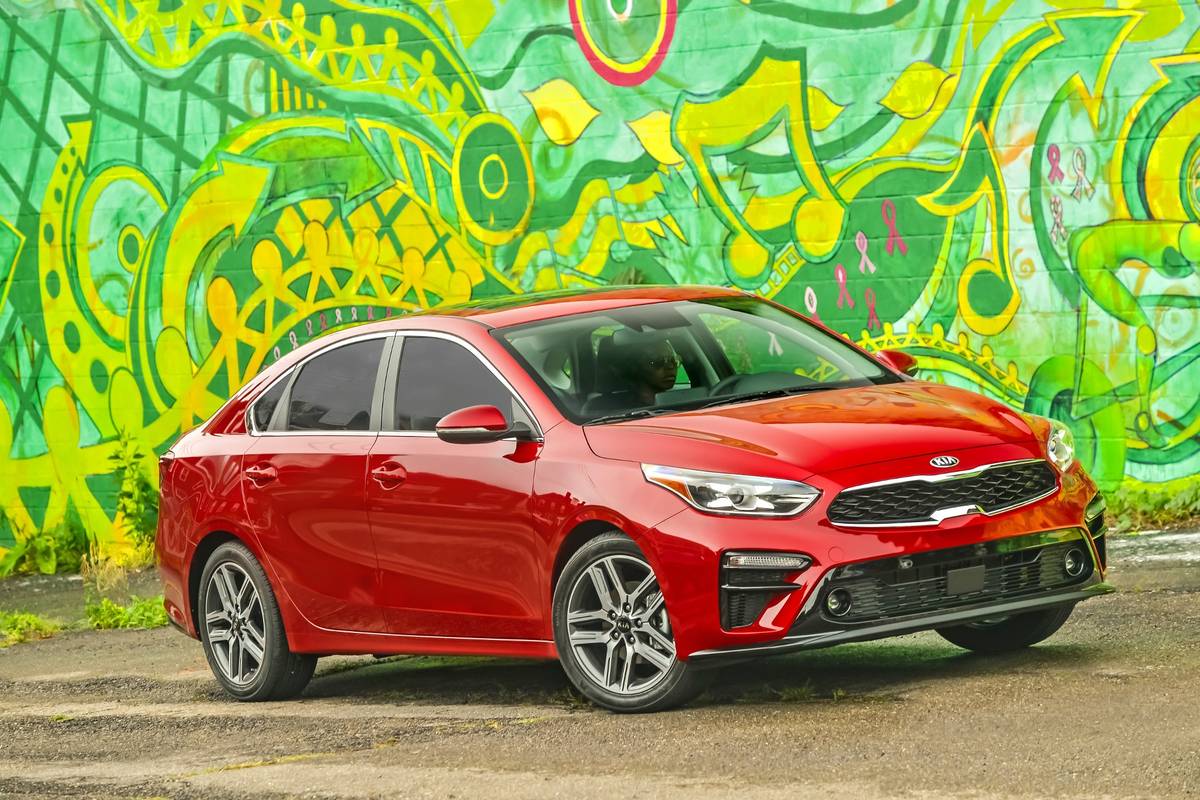 Dodge and Kia make the most problem-free vehicles for the 2020 model year, according to an influential J.D. Power study measuring the problems new-car owners experience in the first 90 days after purchase. Audi and Land Rover bring up the rear, while Tesla, which the study hadn't previously charted for lack of data, registers far more initial-quality problems than any other brand.
Related: What Are the Most Reliable Cars for 2020? (Hint: Genesis, Lexus Make 'Em)
J.D. Power's Initial Quality Study didn't include the California automaker among the 31 brands ranked for 2020 because it didn't meet the firm's ratings criteria, but Tesla landed at 250 problems per 100 vehicles, or PP100 — a reference to J.D. Power's longstanding metric for quality mishaps, whether from abject failures or design-related issues that owners simply disliked.
Tesla's 250 PP100 far outpaced the industry's 166 PP100 average for the 2020 model year. By contrast, Dodge and Kia had 136 PP100 apiece; even bottom finishers Audi and Land Rover came in at 225 and 228 PP100, respectively. Redesigned methodology for the 2020 study means such metrics don't compare directly to J.D. Power's 2019 IQS, when PP100 rates were far lower. That's because the 2020 study has additional questions that allow owners to cite more problems, according to the firm.
Here's the ranking of all brands examined in J.D. Power's 2020 Initial Quality Study, followed by their PP100 score:
Dodge: 136
Kia: 136
Chevrolet: 141
Ram: 141
Genesis: 142
Mitsubishi: 148
Buick: 150
GMC: 151
Volkswagen: 152
Hyundai: 153
Jeep: 155
Lexus: 159
Nissan: 161
Cadillac: 162
Infiniti: 173
Ford: 174
Mini: 174
BMW: 176
Honda: 177
Toyota: 177
Lincoln: 182
Mazda: 184
Acura: 185
Porsche: 186
Subaru: 187
Chrysler: 189
Jaguar: 190
Mercedes-Benz: 202
Volvo: 210
Audi: 225
Land Rover: 228
Tesla (not officially ranked): 250
No Participation, No Problem
Tesla remains the sole major automaker that doesn't grant permission for J.D. Power to survey its owners. Fifteen states bar such surveys without explicit permission, the firm said, leaving historically insufficient data to rate the automaker's cars. No longer.
"We did survey their customers in the other 35 states, and we had over 1,200 responses from them, and from this data, we were able to predict a national score," said Dave Sargent, J.D. Power's vice president of automotive quality, in a conference call with reporters today. Surveyed Tesla owners reported significant quality problems around vehicle manufacturing issues, particularly with the exterior.
"It's not because they build EVs — there are relatively few problems with the battery or with the motor itself. It's largely around doors and paint and panels," Sargent said. "Right now, they have some challenges on the quality front."
Asked to comment, a Tesla spokesperson did not immediately respond to Cars.com.
Detroit, Korean Automakers Shine
Noting "best-ever performance" from Detroit automakers versus their foreign-based counterparts, J.D. Power cited above-average performance from Dodge, Chevrolet and Ram (both the latter at 141 PP100), as well as Buick (150), GMC (151), Jeep (155) and Cadillac (162). Affiliated Korean automakers Hyundai and Kia fared well, too, with Kia tying Dodge atop the study and Hyundai's 153 PP100 ranking the brand in the top third. J.D. Power rated Hyundai's luxury brand, Genesis, at 142 PP100 — top among luxury brands and ahead of Lexus (159 PP100) and Cadillac.
All other luxury brands ranked below industry average, as did most brands from automakers based in Japan or Europe. Among major Japanese brands, Nissan ranked just above average; Honda, Toyota, Subaru and Mazda ranked below it. Among major European brands, only Volkswagen exceeded the industry average. Audi, BMW and Mercedes-Benz were among the below-average brands, in some cases considerably.
"Mass-market brands have caught up with the premium brands in terms of just the fundamental build quality," Sargent said. "At the same time, the mass-market technology tends to be more intuitive for customers to understand. Premium brands can sometimes over-elaborate on the technology."
Cars With Fewest Problems
The study, now in its fifth generation, draws from owner surveys for nearly 90,000 purchasers and lessees of new model-year 2020 vehicles after 90 days of ownership. Don't confuse it with J.D. Power's Vehicle Dependability Study, which looks at vehicle reliability after the first three years of ownership. Both studies tabulate reliability failures, but also — if less so for VDS — aspects that owners simply dislike, such as an unintuitive multimedia system or hard-to-reach button. J.D. Power has defended the practice in the past on the grounds that such defects actually drive more dissatisfaction than things that simply break.
Sargent reiterated that today, calling unintuitive features the "biggest area" of IQS problems.
"The difficult-to-use problems are by far and away the most prevalent in the study — this has been true for some time now, [but] it's becoming more and more the case, and in the customer's mind, these things are just as critical as things breaking or not working," he said. Such problems "can't be solved by the dealership, so the customer's stuck with this for the rest of the ownership of the vehicle."
Types of problem notwithstanding, the Chevrolet Sonic ranked as the car with the fewest hiccups in the first 90 days, leading not just its class but all cars. Here are J.D. Power's segment-specific awards:
Small Car: Chevrolet Sonic
Small Premium Car: Audi A3
Compact Car: Kia Forte
Compact Premium Car: Genesis G70
Compact Sporty Car: Hyundai Veloster, Mini Cooper (tie)
Mid-Size Car: Chevrolet Malibu
Mid-Size Premium Car: Cadillac CT5
Mid-Size Sporty Car: Ford Mustang
Upper Mid-Size Premium Car: Cadillac CT6
Large Car: Nissan Maxima
Large Premium Car: BMW 8 Series
Small SUV: Kia Soul
Small Premium SUV: Jaguar E-Pace
Compact SUV: Hyundai Tucson
Compact Premium SUV: Cadillac XT4
Mid-Size SUV: Nissan Murano
Upper Mid-Size SUV: Kia Sorento
Upper Mid-Size Premium SUV: BMW X6
Large SUV: Nissan Armada
Large Premium SUV: Cadillac Escalade
Minivan: Kia Sedona
Mid-Size Pickup: Ford Ranger
Large Light-Duty Pickup: Toyota Tundra
Large Heavy-Duty Pickup: Ford Super Duty F-Series
Apple CarPlay Usage Higher Than Android Auto
The 2020 survey asked owners specifically about Apple CarPlay and Android Auto. Thirty-seven percent of respondents said they use CarPlay, versus just 18% who use Android Auto, and results within those cohorts differed. Nearly two-thirds of Apple users said they use the system at least half the time they're in the car, versus just over half of Android users. Curiously, 5% of Apple users and 11% of Android users said they've stopped using Apple CarPlay or Android Auto in their vehicles.
Amid that backdrop, drivers who use Apple CarPlay reported 45.1 PP100 in J.D. Power's Infotainment category, while those who use Android Auto reported 50.5 PP100 in the category. Drivers who don't use either system, meanwhile, reported just under 30 PP100.
"This doesn't necessarily mean that these Apple CarPlay and Android Auto [systems] are causing the problems," Sargent cautioned. "It may be that people are using CarPlay and Android Auto to offset problems that they're already experiencing with the [automakers'] native systems."
He went on to note that "almost everybody who uses these systems wants them again on their next vehicle, so I think it's largely been a success, but they don't solve all of the infotainment problems that customers are reporting."
More From Cars.com:
Shocker: Drivers Like Physical Controls
Some problems may stem from automakers relegating major controls to touchscreen menus or touch-sensitive panels. We frequently harp on that decision, and it seems owners agree.
"In general, consumers prefer physical buttons, particularly for controls they use all the time, the most obvious being the audio system on-off and volume control, and the climate control features," Sargent said. "Automakers who have those features at least available as hard buttons — they may also be in the touchscreen — but if they have them as hard buttons, they will typically have fewer reported problems."
The same goes for excessive touchscreen applications.
"We've seen some automakers who went very much toward putting everything on the touchscreen who are now moving back to having some more simple controls," Sargent said. "It's kind of, I think, a lesson learned by the industry. Some things work well in a touchscreen. Other things, consumers really want to just be able to reach over and turn a knob and do it in a much more simple fashion."
Cars.com's Editorial department is your source for automotive news and reviews. In line with Cars.com's long-standing ethics policy, editors and reviewers don't accept gifts or free trips from automakers. The Editorial department is independent of Cars.com's advertising, sales and sponsored content departments.