Is the 2018 VW Atlas' Fender Stereo Worth the Cost?
Is the Fender premium stereo in Cars.com's Best of 2018 award-winning Volkswagen Atlas worth $5,800? After comparing this 12-speaker system in an Atlas SEL Premium with the eight-speaker system in our Atlas SEL, we can say, of course not. We pose the question this way because it isn't an optional feature that you can tack onto the Atlas of your choice; it comes standard only on the highest trim level, the SEL Premium, which itself is sold only with Volkswagen's V-6 engine and all-wheel drive for a grand total of $49,665 with destination fee. This is $5,800 more than the non-Premium Atlas SEL V6 AWD and includes many other standard features.
Related: Photo Gallery: VW Atlas Cross Sport Concept Stresses Style Over Seating
Get 2018 Volkswagen Atlas DetailsFind a 2018 Volkswagen Atlas Near You
Atlas SEL Eight-Speaker Audio
Donning my sound-off-judge hat, I tested the stereos with music CDs in stationary Atlases with their engines idling — to prevent factors like crappy audio-file encoding, digital streaming or inadequate power from coloring the test. I also had the panoramic moonroof sunshades open — not by choice, but because our Atlas was delivered with it broken in January and we're still waiting for replacement parts for the warranty repair. The playing field was equal, if a bit harder and more reflective overhead than I would've preferred.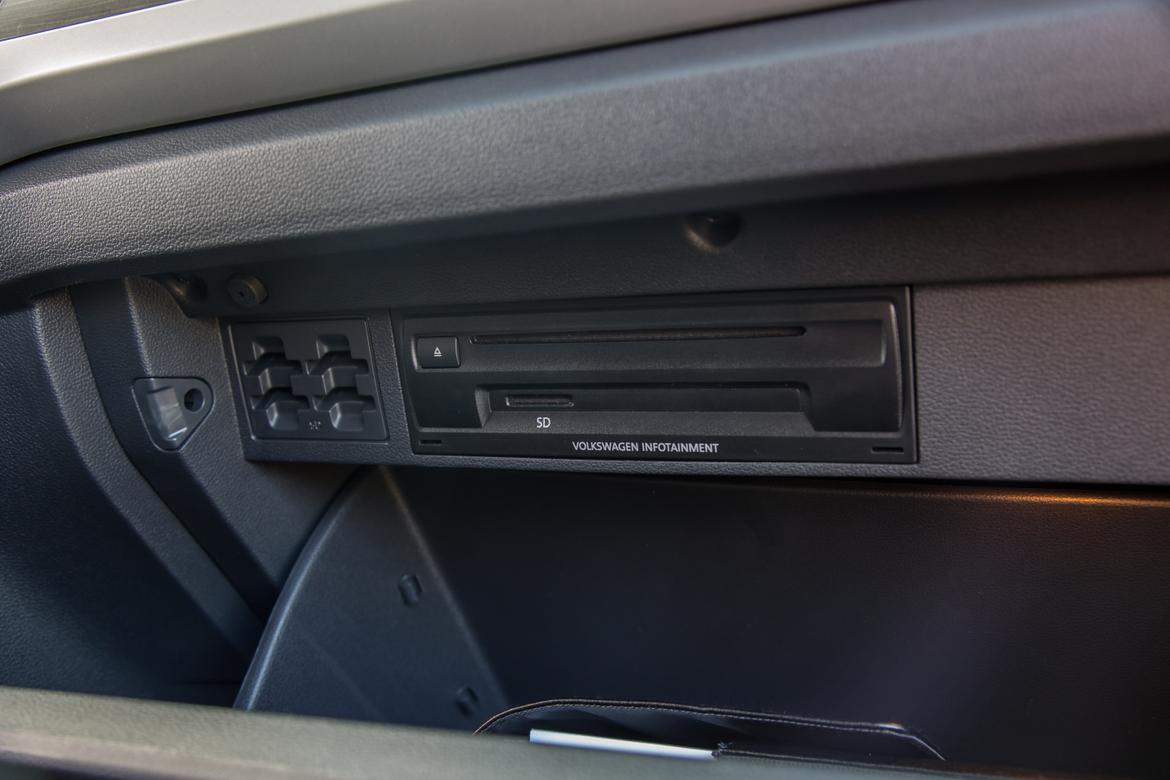 What hit me immediately is that the SEL eight-speaker system cries out for something the original Passat Fender stereo succeeded without: a center-channel speaker. There's nothing wrong with using a center speaker in the confines of a car; it's become common practice. What you never want from an audio system is to hear speakers. You want to hear sound, but the speakers shouldn't call attention to themselves; in the Atlas SEL, I heard the driver's door and the front passenger door, with a conspicuous chasm in between. In better-executed stereos, even if it's just two speakers in your home, you perceive what's called a soundstage, with various instruments and vocals distributed in front of you (providing the music is appropriately recorded and mixed). This dimensionality is known as the audio system's spatial rendition.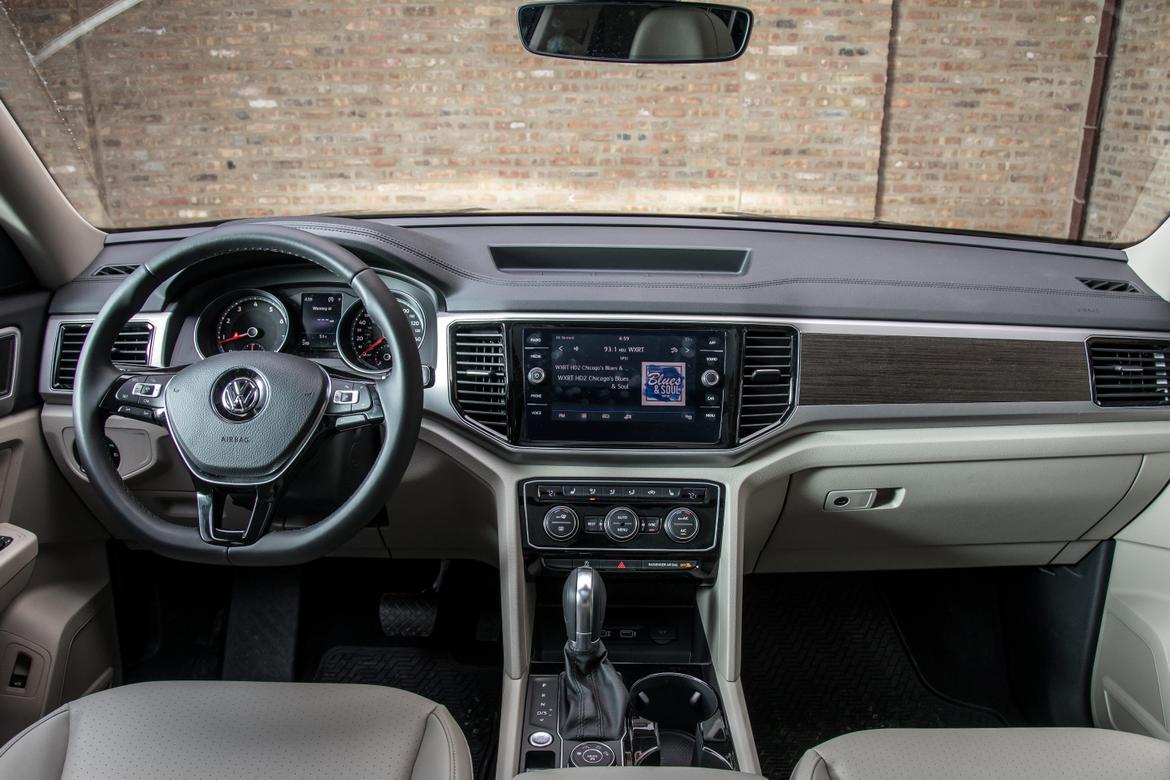 To be perfectly clear, spatial rendition isn't the most important aspect of an audio system's performance, and some people don't notice it at all (though you might start to now). I mention it because it is unquestionably the Atlas eight-speaker system's greatest failing.
Otherwise, this stereo does an admirable job of what listeners tend to care more about. It has a reasonably wide frequency range from high treble to low bass. Deeper bass would be nice, but that's a challenge in any car for reasons I'll explain shortly. What this stereo manages not to do is fall into the all-too-common trap of overboosting the upper- or mid-bass frequencies to trick less astute customers into thinking it has "a lot of bass," a meaningless observation. This type of boomy one-note-bass tuning ultimately masks the music and proves fatiguing.
But there's no question the lack of bass extension contributes to weak dynamics. Drum beats have modest impact. My notes, associated with lots of different music tracks, are riddled with comments like "again, dynamics lacking."
Overall the eight-speaker system has decent clarity and plays reasonably loudly without excessive distortion. Female vocals were a little veiled, but as non-premium systems go, the detail is more than passable. It was obvious what a step-up system like the Fender needed ...
Atlas SEL Premium Fender 12-Speaker Audio
Though I always try to ignore specs and design features until I've experienced results, whether testing audio systems or whole vehicles, I couldn't help but notice a different dashboard with a center speaker in the SEL Premium.
Sure enough, this Volkswagen system presents a proper soundstage and doesn't call attention to its speakers. It's a vast improvement over the eight-speaker setup, but it isn't the best soundstage I've experienced. It was pretty narrow with most of my test material, seeming to extend from the steering wheel to the passenger's airbag pad.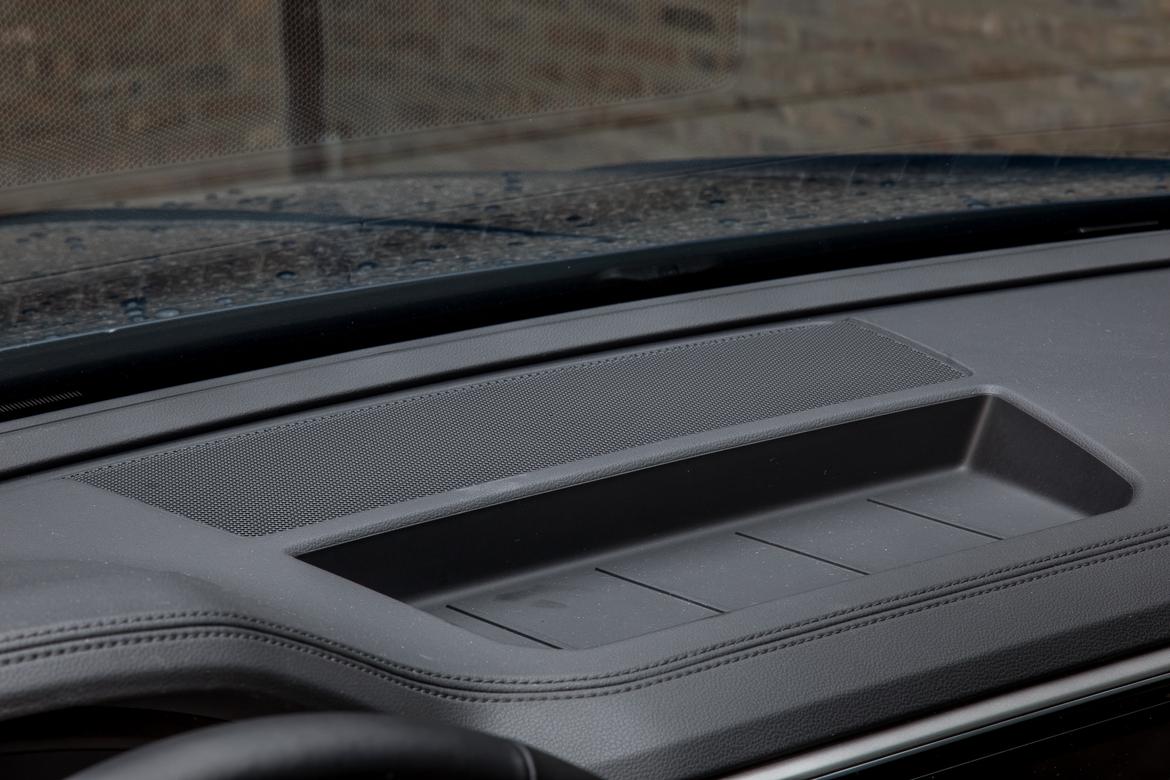 I found the center image to be biased a little toward the front passenger. The center image is the perceived source of sound from any instrument or vocal with equal level (equal volume, to use the colloquial term) on the left and right channels. Lead vocals are usually centered this way. The typical goal is for a car stereo's center image to be out over the center of the hood, which the driver will perceive as being somewhere between the steering wheel and the rearview mirror. With the Fender system, it was a little farther to the right, underneath the rearview mirror and relatively close. (A soundstage can exhibit height and depth as well, though this one is a bit shallow.)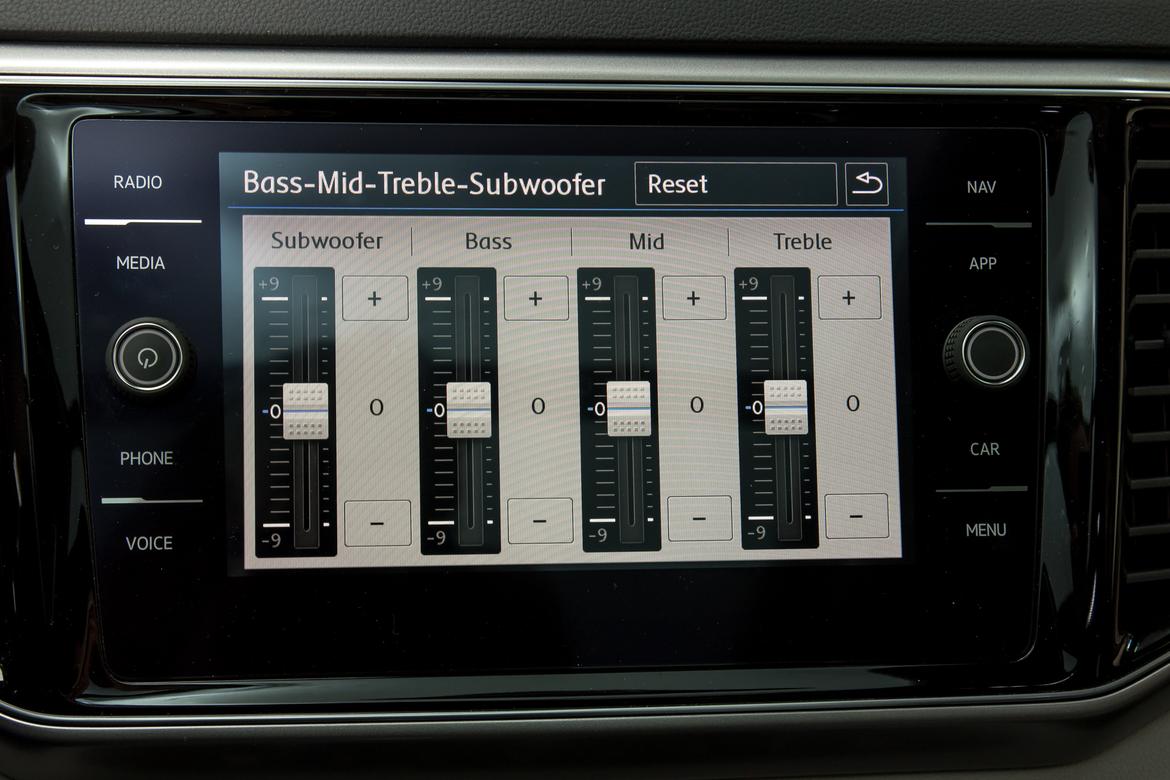 I was able to nudge the image to the left a bit using the balance adjustment, which helped somewhat but didn't yield stable results. By and large, I find that balance, fader and tone controls seldom fix fundamental flaws. Most stereos err on the side of overkill with their adjustments and gimmicks, with surround adjustments and settings for acoustic environments like concert hall, studio or Elvis' bathroom. Conversely, in the Atlas I found myself wishing for a little more control, perhaps over the center speaker level. The Atlas is relatively spare in this regard, offering only tone controls for bass, mid and treble, and the Fender system adds a level control for the additional subwoofer.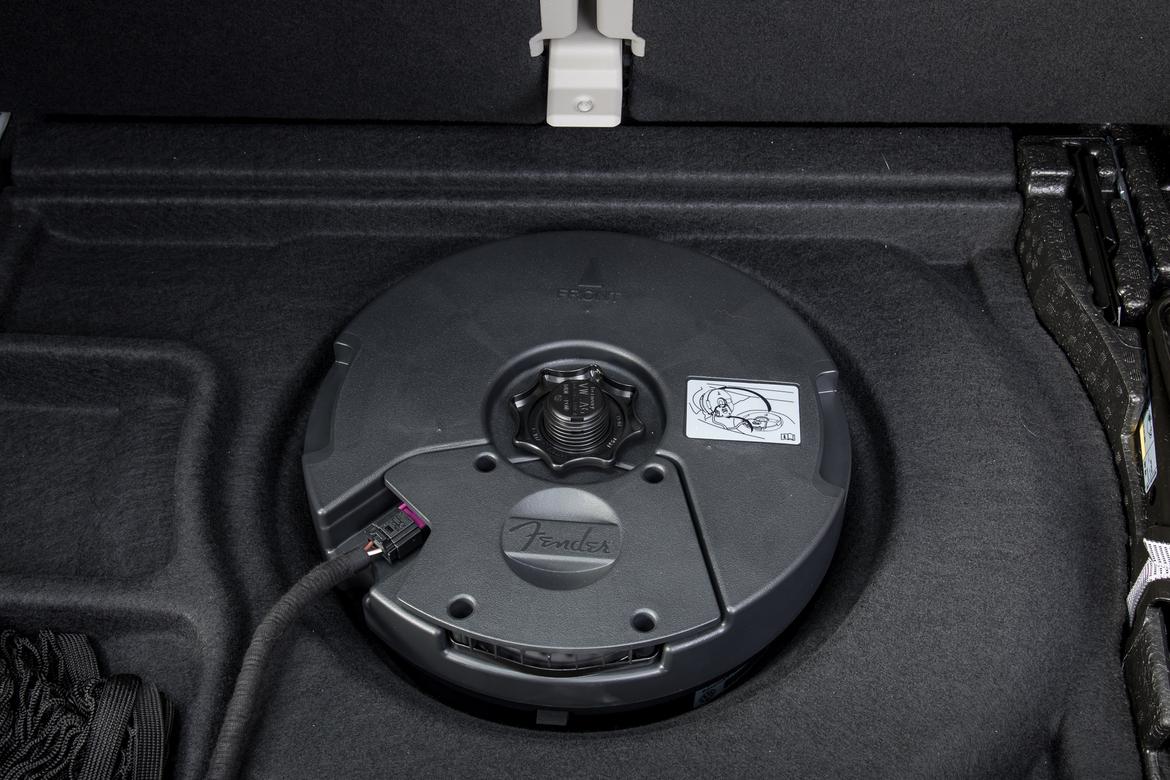 The subwoofer definitely improves on the eight-speaker system's deficits, delivering deeper bass and improving dynamics. Despite providing sub-bass frequencies that were absent in the SEL, the overall bass response is nicely controlled and natural. What this subwoofer isn't going to do is rock your world like the best stock and custom car stereos do, because it can't, no matter how high you turn the subwoofer level. It's no larger than the space carved out by a spare tire wheel, which is where it rests, out of sight under the cargo floor. To get the kind of visceral sub-bass that makes your bowels quiver, you need a larger woofer or woofers and a larger enclosure.
How Do We Get to 12 Speakers?
I've mostly addressed the addition of two speakers — one in the dashboard and one in the cargo area — but it sounds like the Fender system's other speakers are upgraded, as well. Detail is better and there's more clarity in female vocals. The front door speakers are large enough and produce low enough frequencies that the music stays put rather than migrating to the rear when a bass player strikes a few chords and energizes the subwoofer.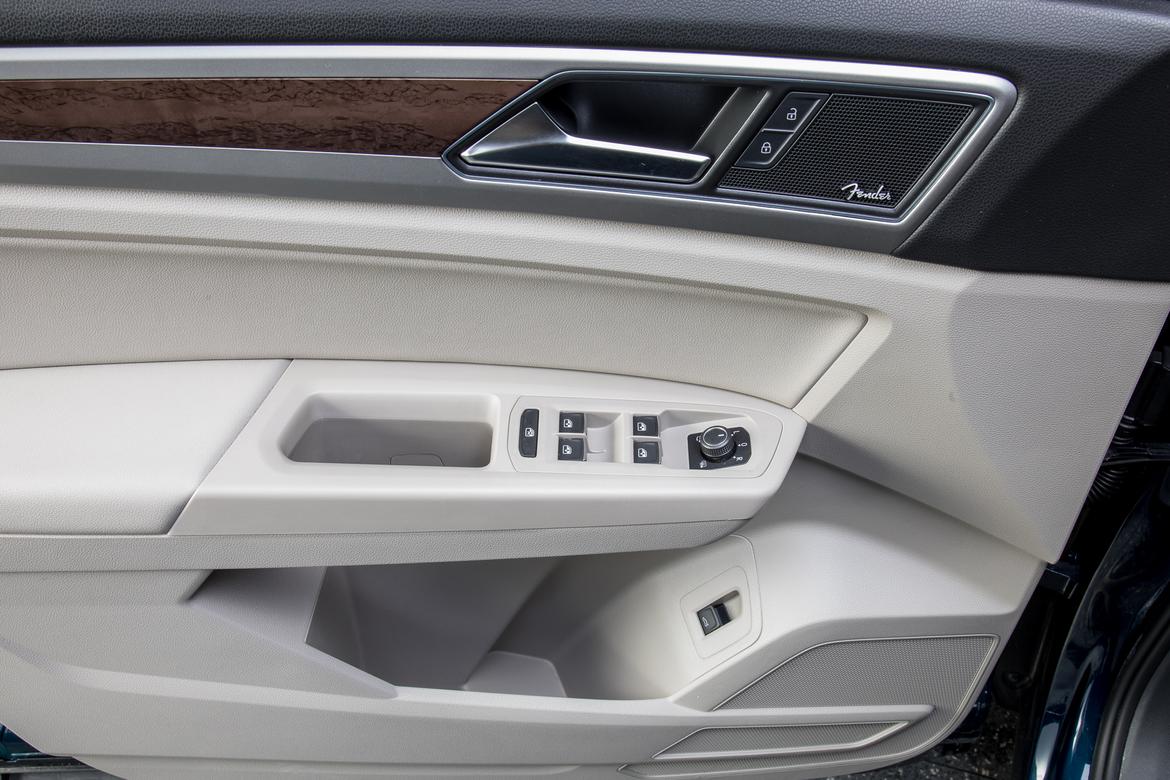 By my count, the two added speakers join a low woofer and high tweeter in each of the four doors, making 10. So how did we get from eight to 12? There's a tweeter above the shoulder belt in each D-pillar, just ahead of the liftgate; by contrast, for third-row passengers in the SEL, the closest speakers are in the doors one row ahead. If you're a stickler for spatial rendition, having non-surround speakers behind your head isn't going to thrill you, but there's no question the Fender system gives a wider range of frequencies than rearmost passengers usually get.
So Is It Worth It?
There's no way to answer the question because VW's SEL Premium and its $5,800 increase includes many features apart from the Fender upgrade: LED taillights, the Digital Cockpit instrument panel display, ambient lighting, leather upholstery, ventilated front seats, heated rear seats, built-in navigation and Car-Net Guide & Inform, which provides weather info, fuel prices, sports scores, movie times and more — with a subscription. You'd have to decide how much these other items are worth to you.
What I can say is that the more time I spent with Volkswagen's Fender system, the more I respected it. It's definitely not to the level of the best-executed premium systems typically found in luxury vehicles, such as the Volvo XC90's Bowers & Wilkins option, but neither does it cost as much no matter how you do the math. I'm more accepting of a simple system displaying the kind of honest limitations that come from missing elements, space-saving measures or lower cost than I am of elaborate, expensive systems that fail to deliver — and I've heard plenty of the latter costing thousands of dollars in vehicles more expensive than the Atlas, even in VW's SEL Premium form.
Cars.com's Editorial department is your source for automotive news and reviews. In line with Cars.com's long-standing ethics policy, editors and reviewers don't accept gifts or free trips from automakers. The Editorial department is independent of Cars.com's advertising, sales and sponsored content departments.