Like Kids and Candy, Families Will Eat Up These Sweet SUVs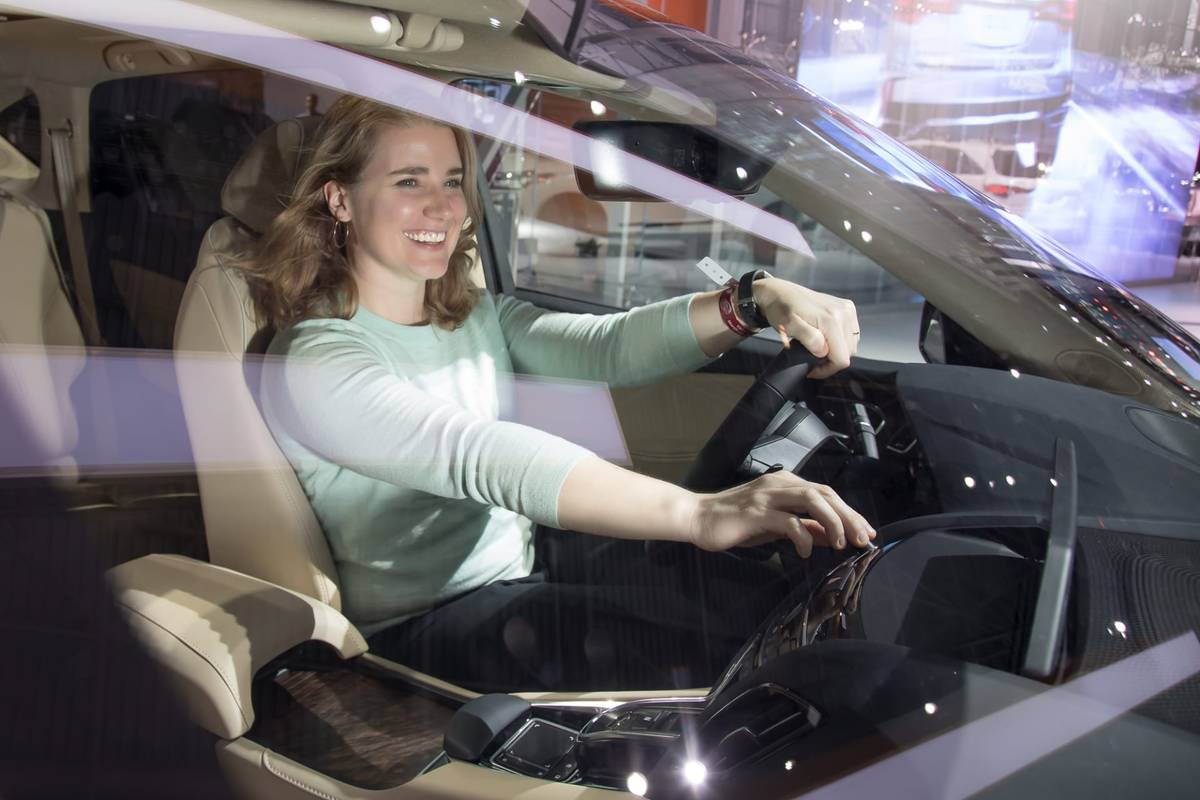 For me, an auto show is like being a kid in a candy store. The show floor is filled with gorgeous vehicles on displays that are designed to entice both automotive journalists and car shoppers. It also fills me with anticipation for the real-world arrival of some of the cars, SUVs and trucks that have been under the spotlight.
Related: More 2018 New York Auto Show Coverage
I recently attended the media preview for the 2018 New York International Auto Show, where candy-colored cars filled the exhibit space. And with more than 30 new or redesigned passenger vehicles at the New York auto show, it was (and can be) a little overwhelming trying to figure out which cars are worth keeping an eye on — especially if you're car shopping for your family.
Here are the standout family SUVs from the 2018 New York auto show that shoppers should be looking to drive in during the coming months.
2019 Acura RDX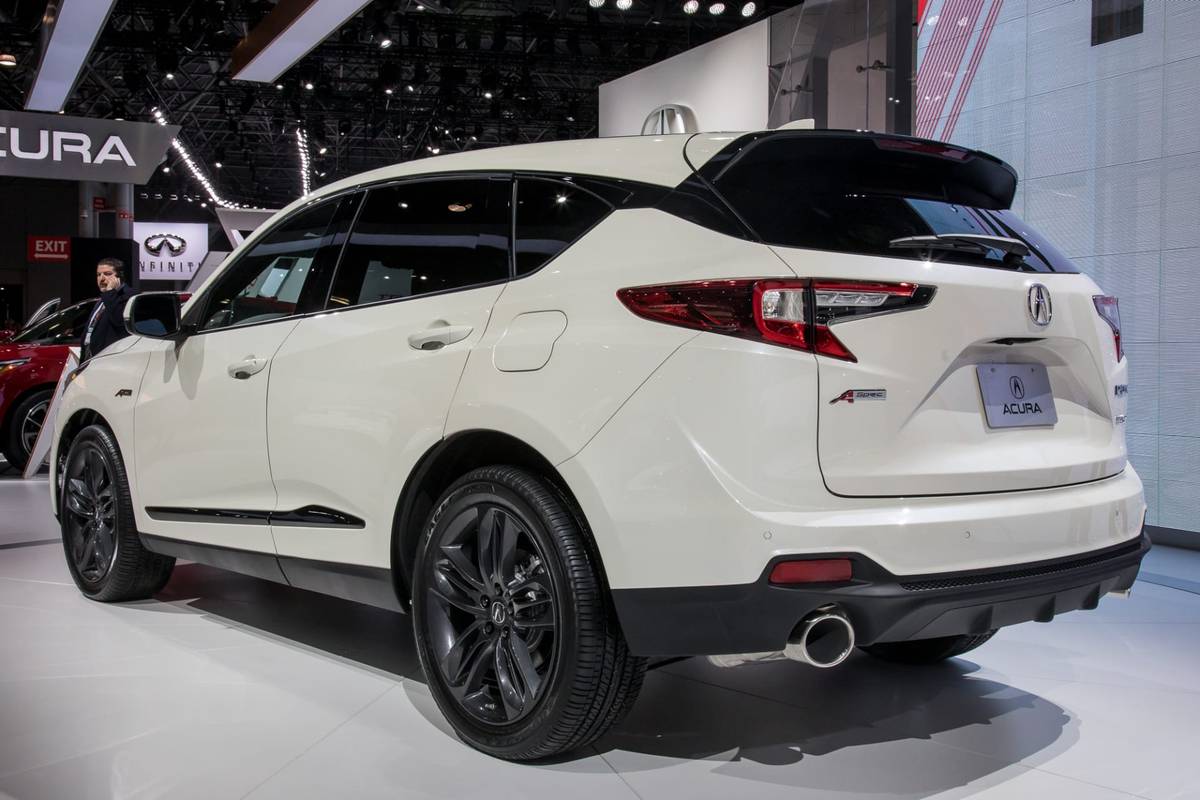 Acura is Honda's luxury division, but its past offerings have never seemed like a significant step up to warrant the additional cost. That's changed with the redesigned 2019 Acura RDX. This compact luxury SUV's got the goods and the looks to appeal to parents and children alike.
The RDX's grille stands out for its sunburst design with the Acura emblem in the center. Inside, Acura has managed to seamlessly integrate the push-button gearshift that's found in some Hondas and Acuras. The gearshift now sits in the center stack and doesn't look like an afterthought; to my eyes, it's the best use of this gearshift so far.
The 2019 Acura RDX added 3.4 cubic feet to the cargo area, bringing the total to 29.5 cubic feet. There's also a surprisingly large storage area found under the cargo floor, which is great for organizing the inevitable car clutter.
A final surprise is the RDX's optional Acura ELS Studio 3D audio system. It's a 16-channel system with four ceiling-mounted speakers that allows for true 5.1 surround sound; even Kidz Bop will sound amazing with this audio system.
Look for the redesigned RDX to arrive in mid-2018.
Lincoln Aviator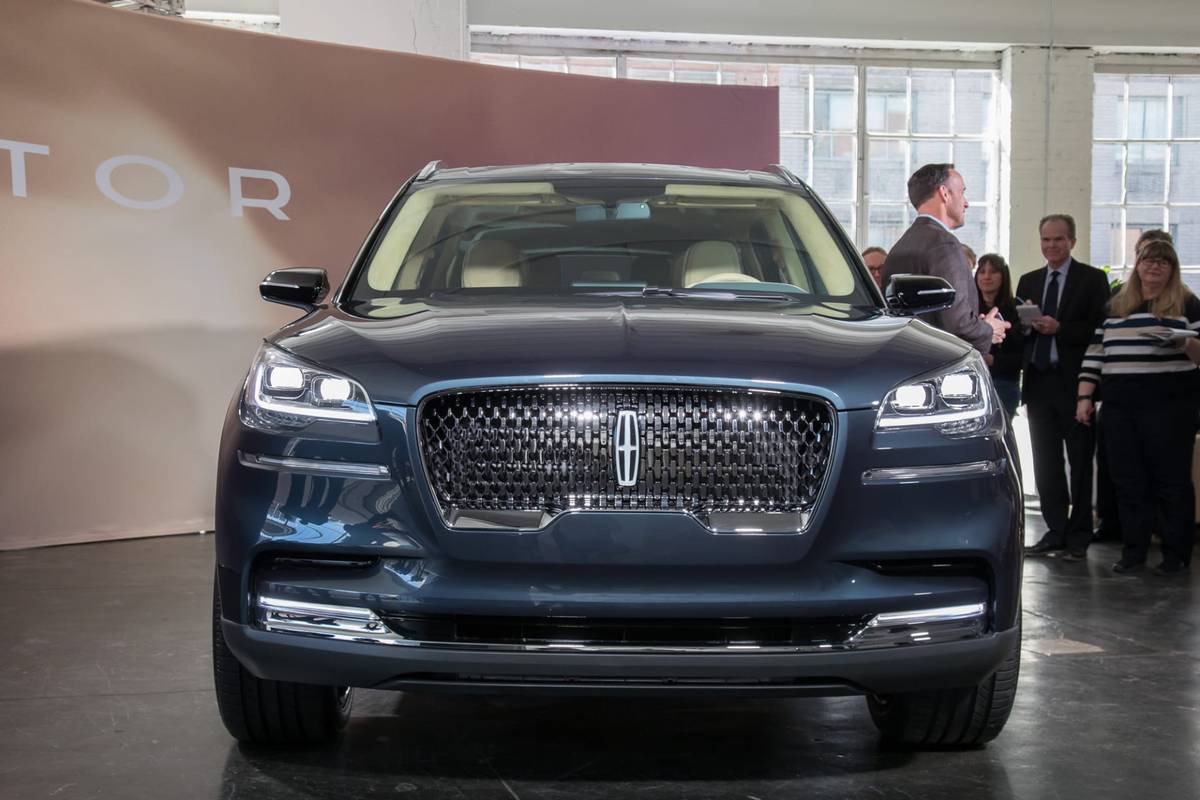 Hello, gorgeous. This three-row SUV wowed Cars.com's editors and earned the title of Best in Show. And why wouldn't it? The Lincoln Aviator has an elegant exterior, with an interior that follows suit.
Lincoln called the Aviator a "production preview," which means the automaker could tweak some of the details before it arrives in showrooms sometime in 2019. That's a long time to wait for a car, but after seeing the Aviator in person at the New York auto show, it's safe to say it'd be worth it.
So, what would you be waiting for? A three-row family SUV that Lincoln claims can fit a 6-foot-2 adult in the second row and still accommodate at 6-foot adult in the third row; Cars.com's editors will put that claim to the test when the Aviator comes into our offices for testing.
In the meantime, there's plenty to be excited about. There's the Phone as a Key feature that allows you to ditch the key fob and use a smartphone to start the SUV, unlock and lock it, and open the cargo liftgate. And Lincoln is promising that there will be a plug-in hybrid version of the Aviator in addition to the gas-powered version.
Living in Chicago, potholes — and efforts to avoid them — are a constant. In addition to a suite of safety technologies, the Lincoln Aviator will scan the road with its forward camera to detect road imperfections and potholes. When they're spotted, the Aviator will adjust the suspension to smooth the ride. How cool is that?
Needless to say, I'm looking forward to getting some seat time in this luxury SUV.
2019 Subaru Forester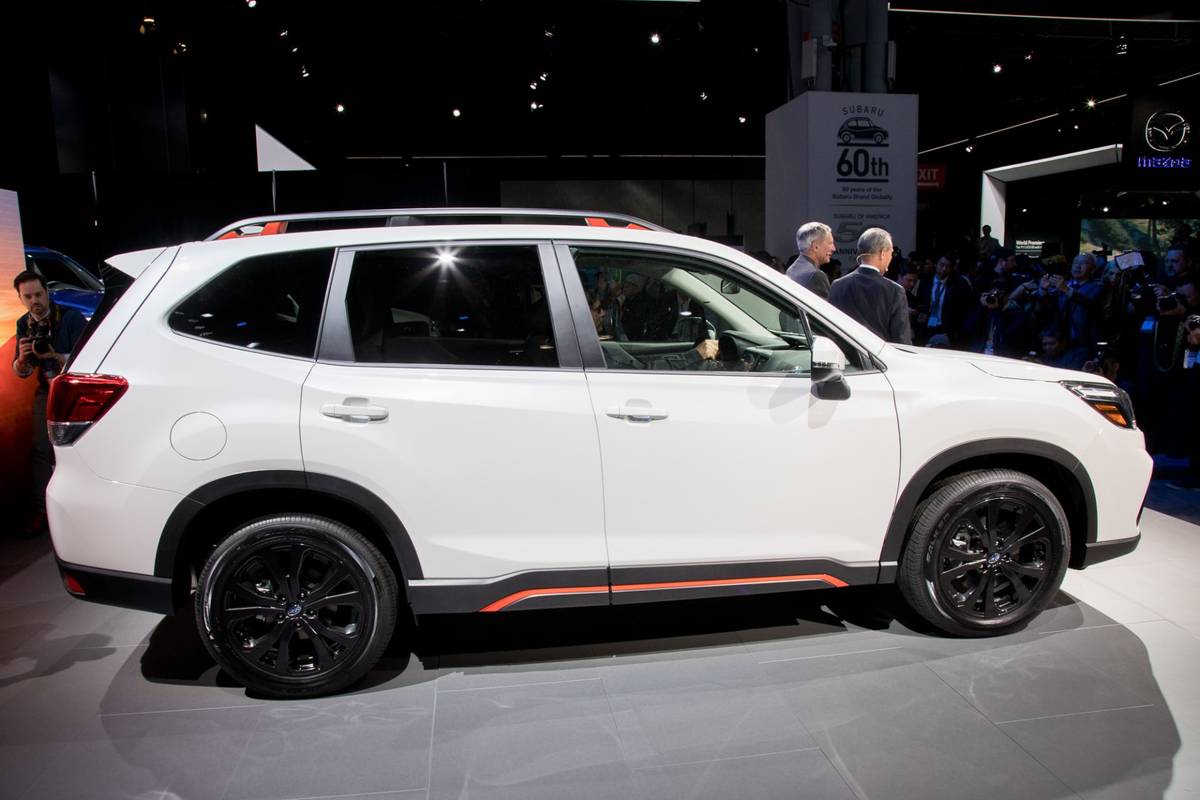 While it doesn't scream "redesign," the 2019 Subaru Forester boasts a new platform and more safety tech for the coming model year. Subaru added a little more style to its compact SUV, but not too much, as it doesn't want to turn off Subaru loyalists to its No. 2 seller. Congrats to Subaru for not screwing up what works on this compact SUV — at least looks-wise.
The 2019 Forester's new platform also is the underpinning for the Subaru Impreza, Crosstrek and all-new Ascent, a three-row SUV. This move to the new platform should mean a quieter ride for the Forester. And its standard all-wheel drive appeals to those of us who battle — ugh! — snow, sleet and ice on our roads each winter.
It also means that this Forester is slightly roomier than its predecessor. Rear-seat occupants will find an additional 1.4 inches of legroom for a cavernous 39.4 inches of total legroom. I tested the backseat legroom with a 6-foot-tall coworker; we found we both had plenty of legroom and would be comfortable riding in the backseat on long highway excursions. There's also more storage room, as well as additional shoulder and hip room in the 2019 Forester. That means more room for you and all your stuff — and who couldn't use that?
Subaru also announced at the New York auto show that all 2019 Forester trims will have its EyeSight safety technology. This includes a front collision system with automatic emergency braking, adaptive cruise control, lane departure warning, trailer sway warning and lane keep assist. Blind spot warning and rear cross-traffic alert with automatic braking are optional.
The Forester will hit dealerships later this year.
2019 Toyota RAV4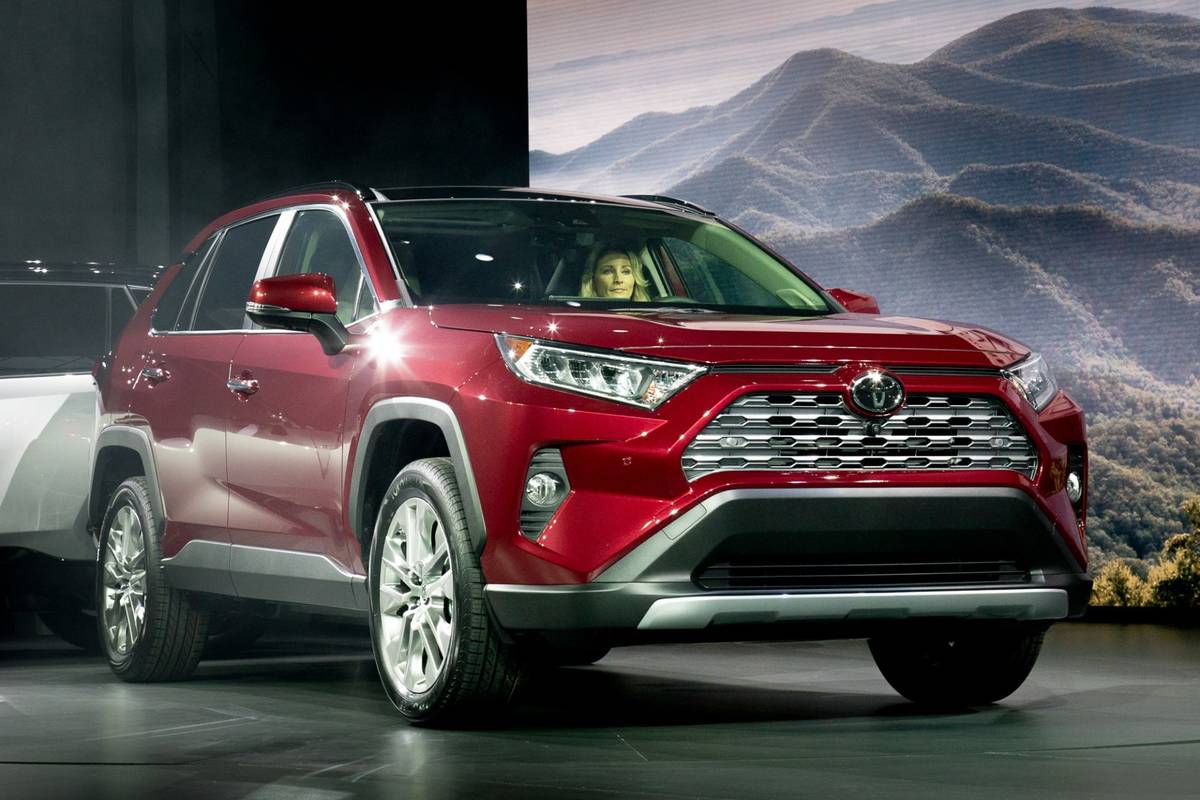 Where the Subaru Forester's redesign is subtle, the 2019 Toyota RAV4 is bold and practically screams like an overexcited, over-sugared kid about its new look. The Toyota RAV4 is a top seller with car shoppers, but it's been overdue for a redesign for a while now. Toyota didn't disappoint with this beefy, rugged compact SUV.
The RAV4 is also on a new platform, which — you guessed it — means more room for occupants. Toyota says there's more space width-wise in the redesigned RAV4 and rear occupants also get more legroom.
Safety is a priority for family car shoppers, and Toyota seems to share that priority. Its Toyota Safety Sense 2.0 package is standard across the RAV4 lineup. TSS 2.0 includes forward collision warning with pedestrian detection and automatic emergency braking, full-speed adaptive cruise control, lane departure warning with steering assist, automatic high beams, lane detection and lane keep assist, and road sign assist. Blind spot warning with rear cross-traffic alert, bird's-eye view camera, rear cross-traffic braking and Intelligent Clearance Sonar are optional safety technologies.
While the details are slim for now, the 2019 RAV4 lineup will include the XSE Hybrid. Toyota promises better efficiency and power, but we'll have to wait for the automaker to release more details on this offering.
The RAV4 will arrive at dealerships at the end of 2018, with the hybrid model coming in early 2019.
These SUVs look good standing still, but the real test is when Cars.com editors put them through their paces — that's when we'll know if these family SUVs live up to their good looks. I, for one, can't wait to have my automotive sweet tooth satiated. Stay tuned for the 411.
Cars.com's Editorial department is your source for automotive news and reviews. In line with Cars.com's long-standing ethics policy, editors and reviewers don't accept gifts or free trips from automakers. The Editorial department is independent of Cars.com's advertising, sales and sponsored content departments.